Tag: kevin strang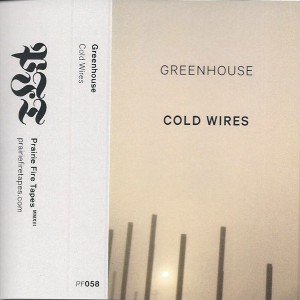 Greenhouse
Cold Wires
Winnipeg, MB
From the green apartment of Kevin Strang:
Winnipeg drone guitarist Curran Farris has become known for his signature tones and signals, elevating the listener in both live and recorded settings. Cold Wires continues his ethereal world of pedal worship, providing a musical base to a moment in which one can pause and be raised above the void of soundlessness in their mental make-up, looking down upon their thoughts as they are momentarily lifted into a lush musical landscape. Serving as the perfect follow up to his 2011 album Tired Forever, with Cold Wires Farris gives the listener another escape for 45 minutes and 14 seconds.
De l'appartement vert de Kevin Strang:
(Traduit par le cercle chromatique de Catherine Gaucher)
Curran Farris, guitariste drone originaire de Winnipeg connu pour le son distinctif de ses tonalités et signaux, est capable de soulever ses auditeurs autant en écoute live que sur enregistrement. Cold Wires est conséquent de son monde éthéré voué au culte des pédales et fournit une trame musicale propice à un moment où l'on peut faire une pause et, dans une constitution mentale, être élevé au-dessus du vide du silence, observant d'en haut les pensées pendant qu'elles s'élèvent momentanément dans un luxuriant paysage musical. Servant de parfaite suite à son album Tired Forever, paru en 2011, Farris, avec Cold Wires, offre à ses auditeurs une autre évasion de 45 minutes et 14 secondes.
Violent Gorge // Sete Star Sept
Split 5.5"
Winnipeg, MB // Tokyo, Japan
From the 9-5.5 grind of Kevin Strang:
Imagine everything meant to damage your ears melted down and poured onto wax. The results would resemble this 5.5" record. The Violent Gorge side Rhinocerebal Stampede is a combination of fast, raw and demented grind with harsh Merzbow-style noise interludes. The Sete Star Sept side Victim of Capitalism features five short songs of their signature free-jazz blast beats and crazy pitch-shifted female vocal growls. This split came out just in time for Violent Gorge and Archagathus to head to Japan to play some shows with Sete Star Sept this fall. Listen to the full Violent Gorge side below, and get the record quick through Mass Deadening.
Du grind de 9 à 5,5 de Kevin Strang:
(Traduit par la surdité d'Andréanne Dion)
Imaginez tout ce qui est censé endommager vos tympans, fondu et moulé pour en faire un vinyle. Le résultat serait semblable à ce disque de 5,5 pouces. La face de Violent Gorge, Rhinocerebal Stampede, est la combinaison de grind rapide, brut et dément, et d'intervalles noise dans le style râpeux de Merzbow. La face de Sete Star Sept, Victim of Capitalism, présente cinq courtes chansons dans leur style caractéristique d'explosions de rythmes free-jazz et de grognements féminins délirants variant en intensité. Ce split sort au bon moment, alors que Violent Gorge et Archagathus s'apprêtent à aller jouer quelques spectacles au Japon avec Sete Star Sept cet automne. Écoutez la face complète de Violent Gorge ici, et dépêchez-vous d'acheter le disque sur le site web de Mass Deadening.
Violent Gorge – Rhinocerebral Stampede
---