Tag: kevin stebner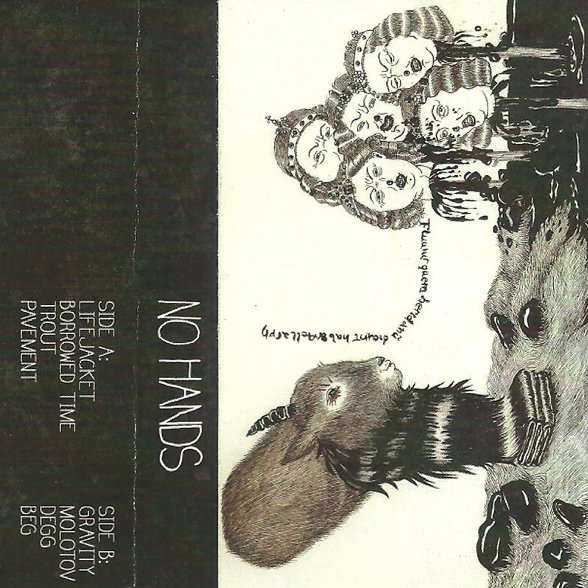 No Hands
No Hands
(Self Released)
Toronto, ON
From the maniac throat of Kevin Stebner:
Not to be confused with the unfairly-forgotten but incredible Edmonton band of the same moniker, Toronto's No Hands deliver a cassette of tough ragers; a united front of the wuss-free. Opener "Lifejacket" is the perfect harbinger for the proceeding shred-fest: ignorant bass into Jehu-like riff, maniac thoat caterwaul and charging drums. Rinse and repeat. None of that middle ground junk, either be hella soft or hella hard. In a world of candy-ass "punk" bands, it's great to see No Hands dish out some assured, pissed jammers to flail away the nights. Yes please, hit me with that burly Traynor sound.
De la gorge folle de Kevin Stebner:
(Traduit par Andreanne Dion)
À ne pas confondre avec l'injustement oublié mais incroyable groupe d'Edmonton du même nom, les Torontois No Hands nous livrent une cassette de morceaux solides, un front uni sans chansons molles. « Lifejacket », le premier morceau, annonce le festival shred qui suit : des riffs de basse à la Jehu, des miaulements de gorge fous et une batterie qui défonce. Rincez et répétez. Pas de compromis; soit vous êtes carrément doux, soit vous êtes carrément heavy. Dans un monde de groupes « punk » bonbons, ça fait plaisir de voir No Hands servir des chansons pleines d'aplomb et de furie pour nous faire danser toute la nuit. Oui, s'il vous plaît, balancez-moi le son solide de Traynor.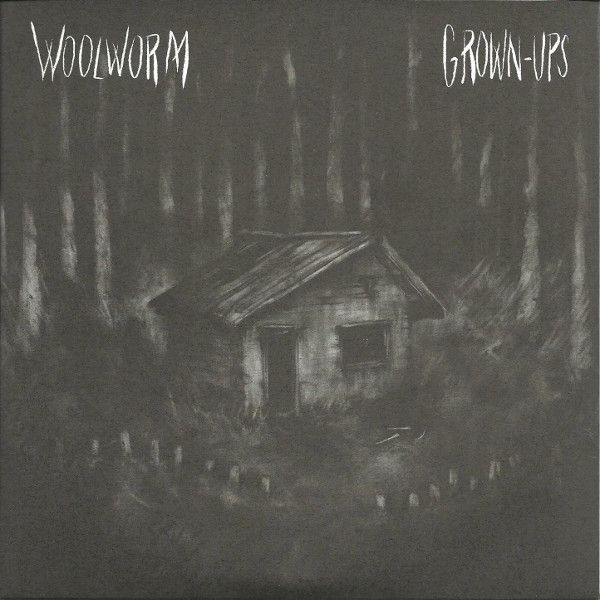 Woolworm // Grown-Ups
Split 7"
Vancouver, BC // Calgary, AB
From the pigpen hoedown of Kevin Stebner:
Solid split from two of the West's punk-pedigree — but on their home turf essentially contemporary-less — bands. Woolworm forgo the emo of their namesake (I see you, angry son) for some more jangle styles via hardcore past, squeezed into two songs of frustrated/held-back indie-pop. Distortion pedal dreams. On the flip, Grown-Ups dish-up their farewell swan song(s). Curiously, "Pigpen" could very well be the slickest and possibly strongest song from their robust output. Mid-fi button the whole way through. Insert lazy rock-journalist pun about growing up here.
Du bal porchère de Kevin Stebner :
(Traduit par Natalie Binda)
Une solide rupture de deux groupes au pedigree punk — mais essentiellement non-contemporain à domicile — de l'ouest. Woolworm renonce à la tendance emo de leur homonyme (Je te vois, Angry Son) pour un style agité de musique tirant d'un passé hardcore, le tout entassé entre deux chansons regorgeant d'un style indie-pop de frustrations contenues. De vrais rêves remplis de pédales à distorsion. En revanche, Grown-Ups font ressortir des chants de cygne d'adieu. Curieusement, « Pigpen » pourrait bien être la meilleure et possiblement la chanson la plus forte de leur robuste production. Le bouton « moyen régime » utilisé durant toute la séquence. Insérez ici un jeu de mots qui parle de grandir de la part d'un journaliste de rock paresseux.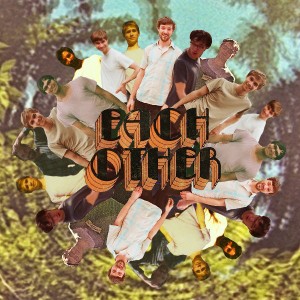 Each Other
Being Elastic
Montréal, QC
From the exploding elastic inevitable of Kevin Stebner:
These boys have been pumping out the jams for years with near unrivaled pedigree, and are now off on a tangent of Beatlesisms warring with Womenisms. Monotone harmonies reverberate atop plucky guitar lines and cracked cymbal, tambo-heavy percussion. Each Other hold sway over the mountains of kids mining the past. You can take the boys outta Halifax, but you can't stop them from pop exploding.
De l'inévitable explosion élastique de Kevin Stebner:
(Traduit par l'onomatopée percussive de Catherine Debard)
Durant des années, ces garçons ont jammé leur son avec un pedigree presque sans rival. Aujourd'hui, ils entament une bataille sonore entre Beatlesisme et Womenisme. Des harmonies monotones réverbèrent sur de courageuses mélodies de guitares, cymbales craquées et percussions lourdement tambourinées. Each Other ont de l'emprise sur la montagne de gamins qui déterrent le passé. Vous pouvez sortir ces types d'Halifax, mais ne pourrez les empêcher d'exploser dans la pop.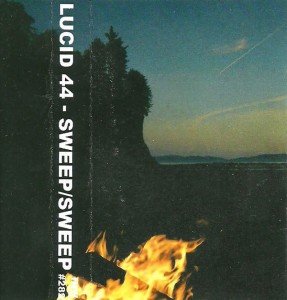 From the grease fire of Kevin Stebner:
The untrackable and unknowable Markus Overland (a.k.a. Lucid 44 a.k.a. Beerwolfe, etc.), Calgary's most singularly undersung genius, comes at us once again. This tape/CD-R of understated jams channels his family's fervour, grumbly grunge dirge and Uncle Neil's stage presence. The vision is so interior, we are lucky to hear the reverberations of his muse. He won't look at the crowd, the crowd cannot fathom his gaze.
Du feu de graisse de Kevin Stebner:
(Traduit par les visions de Julie Forget)
L'intraçable et mystérieux Markus Overland (alias Lucid 44, alias Beerwolfe, etc.), le génie calgarien le plus singulièrement méconnu, nous revient une fois de plus. Cette cassette/CD-R de jams raffinés rassemble la ferveur de ses ancêtres, un [chant funèbre de grunge râlant et la présence sur scène d'Uncle Neil. La vision est d'une telle intériorité que nous sommes chanceux d'entendre les réverbérations de sa muse. Il ne regarde pas la foule, la foule ne peut sonder son regard.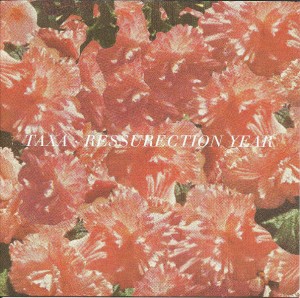 TAXA
Resurrection Year
Vancouver, BC
From the imminent explosion of Kevin Stebner:
Initially, you may think these burly rhythms come from worshippers of the old Great American Steak Religion, yet Taxa take a soul-searching journey to the Valhalla that is Chapel Hill. Imagining mechanic button-ups with embroidered names like "Dale" or "Hank", you wonder if they intend to heal the damage. Instead, you climb the mountain of history and past, feeling a scarily imminent explosion from the Pacific rim. Do you crest the peak, or fall headlong in?
De l'explosion imminente de Kevin Stebner:
(Traduit du sommet de la vague de Justine Gabias)
Au premier abord, on pourrait penser que ces rythmes costauds sont l'oeuvre de fidèles de The Great American Steak Religion, mais les membres de Taxa entreprennent plutôt un voyage spirituel jusqu'au Valhalla qu'est Chapel Hill. Les imaginant portant des chemises de mécanos avec des noms comme « Dale » ou « Hank » brodés sur la poitrine, on se demande s'ils ont l'intention de réparer les dommages. Ils nous font plutôt gravir la montagne de l'histoire et du passé avec le pressentiment d'une explosion horriblement imminente de la ceinture du Pacifique. On touche le sommet de la vague ou on y tombe la tête la première ?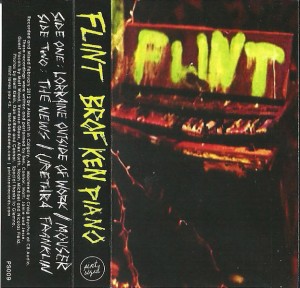 Flint
Brof Ken Piano
Calgary, AB
Du déluge discordant de Kevin Stebner:
(Traduit par la musicalité de Julie Forget)
J'ai déjà utilisé la métaphore du blender pour décrire le son vaseux de Flint, mais leur vidéo pour « The News » en utilise littéralement un. Les gars ont pris ce quelque chose de mongol datant de leur époque Fuck the Tundra, y ont ajouté un char pis une barge de BROUHAHA de guit à la Trumans et ont crotté le tout plus que jamais. Faites la fête jusqu'à en vomir.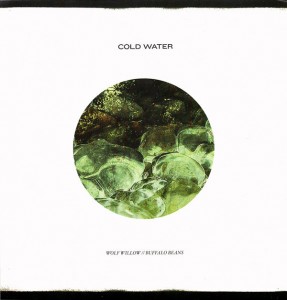 Cold Water
Wolf Willow b/w Buffalo Beans
Calgary, AB
From the gruff stuff of Jesse Locke:
That voice emanating from the mouth of Kevin Stebner might sound unreal, but this is a man who has earned his Beaver Badges and become fully grown. Slowing the post-hardcore roll of of his stalwart project while maintaining the inimitable qualities of new/old Canadiana, he stays frosty with the country-rock turns of Cold Water. The songs of this 7" are no longer seasonally appropriate, but their heart-on-flannel-sleeve feeling will stay with you year-round.
De l'attitude bourrue de Jesse Locke:
(Traduit avec la main sur le cœur de Dominic Mpilé)
Cette voix sortant de la bouche de Kevin Stebner peut sembler irréelle, mais voici un homme qui a gagné ses galons et mangé toutes ses croûtes. En ralentissant le rythme post-hardcore de son autre projet Stalwart Sons tout en maintenant la qualité inimitable de la griffe new/old Canadiana, il garde le cap avec le virage country-rock de Cold Water. Les chansons de ce 7" ne sont plus saisonnières, mais leurs émotions à fleur de peau resteront en vous toute l'année.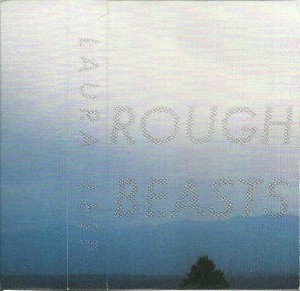 Laura Leif
Rough Beasts
(Self Released)
Calgary, AB
From the altered beast of Kevin Stebner:
Talk about the most underrated of songwriters in Canada. Pioneer Girl of all things vibrant, Laura Leif delivers songs as a sort of throaty, prairie-born Joanna Newsom, where the mean indifference of Toronto is unable to handle her openness, prompting this squamish outflow of ukeleles, guitars and windy voices. The foggy gloom of Nova Scotia, where it was recorded, seems to have infiltrated the tape; Rough Beasts sticks like pinpoints across the Canadian map, like those very pinpricks of Leif's slight vocal delivery. Legendary curmudgeon Calvin Johnston knows the deal, 'bout time you did.
De l'amitié bestiale de Kevin Stebner:
Et si on parlait de l'auteure-compositrice la plus sous-estimée du Canada? Pionnière dans le domaine du vibrant, Laura Leif entonne ses chansons telle une Joanna Newsom des prairies à la voix gutturale. Sifflant soufflant comme le squamish, les ukulélés, les guitares et les voix venteuses s'élèvent au-dessus de la parfaite indifférence de Toronto à l'égard de la franchise de Mme Leif. La brumeuse mélancolie de la Nouvelle-Écosse, lieu de l'enregistrement, semble aussi avoir infiltré la cassette; Rough Beasts est une carte du Canada criblée de punaises, pareilles comme les encoches qui ponctuent la douce prestation vocale de Leif. Le légendaire grincheux qu'est Calvin Johnston a compris ce dont il retournait, serait p'tete temps que vous en fassiez de même.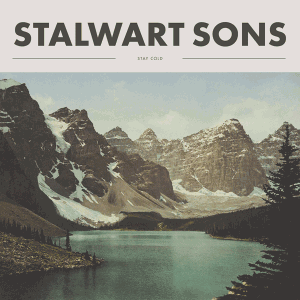 Stalwart Sons
Stay Cold
Calgary, AB
From the horse blanket rash of Jesse Locke:
Righteous anger and foe-vanquishing riffs propel the latest blitzkrieg from these sons of freedom. The Stalwarts have always blazed their trail with political connectedness, but here the grown-ass man voice of Kevin Stebner (answered by bassist Matt Learoyd with triple score Scrabble points on the six-minute heart-render "True North") delivers his most passionate poetry to date. Stay cold, Ponyboy.
De la démangeaison de chabraque de Jesse Locke:
Une colère vertueuse et des riffs redresseurs de torts propulsent le dernier blitz de ces fils de la liberté. Les Stalwarts ont toujours balisé leur chemin de leur attitude politique, mais ici la voix de stentor de Kevin Stebner (à laquelle le bassiste Matt Learoyd répond avec des mots comptent triple sur l'affligeante « True North » de six minutes) offre sa poésie la plus passionnée à ce jour. Stay cold, Ponyboy.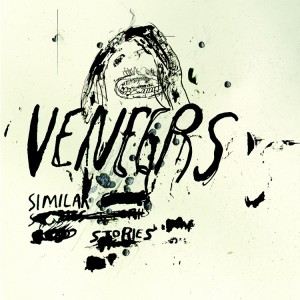 Veneers
Similar Stories
St. John's, NL
From the hardened melodies of Kevin Stebner:
Hailing from our country's most beautiful province (pure fact), St. John's Veneers boiled their eastern-most isolation into one singularly noisy and brazenly cool record. Almost decidedly un-Haligonianin in their take on East Coast post-hardcore, this is less pop explosion and more off-equilibrium post-punk lilt. The acclaimed hardcore pedigrees of their former projects are apparent in the band's surety, swagger and rhythms from the GSL school of sass, plus vocals from the Ad-Rock school of microphone treatment (broken). Us landlubbers might get seasick, but those from The Rock have been hardened by a life next to the waves.
Des mélodies durcies de Kevin Stebner: (Traduit par la moins belle province de Maya Keshav)
Originaire de la plus belle province de notre pays (fait établi), Veneers de St. Johns a fait bouillir leur isolement de l'est en un morceau singulièrement bruyant et effrontément cool. Presque résolument anti-haligonien dans leur vision de hardcore de la côte est, c'est moins une explosion de pop et plutût une cadence oblique de post-punk. Les pedigrees applaudis de leurs anciens projets de hardcore sont évidents dans leur assurance, leur dynamisme et leur rythmes de l'école GSL de culot, ainsi que le chant de l'école Ad-Rock de traitement (brisé) de micro. Peut-être que nous les marins d'eau douce auront le mal de mer, mais ceux qui viennent de Terre-Neuve sont endurcis par une vie à côté des ondes.
---