Tag: kevin hainey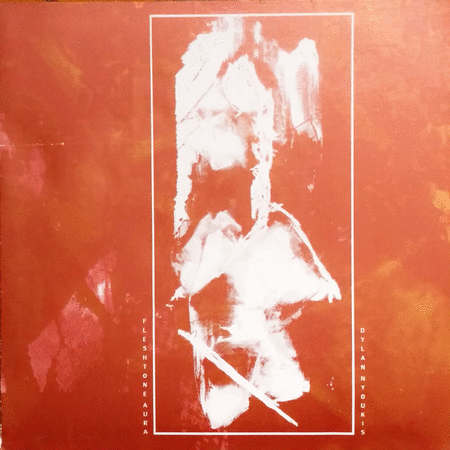 Fleshtone Aura // Dylan Nyoukis
Split
Toronto, ON // Brighton, UK
Fleshtone Aura
AREA
Toronto, ON
From the freed mind and followed ass of Kevin Hainey:
Two oceans-apart aural collage masters team up to flambe their best dashes of spice across this pair of tenderized and marinated beef steaks. Toronto's resident evil Fleshtone Aura (a.k.a. Andrew "No C" Zukerman) has been summoning strange sensations for over a decade now with duo du jour Gastric Female Reflex. He's undergone a plethora of personality crises with memorable recording identities like Various Artists, Untitled (to which his previous Chocolate Monk CDR was accredited), DJ Longhorn Grille and Charles Balls, but since Fleshtone was coloured in 2011, this has been Zukerman's most ambitious project.
The Beniffer LP is marbled clear, black and green and comes in an ornately silkscreened cover. It is a split with Brighton, UK scene survivor Dylan Nyoukis (Blood Stereo, Prick Decay), whose influence has been tantamount in experimental areas of modern composition since the early '90s. The two have been supporters of each other for many years now so a split LP makes perfect sense given their similar visions. Nyoukis also runs the envelope-pushing (albeit one full of psychedelic drugs) Chocolate Monk label which released the amazing AREA. This is music arranged to be chaotic, heavily inspired by ideas commissioned during 20th century composition's heyday rather than pop and rock's obsessions with keeping time and marching to repetition. If anything, this is music that aims to break down those conditioning influences.
De l'esprit libéré et du cul captivant de Kevin Hainey:
(Traduit par l'âme vagabonde de Louis-Félix Pellerin qui est inexplicablement attirée vers les arrière-trains)
Ces deux maîtres de la ratatouille musicale s'associent pour flamber cette paire de steaks marinés à l'aide de leurs meilleures épices, malgré les océans qui les séparent. Depuis plus d'une décennie, le démon local de Toronto, Fleshtone Aura (alias Andrew « No C » Zukerman), invoque d'étranges sensations avec le duo du jour Gastric Female Reflex. Il a traversé de nombreuses crises d'identité et est passé d'une personnalité mémorable à l'autre, notamment Various Artists, Untitled (c'est sous ce nom qu'il a sorti son dernier CD, Chocolate Monk, DJ Longhorn Grille et Charles Balls, mais Zukerman entreprend son projet le plus ambitieux depuis la mise en couleur de Fleshtone en 2011.
Son LP Bennifer, d'un marbré clair, noir et vert, vient dans une pochette dont la couverture est richement sérigraphiée. C'est un split avec Dylan Nyoukis (Blood Stereo, Prick Decay), un vétéran de la scène brightonienne dont l'influence est omniprésente dans le secteur expérimental de la composition moderne depuis le début des années 1990. Puisqu'ils s'encouragent mutuellement depuis des années et qu'ils partagent une vision similaire, un album split est la suite logique des choses. De plus, Nyoukis est à la tête du label discographique innovateur (innovations sans aucun doute influencées par la drogue psychédélique) Chocolate Monk qui était derrière l'incroyable AREA. C'est de la musique arrangée dans le but d'être chaotique, en plus d'être grandement influencée par la composition musicale du début du XXe siècle plutôt que par l'obsession à maintenir le rythme et marcher au pas des répétitions amenée par le pop et le rock. En fait, si on y pense, ce qu'on retrouve sur ce split, c'est le genre de musique qui vise à démolir les conventions modernes.
Fleshtone Aura – Level 2 [Split]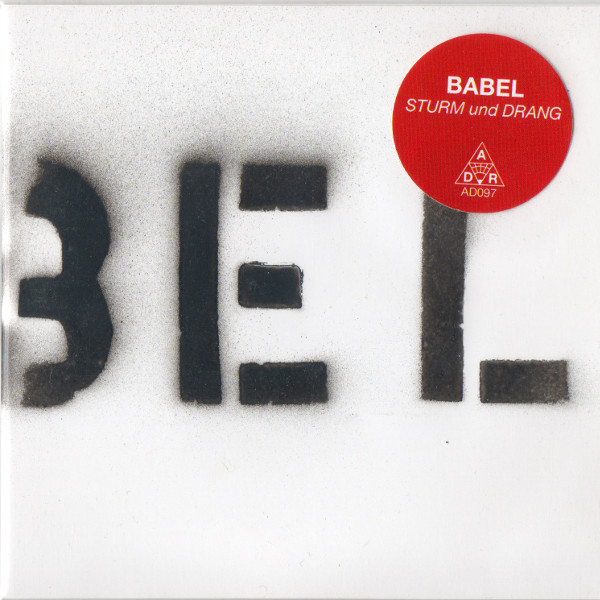 Babel
Sturm und Drang
Toronto, ON
From the krautrocking hips of Kevin Hainey:
Babel has been pouring out a huge number of recordings for a good many years now. This album stands as the second in a trilogy of percussively minded releases focusing on prepared guitars and bass guitars. Sturm und Drang gets its three thematic counterparts going on a psychedelically stomping bare foot, where the emphasis is certainly on the minimalism and rhythm rhythm rhythm associated with the classic krautrock sound ("Sturm.01-03"), before going shot-for-shot into more serene dreams and foreign landscapes intent on flowing out into the ambient ("Drang.01-03").
Whereas previous Babel releases (and there are very many, mostly released on CD-R) explored notions of post-rock and doom-metal inspired textures, the "Drang" pieces pursue a purer ambience, a oneness with the void perhaps. And then there are the "Black Lodge" and "White Pine" tracks, dipping into Angelo Badalamenti and Twin Peaks waters with inspiration and restraint. A project in metamorphosis, guided by Arachnidiscs head honcho Jakob Rehlinger and recorded in brilliant crystalline hi-fi, Sturm und Drang shows that Babel is towering with talent.
Des hanches se déhanchant sur le krautrock de Kevin Hainey:
(Traduit par les tressautements de Louis-Félix Pellerin)
Babel sort un grand nombre d'enregistrements depuis bien des années maintenant. Cet album-ci est la seconde partie d'une trilogie de compositions axées sur les percussions qui se concentrent sur la guitare préparée et la basse. Les trois équivalents thématiques de Sturm und Drang s'en vont pieds nus sur une débandade psychédélique où l'accent est certainement porté sur le minimalisme et le rhythme rhythme rhythme associé à la sonorité krautrock classique (« Sturm.01-03 »), avant d'aller plan pour plan vers des rêves plus sereins et des paysages étrangers avec l'intention de se laisser porter vers le genre « ambient » (« Drang.01-03 »).
Alors que les enregistrements précédents de Babel (et il y en a toute une quantité, surtout sur CD-R) exploraient des notions de post-rock et des textures inspirées du doom metal, les morceaux de « Drang » recherchent une ambiance plus pure, une unité avec le néant, peut-être. Puis, avec les morceaux « Black Lodge » et « White Pine », on s'aventure dans les eaux d'Angelo Badalamenti et Twin Peaks avec inspiration et retenue. Enregistré en hi-fi cristallin resplendissant, ce projet en pleine métamorphose dirigé par Jakob Rehlinger, le grand manitou d'Arachnidiscs, nous montre que lorsqu'on parle de l'immense talent de Babel, sky is the limit!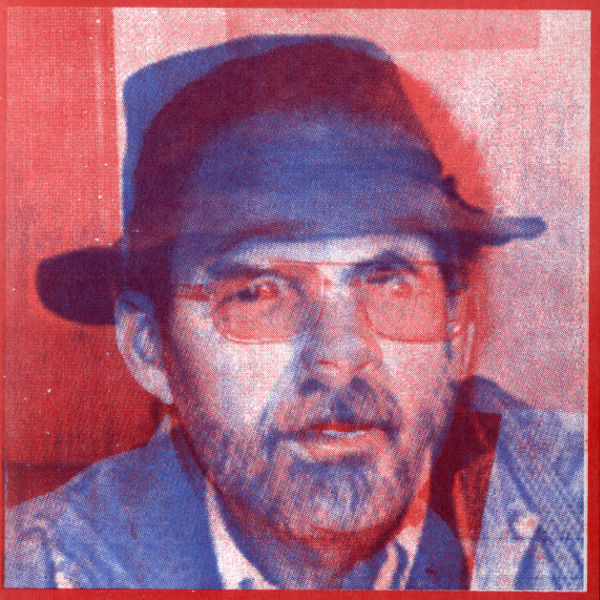 Michael Horwood
Musique Concrète Realizations by Michael S. Horwood of Two Poems by Robert Creeley
Toronto, ON
Originally Recorded 1968
From the patterned dimensions of Kevin Hainey:
Michael Horwood is a 20th century composer who began recording in the late '60s. Horwood composes multi-instrumental works and is particularly interested in percussion. One of his apples didn't fall too far from the tree, and son Jacob Horwood (Gastric Female Reflex, Claudio, sole proprietor of avant imprint extraordinaire Beniffer Editions) opened up his label's gates to his father's vaults back in 2007. That began with a live cassette dose of Music Gallery goodness from the percussion-led free-jazz quartet Convergence that Horwood Sr. served with during the late '70s and early '80s. An unforgettable Convergence LP followed.
This time around we have nearly 13 minutes of prime wax in white 7" form, wrapped in an eye-popping silkscreened gatefold executed to the max by Horwood Jr. "The Pattern" and "Dimensions" might be inspired by Robert Creeley's poems, but for 1968 these skewed chamber pieces for tapes, voices and alarming sounds were wonderfully contemporary when you consider the like-minded back-room madness being recorded at the time. In fact, you could compare the cut-up, spliced, re-arranged and flipped sensibilities at play within this EP's tight confines to be part and parcel of the same culture-chopping insanity that brought us the warped visions behind cut-up art-noise frontiersmen Gastric Female Reflex. Heady generational goodness!
Des dimensions modèles de Kevin Hainey:
(Traduit dans une ambiance feutrée par Geneviève Simard)
Michael Horwood est un compositeur du 20e siècle ayant commencé à enregistrer à la fin des années 60. Horwood compose des oeuvres multi-instrumentales et s'intéresse particulièrement aux percussions. Puisqu'on n'échappe pas facilement à sa descendance, son fils Jacob Horwood (Gastric Female Reflex, Claudio, unique propriétaire de l'extraordinaire étiquette de disque avant-gardiste Éditions Beniffer, a ouvert ses portes aux archives de son père en 2007, commençant par une cassette d'un divin enregistrement en direct de la Music Gallery du quartet percussionniste free-jazz Convergence dans lequel Horwood père a joué à la fin des années 70 et au début des années 80. Un inoubliable LP de Convergence a suivi.
Cette fois-ci, nous avons près de 13 excellentes minutes gravées sur un vinyle 7 pouces, emballé dans une époustouflante couverture en sérigraphie exécutée par Horwood fils. « The Pattern » et « Dimensions », ces morceaux de chambre distordus sur cassettes, ces voix et ces sons alarmants, bien qu'inspirés de poèmes de Robert Creeley, étaient magnifiquement contemporains en 1968 quand on considère la folie similaire qui était enregistrée à l'époque. En fait, on peut comparer la coupe, le collage, le réarrangement et les différentes sensibilités qui entrent en jeu dans les limites étroites du EP comme faisant partie intégrante de ces démentes coupes en culture qui nous ont aussi amenés les visions tordues du groupe art-noise, Gastric Female Reflex. Divine offrande générationnelle !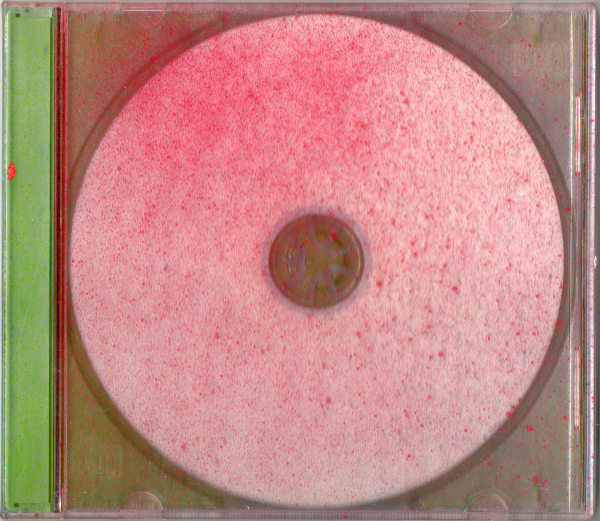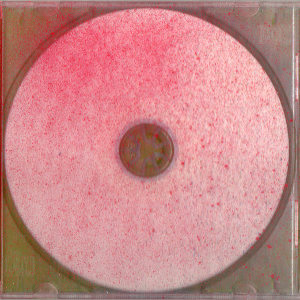 Gravitons
Raw Reads
Toronto, ON
From the relentless uppercuts of Kevin Hainey:
Released spray painted in immaculate CDR format way back in the glorious and fruitful days of Toronto's converging avant-garde and noise scenes circa 2007, Raw Reads showcases Gravitons at the pinnacle of their intent — scorching free noise guitar that can't settle on a fret, let alone a board, blistering out of Jill Aston's petite and pummelling hands, and free jazz drums that dance and kick and roll and crash without ever settling down on any grooves, from the gifted mind and soul of Mani Mazinani.
Gravitons have been a long running staple of Toronto's chin scratcher scene, despite their relatively sporadic quietness on the assault front these days (Mani and Jill were recently married, by way of congratulations… so they've got other things in life and art going on, let me assure you). The two 30-minute runs headlong into the sun documented upon Raw Reads, however, can stand as undying testament to what Gravitons have accomplished and will undoubtedly fire up again when they feel the need. Until then, there is lots from these two cats on their Free Market Records website for you to collect and enjoy.
Des uppercuts implacables de Kevin Hainey:
(Traduit par le silence sporadique de Virginie Langlois)
Sorti peint à la bombe en format CDR immaculé à l'époque glorieuse des scènes avant-gardistes et bruitistes convergentes de Toronto vers 2007, Raw Reads présente Gravitons au sommet de son art : des riffs de guitares bouillantes provenant des mains menues et pétries de Jill Aston, et une batterie free jazz qui danse et percute sans jamais s'assagir sur aucun rythme, provenant de l'esprit et de l'âme surdoués de Mani Maziani.
Gravitons est un groupe qui sévit depuis pas mal de temps sur la scène torontoise, malgré leur silence relativement sporadique ces derniers temps (Mani et Jill se sont mariés récemment, félicitations au fait… alors je peux vous assurer qu'ils ont d'autres chats à fouetter dans la vie et dans le domaine artistique…). Les deux morceaux de 30 minutes foncent tête baissée vers le soleil sur Raw Reads, un testament éternel de ce que Gravitons a accompli et qui ne manquera pas de jaillir à nouveau lorsque le besoin se fera sentir. En attendant, il y a beaucoup à apprendre sur ces deux chats sur leur site Web Free Market Records. À lire sans modération!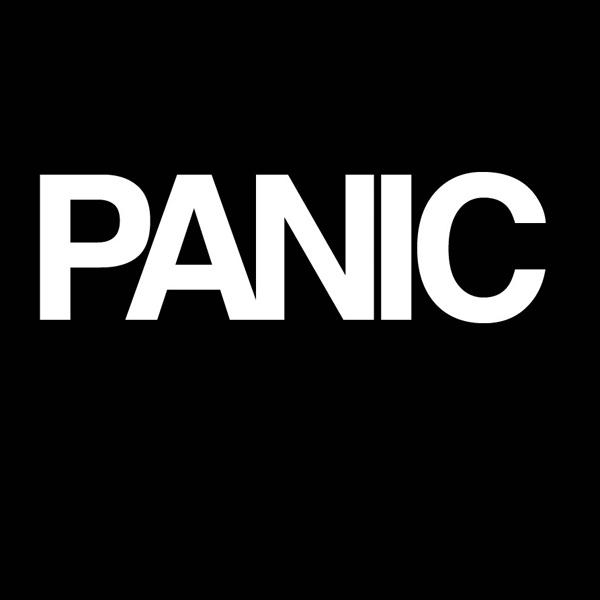 PANIC
Bad Fantasies
(Self Released)
Toronto, ON
From the rollicking swagger of Kevin Hainey:
There's something spreading all over Canada and it's shaking the people it reaches down to their Liberally conditioned, usually motionless cores; a solid black record with a purely white sensation bursting out of it in five tall, arresting letters demanding — PANIC. The music is just as jarring, all leggy riffs sprinting their minimal feet forever fast forward as the keys and theremin twist and writhe around them like fingers with rings on them, and arms flailing behind them. This is post-punk played so pure you could consider it more suitably labelled a pre-punk homage; these five guys are channelling Rocket From The Tombs over Pere Ubu, The Sonics over The Mummies, The Seeds and The Stooges over The Hives and The Strokes…
You get the picture. PANIC like it pure, but that's always the wonderful and alarming way frontman Simon Oates has played it, from his recent days leading No No Zero, to his years with The Exploders, and his illustrious low-down, dirty time with The Starkweather Fix (called Starkweather before that). I'll never forget Starkweather nailing me to the wall of The Eclipse in Oshawa with my first taste of post-punk's raw power in all its amplified glory, back when I was barely a teenage kid still discovering what punk was. Oates is crafting a Starkweather multi-LP set of timeless archival material for the ages, but in the meantime, you can consider PANIC a current address of the state worth heeding.
Depuis le joyeux fanfaron de Kevin Hainey:
(Traduit par Jan Karza)
Il y a quelque chose qui se propage partout au Canada et qui agite les gens en les atteignant profondément à leur centre généreusement conditionné et généralement immobile; un enregistrement solide et noir avec une sensation purement blanche et éclatante muni de grandes lettres saisissantes exigeant la présence de– PANIC. La musique est aussi discordante, avec les refrains tout en jambes courant plus vite de leurs petits pieds toujours en accélérés, que les touches et la tournure qu'apporte le Thérémine en se contorsionnant et se tortillant autour d'elles comme des doigts portant des anneaux et des bras qui s'agitent derrière elles. C'est du postpunk joué d'une façon si pure qu'il devrait être classé comme un hommage au prépunk; ces cinq gars canalisent davantage Rocket From The Tombs que Pere Ubu, The Sonics plus que The Mummies, The Seeds et The Stooges plus que The Hives et The Strokes…
Vous voyez le genre, PANIC adore la pureté, mais c'est toujours la seule façon, alarmante et merveilleuse, dont le leader Simon Oates veut la jouer depuis ses plus récents jours lorsqu'il dirigeait No No Zero, jusqu'à ses années avec The Exploders, et ses illustre moments sales et mesquins avec The Starkweather Fix (mieux connu sous le nom de Starkweather). Je ne vais jamais oublier comment Starkweather m'a cloué au mur de l'Eclipse à Oshawa avec mon baptême du pouvoir brut du postpunk dans toute sa gloire amplifiée, à l'époque où je n'étais qu'un jeune ado encore en train de découvrir ce qu'était le punk. Oates réalise, à la manière de Starkweather, un microsillon hétéroclite intemporel faisant matière d'archives, mais en attendant, vous pouvez considérer PANIC comme étant une adresse courante de l'État qui vaut la peine d'être écouté attentivement.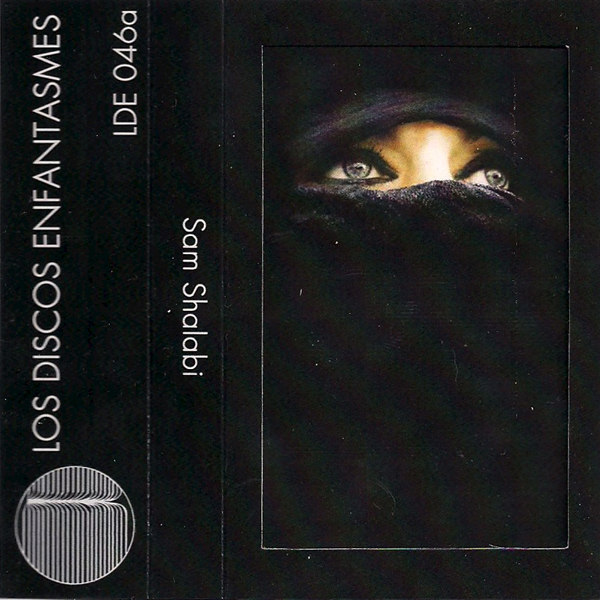 Sam Shalabi
Mindlessness
Montréal, QC
From the personal recountings of Kevin Hainey:
…and then, from out behind the dark gathering clouds, we were given this brilliantly long-form, strikingly personal and emotionally involving surrealistic double-cassette, kaleidoscopically blending world-wise field recordings, poetic monologues about sex, drugs and mysteries, and densely sweet psychedelic experimental bliss from Sam Shalabi's seemingly bottomless vaults. The listener is immersed in a wide array of deeply musical explorations which flow into, out of and through one another like a mind lucid with travel, clarity and expansion, meditation and thought thought thought…
Perhaps the best Sam Shalabi release I've ever heard, and certainly a landmark album in its own right, Mindlessness was recorded sporadically from 2003-2011 and mixed in Cairo sometime more recently. Its vision is best compared to Luc Ferrari's experiments, but also such audio verite releases as the first album by godspeed you black emperor (albeit, being stretched and quartered on some medieval torture table), or dare I say Neil Young's Journey Through The Past, only without any of the rock songs or '70s commercial pomp. What's left is a pure expression in moving audio verite sound and third ear listening, a personalized impression of Cairo with tripped out lenses and psychedelic filters to spare. Get ready for a long, strange trip, with a lot of "What"s along the way. Fans of contrabass marathons, street performances where there's livestock running around, and gritty spoken word about things that matter to those who care, listen up to Mindlessness, and let yourself go.
En direct des mémoires personnelles de Kevin Hainey:
(Traduit par Peter Particule)
Puis, du tréfonds des nuages se rassemblant au loin, nous fut donné cette double cassette surréaliste, brillante dans sa longueur, étonnamment personnelle et émotionnellement engageante, mélangeant tel un kaléidoscope des enregistrements sur le terrain en prise directe avec le monde, des monologues poétiques impliquant sexe, drogue et mystère, et une douce et dense béatitude psychédélique des chambres fortes apparemment sans fond de Sam Shalabi's. L'auditeur est enseveli dans une large série de profondes explorations musicales qui coulent à l'intérieur, à l'extérieur et au travers d'entre elles comme un esprit lucide au fil du voyage, clair et en expansion, méditatif comme une pensée, pensée, pensée…
Peut-être la meilleure sortie de Sam Shalabi que j'ai pu entendre, et certainement un album marquant qui a tout pour se le permettre, Mindlessness a été enregistré sporadiquement entre 2003 et 2011, et mixé au Caire plus récemment. Sa vision pourrait être comparée aux expériences de Luc Ferrari, mais aussi à une vérité audio telle que le premier album de godspeed you black emperor (bien qu'étirée et écartelée sur un chevalet de torture médiévale) ou encore, oserais-je, à Journey Through The Past de Neil Young, mais sans aucune des chansons rock ou des pompes commerciales des années 70. Il ne reste alors que la pure expression de l'émotion audio dans la vérité du son, l'écoute intuitive, avec la troisième oreille, une impression personnalisée du Caire à travers des verres optiques trippés et assez de filtres psychédéliques pour tout le monde. Tenez-vous prêts pour un long voyage étrange, avec de nombreux points d'interrogation tout au long du chemin. Fans des marathons de contrebasse, des performances de rue au milieu du bétail, et de spoken word graveleux qui importe pour ceux qui s'en soucient, plongez dans Mindlessness, et laissez vous aller.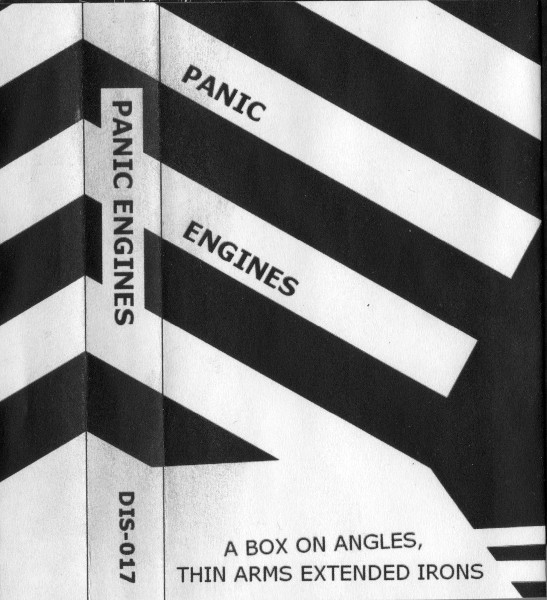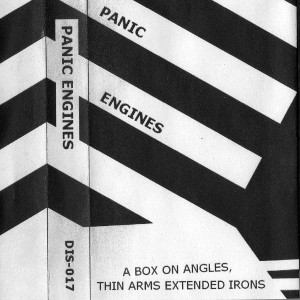 Panic Engines
A Box On Angles, Thin Arms Extended Irons
Toronto, ON
From the menacing void of Kevin Hainey:
Panic Engines is the latest project from William A. Davison, a surrealist avant-garde innovator who has been making his mark in Toronto and eastern Canada for roughly 30 years now, having been involved with such units as Phycus, Nurse With Wound, irr. app. (ext.), and many more. Things get moving on this tape's single long form composition (which stretches the entire cassette) with a boiling snail's soup of a pace, emitting the steam of singular rumblings, phases and tones custom fit for any noise head to strap on and not let off until the whole mind-numbing, trance-inducing trip is complete. Heady stuff for extremists, not pacifists. Let's hope this isn't a one-off but an ongoing project… Exciting new sounds from a refined mind.
Par le gouffre menaçant de Kevin Hainey:
(Traduit par le labyrinthe impossible de Joannie Pharand)
Panic Engines est le plus récent projet de William A. Davison, un innovateur surréaliste et avant-gardiste s'ayant taillé une place à Toronto et dans l'est du Canada depuis près de 30 ans, lui qui a également fait affaire avec des groupes tels que Phycus, Nurse With Wound, irr. app. (ext.), et bien d'autres. Les choses bougent sur cette bande dont la seule composition prend une forme longue (et s'étend sur toute la cassette) avec une lenteur semblable à la trotte d'un escargot, un parcours émettant la vitesse de grondements singuliers, de tons et de phases sur mesures conçues pour quiconque se mettra le casque d'écoute et ne le retirera pas tant que le voyage abrutissant menant à une transe sera complété. C'est enivrant, et s'adresse aux extrémistes, non aux pacifistes. Espérons que ce ne sera pas qu'un projet par intermittence, mais un projet qui restera en cours… Des sons bien excitants parvenant d'un esprit raffiné.

Panic Engines – Side A (Excerpt)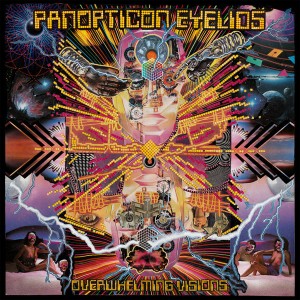 Panopticon Eyelids
Overwhelming Visions
(Carved In Lava Records)
Montréal, QC
From the erupting volcano of Kevin Hainey:
Exploding out of the shattered heavens like the winged bastard children of Hawkwind comes Panopticon Eyelids with their long awaited, much anticipated, criminally overdue debut slab of hi-fi studio-fried — grill-marked to perfection until it's mouth watering — wax. It comes to you after a decade of sawing Montreal audiences' heads off however occasionally they felt like it, releasing lo-fi, fringe cassettes and handmade CD-Rs just for the fuck of it. This is accessible experimental rock for all of the ages. Retro worshipping and forward thinking, Overwhelming Visions is as good as it gets for hard Canadian rock and roll in our current day.
Du volcan en éruption de Kevin Hainey:
(Traduit par le cru bourgeois de Joannie Pharand)
En explosant tout droit des paradis brisés tel l'enfant bâtard muni d'ailes du groupe Hawkwind, nous arrive Panopticon Eyelids avec leur vinyle tant attendu, tant espéré. Ce premier album est un bloc haute-fidélité, criminellement en retard, frit dans un studio, grillé et marqué à la perfection jusqu'à en mettre l'eau à la bouche. Il vous arrive après une décennie à décapiter les spectateurs de Montréal aussi souvent qu'il le voulait, libérant le lo-fi et les cassettes et les CD-R faits à la main C'est un rock expérimental pour toutes les générations. Des adorations du passé et des pensées futuristes, la pièce Overwhelming visions remporte la palme pour le Rock 'n' roll intense canadien du moment.

Panopticon Eyelids – Orgasme Mécanique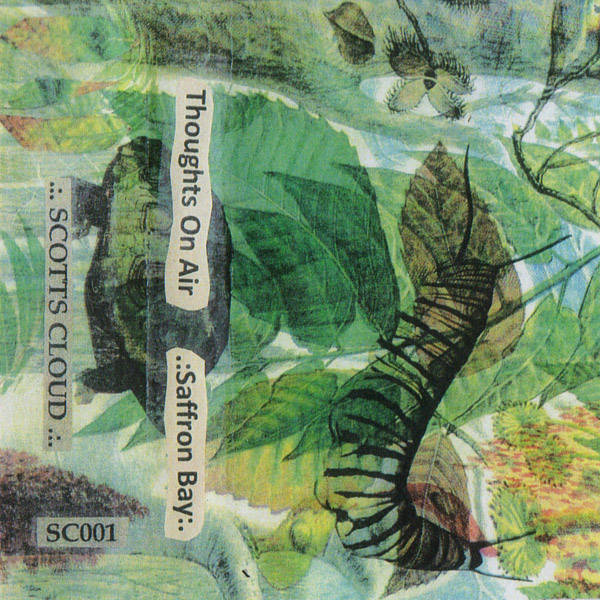 Thoughts On Air
Saffron Bay
(Scott's Cloud)
Hamilton, ON
From the psychic connections of Kevin Hainey:
On which Scott Cloud of Hammer, ON continues his elegiac ascent into the heavenly clouds of his namesake via Thoughts On Air, his hypnagogic melding of trance, drone, psychedelia, and glistening folk shanties. This cassette features two side-long trips across the light fantastic, and you're certainly bound to find yourself closer to the holy spirit of humankind having experienced it. Purely hypnotic chord hammering over river beds of murky tape music, and the voice of an angel shining through it all. Great stuff from the distant stars radiating its alien response.
Des connexions psychiques de Kevin Hainey:
(Traduit par Alike Harel)
Sur cet album, Scott Cloud de Hamilton (Ontario) poursuit son ascension homérique vers la voûte céleste — en toute aptonymie — grâce à Thoughts On Air, alliage léthargique de trance, de drone, de psychédélique et de ritournelles bien rissolées de flibustiers. La chorégraphie fantastique se prolonge sur toute la face A, puis la B… et, expérience personnelle à l'appui, vous vous sentirez assurément près du grand Esprit de l'humanité. Le martèlement des accords vous hypnotise carrément et suit le cours d'une rivière au son discordant de la bande magnétique; une voix d'ange perce la nuée musicale d'un bout à l'autre. Une bonne cuvée en provenance des confins de l'univers, où une forme de vie extraterrestre entonne une réponse aux humanoïdes.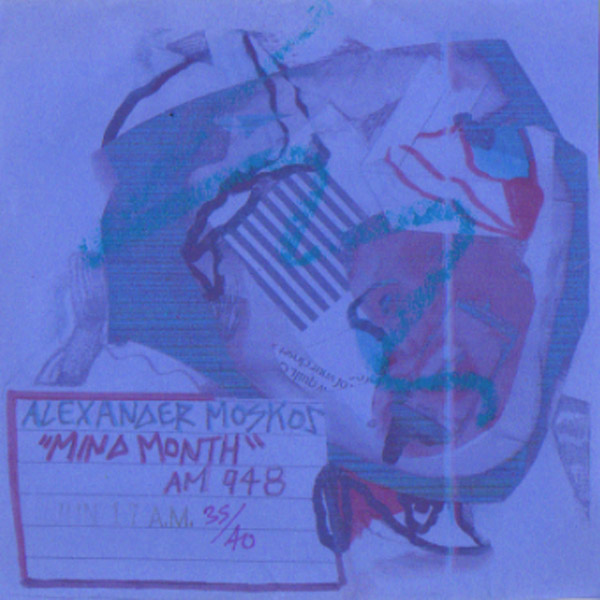 Alexander Moskos
A Month In The Mind Of Moskos
Montréal, QC
From the ghetto format of Kevin Hainey:
The man who would be Moskos continues to baffle and thrill his followers with this alarming quadruple CDr collection. Scarcely limited to 60 handmade copies lovingly assembled by his fellow cunning linguist and Wolf Eyes fist of fury John Olson, this set features four installments from outer time, each on their own frightfully brief disc, upon which we are engaged with four very different sides of Moskos' endlessly dimensional coin.
First up is a field recording which gives way to some righteous and de-fraged free jazz chamber duetting between a lonesome sax and search party drums that's credited to Moskos' main gig, Drainolith. Disc two features the Drainolith sound his fans know and love — thudding, stuttering electronic claps and foot stomps set behind muddy Mississippi blues guitar echoes and buried, lovelorn or scathing vocal murmurs and twists of tongue. On this set Moskos is joined by the gone but not forgotten powerhouse Drainolith line-up of Tara Desmond on drums and Chelsea Delle Palm with bass! Sounds like it was perhaps a tour rehearsal, but its recording is tight and swings its might.
Events take a characteristically unpredictable u-turn with disc three, which strays headlong into Inane Fever territory in the form of some sickly and slickly recorded multi-track groove sharks that could chomp among the best of Royal Trux's glitter gutter breakdowns or Thurston Moore's solo schools for the cool. Turns out Sir Moskos is not alone here at all, but kicking it out with the no bullshit frontline of Alexandre St-Onge, Dominiq Alexander and Joel Taylor. Disc four rounds out this massive yet brilliantly understated set with some chamber jazz piano pillages by Moskos + Sage. The silence left at the end only makes you curious what other nuggets lie unpolished in the Moskos treasure chest… One can only dream, and get this collection before its criminally tiny run is cherished by as many collectors as it can reach.
Du format ghetto de Kevin Hainey:
(Traduit par Jacinthe Laplante)
L'homme qu'est Moskos continue de dérouter et d'électriser ses admirateurs avec cette inquiétante collection de quatre CD-Rs. Limitée à tout juste 60 copies faites à la main et assemblées avec amour par John Olson, linguiste futé et poing furieux de Wolf Eyes, cette collection comprend quatre épisodes hors du temps, chacun sur un disque terriblement court, lesquels nous confrontent à quatre côtés très différents de la médaille aux innombrables faces de Moskos.
Tout commence avec un enregistrement sur scène d'un vertueux duo de free jazz fragmenté composé d'un saxophone solitaire et d'un tambour d'équipe de secours dont le crédit revient à Drainolith, le groupe principal de Moskos. Le deuxième disque met en vedette le son connu et apprécié des fans de Drainolith : claquements électroniques sourds et hésitants, piétinement du sol mis en scène derrière les échos d'une guitare blues du Mississippi vaseux, murmures et coups de langue amoureux ou cinglants enterrés. Pour cette partie, Moskos s'associe aux anciens mais non oubliés dynamiques membres de Drainolith : Tara Desmond à la batterie et Chelsea Delle Palm à la basse! Cela pourrait être une répétition pour une tournée, mais l'enregistrement est serré et projette sa puissance.
Fidèles aux habitudes, les évènements font volte-face et prennent une tournure complètement imprévisible sur le troisième disque qui s'aventure tête première sur le territoire d'Inane Fever sous la forme de multi-pistes drôlement bien enregistrées, requins du rythme qui pourraient dévorer parmi les meilleures ruptures de caniveaux scintillants de Royal Trux ou les écoles de solo de Thurston Moore pour le cool. Il se trouve que monsieur Moskos ne joue pas seul du tout : il s'agite avec une ligne de front talentueuse formée d'Alexandre St-Onge, de Dominiq Alexander et de Joel Taylor. Le quatrième disque termine cette imposante mais brillamment minimaliste prestation avec un saccage de piano façon jazz de chambre interprété par Moskos + Sage. Le silence de la fin pique la curiosité et on se demande si d'autres diamants brut pourraient se trouver dans le coffre aux trésors de Moskos… On ne peut toujours que rêver et se procurer la collection avant que cette performance criminellement sortie en petite quantité ne soit convoitée par tous les collectionneurs à sa portée.
Inane Fever – Hate the Blues / Cross The Tracks
---