Tag: keep sheila on acid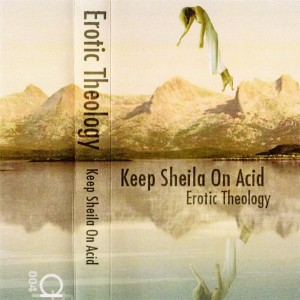 Keep Sheila On Acid
Erotic Theology
Toronto, ON
From the caustic dynamic of Shawna Naklicki:
Keep Sheila On Acid remains an apt moniker for what this group does best: unintelligible noises sufficient for ear enjoyment. Where their previous release sounded futuristic, Erotic Theology lends itself to the past of pre-humanity. Frail details are shyly hidden underneath layers of semi-opaque ringing, piercing and blowing sonances, exploring a smoky, melody-free atmosphere that's equally frightening and electrifying. These nine songs are apparition-inducing on all levels, with the tribal beats of "Prophets Silence Is Deafening" and the gun fire of "Facsimiles of the Earth's Core" dimly illuminating the path to a place of mystery.
De la dynamique caustique de Shawna Naklicki:
(Traduit par la dissonance mélodique de Julie Forget)
Keep Sheila On Acid est un nom qui s'apparente bien à ce que le groupe fait de mieux : des bruits inintelligibles convenables au plaisir de l'oreille. Tandis que leur enregistrement précédent avait un air futuriste, Erotic Theology se prête plutôt au passé de la "préhumanité". De frêles détails sont cachés timidement sous des couches de tintements semi-opaques, de sons perçants et retentissants, explorant une atmosphère enfumée et sans mélodie autant épeurante qu' électrifiante. Ces neuf chansons entraînent des apparitions à tous les niveaux avec les rythmes tribals de "Prophets Silence Is Deafening" et le coup de feu de "Facsimiles of the Earth's Core" éclairant faiblement le chemin vers un endroit mystérieux.
Keep Sheila on Acid – Motionless Delicate Murmur
Keep Sheila On Acid
You Will Be The Same Tomorrow As You Were Yesterday
(Rano)
Toronto, ON
From the stained papyrus of Shawna Naklicki:
The mysterious persona of Keep Sheila On Acid emerges with an enigmatic statement of electronica and unidentified noise. Layers of sounds combine to create extraterrestrial instrumental chaos that's both confusing and oddly pleasing. From the stately feel of "We No Longer Follow the Sun" to the 10 minutes of quiet drone that "Sleep Abstract" offers, this is one for the aliens. It feels good to get out of this world.
De la papyrus tachés de Shawna Naklicki:
(Traduit par Dominic Mpilé)
Keep Sheila On Acid possède une particularité qui tient du mystère, émergeant à travers une déclaration impénétrable à la musique électronique et à travers un son différencié. Les diverses gammes sonores se combinent pour produire (un chaos de musique instrumentale venu de l'au-delà à la fois déroutant et (bizarrement agréable). De la sensation majestueuse que produit la mélodie «We No Longer Follow the Sun» aux 10 minutes qu'offre la mélodie douce «Sleep Abstract», les amateurs seront ravis. Quel bonheur de s'évader dans l'au-delà.
Keep Sheila On Acid – We No Longer Follow The Sun
---