Tag: katie jensen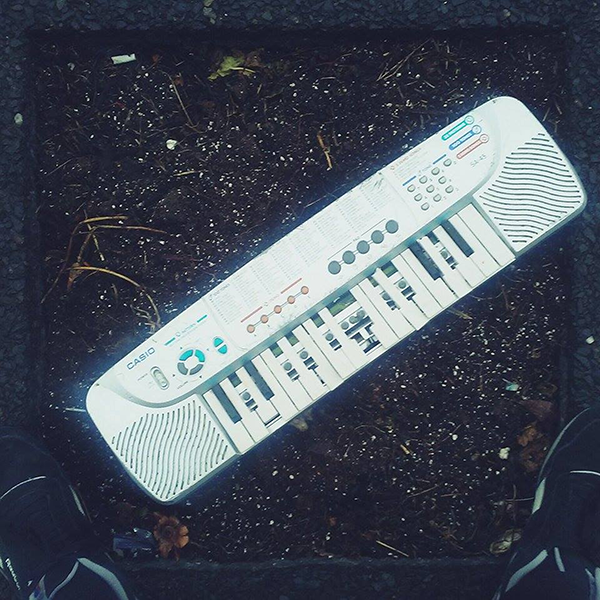 Bone Marrow
A Spiritual Blur / Someone New EP
Self-released
Montréal, QC
From the basement thoughts of Katie Jensen:
You sent yourself a text message last night: "Seeking aural healing. Receiving heaven. Swallowed whole." You must have interfaced with an angel last night. 1080p eyes probe the velvet dark. The room shifted overnight, or maybe just when you got home; piles of clothes heaped on keyboards, jeans weighing down oscillator keys, an organ flipped over and screaming. The phone screen glows, a cheap jellyfish sending tentacles into contact lists. Your long nails catch on the fibres of the blanket, pulling out synthetic fabric in squiggly fibres. It reminds you of shredding dandelions at the lake, feet swinging like Red Rover, slipping on wet wood, splinters gathering in palms, your peach body disappearing into indigo depths.
Des pensées souterraines de Katie Jensen:
(Traduit par l'écharde incrustée dans l'index de Jessica Grenier)
Tu t'es envoyé un message texte hier : « Recherche guérison auditive. Reçois le paradis : engloutissement total. » Tu as dû communiquer avec un ange hier soir. Des yeux en 1080p qui sondent le velours de l'obscurité. La pièce a changé cette nuit, ou peut-être juste quand tu as ouvert la porte de la maison. Des piles de vêtements jonchant des claviers, des jeans appuyant sur les touches d'un oscillateur, un orgue renversé qui se lamente. L'écran du cellulaire brille – une méduse en toc étirant ses tentacules à travers la liste de contacts. Tes longs ongles s'accrochent dans une couverture, tordant ses fibres synthétiques. Ça te rappelle les pissenlits s'effilochant au lac. Tes pieds se balançant comme pour Red Rover, qui glissent sur du bois mouillé; les échardes qui s'accumulent dans tes paumes. Ton corps de pêche qui disparaît dans les profondeurs indigo.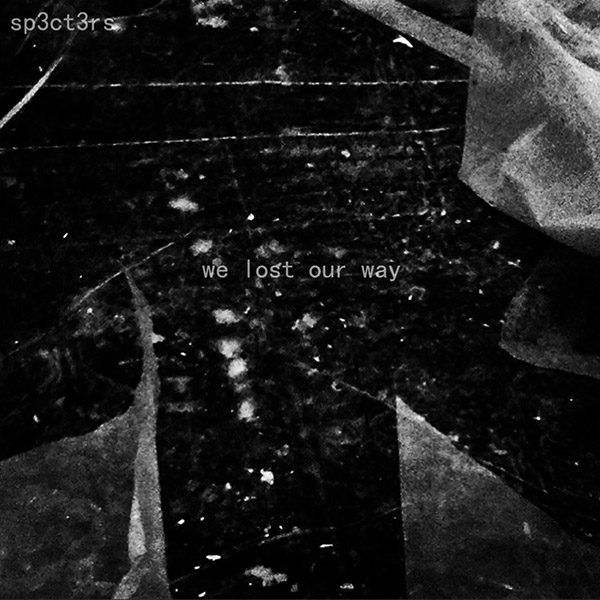 sp3ct3rs
we lost our way
Greenfield Park, QC
From the public appearance of Katie Jensen:
A glowing blue cloud suspended above a jagged metal junkyard. Abstract, scraped melodies rubbing together like the steel shoulders of old cars; rusted robin eggs rolling in a cream-spackled washbasin. The tenderness of fingertips drifting across peach-wrinkled eyelids, thin cotton sheets pulled over restless eyes. A mouth twitching and popping with tension, the copper tang of swallowed words, old scars where the teeth touched down, saving choice words for the lining of cheeks, clamp unyielding, pinching tighter and tighter, screams underwater converted into circular, silver bubbles, canine-gripped flesh, enamel instruments clattering, bowed instruments on metal, dried sand.
De l'apparition publique de Katie Jensen:
(Traduit par les quatre cents coups de Julie Mayer)
Un nuage d'un bleu éclatant suspendu au-dessus d'un dépotoir de ferraille dentée. Des mélodies abstraites et éraflées se frottent les unes aux autres comme les épaules d'acier des vieilles bagnoles; des œufs de merle rouillés roulent dans un lavabo colmaté au mastic. La tendresse des doigts flânant sur des paupières aussi ridées que la peau d'une pêche, de minces draps de coton tirés sur des yeux tourmentés. Une bouche tressaille et produit des bruits secs sous la tension, le goût ferreux de mots ravalés, d'anciennes cicatrices là où les dents se sont enfoncées, gardant des choix de mots à l'intérieur des joues, un serre-joint inflexible, serrant de plus en plus fort, des cris sous l'eau convertis en bulles d'argent sphériques, la chair mordue à pleines dents, le cliquètement d'instruments émaillés, des instruments à cordes sur du métal, du sable séché.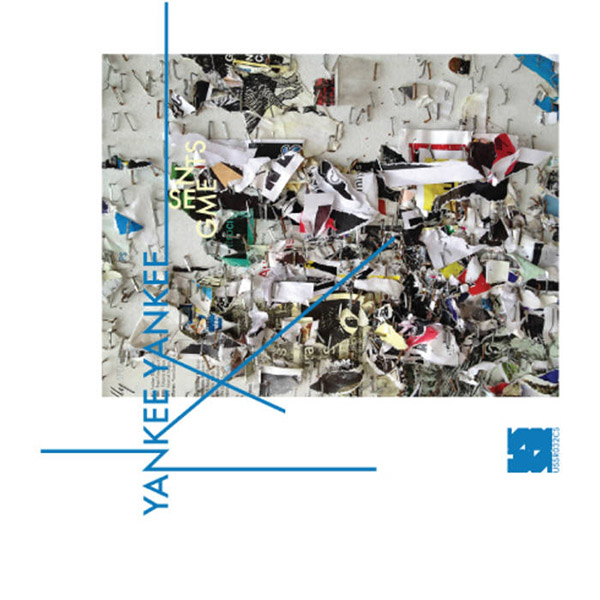 Yankee Yankee
Segments
Calgary, AB
From the guilty conscience of Katie Jensen:
Scram, scramble, flail. Slip into the grimy alley outside the reactor. Fingers digging into swirling space, mouths opening like dry fish. Waves of liquid synthesizers glide across polyphonic keys, drifting mercury desperately seeking cinnabar. Splintered chips making a slow transit across the sun, skin blistering, crust puckering. Rainbowed teeth floating into silicon space. Isolated letters tugged into orbit, tethered by minted floss. Thumbprint craters, alkaline water pooling in the hollows of eyes, a rippled disturbance, wobbling, tilted, reversing orbit. Eject into deep space via Calgary with the harsh ambient synths of Yankee Yankee's Segments.
De la conscience coupable de Katie Jensen:
(Traduit par les poissons de Maya Keshav)
Dégage, défile-toi, débats-toi. Passe dans la ruelle sale en dehors du réacteur. Les doigts puisent au fond de l'espace tourbillonnant, les bouches ouvrent comme des poissons secs. Les vagues de synthé liquide planent à travers les touches polyphoniques, le mercure vagabond qui cherche désespérément le cinabre. Les éclats qui font un voyage lent à travers le soleil, les ampoules sur la peau, les plis dans la croûte. Les dents arc-en-ciel qui volent dans l'espace en silicium. Les lettres isolées qui sont attirées à l'orbite, attachées à la soie dentaire à la menthe. Les cratères d'empreinte, l'eau alcaline qui s'accumulent dans les creux des yeux, un tapage ondulé, l'orbite chancelant, penchée, contraire. Propulse-toi en espace lointain via Calgary avec les synthés crus et enveloppants de Segments de Yankee Yankee.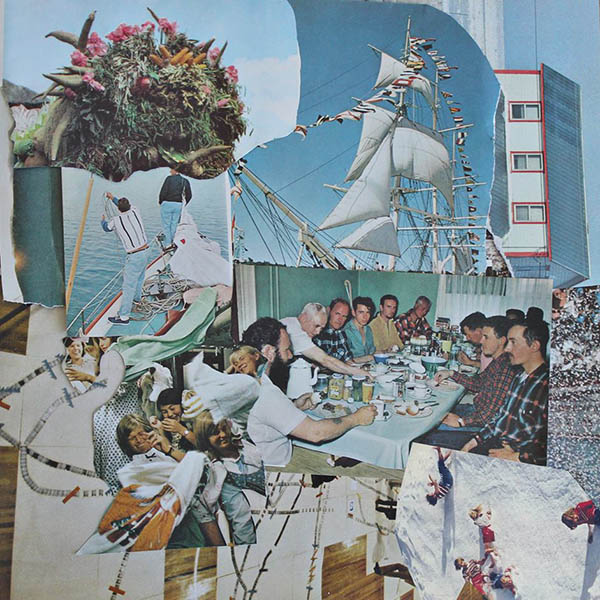 Loving
Loving
(Self-Released)
Victoria, BC
From the trick pony of Katie Jensen:
Trembling jelly words waiting to be scooped up with a plastic spoon. An apology repeated firmly and frequently. Postpunk played on 45 rpm, coated in honey, the needle dragging.
Supine guitar melodies flex their ankles underneath a bleached rim. Carefully selected sentences shift horizontally, mimicking stacked papers lifting their skirts in the wind.
A car crash played in reverse, glass triangles regathering like ants around a nest, front wheels racing backwards from an aquamarine, frothing crest. Once bitten, twice contemplative.
A copper penny placed in the palm of a warm hand like a promise; the most unreliable currency; the most likely to be forgotten on the ground.
Du poney de cirque de Katie Jensen:
(Traduit par les fourmis oubliées de Maya Keshav )
Les mots tremblants de gelée qui attendent d'être ramassés avec une cuillère en plastique. Des excuses qu'on présente et répète avec fermeté, souvent. Du postpunk joué à 45 tr/min, enrobé de miel, l'aiguille traînant.
Les mélodies allongées de guitare fléchissent leurs chevilles en dessous d'un rebord pâle. Les phrases soigneusement choisies se déplacent horizontalement, en imitant les paquets de feuilles qui soulèvent leurs jupes dans le vent.
Un accident de voiture joué à l'envers, des triangles de verre qui se rassemblent comme les fourmis autour d'un nid, les roues avant qui courent en arrière d'une crête bleue-verte moussante. Une fois mordu, deux fois plus songeur.
Un penny en cuivre mis dans la paume d'une main chaleureuse comme une promesse; la devise la moins fiable; celle qui est la plus probable de rester oubliée sur le sol.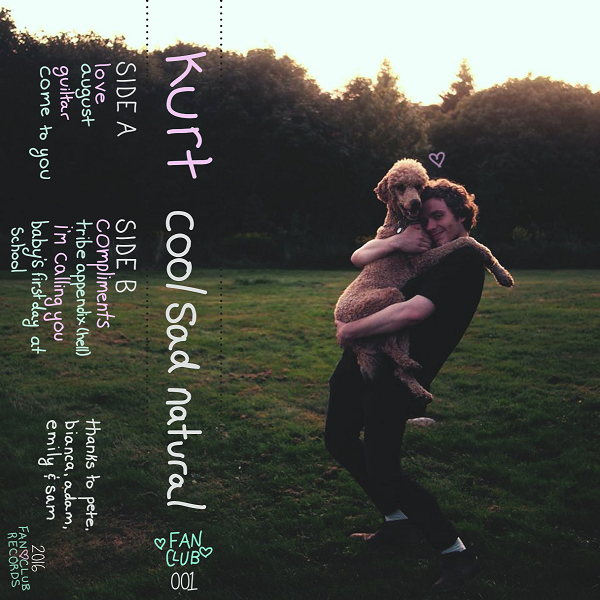 kurt
cool sad natural
Halifax, NS
From the cold shoulder of Katie Jensen:
Items tossed in a hard-shelled suitcase. Voicemails overwritten on glossy brown cassette tape. Damp socks dangling from the railing, heels dripping in quiet splashes. The hall mirror is staging an exclusive viewing of Sadsack Packs Up Things After Breakup, one night only, playing for an audience of precisely no one.
Cardboard boxes are sympathetic storage units, gobbling up smooth-rubbed talismans, creased comics scrawled in blue ballpoint, sweaters threaded with clove cigarette smoke.
A drumbeat taps like gentle pats on the back, or a dog wagging its tail against the hardwood. Tender guitar melodies flutter like a spring breeze, catching the linen skirt of the curtain. The answer couldn't be more obvious, and it couldn't be more miserable.
De l'accueil glacial de Katie Jensen:
(Traduit par Alison McReynolds)
Des objets jetés dans une valise rigide. Des messages vocaux remplacés sur une cassette brune lustrée. Des chaussettes humides pendent sur la rampe, des talons dégoulinent doucement. Le miroir du corridor monte une scène exclusive d'un Personnage Tragique En Train De Faire Ses Valises Après Une Rupture, un soir seulement, pour un public de précisément personne.
Des boites en carton sont des entrepôts sympathiques, engloutissant des talismans lissés, des bandes dessinées gribouillées en stylo bille bleu, des pulls tissés avec de la fumée de cigarette au clou de girofle.
Un tambour bat comme des tapes gentilles dans le dos, ou comme un chien remuant la queue sur un plancher de bois. Des mélodies tendres de guitares flottent comme une brise printanière, saisissant le bas du rideau. La réponse ne peut pas être plus claire et elle ne peut pas être plus misérable.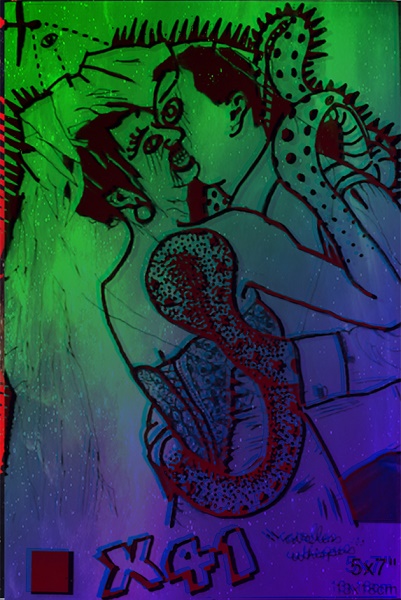 x41
S'up, Pluto?
Vancouver, BC
From the garbage dome of Katie Jensen:
The bedroom is a black hole. Dangling books with fluttering pages. Creased jeans crossing and uncrossing their worn out, indigo legs. A long-lost retainer, spackled with dried spittle and dust. Routine detritus shaken free by the swirling magnetism of a nameless void. Something stirring underneath the crumpled sheets and billowy comforter, pulsing with electromagnetic puffs. It struggles, whispering word-salad. Like an over-stuffed envelope, the bedroom collapses around itself. Contained, but bulging at the seams. Mail it away. Make it someone else's problem.
Venu du dôme d'ordures de Katie Jensen:
(Traduit par les facultés sacadées d' Émily Traichel)
La chambre à coucher est un trou noir. Des livres ballants avec des pages voltigeantes. Des jeans plissés se croisent et se décroisent les jambes indigo usées. Un appareil dentaire, perdu de vue depuis longtemps, enduit de crachat et de poussière. Détritus routiniers libérés par le magnétisme tourbillonnant d'un vide intersidéral sans nom. Quelque chose qui s'agite sous les draps froissés et la literie houleuse pulse avec des bouffées électromagnétiques. Elle a de la misère, murmurant une salade de mots. Comme une enveloppe surchargée, la chambre à coucher s'effondre sur elle-même. Close, mais pleine à bomber. Postez-la ailleurs. Rendez-la le problème d'un autre.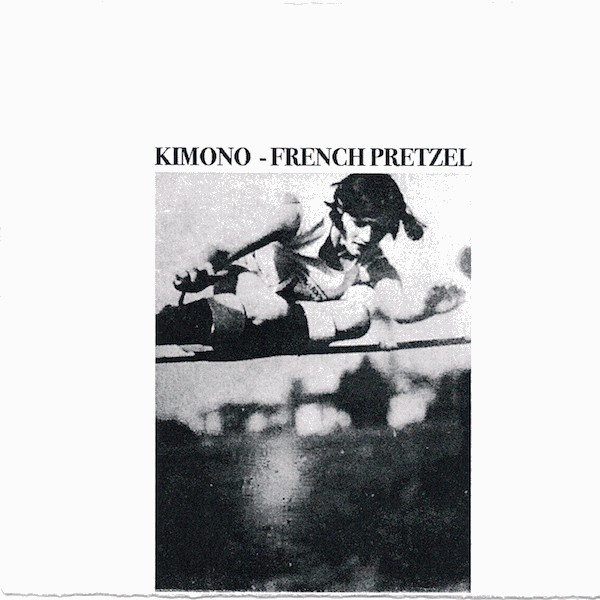 French Pretzel
Kimono
(Self-Released)
Halifax, NS
From the darkroom of Katie Jensen:
A militaristic march into a dark grove of trees, javelin spikes raised into the soft underbelly of clouds. Teeth bared, glinting like nacreous, dripping stalactites throwing diffused ire. Black trees shift like bad photocopies; migrating clusters of inky drops probe into smeared mountains and craggy falls. A metallic whirring tears open the sky, giving the thrumming bass and persistent drum cadence empyrean breathing room. Inside the forest, the mossy soil exhales into the folded hands of the canopy. A creeping mist wanders through spindly trunks, collecting samples that echo and absorb.
Par la chambre noire de Katie Jensen:
(Traduit par la forêt vrombissante d' Émily Traichel)
Un défilé militariste dans un bois sombre, pointes de javelots levées dans le bas-ventre doux de nuages. Les dents dévoilées, scintillantes comme des stalactites ruisselantes et nacrées, lançant de l'ire diffusée. Des arbres noirs se déplacent comme des photocopies ratées; des amas migrants de gouttes obscures sondent des montagnes brouillées et des falaises escarpées. Un bourdonnement métallique déchire le ciel, donnant à la basse vrombissante et à la cadence persistante de la batterie de l'oxygène empyréenne. À l'intérieur de la forêt, le sol moussu expire dans les mains repliées de la canopée. Une brume glissante erre à travers des troncs filiformes, recueillant des échantillons qui résonnent et absorbent.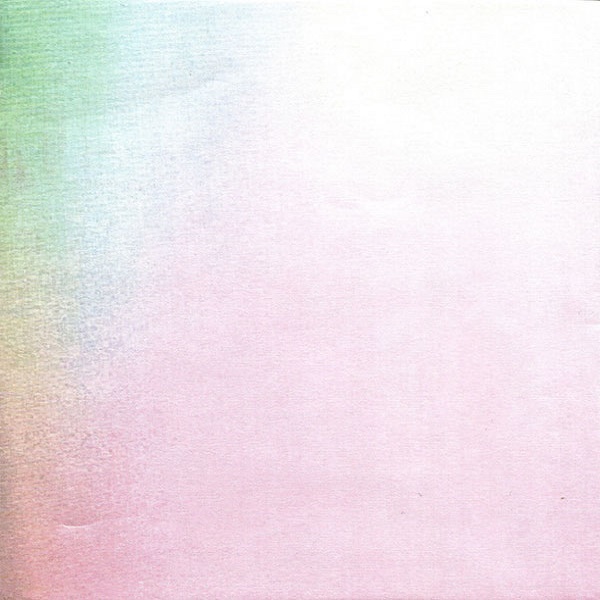 Prison Hair
Relief Patterns
(Self-Released)
Vancouver, BC
From the loose eyelash of Katie Jensen:
Syrupy synths drip over kitchen countertops, warming to the temperature of the human body. From the living room comes a faint, high-pitched whistle; the whirring of a broken television set.
Thick, sluggish beats pulse like cotton balls dabbed on the trembling skin of closed eyelids. Soothing, soft, wet. A rattling snare chews through its harness and rocks itself to sleep.
The radio dial twists past the frequencies of a million collapsing stars, folding inwards like laundry. Galaxies form in cotton creases.
In a house made from memory foam, every surface remembers, and is remembered.
Traduit par les aléas endimanchés Katie Jensen:
(Traduit par les aléas endimanchés Marie-Pier Chevrier)
Des synthétiseurs sirupeux dégoulinent des comptoirs de cuisine et se réchauffent jusqu'à atteindre la température du corps humain. Du salon nous parvient un sifflement aigu et étouffé; le ronronnement d'un téléviseur brisé.
Des rythmes épais et engourdis pulsent comme des balles de coton tamponnant la peau tremblante de paupières closes. Apaisants, doux, humides. Une caisse claire clinquante mâchonne et scinde sa bride et se berce elle-même jusqu'au sommeil.
Le fredonnement de la radio se tord pour atteindre la fréquence d'un million d'étoiles en chute libre, repliées sur elles-mêmes tel le linge propre. Des galaxies se forment dans les plis du coton.
Dans une maison faite de mousse mémoire, chaque surface se souvient et l'on se souvient de chaque surface.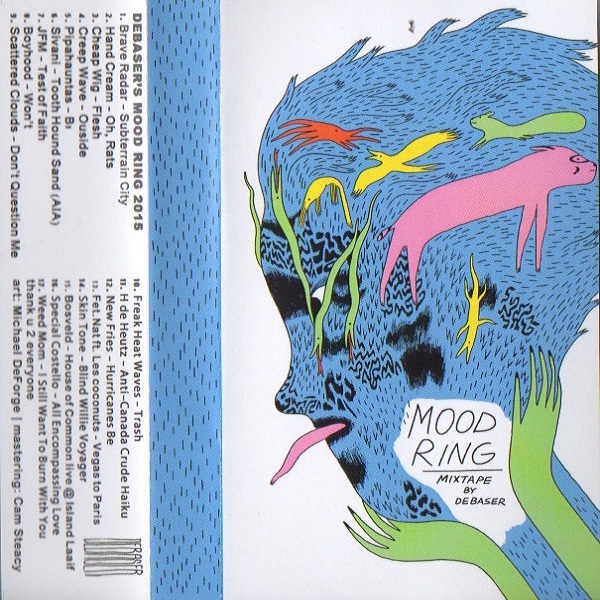 Various Artists
MOOD RING
(Debaser)
Ottawa, ON
From the blonde arm hair of Katie Jensen:
Defiant and pure, a dirty finger brushes away thick tears.
Tricked by the smear of this glass into leaving the apartment. For a good time, call these jeans. For a better time, take them off. Roll them down with exhausted hands; hitch them off stubborn feet; collapse on the bed.
The bar was a pale mess of limp clothes and lukewarm handshakes; a cluster of grimaces copied from grainy school photographs. In one, an eyetooth poked through plump flesh. In another, a yawn that never ends, begging for attention. The clock mutters of lost hours spent grinding its teeth, deciphering glowing, cryptic symbols in the dark. Sleep comes in twitching waves.
Par les poils de bras blonds de Katie Jensen:
(Traduit par l'hiver printanier d' Émily Traichel)
Provocateur et pur, un doigt sale essuie de grosses larmes.
Trompé par la tache de cette vitre et mené à quitter l'appartement. Pour prendre du bon temps, appelez ces jeans. Encore mieux, enlevez-les. Rabaissez-les avec des mains épuisées; décrochez-les des pieds obstinés; effondrez-vous sur le lit.
Le bar était un pâle bordel de vêtements mous et de poignées de mains tièdes; un amas de grimaces copiées de photos d'école grenues. Sur l'une d'elles, une canine a perforé de la chair potelée. Dans une autre, un bâillement qui ne finit jamais, mendiant de l'attention. L'horloge grommèle contre les heures perdues à grincer ses dents, déchiffrant des symboles lumineux et cryptiques dans le noir. Le sommeil vient en vagues spasmodiques.
Sivani – Tooth Hound Sand (AIA)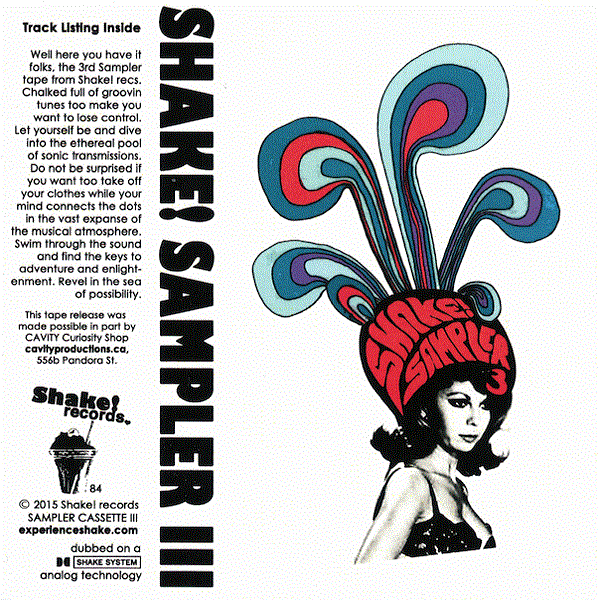 Various Artists
Shake! Sampler III
Victoria, BC
From the competing frequencies of Katie Jensen:
A junk store window gleaming with treasures. Dented jangle-pop cans burnished with gritty, syrup-stained rims. Sunbleached beach towels with familiar stains. A tambourine rattling coquettishly; the shopkeeper's purring pet. Tinted glasswear played like cowbells: hollow and true. A wooden bowl with a wide-mouthed brim, drooling with overflowing keys. Unopened letters. Leftovers from someone else's life.
A tiny handheld radio blares an anthem of discordant, slacker post punk. Twist the dial but stay between frequencies. Hover here. Hold your breath.
Des fréquences en compétition de Katie Jensen:
(Traduit par Julie Mayer)
La vitrine d'un bazar, étincelante de trésors. Des cannettes de jangle pop cabossées, polies, aux contours rugueux et maculés de sirop. Une serviette de plage blanchie par le soleil, couverte de taches familières. Un tambourin cliquète d'une manière aguicheuse; l'animal domestique ronronnant du commerçant. De la verrerie teintée jouée à la manière des cloches à vache : un son creux et vrai. Un bol en bois au large bord, dégoulinant de clés qui débordent. Des lettres non lues. Les restes appartenant à la vie de quelqu'un d'autre.
Une petite radio portative braille un hymne de slacker post punk discordant. Tourne la molette mais reste entre les fréquences. Fais du surplace ici. Retiens ton souffle.
Snooker Emporium – TökfQzelék
---