Tag: Kappa Chow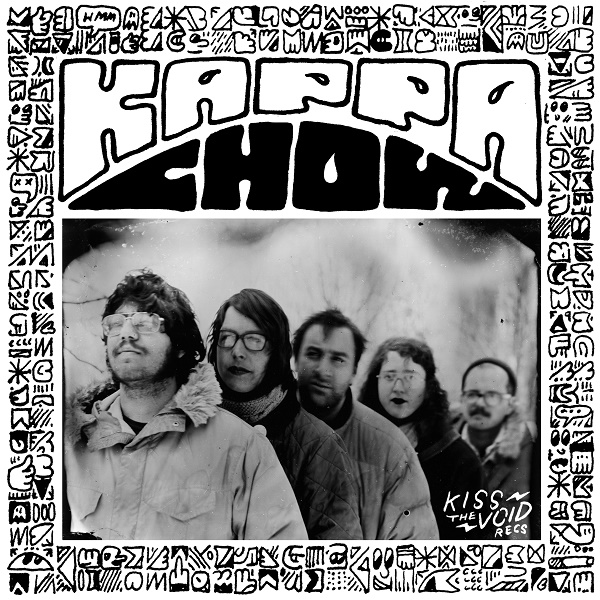 Kappa Chow
Jump / Something Better To Do
(Kiss the Void)
Sackville, NB
From the skull of Luke Mumford:
Straight outta the legendary Sackville, New Brunswick comes another great release from Kappa Chow. The A-side, "Jump" is a psychedelic masterpiece fit for the gods, with a punchline that sounds slightly familiar with way dreamier vocals. Flip the record and you're hit with a garage rock number that you'll be sure to love. The latter is a heavy-duty track. Both will be a great aid to any night of partying, or just sitting around at George's Roadhouse. These songs are mind warpers.
Du crâne de Luke Mumford:
(Traduit par Jessica Grenier)
Un autre excellent album de Kappa Chow, tout droit sorti de la légendaire Sackville, Nouveau-Brunswick. Sur la face A, « Jump » est un chef d'œuvre psychédélique digne des dieux; sa finale a des sonorités familières, mais avec une voix beaucoup plus onirique. En retournant l'enregistrement, tu seras happé par une piste de garage rock à toute épreuve que tu vas adorer. Les deux sont parfaites pour une soirée passée à fêter, ou à juste glander au George's Roadhouse. De vrais doudous pour le cerveau.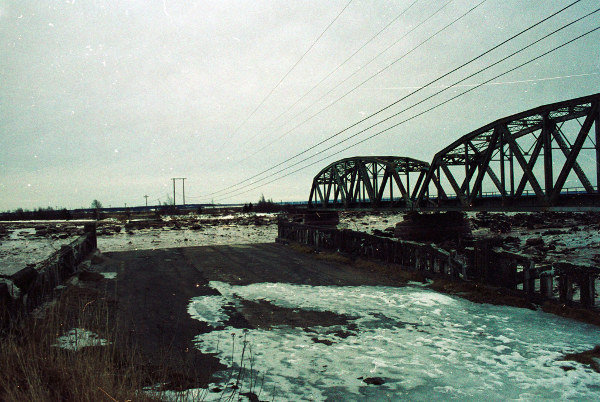 Stereophonic 12
January 22-24
Sackville, NB
Photo: Colin Medley
From the snow-flecked eyebrows of Kevin Brasier:
Stereophonic, is a winter fundraiser/hellraiser for Sackville's community station, CHMA 106.9FM. If you've ever wondered "what's in that Sackville water" that produces the finest bands in the land, the answer is CHMA's FM-freakuencies. Stereophonic is how Sackville says thank you to CHMA for offering the community free postering services, PA equipment for shows, and much more. Far from an ordinary fundraiser– co-directors Scott Brown and Ilse Kramer (also bandmates in the mighty Kappa Chow) are throwing a three-day rager featuring musical legends from bag-town and beyond including Astral Gunk, Bry Webb, Old and Weird, and Monomyth. Check out the release video for the full-line up, and listen to the festival mix-tape to preview the sweetest sounds of the marshes.
Des sourcils parsemés de flocons de neige de Kevin Brasier:
(Traduit par le nez incandescent de Jessica Grenier)
Stereophonic est une collecte de fonds infernale/hivernale pour la station radio communautaire de Sackville, CHMA 106.9FM. Si vous vous êtes déjà demandé ce qu'il y a dans l'eau de la ville pour qu'elle produise les meilleurs groupes du pays, la réponse se trouve dans les freakences de CHMA. Stereophonic, c'est aussi Sackville qui dit merci à CHMA pour le service d'affichage qu'elle offre gratuitement à la communauté, l'équipement de sonorisation lors des spectacles, et bien d'autres choses encore. Stereophonic est loin d'être un spectacle-bénéfice ordinaire : les codirecteurs Scott Brown et Ilse Kramer (aussi membres du grandiose Kappa Chow préparent une fête de trois jours avec des légendes de la musique povenant de la ville ou d'ailleurs, comme Astral Gunk, Bry Webb, Old and Weird et Monomyth. Regardez l'annonce vidéo pour savoir la programmation et écoutez la cassette du festival pour vous donner un aperçu des meilleurs sons du marécage.
1 Best Fiends – "Uh Huh"
2 Zakary Slax – "Remains"
3 Monomyth – "Candleholder"
4 Coach Longlegs – "Baycation With You"
5 Klarka Weinwurm – "TMSB"
6 Bry Webb – "Prove Me Wrong"
7 Corey Isenor – "Beneath The Bramble"
8 Jon Mckiel – "I Know, I Know"
9 Astral Gunk – "Astral Theme"
10 Heaven For Real – "Hard Done By"
11 Union Suit – "Delirious Vista"
12 Adam Mowery – "Follow Me To The Bottom*"
13 The Kavorkas – "The Grocery Store (demo)*"
14 Old and Weird – "She Seems Stressed"
15 Legendary Golden River Show Band – "Stay Yonder (Honeysuckle)"
16 Zachary Lucky – "Salty Air"
17 Old Bones – "I Can See Through You*"
18 Painful Shivers – "Blu"
* denotes that the track is unreleased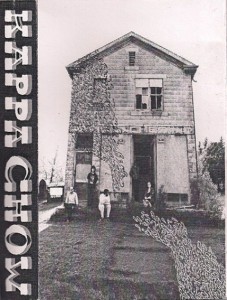 From the shred shed of Jesse Locke:
The turnt minds behind Astral Gunk split the sides of this cassette with paired off-the-floor sessions from Kappa Chow's Sackville and Montreal incarnations. The former packs a sax blurt that shimmies like a ramshackle Shrines, while the slow churn of "Bang Bang" is positively Flipperesque. The backside brings some more gospel yeh-yeh to its buzzsaw garage, yet the fidelity drops down to boombox-in-a-trash-can levels of grizzle. Boss tunes from both line-ups, and any band with a name borrowed from Pootie Tang gets a lifetime thumbs up.
De la cabane en lambeaux de Jesse Locke:
(Traduit par Joannie Pharand)
Les esprits frénétiques derrière Astral Gunk divisent les faces de cette cassette par la combinaison de sessions hors-de-ce-monde de Kappa Chow, des incarnations provenant de Sackville et de Montréal. Le premier laisse échapper un son de saxophone qui se dandine comme les Shrines délabrés, alors que le doux bouillonnement de « Bang Bang » est véritablement Flippant. Du dos de la cassette, on amène encore plus de gospel yeh-yeh au son garage bourdonnant de scie mécanique, et pourtant, la fidélité décline à un niveau de pleurnichement ghetto-blaster-de-poubelle. Boss s'accorde aux deux programmes et tout groupe portant un nom emprunté à Pootie Tang est approuvé à vie.
Kappa Chow – Save Your Opinion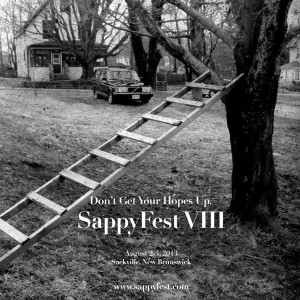 Various Artists
SappyFest VIII
(August 2-4, 2013)
Sackville, NB
From the swan pond of Jesse Locke:
Don't get your hopes up. Those humble words serve as both tagline and mantra for Sackville, NB's annual gathering, yet prove tough to follow with this year's stacked line-up! The next wave of Halifax crashes in with Monomyth, Heaven For Real, Old & Weird and hazy-brained hip-hop crew Weirdo Click. Toronto's Tranzac jazz scene is repped by Alex Lukashevsky and island-timed troupe Eucalyptus (captained by Brodie West), while the forecast for Colin Stetson shows volcanic blowouts. JFM and Karneef bring the brain-warping beats, and for softer ear-candy, catch soul sister Snowblink, Construction & Deconstruction or ol' faithful Chad. But wait… 2013's dark horse could be Sackville locals Kappa Chow, the latest project from the motley Killer Haze crew, with a name swiped from Pootie Tang. Wa da ta!
p.s. Need a pause from the music? Skip on down to Why Nowhere?, Sappy's self-dubbed 'smalltown music conference' featuring a panel from WC's own Marie LeBlanc Flanagan!
De la mare aux cygnes de Jesse Locke:
(Traduit dans la nostalgie des festivals d'été par Andréanne Dion)
N'ayez pas trop d'attentes. Ces paroles modestes sont à la fois le slogan et le mantra du rassemblement annuel de Sackville au Nouveau-Brunswick, mais s'avèrent pourtant difficiles à respecter vu l'impressionnante programmation de cette année! La prochaine vague de musiciens d'Halifax déferle avec Monomyth, Heaven For Real, Old & Weird et le collectif hip-hop des brumes Weirdo Click. La scène jazz Tranzac de Toronto est représentée par Alex Lukashevsky et Eucalyptus, la troupe aux rythmes des îles dirigée par Brodie West, alors qu'on se prépare à des éruptions volcaniques avec Colin Stetson. JFM et Karneef s'amènent avec leurs rythmes à vous tordre le cerveau, et pour vous régaler de sons plus doux, ne manquez pas Construction & Deconstruction, les reines de la soul Snowblink ou encore le bon vieux Chad. Mais attendez… la surprise de 2013 pourrait bien être le groupe local de Sackville, Kappa Chow, le plus récent projet de la bande hétéroclite de Killer Haze, avec leur nom tiré directement du film Pootie Tang. Wa da ta!
p.s. Besoin de prendre une pause de la musique? Allez faire un tour à Why Nowhere? la "conférence musicale de petite ville" de Sappy, où Marie LeBlanc Flanagan de WC animera une discussion!
---