Tag: justine gabias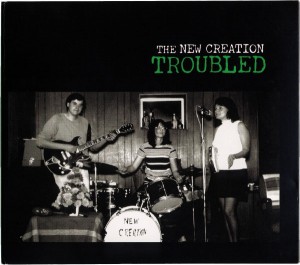 The New Creation
Troubled
(Alphaomega Records // Companion Records)
Vancouver, BC
Originally Released: 1970
From the countdown to revolution of Matthew Swann:
If you ask the average layperson, "Hey! You! What's the best album by a Canadian band in the last half of the 20th century?" Obviously, they're gonna say "Love Tara, by Eric's Trip." Duh, every time. However, ask Jesus the same question, and you're gonna get a different answer; one spoken resolutely in Aramaic, and shouted through an echoplex. Jesus is gonna say… "Troubled, by the New Creation (((((((((((((( !!!!!!!!!!"
And here's why! Originally released in 1970 on Vancouver's Alphomega Records, and finally re-issued on California's Companion Records, Troubled is sloppy, trippy, apocalyptic garage-psych. Imagine the Velvet Underground, Skip Spence, and the Shaggs holed up in a bomb shelter with the Partridge Family, while some loving Quakers homeschool them in Essene eschatology! Now imagine all that in 12 hot tracks. I'm not talking your parent's apocalyptic, Jesus Freak scene (oh wait — it's from the '70's, maybe it is). Anyway, pick this gem up, turn the other cheek (toward the speaker), and get down (((((((((((((( !!!!!!!!!!
Matthew Swann is the mastermind behind Astral Swans and previously haunted ears as Extra Happy Ghost!!!.
Du compte à rebours vers la révolution de Matthew Swann:
(Traduit par le saint-suaire tye dye de Justine Gabias)
Si vous demandez au profane ordinaire, « Hé! Toi! Quel est le meilleur album d'un groupe canadien de la deuxième moitié du XXe siècle? » Immanquablement, il va répliquer: « Love Tara, d'Eric's Trip. » Ça va de soi. Par contre, demande la meme question à Jésus, et tu auras une réponse différente, en araméen bien sûr, et gueulée à travers un Echoplex. Jésus répondra… « Troubled par the New Creation (((((((((((((( !!!!!!!!!! »
Et voici pourquoi! Lancé en 1970 par le label Alphomega Records de Vancouver, et maintenant enfin re-distribué par California's Companion Records, Troubled est du garage-psych bâclé, trippant et apocalyptique. Imagine le Velvet Underground, Skip Spence et les Shaggs terrés dans un abri nucléaire avec la Partridge Family, se faisant enseigner l'eschatologie des Esséniens par de charmants Quakers! Maintenant, imagine tout ça dans 12 chansons du tonnerre. Je ne parle pas des trucs apocalyptiques Jesus freak de tes parents (oh, mais attends… ça date des années '70, alors oui, peut-être.) Qu'importe, empare-toi de cette perle, tends l'autre joue (vers tes haut-parleurs), et laisse-toi aller! (((((((((((((( !!!!!!!!!!
Matthew Swann est le cerveau derrière Astral Swans et a hanté les oreilles dans le passé en tant qu'Extra Happy Ghost!!!.

The New Creation – Countdown To Revolution !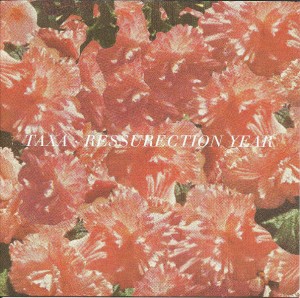 TAXA
Resurrection Year
Vancouver, BC
From the imminent explosion of Kevin Stebner:
Initially, you may think these burly rhythms come from worshippers of the old Great American Steak Religion, yet Taxa take a soul-searching journey to the Valhalla that is Chapel Hill. Imagining mechanic button-ups with embroidered names like "Dale" or "Hank", you wonder if they intend to heal the damage. Instead, you climb the mountain of history and past, feeling a scarily imminent explosion from the Pacific rim. Do you crest the peak, or fall headlong in?
De l'explosion imminente de Kevin Stebner:
(Traduit du sommet de la vague de Justine Gabias)
Au premier abord, on pourrait penser que ces rythmes costauds sont l'oeuvre de fidèles de The Great American Steak Religion, mais les membres de Taxa entreprennent plutôt un voyage spirituel jusqu'au Valhalla qu'est Chapel Hill. Les imaginant portant des chemises de mécanos avec des noms comme « Dale » ou « Hank » brodés sur la poitrine, on se demande s'ils ont l'intention de réparer les dommages. Ils nous font plutôt gravir la montagne de l'histoire et du passé avec le pressentiment d'une explosion horriblement imminente de la ceinture du Pacifique. On touche le sommet de la vague ou on y tombe la tête la première ?
---