Tag: julie reich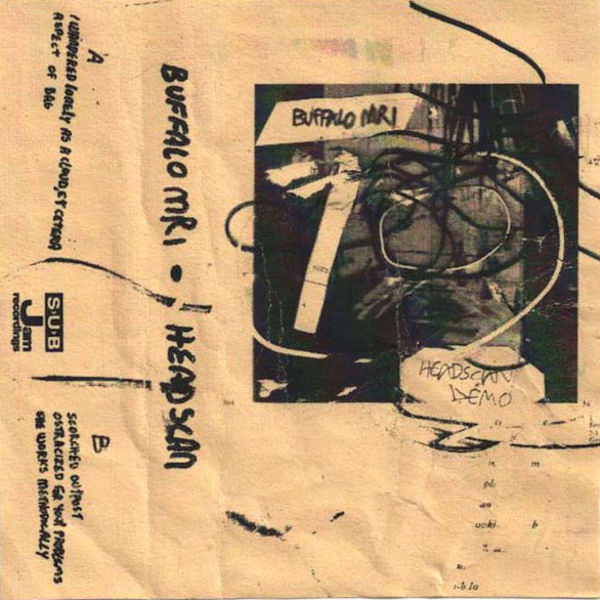 Buffalo MRI
Headscan
(Sub Jam)
Montréal, QC
From the avant blurt of Julie Reich:
Buffalo MRI a.k.a. Vera Brim is the solo project of Montreal's Dominique Alexander. Side A knocks at the door and rings a doorbell on slow, soothing repeat. Pitch-shifted laughs, late-night applause and clattering tin. Side B, my favorite slum, is a chill-sesh in punk village. Sad free-jazz guitar… what am I hearing!? Low buzzing, melancholic hums, and Dom's interspersed voice. An out of tune piano serenades broken avant bursts. These sounds of your brain were recorded from the headscan earlier that day. It's 4 a.m. on a Tuesday and you're in the lobby bar, alone, drinking.
De l'exaltation de Julie Reich:
(Traduit du Café del mar par Catherine Debard)
Buffalo MRI, ou Vera Brim, est le projet solo du Montréalais Dominique Alexander. La face A cogne à la porte et appuie sur la sonnette doucement, dans une répétition relaxante. Des rires pitch-shiftés, applaudissements de fin de soirée et cliquetis de métal. La face B est une session de chillage dans un village punk. De la guitare free-jazz triste… qu'est-ce que j'entends!? Un buzz grave, un bourdonnement mélancolique, et la voix parsemée de Dom. Un piano légèrement désaccordé sérénade juste avant l'explosion. Ces sons de votre cerveau ont été enregistrés par un scan de votre tête plus tôt ce jour-là. Il est 4 heures du matin un mardi et vous êtes dans le lobby d'un bar, seul, un verre à la main.

Buffalo MRI – Ostracized For Your Problems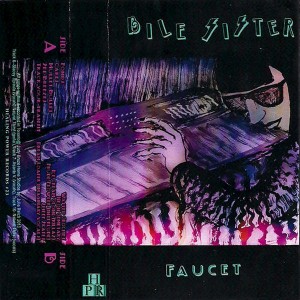 Bile Sister
Faucet
Toronto, ON
From the see breeze of Jesse Locke:
Julie Reich a.k.a. Bile Sister a.k.a. DJ Garbage Body is the shades-clad cortex of a circuit-fried storm. Jacked in to the mutated matrix of dancefloor declassification, she channels her inner Chandra with the puckered pluck of half machine lip moves. These Casiotone clone killers are now in the process of full band re-make/re-model, so keep an eye on the blockspace and seize the steeze.
De la brise de vue de Jesse Locke:
(Traduit par l'œil de la tempête de Virginie Langlois)
Julie Reich alias Bile Sister ou encore DJ Garbage Body est l'œil d'une tempête en furie qui se serait dissimulé derrière des lunettes de soleil. Connectée à la matrice mutante d'une musique dansante sans genre ni forme clairement défini, elle canalise son Chandra interne grâce à un mouvement des lèvres nerveux digne de l'album half machine lip moves. Ces adeptes du Casiotone sont passés d'un projet solo à un groupe proprement dit, alors gardez un œil sur ce qui se passe dehors et laissez-vous porter par le courant.
---