Tag: julie mayer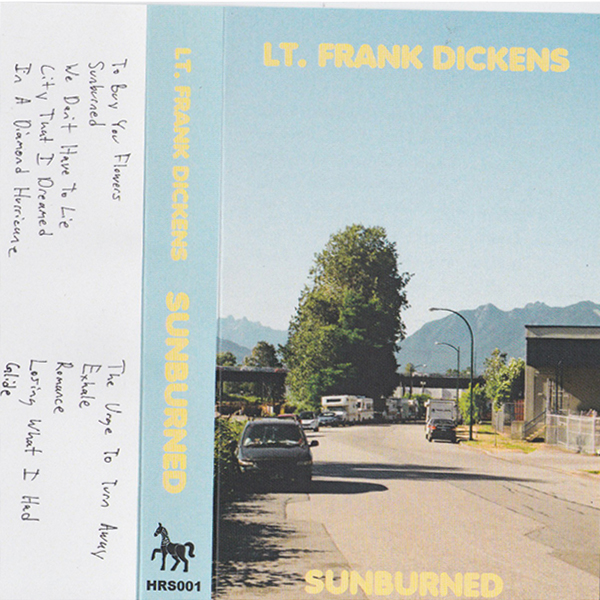 Lt. Frank Dickens
Sunburned
Vancouver , BC
From the pained heart of Morgan Cook:
There is no comparison to this divisive crooner. Lt. Frank Dickens is a poet and a troubadour. The music is the ship, the voice is the siren and the words are the rocks you wreck yourself upon. Tears flood your eyes and emotion purifies your heart as it is broken and lifted, healed and destroyed. From the mind and hand of Peace's Dan Geddes with the help of sensitive souls, friends who share and manifest his vision. Lt. Frank Dickens captains this poetic journey through the darkness.
Du cœur affligé de Morgan Cook:
(Traduit par l'impression de déjà vu Julie Mayer)
Il n'y a rien de comparable à ce crooner diviseur. Lt. Frank Dickens est un poète et un troubadour. La musique est le navire, la voix est la sirène et les mots sont les rochers sur lesquels vous vous brisez. Des larmes inondent vos yeux et l'émotion purifie votre cœur à mesure qu'il se brise et s'élève, qu'il est guéri et ravagé. Cet album est conçu par l'esprit et la main de Dan Geddes, membre de Peace, avec l'aide d'âmes sensibles, d'amis qui partagent et manifestent sa vision. Lt. Frank Dickens dirige ce voyage poétique à travers l'obscurité.
Lt.Frank Dickens – We Don't Have To Lie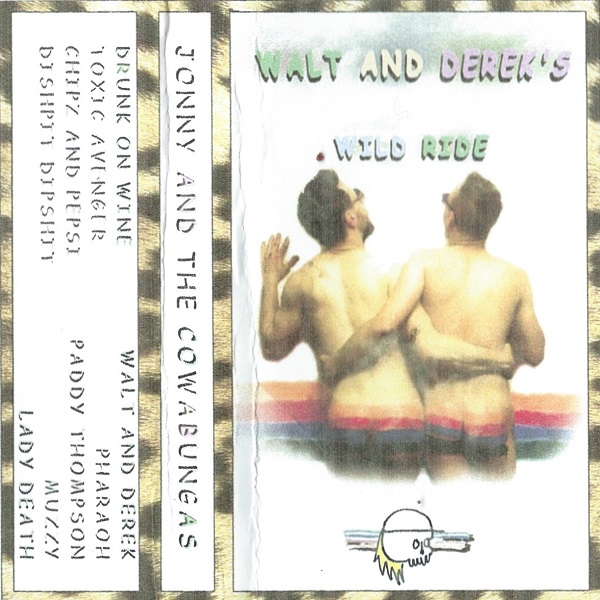 Jonny and the Cowabungas
Walt and Derek's Wild Ride
(Lawnchair Records)
St. John's, NWLD
From the endless summer of Mike Roy:
Born in a vat of b-movie superheroes, jangly guitar chords and surf age nostalgia, Jonny and the Cowabungas are St. John's latest export for a good time. Under the recording guidance of Micah Brown (MAANS), Walt and Derek's Wild Ride effortlessly drift over a wave of mostly instrumental garage rock, with swells of influences like Spaghetti Western soundtracks ("Paddy Thompson") to '60s heartbreak pop ("Muzzy"). The result is both energetic and electrifying, and surely leaves you sun-kissed long into those cold winter months.
De l'été sans fin de Mike Roy:
(Traduit par la coupure à l'annulaire droit de Julie Mayer)
Nés dans une cuve de super-héros de série B, d'accords de guitare cliquetants et de nostalgie du temps où le surf avait la cote, Jonny and the Cowabungas sont la toute dernière exportation de St. John depuis un bon moment. Sous la direction de Micah Brown (MAANS) à l'enregistrement, Walt and Derek's Wild Ride dérive sans effort sur une vague de garage rock surtout instrumental, accompagnée d'une foule d'influences allant du western spaghetti (« Paddy Thompson ») à la heartbreak pop des années 60 (« Muzzy »). Le résultat est à la fois énergique et électrisant, et ensoleillera sans aucun doute nos froids mois d'hiver.
Jonny and the Cowabungas – Drunk On Wine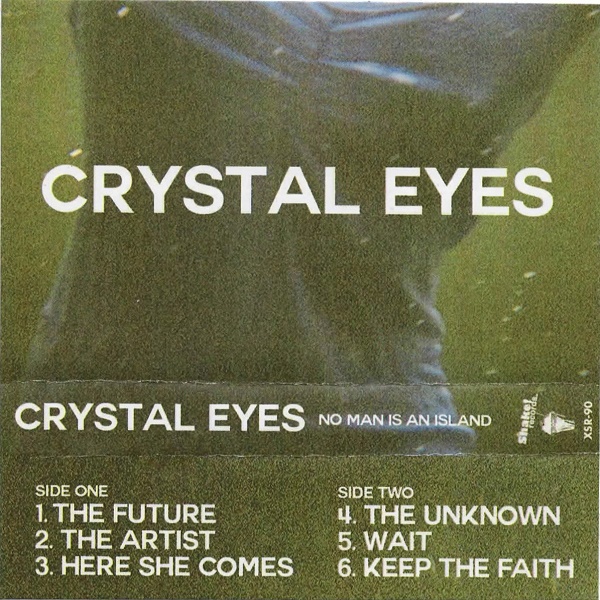 Crystal Eyes
No Man Is An Island
Calgary, AB
From the sticky note musings of Mackenzie Smedmor:
Goth kids have a romantic side. An afternoon of warm fuzzed guitar sunshine makes a great escape from the ceaseless marching of high school hallways, where you take your crush to the hillside and weave conversations into a euphonious scrapbook of everything from renaissance literature to rock'n roll.
Their sweet yet glassy eyes make you swoon and ponder just where these wonderful melodies form and where they will go. Will you ever dive to the depths of their dark sea of thought? Or will you float on this cloud of distorted ambiguity to the unknown…
Des rêveries de *Post-it* de Mackenzie Smedmor:
(Traduit par Julie Mayer)
Les jeunes gothiques ont un côté romantique. Un après-midi ensoleillé de guitare chaleureuse est l'occasion d'une escapade parfaite loin des marches incessantes dans les corridors de l'école secondaire, du genre de celles où vous emmenez votre flirt sur le versant d'une colline et tissez vos conversations en un scrapbook euphonique qui regroupe tout, de la littérature datant de la Renaissance au rock'n'roll.
Leurs yeux doux mais vitreux vous font pâmer et réfléchir aux endroits où ces merveilleuses mélodies se forment et où elles s'en iront. Plongerez-vous dans les profondeurs de leur sombre mer de pensées un jour? Ou flotterez-vous sur ce nuage d'ambiguïté distordue vers l'inconnu…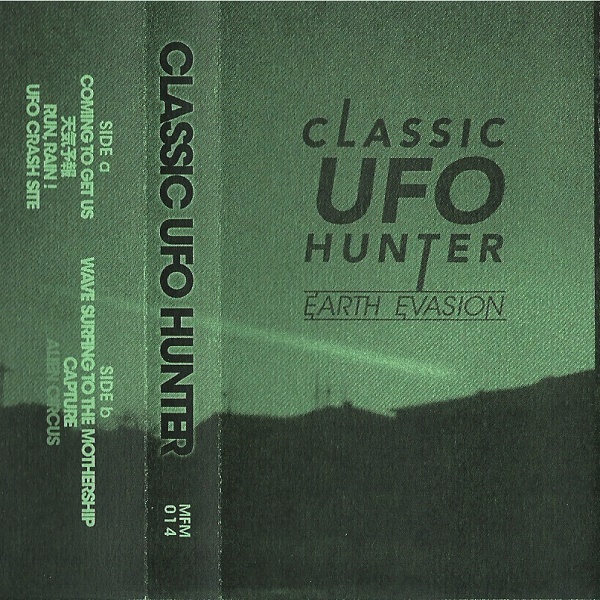 Classic UFO Hunter
Earth Evasion
Quebec, QC
From the spooky mind of Laura Stanley:
Stand on the bridge that spans reality and possibility. There's water on Mars. We are not alone in the universe. Look into the abyss or let the abyss look into you. There's nothing. Their pace quickens and unearthly bodies are out for blood. Do they avoid us because they have seen what we do to others? Can you hear their voices or are they, in unrecognizable tones, our own? Only Classic UFO Hunter knows the truth.
De l'esprit épeurant de Laura Stanley:
(Traduit par l'alunissage de Julie Mayer)
Tenez-vous sur le pont qui enjambe réalité et possibilité. Il y a de l'eau sur Mars. Nous ne sommes pas seuls dans l'univers. Cherchez dans l'abysse ou laissez l'abysse chercher en vous. Il n'y a rien. Leurs rythmes s'accélèrent et leurs corps surnaturels sortent en quête de sang. Nous évitent-ils parce qu'ils ont vu ce que nous faisons aux autres? Peux-tu entendre leurs voix, ou sont-elles, sous des tons méconnaissables, les nôtres? Seul Classic UFO Hunter connaît la vérité.
Classic UFO Hunter – Coming To Get Us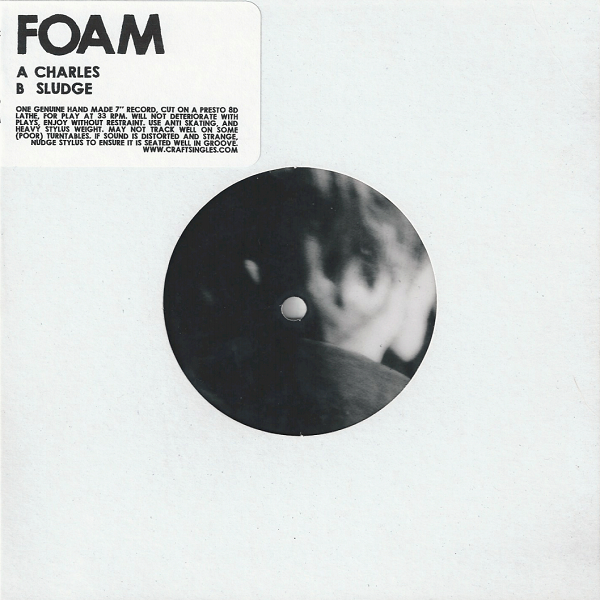 Foam
Charles (Craft Single)
London, ON
From the bloody gullet of Rachel Bellone:
Foam, a boisterous three piece that emerged from an angry gaggle of notable punk bands from London, Ontario. The Out of Sound-ers carry on a legacy of the DIY punk stomping grounds in the "city of opportunity". The opening track, "Charles" evokes a violent encounter between your big toe and an otherwise non confrontational coffee table. "Sludge" could be the soundtrack to a nosebleed you've woken up with after a fever dream. Though it's perfectly normal for similar acts to make you drool, inform your doctor if these tracks cause foaming of the mouth.
De l'œsophage sanguinolent de Rachel Bellone:
(Traduit par la brosse à cheveux édentée de Julie Mayer)
Foam est un trio chahuteur sorti d'un troupeau colérique d'éminents groupes punk originaires de London, en Ontario. Les Out of Sound-eurs perpétuent dans la city of opportunity l'héritage des milieux punk DIY. Le premier morceau, « Charles », évoque une violente confrontation entre votre gros orteil et une table basse qui autrement ne cherche pas la bagarre. « Sludge » pourrait être la trame sonore d'un saignement de nez avec lequel vous vous êtes réveillés à la suite d'un rêve fiévreux. Bien qu'il soit tout à fait normal que de telles situations vous fassent baver, si vous avez l'écume aux lèvres après avoir écouté ces pistes, parlez-en à votre docteur.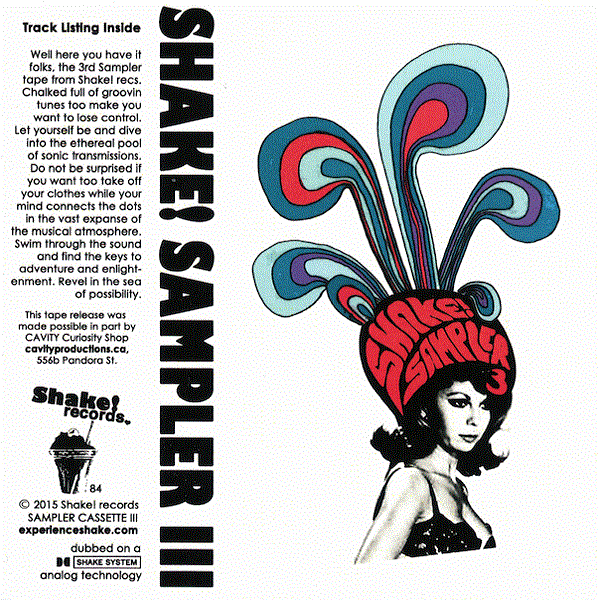 Various Artists
Shake! Sampler III
Victoria, BC
From the competing frequencies of Katie Jensen:
A junk store window gleaming with treasures. Dented jangle-pop cans burnished with gritty, syrup-stained rims. Sunbleached beach towels with familiar stains. A tambourine rattling coquettishly; the shopkeeper's purring pet. Tinted glasswear played like cowbells: hollow and true. A wooden bowl with a wide-mouthed brim, drooling with overflowing keys. Unopened letters. Leftovers from someone else's life.
A tiny handheld radio blares an anthem of discordant, slacker post punk. Twist the dial but stay between frequencies. Hover here. Hold your breath.
Des fréquences en compétition de Katie Jensen:
(Traduit par Julie Mayer)
La vitrine d'un bazar, étincelante de trésors. Des cannettes de jangle pop cabossées, polies, aux contours rugueux et maculés de sirop. Une serviette de plage blanchie par le soleil, couverte de taches familières. Un tambourin cliquète d'une manière aguicheuse; l'animal domestique ronronnant du commerçant. De la verrerie teintée jouée à la manière des cloches à vache : un son creux et vrai. Un bol en bois au large bord, dégoulinant de clés qui débordent. Des lettres non lues. Les restes appartenant à la vie de quelqu'un d'autre.
Une petite radio portative braille un hymne de slacker post punk discordant. Tourne la molette mais reste entre les fréquences. Fais du surplace ici. Retiens ton souffle.
Snooker Emporium – TökfQzelék
Johnny de Courcy
Master Manipulator
Montreal, QC
From the hoop earrings of Jesse Locke:
For his latest transformation, Johnny de Courcy peacocks through five songs of charisma-dripping glamorama. Side A crams in sexy sax and guitar scorch on the title track of the year plus a straight-played cover of Edwyn Collins' post-Orange Juice confectionary "A Girl Like You". The flipside sails back to Alien Lake with the melancholic "Teenage" and a spotlighted solo piano before the curtain drops.
Des créoles de Jesse Locke:
(Traduit par les oreilles envoûtées de Julie Mayer)
Pour sa plus récente réincarnation, Johnny de Courcy se pavane comme un paon à travers cinq chansons de glamourama dégoulinant de charisme. La face A case du saxo sexy et de la guitare roussie dans la chanson-titre de l'année plus une reprise exécutée avec justesse de « A Girl Like You », bonbon post-Orange Juice d'Edwyn Collins. La face B remonte à Alien Lake avec le mélancolique « Teenage » et un solo de piano mis sous la lumière des projecteurs avant la tombée du rideau.
Johnny de Courcy – Master Manipulator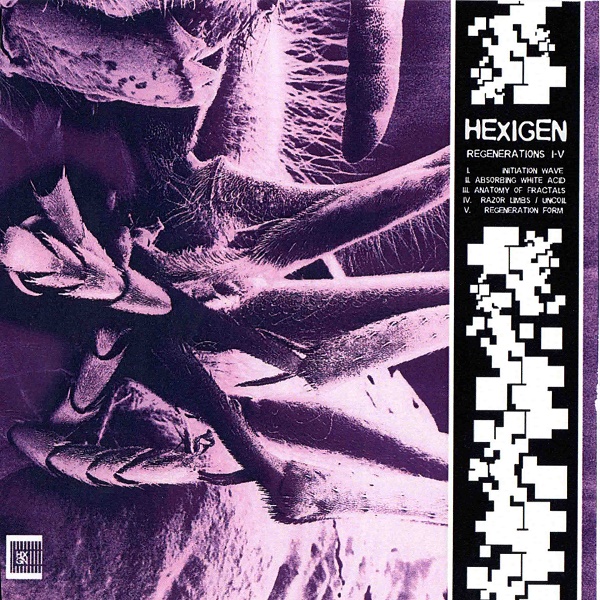 Hexigen
Regenerations I-V
(Self-Released)
Brampton, ON
From the spasming futures of Heather Lune:
It feels like electricity thudding into your body through the nerves of your fingertips. It rockets up into the ticklish base of your brain.
Brampton's Hexigen releases a semi-improvised rainstorm of droning airborne frictions showering out of a near-future dystopia, from a time when the few remaining habitable areas of the earth have been enclosed in impenetrable low-lying domes.
The air, the rain, the sun: just cold and distant projections in the encased and gasping remnants of our dimming organic world. Our once soft bodies now composed of 60% cybernetic parts.
All touch so cold and plastic — but we will long to feel the texture of skin, and shriek for it in our coded dreams.
Des avenirs spastiques de Heather Lune:
(Traduit par la frittata sans patates de Julie Mayer)
C'est une sensation comparable au martèlement de l'électricité qui traverse ton corps par les nerfs situés au bout de tes doigts. Ça se propulse jusqu'à la base chatouilleuse de ton cerveau.
Hexigen, groupe originaire de Brampton, lance une pluie diluvienne semi-improvisée de frictions bourdonnantes portées par le vent. Ces dernières coulent, tel un jet de douche, d'une dystopie de l'avenir proche, d'un temps où le peu de zones habitables restantes de la Terre sont enfermées sous d'impénétrables dômes de faible altitude. L'air, la pluie, le soleil : que des projections froides et distantes dans les vestiges mis sous verre et haletants de notre monde organique déclinant. Nos corps jadis tendres sont désormais composés à 60 % de pièces cybernétiques.
Tout contact est si froid et plastique, mais nous nous languirons de ne pas sentir la texture de la peau, et la réclamerons à grands cris dans nos rêves encodés.
Hexigen – RGN i: Initiation Wave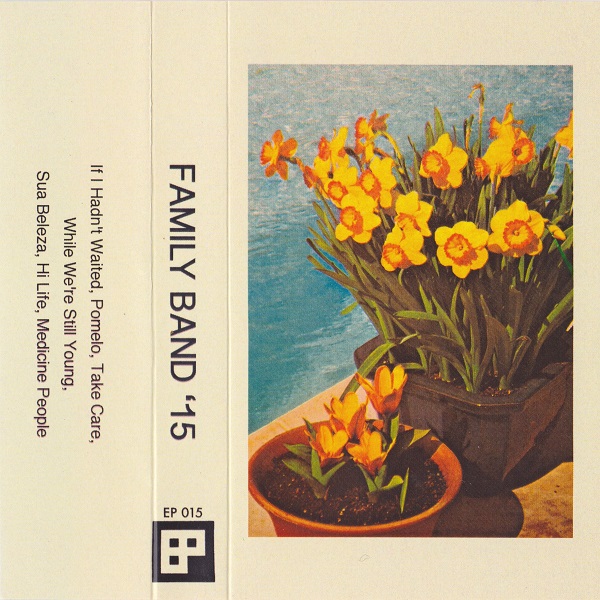 Family Band
Family Band '15
Montreal, QC
From the calculated chaos of Eleanor Wearing:
There is a lot going on here. Some feels old, some new. Some feels strangely familiar. Is it déjà vu or is your mind playing tricks on you?. Spurts of carefully calculated chaos follow lapses of calm. Every few moments it seems there can be no more surprises. No new sounds to add. Listen again. Dig your hands into the bottom corners of this goody bag, sugar sticking to your fingers, until you discover another gem hiding within the folds.
Du chaos calculé d' Eleanor Wearing:
(Traduit par les *paparmanes* de Julie Mayer)
Il se passe beaucoup de choses ici. Certains se sentent vieux, d'autres, neufs. Certains se sentent étrangement familiers. Est-ce une impression de déjà vu, ou serait-ce ton esprit qui te joue des tours?. Des giclées de chaos soigneusement calculé suivent des laps de calme. De temps à autre, il te semble que plus rien ne peut te surprendre. Aucun nouveau son à ajouter. Réécoute. Enfonce tes mains dans les coins inférieurs de cette pochette surprise, le sucre se collant à tes doigts, jusqu'à ce que tu découvres une autre perle cachée dans les replis.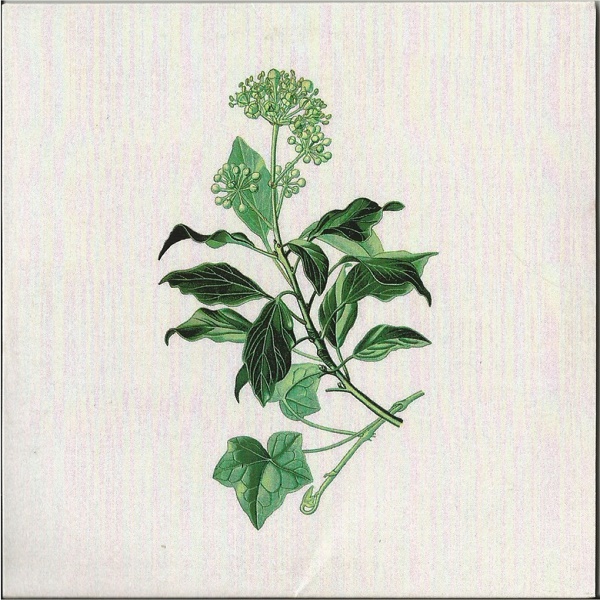 Isaac Vallentin
Hedera
(Self-Released)
Ottawa, ON
From the kinetic keyboard of Mark Anthony Brennan:
The elders became concerned when the young man sang by himself in the woods. They brought him a guitar. Soon the trees were filled with folk songs of imagination. Curious, they gave him an electric guitar. The air then reverberated with sonic emotion. Fascinated, they proceeded to supply him with an assortment of electronic equipment. To their astonishment the young man incorporated it all into his communion with the forest. From far and wide, everyone marvelled at this electronic fusion and interplay; the sounds of the city and the voice of nature; the solitary singer and his global audience.
Du clavier cinétique de Mark Anthony Brennan:
(Traduit par la serpe d'or de Julie Mayer)
Les anciens commencèrent à s'intéresser au jeune homme lorsqu'il chanta seul dans les bois. Ils lui apportèrent une guitare. Sitôt, les arbres furent remplis de chansons folk qui sortent de l'imaginaire. Curieux, ils lui donnèrent une guitare électrique. L'air se mit alors à retentir d'une émotion acoustique. Fascinés, ils continuèrent en lui fournissant un assortiment d'équipement électronique. À leur grand étonnement, le jeune homme incorpora le tout à sa communion avec la forêt. Venu de toutes parts, tout le monde s'émerveilla devant cette fusion électronique et les interactions qu'elle crée: les bruits de la ville et la voix de la nature; le chanteur solitaire et son auditoire mondial.
Isaac Vallentin – Garden Pt. 1 (You Own To Fight)
---