Tag: julie forget
Eucalyptus
Fascination in Sound
Toronto, ON
From the smoky speakeasies of James Lindsay:
On his most recent blow job, sax man Brodie West takes his easygoing solarium-jazz ensemble, Eucalyptus, away from the tropical lounges they previously haunted to smokier speakeasies. Here, the septet gives the arrangements more freedom to nod and sway away under the dim lights of table candles. This whirl-around feels slightly sad, as if the night is almost over and the music knows it. It reluctantly unwinds itself while it's still dark, before the sun comes up and the basement-bar's patrons have to face the day.
Des bars clandestins enfumés de James Lindsay:
(Traduit par les journées ensoleillées de Julie Forget)
Sur sa plus récente petite gâterie, le saxophoniste Brodie West déplace son orchestre de jazz solarium Eucalyptus loin des bars tropicaux qu'ils ont hantés dans le passé, et se rend dans des bars clandestins plus enfumés. Ici, le septuor laisse les arrangements plus libres de se balancer et de tituber sous la lumière faible des chandelles sur les tables. Ce tourbillon semble plutôt triste, comme si la nuit était presque terminée et que la musique le savait. Il se déroule avec réticence pendant qu'il fait encore noir, avant que le soleil se lève et que les clients du bar souterrain doivent affronter le jour.

Eucalyptus – Fascination in Sound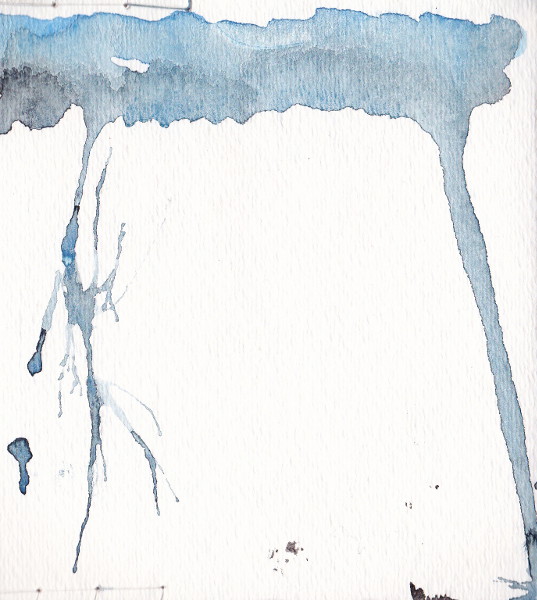 Poler Bear
The Winter At Your Ears
(Self Released)
Saskatoon, SK
From the crystalline nights of Tyler Butler:
Stare out the warm window: the roads are plowed to the pavement and the streetlights shimmer orange across piled up snow. The darting tale of a snowshoe hare is told in bounding tracks across the lawn. The wind howls. The house elicits a terrible shiver; the long-suffering groan of Atlas shaking the shelter's wooden bones. Once, there were no houses here. What a terrible sight this must have been, this wind-burned prairie. Poler Bear – Saskatoon's Josh Robinson – sings to the stillness of the winter night, the diamonds studded in a hard crust of snow, the thin pane of insulated glass.
Des nuits cristallines de Tyler Butler:
(Traduit par les sentiers perdus de Julie Forget)
Regardez par la chaleureuse fenêtre : les routes sont marquées dans la chaussée et les lumières orange des lampadaires scintillent sur les bancs de neige. Le récit précipité d'un lièvre d'Amérique est raconté dans des traces de sauts dans la pelouse. Le vent hurle. La maison provoque un terrible frisson; le gémissement durement éprouvé d'Atlas secouant les os de bois du refuge. Jadis, il n'y avait pas de maisons ici. Quelle terrible vue cela devait être, cette prairie brûlée par le vent. Poler Bear – Josh Robinson, de Saskatoon – chante la tranquillité de la nuit hivernale, les diamants qui parsèment l'épaisse neige, la mince vitre de verre isolant.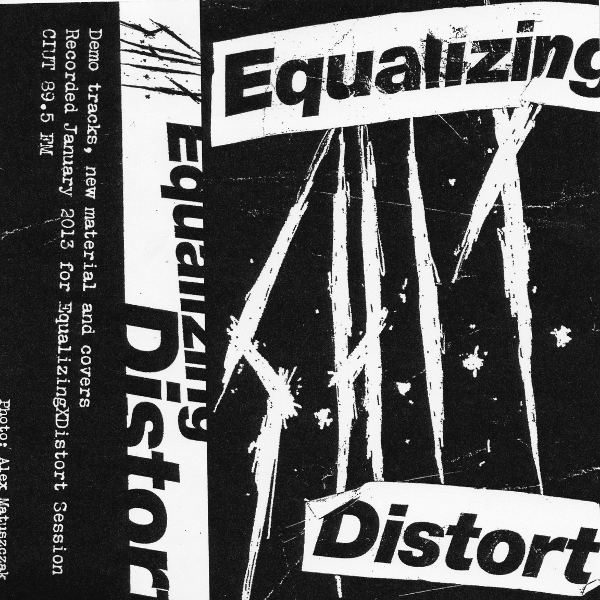 S.H.I.T.
Equalizing Distort Radio Session
(Self Released)
Toronto, ON
From the human kindness of Josh Silver:
In a trance, mechanically moving against other bodies, sweat and blood mixed with intense explosions of energy: the natural habitat of S.H.I.T. These Toronto hardcore punks inject their music with grittiness in a violent explosion of guttural screams and tube-blowing guitars against the backdrop of skin-busting drums and bone-vibrating bass. The songs gain life, with an imitation of the crowd shoving and punching in the sonic mosh pit. S.H.I.T. destroys their own genre and rebuilds it from the bottom up: harder, better, faster, gnarlier.
De la gentillesse humaine de Josh Silver:
(Traduit par la tonalité colorée de Julie Forget)
En transe, bougeant de façon mécanique contre d'autres corps, de la sueur et du sang mélangés à d'intenses explosions d'énergie : tel est l'habitat naturel de S.H.I.T.. Ces punks hardcore de Toronto injectent leur musique de solide détermination dans une explosion violente de cris gutturaux et de guitares soufflant les tubes dans un décor de batterie qui abîme la peau et de basse qui fait vibrer les os. Les chansons prennent vie avec une imitation de la foule qui pousse et qui cogne dans le mosh pit acoustique. S.H.I.T. détruit son propre genre et le reconstruit de fond en comble : plus dur, meilleur, plus rapide, plus exceptionnel.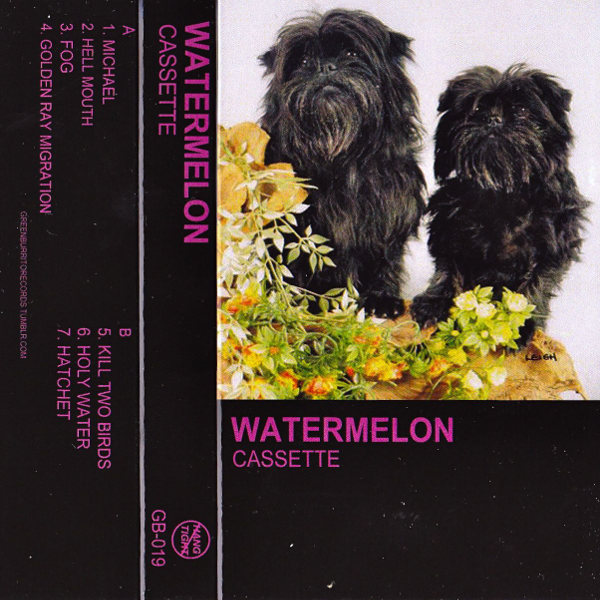 Watermelon
Watermelon
Vancouver, BC
From the golden ray migration of Penny Clark:
Watermelon's self-titled tape absolves like a new day, taking in anxieties and insecurities, then banishing them with an unqualified eyebrow raise. The guitar tone pricks and soothes like icy rain, as skulking basslines tread darkly over rotting leaves. Reverb-drenched vocals drip with stolid apathy towards the manifold bruises that are consequentially human. Steady drums provide an underlying sense of serene optimism, a reliability that signals the continuation of life going on and of you being pretty much okay. Anesthetic music for lovers who don't love anybody and for misanthropes who do. The most Pacific Northwest surf.
De la migration au rayon doré de Penny Clark:
(Traduit par les secrets de Julie Forget)
La cassette éponyme de Watermelon absout comme un nouveau jour en saisissant les angoisses et les insécurités, les chassant ensuite d'un haussement de sourcils sans réserve. Le ton de la guitare perce et apaise comme une pluie glaciale pendant que les lignes de basse discrètes marchent mélancoliquement sur des feuilles en décomposition. Des voix trempées de réverbération ruissellent avec une impassible apathie vers les multiples contusions qui sont donc humaines. La batterie constante procure une impression sous-jacente d'optimisme serein, une fiabilité qui indique que la vie continue et que tu t'en sors plutôt bien. De la musique anesthésiante pour les amoureux qui n'aiment personne et pour les misanthropes qui aiment quelqu'un. Le surf le plus Nord-Ouest Pacifique.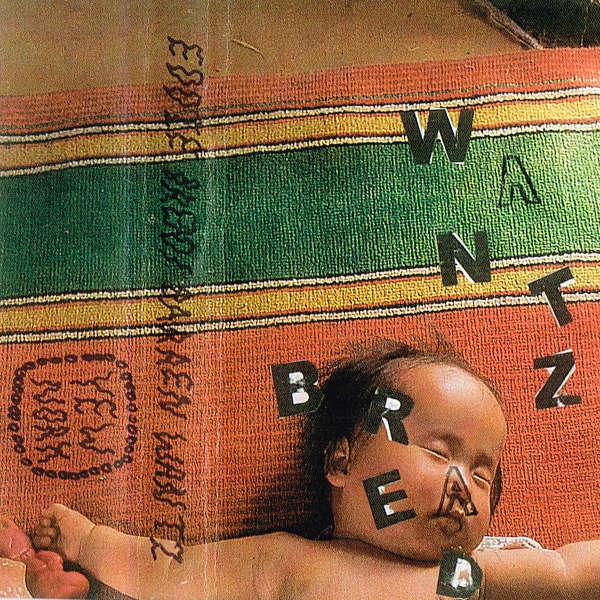 Edie Bread // Darren Wantz
Split Tape
(Yew Nork)
Calgary, AB // Montréal, QC
From the bargain bin of Javier Fuentes:
Frequent collaborators Raff McMahan and Jean Sebastien Audet take turns staring into paisley coloured pastures as they assemble strips of magnetic lysergia. Jean's turn as Darren Wantz plays out under dimmed lights with bargain bin VHS tapes rolling in the background. Memories of summer flash by as we become lost in the disarming melodies. Edie Bread lifts the melancholic mood with a touch of fuzz and a warbling set of hooks that is sure to turn a soft crush into an all out gripper's obsession. Dig in to another golden entry from these two prolific minds.
Du bac de liquidation de Javier Fuentes:
(Traduit par les encouragements méthodiques de Julie Forget)
Les collaborateurs habituels Raff McMahan et Jean Sebastien Audet se relaient pour contempler les pâturages à motifs cachemire en assemblant des bandes de lysergide magnétique. Sous le pseudonyme de Darren Wantz, Jean s'exécute sous les lumières tamisées au son de cassettes VHS en liquidation. Des souvenirs d'été jaillissent alors que nous nous perdons dans les mélodies désarmantes. Edie Bread égaie l'atmosphère mélancolique d'une touche de fuzz et de trilles accrocheuses qui transformeront à coup sûr votre doux béguin en une obsession pure et simple. Laissez-vous entraîner par cette nouvelle proposition en or de ces deux esprits prolifiques.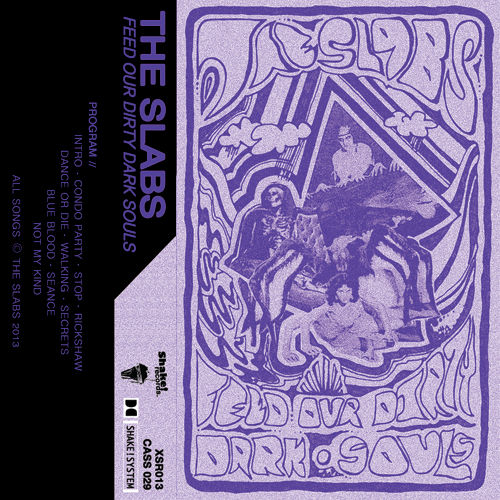 The Slabs
Feed Our Dirty Dark Souls
Calgary, AB
From the coffee-stained mug of Josh Silver:
A sunset stroll down 17th avenue, past condo towers in the East Village. As the Rockies rise in the west above suburban wasteland, something wicked this way comes. The Slabs are a composite, melding diversity of members into something new. This mix of overt, subversive punk and melodic, otherworldly psych-rock leads to a singularly Calgary sound: riff-laden, rough, and uncensored. Feed Our Dirty Dark Souls is then one translation of the city, in all its strangeness and multiplicity, to the ears of the listeners.
De la tasse tachée de café de Josh Silver:
(Traduit par l'énergie de Julie Forget)
Une promenade au coucher du soleil sur la 17e Avenue, après les tours à condo du East Village. Alors que les Rocheuses se dressent dans l'ouest au-dessus d'un terrain vague de banlieue, quelque chose de fou fait son apparition. The Slabs est une diversité composite de membres qui s'associent pour constituer quelque chose de nouveau. La combinaison de punk manifeste et révolutionnaire et de rock psychédélique mélodique et mystique fait naître un son singulièrement calgarien : chargé de riffs, râpeux et non censuré. Feed Our Dirty Dark Souls est donc une traduction de la ville dans toute son étrangeté et sa multiplicité destinée aux oreilles de ceux qui l'écoutent.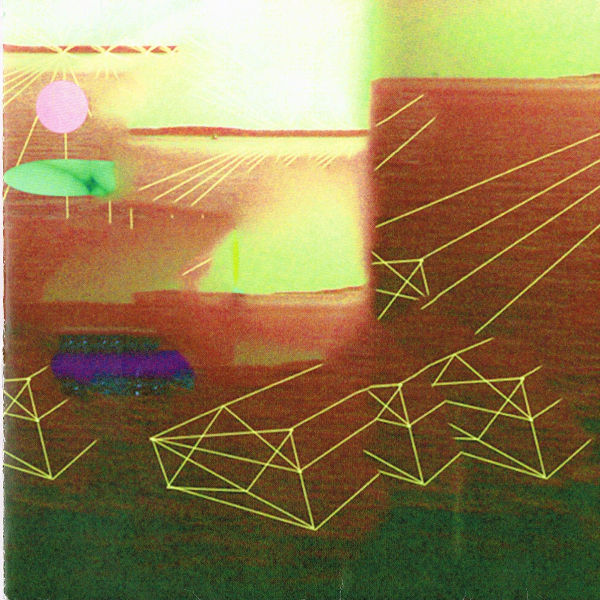 Marriage
Sun Start / Waterboard
(Self Released)
Toronto, ON
From the basement tape deck of Brennan McCracken:
These beaming transmissions – the first from Toronto's Marriage – show a band fluent in many melodious languages. "Sun Start" and "Waterboard" interlock like aria and recitative or water and ice; two sides of the same kaleidoscopic, oxidized coin. A foggy prelude and an underwater dirge, a double shot of tin can transcendence from the belly of the beast. Dig (in).
Du magnétophone de sous-sol de Brennan McCracken:
(Traduit par le temps de Julie Forget)
Ces transmissions rayonnantes ­– les premières de Marriage (Toronto) – dévoilent un groupe qui parle couramment de nombreuses langues mélodiques. « Sun Start » et « Waterboard » s'imbriquent comme une aria et un récitatif ou comme l'eau et la glace; deux côtés de la même pièce de monnaie kaléidoscopique et oxydée. Un prélude brumeux et un chant funèbre subaquatique, un doublé de transcendance en conserve directement du ventre de la bête. Plongez(-y).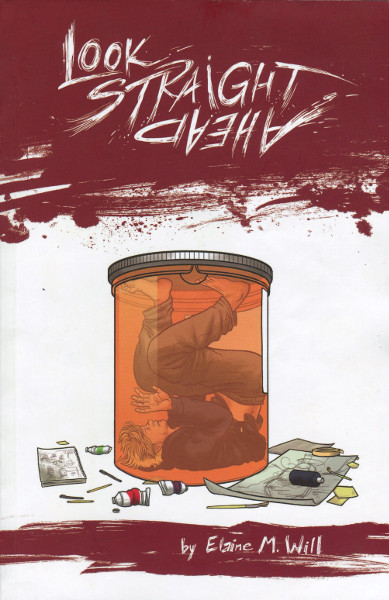 Look Straight Ahead
Elaine M. Will
(Cuckoo's Nest Press)
Saskatoon, SK
2013
perfect bound, 6.875" x 10.5"
colour matte finish cover
black and white / mixed colour interior
256 pages
From the dissatisfied visions of Jordan Voith:
Between schoolyard bullies, schizophrenic visions, and dissatisfaction with his art, 17-year old Jeremy Knowles is experiencing a difficult adolescence. Structured as contemporary Künstlerroman, Elaine M. Will's Look Straight Ahead documents Jeremy's struggles with acute mental breakdown exacerbated by teen angst (or perhaps vice-versa) and his experience with art as therapy.
Will situates Look Straight Ahead firmly in the imagery and narrative of timeless adolescence: the story itself is centrally concerned with the process of growing up, and her characters bear uncanny resemblance to a similarly teen-minded classic. Other than the physical likeness, though, Will's steers clear from anything so middle-American: drawn in black and white (except for a few bursts of colour in Jeremy's hallucinations), Look Straight Ahead alternates between frigid asceticism and manic psychedelia as Jeremy navigates the vicissitudes of recovery.
The familiarity of Will's characterization imbues Look Straight Ahead with a distinctly human verisimilitude. Despite the metaphysical scope of his hallucinations, Jeremy's struggles never venture beyond the relatable and they suggest an autobiographical intimacy with their content – Will herself suffered a mental breakdown in 2002. And, just as Will created Look Straight Ahead in the decade after her illness, Jeremy's ultimate recovery confirms the restorative power of art and the inextricable link between creative and personal growth.
Des visions insatisfaites de Jordan Voith:
(Traduit par la lecture entre les lignes de Julie Forget)
Entre des tyrans de la cour de récréation, des visions schizophréniques et une insatisfaction par rapport à son art, Jeremy Knowles, 17 ans, vit une adolescence difficile. Structuré à la manière d'un Künstlerroman contemporain, le récit Look Straight Ahead de Elaine M. Will décrit les périodes de dépression sévère de Jeremy, exacerbées par les angoisses d'adolescent (ou peut-être est-ce l'inverse) et de son expérience avec l'art comme forme de thérapie. Will place Look Straight Ahead de manière ferme dans l'imagerie et la narration d'une adolescence intemporelle : l'histoire même s'intéresse essentiellement au processus de passer de l'enfant à l'âge adulte et ses personnages comportent des ressemblances troublantes avec un classique similaire orienté vers les adolescents. Toutefois, à part les ressemblances physiques, Will reste loin des caractéristiques américaines traditionnelles : dessiné en noir et blanc (sauf pour les quelques éclats de couleurs dans les hallucinations de Jeremy), Look Straight Ahead alterne entre ascétisme frigide et psychédélisme maniaque en suivant le personnage principal qui subit les vicissitudes de la guérison.
La familiarité de la caractérisation de Will imprègne Look Straight Ahead d'une vraisemblance distinctement humaine. Malgré la portée métaphysique de ses hallucinations, Jeremy affronte des épreuves qui se lisent bien et qui suggèrent une intimité autobiographique avec leur contenu – Will a elle-même souffert de dépression en 2002. Et, de la même manière que l'auteure a créé Look Straight Ahead dans la décennie après sa maladie, la guérison de Jeremy confirme le pouvoir réparateur de l'art et le lien inextricable entre croissance créative et croissance personnelle.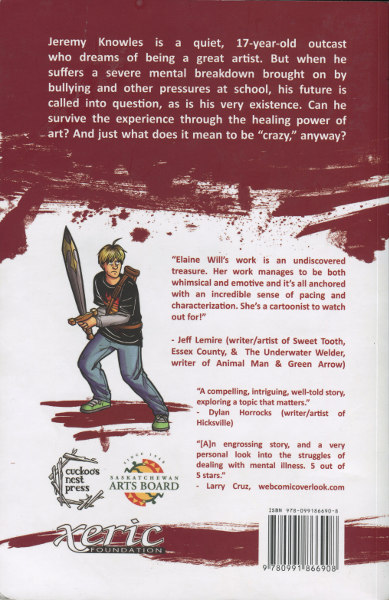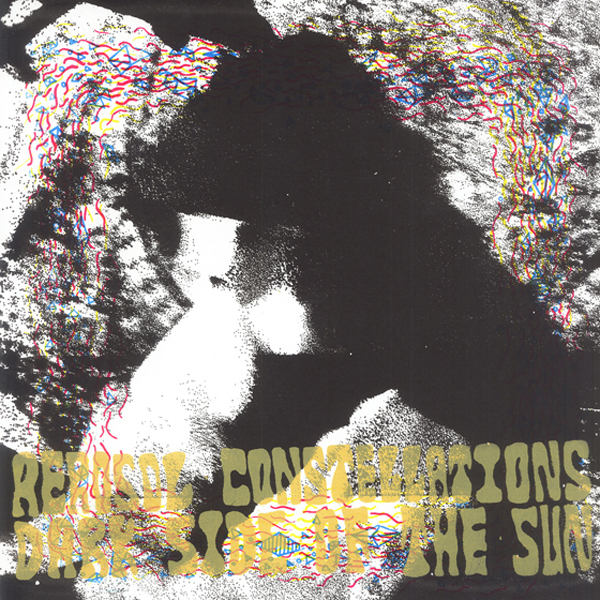 Aerosol Constellations
Dark Side of the Sun
Vancouver, BC
From the individual perceptions of Mark Streeter:
Part sculptors, part channelers, Bill Batt and Jeremy Van Wyck of Aerosol Constellations are capable of transforming the surrounding environment with just a few knob twists and harmonic scrapes. It's no small feat that this record effectively documents the sense of presence they create live. Play it repeatedly and hear it again for the first time, over and over. Play it at a party and suddenly everyone's together and alone all at once, staring into the threshold of shared consciousness and individual perception. Ships in the night tied together by a chain being dragged by the wind.
Des perceptions individuelles de Mark Streeter:
(Traduit en direct par Julie Forget)
Moitié sculpteurs, moitié channelers, Bill Batt et Jeremy Van Wyck d'Aerosol Constellations sont capables de transformer l'environnement qui les entoure en tournant simplement quelques boutons et en harmonisant quelques grattements. Le fait que cet album rende réellement la présence qu'ils manifestent dans leurs prestations live est tout un exploit. Jouez-le à répétition et entendez-le encore pour la première fois, encore et encore. Jouez-le pendant une fête et tout à coup, tout le monde est ensemble et seul en même temps, fixant le seuil de la conscience partagée et de la perception individuelle. Des bateaux dans la nuit liés par une chaîne, poussés par le vent.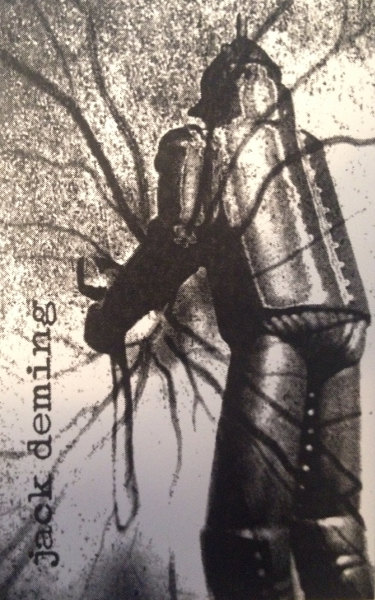 Jack Deming // Swenson Clane
Split
(Self Released)
Montréal, QC
From the reflective daydream of Rhys Gall:
The ringing sound of absence circles around the chamber where Jack Deming records his two-part tape side, "Nothing is Happening Inside of Me". Solely existing in the key of F for more than 10 minutes, it unfolds as if it's the only thing in your world, unconscious in a reflective daydream. Waiting for something to change, anything to happen inside of you. Responding to opiates with opiates, Swenson Clane's "Meatus" is a short walk to the greenest patch of grass that you've always loved to lay in. Seconds later, you realize that you are alone after all, only left with the bright significance inside this cassette.
De la rêverie songeuse de Rhys Gall:
(Traduit par la lumière de Julie Forget)
Le son retentissant de l'absence entoure la chambre où Jack Deming enregistre la face de sa cassette en deux parties « Nothing is Happening Inside of Me ». Existant seulement dans la clé de fa pendant plus de 10 minutes, elle se déroule comme si elle était la seule chose dans votre monde, vous qui êtes inconscient dans une rêverie songeuse. En attente que quelque chose change, n'importe quoi qui pourrait se passer en vous. Répondant aux opiacés avec les opiacés, « Meatus », de Swenson Clane, est une petite marche dans le plus vert des gazons sur lequel vous avez toujours aimé vous étendre. Quelques secondes plus tard, vous réalisez que vous êtes seul après tout, seul avec la signification lumineuse provenant de cette cassette.
---