Tag: joshua robinson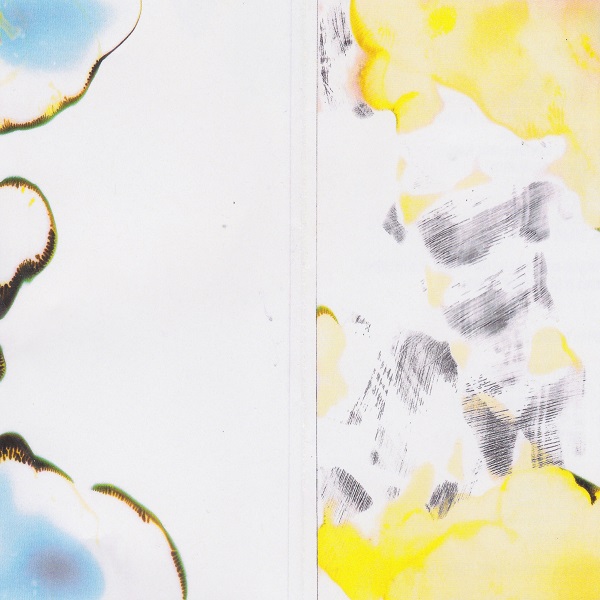 ILLER/VIRTUAL FLANNEL
ILLER/VIRTUAL FLANNEL
Saskatoon, SK
From the curated soft-serve of Joshua Robinson:
Compelled to the point of happy-stance, these electro-experimenters exhume the currential bravado of B(oh)r–lesque ingenuity and cast it in the au courant veil of colorful modalities. What remains after the lull… those carapaces of lurid and languid evenings; everything as one flying reel of a memory of a night. Dirty Tapes has done it again, our (not-so) southernly compatriots curating the soft-serve beats oftentimes lost to the whirling overture of everything else that we northernlies have to offer. Beats as currency, the dollar at an all-time high.
Extrait de la conservation glacée-molle de Joshua Robinson:
(Traduit par le tempo rubato cardiaque d' Émily Traichel)
Contraints avec plaisir, ces électro-expérimentateurs exhument le bravado mouvant d'ingénuosité B(oh)r-lesque et le jette dans le voile de modalités colorées connu. Ce qu'il reste après l'accalmie… ces carapaces de soirées obscènes et languides; des souvenirs qui passent aussi vivement qu'une pellicule cinématographique. Dirty Tapes nous épate à nouveau, nos compatriotes du (pas si loin au) sud agencent les rythmes glacés-mous souvent perdus parmi l'ouverture tourbillonnante de tout le reste que nous les nordistes avons à offrir. Le rythme en tant que monnaie, le dollar plus élevé que jamais.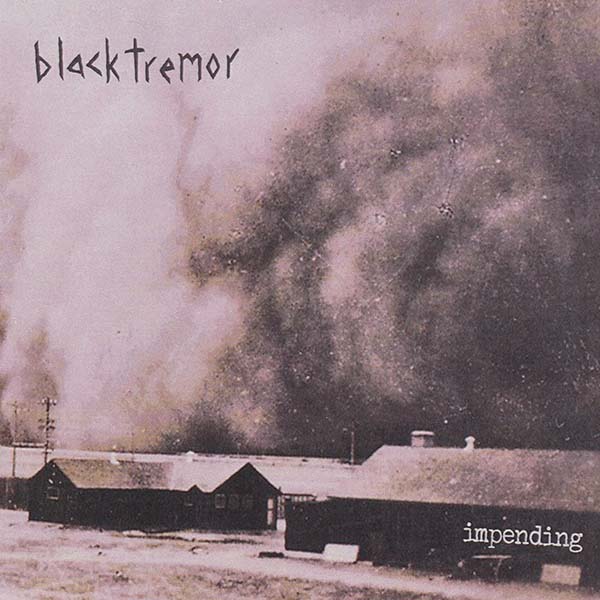 Black Tremor
Impending
(Self Released)
Saskatoon, SK
From the heavy, heavy light of Joshua Robinson:
Like older siblings, they are flame. Dancing at the mouth of the end of it all. Cracks in the welkin overhead; impending kismet. Noumena in mirrors. Siimilar yet singular, gaining reverence for a rapture forced rather than happened upon; conjured rather than readily given; spliced, destroyed and put back together again, all while calamity whispers unto itself that the break in the storm is the end of the beginning of the end. The blackening tremors below allude to the baser animism in us all; rattled, reckoned; the chasm is all that matters. We are all heavy in the light.
Par la lourde, lourde lumière de Joshua Robinson:
(Traduit par la tête animale d' Émily Traichel)
Comme les aînés de la famille, ils pètent le feu. Dansant là où la fin de tout débouche. Des fentes dans la voûte céleste; le destin imminent. Noumènes dans les miroirs. Semblables, mais singuliers, gagnant une révérence pour une extase forcée plutôt que tombée dessus; conjurée plutôt que donnée; épissée, détruite et à nouveau reconstruite, tandis que la calamité se chuchote que l'éclaircie après l'orage est la fin du début de la fin. Les tremblements noircissant d'en bas font allusion à l'animisme infâme à l'intérieur de nous tous; secoué, calculé; le gouffre est tout ce qui compte. Nous sommes tous lourd dans la lumière.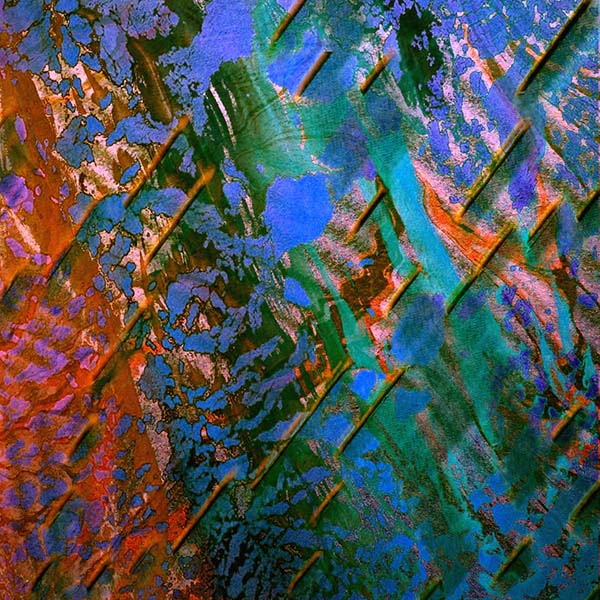 Sarah Davachi
Qualities of Bodies Permanent
Vancouver, BC
From the lobbed irises of Joshua Robinson:
This vibration. Brains, fevered. Resonance, numbing and spritely. We caper to a feel, rather than to a sound, while the surge is coloured in the tapestries of a dronery far too anomalous to recognize as being ours. Gyrating lungs; pyres in the sky, and the light in your eyes. When beauty both in sight and sound mixes, to turn away is be stunted. We see with our ears. Finger paintings coloured by sound, and heard as pigment. How fortunate we are to change one for the other: ears as eyes; lobbed irises. Everything at once; these dreams, they are.
Des iris à lobes de Joshua Robinson:
(Traduit par Julie Mayer)
Cette vibration. Des cerveaux, enfiévrés. Une résonance pleine d'esprit qui engourdit. Nous gambadons sous l'effet d'une sensation, plutôt que d'un son, tandis qu'une vague est colorée dans les tapisseries d'une dronerie bien trop anomale pour la reconnaître comme étant la nôtre. Des poumons tournoyants, des bûchers dans le ciel et la lumière dans tes yeux. Quand la beauté de la vision et celle du son s'entremêlent, s'en détourner revient à être attardé. Nous voyons avec nos oreilles. Les peintures à doigts colorées par le bruit se font entendre à titre de pigment. Quelle chance nous avons de pouvoir changer un sens par un autre : les oreilles en guise d'yeux, des iris à lobes. Tout en même temps; ces rêves le sont.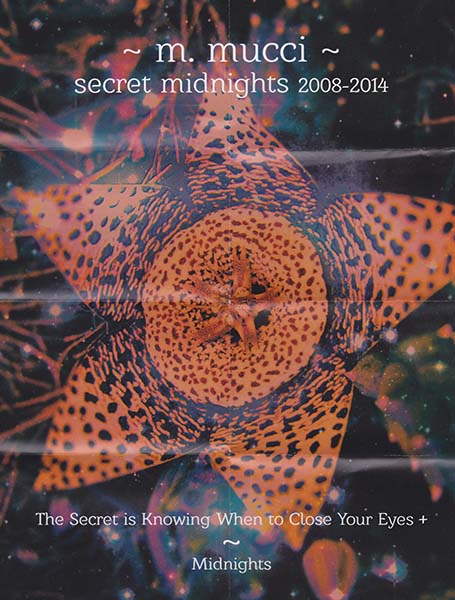 M. Mucci
Secret Midnights
Guelph, ON
From the mesmerized apertures of Joshua Robinson:
Side B of this release was previously written about here.
Slowly, ever so slowly, thought takes form. Nadirs of fleeting melody particulate, each fleck of minute detail whisking away from its source; whisking away from itself. Slowly, ever so slowly, these details coalesce and emerge just as they fray at the seams and come to rest as tablatures too delicate to decipher. The re-release of this material is not only an acknowledgment of its quality, it is the recognition of how fragile permanence (as memory) can be. Incarnate tones tiptoe over themselves, their brittleness that which indentures their longevity. For all that is young and quiet, grow old and fond. For all that is fleeting and transient, stay still.
Des ouvertures ensorcelantes de Joshua Robinson:
(Traduit par Mylène Quevillon)
Lentement, toujours plus lentement, les pensées prennent forme. Les nadirs des particules d'une mélodie fugace, chaque détail minuscule qui passe transporté loin de sa source; transporté loin de son centre. Lentement, toujours plus lentement, ces détails s'amalgament et se décomposent, se déposent en tablatures trop petites pour être déchiffrées. La réédition de ces oeuvres n'est pas seulement un gage de leur qualité, c'est aussi la reconnaissance de la fragilité de la permanence et de la mémoire. Les tonalités incarnées s'entrechoquent, créant une fragilité qui diminue leur longévité. Étant donné que tout ce qui est jeune et tranquille vieillit et se gâte. Étant donné cette fugacité éphémère, restez immobile.
M. Mucci – The Secret is Knowing When To Close Your Eyes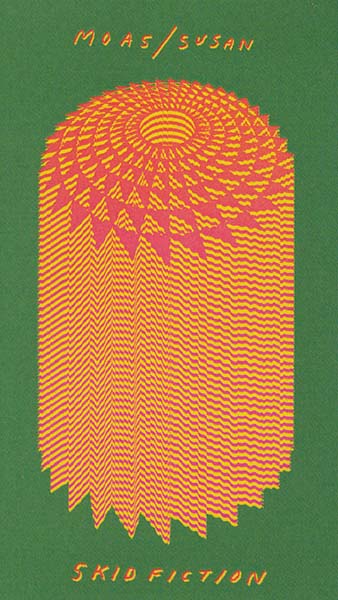 The Moas//Susan
Skid Fiction
Saskatoon, SK
From the crusty undulance of Joshua Robinson:
Dreamgaze. Post-finery. Soft tendrils emanating from an otherwise monstrous beast. This plastic coffer possesses a value equivalent to the effort required to reorient centripetal force. Its sinusoidal offering is the crispy clangor that all soft-served and crusty hounds too weak from offerings of stale scraps have been waiting for. It serves as testament to the fact that little is more important than the giants who walk among us: our peers as boisterous lo-fidelities too loud to ignore and too ardent to overlook. These minstrels are jovian in size; fictions factual; non-sequiturs whose static residuals entertain hopes for future Skid.
De l'ondulation croustillante de Joshua Robinson:
(Traduit par Julie Mayer)
Du dreamgaze. De la post-parure. De tendres vrilles émanant d'une bête par ailleurs monstrueuse. Ce coffre en plastique possède une valeur équivalente à l'effort requis pour réorienter la force centripète. Son offrande sinusoïdale est le beding-bedang croquant qu'ont attendu tous les enragés mous et croustillants rendus trop faibles à force de se contenter d'oblats de restes rassis. Cette cassette sert à témoigner du fait que peu de choses sont plus importantes que les géants qui marchent parmi nous : nos pairs, à savoir des chansons lo-fi chahuteuses trop bruyantes pour qu'on les ignore et trop passionnées pour qu'on n'en tienne pas compte. Ces ménestrels sont d'une taille jovienne. Des fictions factuelles, des coq-à-l'âne dont les résidus statiques entretiennent l'espoir sur le Skid à venir.
Chad Munson
Albedo
Saskatoon, SK
From the terribly homesick Joshua Robinson:
The sound of fright and might: looped calm speaking to the gleaming infinity of what draws us to the sound of our own breath against a frozen windowpane. These are the sounds of our silence creaking underfoot; servience to the seasonal might that shatters, tears, lulls, and dispels. For every atomic confluence there is an identic marriage of waveforms breathing sempiternity; subtle to-and-fros pleading unto the frozen night that there is in fact a whispered mistral as gentle as it is sprightly. Unto the wind, 'thank you'; unto the chill, 'be still'. Unto the day, both heavy and quiet, 'be as you are, forever as you can be'. Drone on.
Du terrible mal du pays Joshua Robinson:
(Traduits par les matins frissons de Marie-Pier Chevrier)
Le son de la frayeur et de la puissance : un discours calme mis en boucle sur l'infinité miroitante de ce qui nous attire dans le son de notre propre respiration contre la vitre. Ainsi résonnent les silences grinçants sous nos pieds, soumis à la puissance saisonnière qui fragmente, déchire, berce et éparpille. Chaque confluence atomique crée un identique mariage d'ondulations sempiternelles; de subtiles vas-et-viens clamant dans la nuit glacée qu'il existe un mistral, chuchoté, aussi doux que vif. Dans le vent, «merci»; sous la fraîcheur, «ne bouge plus». Avec le jour, aussi lourd que serein, «sois toi-même, aussi longtemps que tu le peux». Et bourdonne.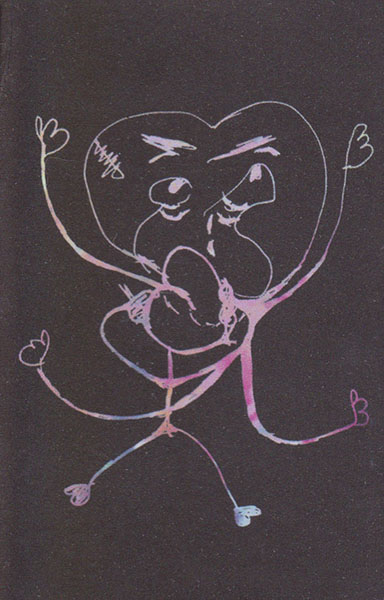 Hazy Montage Mystique
Lullaby Drone For Insomniac People
Montréal, QC
From the shattered lapse of Joshua Robinson:
Soft dreams of inverted balance; silence comes alive as drones of heavy sighs breathe an ambience that is both coloured and prismatic. Churned glimpses of retrofit eupnea: sartor and thread one and the same. Shattered lapse and opaque magic melt to the bottom of their wick as broken patterns of lunar-drawl stretch to meet the end of the earth. Sounds that double as chartered courses into the dim unknown; sounds that enter empty spaces, filling them with the voices of static revenants.
De la déchéance fragmentée de Joshua Robinson:
(Traduit par les oxymores ambulants de Marie-Pier Chevrier)
De doux rêves à l'équilibre inversé, et le silence qui s'anime et qui bourdonne des respirations lourdes d'une ambiance à la fois colorée et prismatique. Des aperçus barattés d'une eupnea: sartor améliorée, le fil unique, l'identique. Déchéance fragmentée et magie opaque fondent jusqu'au bas de leur mèche, pendant que des motifs brisés de coulées lunaires vont se perdent aux extrémités de la terre. Des sons en itinérance cartographiée dans le flou de l'inconnu; des sons qui pénètrent les espaces creux et les remplissent des voix de revenants statiques.
Hazy Montagne Mystique – Lunaire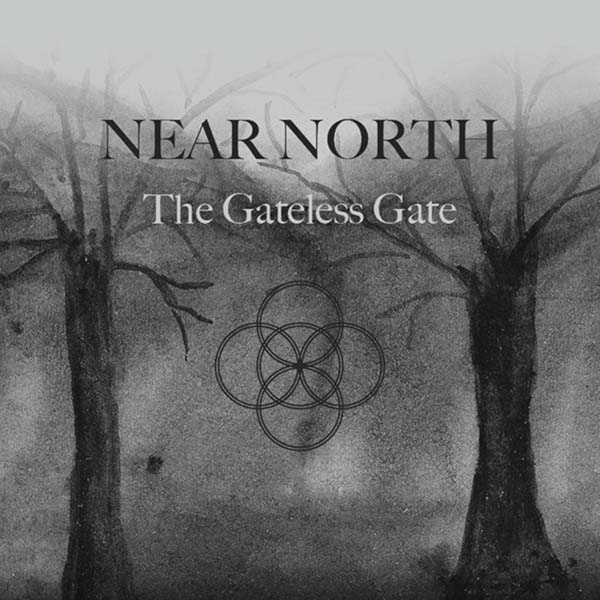 The Gateless Gate
Near North
(Self Released)
North Bay, ON
From the evidenced sounds of Joshua Robinson:
"Quiet". Woolgathering as soft steps struggle to stomach the circuitous decay underfoot. A quiet that doubles as both hum and rattle; tectonic yet remote. Reticence that builds upon itself as so many hours upon the day. This is time lapse caught in situ; the stillness has found mood-form in the vibrance of a tamed chaos. Where the halcyon subsides, we are trapped at the point of denoument and the twirling precipice of soundless collapse. In these faults we find effulgent absence; in absentia we find pieces abridged.
Des sons justifiés de Joshua Robinson:
(Traduit par Jessica Grenier)
« Silence ». Rêvasser en marchant doucement, chaque pas s'efforçant d'assimiler le déclin tortueux du sol. Un silence qui est tant cliquetis que fredonnement, tectonique mais éloigné. Une réticence qui se construit sur elle-même, comme les heures sur le jour. C'est un laps de temps figé in situ, la fixité ayant trouvé sa forme-émotion dans la vibrance d'un chaos dompté. Là où le beau se retire, nous sommes prisonniers du point de dénouement, du précipice tourbillonnant d'un effondrement silencieux. Dans ces erreurs nous trouvons une absence éclatante; in absentia, des pièces abrégées.

The Gateless Gate – Our Forest Walk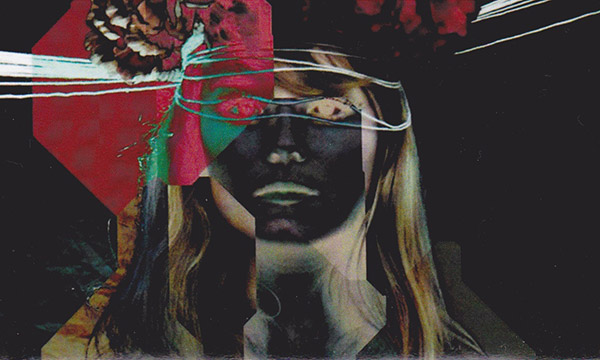 The Yips
Air Loom
Ottawa, ON
From the distorted parapets of Joshua Robinson:
Ouija words spill across distorted distances. Sound waves imbued with garage spirits that once stood so still now force their way through the parapets that keep their potential energy at bay. Air Loom is a staggering edifice of sound; a source of the waves that emanates from the eye of the storm , intorting its breath to the point of becoming the heavy dissonance that turns calm to clamour; 'yeah yeah yeahs' that reverberate across the northernly compass.
Des garde-fous tordus de Joshua Robinson:
(Traduit par Jessica Grenier)
Des mots de Ouija s'étendent sur un horizon déformé. Des vagues de son imprégnées d'esprits de garage, qui jadis restaient si immobiles, essayent de défoncer les garde-fous tenant à distance leur énergie potentielle. Air Loom est un édifice de son vertigineux; c'est la source de ces vagues qui émanent de l'œil de la tempête en tordant sa respiration intérieure, au point de devenir une lourde dissonance changeant le calme en cacophonie. Les « yeah yeah yeah » se répercutent à travers l'étendue nordique.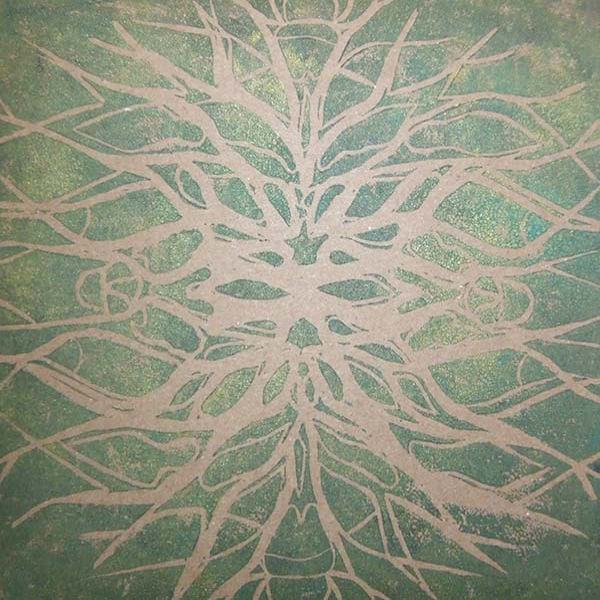 Twin Voices
Sing To Me
(Self Released)
Montréal, QC
From the freckled mien of Joshua Robinson:
Stilted hush and blurry breeze sweep across corrugated timber, the voice of the moon in the night sky. Fulgent pop-gazery housed in the open-hearted diaphragms that spread like mountains over the streets brought to life by the night sky's freckled mien. The silent spread of light bleeding from tears in the fabric overhead; these timbre colours of Twin Voices hold the sepulchral deep dark of night at bay, reclaiming from the stitched weight of night the opulent glimmer of beating hearts scattered amongst the herbage of dry bones and black holes.
De la mine tachée de Joshua Robinson:
(Traduit par Kevin Godbout)
Le silence guindé et le vent flou balayent au travers du bois ondulé, la voix de la lune dans le ciel de la nuit. Le regard "pop" aux milles feux habitant dans les diaphragmes aux coeurs ouverts qui s'étendent comme des montagnes au-dessus des rues, apportés à la vie par la mine tachée du ciel de la nuit. L'étendue silencieuse de la lumière qui saigne de tissus aériens déchirés; ces couleurs timbrées de Twin Voices poussent contre la noirceur sombre, profonde de la nuit, et ils réclament de la pesanteur tricotée de la nuit le scintillement opulent de coeurs battant étendus parmi l'herbage d'os secs et de trous noirs.
---