Tag: josh rohs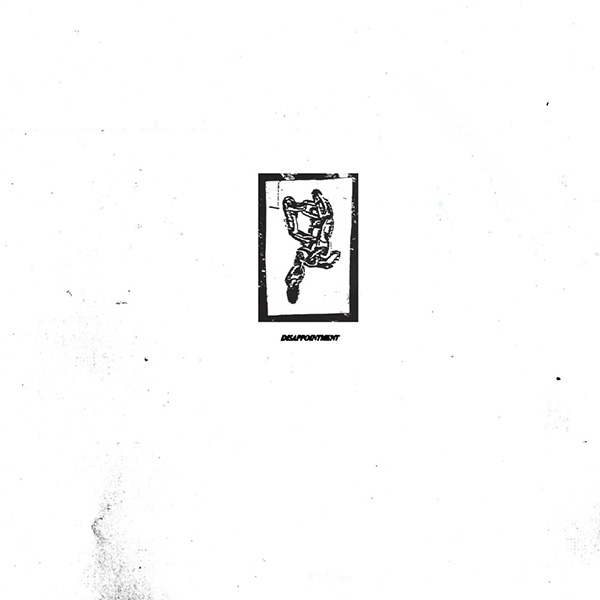 Tunic
Disappointment
Public Tone
Winnipeg, MB
From the constant disappointment of Josh Rohs:
Winnipeg's Tunic roll up their sleeves on their 7" debut, a tetra-pack of knuckle-dragging noise-punk as exothermic (and ephemeral) as an arc flash. These Manitoban noisemongers scrape and claw through tracks like adderall-fueled Liz-kids. Got an itch you can't scratch? Can't get no satisfaction? Here's a dose of *Disappointment*.
Du désappointement constant de Josh Rohs:
(Traduit par la chambre noire de Julie Mayer)
Le groupe Tunic de Winnipeg retrousse ses manches sur son tout premier super 45 tours, un Tetra Pak de punk noise primitif aussi exothermique (et éphémère) qu'un arc électrique. Ces sonoriers manitobains égratignent et griffent à travers les chansons comme de jeunes lézards roublards nourris à l'Adderall. Tu n'peux pas te *scratcher* pour soulager ta démangeaison? T'es pas satisfait? Voici une dose de *Disappointment*.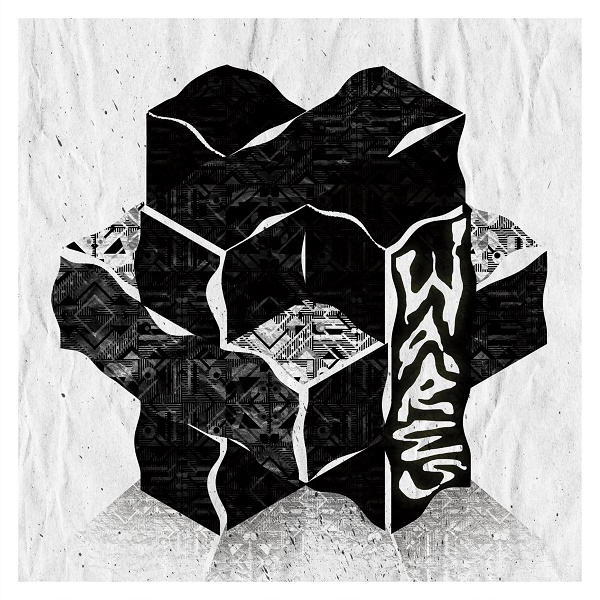 Wares
Missed the Point b/w Beach Date
Edmonton, AB
From the curtained catharsis of Josh Rohs:
School's in, city kids, and attendance is compulsory. On "Missed the Point", Wares' opening salvo of ring mod punk rock capitulates to capital-p Power pop. On the b-side: brass-coupled lakefront nostalgia, sunbleached ivories sufficiently tickled – now with extra curtain-drawn catharsis. Knock down the door and, fuck it, let 'em see you bleed.
De la catharsis garnie de rideaux de Josh Rohs:
(Traduit par la nostalgie académique de Maya Keshav)
L'école est ouverte, les enfants de la ville, et la présence est obligatoire. "Missed the Point" de Wares s'ouvre sur une salve de modulation en anneau (ring mod) punk rock qui capitule jusqu'à p-majuscule Power pop. Sur la face B: la nostalgie du bord du lac conjuguée aux cuivres, les ivoires blanchis au soleil assez chatouillés – maintenant avec plus de catharsis rideaux-fermés. Défoncez la porte et d'la marde, laissez-les vous voir saigner!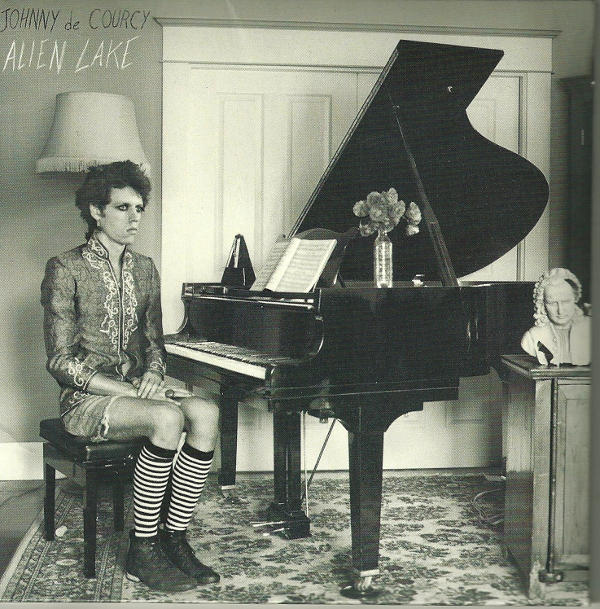 Johnny de Courcy
Alien Lake
New Westminster, BC
From the arterial reference of Josh Rohs:
Be ye in need of one of the following: gut-punch powerpop hooks, fuzz-smothered Pinkertonesque ragers, whimsical balladry, or classic rokk rave-ups (with references arterial intact)? Look no further. Not a lot could hold a Roman Candle to this Neptunian essential. As for the aqua-extraterrestrial, I'm a firm believer.
De la référence artérielle de Josh Rohs:
(Traduit par Sami Imgaline)
Êtes-vous à la recherche de hooks power pop qui déchirent? De soirées Pinkertonesques saturées? De balades fantasques, ou de* raves* classique rokk (avec références artérielles intactes? Ne cherchez plus. Presque rien n'arrive à la cheville de cet indispensable Neptunien. En ce qui concerne l'existence des aqua-extraterrestes, j'y crois fermement.
Johnny de Courcy – I Can't Be That Man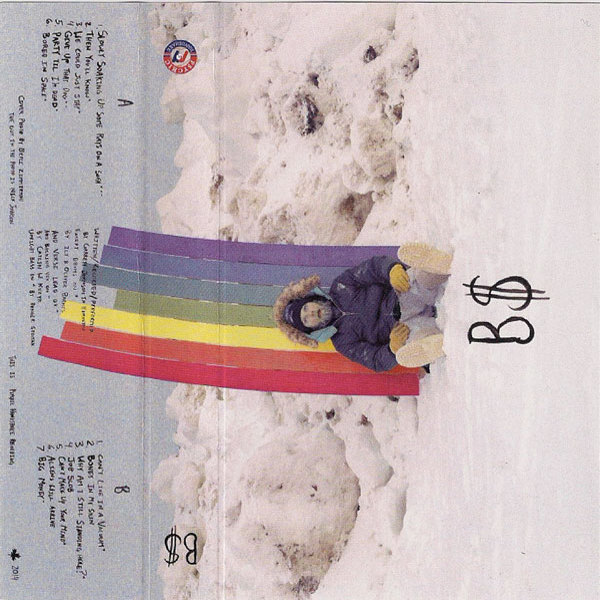 Brazilian Money
Brazilian Money
(Psychic Handshake)
Montréal, QC
From the pizza-burnt tongue of Josh Rohs:
Brains, space, couches, aliens, slacking: some of the many muses of one Garrett Johnson throughout this s/t cassette. Yelping, snarling, giggling, nasal-crooning, pizza-burnt-tounge howling: the various vocalizations of the very same. Call it B$ Redux: beloved steamboat-dreamboat Johnson ressurects the old ones and drags 'em kickin' and screamin' into mid-fi slack-rock paradise. All the hits – this one's a no brainer, people.
De la langue brulé de pizza de Josh Rohs:
(Traduit par « oui, I You, Ohh! »)
Des cerveaux, l'espace, des divans, des extraterrestres, le relâchement : ici quelques des méditations de Garrett Johnson durant cette s/t cassette. Jappement, grognement, gloussements, le fredonner nasal, le hurlement d'une langue brûlé par pizza: les expressions vocales variées de la même chose. Ça pourrait être nommé B$ restoré: le renommé, bateau à vapeur, homme de rêve Johnson ressuscite les vieux et il les traîne contre leur gré vers mi-fidélité paradis du rock lâche. Tous titres phares – gens, c'est pourtant simple.

Brazilian Money – Can't Live in a Vaccuum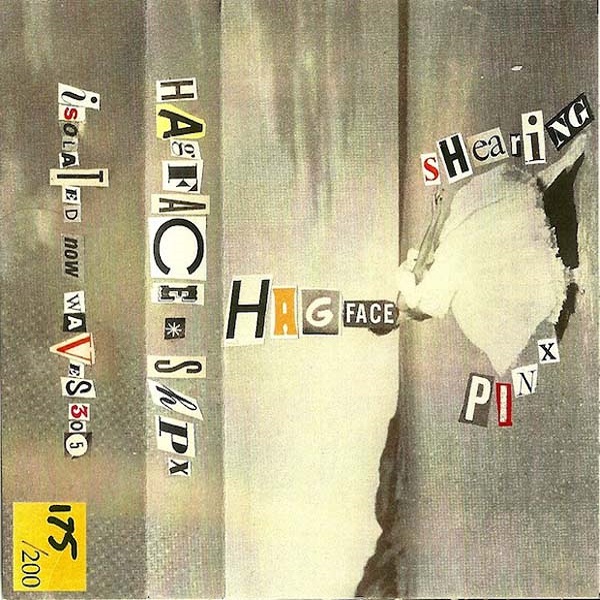 Hag Face/ Shearing Pinx
Split
Calgary, AB/Vancouver, BC
From the holy drywall of Josh Rohs:
Vancouver's sultans of cacophony meet Calgary's noise-conjuring witch punx for a feral, ferrous oxide-bound dichotomy made in house show hell. Wyrd friends, both old and new materialize at 3 a.m., plug in and melt face. You're left with nothing but a couple holes in yer drywall, a disfigured tympanic membrane, and a cognitive shift into warp drive. Grip now, and live out your remaining days in shredded bliss.
De la cloison sèche bénie de Josh Rohs:
(Traduit par Jessica Grenier)
Les sultans de la cacophonie de Vancouver se joignent aux sorcières punx de Calgary le temps d'une dichotomie sauvage gravée en oxyde de fer lors d'un spectacle maison infernal. Chers amis Wyrd, nouveaux et anciens, quand sonnent [trois heures du matin], branchez-vous puis sentez votre visage fondre. Vous en sortirez avec des trous dans la cloison sèche, une membrane tympanique mutilée et un changement cognitif à une vitesse supraluminique. Mettez la main dessus et vivez heureux à jamais, dans les liens sacrés du déchiquetage.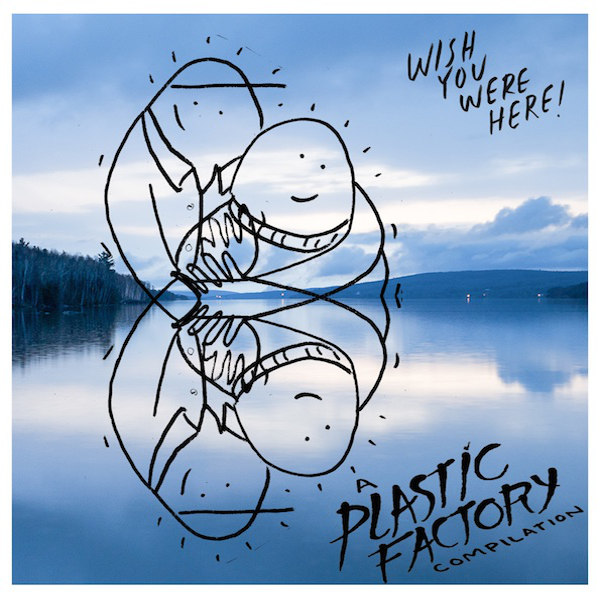 Various Artists
Meet the Factory
Montréal, QC
From the barycentric potpourri of Josh Rohs:
After one bonafide gem, Plastic Factory is back with a grip-worthy compendium. This potpourri's barycentre falls somewhere near the City of Saints, but its roots wiggle out as far as Victoria and Halifax. Take the luxury of seeing both the forest and the trees. Meet the Factory is a mega-comp that broadcasts at near every frequency in Canada's weirdo-pop spectrum – from Un Blonde's ramshackle post-whatever jamz to Play Guitar's ventures thru underwater moonlight. Wyrdos, eat yer (Beefy) heart out, this bet's safe as milk.
Du pot-pourri barycentrique de Josh Rohs:
(Traduit par Jessica Grenier)
Après nous avoir offert une gemme authentique, Plastic Factory lance une compilation sur laquelle il faut absolument mettre la main. Le barycentre de ce pot-pourri tombe quelque part dans les environs de la Cité des Saints, mais ses racines vont aussi loin que Victoria et Halifax. Permettez-vous le luxe de voir tant les arbres que la forêt. Meet the Factory est une méga-compilation qui est diffusée sur presque toutes les fréquences du spectre pop bizarroïde canadien : du post n'importe-quoi déglingué de Un Blonde au clair de lune sous-marin aventureux de Play Guitar. Allez les wyrdos, faites-vous plaisir [comme des chefs](https://www.youtube.com/watch?v=soV8IcTzuj8, satisfaction garantie.

Freak Heat Waves – Cradle of Fear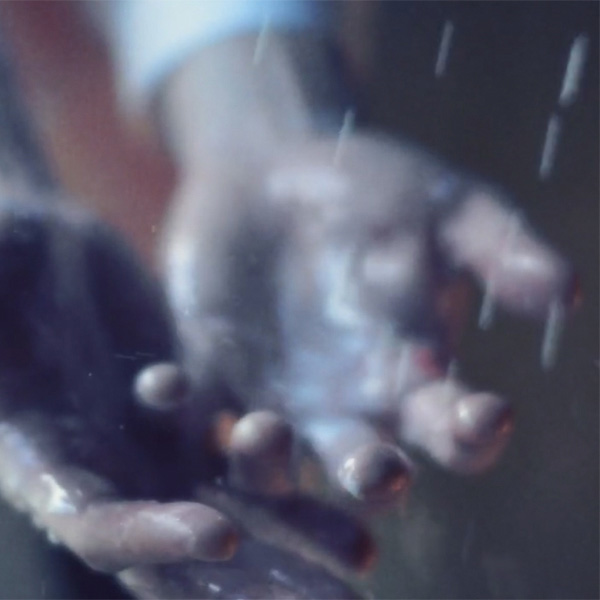 Soupcans
Crimes of the Future, Pt II
Directed by James Ryan Halpenny
Toronto, ON
From the criminal future of Josh Rohs:
Hogtown's honorary princes of pigfuck are at it again. Director James Ryan Halpenny chucks the first couple Laws of Robotics in the garburator (Take that, Asimov! ) and we get an extra sanguinary, Cronenberg-directed, Short Circuit-goes-Killdozer. The criminal future is nigh and it's pretty much just sordid sentinels from here on out.
Du futur criminel de Josh Rohs:
(Traduit par Jessica Grenier)
Les princes honoraires torontois du pigfuck s'y sont remis. Le réalisateur, James Ryan Halpenny, jette les premières Lois de la robotique aux poubelles (prends ça, Asimov! ) pour obtenir un mélange sanguinolent de Cœur circuit devient Killdozer version Cronenberg. Le futur criminel est nocturne, et à partir d'ici, il n'y a à peu près que des sentinelles sordides.
Soupcans – Crimes of the Future, Pt II from james ryan halpenny on Vimeo.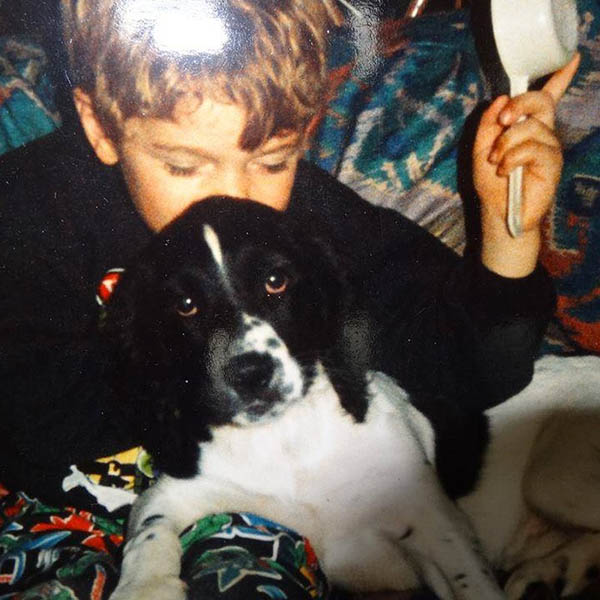 Robert Loveless
Domino
(Self Released)
Halifax, NS
From the stygian discotheque of Josh Rohs:
Somewhere, there's a stygian discotheque that plays Robert Loveless ad infinitum. On Domino, Loveless sounds like he's been hangin' with the no-goodniks on the wrong side of the harbour. Warped 45-soul gets sleazy with manipulated grooves. This one's another diamond in Halifax's kimberlite pipe.
De la discothèque ténébreuse de Josh Rohs:
(Traduit par les sons magnétiques de Julie Forget)
Quelque part se trouve une discothèque ténébreuse où l'on joue du Robert Loveless à l'infini. Sur Domino, Loveless a l'air d'avoir fréquenté les voyous dans le mauvais côté du refuge. En présence de grooves manipulés, un soul 45 tordu devient glauque. Voici un autre diamant provenant de la pipe de kimberlites d'Halifax.

Robert Loveless – Get a Life, Get a Love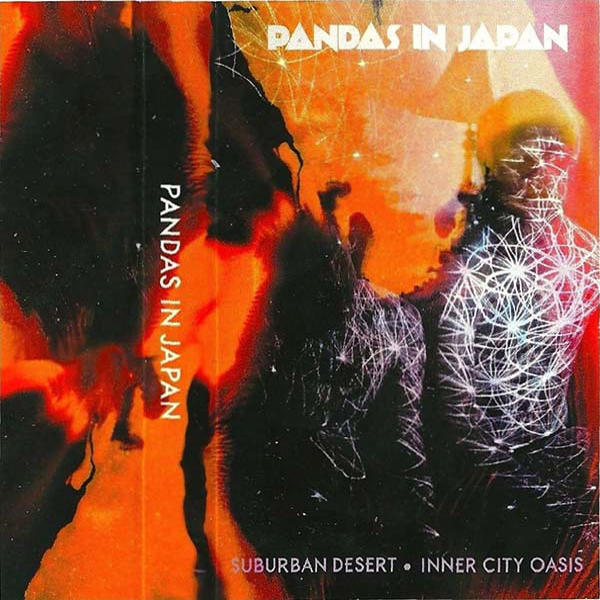 Pandas in Japan
Suburban Desert – Inner City Oasis
Saskatoon, SK
From the suburban dessert of Josh Rohs:
These prairie psychonauts shred the gnar like nobody's watching, leaving nothing but scorched earth in their wake. Suburban Desert // Inner City Oasis is a hallucinogenic-fueled bruise cruise across the undulating sands of an unknown dry planet. These unlikely ursidae drag the cosmos into the garage, but not before drowning it in the surf. This oasis ain't no mirage, it's the real deal.
Du désert banlieusard de Josh Rohs:
(Traduit par Jessica Grenier)
Ces psychonautes des Prairies surfent sur la vague comme s'ils étaient seuls au monde en ne laissant qu'une terre brûlée dans leur sillage. Suburban Desert // Inner City Oasis, c'est une dangereuse dérape sur les hallucinogènes à travers les vagues de sable d'une planète aride et inconnue. Ces ursidés improbables ramènent le cosmos dans le garage après l'avoir noyé dans le surf. Cette oasis n'est pas un mirage, c'est du solide.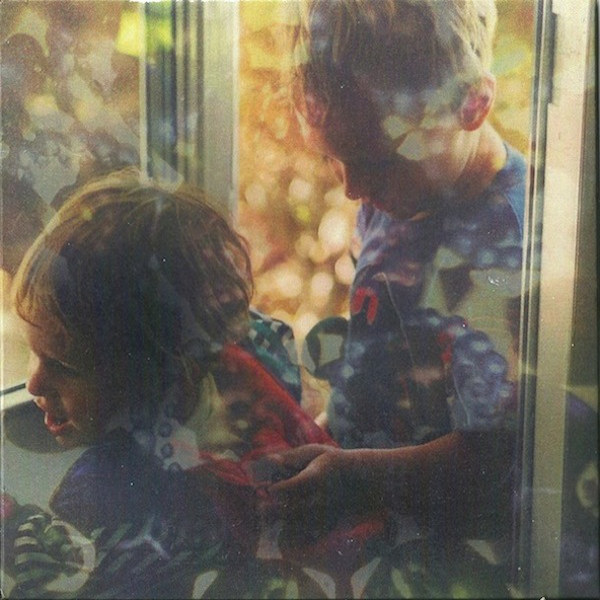 On Living Room's Stasis, the abstract and concrete are woven together to form a resplendent multisensory tapestry.
Living Room
Stasis
Saskatoon, SK
From the arboreal visions of Josh Rohs:
One-man prairie dreamscape machine Alex Stooshinoff conjures hushed hymns and honeyed drone-worlds as Living Room. On "Severed", stereophonic nü age vocal strata are paired with lush aquiline projections. Elsewhere, arboreal visions intersect with polychromatic mutations. Throughout the audio-visual experience of Stasis, the abstract and concrete are woven together to form a resplendent multisensory tapestry.
Des visions arboricoles de Josh Rohs:
(Traduit par les ramifications auriculaires de Jessica Grenier)
Sous le nom de Living Room, l'homme-machine solo provenant du paysage onirique des Prairies, Alex Stooshinoff, évoque par des murmures hymniques des mondes de bourdonnement mielleux. Dans « Severed », des couches de voix stéréophoniques de type nü age se joignent à de délicieuses projections incurvées. Ailleurs, des visions arboricoles croisent des mutations polychromatiques. Tout au long de l'expérience audiovisuelle de Stasis, l'abstraction et le réel sont entremêlés jusqu'à former une tapisserie multisensorielle resplendissante.
Living Room – Stasis from Living Room on Vimeo.
---