Tag: josh boguski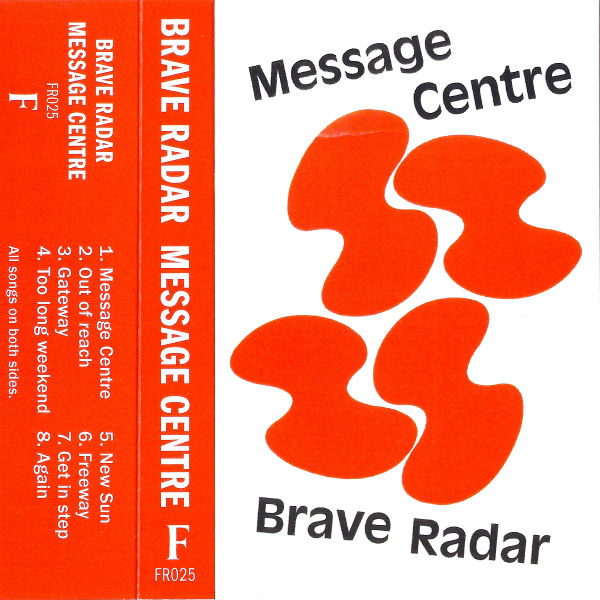 Brave Radar
Message Centre
Montréal, QC
From the sincere appreciation of Josh Boguski:
In the five years since their previous broadcast, Brave Radar have honed a persistently subdued sound, reappearing at the forefront of our interest with the future classic Message Centre. Despite its timeless tonality, this heap of pop clumps winks at the obscurity of its predecessors. Be sure to thank Tessa and Conor for founding Fixture before preparing to drift off to the world's most radical lullaby.
De l'appréciation sincère de Josh Boguski:
(Traduit par les berceuses les plus radicales de Hugo Hyart)
Pendant les cinq années qui se sont écoulées depuis leur dernière transmission, Brave Radar ont aiguisé un son qui persiste en subtilité, et redeviennent un intérêt de premier plan grâce au futur classique Message Center. Malgré sa tonalité intemporelle, cet amas de sons pop fait un clin d'oeil à l'obscurité de ses prédécesseurs. N'oubliez pas de remercier Tessa et Conor pour avoir fondé Fixture avant de vous préparer à dériver dans les berceuses les plus radicales au monde.
Crosss // Astral Gunk
Split 7″
Toronto, ON // Sackville, NB
From the prophetic dirge of Josh Boguski:
Darkness envelopes a barren landscape as cloaked figures surround their fallen chapter. Though trembling, we are euphoric as the beast they've summoned welcomes us into its arms. Crosss seamlessly combine doom and post-punk with the disorienting pop sensibilities that we've come to expect from Halifax. And they're destined to the throne. On the flipside, chain-gun percussion accompanies the proclamation that punk is not dead. In their own maniacal language, Sackville's Astral Gunk abandon convention and leave the capitol in search of unpredictable territory.
De l'hymne funèbre prophétique de Josh Boguski:
(Traduit par elfranc)
L'obscurité enveloppe un paysage aride alors que des personnages cagoulés entourent leur acolyte tombé. Malgré les tremblements, nous sommes euphoriques : la bête qui a été invoquée nous accueille dans ses bras. Crosss combinent sans couture le doom et le post-punk avec la sensibilité pop désorientante d'Halifax. Ils sont destinés au trône. De l'autre côté, des rythmes de mitraillette accompagnent la proclamation que le punk n'est pas mort. Dans leur propre langue maniaque, Astral Gunk, de Sackville, abandonnent les conventions et quittent le Capitole à la recherche de territoires imprévisibles.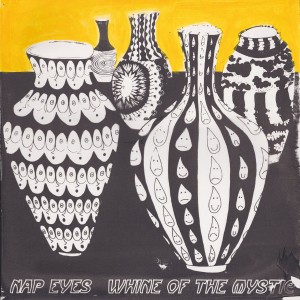 Nap Eyes
Whine of the Mystic
Halifax, NS
From the paranoid delirium of Josh Boguski:
Considering the eccentric history of Nigel Chapman's songwriting, it's no surprise that Montreal's anticipated new label, Plastic Factory, chose Whine of the Mystic as its first release. Recorded at the elusive Drones Club, this saintly record radiates with the light of the community from which it was born. The instrumentation of Halifax veterans Josh Salter, Seamus Dalton, and Brad Loughead mutate Chapman's empathetic folk into anthemic grooves. Sometimes noisy, sometimes introspective, but always tasteful, Nap Eyes are a band you can proudly take home to Mom.
Du délire parano de Josh Boguski:
(Traduit par la parano délirante de Virginie Langlois)
Étant donné les antécédents excentriques des compositions de Nigel Chapman, pas étonnant que Plastic Factory le nouveau label de Montréal dont on attend beaucoup, ait choisi Whine of the Mystic pour sa première sortie. Enregistré dans ce lieu indéfinissable qu'est le Drones Club, ce disque empreint de sainteté rayonne de la lumière de la communauté qui l'a vu naître. L'instrumentation de ces anciens combattants d'Halifax Josh Salter, Seamus Dalton et Brad Loughead transforment le folk empathique de Chapman en véritables hymnes. Parfois bruyant, parfois introspectif, mais toujours agréable, Nap Eyes est un groupe que vous pouvez fièrement présenter à vos parents.
Nap Eyes – Delirium and Persecution Paranoia
---