Tag: joseph stephenson taylor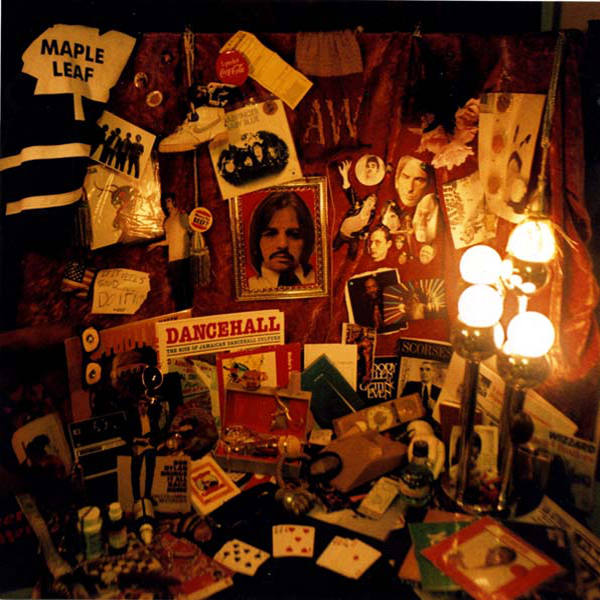 Actual Water
Call 4 Fun
Toronto, ON
From the Sober Sleaze of Joseph Stephenson Taylor:
Summer is flying out the window, but do the vibes have to go too? Hey man, we can pull back some freezees and rip our mouth corners up real good. We're already covered in SPF whatever so lets just go to the beach one last time. We can pretend, you can pretend and with Actual Water, winter will be none the wiser. The Power Pop world is built on a foundation of mainstays, a checklist, and Call 4 Fun meets all them em-effing parameters like whoa. Honest Hooks: Check! Sober Sleaze: Check! Riotous Rhythms: Come on man, check! The production is poppy as all get out with a tinge of much appreciated dirt that'll keep it safe for those of you worried about your crust-cred. With this we bid farewell to our favourite sister, Summer.
De la vulgarité sobre de Joseph Stephenson Taylor:
(Traduit par les commissures blessées de Jessica Grenier)
L'été s'envole à vue d'œil, mais est-ce que son ambiance doit aussi partir? Pas de problème man, on peut s'acheter des Mr. Freeze et se couper les coins de la bouche comme il faut. On est déjà beurrés de crème solaire, aussi bien aller à la plage une dernière fois. On peut faire semblant. Tu peux faire semblant avec Actual Water, l'hiver n'aura pas le dernier mot. Le monde de la power pop est construit sur les piliers d'une check-list, et Call 4 Fun la suit à la lettre, c'est fou! Des accroches sérieuses… check! Une vulgarité sobre… check! Des rythmes déchaînés… facile, check! Le produit fini est très pop, et tout ressort avec une teinte terreuse. Tu n'auras donc pas à t'en faire pour ta réputation de dur à cuire. Nous pouvons maintenant dire adieu à l'été, notre sœur préférée.

Actual Water – Power Pop Radio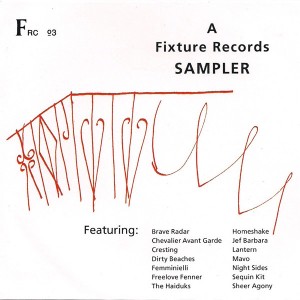 Various Artists
A Fixture Records Sampler
Asterisk, Canada
From the bewildered benevolence of Joseph Stephenson Taylor and Jesse Locke:
Gliding above, below and beside in a stream of benevolent jams, this is the accompaniment for the walking person, the sitting person, the busy and the bored. The Fixture Records "sampler", as they have so humbly put it, is home to 22 magnificently diversified tunes. It boasts a roster of names great and great, some bewilderingly great. Elder statespeople like Brave Radar, Mavo and Freelove Fenner — whose see-sawing Siouxsie-style riffage of "Sheperdess" is a standout here and on their latest LP — shuffle next to relative newcomers like the Haiduks, Night Sides and Homeshake — whose slinky seduction could melt any mixtape. Femminielli, Chevalier Avant Garde and Jef Barbara bring a dash of dangerous glamour, while Dirty Beaches hearkens back to his hazy days of yore. The jangular jawns of Sheer Agony close out this set with fizzical fitness, yet the show can't be stolen when it's stacked front to back.
De la bienveillance étrange de Joseph Stephenson Taylor and Jesse Locke:
(Traduit des jours d'antan de Stéphanie Trottier)
Défilant par-dessus, par-dessous et tout près d'un courant de jams bienveillants, voici l'accompagnement de celui qui marche, de celui qui est assis, de celui qui s'affaire et de celui qui s'ennuie. Le « sampler » de Fixture Records, comme il a été si humblement désigné, nous offre 22 morceaux magnifiquement diversifiés. Il se vante d'un répertoire de grands noms, grands et d'un grand déconcertant. Des démagogues anciens tels que Brave Radar, Mavo et Freelove Fenner – dont le riff de « Sheperdess » de style Siouxsie oscillant est mis de l'avant sur leur dernier LP – se mêlent aux nouveaux venus comme les Haiduks, Night Sides et Homeshake – dont la séduction sinueuse ferait fondre tout mixtape. Femminielli, Chevalier Avant Garde et Jef Barbara apportent une touche dangereuse de glam, alors que Dirty Beaches remonte à ses jours brumeux d'antan. Le tintement anguleux de Sheer Agony clôture l'album avec un entraînement fizzical. La vedette ne peut toutefois pas être volée lorsqu'elle joue du début à la fin.
Homeshake – She Can't Leave Me Here Alone Tonight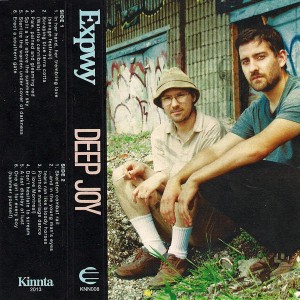 EXPWY
Deep Joy
Montréal, QC
From the Parisian nightsuit boutique of Joseph Stephenson Taylor:
We borrowed grandma's Volvo and headed east to Montreal for the weekend, and an adolescent life affirmation via stage presence. Spirits: Pumped! Bellies: Full of pop and Teen Burgers! IDs: Scored one for you, scored one for me! The perfect weekend can't be rained out with the tapedeck chewing on Deep Joy, the new tops magnetic fidelity from Expwy. Dances? We danced the caution to the wind dances of those stationary in car seats. The gray Volvo swerved side to side to the sway of "Erect a Southern Gate" and sped faster from the influence of "Porthole Mariage Dance (I Love Montreal)" as our eagerness to arrive intensified. Pit-stop, gassed-up skyline in view — high-five air-drum air-guitar power-pop, Jesus it's cool.
De la boutique de pyjamas parisiens de Joseph Stephenson Taylor:
(Traduit en voyageant dans le coffre par Mathieu Bédard)
Empruntant la Volvo de grand-maman, nous nous sommes dirigés vers l'est pour la fin de semaine, vers Montréal et vers une affirmation adolescente de la vie via présence scénique. Morale des troupes : gonflée à bloc! Estomac des troupes : remplis de Teen Burgers et de liqueurs! Cartes d'identités : ressemblantes à s'y méprendre! Une fin de semaine parfaite qui ne pouvait pas être gâchée par le lecteur cassette faisant des siennes et décidant d'avaler Deep Joy, la nouvelle bonne vieille bande magnétique d'Expwy. Avons-nous dansé, alors? Ça en devenait le facteur principal d'accident, au milieu de tous ces gens en position stationnaire dans leur siège d'auto. La volvo grise faisait des embardées en cadence avec les déhanchements d' "Erect a Southern Gate" et accélérait considérablement sous l'influence de "Porthole Mariage Dance (I Love Montreal)", à mesure que l'excitation de l'arrivée s'intensifiait. Arrêt au puit final, ravitaillement, centre-ville bien en vue — du power pop à nous faire mimer les sons de batteries et de guitares, cool sans bon sens, tout ça.
EXPWY – Scraping blue terra cotta (Waterloo Cannibals)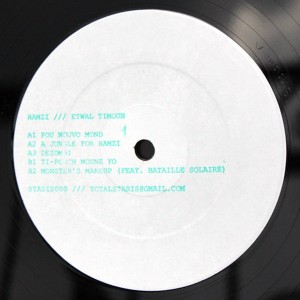 Ramzi
Etwal Timoun
Montréal, QC
From the beachside arcade of Joseph Stephenson Taylor:
When stepping into a craft that you know will be traveling across numerous landscapes, a window seat is the ideal place to be. There, the horizon is at your mercy to be taken in as a whole, or to be dissected where each intricate piece that works so hard to create a big picture can be gripped, held close and observed with an enthusiastic eye. But horizons are subject to dynamic change: bigs and smalls, brights and dulls, flats and sharps. This is also the case with Etwal Timoun, the latest excellence offered by Montreal's Ramzi. Each track locks into place and then sets off far into orchestrations that could accompany an NFB documentary on the inner workings of post-Y2K pinball machines, careening left and right, bumping up and down. The toe-tapping can generally be held to 4/4 while the leads lend themselves to colourful details of buzz, blurp, dizzle, fizzle and the machine that goes PING. Very tasty circuits.
Du jeu d'arcade de bord de mer de Joseph Stephenson Taylor:
(Traduit par Jacinthe Laplante)
Lorsque vous montez à bord d'une embarcation qui visitera de nombreux paysages, l'endroit idéal pour vous asseoir est près de la fenêtre. De là, vous pourrez embrasser du regard l'horizon tout entier ou le disséquer morceau par morceau et reconstituer l'ensemble qui ne demande qu'à être observé d'un œil enthousiaste. Mais l'horizon est sujet au changement : vaste ou limité, brillant ou terne, plat ou accidenté. Il en va de même pour Etwal Timoun, le dernier petit chef-d'œuvre de la Montréalaise Ramzi. Alors qu'on croit avoir cerné une chanson, cette dernière se déploie aussitôt en arrangements orchestraux tout indiqués pour accompagner un documentaire de l'ONF sur les rouages des machines à boules du XXIe siècle, donnant de la bande de gauche à droite, cognant de haut en bas. Le pied peut généralement suivre le rythme en 4/4 alors que la musique se décompose en une série de buzz et de bling-a-ding-ding colorés sans oublier le PING de la machine. De délicieux circuits.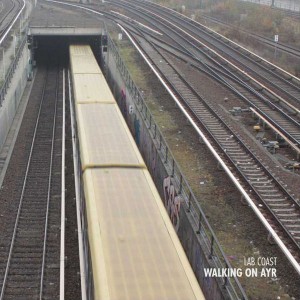 Lab Coast
Walking on Ayr
Calgary, AB
From the tea cozy cupboard of Joseph Stephenson Taylor:
Where are our cats? We need a furry purr by our side to accompany this twee cacophony. Real and reliable, this is a sure-fire remedy to break the monotony of an extended prairie drive or expel the anxious comedown of a lively sock hop. The broken glasses croon and slapback delayed axe give us warm fuzzies, while the thump-thump of the bass and the dust storm from the drums keeps it punk rock enough for us to consider stealing cigs from our boss's backpack. All the teacups are sitting in the sink and it's too hot for a colourful sweater, but we know they belong here with us, our fat tabbies and Lab Coast's Walking on Ayr.
Du douillet placard à thé de Joseph Stephenson Taylor:
(Traduit par le ronron à fourrure tigrée de Hugo Hyart-Dauvergne)
Où sont nos chats ? Nous avons besoin d'un ronron à fourrure sur les genoux pour accompagner cette adorable cacophonie. Réel et fiable, ceci est un remède parfait contre la monotonie d'un trajet prolongé en voiture à travers les prairies ou pour calmer l'anxiété d'un après-bal de fin d'année animé. Les verres cassés chantent et une guitare à long retardement réchauffe nos jolis coeurs, tandis que le dum-dum de la basse et la tempête de sable de la batterie garde le tout assez punk rock pour nous donner l'idée de voler les clopes dans le sac à dos de notre patron. Toutes les tasses sont dans l'évier et il fait trop chaud pour mettre un pull bariolé, mais nous savons qu'ils ont leur place ici avec nous, nos gros chats tigrés et Walking on Ayr de Lab Coast.
Lab Coast – Don't Wanna See You
---