Tag: jordan voith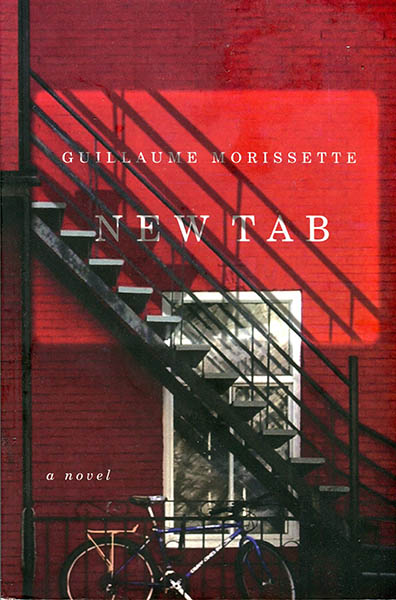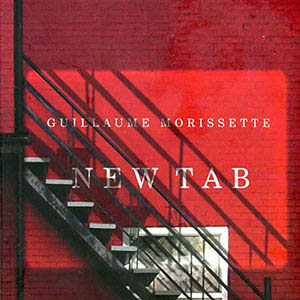 New Tab
Guillaume Morissette
212 pages, perfect bound
Montréal, QC
From the groove/routine/rut (D.C. al Fine) of Jordan Voith:
In New Tab, Morissette maintains a quotidian focus, and the effect is one of bittersweet boredom and comfort in familiarity. Protagonist Thomas navigates empty employment, abortive courtships, and casual substance abuse; it's an old landscape, arable for a type of solidary ease, but not much more. Comfort invites inertness, and inertness invites lack. In response, Morissette proffers a Seinfeldian zen as panacea. He gives the void a bear-hug (might as well get cozy with your most enduring companion), and in his embrace, absence starts to look an awful lot like substance. Sure, a steady diet of bad beer and worse hangovers might not be enough in the conventional sense, but when you think about it, it's not not enough, either. The universe abides, man.
Du rythme/de la routine/du ronron (D.C. al Fine) de Jordan Voith:
(Traduit par Jessica Grenier)
Dans New Tab, Morissette continue de s'intéresser au quotidien en dépeignant le confort de ce qui est familier et la douce amertume de l'ennui. La vie de Thomas, le protagoniste, est ponctuée de relations avortées, du manque d'emplois et de consommation occasionnelle de drogue. C'est un ancien paysage, parfait pour une certaine aisance solidaire, sans plus. Le confort invite l'inertie, et l'inertie amène le manque. Pour réponse, Morissette présente comme panacée une zénitute Seinfeldienne. Il donne un gros câlin au vide (aussi bien être à l'aise avec son compagnon le plus persistant); et dans cette étreinte, l'absence se met à ressembler énormément à de la substance. C'est sûr qu'au niveau conventionalité, une routine de mauvaise bière et de gueules de bois encore pires n'est peut-être pas suffisante, mais quand on y pense, ce n'est pas pas suffisant non plus. C'est simple, l'univers approuve.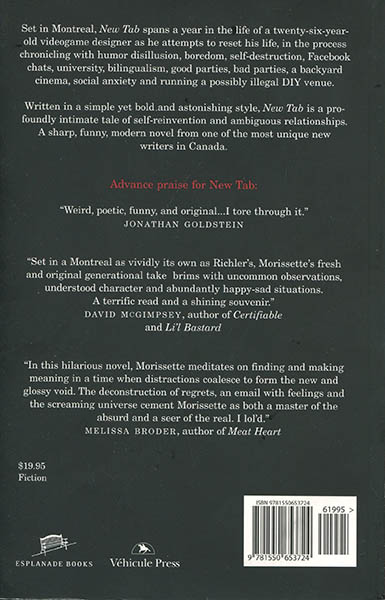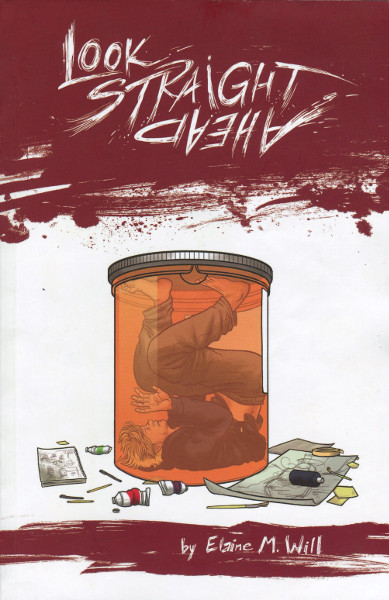 Look Straight Ahead
Elaine M. Will
(Cuckoo's Nest Press)
Saskatoon, SK
2013
perfect bound, 6.875" x 10.5"
colour matte finish cover
black and white / mixed colour interior
256 pages
From the dissatisfied visions of Jordan Voith:
Between schoolyard bullies, schizophrenic visions, and dissatisfaction with his art, 17-year old Jeremy Knowles is experiencing a difficult adolescence. Structured as contemporary Künstlerroman, Elaine M. Will's Look Straight Ahead documents Jeremy's struggles with acute mental breakdown exacerbated by teen angst (or perhaps vice-versa) and his experience with art as therapy.
Will situates Look Straight Ahead firmly in the imagery and narrative of timeless adolescence: the story itself is centrally concerned with the process of growing up, and her characters bear uncanny resemblance to a similarly teen-minded classic. Other than the physical likeness, though, Will's steers clear from anything so middle-American: drawn in black and white (except for a few bursts of colour in Jeremy's hallucinations), Look Straight Ahead alternates between frigid asceticism and manic psychedelia as Jeremy navigates the vicissitudes of recovery.
The familiarity of Will's characterization imbues Look Straight Ahead with a distinctly human verisimilitude. Despite the metaphysical scope of his hallucinations, Jeremy's struggles never venture beyond the relatable and they suggest an autobiographical intimacy with their content – Will herself suffered a mental breakdown in 2002. And, just as Will created Look Straight Ahead in the decade after her illness, Jeremy's ultimate recovery confirms the restorative power of art and the inextricable link between creative and personal growth.
Des visions insatisfaites de Jordan Voith:
(Traduit par la lecture entre les lignes de Julie Forget)
Entre des tyrans de la cour de récréation, des visions schizophréniques et une insatisfaction par rapport à son art, Jeremy Knowles, 17 ans, vit une adolescence difficile. Structuré à la manière d'un Künstlerroman contemporain, le récit Look Straight Ahead de Elaine M. Will décrit les périodes de dépression sévère de Jeremy, exacerbées par les angoisses d'adolescent (ou peut-être est-ce l'inverse) et de son expérience avec l'art comme forme de thérapie. Will place Look Straight Ahead de manière ferme dans l'imagerie et la narration d'une adolescence intemporelle : l'histoire même s'intéresse essentiellement au processus de passer de l'enfant à l'âge adulte et ses personnages comportent des ressemblances troublantes avec un classique similaire orienté vers les adolescents. Toutefois, à part les ressemblances physiques, Will reste loin des caractéristiques américaines traditionnelles : dessiné en noir et blanc (sauf pour les quelques éclats de couleurs dans les hallucinations de Jeremy), Look Straight Ahead alterne entre ascétisme frigide et psychédélisme maniaque en suivant le personnage principal qui subit les vicissitudes de la guérison.
La familiarité de la caractérisation de Will imprègne Look Straight Ahead d'une vraisemblance distinctement humaine. Malgré la portée métaphysique de ses hallucinations, Jeremy affronte des épreuves qui se lisent bien et qui suggèrent une intimité autobiographique avec leur contenu – Will a elle-même souffert de dépression en 2002. Et, de la même manière que l'auteure a créé Look Straight Ahead dans la décennie après sa maladie, la guérison de Jeremy confirme le pouvoir réparateur de l'art et le lien inextricable entre croissance créative et croissance personnelle.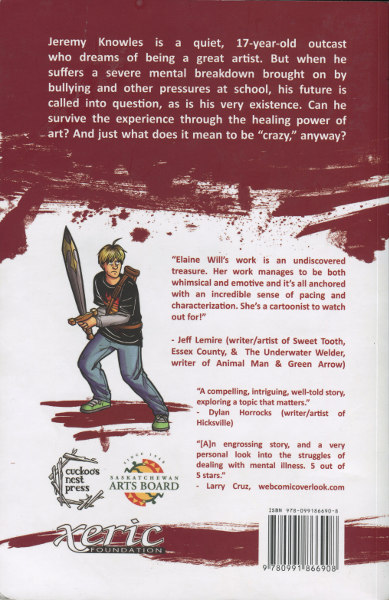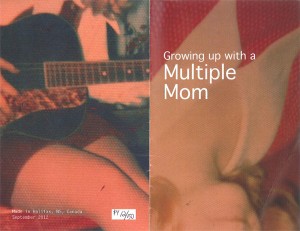 Growing Up With a Multiple Mom
Written by: Jenny Gillespie
(Self Published)
(6 pp., soft cover, staple bound)
Halifax, NS
From the multiplicity of Jordan Voith:
Growing up with a Multiple Mom creates a space for connection. Jenny's pain is an afflicted organ pumping sickness into her life. It is insidious and powerful, manifesting in her relationships and her behaviours and her thoughts. To know Jenny we must know her pain. And, more than anything else, that is how Growing up with a Multiple Mom works – as an exercise in understanding and an attempt at mitigation through sharing. It is an uncomfortable read, but that is the point; this is uncomfortable subject matter. The reader's discomfort is a sharing of the weight. And boy is it weighty.
De la multiplicité de Jordan Voith:
(Traduit par la souffrance littéraire de Julie Forget)
Le livre Growing up with a Multiple Mom crée un espace propice à la connection propice à la connection. La douleur de Jenny est un organe souffrant qui injecte la maladie dans sa vie. Elle est insidieuse et puissante et se manifeste dans ses relations, dans ses comportements et dans ses pensées. Pour connaître Jenny, il faut connaître sa douleur. Mais plus que tout, c'est de cette façon que Growing up with a Multiple Mom fonctionne – en tant qu'exercice de compréhension et en tant que tentative d'allègement par le partage. Il s'agit d'une lecture pénible, mais c'est bien son but, le sujet étant pesant. L'inconfort du lecteur est un partage de ce poids. Et ouf… quel poids lourd à porter.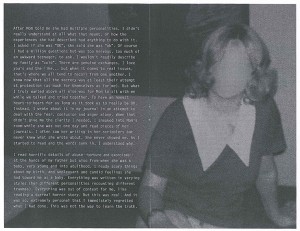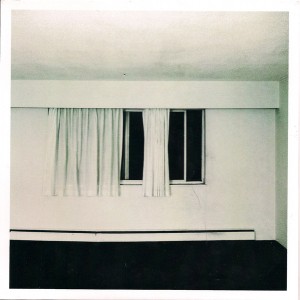 Capitol 6
No One Came
Vancouver, BC
From the lawnchair laze of Jordan Voith:
The name Capitol 6 is probably a nod to a certain collective of legendary elephantine Athenians (GA, not GR). It's a lofty comparison and a little presumptuous, but it has some merit — the lineage checks out. The band's ex-label Light Organ cite "contemporary paisley-punks" like The Fresh & Onlys as influences, but this track is more tie-dyed than it is acid-washed, and the most obvious stylistic link is to their mid-90s neo-psych forbearers. Seriously, the central refrain mostly consists of the word "freeeeeee" repeated over and over. It doesn't even matter if they're taking the piss; this is sunny, easy stuff, and it makes it hard to take anything too seriously. It's a soundtrack for getting up early to wake and bake only to pass out in a lawnchair 15 minutes later. It's not that it's unambitious — it's just comfortable with kicking back.
De la paresse de chaise longue de Jordan Voith:
(Traduit par Jan Karza)
Le nom Capitol 6 est sans doute un clin d'œil à un certain collectif légendaire d'éléphantesques athéniens (de Géorgie, pas de Grèce!). C'est une comparaison ambitieuse, et même un peu présomptueuse, mais qui en a pas moins un certain mérite – la lignée correspond. Light Organ, l'ancien label de groupe, cite des influences "paisley-punks contemporains" comme The Fresh & Onlys, mais ce titre est plutôt délavé que lavé à l'acide, et la comparaison stylistique la plus évidente est avec leurs ancêtres neo-psych des années 90. Sans plaisanter, le refrain principal consiste surtout du mot «freeeeeeee » répété encore et encore. Même si ils se moquent, ça n'importe pas; c'est de la musique insouciante et facile, ce qui rend difficile de prendre quoi que ce soit trop au sérieux. C'est une bande-sonore pour se lever tôt le matin et se rouler un joint, seulement pour s'endormir sur une chaise longue 15 minutes plus tard. Ce n'est pas que ce soit une chanson sans ambitions — c'est juste qu'elle est confortable à prendre les choses comme elles viennent.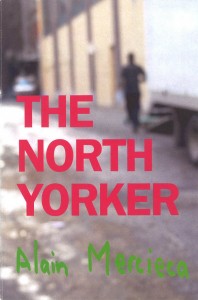 The North Yorker
Written By: Alain Mercieca
[86pp. perfect bound]
Montreal, QC
From the underground notes of Jordan Voith:
These are bizarro world visions: TVs with assholes, post-apocalyptic condo developments, spoon manufacturers who refuse to make forks. Somehow, miraculously, Mercieca makes them resonate. Staring at a cement block, the narrator reflects that "whorehouses should change their names to Energy Exchange Bureaus or Hormonal Release Societies", a foreign thought perhaps, but not an entirely unrelatable one; city dwellers spend a lot of time staring at concrete. The North Yorker is about intentional weirdness, quiet confusion vs. screaming boredom, and the perils of unchecked introspection. Spend too much time inside yourself and everything gets strange.
Des carnets souterrains de Jordan Voith:
(Transmuté par Vincent Rondeau)
Voilà des scènes dignes du monde de Bizarro : des télévisions avec des anus, des condos post-apocalyptiques, des fabricants de cuillères qui refusent de faire des fourchettes… mais comme par miracle, Mercieca les fait résonner. En regardant un bloc de ciment, le narrateur pense que « les bordels devraient être rebaptisés "bureaux d'échange de l'énergie" ou "sociétés de libération des hormones" », pensée certes inhabituelle, mais à laquelle on peut tout de même s'identifier : après tout, les citadins passent beaucoup de temps à regarder le béton. The North Yorker parle de bizarrerie délibérée, de confusion silencieuse et d'ennui criant, et des dangers de l'introspection excessive. Quand on passe trop de temps à l'intérieur de soi-même, tout devient étrange.
---