Tag: joni sadler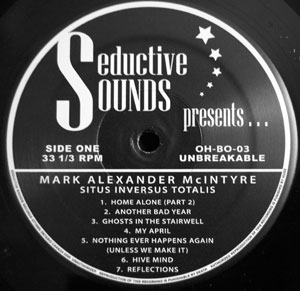 Mark Alexander McIntyre
Situs Inversus Totalis
(Seductive Sounds)
Ottawa, ON
From the seductive text of Joni Sadler:
After playing in numerous Ottawa bands over the past decade, Mark Alexander McIntyre has finally gone and released a solo record. As it turns out, Situs Inversus Totalis was worth the wait: McIntyre's slow-burn acid folk possesses a unique and eerie sense of timelessness that is rare in so much of the music being produced today. Waves of queasy feedback stand in nice contrast to simple acoustic guitar and sparse vocals, and the whole record – right down to its plain cardboard sleeve and Xeroxed liner notes – remains nicely minimal in style. Ultimately, McIntyre channels the influences of sonic bros like Greg Ashley and Sir Richard Bishop through a haze of druggy sadness so damn well that all we're left wondering is why it took him so bloody long to make a solo album in the first place.
Du texte séducteur de Joni Sadler:
(Traduit par Odile Leclerc)
Après avoir joué dans plusieurs groupes d'Ottawa dans le dernier 10 ans, Mark Alexander McIntyre est finalement parti et a sorti un enregistrement solo. Il s'est avéré que Situs Inversus Totalis valait l'attente : le lent acid folk de McIntyre possède un unique sens étrange d'éternalité qui est rare dans tellement de musique produite aujourd'hui. Des vagues de réactions malaisées se tient dans un contraste agréable comparé aux guitares acoustiques simples et aux chants éparés, et l'enregistrement au complet- jusqu'à ses ordinaires manches de carton et sa pochette d'album photocopié- reste joliment minime dans le style. Ultimement, McIntyre canalise les influences des frères soniques comme Greg Ashley et Ser Richard Bishop à travers un brouillard de tristesse droguée si bien que tout ce que nous nous demandons c'est pourquoi ça lui a pris tout ce putain de temps à faire un album solo en premier lieu.

Mark Alexander McIntyre – My April

Mark Alexander McIntyre – Reflections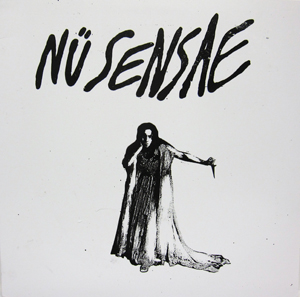 Nü Sensae
Nü Sensae
Vancouver, BC
From the stressed-graduate-student existence of Joni Sadler:
Eschewing the cheeky sloppiness that often accompanies the 'weird punk' aesthetic, Vancouver's Nü Sensae lets loose with a visceral attack of noisy jams that are over much too quick for their own good. The eight songs crammed onto this one-sided 12″ are short bursts of frantic drumming, dirty fuzzed-out bass riffs, and Andrea Luki's snarled vocals, all packaged together into a wholly ear-blistering listen. When they turn up the rage and Luki unleashes that scream of hers, she sounds like the single most badass frontwoman of any band, ever. This is punk rock that isn't afraid to be abrasive; the duo takes pride in the rough edges and lo-fi grit of their songs, and rightfully so. If only more bands had as much guts as these kids do and the sense of recklessness that actually lets them pull it all off without sounding forced. This record leaves little doubt that Nü Sensae means business.
[Levin's Note: Every time I listen to this 12″ I feel like I'm getting punched in the face. Very limited pressing. GRIP OR REGRET.]
De l'existence d'étudiant gradué et stressé de Joni Sadler:
(Traduit par la boîte à rythmes de Odile Leclerc)
Évitant l'arrogante maladresse qui accompagne souvent l'esthétique des 'weird punk', Nü Sensae de Vancouver laisse sortir une attaque viscérale de jams bruyants qui sont finis trop rapidement pour leur propre bien. Les huit chansons se tassent dans cette 12'' à un côté qui sont des éclats de batterie frénétiques, de sales riffs de basse frisée et les chants grondés d'Andréa Luki, le tout emballés ensemble dans une écoute à s'en brûler complètement les oreilles. Quand ils montent la rage et Luki? Quand elle relâche son cri propre à elle, elle sonne comme la chanteuse la plus dure-à-cuire de n'importe quel groupe. C'est du punk rock qui n'a pas peur d'être abrasif; le duo est fier de leurs bords rudes et du grincement lo-fi de leurs chansons et à juste titre. Si seulement plus de groupes avaient autant de courage que ces enfants et le sens de témérité qui les laisse actuellement réaliser tout ça sans que ça sonne forcé. Cet enregistrement ne laisse pas de doute que Nü Sensae est sérieux.
[Note de Levin : Chaque fois que j'écoute ce 12'', je me sens comme si j'avais reçu un coup de poing au visage. Pressage très limité. MET LA MAIN DESSUS OU REGRETTE.]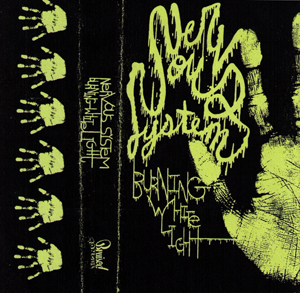 Nervous System
Buring White Light
Ottawa, ON
From the musical cabinet of soon-to-be-Dr. Joni Sadler
It seems fitting to write a review of Nervous System's latest cassette at an altitude of 36,000 feet. At this moment it is still godawful early and I'm on an airplane high above the prairies. The turbulence is just rough enough to verge on unsettling and I am feeling way burnt out. In a way, "Burning White Light" is the perfect music for this scenario: careening psych freakouts equally capable of leaving you really excited or feeling a tad on edge and queasy. The fact that most of the tracks on the cassette were improvised during the recording sessions is impressive, and there's a certain recklessness that has (perhaps unsurprisingly) found its way into these songs. Pounding repetitive drums lay down a solid backbone for swaths of wailing fuzz and occasional shouts from singer/guitarist Mat Oxley. It's all coated with a heavy layer of distortion for good measure. The centerpiece of the album is the nine-minute epic "Freak Construction" – it's a serious stoner jam fleshed out around a burning guitar lick and given the final touch with some echoey vocal loops. This is serious mind-trip music, best experienced with your head way up in the clouds. [Levin's notes: I am so into this kind of modern-psych that is so strange and poppy at the same time. Bruised Tongue is really killing it these days!]
Nervous System – Freak Construction
De la vitrine musicale de bientôt-Dr. Joni Sadler:

Il me semble approprié d'écrire une critique de la dernière cassette de Nervous System à une altitude de 36 000 pieds. En ce moment il est encore vachement tôt le matin et j'suis à bord d'un avion bien au-dessus des prairies. La turbulence est juste assez éprouvante pour frôler l'horreur et j'suis trop tannée. Curieusement, "Burning White Light" c'est la musique parfaite pour ce cas de figure: les crises de psych fonçantes est égalament capable de te laisser tellement surexcité ou un peu nerveux et nauséeux. Le fait que la plupart des morceaux sur la cassette étaient improvisés pendant les enregistrements est impressionnant, et il y une certain imprudence qui se trouve (peut-être qu'il n'est pas surprenant) dans ces chansons. La batterie martelé et répétitive jettent les bases solides des bandes de gémissement flou et les hurlements occasionnels du chanteur/guitariste Mat Oxley. C'est tout enrobé d'une couche lourde de la distorsion pour faire bonne mesure. La pièce maîtresse de l'album est l'épique "Freak Construction" de 9 minutes — c'est une mélodie vraiment camée étoffé autour d'un plan de guitare brûlante et finie avec quelques boucles de chants résonnants. C'est de la musique sérieusement psychédélique, qu'il vaut mieux d'apprécier avec la tête dans les nuages. [Levin ajoute: J'adore ce genre de rock psychédélique-moderne qui est si bizarre et si pop au même temps. Bruised Tongue!
Nervous System – Freak Construction
---