Tag: jonathan park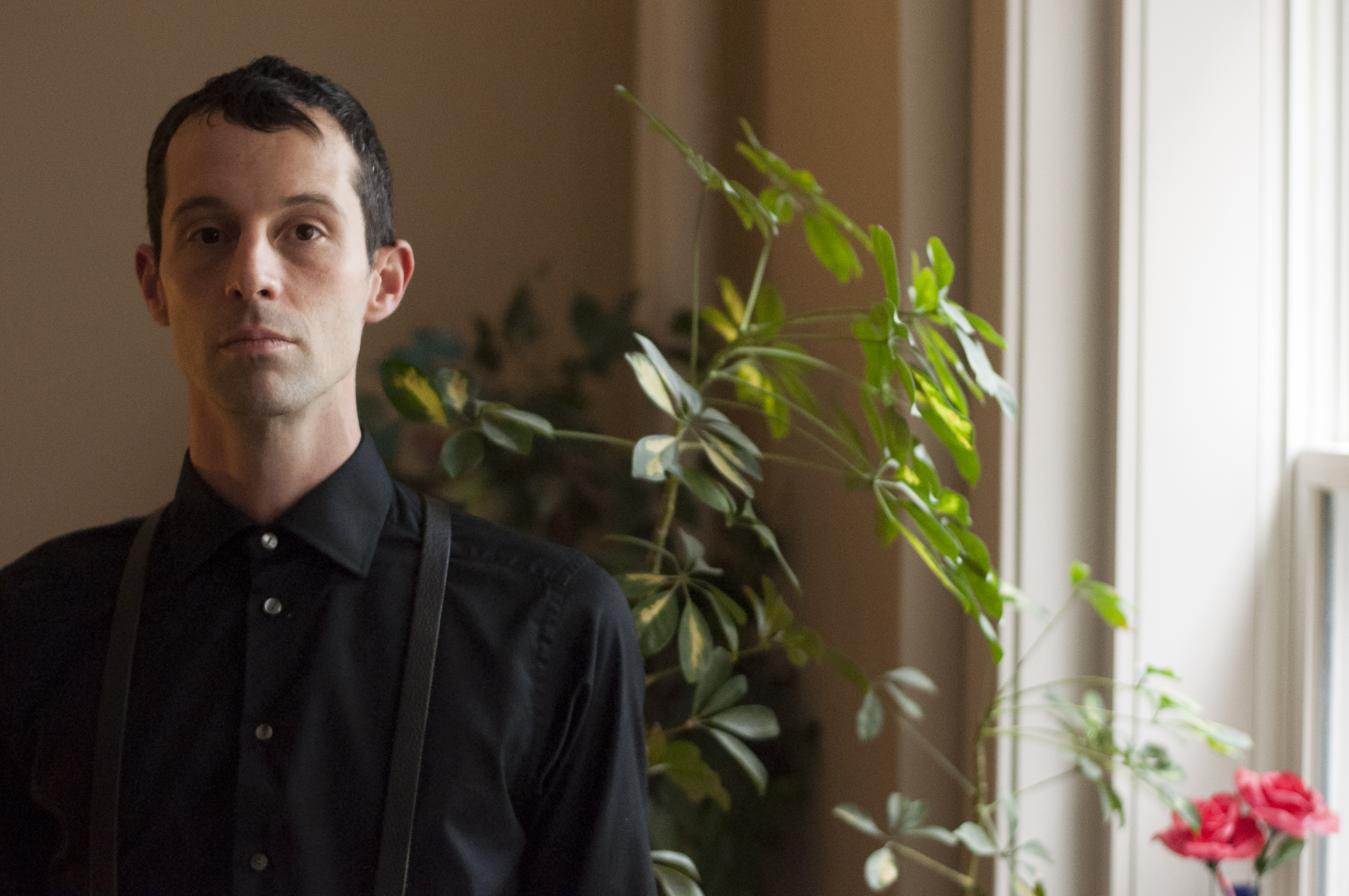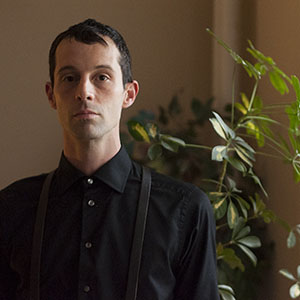 Ephemera of JFM
Existing before, during, and after the recording of Blood Moon
(Photos by: Alex Van Helvoort)
Halifax, NS
From the chill pill journey of Jonathan Park:
Here at Weird Canada, there is an eternal meadow that constantly emits wyrdo frequencies. If you turn the radio dial to 101, you'll hear the yellow sunshine of audio/visual artist Jesse Frank Matthews. For the last six+ years, Matthews has been amassing recorded and found sound for the JFM archives. Much like his visual work, he utilizes his sampler like an x-acto knife; creating audio collages by cutting up, looping and meshing source material. His first debuted cassette Compost was dropped on DIVORCE Records in 2011. Since then he's put out a handful of releases and began collaborating with Broken Deer's Lindsay Dobbin and Secret Colours' Evan Cardwell in JOURNEYS. He was nice eenuff to have us into his space and show us artifacts that have a significant impact on his creative process and daily living.
Take a chill pill, lie down in our meadow and enjoy the melted hypno-grooves under Blood Moon.
Sam & Mr. B Suitcase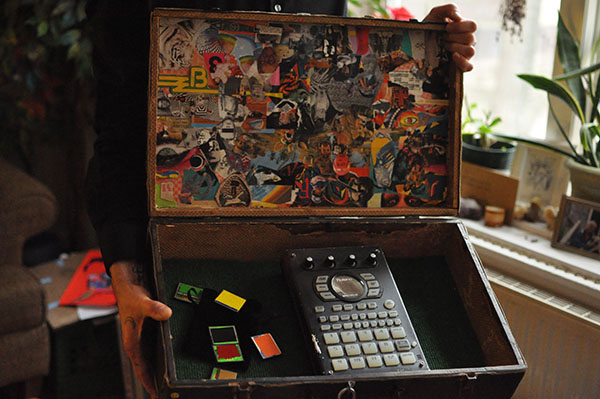 I've used this same old SP 404 sampler since 2010 when I started this JFM project. It's gone through a couple paint jobs, and the ragged suitcase it's been living in was given to me (full of booze) years ago by Mr. B prior to leaving for a Rattail tour in 2011. Every JFM song thus far has been written and recorded with this sampler, and every show I've played has been out of this suitcase. I've recently been on the hunt for some new gear, after receiving my first Canada Council grant a few months back.
The Studio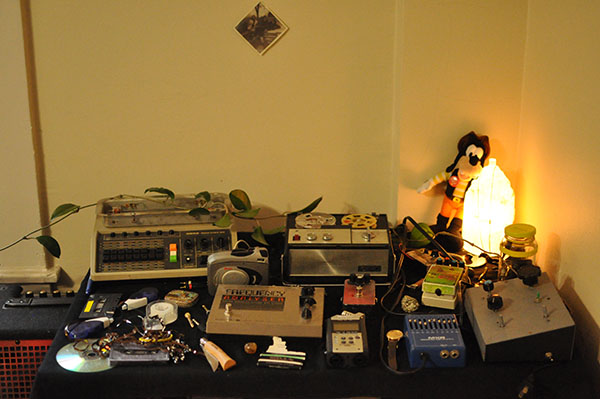 Pictured here is my studio, in its entirety. Spot if you can: Goofy (given to me by my Niece and Nephew), 'Dino-box' chorus/reverb unit (bought at Songbird Music for $25 before they shut their doors), Lucia Stephen's Optimus walkman (records in stereo & has a speaker on it!), Wite-out rollers, handmade tape loops, Frequency Analyzer, MXR EQ, reverb tank, and some other FX and recording devices. Treating, physically manipulating and re-amping the source material is a huge part of my process, I work with the individual sounds until I am satisfied.
Deborah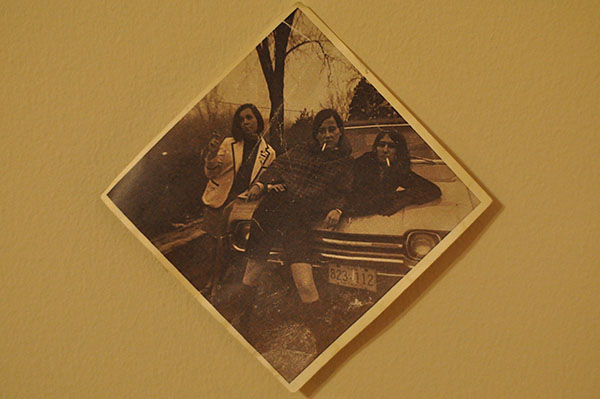 This photograph was taken in the 1950s by my grandfather Frank Dawe, my Mother (Deborah Jane Dawe) is the one in the middle. Not sure how she got away with the 'prop' cigarette, but she looks pretty bad ass.
Ring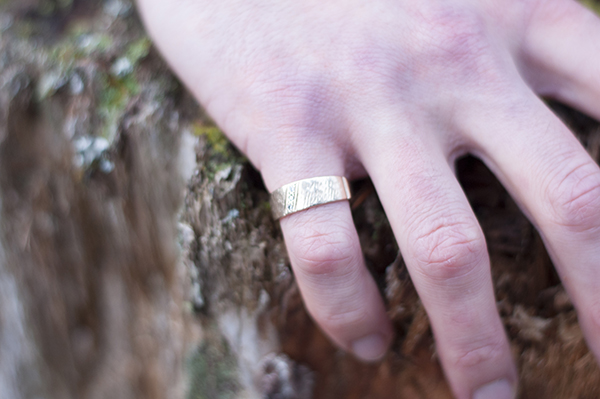 Few days go by that I forget to wear this beautiful piece of my history, my parents' wedding ring. It is the most special thing I own. Seen here on an ageing tree stump in Point Pleasant, a large park on water with trails to get lost in and beaten paths to ride on. I come here in all types of weather, as it's quite close to my apartment.
Matthew's Bugle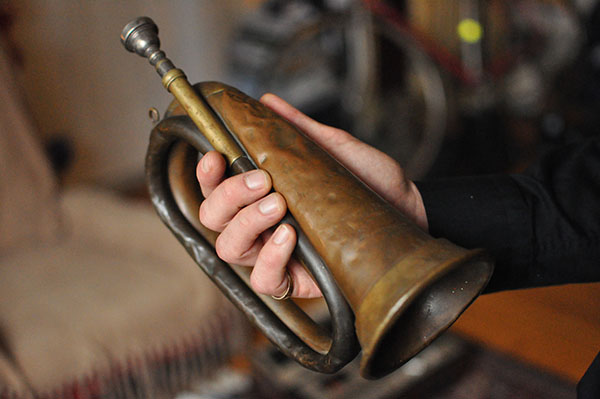 This bugle was made by Boosey & Co. in Toronto in the 30s and given to my grandfather George Matthews during his stint in WWII. It used to hang in my Father's electronics workshop in our basement when I was growing up, and it was one of the first things I put a bottle-cap contact mic on.
Dawe's Snuff Tin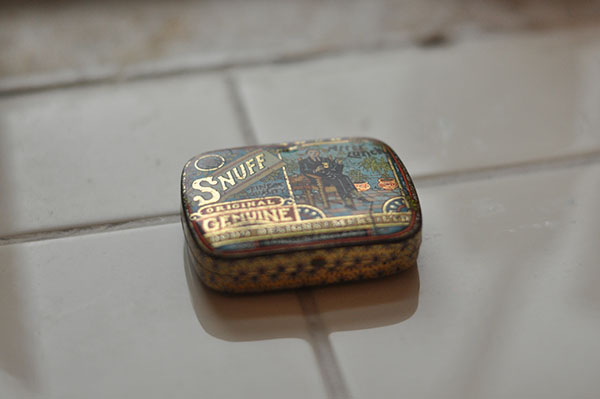 Many strange 'treats' have graced this miniature vintage Snuff tin/pill box. Used by Frank Dawe for his 'after lunch' treats in the 1970s, it's been used by me since the 1990s. What's left in the snuff?
Fuschia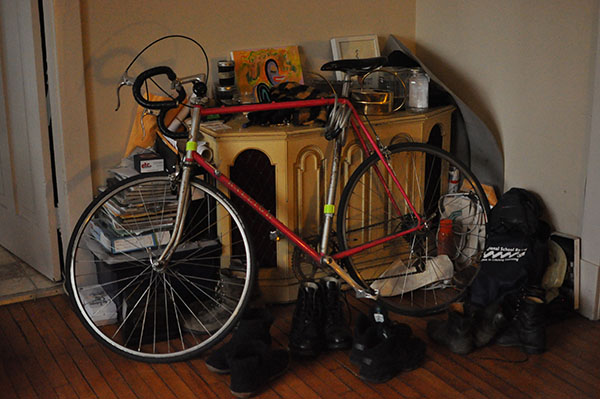 Anyone who knows me, knows I have always loved riding my bike. I was even a courier in downtown Toronto for a while in 2012, and have had more bikes stolen than you could imagine. I bought this gorgeous old Raleigh from Nathan Cameron last year. Fuschia is sleeping now because it's Winter.
Black Dice Tape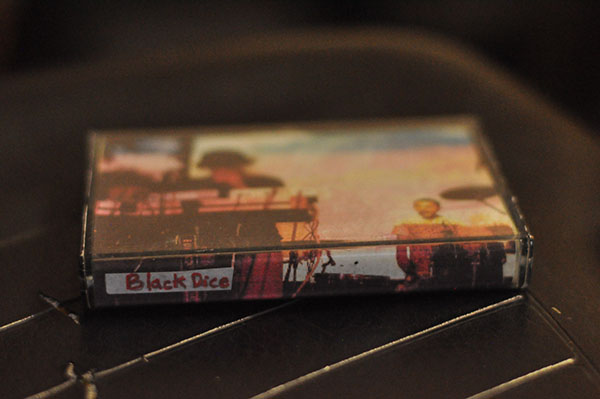 This tape was made by Evan Cardwell and given to me for my birthday in 2004. It's a live recording of a Black Dice set from their 'Creature Comforts' period. You can clearly hear the audiences in their ebbing delight and confusion over the course of the half an hour set. The B side is all the early 7"s and the 'Wastered' 12" which I bought at their Montréal show that same year. I've nearly worn it to pieces.
Berkhout & Welland Canal Monster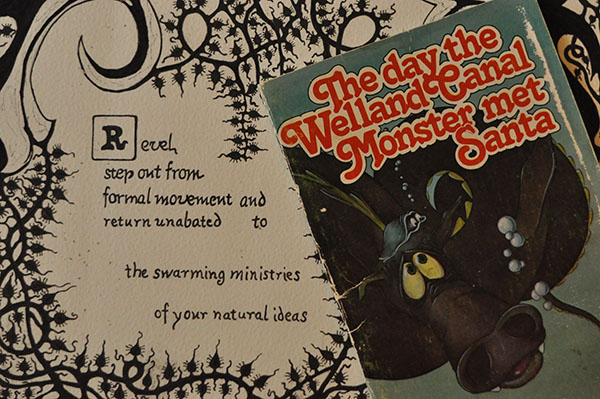 There are two items classic Niagara Region items on display here; a lucid poem given to me by Greg Berkhout in 2003 and a copy of 'The Day the Welland Canal Monster Met Santa' given to me by Kim Delaat. Having an affinity for all lore involving Loch Ness Monsters (Gaasyendietha), this story used to be read live on CKTB in the late 70s and early 80s and was soon turned into this much more compact pamphlet version, available then at the grocery store and dentist office.
Father's Marantz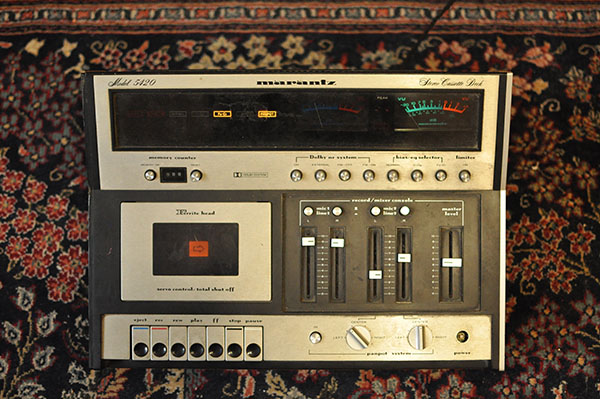 Story goes that my Father and his best friend Gumby drove to California in the late 70s to purchase this Marantz stereo cassette recorder. I have used this endlessly in my work and with every band I've ever played in. It sounds so vivid and is such an important part of my early experiences both listening to, and creating music. Later feeding my curiosity in dub effects, playing a mixer as an instrument and tape as a tactile medium.
Par le voyage narco-calmant de Jonathan Park:
(Traduit par l'ivresse printanière d'Émily Traichel)
Ici à Weird Canada, il y a une prairie éternelle qui émet en permanence des fréquences bizarres. Si vous tournez le cadran de la radio au 101, vous entendrez la couleur du soleil de l'artiste audio-visuel Jesse Frank Matthews. Au cours des six dernières années et plus, Matthews a passé son temps à amasser des sons enregistrés et trouvés pour les archives JFM. Tout comme son ouvrage visuel, il utilise son échantillonneur comme un couteau x-acto; créant des collages audios en découpant, bouclant et engrenant le matériel source. Sa première cassette Compost est sortie avec DIVORCE Records en 2011. Depuis, il a sorti une poignée de morceaux et a commencé à collaborer avec Lindsay Dobbin de Broken Deer et Evan Cardwell de Secret Colours dans JOURNEYS. Il a été assez gentil pour nous accueillir dans son espace et nous montrer les artéfacts qui ont un impact significatif sur son processus créatif et sa vie quotidienne.
Prenez un calmant, étendez-vous dans notre prairie et jouissez des grooves hypnotiques vaporeux sous la lune de sang.
Sam et la valise de Monsieur B.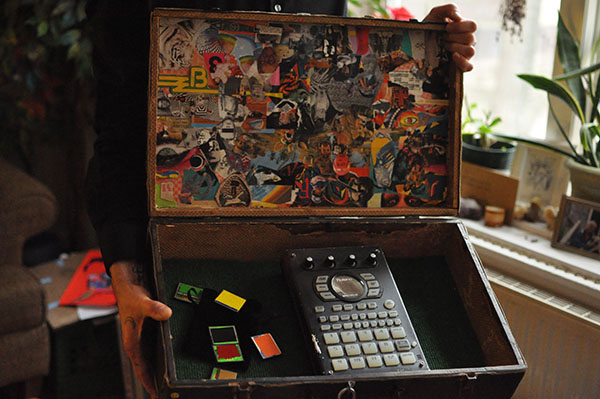 J'utilise le même vieil échantillonneur SP 404 depuis 2010 lorsque j'ai lancé ce projet JFM. Il a connu quelques retouches de peinture et la valise dépenaillée dans laquelle il vit m'a été donnée (pleine de booze) il y a des années par Monsieur B. avant de partir pour une tournée de Rattail en 2011. Jusqu'ici, toutes les chansons JFM ont été écrites et enregistrées avec cet échantillonneur, et chaque spectacle que j'ai joué est sorti de cette valise. Depuis quelque temps, je suis à la recherche d'équipement neuf notamment parce j'ai reçu ma première subvention du Conseil du Canada il y a quelques mois.
Le Studio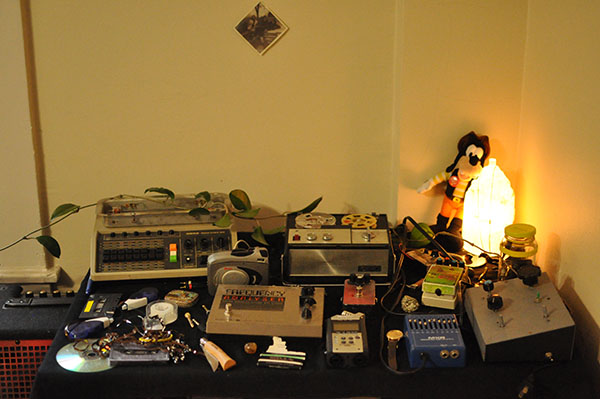 Photographié ici est mon studio, dans son intégralité. On y voit (à vous de les repérer!) : Goofy (que ma nièce et mon neveu m'ont donné), une unité de choeur/réverbe 'Dino-boîte' (achetée à Songbird Music pour 25 $ avant qu'ils ferment leurs portes), le walkman Optimus de Lucia Stephen (qui enregistre en format stéréo et est équipé d'un haut-parleur!), des rouleaux de Wite-out, des boucles de ruban faites à la main, un analyseur de fréquence, MXR EQ, un réservoir de réverbe, et quelques autres appareils FX et d'enregistrement. Le traitement, la manipulation physique et la ré-amplification du matériel source constituent une immense partie de mon processus, je travaille les sons de façon individuelle jusqu'à ce que je sois satisfait.
Deborah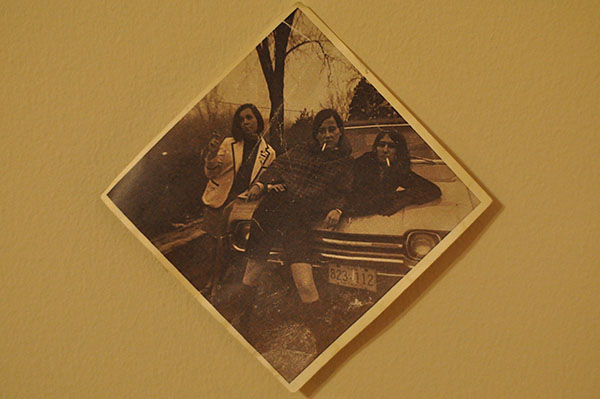 Cette photo a été prise dans les années 50 par mon grand-père Frank Dawe, ma mère (Deborah Jane Dawe) se trouve au milieu. Je ne sais pas comment elle a réussi à passer avec sa fausse cigarette, mais elle a une méchante allure.
Bague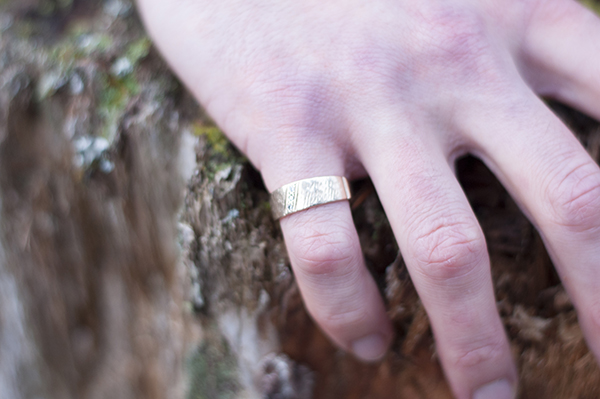 Peu de journées passent où j'oublie de porter ce beau morceau de mon histoire, l'alliance de mes parents. C'est la chose la plus précieuse que je possède. On la voit ici sur une souche d'arbre vieillissante à Point Pleasant, un grand parc au bord de l'eau avec des sentiers sur lesquels on peut se perdre et des chemins pour faire du vélo. Je viens ici par tous les temps, c'est assez proche de mon appartement.
Le clairon de Matthew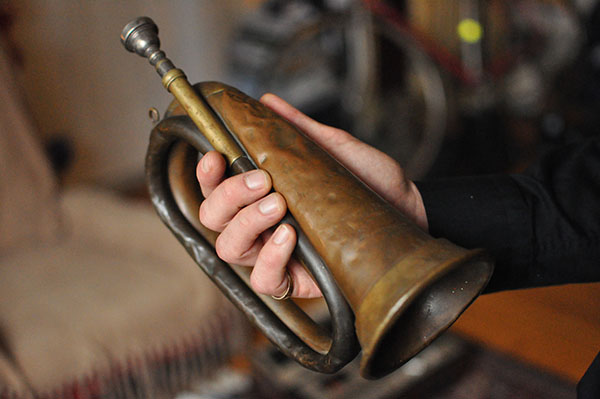 Ce clairon a été fabriqué par Boosey & Co. à Toronto dans les années 30 et a été donné à mon grand-père George Matthews pendant sa période de service durant la deuxième guerre mondiale. Quand j'étais petit, il était accroché dans l'atelier électronique de mon père au sous-sol, et c'est une des premières choses sur lesquelles j'ai fixé un micro de contact bricolé avec des bouchons.
La tabatière de Dawe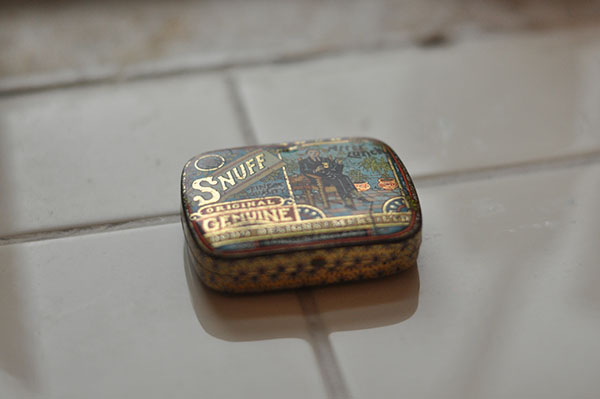 De nombreuses étranges 'friandises' ont honoré cette tabatière/boîte à pilules miniature ancienne. Utilisée par Frank Dawe pour ses friandises après le dîner dans les années 70, je m'en sers moi-même depuis les années 90. Qu'est-ce qu'il reste dans le tabac?
Fuschia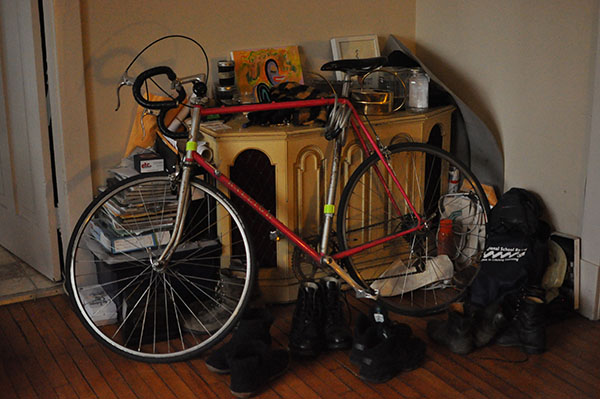 Ceux qui me connaissent savent que j'ai toujours adoré faire du vélo. J'ai même été coursier au centre-ville de Toronto pendant quelque temps en 2012, et je me suis fait volé un nombre inimaginable de bicyclettes. J'ai acheté une vieille Raleigh sublime de Nathan Cameron l'année passée. Fuschia dort pour l'instant car c'est l'hiver.
Cassette Black Dice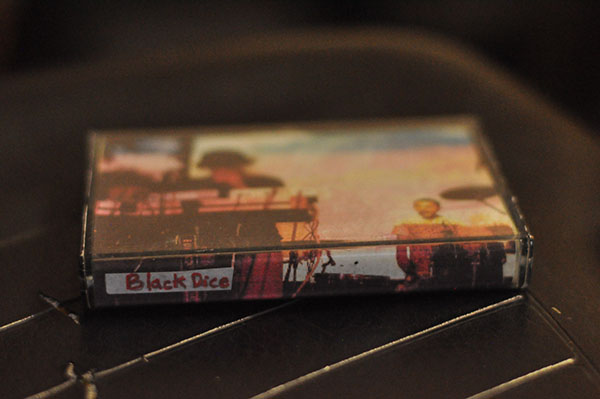 Cette cassette a été faite par Evan Cardwell et m'a été offerte pour mon anniversaire en 2004. C'est un enregistrement en direct d'un concert de Black Dice pendant leur période 'Creature Comforts'. On peut clairement entendre les spectateurs dans leur reflux de plaisir et de confusion tout au long de la demi-heure de leur concert. Sur la face B figurent tous les anciens 7 pouces et le 12 pouces 'Wastered' que j'ai achetés à leur spectacle à Montréal la même année. La cassette tombe quasiment en morceaux tellement je l'ai écoutée.
Berkhout & le monstre du canal de Welland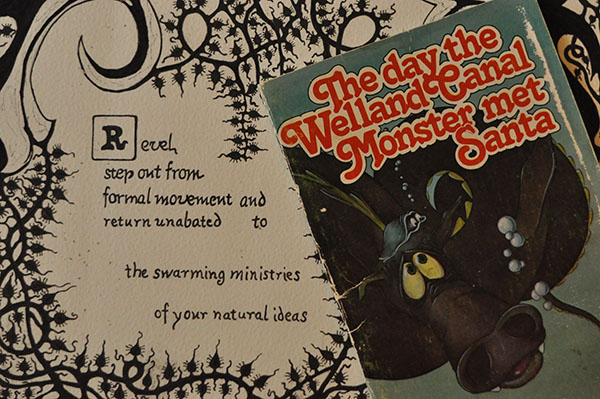 Il y a deux items classiques de la région de Niagara qui sont exposés ici; un poème lucide qui m'a donné Greg Berkhout en 2003 et une copie de 'Le jour où le monstre du canal de Welland a rencontré le Père Noël' offert par Kim Delaat. Ayant une affinité pour toute connaissance traditionnelle liée aux monstres du Loch Ness (Gaasyendietha), cette histoire était lue en direct sur CKTB à la fin des années 70 et au début des années 80. Elle est ensuite parue dans cette version brochée compacte; on pouvait la trouver à l'épicerie et chez le dentiste.
Marantz de papa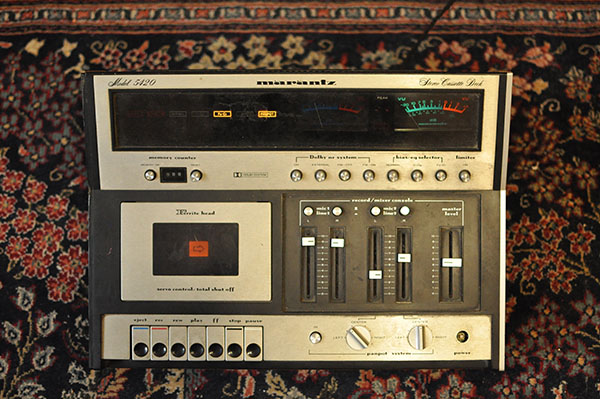 On raconte que mon père et son meilleur ami Gumby se sont rendus en auto jusqu'en Californie vers la fin des années 70 pour acheter cet enregistreur stéréo cassette Marantz. Je n'ai jamais cessé de l'utiliser pour mon travail et avec tous les groupes auxquels j'ai participé. Il a vraiment un son captivant et a joué un rôle très important depuis mes débuts, que ce soit pour écouter de la musique ou pour créer de la musique. Plus tard, il a alimenté ma curiosité pour les effets dub, le fait de jouer avec un mixeur comme instrument et l'idée d'une cassette en tant que médium tactile.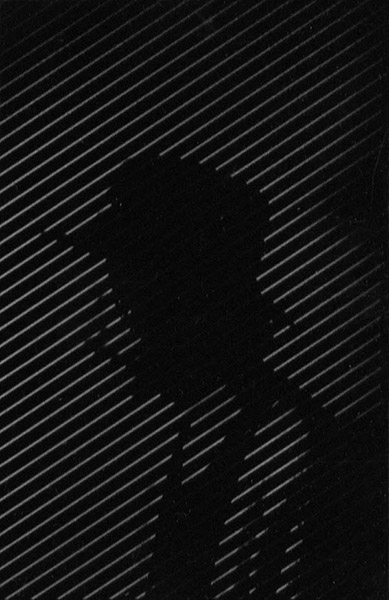 Hobo Cubes
Untitled C.90
Montréal, QC
From the formless perception of Jonathan Park:
Our headmaster dwells in a cement palace called Sewer Club. Bugs crack through our toes as we are sent to the meeting point. Dripping pipes scratch our fetish of morbidity and churn our soul. The sullen beats of our rat ancestors become more audible and weave in and out of our sensory perception. Six-foot tall cockroaches are dancing in the middle of the sewer to the bass drum's pulse. Let us be formless in this dark, scum-covered cave once the sacrifice has commenced.
De la perception informe de Jonathan Park:
(Traduit par les antennes de Jessica Grenier)
Notre chef habite un palace de ciment appelé le Sewer Club. Nos orteils écrasent des bestioles en cheminant vers le point de rencontre. Les tuyaux dégoulinants chatouillent nos fétiches morbides et barattent notre âme. Les bêtes solennelles, nos ancêtres rats, se font entendre de plus en plus, ondulant à la limite de notre perception sensorielle. Des coquerelles de six pieds dansent au milieu des égouts, suivant les pulsations de la grosse caisse. Laissons-nous devenir informes, dès que le sacrifice commence, dans cette cave crasseuse et obscure.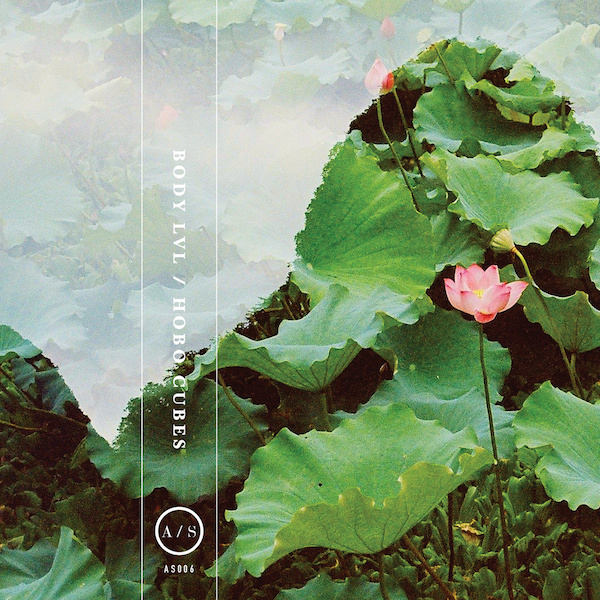 Body Lvl // Hobo Cubes
Split
Saskatoon, SK // Montréal, QC
From the astral projection of Jonathan Park:
Francesco de Gallo joins Will Kaufold and Mehta Youngs for a journey into astral projection. Body-numbing swells of synthesis propel for a mind-massage and murmuring field recordings stir the pot to create a prerequisite for the full-cleanse ritual. Reverberated bells ring over rhythmic machinery while we are met with a blooming guise. All frequencies begin to disintegrate. There is no rest for the weary as we fall deep into our trip.
De la projection astrale de Jonathan Park:
(Traduit par Jacinthe Laplante)
Francesco de Gallo s'associe à Will Kaufold et Mehta Youngs le temps d'un voyage astral. La houle engourdissante de la synthèse pousse à un massage de l'esprit et les champs murmurent des enregistrements qui brouillent les cartes pour créer les conditions nécessaires à un rituel complet de purification. Le son des cloches résonne plus fort que la machinerie rythmique pendant que nous nous retrouvons face à des formes qui s'épanouissent. Toutes les fréquences commencent à se désintégrer. Impossible de se reposer malgré la fatigue alors que nous nous enfonçons dans notre trip.

Hobo Cubes – Semblance, Is Ripe With Blooming Gestures (excerpt)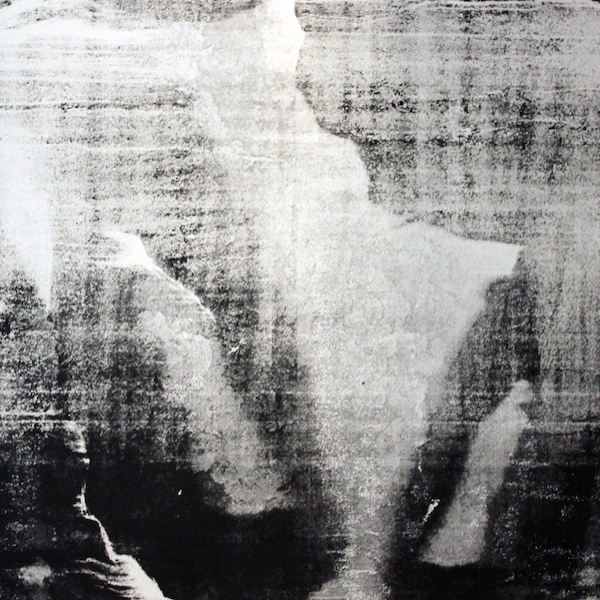 Lindsay Dobbin
Arrival
(Phinery)
Halifax, NS
From the residue of Jonathan Park:
Nothing has been so real yet so hauntingly fractured. It's hard to grasp any sort of detail aside from grainy, transparent images. A presence is felt but you cannot see faces. It's headed toward a shadowed entranceway. You have arrived at the opening and are swallowed whole by the deep within.
Des résidus de Jonathan Park:
(Traduit par L. François)
Rien n'a été aussi réel tout en étant aussi magnifiquement fracturé. Difficile de saisir de quelconques détails si ce n'est des images granuleuses transparentes. On ressent une présence mais impossible de voir les visages. On se dirige vers une porte d'entrée sombre. On arrive à l'entrée pour être aussitôt aspiré tout entier vers les profondeurs.

Lindsay Dobbin – Guided Memory / Residue (excerpt)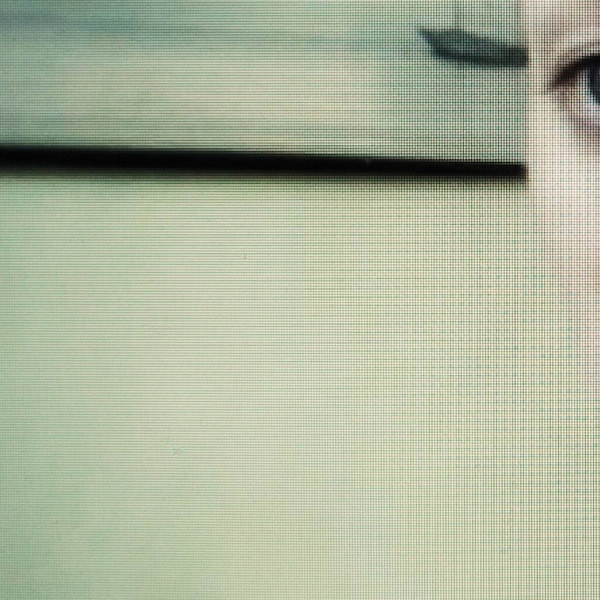 Kyle Bobby Dunn and the Infinite Sadness: Close your eyes. Imagine yourself sitting on a pew in an empty basilica. Deafening silence. Slow moving strings stray from each wall of this large chamber. With each passing second, you feel more alone than you've ever felt. Your sadness will grow as drones formulate. It will become unbearable, but you will break emotional constraint; something you've been trying to overcome. Through the inner-most tranquil states of mind, you will glide. This is the moment you realize your sadness is infinite, but you're content with it being so.
Kyle Bobby Dunn
Kyle Bobby Dunn and the Infinite Sadness
Montréal, QC
From the melancholia of Jonathan Park:
Close your eyes. Imagine yourself sitting on a pew in an empty basilica. Deafening silence. Slow moving strings stray from each wall of this large chamber. With each passing second, you feel more alone than you've ever felt. Your sadness will grow as drones formulate. It will become unbearable, but you will break emotional constraint; something you've been trying to overcome. Through the inner-most tranquil states of mind, you will glide. This is the moment you realize your sadness is infinite, but you're content with it being so.
De la mélancolie de Jonathan Park:
(Traduit par Le Berger)
Fermez les yeux. Imaginez-vous assis sur un banc dans une basilique déserte. Silence assourdissant. Des cordes se mouvant lentement s'éloignent de chaque mur dans cette large chambre. Avec chaque seconde qui passe, vous vous sentez plus seul que jamais auparavant. Votre tristesse s'accroîtra à mesure que le timbre continu se formera. Elle deviendra insupportable, mais vous briserez cette contrainte émotive; quelque chose que vous avez tenté de surmonter. Au sein du plus tranquille des états d'âme vous vous glisserez. C'est à ce moment que vous réalisez que votre tristesse est infinie, mais vous êtes content qu'il en soit ainsi.
---