Tag: johnnie regelado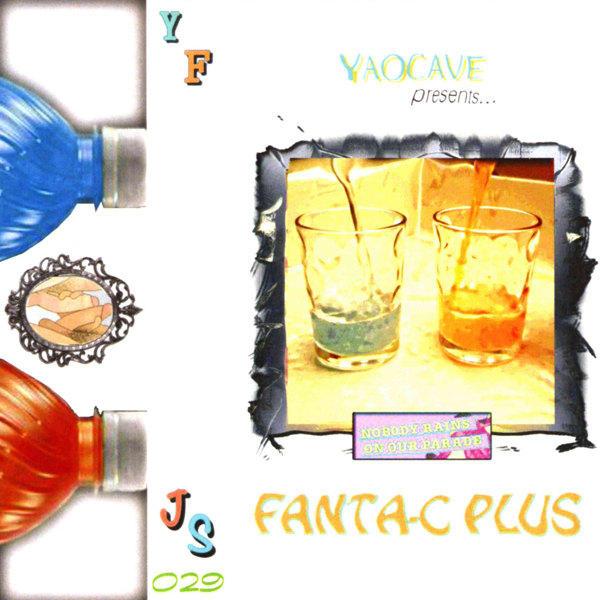 Yàocavé
Fanta-C Plus
Montréal, QC
From the psychedelic sweet dreams of Johnnie Regalado:
Please standby as we upload a more youthful consciousness. Spectral-audio analysis completed: time to dance. Fanta-C Plus foams with the playful intensity of a pop rocks and cola super sugar high. These songs transition like a channel surf across the spectrum of psychedelic sweet dreams. A sonic journey for your eyes, a visual voyage for your ears; each track possesses its own gravitational grip that flexes your eardrums further from the sun and closer to blissful madness.
Des beaux rêves psychédéliques de Johnnie Regalado:
(Traduit par Mylene LSD Quevillon)
Veuillez patienter pendant que nous téléchargeons une plus grande conscience juvénile. Analyse sonore spectrale terminée : dansons. Fanta-C Plus pétille avec l'intensité ludique d'un pop rocks et d'un cola super sucré. Ces chansons s'enchaînent telle une séance de zapping à travers une multitude de beaux rêves psychédéliques. Une incursion acoustique oculaire, un voyage visuel auditif; chaque piste musicale possède sa propre emprise gravitationnelle qui éloigne votre tympan du soleil et le rapproche d'une bienheureuse démence.
Yàocavé – MIDNITE CLUB 2 (FT. TALIA BOGUSKI)
Yàocavé – RIVERDALE HIGH SCHOOL (FT. MICHAEL STOKES)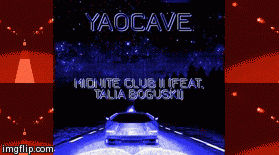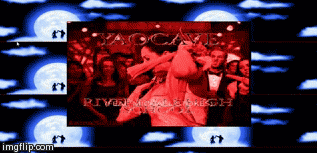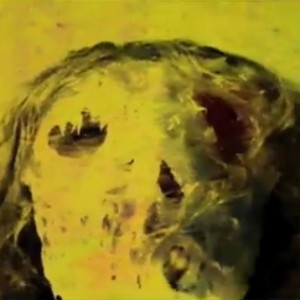 Babysitter
"Cemetary House"
(Directed by Phil Osborne)
Victoria, ON
From the melted mouth of Johnnie Regalado:
How quickly does the phrase 'face-melting' come to mind when you hear cuts from Babysitter? For the song "Cemetary House", which appears on both Tape 666 and the Monster Treasure split, Ottawa-based artist Phil "Uncle Phil" Osborne has sculpted and layered a video that aesthetically emulates these shredders' ability to mush your mind. That mask is probably what you looked like the first time you saw Babysitter live.
De la bouche fondue de Johnnie Regalado:
(Traduit par la fonte des glaces de Julie Forget)
À quelle vitesse est-ce que l'expression « face-melting » vient à l'esprit, lors de l'écoute d'extraits sonores de Babysitter ? Pour la chanson « Cemetary House », qui apparaît sur Tape 666 ainsi que sur le split Monster Treasure, Phil « Uncle Phil » Osborne, artiste établi à Ottawa, a sculpté et superposé en strates d'images une vidéo dont l'esthétique imite l'aptitude de ces destructeurs de son à mettre votre esprit en bouillie. Ce masque est probablement ce à quoi vous ressembliez après votre première présence à un show de Babysitter.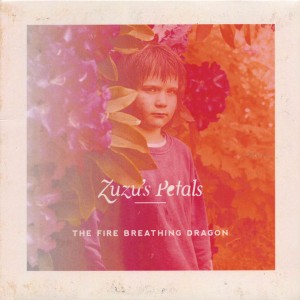 Zuzu's Petals
The Fire Breathing Dragon
(Self Released)
Cowichan Valley, BC
From the long and winding drive of Johnnie Regalado:
A laid-back and lazy listen to Zuzu's Petals' debut evokes the same satisfaction as wiping a dirty day's work off your hands on the thighs of your favourite blue jeans. Guitar lines wail away with the determination of fast-flying clouds over a mountainous skyline. The raw and rootsy jams are a solid sonic interpretation of the slow life found north of the Malahat Highway on Vancouver Island, a place where the beauty isn't always enough to get you out of the basement. This collection of tracks is a snapshot of the happenings in a town where a passersby might think nothin's going on.
De la route longue et sinueuse de Johnnie Regalado:
(Traduit par la carte routière pliée en quatre de Catherine Gaucher)
Une écoute décontractée et nonchalante du premier opus de Zuzu's Petals évoque la même satisfaction que celle d'essuyer de vos mains, sur votre jean préféré, la saleté d'une journée de travail. Les lignes de guitares hurlent avec la détermination des nuages flottant rapidement sur un horizon montagneux. Les jams bruts et traditionnels transposent musicalement la tranquillité de la vie se retrouvant au nord de l'autoroute Malahat sur l'île de Vancouver, un lieu où même la beauté ne semble pas toujours assez convainquante pour faire sortir quiconque de son sous-sol. Cette collection de pistes dresse le portrait des épisodes d'une ville où un passant pourrait croire que rien ne s'y passe.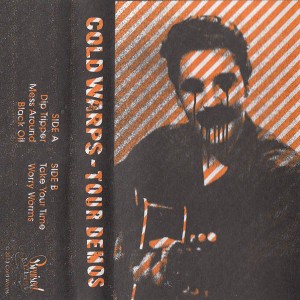 Cold Warps
Tour Demos
Halifax, NS
From the bottle-cap collection of Johnnie Regalado:
Imagine this: Amplifiers wrestling PAs. XLRs constricting mic stands. Gear and guitar boxes shoved against the far end of a cleared out living room. A swarm of sweaty tattooed shoulders huddled around a few dirty couches. Room temperature beers fished out of a communal cooler, capped and passed. Then the tuning twang and mic check feedback snap the room to attention. Sure, this could be the stage for any shithole basement DIY show. But, what band could capture this euphoria on a five-track cassette tape? Cold Warps of course. A group who managed to tattoo their name onto my ear drums with a chance concert encounter at a radio conference in Kingston, ON. I've been a diehard dip tripper ever since. Who knew power pop could be so unforgettable? These songs can transform anyone into a toe-tapping bobble-head.
De la collection de capsules de bouteille de Johnnie Regalado:
(Traduit par la tête branlante de Stéphanie Trottier)
Imagine-toi des amplificateurs combattant des systèmes de son. Des fils XLR se resserrant sur des pieds de micro. Des boîtes d'équipement et de guitares empilées de l'autre côté d'un salon vide. Une marée d'épaules tatouées et suantes rassemblées autour de quelques divans sales. Des bières tièdes sorties d'une glacière commune, décapsulées et distribuées. L'accord nasillard et le feedback du réglage du micro rappellent la pièce à l'ordre. Ceci pourrait certes décrire n'importe quel concert maison dans un sous-sol miteux. Mais quel groupe serait capable de capter telle euphorie sur une cassette à 5 pistes? Cold Warps, bien sûr. Un groupe qui a réussi à tatouer son nom sur mes tympans grâce à une rencontre fortuite lors d'un concert à une conférence radio à Kingston, ON. Depuis, je suis un dip tripper fini. Qui eût su que le power pop pouvait être si inoubliable? Ces chansons peuvent transformer qui que ce soit en une poupée à tête branlante qui tape du pied.
---