Tag: joannie pharand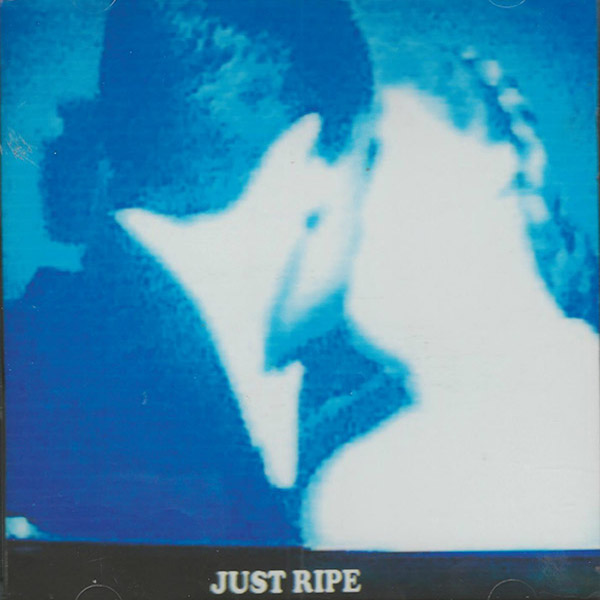 The Bats Pajamas
Just Ripe EP
(Self Released)
Toronto, ON
From the Bataillean nightmares of Trevor Blumas:
This album plays out like a Charles Burns illustration of the putrid beast of idyllic suburbia. Like a carnivorous, all consuming demon, hungry with the potent fires of post-modernity, the Bats Pajamas devour the spirit of classic rock and defecate it like something from a Bataillean nightmare. All the Hiroshima shadows of the bop generation are summoned up for a grand hurrah. Skuzzy, dissonant guitar chords rattle up the bones of dead rock stars inviting them all to a haunted BBQ just off Route 66.
Des cauchemars à la George Bataille de Trevor Blumas:
(Traduit par la puissante ardeur de Joannie Pharand)
Cet album se joue comme une [illustration de Charles Burns (http://lounge.obviousmag.org/sem_receita/2012/08/19/tumblr_m30qooC90O1r7xatro1_1280.jpg) de la bête pourrissante d'une banlieue parfaite. Tel un démon carnivore omniprésent, affamé par la puissante ardeur de la postmodernité, le groupe Bats Pajamas engloutit l'essence du rock classique, et le défèque comme quelque chose sortant tout droit d'un cauchemar à la George Bataille. Toutes les ombres d'Hiroshima de la génération bop sont convoquées pour un Hourra grandiose. Les cordes de la guitare, à la fois dissonantes et crasseuses secouent les vedettes de rock mortes jusqu'à l'os, les invitant toutes à un barbecue hanté sur le bord de la Route 66.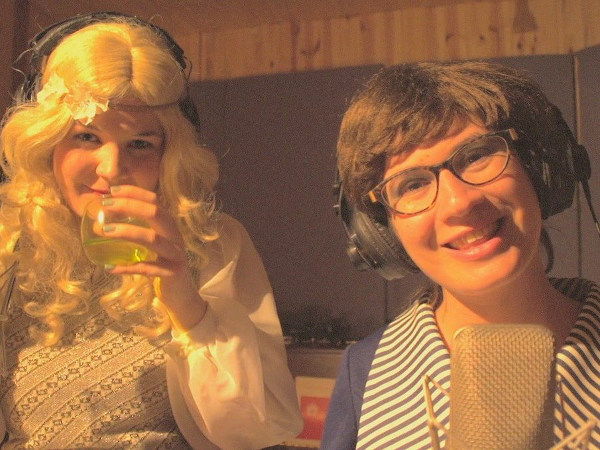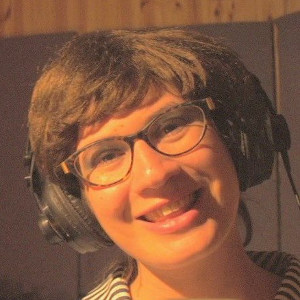 Terrific Women
Toronto, ON
From the intoxicated feminism of Amanda Balsys:
If you've ever wondered what Murphy Brown and Blanche Deveraux might get up to as a comedy duo, throw in some steamy Jane Brule and you've got the liberated ladies of Terrific Women. Together, Linda Davis (Sara Hennessey) and Joy Johanson (Stephanie Kaliner) daringly and drunkenly navigate the lines of feminism, sketch comedy and improv with the ease of secret geniuses on the set of their polyester inspired 1974 cable access program. They not only begin each show with their own choreographed dance moves set to a lay-me-down-to-funk theme song, but also master and flirt their way through tight and giggly banter and spot-on advice to actual questions they receive and read from the audience about how to be a modern woman. The result showcases an intimidatingly natural ability to roll with the punchlines of an improvised show every time, all seen as though from the comfort of your own chesterfield.
Catch Terrific Women on the first Tuesday of every month at The Ossington, and order a Singapore Sling to get you into the mood. It'll be the best night you had all month.
Du féminisme intoxiqué d'Amanda Balsys:
(Traduit par Joannie Pharand)
Si vous vous êtes déjà demandé de quoi Murphy Brown et Blanche Deveraux auraient l'air en duo d'humoristes, ne cherchez pas plus loin. Le spectacle Terrific Women vous amène un féminisme audacieux et enivré de leur émission de télé de 1974 et avec leurs chandails en polyester. Ensemble, Linda Davis (Sara Hennessey) et Joy Johanson (Stephanie Kaliner) offrent avec aisance un spectacle qui joue sur la limite entre la comédie et l'improvisation. Le duo ne débute pas seulement le spectacle avec sa propre danse chorégraphiée à une chanson thème de lay-me-down-to-funk, mais trouve son chemin avec maîtrise à travers des plaisanteries de tout genre, donnant même des conseils en réponse à de véritables questions du public. Cela donne un spectacle différent tous les soirs et à mourir de rire à chaque fois.
Ne manquez pas Terrifc Women, le premier mardi de chaque mois à the Ossington, et commandez un Singapore Sling pour vous mettre dans l'ambiance. Ce sera votre meilleure soirée du mois.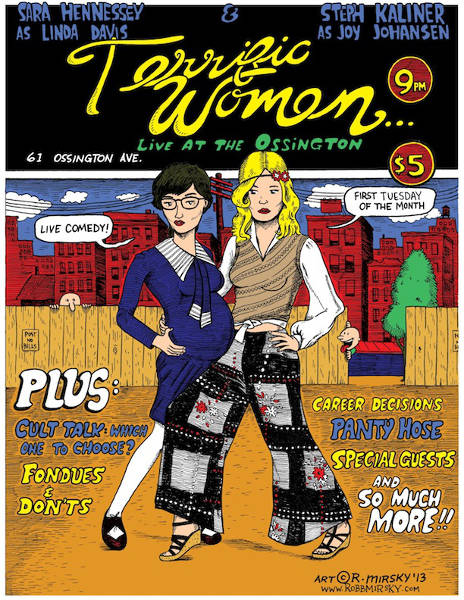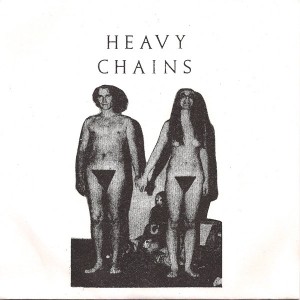 Heavy Chains
7"
Vancouver, BC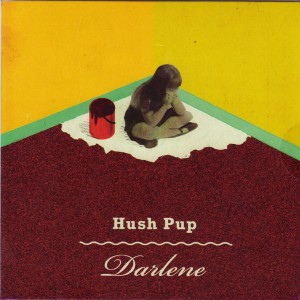 Hush Pup
Darlene
Toronto, ON
From the glittering sonics of Gabe Girard:
Hush Pup spring forth as a fully developed and actualized dream-pop band, with a sound that's cohesive and instantly recognizable. The swooning sustain of Torrie Seager's subtle guitar ornamentation and Ida Maidstone's vocals — at once whispered and crooned — wash away the mundane, eliciting a rainbow of colour in a monochromatic world. Hush Pup take their time, leisurely navigating through beautiful vocal textures and glittering sonic material. Like an exuberant take on Beach House, they exude something warm, flush and refreshingly sunny.
Des sons acoustiques scintillants de Gabe Girard:
(Traduit par les enjolivements subtils de Joannie Pharand)
Hush Pup surgit en tant que groupe parfaitement développé avec une musique alternative atmosphérique renouvelée, grâce à un son homogène et très facilement identifiable. Le maintien admirable des enjolivements subtils de la guitare de Torrie Seager, combiné à la voix de Ida Maidstone, qui chuchote et fredonne en même temps permet de taire le banal en soutirant un arc-en-ciel de couleurs dans un monde unicolore. Hush Pup prend son temps, naviguant de façon paisible à travers de jolies textures vocales et du matériel acoustique scintillant. Comme pour prendre part à la vidéo de Beach House, il en émane quelque chose de chaud, un état d'érubescence agréablement ensoleillé.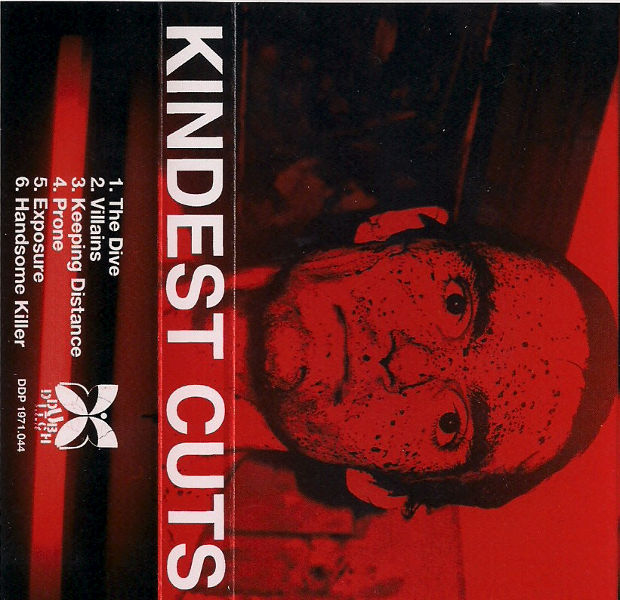 Kindest Cuts
Kindest Cuts
Winnipeg, MB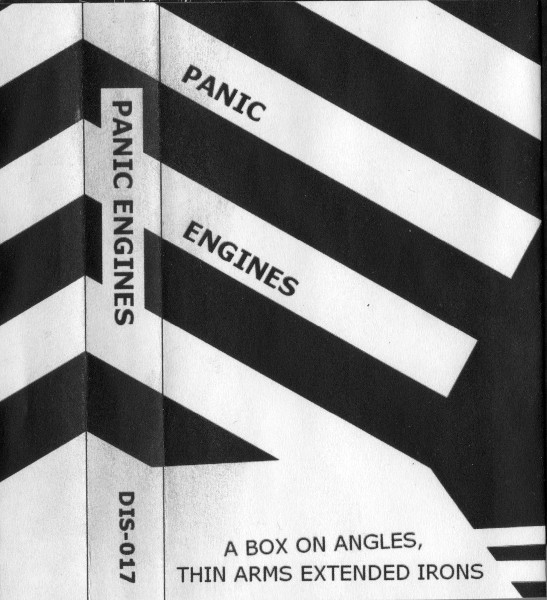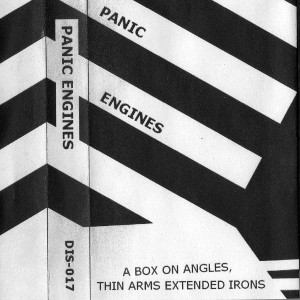 Panic Engines
A Box On Angles, Thin Arms Extended Irons
Toronto, ON
From the menacing void of Kevin Hainey:
Panic Engines is the latest project from William A. Davison, a surrealist avant-garde innovator who has been making his mark in Toronto and eastern Canada for roughly 30 years now, having been involved with such units as Phycus, Nurse With Wound, irr. app. (ext.), and many more. Things get moving on this tape's single long form composition (which stretches the entire cassette) with a boiling snail's soup of a pace, emitting the steam of singular rumblings, phases and tones custom fit for any noise head to strap on and not let off until the whole mind-numbing, trance-inducing trip is complete. Heady stuff for extremists, not pacifists. Let's hope this isn't a one-off but an ongoing project… Exciting new sounds from a refined mind.
Par le gouffre menaçant de Kevin Hainey:
(Traduit par le labyrinthe impossible de Joannie Pharand)
Panic Engines est le plus récent projet de William A. Davison, un innovateur surréaliste et avant-gardiste s'ayant taillé une place à Toronto et dans l'est du Canada depuis près de 30 ans, lui qui a également fait affaire avec des groupes tels que Phycus, Nurse With Wound, irr. app. (ext.), et bien d'autres. Les choses bougent sur cette bande dont la seule composition prend une forme longue (et s'étend sur toute la cassette) avec une lenteur semblable à la trotte d'un escargot, un parcours émettant la vitesse de grondements singuliers, de tons et de phases sur mesures conçues pour quiconque se mettra le casque d'écoute et ne le retirera pas tant que le voyage abrutissant menant à une transe sera complété. C'est enivrant, et s'adresse aux extrémistes, non aux pacifistes. Espérons que ce ne sera pas qu'un projet par intermittence, mais un projet qui restera en cours… Des sons bien excitants parvenant d'un esprit raffiné.

Panic Engines – Side A (Excerpt)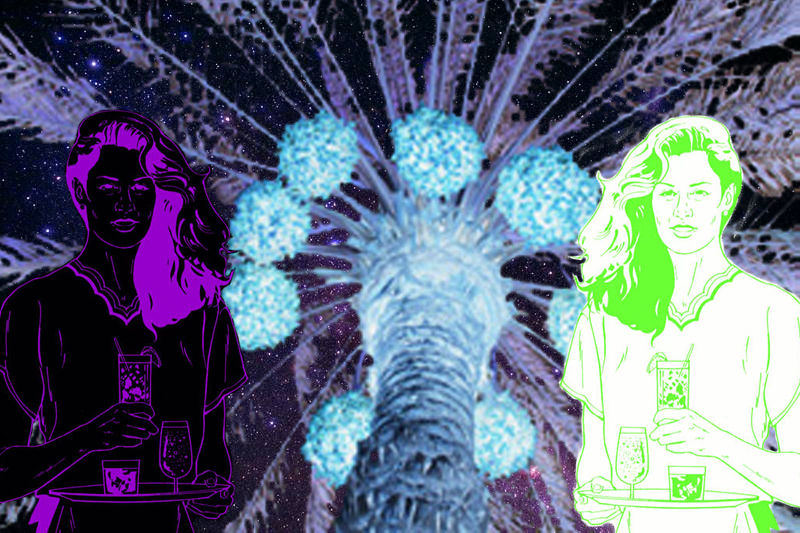 The Electric Dates
Demo
(Self Released)
Victoria, BC
From the radio static riffs of Preacher Katie:
The grungy, raw, radio static riffs of The Electric Dates' red lip-sticked blushes will reverb your airwaves in less than 20 minutes. Their constant hip-swinging beat will make you get down on your hands and knees and worship the original artyfacts. The catchy, garage-psych whitecaps of "Flat Tire" will transport you to the time when your smelly, red velvet van broke down on the side of the road while you were on the way to a gig. Mattie Chelsea's dominant duality of masculine/feminine sliding/grinding on "Barneymugging" will bring back nostalgic, noise-filled memories of your mom's garage.
Des riffs magnétiques de Preacher Katie:
(Traduit par les cordes acérées de Joannie Pharand)
Les riffs grunge bruts recouverts de fard et de rouge à lèvres de The Electric Dates vont retentir dans vos oreilles en moins de 20 minutes. Les rythmes aguicheurs constants vous inviteront à vous agenouiller en adoration devant les artyfacts originaux. Les influences accrocheuses de musique garage psychédélique de « Flat Tire » vous transporteront à l'époque où votre fourgonnette puante aux tons rouge velours est tombée en panne en route vers une performance. La dualité dominante du frottement/grincement féminin/masculin de Mattie Chelsea sur la pièce « Barneymugging » vous rappellera avec nostalgie le garage de votre mère et le trop-plein de bruit qui y résonnait.

The Electric Dates – Flat Tire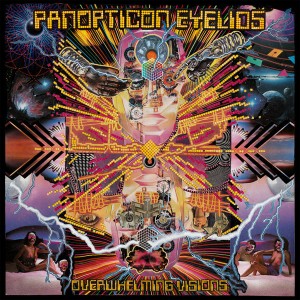 Panopticon Eyelids
Overwhelming Visions
(Carved In Lava Records)
Montréal, QC
From the erupting volcano of Kevin Hainey:
Exploding out of the shattered heavens like the winged bastard children of Hawkwind comes Panopticon Eyelids with their long awaited, much anticipated, criminally overdue debut slab of hi-fi studio-fried — grill-marked to perfection until it's mouth watering — wax. It comes to you after a decade of sawing Montreal audiences' heads off however occasionally they felt like it, releasing lo-fi, fringe cassettes and handmade CD-Rs just for the fuck of it. This is accessible experimental rock for all of the ages. Retro worshipping and forward thinking, Overwhelming Visions is as good as it gets for hard Canadian rock and roll in our current day.
Du volcan en éruption de Kevin Hainey:
(Traduit par le cru bourgeois de Joannie Pharand)
En explosant tout droit des paradis brisés tel l'enfant bâtard muni d'ailes du groupe Hawkwind, nous arrive Panopticon Eyelids avec leur vinyle tant attendu, tant espéré. Ce premier album est un bloc haute-fidélité, criminellement en retard, frit dans un studio, grillé et marqué à la perfection jusqu'à en mettre l'eau à la bouche. Il vous arrive après une décennie à décapiter les spectateurs de Montréal aussi souvent qu'il le voulait, libérant le lo-fi et les cassettes et les CD-R faits à la main C'est un rock expérimental pour toutes les générations. Des adorations du passé et des pensées futuristes, la pièce Overwhelming visions remporte la palme pour le Rock 'n' roll intense canadien du moment.

Panopticon Eyelids – Orgasme Mécanique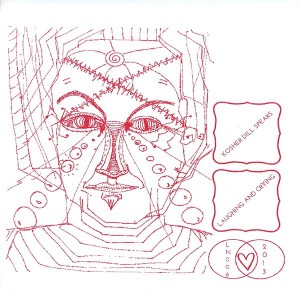 Kosher Dill Spears
Laughing and Crying
(Love Nation)
Toronto, ON
From the party platter of Chris Sayer:
Toronto's Kosher Dill Spears (a.k.a. Jesse Levine) has created a monster of an album with the pairing of percussive samples, organs and synth. His work as Victor Frankenstein builds from the body parts of musical genres, stitching soul ("What You Do to Me" ft. Maylee Todd) to psychedelic rock ("Rocorgan") to hip-hop ("Brinin'" ft. Peet Moss). The sounds combine like a prometheus posse conversing in their own tongues.
Des plateaux de fêtes de Chris Sayer:
(Traduit par les ballons roses de Joannie Pharand)
Le Torontois Kosher Dill Spears (c'est-à-dire Jesse Levine) a créé un album monstre en jumelant des échantillons de percussions, d'orgues et d'un synthétiseur. Son oeuvre à la Victor Frankenstein se construit à partir de pièces détachées de différents genres de musique, en assemblant du soul (« What You Do to Me » avec Maylee Todd), du rock psychédélique (« Rocorgan ») et du hip-hop (« Brinin » avec Peet Moss). Ces sons se mélangent comme une petite troupe de prométhéens qui se parlent dans leur propre langue.

Kosher Dill Spears – Couch Mode
Veneers
Light Movement
(Self Released)
Toronto, ON
From the light motif of Javier Fuentes:
Cut from the jagged edges of the rock and now based in Toronto, Veneers travel even further west with their latest batch of songs. High wire guitars walk through darkened canyons, following each slip in the terrain and letting themselves tumble down when needed. A voice talks to the vacancy in the ravine, growling out an unrequited monologue. Sleepwalking footsteps find balance in their off-kilter cadence, booming into the distance with the softest of movements. Distant stars illuminate a knotted trail that cuts through the wilderness and out towards the light. The sudden exposure does nothing to deter the power of these jams. Don't miss this grip.
Du doux motif de Javier Fuentes:
(Traduit par les ballons roses de Joannie Pharand)
Découpé des pointes acérées du rocher et désormais basé à Toronto, le groupe Veneers se déplace encore un peu plus vers l'ouest avec ce nouveau lot de chansons. Les guitares survoltées trouvent leur chemin à travers des canyons obscurcis, en suivant chaque cavité du relief et en y trébuchant au besoin. Une voix s'adresse à cette zone dans le ravin, grognant un monologue non partagé. Les pas d'un somnambule trouvent leur équilibre dans un rythme insensé qui retentit au loin en un mouvement des plus doux. Des étoiles lointaines illuminent une piste nouée qui coupe à travers les régions sauvages pour ressortir vers la lumière. Cette soudaine révélation n'altère en rien les pouvoirs de ces jam sessions. Ne manquez pas cette prise!
---