Tag: jlk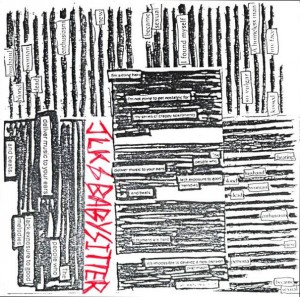 JLK & Babysitter
II
(Self Released)
Montreal, QC // Victoria, BC,
From the super highway of Eamon Quinn:
JLK & Babysitter's second collaborative release is every bit as gleeful as their first outing. This cassette documents the Victorian trio's trip down the rabbit hole as they and Jane L. Kasowicz wiled away a productive unofficial 2013 Montreal summer residency bein' illegal and developing a third eye revision of their sound. If previous releases showed off the group's lurching Bonehead Crushin' chops, even during the most song-oriented moments ("Super highway", "Fur rust ray shone"), II appears to hitch that vibe onto the cracked avant-garage of more emotionally-varied no-fi psych like Photograph Burns or, even more accurately, Cyborgs Revisited.
The rarest hear-it-to-believe-it takes, for my money, are on the spookier end of the affair. Here, JLK's voice is a standout: a downright chilling presence over the percussion-led unmade monster movie soundtrack "Humans are hard" or in her disembodied blues vocalizations on the way-gone lunar boogie of "A homeless man kissed my face". And finally, recalling the Haino / Fushitsusha school of world-embracing psych, the twin weepy balladeering guitars of album closer "All saints down" tunnel like two divining rods towards eerie, dizzying six-string excess. Nothing is left in its wake but the hope they've got their own Double Live in the works. Already sold out at the source, so look out for the upcoming reissue courtesy of Pleasence.
De la méga autoroute d' Eamon Quinn:
(Traduit de source sure par Nicolas Coutlée)
La deuxième collaboration entre JLK et Babysitter s'avère tout aussi jubilatoire que leur première. Cette cassette documente le périple du trio de Victoria jusqu'au fond du terrier du lapin, à l'occasion d'une résidence estivale non officielle d'une prodigieuse productivité à Montréal; en compagnie de Jane L. Kasowicz, les garçons se sont complus gaiement dans l'illégalité tout en révisant leur son à partir d'un tout nouveau troisième oeil. Si leurs parutions précédentes nous ont montré toute la brusquerie de leurs riffs à la Bonehead Crushers, II emboîte le pas (même durant les moments mélodiques de « Super Highway » et de « Fur rust ray shone ») et s'aventure sur les routes rocailleuses avant-garage au dénivelé émotionnel prononcé du no-fi psychédélique de Photograph Burns ou encore plus précisément de Cyborgs Revisited.
À mon avis, les morceaux qu'il faut entendre pour le croire se retrouvent du côté obscur de cette galette. La voix de JLK y est époustouflante : une présence à vous glacer le sang qui flotte sur la trame sonore percussive du film de monstres jamais tourné « Humans are hard » ou encore ces vocalisations blues désincarnées sur le [boogie lunaire] anémique de « A homeless man kissed my face ». Et pour finir, rappelant l'école psychédélique universelle de Haino/Fushitsusha, les guitares jumelles larmoyantes de la ballade ultime, « All saints down », s'élancent comme deux baguettes de sourcier vers un débordement étourdissant et effrayant de six cordes. Rien ne survit à cette éruption, sauf l'espoir qu'un Double Live soit en cours de production. Le tirage initial s'étant déjà écoulé, gardez l'oeil pour la réédition à venir sur Pleasence.
JLK & Babysitter – Super Highway