Tag: jibril yassin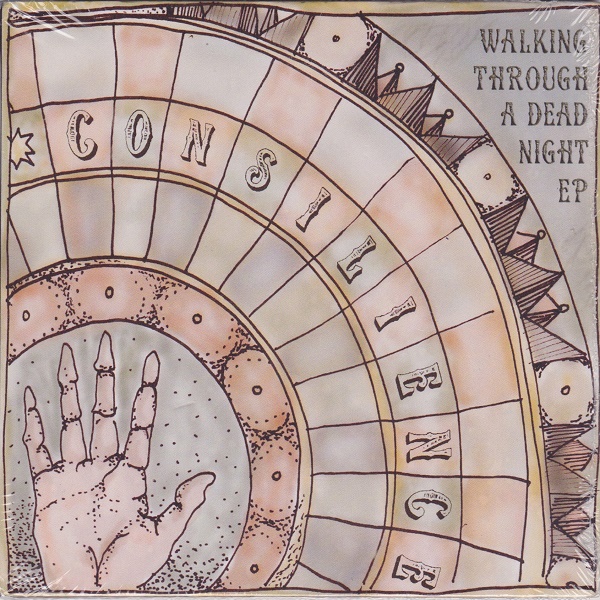 Consilience
Walking Through A Dead Night
(Self-Released)
Edmonton, AB
From the day-old cabinet of Jibril Yassin:
On Walking Through A Dead Night, Consilience are a band of gifted tricksters. What unfolds as gentle dream pop theatrics unfolds into something a lot more vital and energetic. Yet you can't shake off the hazy atmospherics sonic architect Tasy Hudson has grown so fond of incorporating into the songwriting. On "Proud Soul," the band cycle through its coda again and again, Hudson's vocals reaching for the sky as the band begins to erupt all around her. It's a conclusion that delivers.
Du cabinet d'un jour de Jibril Yassin:
(Traduit par Julie Mayer)
Sur l'album Walking Through A Dead Night, les membres de Consilience sont une bande d'arnaqueurs doués. Ce qui se dévoile comme étant une douce théâtralité pop onirique se révèle être une chose bien plus vive et énergique. Toutefois, tu ne peux pas te débarrasser de l'atmosphère brumeuse que l'architecte acoustique Tasy Hudson s'est peu à peu attachée à intégrer à la composition de ses chansons. Dans « Proud Soul », le groupe tourne autour de sa coda encore et encore. La voix de Hudson atteint les étoiles tandis que le groupe entre en éruption tout autour d'elle. Une conclusion libératrice.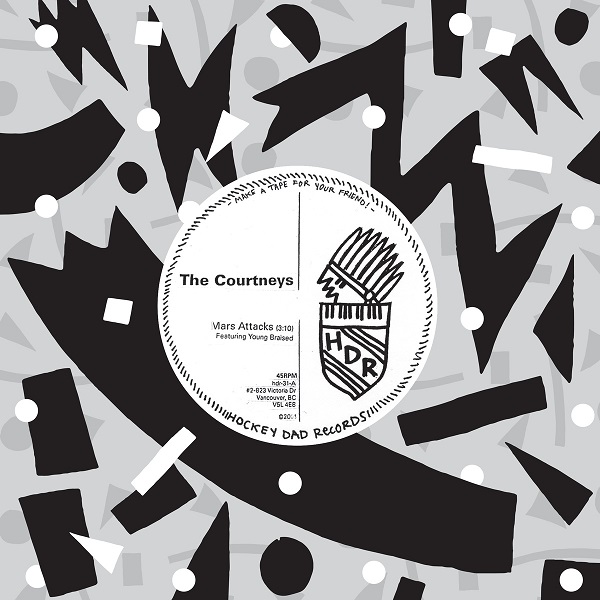 The Courtneys
Mars Attacks 7″
Vancouver, BC
From the dreaded mini tart of Jibril Yassin:
Dragging feel good down into the suburban darkness from whence it came, The Courtneys have shown restraint for not following up a lauded collection of summer goodness with something similar. The summer vacation is winding down and as one can expect, it's starting to get dark – dreams of aliens, under-lit streetlights and Mel Gibson trying to light a joint are what's keeping you awake. But the magic of The Courtneys is you'll likely forget most of this by the time that final chorus comes in. The literature has changed and the cold beer is gone, let's keep up with the times.
Des mini-tartelettes craintives de Jibril Yassin:
(Traduit par Marie-Pier Chevrier)
Traînant les beaux jours jusqu'au fond des ténèbres banlieusardes d'où ils sont venus, The Courtneys se garde bien de donner suite à leur recueil adulé de joies estivales avec quelque chose dans le même ton. Les vacances d'été s'achèvent inévitablement, il se fait tard et des rêves d'étrangers, de lampadaires vacillants et de Mel Gibson tentant d'allumer un joint sont là pour vous garder éveillés. Mais la magie de The Courtneys est telle que vous aurez tout oublié d'ici l'arrivée du dernier refrain. La littérature a changé et la bière froide n'est plus, essayons de garder la cadence.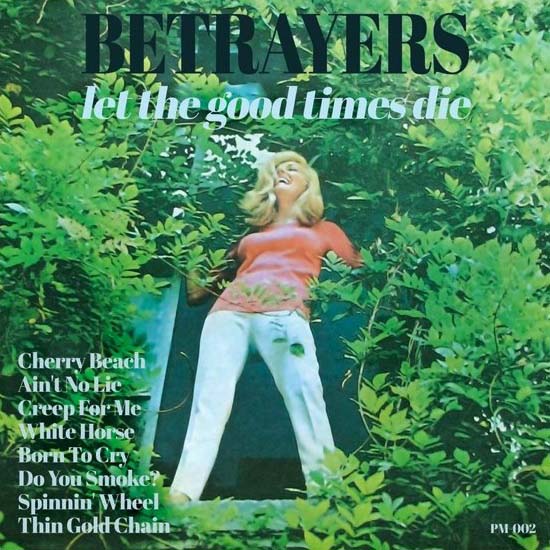 Betrayers
Let The Good Times Die
(Perfect Master Records)
Edmonton, AB
From the frentic dialtones of Jibril Yassin:
Betrayers are the coolness, indicated by a sheer sense of self. Let The Good Times Die proves that in spades. It's the sound of summer blues painted with the most warped pastels, the aural equivalent of someone partying in a groovy half-time with their internal monologue provided. Lurid tales of existential ruminations and menacing cartoon drama come at you, filtered through fuzzed out guitars and bright farfisa melody lines. It's something that goes hand in hand on this LP with poppy daydreams and heady psychedelia.
Des tonalités frénétiques de Jibril Yassin:
(Traduit par Jessica Grenier)
Betrayers, c'est une fraîcheur qui se ressent jusque dans notre perception de nous-mêmes; et Let The Good Times Die en fournit à la pelletée. C'est le son des blues de fin d'été, peint de pastels tordus, l'équivalent aurique d'une personne qui fête sur un demi-temps groovy, monologue intérieur en sous-titre. Une attaque de drames cartoonesques menaçants et de contes sensationnels de réflexions existentielles, filtrée par le fuzz des guitares et la ligne mélodique éclatante de Farfisa : rêverie pop et psychédélisme enivrant compris.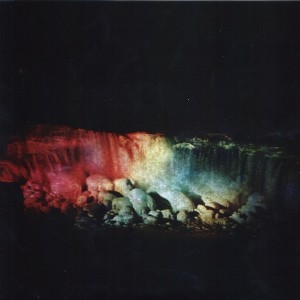 The Lad Mags
Trick
(Self Released)
Edmonton, AB
From the trickbag of Jibril Yassin:
The Lad Mags have always commandeered a dirty streak, but they've never sounded more in control of their otherworldly abilities, conjuring up fierce sound waves of soul-indebted scuzz rock . A-side "Trick" seems beamed from an alternate universe directly to the dark corners of your cerebral cortex with its sweet harmonies, lyrics of caustic kiss-offs, and indelible organ liftoffs. Yet b-side "You Stole My Mind" takes a different route entirely. Opting for an afterhours vibe, it's a sonic invitation taking you into a groovy ghoulie bash. Dig in, but take heed!
De la poche à malice de Jibril Yassin:
(Traduit lors d'une fête macabre par Hugo Hyart)
The Lad Mags font de la grosse musique sale depuis toujours, mais ils n'ont jamais été aussi en contrôle de leur capacités surnaturelles, invoquant des oscillations rock scuzz imprégnées de soul. La face A « Trick » semble rayonner d'un univers alternatif directement vers les coins sombres de ton cortex cérébral avec ses douces harmonies, ses paroles d'adieux caustiques et ses orgues indélébiles planants. La face B « You Stole My Mind » prend une direction complètement différente. Optant pour une ambiance de fin de soirée, on te lance une invitation sonore à une fête macabre qui groove. Bon appétit, mais fais gaffe!
---