Tag: jessica grenier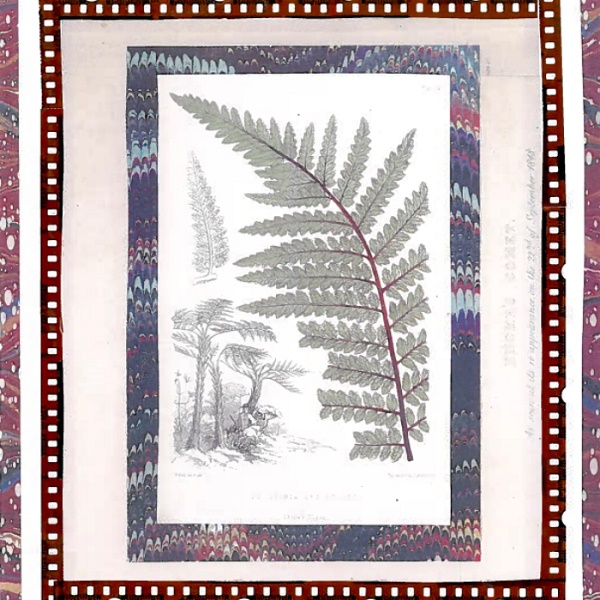 Nutrients
Drag On
(Self-Released)
Toronto, ON
From the cyborg midwife of Sam Joseph:
You have slayed the dragon! The pound of flesh is yours; this moment was a long time coming. And at this moment of sonic incandescence, goldenrod memories of a million little victories seep into your slackened psyche like an incoming torrent of liquid sunshine – warmer than the Danforth on a July evening. This is a sundown for the ages; put on your shades, open your ears, and, yes, drink in that pop. Make it last. What comes next?
De la sage-femme cyborg de Sam Joseph:
(Traduit par Jessica Grenier)
Tu as tué le dragon! Réclame ton dû : tu as attendu si longtemps pour ce moment. Cet instant de sonorité incandescente, les souvenirs d'un million de petites victoires s'infiltrant dans ton esprit détendu comme un torrent diluvien de soleil liquide – plus chaud encore que le Danforth par un soir de juillet. C'est un crépuscule millénaire : tends l'oreille, mets tes lunettes de soleil, bois un peu de boisson gazeuse… et étire le plaisir. Que faire maintenant?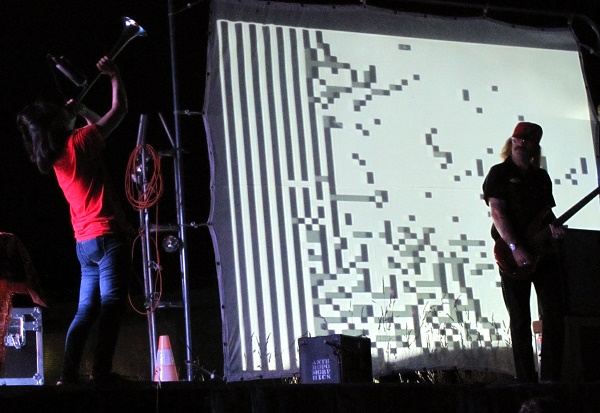 Electric Eclectics
July 31 – Aug 2, 2015
Meaford, ON
Photos by: Joshua Cwintal/li>
From the oily reduction of Joshua Cwintal:
Receptive ears were scattered between the teddy bear adorned pillars found at the Electric Eclectics festival near Meaford, Ontario. Attendees revelled in indoctrinating drones and chest caving noise from acts who embodied the friendly and visionary spirit of the gathering. Installation artists intrigued and captured wanderers as they attempted to cross the picturesque canvas of land christened as "The Funny Farm". Each night refused to end as moonlit dancing and laughter spilled deeper into DJ-led forest festivities. Each morning brought familiar faces together to welcome another day where only the unfamiliar could be expected.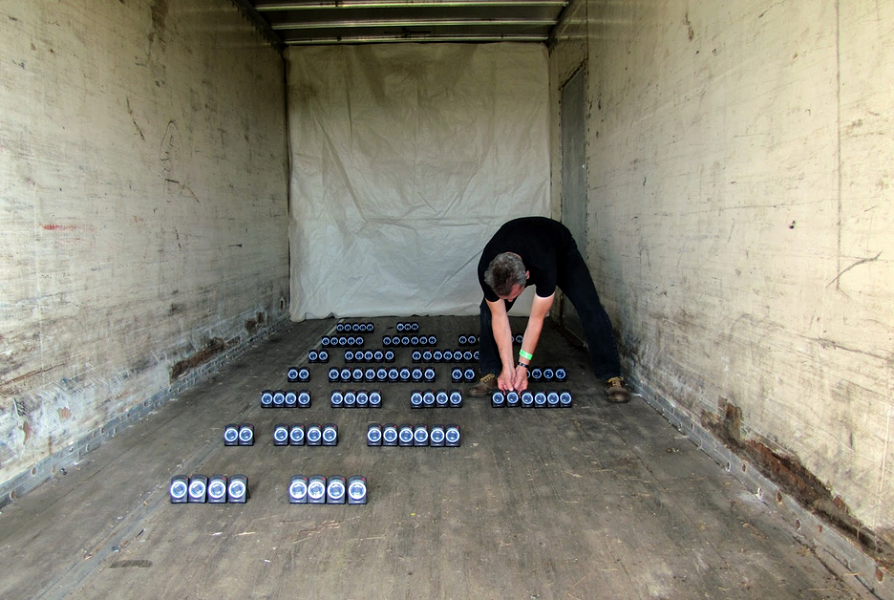 100 metronomes, all clicking in a cicadian like flutter. All arranged to match the physical shape of a companion poem.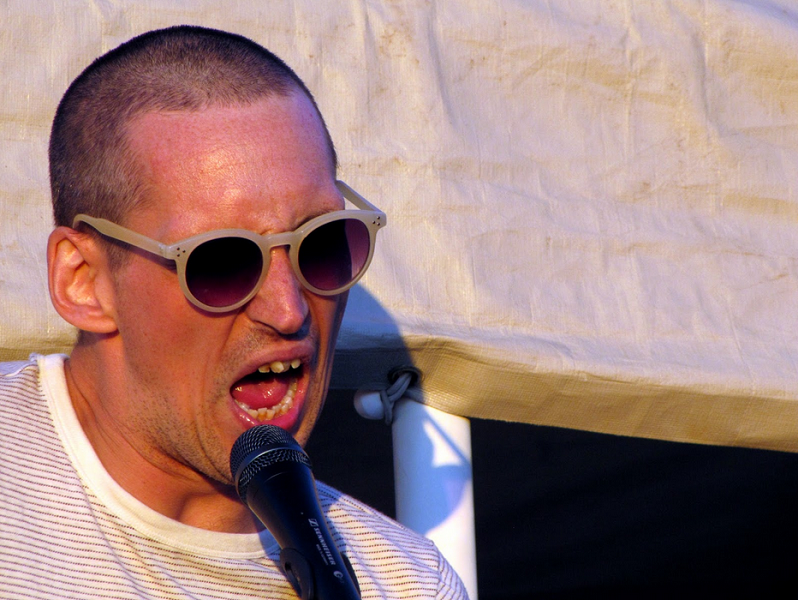 "Anyone get a psychosomatic rash before?" – Dave from Soupcans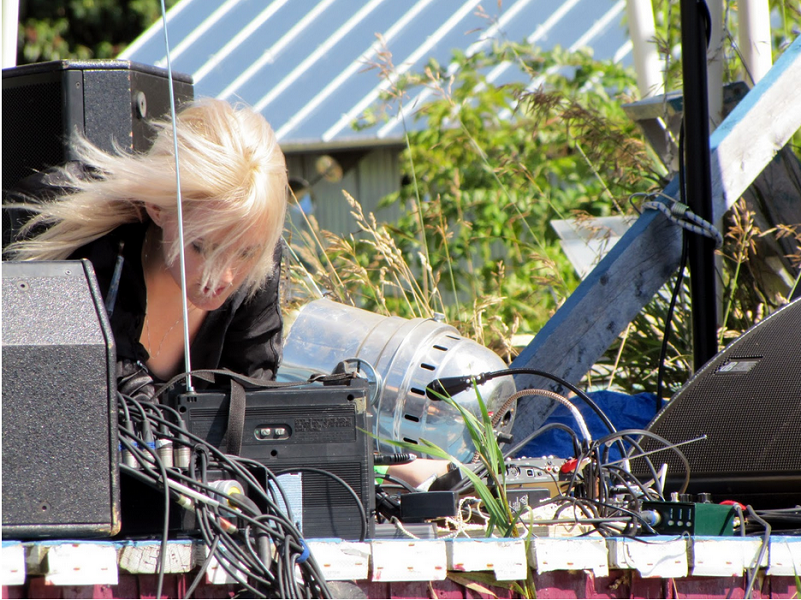 "The Nihilist Spasm Band apologized to me after my set for driving up near the stage while I was playing. I thought, I wish you drove over the stage, that would have been amazing. Also I hadn't noticed – I didn't notice the ambulance for the heat stroke suffering guy either (hope he's okay). I couldn't see my gear, we both don't understand sunshine." – Bridget Bardon't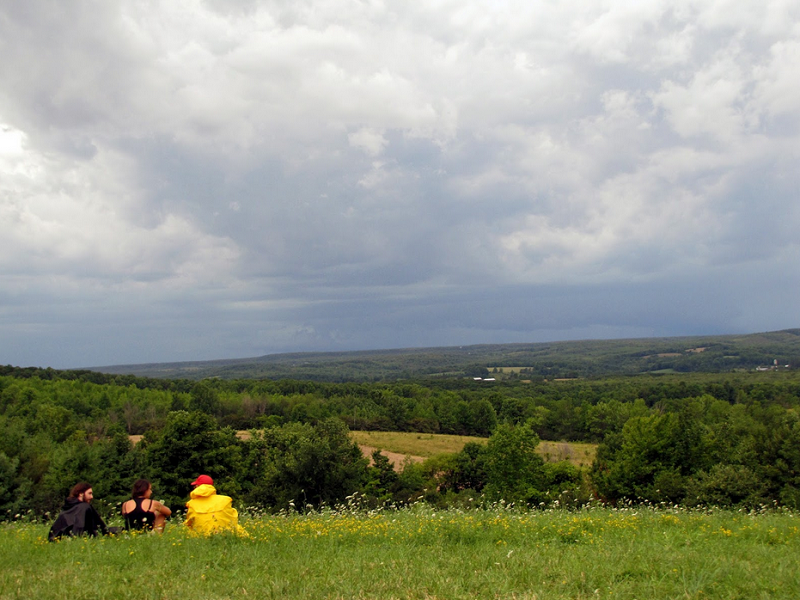 A calming moment before the end of the Festival and a tremendous downpour. Until next year friends.
De la réduction huileuse de Joshua Cwintal:
(Traduit par le sourire fatigué de Jessica Grenier)
Les paires d'oreilles réceptives étaient éparpillées entre les piliers décorés d'oursons en peluche au festival Electric Eclectics, quelque part près de Meaford, en Ontario. Les festivaliers se délectaient de drone endoctrinant et de sons réverbérant dans la cage thoracique; autant de détails personnifiant l'esprit visionnaire et convivial du rassemblement. Avec leurs installations intrigantes, des artistes capturaient les promeneurs alors qu'ils tentaient de traverser le paysage pittoresque baptisé « The funny farm ». Sous l'animation de danses nocturnes rythmées et de rires se déversant toujours plus profondément dans les profondeurs de la forêt, les nuits refusaient de mourir; et chaque jour naissant guidait son lot de visages familiers vers une rencontre où l'inconnu était la seule chose au programme.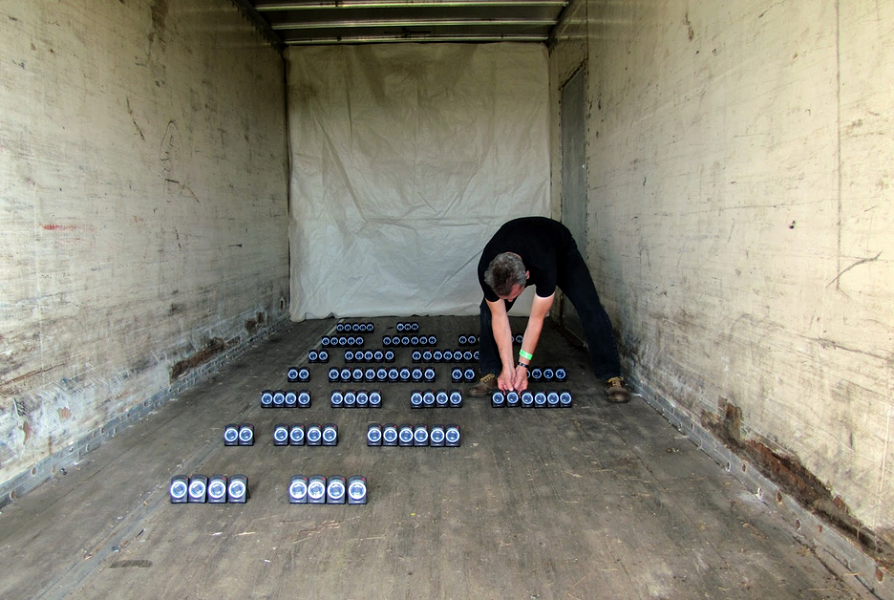 Cent métronomes – autant de battements rappelant les stridulations d'une cigale – placés de façon à reproduire la présentation d'un poème compagnon.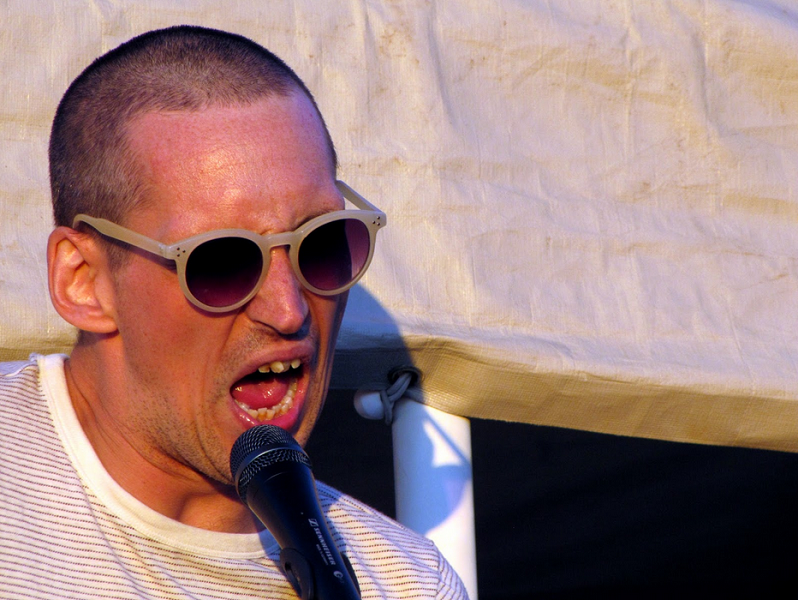 « Quelqu'un a déjà eu une démangeaison psychosomatique? » – Dave de Soupcans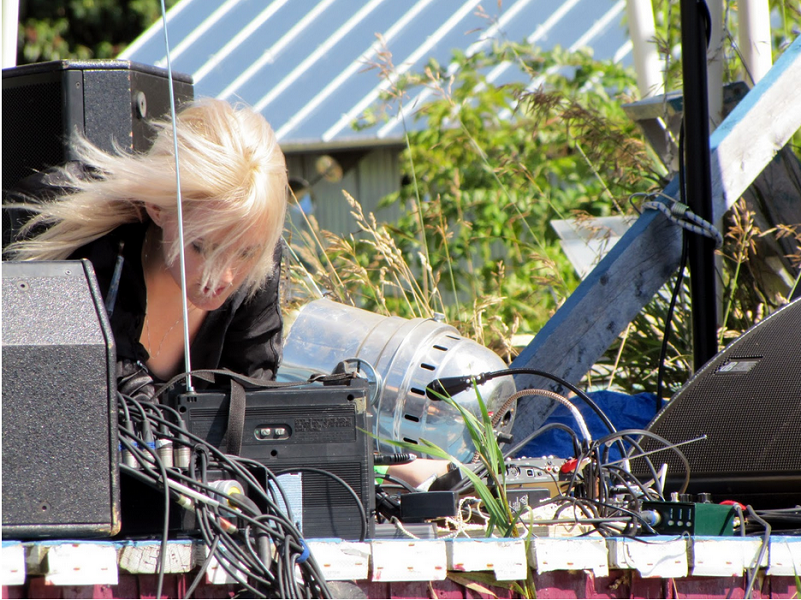 « Le Nihilist Spasm Band s'est excusé d'être passé en voiture juste à côté de la scène pendant que je jouais. Je me suis dit : "vous auriez dû rouler directement dessus, ça aurait été fou!" Et puis je n'avais pas remarqué – je n'avais pas non plus remarqué l'ambulance venue chercher un gars qui avait fait un coup de chaleur (j'espère qu'il est OK). Je n'arrivais pas à voir mon matériel : lui et moi, on a de la misère avec le soleil. » – Bridget Bardon't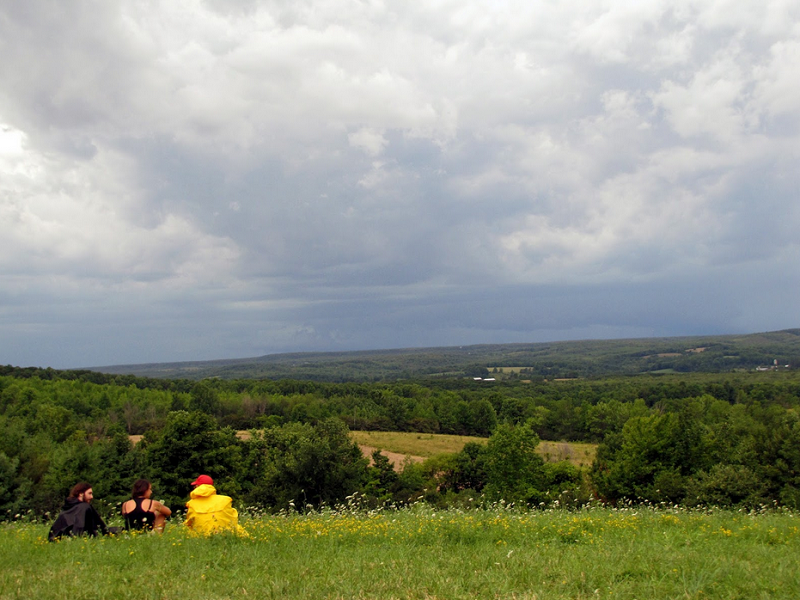 Un moment de répit avant la fin du festival (et une averse phénoménale). Au plaisir de se revoir l'année prochaine.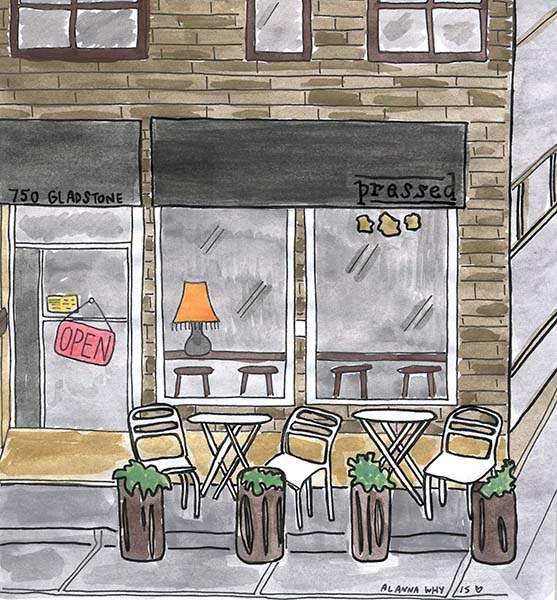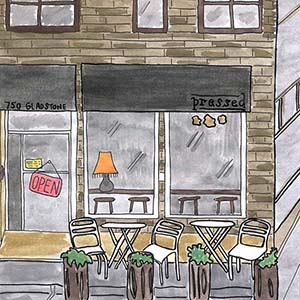 Pressed
Restaurant, Café
Capacity: 65
All ages, LGBTQ-friendly (washrooms divided by self-identified gender), accessible (portable ramps for entrance, bathroom)
(Illustration by: Alanna Yaraskavitch)
(Photos by: Matthew Blenkarn/Yuko Inoue)
750 Gladstone Ave.
Ottawa, ON
From the chicken scents of Matthew Blenkarn:
Originally conceived as a "hole-in-the-wall sandwich shop," Pressed quickly evolved into a hub for the Ottawa's diverse arts community since opening in Nov. 2011. On any given night, you can expect to hear pummeling noise, tuneful folk and jazz and gleefully weird punk, psychedelia and more wafting from its windows at 750 Gladstone Ave. But you can't just focus on music to get the breadth of Pressed. The restaurant hosts regular [poetry performances], and you're just as likely to see a local literary event, zine party or craft fair as you are to see a band nestled in its organic wooden interior. We spoke to Pressed owner Jeff Stewart, as well as Lidija Rozitis, the venue's booking manager (and a vocalist and guitarist in local bands Roberta Bondar and Blue Angel), to get a better understanding of this eclectic environment.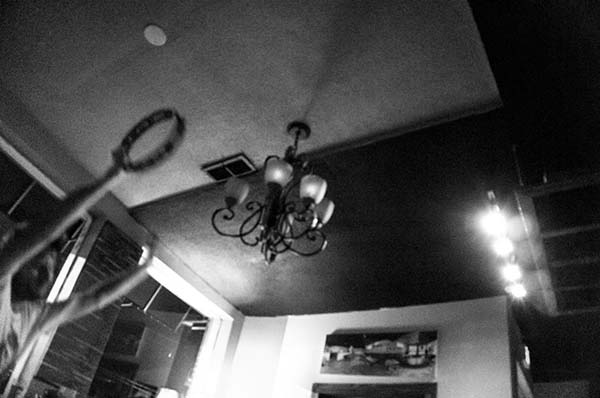 Pressed's stage (photo by Yuko Inoue)
What do you feel Pressed's appeal is? What makes it unique, and how do your acts contribute to that distinctiveness?
Lidija Rozitis: From a musical standpoint, I felt like there weren't too many venues in Ottawa a few years ago. A lot of the shows I went to were at houses. In the last little while, however, I have seen a decline in house shows and more venues becoming established around the city (Gabba Hey, House of Targ, Mugshots, Cafe Alt). House shows are really nice though, and I think Pressed (sort of) imitates the cozy, intimate vibe of a house show … Bands are allowed to move furniture around to suit their musical set up, and there are couches and church pews to sit on. And the place smells like your grandma is making delicious smoked chicken! It's small, and it's cozy. It's not a nightclub or fancy bar, but that's what makes Pressed unique.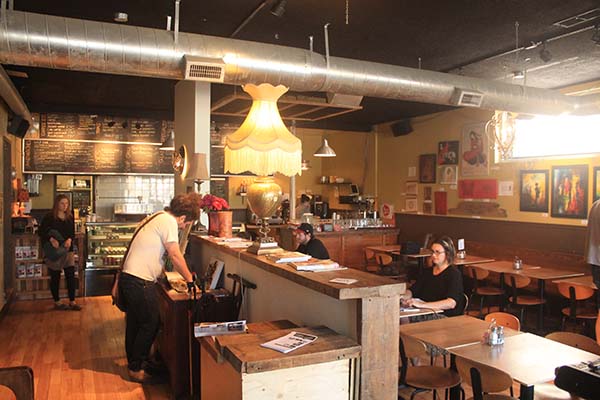 The restaurant during business hours (photo by Matthew Blenkarn)
What does Pressed offer the spoken word community? How do you help give them a space?
Jeff Stewart: I think in a number of ways. First of all, we have standing events here that are spoken word and poetry related. We have artistic showcases hosted by (Ottawa poet) Brandon Wint. We have a Words to Live By series and then a Railroad Poetry series. Those three events appeal to different types of audiences, so I think just having standing events like that creates an association between the place and spoken word. I think the layout of the place and having the right sound, light and size for those types of events just creates an inviting nest for people to come and have their events.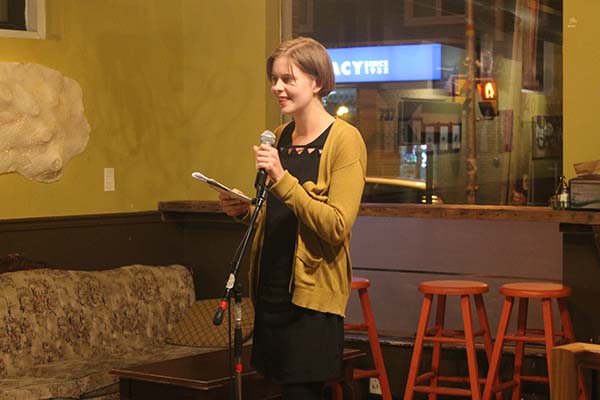 Zine editor and writer Lily Pepper at the launch party for the YOW zine (photo by Matthew Blenkarn)
You've also hosted a few Ottawa Zine-Offs and you have a zine rack. What about zine culture?
JS: I was open to the idea when (zine editor and writer Lily Pepper) approached me to have a zine rack here, and then I think, based on that, it became a bit of an anchor for zine culture. There were some people who wanted to have events here where they were creating zines and talking about zines and it seemed like a logical extension of that. I think that is something that has built a sort of community feeling. It's sort of a grassroots feeling where you don't always have a form of entertainment foisted on people as a developed, finished art form. It's more people coming together and creating in a space in a more spontaneous, democratic kind of way.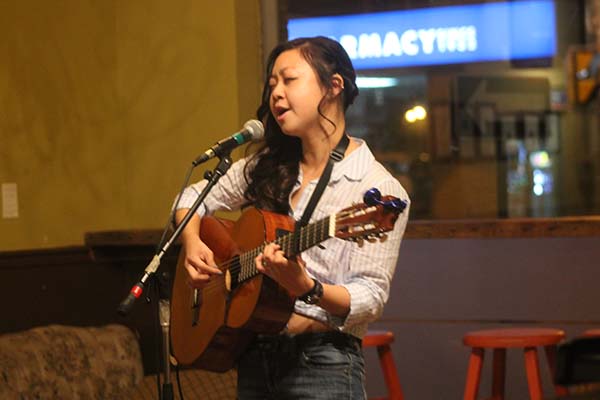 Gloria Guns of Scary Bear Soundtrack performs at the YOW zine launch party (photo by Matthew Blenkarn)
Why have such an eclectic line-up?
LR: There are a lot of amazing music venues that have opened up in Ottawa recently, so it's somewhat limiting to book four piece rock bands for an entire month. We do have many bands playing at Pressed, but with that said, I also have been trying to book more and more diverse musical acts every month. Pat Moore hosts a weekly Bluegrass night, Tariq Anwar hosts a monthly Open Mic night, Brandon Wint puts on a great monthly spoken word and musical showcase, and there are many jazz, classical, and experimental musicians performing at the space. Even then, music isn't the only art form requiring performance space. Because of the portability of tables and furniture at Pressed, the space can serve as both a sit down or standing venue. I think this versatility appeals to all types of artists, because the space serves whatever need you want it to. I try to book as many diverse types of events so that the space doesn't become pigeon-holed as the venue to do one certain type of artistic thing, but rather continually seen as a space to do whatever you want.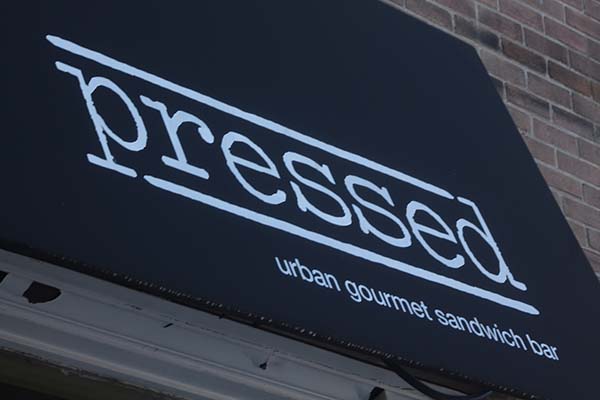 The awning that shades Pressed's small outdoor seating area (photo by Matthew Blenkarn)
How would you like to see Pressed grow in the future?
JS: I think I'd just like to see us continue along the lines that we're going along right now. I don't want us to get too big or large-band oriented, because I like the community aspect of the things we do. I think we have a really nice balance right now of bands coming in from out of town, from promoters and local bands and acts, local spoken word and then grassroots types of events as well. I think I'd just like to continue to become more and more integrated with the community and be seen more and more as a community living room and play space, I think.
Des odeurs de poulet de Matthew Blenkarn: (Traduit par l'eau à la bouche de Jessica Grenier) Ouvert en novembre 2011 en tant que « comptoir à sandwich sans prétention », Pressed est rapidement devenu un lieu de rencontre pour les différentes communautés artistiques d'Ottawa. Chaque soir, on peut s'attendre à ce que les fenêtres du 750 Gladstone Ave vibrent au rythme d'un noise acharné, de folk ou de jazz mélodieux, de punk joyeusement étrange ou encore de quelque chose de plus psychédélique. Mais Pressed, c'est beaucoup plus que de la musique. Le restaurant accueille régulièrement des performances poétiques, et, en venant se nicher dans son intérieur en bois naturel, on peut tout aussi facilement tomber sur un événement littéraire local, un party de zines ou un marché d'artisanat que sur un groupe de musique. Pour mieux comprendre cet environnement éclectique, nous avons discuté avec le propriétaire de Pressed, Jeff Stewart, ainsi qu'avec la responsable des réservations, Lidija Rozitis (qui est aussi chanteuse et guitariste dans des groupes locaux Roberta Bondar et Blue Angel).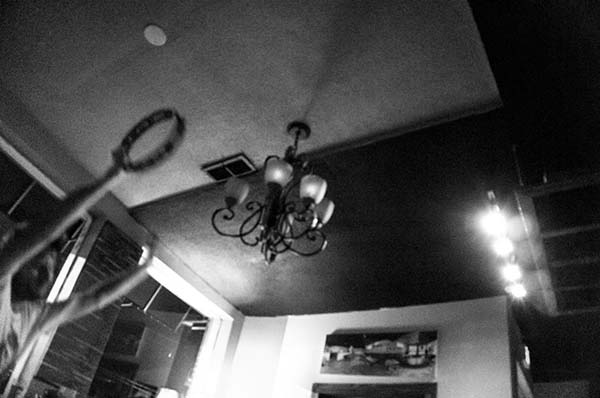 Selon vous, qu'est-ce qui fait le charme de Pressed? Qu'est-ce qui le rend unique et comment contribuez-vous à le garder ainsi?
Lidija Rozitis: Du point de vue musical, j'ai eu l'impression, il y a quelques années, qu'il n'y avait pas beaucoup de salles à Ottawa. Beaucoup de spectacles auxquels j'assistais avaient lieu dans des maisons. Dernièrement, j'ai remarqué un déclin de ce côté, et une augmentation des nouvelles salles de spectacles qui s'installent en ville (Gabba Hey, House of Targ, Mugshots, Cafe Alt). J'aime quand même beaucoup les spectacles ayant lieu dans des maisons, et je pense que Pressed imite (un peu) leur atmosphère intime et confortable… Les groupes peuvent bouger les meubles selon leurs besoins pendant qu'ils préparent leurs trucs, et il y a des divans et des bancs d'église pour s'asseoir. En plus, l'endroit sent comme si votre grand-mère était en train de faire du délicieux poulet fumé! C'est petit, c'est douillet. Ce n'est pas une discothèque ou un bar chic, mais c'est ce qui rend Pressed unique.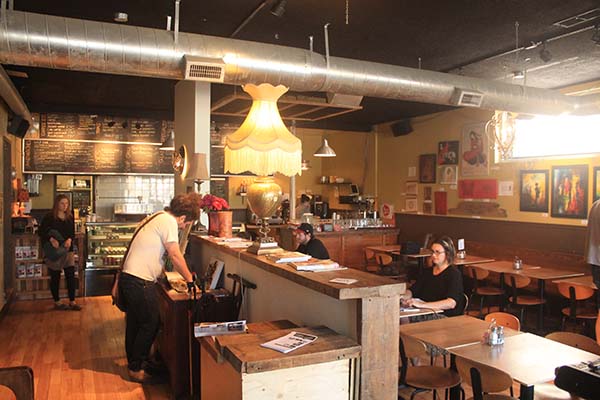 Le restaurant (pendant les heures d'ouverture) (photo de Matthew Blenkarn)
Que fait Pressed pour soutenir la communauté de la création orale?
Jeff Stewart: Je pense que nous aidons à plusieurs niveaux. Premièrement, il y a des événements permanents liés à la poésie et aux créations orales. Il y a des performances artistiques animées par (le poète d'Ottawa) Brandon Wint. Nous avons aussi les séries Words to Live By et Railroad Poetry. Ces événements attirent des publics différents, alors je pense que le fait qu'ils soient permanents crée un lien entre l'endroit et la création orale. Je trouve que le son, la lumière, l'agencement et les dimensions de l'endroit sont parfaits pour ce genre de soirées, ça en fait un petit nid parfait où organiser des événements.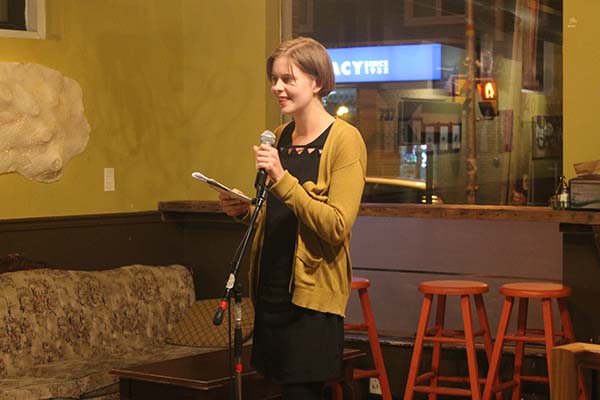 L'auteure Lily Pepper durant le lancement du zine YOW (photo de Matthew Blenkarn)
Vous avez accueilli quelques fois le festival Ottawa Zine-Offs et vous avez un présentoir de magazines. Qu'en est-il de cette culture?
JS: J'aimais l'idée d'avoir un présentoir de zines quand l'auteur et rédactrice en chef Lily Pepper est venue discuter de cette possibilité, et à partir de là, ça a en quelque sorte fourni un point d'ancrage à la culture zine. Des gens ont voulu organiser ici des événements de création et de discussions, et c'était comme une suite logique. Je pense que c'est une des choses qui ont aidé à construire un esprit de communauté. C'est un genre de sentiment populaire où on n'a pas toujours un événement artistique complet et défini qui est imposé aux gens : c'est plutôt des personnes se rassemblant quelque part pour créer quelque chose de façon spontanée et démocratique.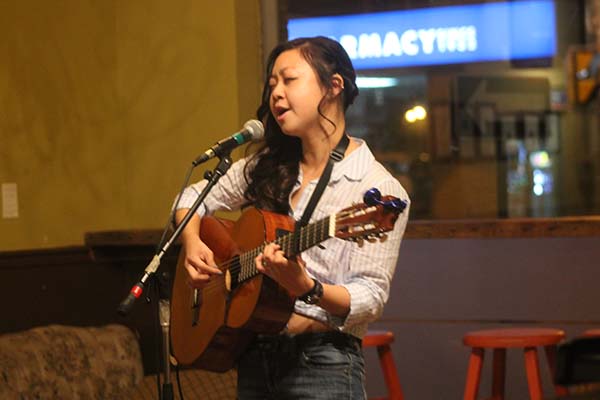 Prestation de Gloria Guns de Scary Bear Soundtrack à l'occasion du lancement de YOW (photo de Matthew Blenkarn)
Pourquoi avoir une programmation aussi éclectique?
LR: Il y a beaucoup de salles de spectacle géniales qui ont été ouvertes récemment à Ottawa, alors ça devient un peu contraignant de réserver un groupe rock pour tout un mois. C'est vrai qu'il y a beaucoup de groupes qui jouent ici, mais ceci étant dit, j'essaye d'avoir de plus en plus de performances musicales variées chaque mois. Pat Moore anime une soirée Bluegrass hebdomadaire, Tariq Anwar, une soirée mensuelle ouverte aux amateurs, et Brandon Wint présente aussi chaque mois une soirée créations orales et poésie, en plus des nombreux musiciens jazz, classiques et expérimentaux qui font des spectacles ici. Aussi, la musique n'est pas la seule forme artistique ayant besoin d'un espace. Puisque les tables et les meubles peuvent être déplacés, Pressed peut accueillir autant des spectacles pour un public assis que debout. Je pense que cette polyvalence intéresse différents types d'artistes, puisque l'endroit peut s'adapter à tous les besoins. J'essaye de réserver des événements de style le plus différent possible pour qu'on ne devienne pas étiqueté comme faisant toujours un seul genre de spectacle, pour que Pressed continue d'être perçu comme un lieu ouvert à tout.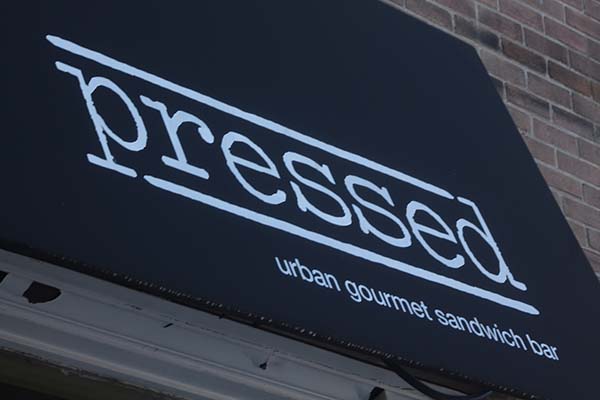 L'auvent qui protège la petite terrasse de Pressed (photo de Matthew Blenkarn)
Dans le futur, comment voudriez-vous voir grandir Pressed?
JS: Je pense que j'aimerais juste que l'endroit continue sur la même lancée qu'il a actuellement. Je ne veux pas qu'on devienne trop gros ou axé juste sur les gros groupes, parce que j'aime l'aspect communautaire que nous avons maintenant. Je trouve que nous avons un bel équilibre entre les promoteurs, les spectacles, les groupes d'ici et d'ailleurs en plus des créations orales locales et des événements plus populaires. Je pense que j'aimerais juste voir l'endroit s'ancrer davantage dans la communauté, et qu'il soit vu de plus en plus comme un terrain de jeu ou un salon communautaire.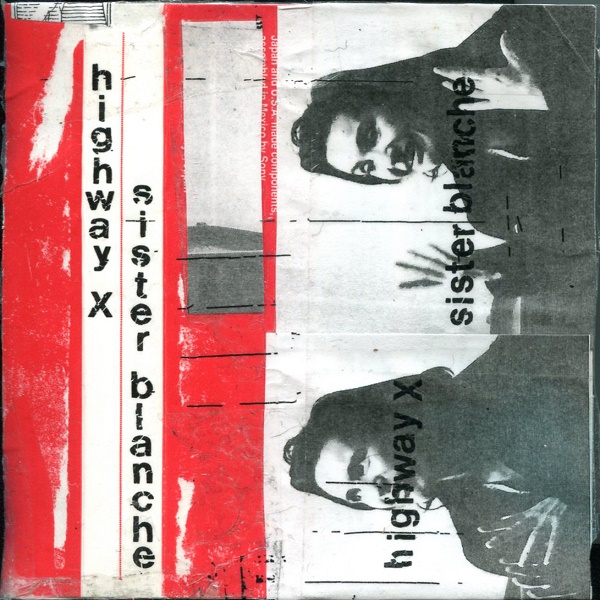 Highway X // Sister Blanche
Split
(Gary Cassettes)
Montreal, QC // Victoria, BC
From the patient suffering of Jesse Locke:
Highway X (Andy Vanier of Babysitter) and Sister Blanche (Morgan Cook of Yung Mums, Cindy Lee, and Androgynous Mind) make an apt pairing. Her mumblecore lullabies, incantations and Swope-style FX are buried under a thick fog of tape hiss like a (more) sinister Tickley Feather. Meanwhile, his guitar/sax jags, sandblasted dub, and lurching loops of mutant concrète add a melodic quality to previous offerings, yet still sound dug up from the sub-underground.
De la douleur patiente de Jesse Locke:
(Traduit par Jessica Grenier)
Highway X (Andy Vanier de Babysitter) et Sister Blanche (Morgan Cook des groupes Yung Mums, Cindy Lee et Androgynous Mind) vont bien ensemble. De son côté à elle, berceuses, incantations et effets à la Swope sont murmurés derrière un épais brouillard de sifflement, comme une Tickley Feather (en plus) sinistre. De son côté à lui, dub décapé, sax/guitare en dent de scie et boucles vacillantes de mutant concrète donnent une qualité mélodique à un ensemble clairement tiré des bas-fonds de l'underground.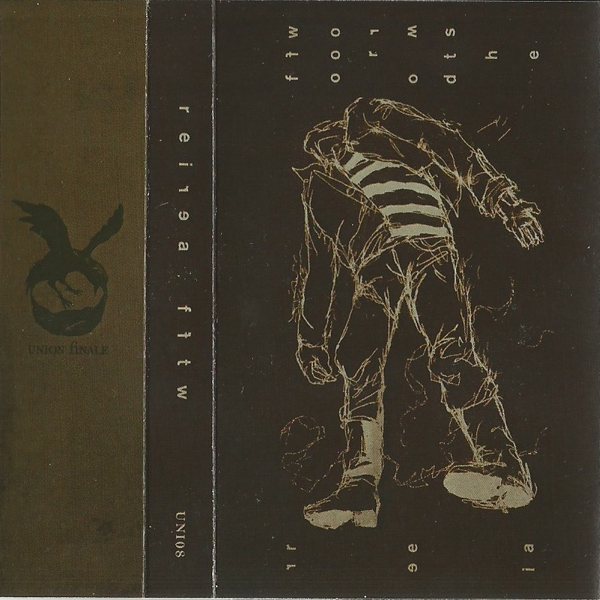 Rei Rea
Food for the Worms
Montreal, QC
From the hellbound haranguing of Mark Anthony Brennan:
It's cold. A massive weight crushes your chest. Hellish creatures scramble, scrape through the earth to reach you. You cannot move. Closing in, their muttering grows louder. You open your mouth to scream, but it's filled with worms.
A nightmare. That's all. You're on a train, hurtling through a murky landscape of unfamiliar shapes. The train enters a tunnel. In the darkness fleeting images rush by. Unpleasant half-memories. This isn't a tunnel. The train is racing through your mind.
Wait, there is no train. Is this a nightmare again? Or is this the awful truth? Does it matter?
Des harangues damnées de Mark Anthony Brennan:
(Traduit par le regard fixe de Jessica Grenier)
Il fait froid. Quelque chose de lourd écrase ton thorax. Des créatures infernales raclent la terre : elles essayent de t'atteindre. Tu n'arrive pas à bouger. Leurs grommellements deviennent de plus en plus forts. Tu ouvres ta bouche pour crier, mais n'en sortent que des verres.
Un cauchemar. C'était juste un cauchemar. Tu es à bord d'un train qui traverse à toute allure un paysage obscur et étrange. La locomotive s'engouffre dans un tunnel. Dans l'obscurité, des images fugaces apparaissent devant tes yeux, des demi-souvenirs désagréables. Ce n'est pas vraiment un tunnel : c'est ton esprit que le train dévale.
Attends. Il n'y a même pas de train. Est-ce un autre cauchemar… ou l'horrible vérité? Est-ce que ça importe vraiment?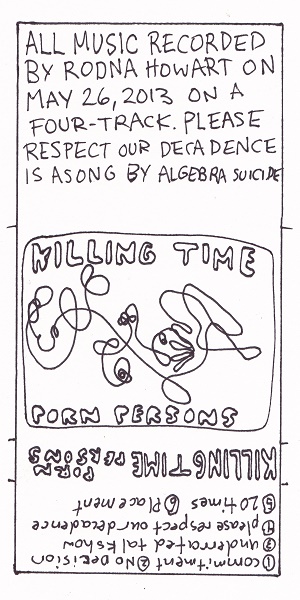 Porn Persons
Killing Time
(Self-Released)
Montreal, QC
From the shredded jeans of Katie Jensen:
Pressure builds uncomfortably behind the back of your eye. You rub the scalloped roughness of your palm against your left eyelid, but this jams the pain further into your cranial nerve. Your heart feels awfully wet.
You peel your skin back to reveal last week's grocery list. Sour milk. A scratched-up tabloid. A present for your mother. You walk to the refrigerator. There is nothing to eat except a box of baking soda. The pain in your eyes is killing you. You stick your head in the freezer and close your eyes against a bag of frozen peas.
Des jeans déchirés de Katie Jensen:
(Traduit par Jessica Grenier)
Juste derrière ton œil, une douleur inconfortable écrase ton nerf crânien. Tu frottes la rugosité écailleuse de ta paume sur ta paupière gauche, mais ça ne fait que déplacer la douleur plus loin sur le nerf. Ton cœur te semble atrocement humide.
Tu relèves la peau pour faire apparaître la liste d'épicerie de la semaine dernière, du lait suri, un journal barbouillé, un cadeau pour ta mère. Tu vas jusqu'au frigo : il n'y a rien à manger à part une boite de bicarbonate de soude. La douleur derrière tes yeux ne fait qu'empirer. Tu ouvres le congélateur puis poses tes yeux fermés sur un sac de pois congelés.
Porn Persons – Underrated Talkshow
From the Sisyphian enthusiasm of Eileen Wennekers:
Introduction
Writing is really hard. Everyone writes differently. Everyone needs different atmospheric conditions present to make this profoundly weird activity possible. Figuring out what those are and making them a part of your day is as much a part of being a writer as actually writing is. Once you know what your space requires, guard this jealously. Tell your loved ones why you have to do the things you do. And then do them, unrepentantly. Don't let Writing become an ominous thunderhead lurking on the horizon of your brain-screen. If you do, it will never rain and you will walk around with a continual, tremendous barometric-pressure headache.
The page staring at you is terrifying because it is where you are going to put what you think so it has to be perfect, right? It's like going on a first date every time. You want to be exquisitely prepared, elegant, charming, loquacious but not insufferable, captivating but approachable, both a hunter and desirable, diamond-perfect but gloriously human.
Oh, fuck it. I'm going to go make a sandwich.
Really, being a writer is about inhabiting all of your anxiety and somehow shaping this into a house that other people would want to have a sit in. This aspiration is never totally attained. So, instead, you have to chip away at that lump in your throat to make passage for what feels, at first, like pitiable little cloudy squeaks. These little squeaks, accumulated, are like lumber. You can move them around and place them in consonances with one another until a structure emerges. Then you will have a writing-fort that you have made and that you can invite people over to.
Fort building requires advance planning. Here are some things I can tell you to help you:
1. Writing is weird because you actually generate your own raw material and then give that form
There is a nature documentary about caves narrated by David Attenborough, who describes a glow worm that is pretty much made out of mucous that also makes itself a hammock out of mucous to live in out if its own mucous. This is analogous to a first draft. You are making something out of yourself, into the external world, to give you a place where you can suspend something of yourself. This is important to remember because then you will know that when you are starting this beautiful, disgusting process, that while it possesses a certain peculiar temporal sprawl, it is not in the slightest a matter of "spontaneous emotion recollected in tranquility" or any other such bullshit.
2. Writing is work
Here is what one of the best writers, ever, Edgar Allan Poe, wrote when describing how he wrote "The Raven":
"It is my design to render it manifest that no one point in its composition is referable either to accident or intuition – that the work proceeded, step by step, to its completion with the precision and rigid consequence of a mathematical problem."
In other words, writing does not come from somewhere else. When you are writing you are not a radio. You are doing work, in the deepest dialectical sense: You are engaging with your material in a way that imprints it with a subjective mark, changing it, and in doing so, creating a manifestation in the objective world of what is inside you. You are working out a particular problem that only you could set yourself.
What this means is that if you have an idea about writing something, you are already inspired. You do not have to wait for inspiration to realize your idea. It is merely a matter of choosing to either relieve yourself or get off the can.
3. Writing is method
This is not just as regards your process, which is a matter as arcane and personally singular as what for each of us constitutes "the morning."
Writing is a whole way of being towards the world. It is generous. It is characterized by the economy of the gift. It is not purely altruistic, but it is not capitalist either. For this reason writing is antithetical to the drive to translate all forms of social interaction into surplus value which has become the dominant activity in our world.
In pragmatic terms, this means that unless you are of independent means, a large part of your process will consist of figuring out ways to have that once-in-a-while day when your overdue bills are settled, and when you are not too busy commodifying your own time through the sale of your alienated labour, to compose yourself into the form of a text.
It's important to state this explicitly so that you remember to never give up on being a writer. If you are writing, you are a writer. It does not matter if you pay your rent bartending or digging ditches or working the swing-shift as a diagnostic imaging technician. Finding the means to sustain yourself is part of the method of writing. Once you've reconciled yourself to this and given up worrying about how you will play all of your hard work into a renumerative career as a writer, you will write what you want to. You will write yourself into the world, and no one can take this from you, and it is how you will do writing as it must be done.
4. You always write to someone
There is always an Other on the other side of the text you are writing who is staring into you with their spooky non-corporeal eyes while you implore, "What do you want from me?!?" This correlates to the burdening, inexplicable desire that disrupts any certainty of yourself while you are writing except the knowledge that the Other is waiting for you.
This makes the whole thing a bit odd, and means that your draft may require a second opinion. Reading it out loud to yourself is good. Letting a trusted friend read and edit it while you sit calmly and do not attempt to debate their proposed alterations in the moment is even better.
5. Perfection is death
If you ever perfectly articulated everything exactly as you wished, a drain-hole would open up in the interstices between the world of signification and that world it refers to, and all that is would implode into this drain-hole in an impeccable inversion of the Big Bang. Thankfully, this has not yet happened.
This means that your piece is done not when it is perfect, but when it is done. Does it make sense? Does it say something? Are you deeply sick of the sight of it? Done. Everyone regards that which she excretes with an undeniable interest, but if you're trying to shove it back into yourself in the hope of a more transcendent outcome, it's just going to end up a mess. Just. Let. go.
6. Bring it home
Writing the conclusion is like the last stretch of a long-distance run. You've already made your point, the action has already occurred. Why write more? Probably because this is a chance to knit together all of the things that your process has brought to you, and by proxy, to that Other you're writing to. Along these lines, I can write the following:
You can be a writer by being a writer, by tigerishly demanding the space to write, by honouring that space by filling it up with writing, and by remembering that there are also readers, whose primary luxury is the beauty of words, who know full well that this luxury is one whose bounds are endless, and who may be writing for you right now. This is very good, because the plenitude of forts that words can build will always, no matter where we are, give us somewhere to go.
De l'enthousiasme sisyphien d'Eileen Wennekers:
(Traduit par Jessica Grenier)
Introduction
Écrire est quelque chose de très difficile. Chacun le fait différemment; et les conditions environnantes nécessaires pour rendre possible cette activité profondément étrange sont aussi différentes selon chacun. Déterminer ce qu'elles sont et s'assurer de les intégrer à son quotidien fait autant partie du travail d'écrivain que le fait d'être assis à écrire. Une fois que tu sais ce dont tu as besoin dans ton environnement, garde-le jalousement. Explique à tes proches pourquoi il faut que tu fasses ce que tu fais, puis fais-le, sans aucun remords. Ne laisse pas l'écriture devenir un nuage noir se profilant à l'horizon de ton radar cérébral. Sinon, la pluie ne tombera jamais, et tu te promèneras avec un mal de crâne continuel causé par la pression atmosphérique phénoménale.
La page qui te rend ton regard est terrifiante parce que tu y consigneras tes pensées, alors tout doit être parfait, pas vrai? C'est comme un premier rendez-vous, à chaque fois. Tu veux te présenter sous un jour élégant, charmant; loquace sans être insupportable, charismatique tout en étant facile d'approche; un chasseur désirable avec la perfection d'un diamant, mais glorieusement humain.
Ah, fuck it. Je vais me faire un sandwich…
Plus sérieusement, être un écrivain, c'est connaitre ses anxiétés et réussir à les modeler en une maison dans laquelle d'autres personnes pourraient vouloir venir s'asseoir. Cette aspiration n'est jamais réellement atteinte. À la place, il faut essayer de défaire le nœud dans ta gorge pour faire un passage à ce qui, au tout début, peut sembler n'être que de petits cris pitoyables et vagues. Une fois accumulés, ces couinements sont comme des poutres de bois : tu peux les déplacer, les faire résonner les uns avec les autres, jusqu'à ce qu'une charpente en émerge. Et là, tu auras érigé un fort d'écriture où tu pourras inviter des gens.
La construction d'un fort nécessite de la planification. Voici quelques trucs que je peux donner pour t'aider :
1. Écrire, c'est bizarre parce que ça implique de créer d'abord une matière brute pour ensuite lui donner une forme.
Dans un documentaire sur les grottes narré par David Attenborough, on décrit un type de ver luisant presque entièrement composé de mucus qui utilise son propre mucus pour se faire un hamac dans lequel vivre. C'est comparable à un premier jet. Tu crées quelque chose à partir de toi-même, mais dans le monde extérieur, dans le but de te donner un espace où suspendre une partie de toi. Il est important de se le rappeler quand tu vas entamer ce processus dégoûtant/sublime, parce que même s'il possède un certain étalement temporel qui lui est propre, ce n'est absolument pas une question «d'émotion remémorée dans la quiétude » ou d'une autre connerie du genre.
2. Écrire, c'est du travail.
En décrivant son processus d'écriture pour Le corbeau, Edgar Allan Poe, un des meilleurs écrivains au monde, a dit qu'il avait voulu rendre manifeste qu'aucun détail de la composition de son œuvre n'était le résultat d'un accident ou d'une intuition, mais plutôt celui d'un travail d'élaboration progressive aussi précis et rigide que la résolution d'un problème mathématique. Autrement dit, écrire ne vient pas d'ailleurs. Quand on écrit, on n'est pas une radio. On fait du travail, dans le sens le plus dialectique du terme : tu abordes ton matériel d'une façon qui laisse une empreinte, une marque subjective qui le change et, ce faisant, qui crée une manifestation visible, dans le monde objectif, de ce qui est en toi. Tu cherches à résoudre un problème qui ne pouvait t'être posé que par toi-même. Ce que ça veut dire, c'est que dès que tu as une petite idée sur laquelle écrire, tu es déjà dans l'inspiration. Tu n'as pas à attendre que l'inspiration te vienne pour mettre en oeuvre ton idée. C'est simplement une question de choisir, de faire ce qu'il y a à faire ou non.
3. Écrire, c'est une méthode.
Et je ne parle pas simplement du processus, qui est aussi obscur et propre à chacun que ce que nous appelons « le matin », chacun pour soi.
Écrire, c'est une façon d'être, de se positionner face au monde. C'est généreux. C'est caractérisé par l'économie du don. Ce n'est pas totalement altruiste, mais ce n'est pas capitaliste non plus. Pour cette raison, l'écriture est l'antithèse de l'impulsion devenue l'activité dominante dans notre monde, soit celle de transposer toutes les formes d'interaction sociales en plus-value.
En termes pragmatiques, ça veut dire qu'à moins d'être indépendant de fortune, une grande partie de ton processus va se résumer à trouver des façons d'avoir une journée de temps en temps où toutes les factures sont réglées et où ton temps n'est pas trop occupé à être marchandisé par la vente d'un travail aliéné pour te composer sous la forme d'un texte.
C'est important de le spécifier pour se souvenir de ne jamais renoncer à être écrivain. Si tu écris, tu es un écrivain. Ça n'a pas d'importance si tu payes ton loyer en creusant des fossés ou en travaillant de soir dans un bar ou comme technologue en radiodiagnostic. Trouver les moyens de subvenir à ses besoins fait partie de la méthode d'écriture. Une fois qu'on a accepté cette idée et qu'on arrête de s'en faire avec la façon d'articuler tout ce dur labeur en une carrière d'écrivain rémunéré, on peut écrire ce qu'on veut. Tu vas t'écrire une place dans le monde, et personne ne peut t'en empêcher; c'est comme ça qu'on écrit comme il se doit.
4. On écrit toujours pour quelqu'un.
Il y a toujours quelqu'un de l'autre côté du texte qu'on est en train d'écrire; quelqu'un qui te fixe avec des yeux éthérés alors que tu supplies : « Qu'est-ce que tu attends de moi?!? ». C'est lié au désir pesant et inexplicable qui t'empêche d'avoir une quelconque certitude envers toi-même lorsque tu écris, sauf celle que cet Autre t'attend. Cette certitude rend l'ensemble un tantinet étrange, et veut dire que ton premier jet peut avoir besoin d'un deuxième avis. Se le lire à haute voix est une option. Laisser un ami en qui on a confiance le lire et le commenter pendant qu'on reste assis calmement en n'essayant pas d'argumenter toutes les modifications qu'il propose, c'est encore mieux.
5. La perfection, c'est la mort.
S'il arrivait qu'un jour tu parviennes à articuler exactement tout ce que tu voulais dire, un gouffre s'ouvrirait dans les interstices entre le monde de la signification et celui auquel elle se réfère, et tout ce qui existe imploserait en une inversion parfaite du Big Bang. Heureusement, ce n'est encore jamais arrivé.
Ce qui veut dire que ton texte est terminé quand il est terminé, non pas quand il est parfait. Est-ce que ça a du sens? Est-ce que ça dit l'essentiel? Est-ce que simplement poser les yeux dessus te rend malade? Oui? Il est terminé. Chacun regarde ce qui sort de son propre corps avec un intérêt indéniable, mais si tu essayes de le renvoyer d'où il provient en espérant un résultat plus transcendant, ça va juste tout gâcher. Il faut lâcher prise.
6. L'importance d'une conclusion.
Écrire une conclusion, c'est comme les derniers mètres d'un marathon. Le message est passé, l'action s'est produite; pourquoi continuer à écrire? Probablement parce que c'est l'occasion de rassembler toutes les choses qui ont été amenées par le processus, pour toi et (par procuration) pour cet Autre à qui tu t'adresses. Suivant cette idée, je peux affirmer que :
Tu peux devenir un écrivain en étant un écrivain, en exigeant férocement un espace où écrire, en honorant cet espace en le remplissant d'écrits, et en te rappelant qu'il existe aussi des lecteurs dont la plus grande luxure est la beauté des mots, et qu'ils savent pertinemment que cette opulence est sans limites, et qu'ils peuvent même être en train d'écrire pour toi, en ce moment même. Tout ça est excellent, parce que l'ensemble des forts érigés par les mots nous offrira toujours quelque part où aller, peu importe où nous sommes.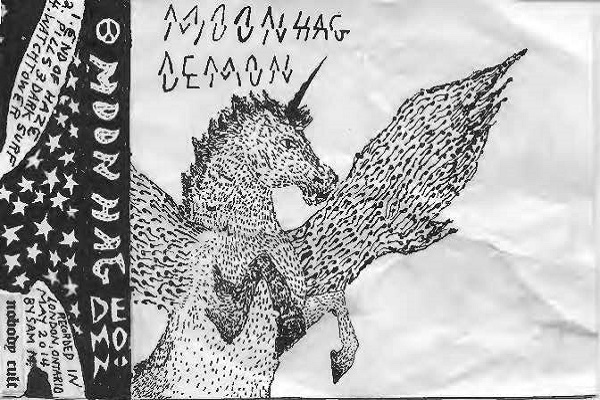 MOON HAG
Demon
(Self-Released)
Toronto, ON
From the dizzy poison of Steven Reed:
You are dizzy from poisons, blasting a scrappy tape of raw jams you found in the weeds behind school. It was underneath burnt plastic owls and braids in lumps of wax. A circle of doll stuffing and Garbage Pail Kids wrappers. The tape was wrapped in an angry note on looseleaf, stuffed into a cigarette box: "don't fret, dim beast, your sleep paralysis is just lungs crushed and punctured by the talons of the crone perched on your ribs." Something about that primaeval tape compels you to listen closer for traces of passage rites and hexes. What do you do?
Du poison capiteux de Steven Reed:
(Traduit par Jessica Grenier)
Tu es étourdi par le poison, ta cage thoracique vibrant aux jams bruts de la cassette décousue trouvée dans les buissons derrière l'école. Elle était cachée par les tas de cire faits de cordes et de hiboux en plastique fondus, dans un cercle de rembourrage de poupée et d'emballages Les Crados. La cassette, emballée dans un message griffonné sur une feuille mobile, était dans un paquet de cigarettes : « N'aies pas peur pour ta paralysie du sommeil, faible bête, ce ne sont que tes poumons écrasés qui ont été percés par les talons de la sorcière perchée sur tes côtes. » Quelque chose dans cette cassette primitive te force à tendre l'oreille, à chercher des indices de rites de passage et de malédictions. Qu'est-ce que tu fais?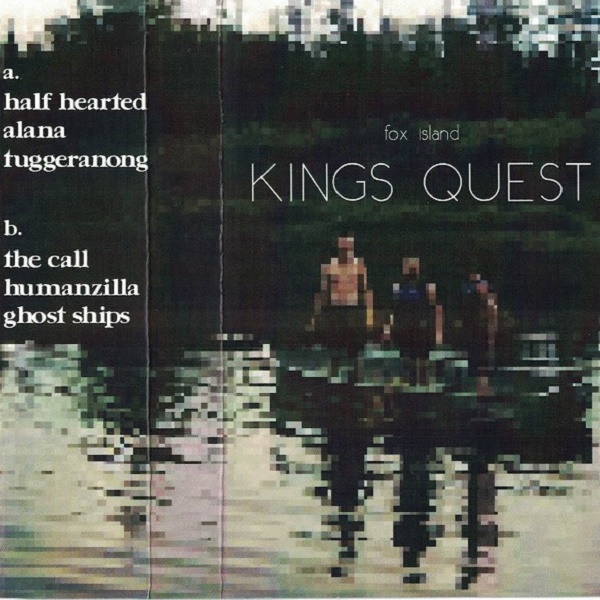 Kings Quest
Fox Island
(Self-Released)
Ottawa, ON
From the reverberated thoughts of Alec Lovely:
A date with friends turns into alone time on a heavy, grey afternoon. Wet concrete, streaky windows, hustle and bustle, flashing lights. No need or want to be with anyone on a day like this – just the right sounds to take you back to yesteryear, sharpened by a lo-fi nostalgia. Wondering how long the people around you will be there, the dream of youth feels like something finite. Spurred by the sounds that feel new and familiar, you wonder when the band in your headphones will be in your city, right in front of you.
De l'écho des pensées d' Alec Lovely:
(Traduit par Jessica Grenier)
Un après-midi lourd et gris. Un rendez-vous avec des amis qui devient un moment de solitude. Le béton mouillé, les vitres zébrées de pluie et de lumière, l'agitation des passants. Une journée où on n'a ni le besoin ni l'envie de côtoyer des gens – il faut juste le bon son pour un retour en arrière, accentué par un lo-fi nostalgique. Les rêves de jeunesse semblent restreints quand on se demande combien de temps les gens vont rester dans notre entourage. Les sons nouveaux mais familiers dans tes écouteurs te font t'interroger sur le moment où le groupe sera devant toi, dans ta ville.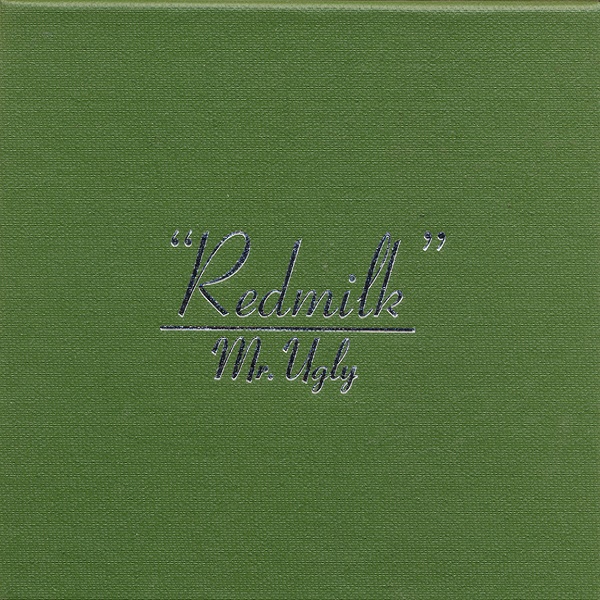 Mr. Ugly
RedMilk
(Self-Released)
Vancouver, BC
From the revolutionary udder of Don L'Orange:
All your friends are dead. Released from their grip, you find new freedom. Perhaps, you had no friends to begin with? Maybe you've never even had freedom? In the underbelly of captivity, lower frequencies will flourish and ooze. Injustice speaks volumes, until the day deafness sets in (thankfully). No thanks.
De la mamelle révolutionnaire de Don L'Orange:
(Traduit par Jessica Grenier)
Tous tes amis sont morts. Hors de leur emprise, tu découvres une liberté nouvelle. Peut-être n'avez-vous jamais été de vrais amis? Peut-être n'as-tu même jamais été libre? Dans les entrailles de la captivité, les fréquences basses suintantes prolifèrent. L'injustice se fera entendre jusqu'à ce que l'assourdissement la fasse (enfin) taire. Non merci.
---