Tag: jessica faulds
First Spring Grass Fire
Written By: Rae Spoon
[137 pp., paperback, perfect bound]
Montreal, QC
From the meta antics of Jessica Faulds:
Rae Spoon's debut novel (Fictionalized memoir? Personalized fiction? Diaristic mindfuck?) reads like a series of postcards from a profoundly painful adolescence. For those of us who didn't grow up Calgarian evangelicals, it also serves as a tour of fundamentalist strangeness, featuring faith healings, speaking in tongues, and (perhaps most frightening of all) trips to Christian summer camp. It is hard not to experience First Spring Grass Fire as a pyramid of hurt, stacked on a foundation of doubt and fear. But this series of vignettes succeeds because Spoon is absolutely unflinching in staring down the fucking monsters of their youth. Mental illness, queer-phobia, loss, humiliation, self-doubt: all are splayed on the autopsy table under the pathologist's blinding light. Like mortality, it is… uncomfortable.
Yet Spoon's narrative approach lures even the squeamish. Despite having shed their country-music image, Spoon nevertheless retains the cowboy's plain-spokenness, and a golden haze of nostalgia hovers around even the most brutal scenarios. Also, the meta antics of author-as-character/memoir-as-fiction act as a nice foil to the squirm-inducing honesty displayed on almost every page. Yes, junior-high-school gymnastic routines happened to all of us, but Spoon's treatment reconstructs them as fictions. Still harrowing, but possible to isolate as stories, and to extract as tumours of humiliation.
This is a book about the redemptive power of art in general, and music in particular. This is Spoon's wellspring of hope. It is a parable about being saved, not by a deity, but by a guitar. It is, at heart, the story of how the creator of this video grew from the person who once resolved, "I will never play music in front of people again."
Des méta-espiègleries de Jessica Faulds:
(Métamorphosé par Vincent Rondeau)
Le premier roman de Rae Spoon (autobiographie romancée? fiction personnelle? journal intime hallucinant?) se lit un peu comme une série de cartes postales venues d'une adolescence terriblement douloureuse. Pour ceux qui n'auraient pas grandi dans la communauté évangélique de Calgary, il dépeint également toutes les bizarreries du fondamentalisme, entre autres la guérison par la foi, la glossolalie et peut-être la plus effrayante de toutes, les camps d'été chrétiens. First Spring Grass Fire se présente comme une pyramide de douleur fondée sur le doute et la peur. Néanmoins, cette série de vignettes est un succès puisque Spoon, imperturbable, ne cède pas devant tous les monstres de son enfance : les troubles mentaux, la queer-phobie, la défaite, l'humiliation, le doute de soi-même sont tous écartés sur la table d'autopsie sous la lumière aveuglante du médecin légiste. C'est inconfortable… comme la mort.
Pourtant, l'approche narrative de Spoon est susceptible d'attirer même les esprits délicats. Ayant délaissé son image country-western, Spoon en garde toutefois le parler franc du cowboy et on remarque comme une aura dorée de nostalgie même autour des scénarios les plus durs. Les méta-espiègleries narratives (auteur-personnage / auto-bio-fiction) complémentent agréablement l'honnêteté dérangeante présente sur presque chaque page du livre. Oui, nous avons tous fait de la gymnastique au secondaire, mais le traitement de Spoon réinvente la situation comme une fiction. Cette approche nous permet d'isoler ces événements, quoiqu'ils restent extrêmement pénibles, comme autant de récits ponctuels, de tumeurs d'humiliation à extraire.
C'est un livre qui parle des pouvoirs de rédemption de l'art en général et de la musique en particulier : c'est la source de tout l'espoir de Spoon. C'est une parabole qui montre qu'on peut trouver le salut, non pas en un dieu, mais en une guitare. C'est un livre qui raconte, au fond, comment quelqu'un qui a déjà déclaré « Je ne jouerai plus jamais de musique devant les gens » en est venu à créer ce vidéo.
Quaker Parents // Dream Friends
Tap Turns Off // Dream Girls
Halifax, NS

This EP is a one-two Haligonian punch that will split (pun intended) your lip and leave you sucking its tangy aftertaste till you flip the tape to get another faceful.
Quaker Parents
bring a dose of helium-inflated 'faxpop that hops and reverses quicker than a
Dukes of Hazzard
car chase. Haphazardly tossing off bons mots and melodic firecrackers, the Parents bask forever in a summer of
magical thinking
. Dream Friends crank the grunge dial up a notch but match their tapemates' cultural literacy and easy hookery lick for finger-lickin' lick. True to their name, these aural explorers hack at flora of overgrown dreamscapes with serrated blades, dodging overhanging fronds and staring straight into the unreal haze. Grip and ponder: where would we be without parents and friends?
Audio clip: Adobe Flash Player (version 9 or above) is required to play this audio clip. Download the latest version here. You also need to have JavaScript enabled in your browser.
Dream Friends – Aging Sportstar
Audio clip: Adobe Flash Player (version 9 or above) is required to play this audio clip. Download the latest version here. You also need to have JavaScript enabled in your browser.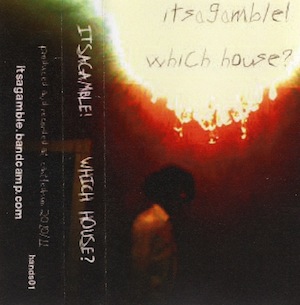 itsagamble!
Which House?
London, ON

Wedding hip-pop beats to the screams of mortally wounded modems, itsagamble! is the arbiter of an arranged marriage ("Do you, fried circuit board, take this fat beat…?") that has blossomed into love. Leaving behind
flora
and fauna, Rob Ross chronicles the mating rituals of robots: the tentative caress of electrons across a
breadboard
, melodrama chopped then screwed to a wall of electromagnetic interference ("Baby Maker"), and slow jamming ("Fox") that builds breakbeats out of sex-chimes, all glazed in Kraftwerkian synth flavours. Which House? hops valences quicker than a supercharged particle but keeps it somewhere within the sphere drum'n'bass'n'saw wave'n'laser'n'I could go on…
Tin foil chewers
, bite down on this.
Audio clip: Adobe Flash Player (version 9 or above) is required to play this audio clip. Download the latest version here. You also need to have JavaScript enabled in your browser.
Audio clip: Adobe Flash Player (version 9 or above) is required to play this audio clip. Download the latest version here. You also need to have JavaScript enabled in your browser.
Audio clip: Adobe Flash Player (version 9 or above) is required to play this audio clip. Download the latest version here. You also need to have JavaScript enabled in your browser.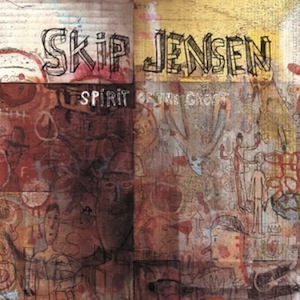 Skip Jensen
The Spirit Of The Ghost
Montreal, QC

Grafting a yippin'n'yodellin' head onto garage's grimy shoulders, Skip Jensen has created a hybrid monster, a ten-gallon-hat sporting scuzzball who fancies a two-step with the fuzzbox dialed up. Skip's world-weary howl winds its way around the barroom, dragging behind it a mesmeric,
slimy tail
of guitar riffage. Skip jams several blotters' worth of campfire undulations into wild-eyed jams like "Crows", then drops into the lazy-drunk gait of tracks like "As Much As I Do." Is that a honky-tonk piano I hear on "Revival" or is it just the "Spirit of the Ghost" dripping yesteryear's blood all over the garage?
Audio clip: Adobe Flash Player (version 9 or above) is required to play this audio clip. Download the latest version here. You also need to have JavaScript enabled in your browser.
Skip Jensen – The Spirit of the Ghost
Audio clip: Adobe Flash Player (version 9 or above) is required to play this audio clip. Download the latest version here. You also need to have JavaScript enabled in your browser.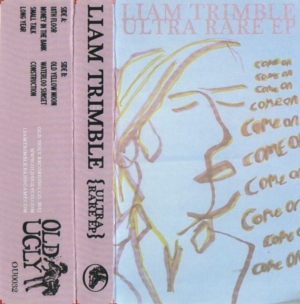 Liam Trimble
Ultra Rare EP
Edmonton, AB

Oh man, this tape has everything a hollow-toothed pop sucker could want. Sweet crooning, elastic guitar work, qwerty
percussion, a waltzified Kinks cover, dinky keyboards, a touch of Tim Buckley (maybe a couple slugs of Buckley's), guest vox from best-kept-secret Jessica Jalbert, and above all, a craftsman's ear for song construction. The union of lyrics and (melodic) lines is no marriage of convenience, and the coupling births some extremely well spoken offspring. Take "Money in the Bank," a complete parable on the transience of local celebrity in two and a half minutes, or "Long Year", a tangled, chimerical yarn. The tape also comes with a Wing's Fortune. Mine says: "Someone is speaking well of you." Well, ditto, Mr. Trimble.
Audio clip: Adobe Flash Player (version 9 or above) is required to play this audio clip. Download the latest version here. You also need to have JavaScript enabled in your browser.
Audio clip: Adobe Flash Player (version 9 or above) is required to play this audio clip. Download the latest version here. You also need to have JavaScript enabled in your browser.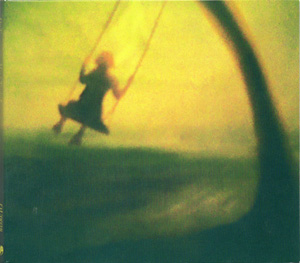 DoT
Mizz Teviak
Edmonton, AB

Jesus, I wish I liked whiskey. A slow glass of the smoky stuff, a
rocking chair
, and DoT's Mizz Teviak wafting from the victrola: that's how this summer's sweltering twilights should look. Too bad I hate hard liquids, and this album isn't on vinyl — it's exactly the kind of dusky, slack-jointed folk that the occasional needle-pop could only accentuate. Without reaching outside of an acoustic palate, DoT does everything from syllable-splitting yarns to softly swirling paranoiac melodies to
wurly kitsch
. Compounded, these tracks will have you mesmerized on your porch, too heavy-lidded to slap the mosquitos eating your flesh. Bliss.
Audio clip: Adobe Flash Player (version 9 or above) is required to play this audio clip. Download the latest version here. You also need to have JavaScript enabled in your browser.
Audio clip: Adobe Flash Player (version 9 or above) is required to play this audio clip. Download the latest version here. You also need to have JavaScript enabled in your browser.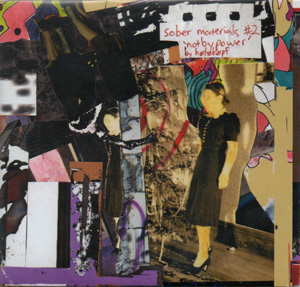 Holzkopf
Sober Materials #2
(Self Released)
Vancouver, BC

If there exists such a thing as a virtuoso of synthesis, Holzkopf is it. In the live recordings that make up Sober Materials #2, he pulls at sine waves like
taffy
, twisting his tracks into vertiginous mazes of inner-ear confusion. "Still" opens with a single note being twisted into Mobius contours, as strata of frequency are sandpapered away and rebuilt. The album's piece de resistance is "Live at Madame Claude," a 20-plus minute improvised (!!!) sythpocalypse which layers machine-gun drums over a sandstorm of swirling textures and a sucking
tar pit
of deep, doom-laden bass whorls. It's the
death of the dinosaurs
all over again.
Audio clip: Adobe Flash Player (version 9 or above) is required to play this audio clip. Download the latest version here. You also need to have JavaScript enabled in your browser.
Audio clip: Adobe Flash Player (version 9 or above) is required to play this audio clip. Download the latest version here. You also need to have JavaScript enabled in your browser.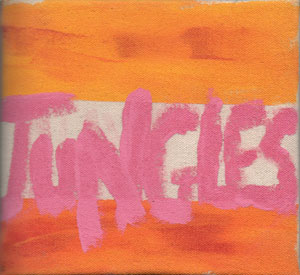 Little Jungles
Wuts Goin Thru Yer Head
(Self Released)
Kelowna, BC

Little Jungles' debut EP consists of single servings of bitter truth wrapped in shiny pop-gaze wrappers like so much hard, hard candy. Lines like "You're always telling me / All the negative things / That I know I could change / But it takes a long time to change" drill straight to the marrow of the contemporary quarter-life crisis, throwing off flecks of angst and sugar-coated bone. Matthew Niemann's voice somehow floats above the cloaks of reverb and drum echoes, cutting through like a mosquito's
bombinations
— yet his whine carries irresistible melodic missives.
Wuts Goin Through Your Head
is a
shot to the heart
for sugar freaks and a soundtrack to spring fever mistakes. Enjoy with sunlight and a soda.
Audio clip: Adobe Flash Player (version 9 or above) is required to play this audio clip. Download the latest version here. You also need to have JavaScript enabled in your browser.
Little Jungles – Drive Yerself Crazy
Audio clip: Adobe Flash Player (version 9 or above) is required to play this audio clip. Download the latest version here. You also need to have JavaScript enabled in your browser.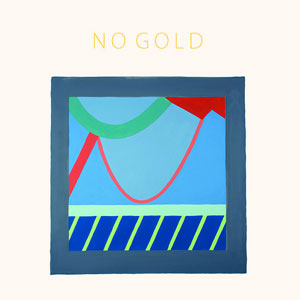 No Gold
No Gold
Vancouver, BC

The debut LP from Unfamiliar Records' No Gold starts with a blissed-out wormhole of kaleidoscoping liquid noise punctuated by percussive rattles and Phil Collins-esque
tom-tom punches
. Opener "Rainforce" gives a full-body dirty massage before dropping you in a humid garden of psychedelic fronds sprouting equatorial fruits, ripe and ready to spray tropical colours all over your palate. No Gold have come out from recording hibernation with a serious penchant for deep grooves, spinning themselves outward with mesmeric effects. Set to ensconce your lobes in a magic mushroom cloud, the Vancouver group nevertheless adhere to their own brand of stoner logic, exhibiting sharp moments of hooked-out melody and self-aware lyrics like "All that I can smell is weed and Nag Champa." So it isn't just me, then.
Audio clip: Adobe Flash Player (version 9 or above) is required to play this audio clip. Download the latest version here. You also need to have JavaScript enabled in your browser.
No Gold – Weird Week
Audio clip: Adobe Flash Player (version 9 or above) is required to play this audio clip. Download the latest version here. You also need to have JavaScript enabled in your browser.
No Gold – Rainforts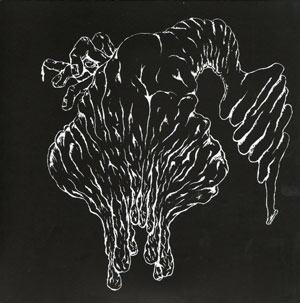 Induced Labour
Untitled 7″
Toronto, ON

Borne on tsunamis of guitar malice, Leslie Predy's
gremlin mutterings
harsh the mellow of the past year's beach-tinged zeitgeist. Funhouse mirror distortion perverts carnivalesque hooks, begetting a potential soundtrack to
Pogo The Clown's
ritual bloodlettings. The face-liquefying thrashery is referenced in the cover's flesh-drippings, and Induced Labour boil it all down into a thick, bloody gravy. Serve hot on a bed of hardboiled terror.
Audio clip: Adobe Flash Player (version 9 or above) is required to play this audio clip. Download the latest version here. You also need to have JavaScript enabled in your browser.
Audio clip: Adobe Flash Player (version 9 or above) is required to play this audio clip. Download the latest version here. You also need to have JavaScript enabled in your browser.
---