Tag: jessica faulds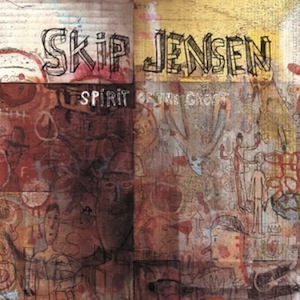 Skip Jensen
The Spirit Of The Ghost
Montreal, QC
From the campfire undulations of Jessica Faulds:
Grafting a yippin'n'yodellin' head onto garage's grimy shoulders, Skip Jensen has created a hybrid monster, a ten-gallon-hat sporting scuzzball who fancies a two-step with the fuzzbox dialed up. Skip's world-weary howl winds its way around the barroom, dragging behind it a mesmeric, slimy tail of guitar riffage. Skip jams several blotters' worth of campfire undulations into wild-eyed jams like "Crows", then drops into the lazy-drunk gait of tracks like "As Much As I Do." Is that a honky-tonk piano I hear on "Revival" or is it just the "Spirit of the Ghost" dripping yesteryear's blood all over the garage?
Des ondulations du feu de camp de Jessica Faulds:
(Traduit par Odile Leclerc)
Greffant une tête de cri et de yodel sur les épaules sales d'un garage, Skip Jensen a créé un monstre hybride, un fier-pet arborant un chapeau de dix gallons qui aime un deux étapes avec la boîte à distorsion composée. Le hurlement d'un monde fatigué de Skip serpente autour de la sale de bar, traînant derrière une hypnotique queue gluante de riffs de guitare. Skip jam plusieurs registres valant les ondulations d'un feu de camp dans des jams aux yeux fous comme "Crows", puis descend dans une allure ivre-paresseuse de pistes comme "As Much As I Do." Est-ce un piano honky tonk que j'entends sur "Revival" ou est-ce simplement le "Spirit of the Ghost" qui dégoute de sang des ans passés partout dans le garage?
[audio:http://weirdcanada.com/binary/Weird_Canada-Skip_Jenson-Spirit_of_the_Ghost.mp3|titles=Skip Jensen – The Spirit of the Ghost] Skip Jensen – The Spirit of the Ghost
[audio:http://weirdcanada.com/wp-content/uploads/2011/07/11-Revival.mp3|titles=Skip Jensen – Revival] Skip Jensen – Revival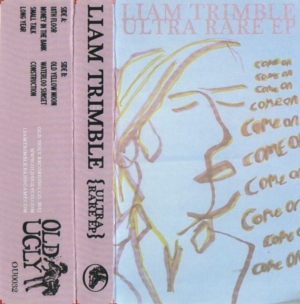 Liam Trimble
Ultra Rare EP
Edmonton, AB
From the chimerical yarn of Jessica Faulds:
Oh man, this tape has everything a hollow-toothed pop sucker could want. Sweet crooning, elastic guitar work, qwerty percussion, a waltzified Kinks cover, dinky keyboards, a touch of Tim Buckley (maybe a couple slugs of Buckley's), guest vox from best-kept-secret Jessica Jalbert, and above all, a craftsman's ear for song construction. The union of lyrics and (melodic) lines is no marriage of convenience, and the coupling births some extremely well spoken offspring. Take "Money in the Bank," a complete parable on the transience of local celebrity in two and a half minutes, or "Long Year", a tangled, chimerical yarn. The tape also comes with a Wing's Fortune. Mine says: "Someone is speaking well of you." Well, ditto, Mr. Trimble.
De la conte chimèrique de Jessica Faulds: (Traduit par l'horoscope de Maya Keshav)
Fiou, cette cassette contient tout ce qu'un fan aux dents creux de pop pourrait désirer. Le chantonnement doux, les riffs élastiques de guitare, la qwertybatterie, une reprise valsifiée de Kinks, les claviers mignons, un peu de l'air de Tim Buckley (peut-être quelques lampées de Buckley's), la voix invitée du secret le mieux gardé Jessica Jalbert, et surtout, une oreille d'artisan pour la construction des chansons. Le mariage des paroles et des mélodies n'est pas celui de convenance, et le jumelage donne naissance à une progéniture tellement éloquente. Par exemple, "Money in the Bank" est une parabole complète à propos de la nature éphémère de la célébrité du coin dans deux minutes et demi, et "Long Year", c'est une conte enchevêtrée et chimèrique. La cassette est accompagné d'un horoscope. Le mien se lit: "Quelqu'un dit du bien de toi." Bien, pareil, M. Trimble.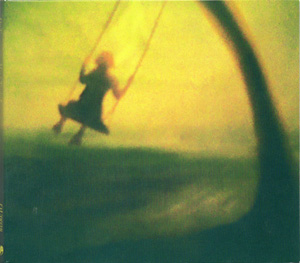 DoT
Mizz Teviak
Edmonton, AB
From the heavy lids of Jessica Faulds:
Jesus, I wish I liked whiskey. A slow glass of the smoky stuff, a rocking chair, and DoT's Mizz Teviak wafting from the victrola: that's how this summer's sweltering twilights should look. Too bad I hate hard liquids, and this album isn't on vinyl — it's exactly the kind of dusky, slack-jointed folk that the occasional needle-pop could only accentuate. Without reaching outside of an acoustic palate, DoT does everything from syllable-splitting yarns to softly swirling paranoiac melodies to wurly kitsch. Compounded, these tracks will have you mesmerized on your porch, too heavy-lidded to slap the mosquitos eating your flesh. Bliss.
Des paupières lourdes de Jessica Faulds: (Traduit par les piqûres de moustique de Maya Keshav)
Merde, j'aimerais bien si j'aime le whiskey. Une verre lente de liquide de fumée, un rocking-chair, et Mizz Teviak de DoT soufflant tout doucement du Victrola. Dommage que je déteste l'alcool fort et cet album n'est pas en vinyle— c'est exactement le genre de folk sombre et détendu que le bruit occasionnel du saphir pourrait accentuer. Sans tendre le bras dehors de la palette acoustique, DoT fait toutes choses depuis les contes syllabe-coupantes jusqu'aux mélodies paranos et doucement tourbillonnantes, jusqu'au kitsch frisé. Ensemble, ces morceaux vont te hypnotiser sur ta véranda, trop somnolent pour frapper les moustiques qui mangent ta chair. Quel bonheur.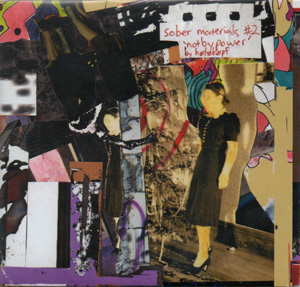 Holzkopf
Sober Materials #2
(Self Released)
Vancouver, BC
From the synthpocalypse of Jessica Faulds:
If there exists such a thing as a virtuoso of synthesis, Holzkopf is it. In the live recordings that make up Sober Materials #2, he pulls at sine waves like taffy, twisting his tracks into vertiginous mazes of inner-ear confusion. "Still" opens with a single note being twisted into Mobius contours, as strata of frequency are sandpapered away and rebuilt. The album's piece de resistance is "Live at Madame Claude," a 20-plus minute improvised (!!!) sythpocalypse which layers machine-gun drums over a sandstorm of swirling textures and a sucking tar pit of deep, doom-laden bass whorls. It's the death of the dinosaurs all over again.
De la synthépocalypse de Jessica Faulds: (Du dinosaure de Maya Keshav)
S'il y a quelque chose comme un virtuose de la synthèse, c'est Holzkpf. Avec les enregistrements live qui forment Sober Materials #2, il étire les sinusoïdes comme si elles étaient des bonbons, en tordant ses voies en les labyrinthes vertigineux de confusion à l'oreille interne. "Still" commence avec une seule note en train d'être tordue en contours de Mobius, pendant que les couches de fréquence sont poncées et reconstruites. Le clou de l'album est "Live at Madame Claude", une synthépocalypse improvisée de plus de 20 minutes qui étale la batterie mitrailleuse sur une tempête de textures tourbillonnantes et une fosse de bitume des volutes lourdes et trempées de basse. C'est la mort des dinosaures une fois encore.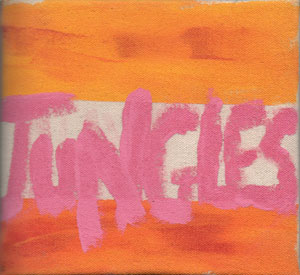 Little Jungles
Wuts Goin Thru Yer Head
(Self Released)
Kelowna, BC
From the spring fever mistakes of Jessica Faulds:
Little Jungles' debut EP consists of single servings of bitter truth wrapped in shiny pop-gaze wrappers like so much hard, hard candy. Lines like "You're always telling me / All the negative things / That I know I could change / But it takes a long time to change" drill straight to the marrow of the contemporary quarter-life crisis, throwing off flecks of angst and sugar-coated bone. Matthew Niemann's voice somehow floats above the cloaks of reverb and drum echoes, cutting through like a mosquito's bombinations — yet his whine carries irresistible melodic missives. Wuts Goin Through Your Head is a shot to the heart for sugar freaks and a soundtrack to spring fever mistakes. Enjoy with sunlight and a soda.
Des erreurs d'agitation printanière de Jessica Faulds: (Traduit par Odile Leclerc)
Le EP des débuts de Little Jungle est consisté d'unique portions de vérité amer enveloppée dans de l'emballage de gaze pop luisant comme ceux des très dur, dur bonbons. Des lignes comme '' You're always telling me / All the negative things / That I know I could change / But it takes a long time to change" percent directement à la moelle de la crise contemporaine du quart de vie, lançant des éclaboussures de colère et d'os enduits de sucre. La voix de Matthew Niemann flotte d'une façon ou d'une autre au-dessus des manteaux de réverbe et d'échos de batteries, coupant à travers comme les bourdonnements d'un moustique—mais encore sa plainte porte d'irrésistibles missives mélodieuses. Wuts Goin Through Your Head est un coup au cœur pour les fous du sucre et une bande sonore pour faire naître des erreurs de fièvre. À apprécier avec du soleil et un soda.
Little Jungles – Drive Yerself Crazy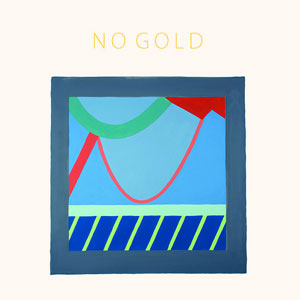 No Gold
No Gold
Vancouver, BC
From the stoner logic of Jessica Faulds:
The debut LP from Unfamiliar Records' No Gold starts with a blissed-out wormhole of kaleidoscoping liquid noise punctuated by percussive rattles and Phil Collins-esque tom-tom punches. Opener "Rainforce" gives a full-body dirty massage before dropping you in a humid garden of psychedelic fronds sprouting equatorial fruits, ripe and ready to spray tropical colours all over your palate. No Gold have come out from recording hibernation with a serious penchant for deep grooves, spinning themselves outward with mesmeric effects. Set to ensconce your lobes in a magic mushroom cloud, the Vancouver group nevertheless adhere to their own brand of stoner logic, exhibiting sharp moments of hooked-out melody and self-aware lyrics like "All that I can smell is weed and Nag Champa." So it isn't just me, then.
De la logique camée de Jessica Faulds: (Traduit par Maya Keshav)
Le premier LP de No Gold d'Unfamiliar Records commence avec un trou de ver bienheureux du bruit liquide et kaléidoscopique tacheté par les râles de percussion et les coups de tam-tam façon Phil Collins. La première partie "Rainforce" donne un massage sale intégral avant de vous laisser tomber dans un jardin humide des frondes psychédéliques qui germent les fruits équatoriales, mûrs et prêts à vaporiser les couleurs tropicales sur tout ton palais. No Gold ont quitté l'hibernation d'enregistrement ayant trouvé un gros penchant pour se balancer, en tournant vers l'extérieur produisant les effets hypnotiques. Prêt à emballer tes lobes dans un nuage des champignons hallucinogènes, le groupe Vancouverois adhèrent néanmoins à leur propre type de logique camée, en montrant des moments nets de mélodie entraînante et de paroles attentives comme "All that I can smell is weed and Nag Champa" [tout ce que je peux sentir est l'herbe et le Nag champa." Alors c'est pas juste moi, hein.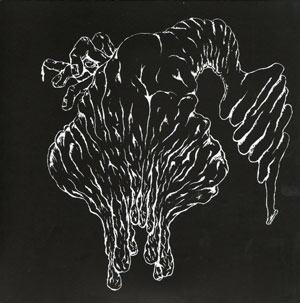 Induced Labour
Untitled 7″
Toronto, ON
From the ritual bloodlettings of Jessica Faulds:
Borne on tsunamis of guitar malice, Leslie Predy's gremlin mutterings harsh the mellow of the past year's beach-tinged zeitgeist. Funhouse mirror distortion perverts carnivalesque hooks, begetting a potential soundtrack to Pogo The Clown's ritual bloodlettings. The face-liquefying thrashery is referenced in the cover's flesh-drippings, and Induced Labour boil it all down into a thick, bloody gravy. Serve hot on a bed of hardboiled terror.
Writer's Byline Writer's Name:
(Traduit par Translator's Name)
French Review

Induced Labour – Whore Eyes

Induced Labour – Condo Party
---