Tag: jesse locke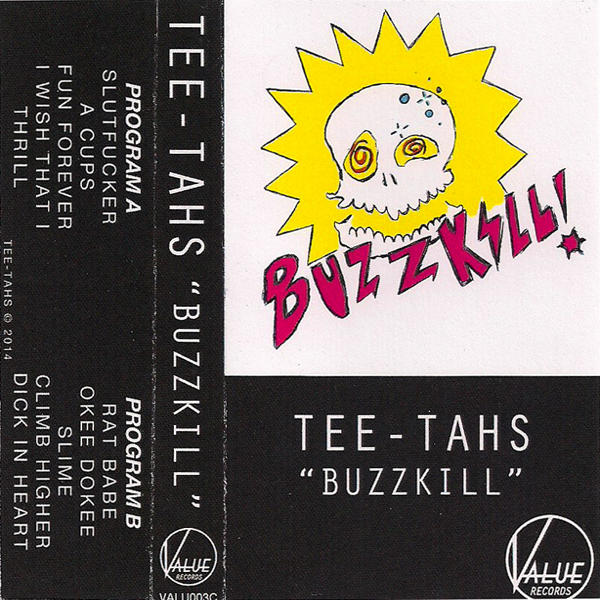 Tee-Tahs
Buzzkill
(Value Records)
Edmonton, AB
From the rat scabies of Jesse Locke:
Edmonton's Tee-Tahs explode out of a bratty punk sweet spot somewhere between Electric Vomit, Fancy Rosy, and the Village People. Slacker vox, slurpee dregs, and pizza grease stunting. These randy rave-ups from the superstar trio of Caity Fisher, Jessica Jalbert and Jenni Roberts will flip wigs like skate witches. Catch 'em live if you can. Up the buzz!
Editor's note: as part of our ongoing work towards being better allies and human beings, we have edited this piece to more accurately reflect the creative energies behind Tee-Tahs. The original, inaccurate post is below:
Edmonton's Tee-Tahs hit the bratty fake-punk sweet spot somewhere between Fancy Rosy, the Electric Vomit and the Village People. These randy rave-ups should come as no surprise with the involvement of original prankster Renny Wilson, whose solo explosion is one of 2014's best surprises, but his influence is clearly rubbing off the right / wrong way on the formerly sweet Jessica Jalbert. Then again, maybe skate witches Jenni Roberts and Caity Fisher were to blame all along. Up the buzz!
Du rat responsable de la gale de Jesse Locke:
(Traduit par Jessica Grenier)
Les Tee-Tahs, d'Edmonton, ont trouvé la zone idéale de punk impétueux, quelque part entre Electric Vomit, Fancy Rosy et les Village People. Cascades de pizza graisseuse, restes de slurpee et voix nonchalante en prime. Les fêtards libidineux du trio de superstars — Caity Fisher, Jessica Jalbert et Jenni Roberts — vont battre des ailes comme des sorcières du skate. À voir live si vous en avez la chance, et sinon, montez le son!
Note de la rédaction: Guidés par notre quête constante visant à devenir de meilleurs alliés et de meilleurs êtres humains, nous avons modifié cet article afin de mieux refléter l'énergie créative derrière l'œuvre de Tee-Tahs. Le texte original (et imprécis) est ci-dessous:
Les Tee-Tahs, d'Edmonton, ont trouvé le point idéal du fake-punk gâté, quelque part entre Fancy Rosy, Electric Vomit et Village People. Ces fêtards libidineux ne devraient surprendre personne vu l'implication de Renny Wilson – dont l'explosion solo est une des meilleures surprises de l'année – et l'influence du véritable vaurien déteint clairement sur Jessica Jalbert, qui en perd mal/heureusement sa douceur. Mais encore là, peut-être que c'est la faute des sorcières du skate, Jenni Roberts et Caity Fisher. Montez le son!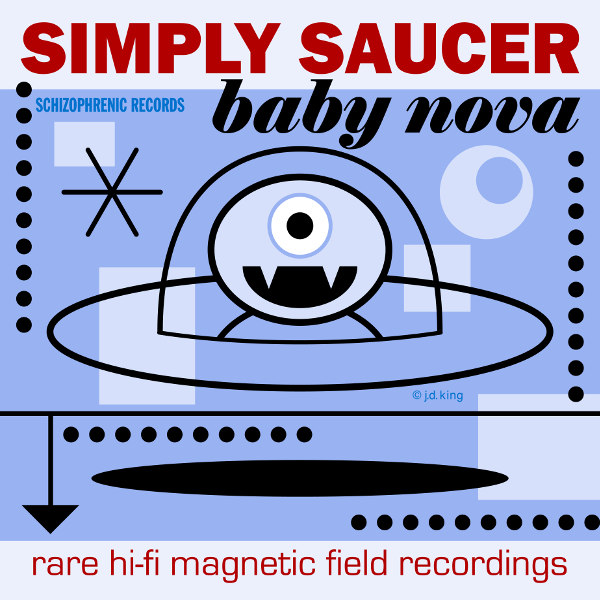 Simply Saucer
Baby Nova
Hamilton, ON
From the stellar remnants of Jesse Locke:
The cosmic late pass handed to Hamilton's outerstellar statesmen Simply Saucer extends to this EP, with songs written between '74-76, recorded in 2011, and finally released in 2014. The Baby Nova sessions were laid down at Detroit's Ghetto Recorders, with the reformed touring group at a tough-as-nails zenith. Local luminary McKinkey Jackson lends some pounding keys and swirling B3 to a pair of tunes, but the real standouts are the gut-churning title track and gentle lull of "I Take It", previously channeled in lysergic fashion by the UK's Earthling Society. Hitch a ride on this scorching hot spacecraft.
Des restes stellaires de Jesse Locke:
(Traduit par la macabre supernova d' AnneMarie Papillon)
Le billet de retard cosmique remis à Simply Saucer s'étend jusqu'à ce EP avec des chansons écrites entre 1974 et 1976, enregistrées en 2011 et sorties en 2014. Les sessions Baby Nova ont pris place au Ghetto Recorders de Détroit avec l'ancien groupe de tournée à son plein apogée. La sommité locale McKinkey Jackson a prêté quelques martèlements de clés et un tournoiement de B3 sur deux chansons, mais ce qui marque le plus est la macabre chanson-titre « I Take It » et sa douce accalmie, morceau précédemment canalisé de façon lysergique par Earthling Society du Royaume-Uni. Demande un lift sur ce vaisseau spatial torride.
---