Tag: jesse locke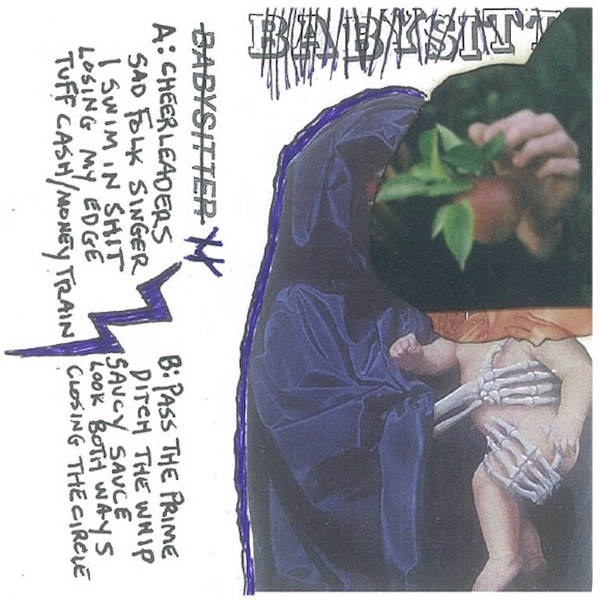 Babysitter
Tape 7
Montréal, QC
From the ditched whip of Jesse Locke:
The seventh entry in Babysitter's cassette series is a clogged knot of hair, cigarrette butts, and burnt ramble-riffs. The mouthful of gravel that we've come to know and love now sound like the inner monologue to a bleary-eyed daydream with the black mould on your roof spinning overhead. The only way to bust out of this sofa surf haze is to get back with your crew, grab a sax, and set fuzzboxes on stun.
Du fouet abandonné de Jesse Locke:
(Traduit par Jessica Grenier)
La septième entrée de la série de cassettes de Babysitter est un paquet de cheveux emmêlés, de mégots de cigarettes et de riffs brûlés. Cette bouchée de gravier qui nous est devenue si chère sonne comme le monologue intérieur accompagnant une rêverie, les yeux à moitié ouverts, sous un plafond tournoyant couvert de moisissure. Le seul moyen pour se sortir de ce surf de sofa vaporeux est d'aller retrouver tes chums, de mettre la main sur un sax et de régler les boites à fuzz sur paralyser.
From the discreet music of Jesse Locke:
The pained strains of violin, viola and cello open this collection of compositions from Mark Ellestad — father of Kris and Kiesza. "No Moon No Flowers," the 32-minute centerpiece for woodwind quintet, jabs at the empty space with sooty fingers like a clarion call to remember your past. "Discreet Angel," 16 minutes of solo guitar from Annette Chretién, is a lingering gaze outside a grey window. "Sigrid," the curtain call, finds Ellestad's own hands on hardanger fiddles and pump organs, fading into the myst of desolation sound.
De la musique discrète de Jesse Locke:
(Traduit par Allison McReynolds)
Les accords peinés de violon, alto et violoncelle ouvrent cette collection de compositions de Mark Ellestad – père de Kris et Kiesza. "No Moon No Flowers," la pièce maîtresse pour quintette à vent (qui dure 32 minutes), frappe dans le vide avec des doigts noir de suie, comme l'appel d'un clairon pour vous souvenir de votre passé. "Discreet Angel," un solo de guitare de 16 minutes de Annette Chretién, est un regard s'attardant à travers une fenêtre grise. "Sigrid," le rappel, trouve les mains de Ellestad sur des violons Hardanger et des harmoniums, se fondant dans un [brouillard] ((http://weirdcanada.com/2009/12/review-aidan-baker-noveller-colorful-disturbances/) de désolation sonore.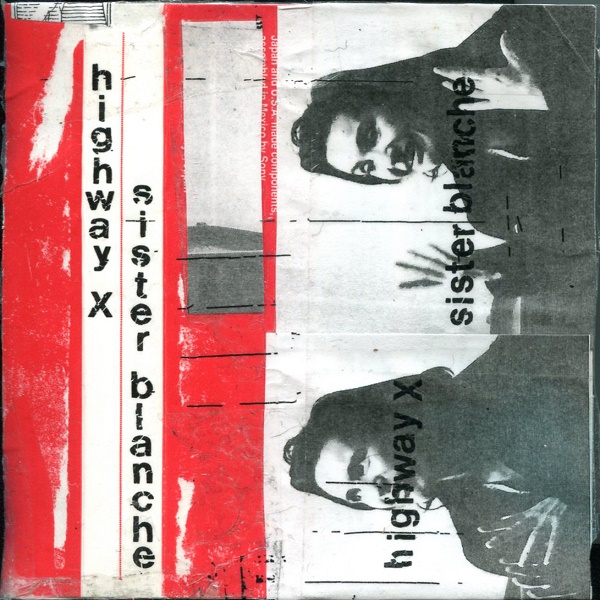 Highway X // Sister Blanche
Split
(Gary Cassettes)
Montreal, QC // Victoria, BC
From the patient suffering of Jesse Locke:
Highway X (Andy Vanier of Babysitter) and Sister Blanche (Morgan Cook of Yung Mums, Cindy Lee, and Androgynous Mind) make an apt pairing. Her mumblecore lullabies, incantations and Swope-style FX are buried under a thick fog of tape hiss like a (more) sinister Tickley Feather. Meanwhile, his guitar/sax jags, sandblasted dub, and lurching loops of mutant concrète add a melodic quality to previous offerings, yet still sound dug up from the sub-underground.
De la douleur patiente de Jesse Locke:
(Traduit par Jessica Grenier)
Highway X (Andy Vanier de Babysitter) et Sister Blanche (Morgan Cook des groupes Yung Mums, Cindy Lee et Androgynous Mind) vont bien ensemble. De son côté à elle, berceuses, incantations et effets à la Swope sont murmurés derrière un épais brouillard de sifflement, comme une Tickley Feather (en plus) sinistre. De son côté à lui, dub décapé, sax/guitare en dent de scie et boucles vacillantes de mutant concrète donnent une qualité mélodique à un ensemble clairement tiré des bas-fonds de l'underground.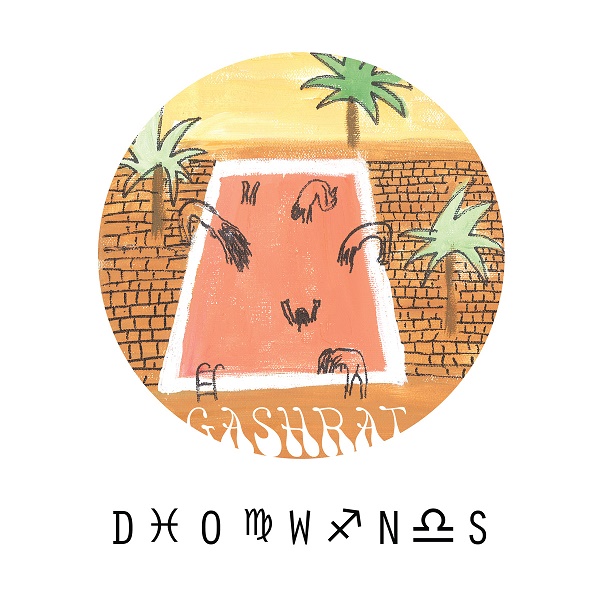 Gashrat
Downs
Montreal, QC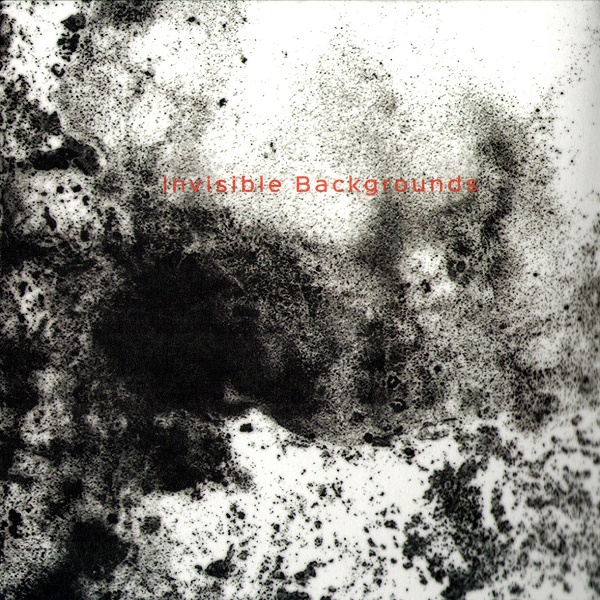 Philippe Battikha
Invisible Backgrounds
Montreal, QC
From the ruined pasture of Jesse Locke:
Philippe Battikha of CORSE and La Part Maudite steps out for an avant-serenade on this mournful solo offering. The granular tones and careening curlicues of his trumpet drift in slow-mo flow through soundscapes of bustling street corners, Super 8 camera whirr, and less recognizable squishes. Double bass saws through "Beyond You" while "Time For New Hands" casts a pall over haunted pianos, righteous vocals samples, and the soothing ASMR of rain on a windowsill.
Des pâturages en jachère de Jesse Locke:
(Traduit par l'hémisphère gauche de Diane Beaupré)
Philippe Battikha, membre des groupes CORSE et La Part Maudite prend une pause pour nous offrir une sérénade avant-gardiste sur cet album solo mélancolique. Les enjolivures de sa trompette s'égrènent en formant des spirales qui ralentissent à travers les bruits des coins de rue animés, le vrombissement de la caméra super 8, et autres sons non identifiés. La contrebasse évoque l'égoïne tout au long de « Beyond You » alors que « Time for New Hands » enveloppe de brouillard des pianos hantés, des bribes de voix moralisatrice et de réconfortants ASMR qui rappellent la pluie sur la fenêtre.
Philippe Battikha – Time For New Hands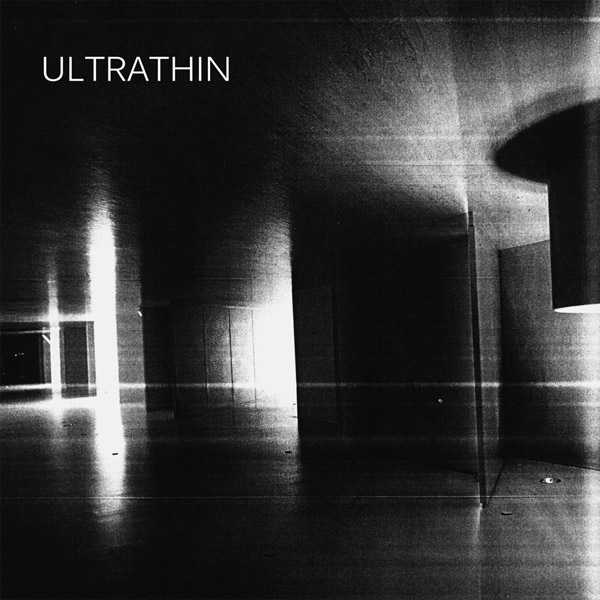 Ultrathin
Untitled
Montréal, QC // Toronto, ON
From the scum badge of Jesse Locke:
Ultrathin's long overdue long-play slab rides the Megabus red line to the edge of juvenalia. Setting phasers on scum, the rangy trio crank out raw powered loboto-thud of the highest order. Toss a brick through the window and snatch your copy at all costs.
Du badge de salopard de Jesse Locke:
(Traduit par la brique ramassée par Jessica Grenier)
Le long-jeu tant attendu de Ultrathin prend finalement la ligne rouge de Megabus jusqu'aux frontières de la juvénilité. Réglant les phasers à salopards, la force brute du trio errant produit un loboto-bruit de premier ordre. Il te faut absolument une copie, quitte à lancer une brique dans une vitrine.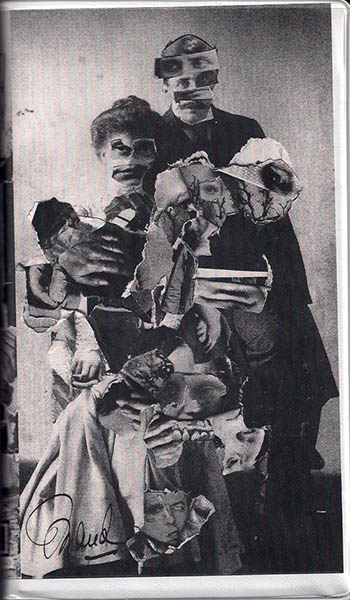 Various Artists
MTL Tapes
(La Cohu)
Montréal, QC
From the rote sonne of Jesse Locke:
Victoriaville, QC label La Cohu ties up the tendrils of Montreal's subterrestrial creepers with its latest three-cassette comp. These heroes in a clamshell appear to be (loosely) aesthetically sequenced, but there's no way to avoid a few head breakers with this sonic swath. The celestial tone floats of A Sacred Cloud, Event Cloak and Christian Richer crash-land on the scorched ground of Wapstan and thisquietarmy. A glitched trip from Bataille Solaire gets anti-harsh-mellowed by the faded pop daydreams of RU Real and Xarah Dion. Rock earns a drill killing from Drainolith and Shining Wizard, while the skewed loops of Ala Vjiior ride a merry-go-round on Dalí's melted clock.
Du *rote sonne* de Jesse Locke:
(Traduit par Jessica Grenier)
Le label de Victoriaville (Qc), La Cohu, vient boucler les vrilles sousterrestres rampant sous Montréal avec cette tri-composition sur cassette. Ces héros à carapace semblent avoir été (vaguement) programmés esthétiquement, mais on ne peut éviter un ou deux casse-têtes avec cette bande audio. Les sons divins paraissent émaner de l'écrasement de A Sacred Cloud, d'Event Cloak et de Christian Richer sur le terrain carbonisé de Wapstan et de thisquietarmy. C'est un trip bogué de Bataille Solaire protégé par l'anti-pétage-de-bulle des vieilles rêveries pop de RU Real et de Xarah Dion. C'est du rock se faisant découper à la machette par Drainolith et Shining Wizard pendant que les boucles tordues d'Ala Vjiior chevauchent le carrousel d'une horloge fondue de Dali.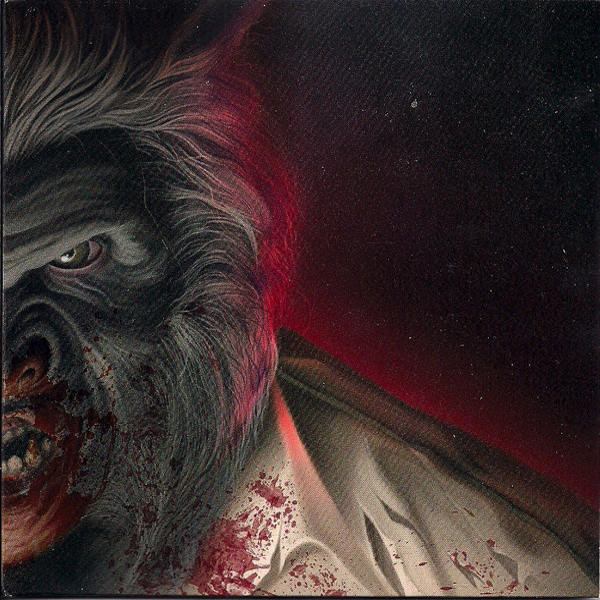 Shooting Guns
WolfCop Soundtrack
Saskatoon, SK
From the concrete therapy of Jesse Locke:
The harmonic steppenwolves howl back at the moon with an OST for this grindhouse of burners filmed in the backwoods and blacktops of Saskatchewan. Previous riff-razing liftoffs sprawled out as vast as the prairie sky, yet these instrumental mood-setters swell and spark out in the length of a lycanthropic attack. In the calm before the bloodbath, there's nothing to do but clap for the wolfman.
De la thérapie de réel de Jesse Locke:
(Traduit par Jessica Grenier)
Les loups des steppes harmoniques hurlent à la lune sur leur trame sonore originale pour ce grindhouse filmé dans les ruelles du fin fond de la Saskatchewan. Même si leur dernier décollage a riff-rasé une étendue aussi vaste que le ciel des prairies, ces créateurs d'ambiance instrumentale gonflent puis explosent le long d'une attaque de lycanthrope. C'est le calme avant la saignée, il n'y a rien d'autre à faire que d'attendre le Wolfman.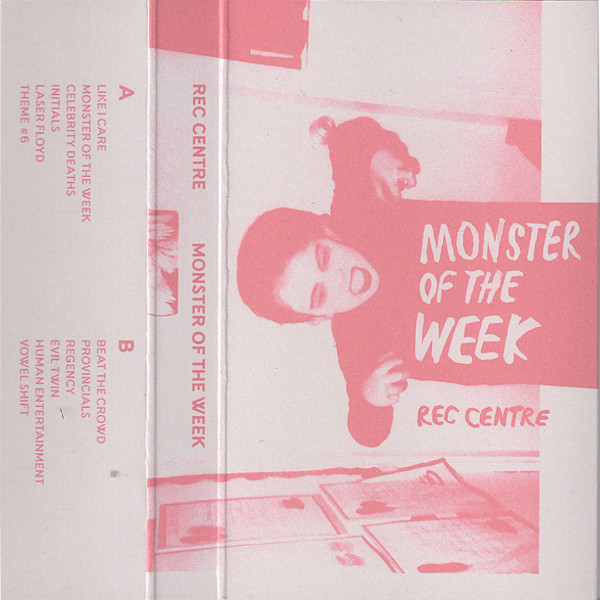 Rec Centre
Monster of the Week
(Self Released)
Vancouver, BC
From the Floydian dreams of Jesse Locke:
Vancouver's Rec Centre weaves dreams and swerves sophomoric with a Vaseline-lensed nostalgia cruise. This quasi-concept album filters chilly feelings through cable TV memories of Mulder and Scully (or alternately Nick and Lindsay). Sad adult pop served up on plastic key platters with a side of Energy Slime.
Des rêves Floydiens de Jesse Locke:
(Traduit par Jessica Grenier)
Depuis Vancouver, Rec Centre tisse des rêves et fait une deuxième virée nostalgique avec des lentilles de Vaseline. Cet album quasi conceptuel filtre la chair de poule à travers des souvenirs télévisuels de Mulder et Scully (ou encore de Nick and Lindsay). De la pop pour adulte triste servie sur un plateau à clés en plastique, accompagnée d'Energy Slime.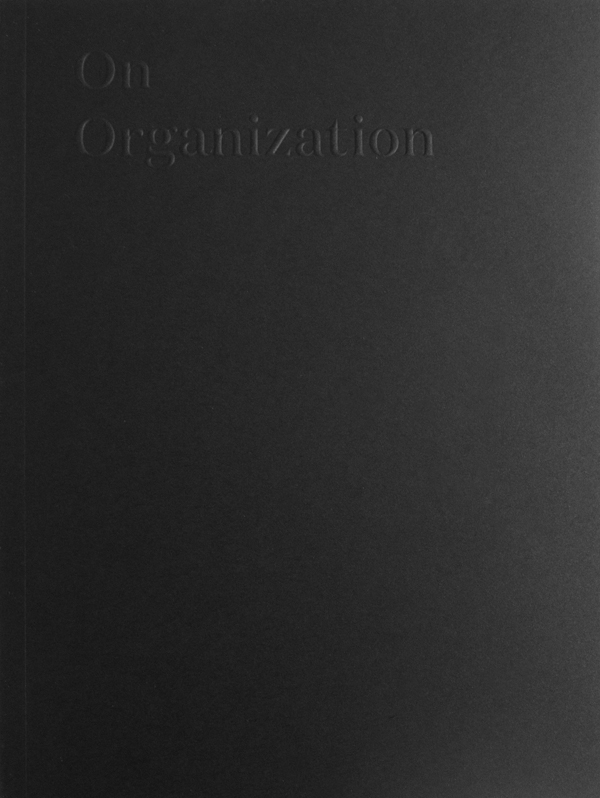 The H and Madison Dinelle
On Organization
Montréal, QC
De la P.L.U.R.alité de Jesse Locke:
(Traduit par Jessica Grenier)
Ces bips des profondeurs marquent une transition pour Francesco De Gallo et Jesse Osborne Lanthier, qui passent du criard au kosmische, de l'électroacoustique au techno étranger. On Organization, qui est une collaboration audio-vidéo avec la photographe Madison Dinelle, dissèque leur processus créatif/déconstructif en monochrome épuré. Depuis, le duo a bien évidemment poursuivi sa route vers de nouveaux sons et de nouveaux noms, grattant inlassablement devant l'immensité de l'inconnu.

The H and Madison Dinelle – Chaos

The H and Madison Dinelle – Balance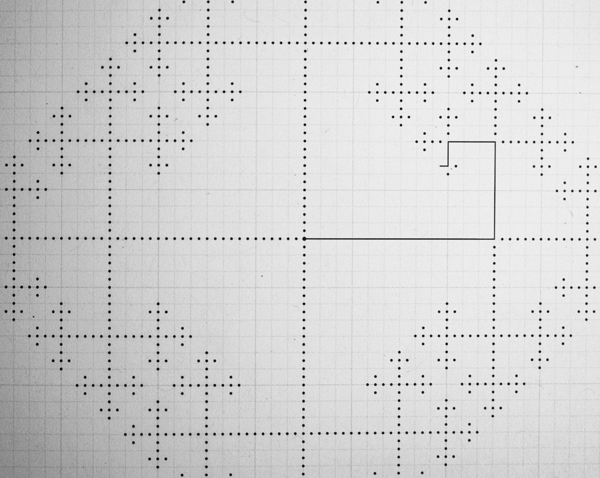 ---