Tag: Jenya Doudareva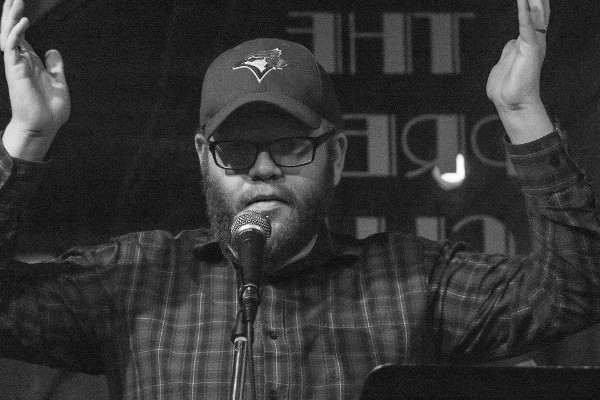 Pivot Poetry Readings
Jacob McArthur Mooney
Toronto, ON
From the repetitive smashing of Jenya Doudareva:
Jacob McArthur Mooney is a poet, blogger, literary critic, and host of Toronto's excellent series of poetry readings, Pivot.
How did Pivot start?
Pivot was started six years ago by the poets Carey Toane and Angela Hibbs, and before ending up in my lap was passed through Elisabeth de Mariaffi and Sachiko Murakami. Before that, even, it was known as the I.V. Lounge Reading Series and hosted at the I.V. Lounge by first Paul Vermeersch and later Alex Boyd.
I had been asked to take over a few times during those previous handoffs but wasn't feeling up for it for various reasons around lifestyle and bad decision making. I took it over in 2012 and have been running the show with my wife, novelist Alexis von Konigslow, ever since.
What makes your poetry series different from other existing ones in Toronto?
A lot of those series don't include windows and we have a rather large window.
Beyond the window, I would say Pivot is a rather blissfully unadorned series. Pivot contains no hyphens. It doesn't do any reach out beyond the world of poetry and fiction and the occasional non-fict. It doesn't try to be anything more than what it is. This is a big fucking city, you know? There is something out there for you no matter how weird and eccentric your tastes are, and so Pivot is there for that group of people: statistically insignificant until stretched across the landscape of a metropolis, who like to drink beer and be read to in the dark. So I would say that Pivot is very proudly niche in a way that might be unique, and that's the only way I could ever have it. Some nights it's just me, my hangdog Andy Kaufmann schtick, and the only room full of people in this whole city I can stand. It's a small target and we want to nail it.
Do you use different approach when you work with emerging artists vs established ones?
There are no such things as "established artists" in poetry. The only two kind of poets are emerging and deceased.
But if you're talking about age or publication record, then no. The new poets are generally better readers than the older poets, is all I can think of.
Is working with emerging poets more challenging than working with established ones? Could you elaborate on what makes working with emerging poets unique?
Okay, so let's throw out my quick "No" above, and assume meaning for the term "emerging poets," and that it means, roughly: young poets who haven't published books. I will say that they should know that they are the best moment Canadian poetry has ever had. The generation of poets born, I'll say, between 1984 and 1993 (let us be shits and call them "The Mulroney Poets") are the most consistently interesting and deepest and most outrageously ambitious group we've ever seen. I've tried to articulate why this may be and have at best, two theories.
One, they have the opportunity, if they wish to take it, to be completely over the idea of "Canada." We spent a long time in the literary culture of this country trying to figure out how to be simultaneously liberal and nationalist, and it didn't work out because that's an inherently bullshit position. The first big generation of Canadian writers, the boomers and their slightly older siblings, fought on and on about that. Dennis Lee is a hero of mine and a good friend but the battle he supposed in geopolitical terms in, say, Civil Elegies, or the one rendered in ecological terms by Farley Mowat, those have all been lost. These Mulroney kids are coming into adulthood at a time where the moral and environmental apocalypse being furthered by Canada is greater than the one being furthered by every other Western country. They are coming up in the only period in any living person's memory where the Canadian Prime Minister sits to the right of the American President, and so much of that disco nationalism stuff demanded a Good Canada/Bad America dialectic. Which is no way to build a national culture, as it depends on the cultures of other nations to exist. So I would say that, though they are inexorably fucked in all the meaningful economic and moral ways, the end of a cultural Canada does them a lot of good as poets. There's a bigger world out there.
And secondly, there's a bigger world out there. I think that this group is so used to the repetitive smashing together of cultural products: near and far, high and low, old and new, that the reach of their metaphors can be so much more ambitious and natural than for poets born even a few years earlier. A lot of this is the internet but it's also the Internet of Thoughts, you know. It's how those technological gadgets reconfigure the brain if you're young enough to be born into them. Juxtaposition is finished, I think, it doesn't exist anymore. So you get crazy shit happening out there with people like Kayla Czaga and Michael Prior and Vincent Colistro (or Jessica Bebenek or Liz Howard or all those people in Vancouver) where an amount of figurative reach that might seem showy or performative for even our more culturally-literate older poets (McGimpsey, Rogers, Babstock) just flow off the tongue and there's no ta-dah attached, it's just culture speaking.
Your website mentions that you receive no funding other than PWYC – how do you make that work and how can others who might be interested in starting out in that environment manage that?
I pass a bucket at the break and people are encouraged to put money in the bucket. At the end of the break I take the money out of the bucket and divide it equally between all the readers. Simple. Anyone can do it. But we're entertaining the idea of going out for public funding, in the interest of paying those readers more money.
In your opinion, what are the gaps/opportunities in Toronto's poetry scene? What kind of work doesn't get as much celebration as it should?
We are very lucky in Toronto. It's a good scene and a generally welcoming world. If you were so inclined, you could go out and see something decent every night of the week. I would say that we lack people willing to do the less-glamourous work of scene buttressing, but that's not unique to the city or to poetry. Nobody likes to fill out forms or cold-call venues or comparison shop for paper.
My big worry is probably, with the growth of unfunded internships and the like, is that much of that work becomes the speciality of rich people's kids and grandkids. And we already have such a demographic problem in poetry (I'll let spoken word off the hook on this generalization), it's so Caucasian and upper-middle class and socioeconomically riskless already that I'm concerned that another thirty years of filtering out Grown Up White Trash like myself will render it static.
What are Pivot's plans in the near future as a poetry series, e.g. whether or not you are envisioning any changes to Pivot's scope or focus?
More younger poets this year. Also, I think we'll bring in fewer readers with brand-new books. I'd like to have people do Pivot like 6 months after their book is out, otherwise it just gets lost in the rush of readings and releases and you end up with, like, four opportunities to go hear a given poet read in a week. We're going to drift out of that game.
Des agglomérations répétitives de Jenya Doudareva:
(Traduit par la déchirure fédéro-nationaliste de Jessica Grenier)
Jacob McArthur Mooney, le poète, blogueur et critique littéraire, est également animateur de Pivot, une excellente série de soirées dédiées à la lecture de poésie à Toronto.
Comment a commencé Pivot?
La série a commencé il y a six ans, avec les poètes Carey Toane et Angela Hibbs, puis elle est passée par les mains d'Elisabeth de Mariaffi et de Sachiko Murakami avant de tomber dans les miennes. En fait même avant ça, c'était la I.V. Lounge Serie, elle avait lieu au I.V. Lounge et elle a été animée par Paul Vermeersch d'abord et par Alex Boyd ensuite.
Quand il y a eu ces changements, on m'a demandé de m'en charger à quelques reprises, mais je ne me sentais pas prêt à m'en occuper pour diverses raisons (relatives à mon style de vie et à de mauvaises décisions que j'ai prises). En 2012 j'ai pris la série en main, et je m'en occupe depuis avec ma femme, la romancière Alexis von Konigslow.
Qu'est-ce qui différencie Pivot des autres soirées de poésie à Toronto?
La plupart d'entre elles n'offrent pas de vitrine : nous, nous en offrons une bonne.
Au-delà de ça, je dirais que Pivot est merveilleusement sans prétention. La série ne contient aucun trait d'union, elle ne cherche pas à sortir du domaine de la poésie, de la fiction et (occasionnellement) de la non-fiction. Elle n'essaie pas d'être plus que ce qu'elle est. Toronto, c'est une maudite grosse ville : c'est sûr qu'il va y avoir quelque chose pour t'intéresser, même si tes goûts sont vraiment bizarres et excentriques. Et Pivot est là pour ce groupe de gens – statistiquement insignifiant jusqu'à ce qu'on l'étende sur tout le territoire d'une métropole – qui aime boire de la bière et assister à une lecture dans le noir. Alors, je dirais que Pivot se positionne dans un créneau d'une façon plutôt unique, et je ne voudrais pas que ce soit autrement. Il y a des soirs où il n'y a que moi, mon chien de poche Andy Kaufmann qui fait ses trucs, et cette salle remplie de gens – la seule que j'arrive à supporter dans toute la ville. C'est un objectif très précis et on veut l'atteindre.
Est-ce que ton approche de travail est différente avec les artistes émergents et ceux établis?
En poésie, les « artistes établis », ça n'existe pas. Il n'y a que deux types de poètes : les émergents et les morts.
Mais si tu fais référence à l'âge ou à la publication, alors non. La seule chose qui me vient en tête est que les jeunes poètes sont généralement de meilleurs orateurs que les plus vieux.
Est-ce qu'il est plus difficile de travailler avec des poètes émergents qu'avec ceux établis? Pourrais-tu décrire ce qui rend cette expérience unique de travail?
OK, oublions mon « Non » rapide de tout à l'heure et disons que « poètes émergents » veut dire grosso modo : jeunes poètes qui n'a pas encore publié un livre. Je dirais qu'ils devraient savoir qu'ils sont dans le meilleur moment de l'Histoire de la poésie canadienne. Les poètes nés, disons, entre 1984 et 1993 (on va être chien et les appeler les « poètes Mulroney ») sont ceux dont la création est la plus globalement intéressante et profonde : ils sont les plus scandaleusement ambitieux qu'on n'a jamais vus. J'ai essayé de déterminer pourquoi et, au mieux, j'ai deux théories.
La première : ils ont la chance, s'ils veulent la saisir, de complètement dépasser l'idée du « Canada ». Dans la culture littéraire canadienne, nous avons passé beaucoup de temps à essayer de comprendre comment être à la fois libéral et nationaliste, et ça n'a pas fonctionné parce que c'est carrément n'importe quoi comme position. La première grande génération d'écrivains canadiens (les baby-boomers et leurs frères et sœur aînés) n'arrêtait pas de débattre sur le sujet. Que ce soit le combat proposé par Dennis Lee – un de mes héros et un bon ami – en termes géopolitiques dans Civil Elegies ou encore celui décrit en termes écologiques par Farley Mowat, ils ont tous été perdus. Ces enfants de Mulroney arrivent à l'âge adulte à un moment où le cataclysme moral et environnemental aggravé par le Canada est encore pire que celuiprovoqué par les autres pays occidentaux. Ils arrivent durant la seule période de mémoire d'homme où le premier ministre canadien siège à la droite du président américain, et une partie importante de tout ce discours nationaliste reposait sur une dialectique gentil Canada/méchants États-Unis; ce qui n'est pas une façon de construire une culture nationale puisque son existence est dépendante de celle des autres pays. Alors, je dirais que même s'ils sont inexorablement foutus de toutes les façons économiques et morales possibles, la fin d'un Canada culturel les aide beaucoup en tant que poètes. Il y a tout un monde à découvrir.
La deuxième : il y a tout un monde à découvrir. Je pense que ce groupe est tellement habitué à ce que les produits culturels soient agglomérés ensemble qu'ils soient d'ici ou d'ailleurs, bons ou mauvais, nouveaux ou vieux, que leurs métaphores peuvent avoir une portée beaucoup plus naturellement ambitieuse par rapport à des poètes nés quelques années avant eux. C'est sûr que c'est principalement causé par l'Internet, mais l'Internet est aussi un réseau de pensées. C'est la façon dont ces gadgets technologiques reconfigurent le cerveau quand on est assez jeune pour avoir baigné dedans dès la naissance. Il n'y a plus de juxtaposition, je pense que c'est mort. Alors, il y a des gens qui font plein de trucs fous un peu partout, comme Kayla Czaga, Michael Prior et Vincent Colistro (ou encore Jessica Bebenek, Liz Howard ou tous ces personnes de Vancouver), avec un rayonnement figuratif impressionnant qui pourrait sembler tape-à-l'œil ou performatif par rapport aux valeurs culturelles de nos vieux poètes (McGimpsey, Rogers, Babstock); et ça glisse sur la langue et il n'y a pas de ta-dah, c'est juste la culture qui parle.
Le site internet mentionne que Pivot se finance uniquement par le principe « payez ce que vous voulez ». Comment est-ce que ça fonctionne? Quels trucs donnerais-tu à des gens intéressés par ce mode de financement?
Durant la pause, je me promène avec un seau en encourageant les gens à y mettre de l'argent; et après, je sors ce qui a été ramassé et je le divise également entre les lecteurs. C'est simple, n'importe qui peut le faire. Mais nous pensons commencer à chercher du financement public dans l'objectif de donner plus à nos lecteurs.
Selon toi, quelles sont les lacunes et les possibilités de la scène poétique de Toronto? Quel genre d'œuvre ne reçoit pas toute l'attention qu'il mérite?
À Toronto, nous sommes très chanceux. La scène est bonne, généralement accueillante. Si telle était ton envie, tu pourrais sortir et aller voir quelque chose de décent tous les soirs de la semaine. Je dirais que ce qu'il manque, c'est des gens voulant faire le travail moins prestigieux de soutien scénique, mais ce n'est pas propre à la ville ni à la poésie. Personne n'aime remplir des formulaires, faire des appels à froid pour trouver des lieux d'événements ou pour comparer les prix pour acheter du papier.
Ce qui m'inquiète le plus c'est que, avec l'augmentation du nombre de stages non rémunérés et de postes du genre, ça finisse par devenir la spécialité des enfants et petits-enfants de riches. On a déjà un gros problème démographique en poésie (mais je n'inclue pas les créations orales dans cette généralisation) : c'est déjà tellement blanc, classe moyenne supérieure et sans risques socioéconomiques… j'ai peur qu'une autre trentaine d'années à éliminer les vieux white trash comme moi finisse par rendre le domaine statique.
Dans un avenir rapproché, quel est le plan pour Pivot, par exemple en termes de séries poétiques, pensez-vous faire des changements?
Cette année : augmenter le nombre de poètes plus jeunes. Aussi, je pense qu'on va inviter moins de lecteurs qui viennent juste de publier un livre. J'aimerais que les gens viennent à peu près 6 mois après avoir sorti leur livre, sinon ça se perd parmitoutes les autres lectures du lancement, et tu te ramasses avec quelque chose comme quatre occasions d'aller entendre tel poète dans une même semaine. On veut s'éloigner de cette dynamique.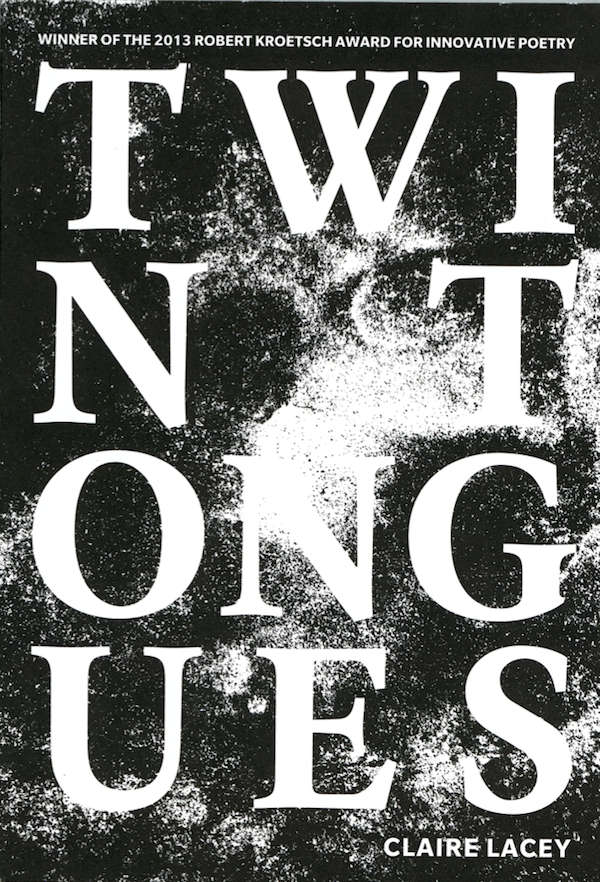 Claire Lacey's Twin Tongues is a tale of English the colonist, the alien species that eradicates the native fauna only to discover its own alienness.
Twin Tongues
Claire Lacey
Calgary, AB
80 pages, paperback, perfect bound
From the double-talk of Jenya Doudareva:
A Western teacher far in the Eastern hemisphere. She is unprepared for the monsoon season, for her skin getting all sticky with humidity, for the betrayal of her umbrella. A strange lost bird in her apartment – a crow – mocks the very concept of the teacher's teachings with relentless "Fuck you! I'm a crow! Fuck you! I'm a Crow! Fuck you! I'm a crow!…" Twin Tongues is a tale of English the colonist, the alien species that eradicates the native fauna only to discover its own alienness.
English is pervasive; it is easy to take its reach even to the most remote corners of the world for granted. Sometimes we vilify the tongue and blame its evil nature for the death of other languages. At other times we feel aggravated that not everyone in the world speaks English when we try and talk at them. How should one feel about this language? It's so confusing!
Twin Tongues – a chaotic blend of fragmented narration and poetry – personifies this confusion. English becomes a thoroughly well-intentioned lady who is on a mission to teach the tongue in Papua New Guinea, where Tok Pisin, a pidjin derivative of English, is already the primary lingua franca (By the way, Papua New Guinea has more indigenous languages than any other country – over 820. We learn that the conception of Tok Pisin helped the local population retain its own identity in the time of colonization. Now English is diluting this identity yet again).
But back to our nice lady – she is doing the best that she can. She is nursing a cursing crow back to health. The bird's repetitions of the heroine's native phrases sound ridiculous and arbitrary. You know that feeling when you say a word over and over until you are unsure if that word has any meaning? How bizarre that we have collectively agreed to call particular combinations of sounds English. Does it even matter that in its dreams the local crow speaks English?
Du double langage de Jenya Doudareva:
(Traduit par Alex Micati)
La langue anglaise étant omniprésente, il est facile de la voir étendre ses tentacules dans les recoins les plus éloignés de la planète. Nous jetons parfois le blâme sur celle-ci lorsque vient le temps de trouver un coupable responsable de la disparition d'autres langues. Il nous arrive parfois de sentir un certain agacement lorsque les interlocuteurs anglais sont aussi rares qu'une pluie dans le désert. Être ou ne pas être anglophone? Que de confusion.
Twin Tongues, un amalgame chaotique de prose et de poésie, personnifie cette confusion qui nous envoûte. Dans les pages de cet ouvrage, la langue anglaise prend les traits d'une vieille dame, pleine de bonnes intentions, partant propager la bonne parole en Papouasie Nouvelle-Guinée. Dans cette île du Sud se parle déjà un dérivé de l'anglais, le Tok Pisin, considéré comme la lingua franca du lieu. D'ailleurs, on compte 820 langues indigènes en Papouasie Nouvelle-Guinée, un nombre beaucoup plus important qu'ailleurs. Là-bas, le Tok Pisin était un moyen d'assurer la défense de l'identité locale, lors de la colonisation du territoire. On assiste aujourd'hui à un nouvel épisode d'anéantissement identitaire, sous l'égide de l'anglais.
Mais revenons à notre dame. Elle survit du mieux qu'elle peut. Elle offre des soins à un corbeau ayant perdu toute reconnaissance. Les mots de l'héroïne sonnent ridicules et arbitraires lorsqu'ils sortent de la bouche de l'animal. Avez-vous déjà eu le sentiment de répéter un mot ad nauseam, pour ensuite ne plus savoir s'il avait une quelconque signification? Le fait que la collectivité ait donné le nom d'anglais à un groupe de combinaisons sonores est bizarre. Dans ses rêves, le corbeau local est anglophone. Et alors?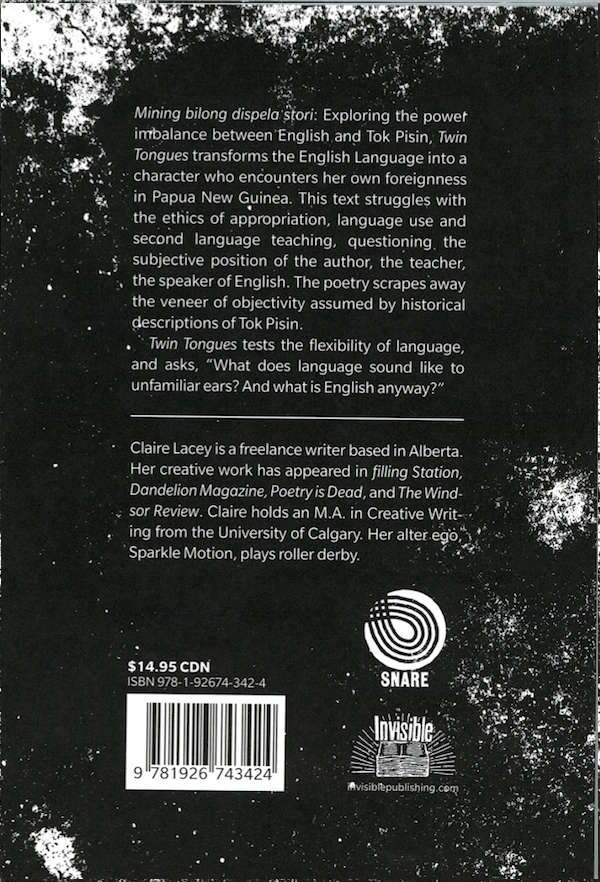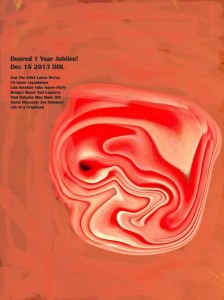 Life of A Craphead
Doored #11 – One Year Jubilee
(Created by Amy Lam and Jon McCurley)
Toronto, ON
From the flying saucer of Jenya Doudareva:
Documenting theatre is finicky business. Much like live music, you might be compelled to record the action on stage. Well, if you do, you will soon discover that the continuous capturing of still images with a camera (which, by the way, creates the illusion of movement due to phi phenomenon) will conjure eerie live magic. This might be because image capture slaughters the mystical theatre fairies at an alarming rate, so when you play the recording back, their ghosts relentlessly yell at your subconscious: "Recording this was illegal!"
Life of a Craphead attempts to have no fairy harmed, merely given a second sight – this troupe's monthly Doored performances are designed to be live-streamed. Doored #11 – the holiday edition – began with a Pagan Santa wearing an acid-green jumpsuit, his head adorned with a globe. Witnessing this performance was bizarre and alien, both live and online.
Climbing up and down a ladder while reaching a keyboard with a long stick, the Pagan Santa was moving, occupying space, and creating sounds. However, he felt no more real from the audience's vantage point than the traditional Christmas mascot. The Pagan Santa was a figment of our imagination, augmented by kaleidoscopic lights and hallucinatory sounds.
The performance had no traditional play or script behind it, so its mystifying – and perhaps conflicting purposes – rested in the imagination of the Santa and inside the viewers' heads. Later, watching the performance online, I still couldn't tell if the globe-wearing deity was real. It was like watching footage of a flying saucer.
De la soucoupe volante de Jenya Doudareva:
(Traduit par les ailes dorées de Joannie Pharand)
Documenter le théâtre, c'est une affaire compliquée. Comme dans un concert de musique, vous pourriez vous sentir obligé d'enregistrer l'action sur scène. Si vous le faites, vous réaliserez assez vite que la capture continue d'images fixes prises à l'aide d'un appareil photo (qui, en passant, crée une illusion de mouvement grâce à l'effet Phi) fera apparaître une étrange magie. Peut-être est-ce parce que la capture d'image massacre les fées mystiques du théâtre à un rythme affairant, donc, lorsque vous faites jouer l'enregistrement à nouveau, leurs esprits hurlent sans relâche à votre subconscient : « Votre enregistrement est illégal! »
Life of a Craphead essaie de ne blesser aucune fée, tout juste leur donner une seconde vision. Doored, leur série de performances mensuelle, a été créée pour être visionnée sur internet, en temps réel. L'édition de Noël, Doored #11, débute avec un père-noël païen vêtu d'une combinaison vert acide, la tête ornée d'un globe. Être témoin de cette performance était bizarre et hors de ce monde, aussi bien en direct qu'en ligne.
Parcourant une échelle de haut en bas tout en s'étirant pour rejoindre un clavier avec un long bâton, le père-noël païen se déplaçait en occupant l'espace et produisant du son. Pourtant, il ne paraîssait pas plus vrai du poste d'observation des spectateurs qu'une traditionnelle mascotte de Noël. Le père-noël païen était le fruit de notre imagination, grossi par des lumières kaléidoscopiques et des sons hallucinatoires.
La performance n'avait aucun dialogue ou mise en scène traditionnelle préétablie. Son objectif déconcertant, et peut-être contradictoire, repose dans l'imaginaire du père-noël et dans l'esprit des spectateurs. Par la suite, en regardant la performance en ligne, je ne pouvais toujours pas déterminer si la divinité ornée d'un globe était réelle. C'était comme regarder les images d'une soucoupe volante.
Sucker
Written and directed by: Kat Sandler
Toronto, ON
From the voyeuristic inclinations of Jenya Doudareva:
Think of your neighbourhood's favourite so-run-down-that-it's-hip bar. It's grungy, intimate, and always happens to attract the sweetest and the most energetic bands to perform. If The Storefront Theatre was a music venue, it would be that bar. This theatre is not your stereotypical performance arts venue. It is cozy, with no defined stage. This lack of a stage makes the audience work harder in order to maintain the proverbial fourth wall and makes you a voyeur of someone's private affairs.
The Storefront Theatre awoke the spectators' voyeuristic tendencies the other day during a performance of a peculiar play called Sucker. You are Stuck in someone's living room. There is a colourful couch, dozens of family pictures on the walls – including one of the Twilight franchise's heartthrob vampire – a camping tent, windows painted black, and jars of blood in the refrigerator… Jamie comes home to his sister Beth after travelling for three months only to find out that she has convinced herself that she is a vampire. Beth is mortified to hear that her atheist brother now wants to be a Rabbi and move to Israel. Jamie is further shocked to find out that they have a tenant living in their deceased parents' bedroom. The tenant's name is Constance and she is convinced that she had killed her abusive husband using her thoughts alone.
The setting is typical yet telling: the living room is lit dimly with mismatched floor and tabletop lamps. Indie tunes are playing in a CD player. You are trying to breathe very quietly so that the dysfunctional grieving family doesn't realize that you are watching them, listening in on their conversations, and laughing at the very absurdity of their situation. Beth is "working up" to drinking blood as a vampire. She is wearing a raincoat and is standing over a big white bucket. She is attempting to take gulps of viscous, cold, coagulating blood only to reduce herself to tears because she cannot bear the taste.
Constance forces Jamie to hear her confession about the death of her husband, seeing as Jamie wants to be a man of God. Despite his lack of initial interest, he grows very empathetic to the troubled woman. Her son ran away from home because he believed his mom to be a monster for wishing death upon his father, despite the fact that that father would habitually beat him. Jamie tenderly kisses Constance. You are unsure if you should even be here, witnessing this very private moment. Still trying to breathe as quietly as you can. You don't want to disturb them.
Du penchant voyeuriste de Jenya Doudareva:
(Traduit par Joannie Pharand)
Pensez à votre bar préféré, celui tellement-délabré-qu'il-est-cool. Un lieu crasseux, intime, qui trouve toujours la façon d'attirer les groupes de musique les plus adorables et énergiques. Si The Storefront Theatre était une salle de concert, il serait ce bar. Le théâtre n'abrite pas votre lieu typique des arts de la scène; il est douillet, sans scène établie. Cette absence de scène force les spectateurs à travailler bien plus fort qu'à l'habitude pour maintenir le fameux quatrième mur. Ça fait de vous un voyeur dans les affaires personnelles de quelqu'un.
L'autre jour, le Storefront Theatre a réveillé mes propres tendances de voyeurisme lorsque j'y regardais une étrange pièce de théâtre appelé Sucker J'étais prise dans le salon de quelqu'un. Un sofa coloré, des douzaines de portraits de famille accrochés sur les murs, incluant celui d'un des vampires idolâtrés de la franchise Twilight, une tente de camping, des fenêtres peintes en noir, des pots remplis de sang dans le frigo… Jamie rentre à la maison pour voir sa sœur, Beth, après un voyage de trois mois, pour se rendre compte qu'elle est convaincue d'être un vampire. Beth est mortifiée d'apprendre que son frère athée veut maintenant devenir un rabbin et déménager en Israël. Jamie est d'autant plus stupéfait d'apprendre qu'ils ont une locataire vivant dans la chambre de leurs parents décédés. La locataire se nomme Constance et elle est convaincue d'avoir tué son mari abusif uniquement par la pensée.
La scène est typique, mais révélatrice : le salon est faiblement éclairé à l'aide de lampes de table et de lampes sur pied mal assorties. Un lecteur CD fait jouer des chansons indies. J'essaie de respirer tout doucement pour que la famille dysfonctionnelle, en deuil, ne réalise pas que je les observe, que j'écoute en secret leurs conversations en riant à l'absurdité de leur situation. Beth travaille « progressivement » à boire du sang en tant que vampire. Elle porte un imperméable, et se tient au-dessus d'une grande chaudière blanche. Elle tente d'engloutir du sang coagulé, froid et visqueux pour finalement fondre en larme, ne pouvant supporter le goût.
Constance force Jamie à entendre ses confessions par rapport à la mort de son mari, puisque Jamie veut devenir un homme de Dieu. Malgré son manque d'intérêt initial, il commence à ressentir de l'empathie envers la jeune femme perturbée. Pour ajouter à ses pensées meurtrières, elle avait un fils qui s'est enfui de la maison, car il pensait sa mère un monstre pour avoir souhaité la mort de son père, malgré le fait que son père le battait régulièrement. Jamie embrasse tendrement Constance. Je ne me trouve pas à ma place, étant témoin de ce moment secret. Je tente toujours de respirer aussi doucement que je le peux. Je ne veux pas les déranger.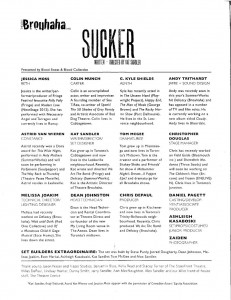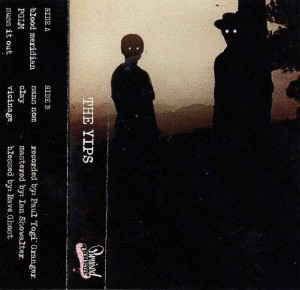 The Yips
The Yips EP
Ottawa, ON
From the nighttime dangers of Jenya Doudareva:
The Yips are howling like a pack of wolves, piercing the cold night air. It's nighttime in a remote village surrounded by dense dark woods, the kind of night when you can't shoo the menace away. This six-song EP is what makes the hair on the back of the villagers' necks stand. The older folk might even be telling their younglings that the Yips hide under their beds at night, ready to pounce if they misbehave.
Opener "Blood Meridian" starts with spine-chilling riffs and grows into something fiery and vibrant. "Clay", "PGLM", and "Sans Nom" bring forth rhythm and noise as menacing and fascinating as nature itself. "Suss it Out" reminds us that spending one's life fearful of the outside world is a dull affair, and perhaps embracing the nighttime dangers is worth it. Finally, "Vicinage", a soulful and eerie tale of loneliness and heartbreak, contrasts the EP's initial ghostliness with touching humanity.
Les cauchemars diurnes de Jenya Doudareva:
(Traduit par les cauchemars diurnes de Catherine Gaucher)
The Yips hurlent comme une meute de loups, perçant l'air froid de la nuit. C'est la nuit dans un village isolé, entouré d'une épaisse forêt, le genre de nuit durant laquelle il est impossible de chasser la menace au loin. Si les villageois ont les cheveux dressés sur la tête, ce EP de six titres en est la cause. Les aînés pourraient même faire croire aux jeunes enfants qu'une fois la nuit venue, les Yips se cachent sous leur lit, prêts à bondir s'ils se méconduisent.
En ouverture, "Blood Meridian" débute avec des accords vous glaçant l'échine et progresse avec fougue et dynamisme. "Clay", "PGLM" et "Sans Nom" mettent de l'avant des rythmes et des bruits aussi menaçants et fascinants que la nature elle-même. "Suss it Out" nous rappelle que passer son existence à craindre le monde extérieur est une terne affaire et peut-être qu'embrasser les dangers nocturnes en vaut la peine. Finalement, "Vicinage" , un mélancolique et étrange conte dépeignant solitude et chagrin, contraste avec l'initial aspect spectral de ce EP par une touche d'humanité.
Everything Is So Political
Edited by Sandra McIntyre
Calgary, AB
From the ubiquity of Jenya Doudareva:
Jumping from a story of life during the war in Northern Ireland to a narrative of a young woman selling her body for a water bottle that she can then exchange for money, and then to a tragedy of a man whose job it is to photograph prisoners about to be executed, you might ask: "Is everything around us really so political? Why does everything have to be political?"
Many of us don't think of ourselves as political people, because politics is almost a dirty word with a reputation for being duplicitous and ruthless. For this reason we might be compelled to ignore the political aspects of our everyday experiences, which is easy to do if we avoid dealing with the government, laws, and regulations. And when we do come in contact with these things, we accept them as much as an invasive physical exam – necessary but unpleasant.
Nevertheless, the word politics comes from Greek, where politikos means "of, for, or relating to citizens". In that sense, everything is political. Everything Is So Political – a compilation of short fiction by Canadian authors edited by Sandra McIntyre – is exactly that. This collection is exceptionally Canadian in nature, and highlights one of our nation's most distinctive aspects – that of culture and identity. It can be easy to take Canadian multiculturalism for granted and not to dissect how it has been shaping the country; it is very difficult to make sure that everyone's experience is honoured. Everything Is So Political shows how hauntingly distinct the stories that create the fabric of our society can be. The contrast between each individual narrative is as harsh as a slap in the face, and it must be that way if you want to send a message.
De l'ubiquité de Jenya Doudareva:
(Traduit par Alexandre Allouch-Micati)
Alors que vos yeux virevoltent d'une histoire se déroulant lors de la guerre en Irlande du Nord à une autre tournant autour d'une jeune femme qui vend son corps pour une bouteille d'eau qu'elle échangera ensuite contre de l'argent, en passant par la tragédie qu'éprouve un homme qui photographie des prisonniers sur le point d'être exécutés, vous vous demandez : « Est-ce que toutes les choses qui nous entourent sont à ce point politiques ? Pourquoi doivent-elles l'être ? »
La plupart d'entre nous ne nous considérons pas politiques, car le mot en soi est une quasi-insulte, un terme fourbe et sans pitié. C'est pourquoi nous sommes portés à ignorer les aspects politiques de nos expériences quotidiennes, la manière la plus facile étant d'éviter de s'occuper des affaires gouvernementales, des lois et des règlements. Lorsque nous entrons en contact avec ces éléments, nous les acceptons dans la même perspective qu'un examen physique invasif : nécessaire mais déplaisant.
Cependant, le mot politique provient du mot grec politikos qui signifie « du citoyen, pour le citoyen, relatif au citoyen ». En ce sens, tout est politique. Everything Is So Political, une compilation de courts textes de fiction écrits par des auteurs canadiens et édités par Sandra McIntyre, se situe dans cette optique. La collection de nature tout à fait canadienne jette la lumière sur l'un des aspects les plus significatifs de notre pays : la culture et l'identité. Il peut être facile de tenir le multiculturalisme canadien pour acquis et de ne pas analyser l'influence qu'il a pu avoir sur le pays ; il est très difficile de s'assurer que les expériences de chacun sont honorées. Cet ouvrage montre à quel point les histoires qui créent notre société peuvent différer. Le contraste entre chaque récit est aussi fort qu'une claque en plein visage et c'est la meilleure façon de faire pour passer un message.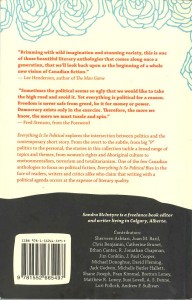 Mary's Wedding
Written by: Stephen Massicotte
(The Public Utility Company)
[Directed by: Justin Goodhand]
Woodslee, ON
From the war-wear words of Jenya Doudareva:
As a music aficionado, you are in control. You can tune in and pay attention to every sound wave, or you can zone out. You can choose the frenzy of a live concert or the closed solitude of headphones. In the theatre, you are no longer in control. As the audience, you are engulfed by the performance like a sandcastle by the tide. Your emotions can get stripped raw and there isn't a whole lot you can do about it.
Music and theatre have many differences. Theatre can seem less accessible, more archaic and rigid, conjuring actors reciting dense Shakespearian tongues. Music is often associated with risk-taking and rebellion: guitars, stuffy bars, howling, with the crowds going wild.
Music in Canada can get weird. Experimenting with noise, instruments, rhythm, language; in garages, on the streets, within bars. Well, folks who are into theatre will readily tell you that theatre in Canada is oh so very weird. Shedding Canadian skin to reveal the animal underneath the silky theatrical furs: unexpected venues, puzzling light shows, shocking subject matter, and mind-altering sound.
I have just seen a play in a barn. It was a remote working farm in Woodslee, just outside Windsor, Ontario. The play was Mary's Wedding by Stephen Massicotte – a dark love story set in rural Alberta against the haunting realities of World War I. This was a production by the Public Utility Company.
Much of the play's narrative occurred inside a barn, where the audience huddled together, smelling damp hay and September wind. Right on stage, in the corner, a foley artist and musician were creating sounds of horses, storm, bullets, grenades using coconut shells, crumpled bags, drums, and guitar. Gently and subtly, they lulled us, and at some point reality and art got blended together, and we sunk deeply. Canadian history, national identity, growing up and falling in love. Sacrifices and what war does to a person. Dulce et decorum est, through black spruce.
Charlie is hiding in a barn and shivering because he is terrified of the thunderstorm, violent shrieks of which propagate through the thin metal roof and cracks in the walls. Suddenly, Charlie's space is flooded with a menacing dim light and he is in the trenches, his feet wet from the mud, freezing, ready to kill enemy soldiers.
Charlie, come away to safety! Away from the gore of war! – I wanted to shout, looking at a naive young man who is eager to "do his share" for the country. How many young Canadians today feel like that are doing good when they go off to war, many of them never to come back again?
Everything we see is Mary's dream, sometimes a nightmarish frenzy, sometimes a youthful romance. Don't be so cruel, Mary! Don't let him leave without saying goodbye…You'll never see him again! – I couldn't help but get furious with the proud young woman, perhaps remembering myself. She throws Charlie's letters in the air, an eerie note and a delicate shift in lumens – and her body morphs into Sergeant Flowerdew who is eager to give Charlie fatherly advice.
Dream-like and hyper-realistic, haunted by unconventional sounds, space, and light, the on-stage sound effects seeped into the main action, merging sound waves with narrative and igniting imagination. Intricate light waves painted the air violent and delirious. So much for reciting dense Shakespearian tongues on a pristine black stage.
De Jenya Doudareva:
(Traduit par Alexandre Allouch-Micati)
Lorsqu'il écoute de la musique, un passionné est en contrôle de son environnement. Il peut écouter chaque son attentivement ou, à l'opposé, écouter sans entendre. Il est possible de choisir entre la frénésie d'un concert ou la solitude que procurent les écouteurs. Pour ce qui est du théâtre, c'est autre chose. Le spectateur n'est plus en contrôle. Il est invité à s'engouffrer dans la performance, comme s'il était un château de sable bercé par la marée. Le théâtre, c'est des émotions à l'état pur et rien ne peut les arrêter.
Il existe plusieurs différences entre la musique et le théâtre. Ce dernier peut sembler moins accessible, plus archaïque et plus rigide. De façon classique, la musique est liée à la jeunesse, à la prise de risques, à la révolte. Lorsque l'on pense au théâtre, l'on imagine un acteur récitant du Shakespeare, dans une langue parlée par personne. D'un autre côté, un guitariste jouant dans un bar rempli à craquer et devant une foule en délire vient à l'esprit de toute personne pensant au domaine de la musique.
Le monde de la musique est bizarre, au Canada. Les expériences avec du bruit, des instruments, du rythme ou encore un langage. Dans le garage, dans la rue ou même dans des bars. Les amoureux des arts de la scène sont prêts à dire que le théâtre est tout aussi bizarre, au pays. On jete le peau canadien et révèle l'animal sous la fourrure: les endroits insolites, les sujets durs, les sons psychotropes.
J'ai récemment assisté à une pièce, Mary's Wedding (http://www.indiegogo.com/projects/mary-s-wedding) , qui était jouée dans une grange. Celle-ci faisait partie d'une ferme de Woodslee, près de Windsor (Ontario). Cette pièce, une histoire d'amour tragique et touchante se déroulant dans la campagne albertaine et ayant les horreurs de la Première Guerre mondiale en arrière-scène, est écrite par Stephen Massicotte. C'était une production de la Public Utility Company (http://www.indiegogo.com/individuals/4400938).
La majeure partie de la pièce se déroule à l'intérieur d'une grange, comme celle dans laquelle les spectateurs sont regroupés. Une odeur de foin et de ce vent de septembre souffle sur nous. Dans l'un des coins de la scène, un bruiteur et un musicien s'affairent à créer des bruits de chevaux, de pluie, de balles de fusil, de grenades. Ils produisent ces sons en utilisant des noix de coco, des sacs ratatinés, des tambours et une guitare. Délicatement, ils nous ont bercé avec une chanson sentie. À un moment, la réalité et l'art ont fusionnés et nous nous sommes plongés dans l'action. Tout y passe: l'histoire canadienne, l'identité nationale, le fait de grandir et celui de tomber amoureux, en plus des sacrifices et de l'impact de la guerre sur les âmes. Sur fond d'épinettes noires, on entend Dulce et decorum est.
Charlie se cache dans une grange, car il a peur des orages, ces cris violents traversant le mince toit métalique et les trous des murs. Tout d'un coup, son espace est envahi par une lumière, tamisée et menaçante, et il se trouve dans les tranchées. Ses pieds sont mouillés par la boue. Il a froid et il est prêt à combattre l'ennemi. Le désir de crier: « Charlie! Viens te cacher! Quitte la violence de la guerre! » s'était emparé de moi, alors que mes yeux voyaient un jeune homme innocent faisant ce que le pays attend de lui. Combien de jeunes Canadiens d'aujourd'hui sentent qu'ils posent une action bénéfique lors de leur départ à la guerre, alors que plusieurs d'entre eux ne reviendront sans doute pas?
Toute la pièce se déroule autour des rêves de Mary. Il s'agit parfois d'une frénésie cauchemardesque et parfois d'une romance de jeunesse. « Ne sois pas si cruelle, Mary! Ne le laisse pas partir sans qu'il n'ait dit un dernier au revoir. ». Je ne pouvais rien faire d'autre que ressentir de la colère vis-à-vis cette jeune femme fière. Ma colère venait, sans doute, du fait que j'étais tout aussi distante, étant plus jeune. Elle lance les lettres écrites par Charlie, une note sombre et un changement délicat dans la lumière, et son corps se transforme en celui du Sergent Flowerdew. Celui-ci est prêt à donner des conseils paternels à Charlie.
Les effets sonores (semblant sortis d'un rêve et fortement réalistes et hantés par des sons, un espace et de la lumière non-orthodoxes) font partie de l'action. Il y a une combination entre les vagues sonores et la trame narrative, ce qui allume l'imagination du spectateur. Des vagues de [lumière compliquées, venant de www.ozweaver.ca, ont peint de la violence et du délire dans l'espace. Avec cette pièce et cet univers, on est loin d'une banale récitation de la langue lourde de Shakespeare, sur une scène noire et vierge.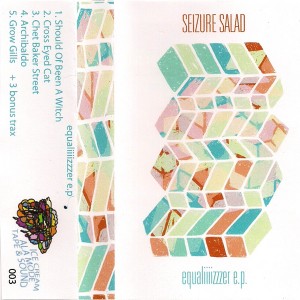 Seizure Salad
Equaliiiizzzer EP
(Ice Cream Ala Mode)
Calgary, AB
From the intergalactic infancy of Jenya Doudareva:
Seizure Salad are noise-whisperers. They capture savage sounds without building traps or setting nets, but instead, grab it with their bare hands. These metamorphose while the noise is still prickly, kicking and pulsing chaotically. This five-song cassette is an otherworldly creature.
The EP starts with "Should Of Been A Witch" (sic), an eerie, energetic and engaging piece. "Cross Eyed Cat", brings forth alien industrial sounds, while "Chet Baker Street", transforms into an unsettling lullaby for an infant born outside this galaxy. The feral creature continues to evolve on "Archibaldo", hinting at the continuous cycle of breakdown and rebuilding of a grand and complicated mechanism. Finally, on "Grow Gills", the screechy chaos gives rise to something beautiful.
De la petite enfance intergalactique de Jenya Doudareva:
(Traduit par le tourniquet spacial de Julie Forget)
Les membres de Seizure Salad sont des chuchoteurs de bruits. Ils capturent des sons sauvages sans utiliser de pièges ni de filets, mais en s'en emparant plutôt à mains nues. Ces sons se métamorphosent alors que le bruit est encore épineux, frappant et pulsant chaotiquement. Cette cassette de cinq chansons est une créature d'un autre monde.
Le EP commence avec « Should Of Been A Witch » (sic), un morceau étrange, énergique et charmant. La pièce « Cross Eyed Cat » propose des sons industriels extraterrestres, alors que « Chet Baker Street » se transforme en une berceuse troublante destinée à un nourrisson né à l'extérieur de notre galaxie. La créature sauvage continue d'évoluer sur « Archibaldo », faisant allusion au cycle continuel de décomposition et de reconstruction d'un mécanisme formidable et compliqué. Finalement, sur « Grow Gills », le chaos hurlant donne lieu à quelque chose de superbe.
---