Tag: jenni roberts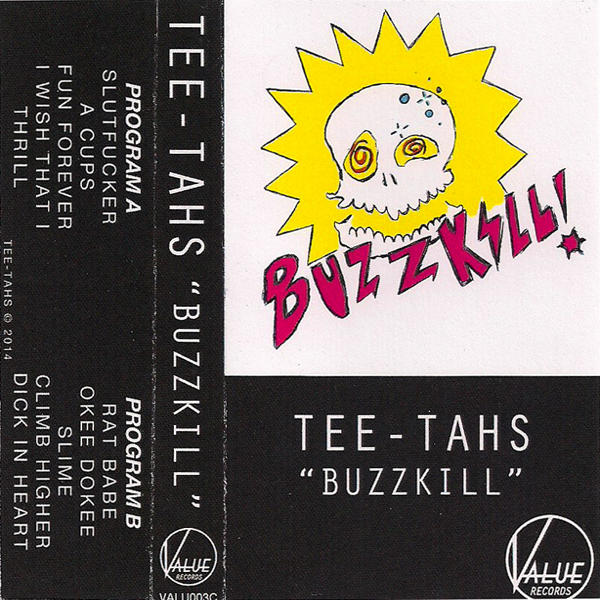 Tee-Tahs
Buzzkill
(Value Records)
Edmonton, AB
From the rat scabies of Jesse Locke:
Edmonton's Tee-Tahs explode out of a bratty punk sweet spot somewhere between Electric Vomit, Fancy Rosy, and the Village People. Slacker vox, slurpee dregs, and pizza grease stunting. These randy rave-ups from the superstar trio of Caity Fisher, Jessica Jalbert and Jenni Roberts will flip wigs like skate witches. Catch 'em live if you can. Up the buzz!
Editor's note: as part of our ongoing work towards being better allies and human beings, we have edited this piece to more accurately reflect the creative energies behind Tee-Tahs. The original, inaccurate post is below:
Edmonton's Tee-Tahs hit the bratty fake-punk sweet spot somewhere between Fancy Rosy, the Electric Vomit and the Village People. These randy rave-ups should come as no surprise with the involvement of original prankster Renny Wilson, whose solo explosion is one of 2014's best surprises, but his influence is clearly rubbing off the right / wrong way on the formerly sweet Jessica Jalbert. Then again, maybe skate witches Jenni Roberts and Caity Fisher were to blame all along. Up the buzz!
Du rat responsable de la gale de Jesse Locke:
(Traduit par Jessica Grenier)
Les Tee-Tahs, d'Edmonton, ont trouvé la zone idéale de punk impétueux, quelque part entre Electric Vomit, Fancy Rosy et les Village People. Cascades de pizza graisseuse, restes de slurpee et voix nonchalante en prime. Les fêtards libidineux du trio de superstars — Caity Fisher, Jessica Jalbert et Jenni Roberts — vont battre des ailes comme des sorcières du skate. À voir live si vous en avez la chance, et sinon, montez le son!
Note de la rédaction: Guidés par notre quête constante visant à devenir de meilleurs alliés et de meilleurs êtres humains, nous avons modifié cet article afin de mieux refléter l'énergie créative derrière l'œuvre de Tee-Tahs. Le texte original (et imprécis) est ci-dessous:
Les Tee-Tahs, d'Edmonton, ont trouvé le point idéal du fake-punk gâté, quelque part entre Fancy Rosy, Electric Vomit et Village People. Ces fêtards libidineux ne devraient surprendre personne vu l'implication de Renny Wilson – dont l'explosion solo est une des meilleures surprises de l'année – et l'influence du véritable vaurien déteint clairement sur Jessica Jalbert, qui en perd mal/heureusement sa douceur. Mais encore là, peut-être que c'est la faute des sorcières du skate, Jenni Roberts et Caity Fisher. Montez le son!
We made a call for interns and our response was magical. The e-mails flooded our inboxes. We could not keep up. We go to sleep guilt-ridden, fearing the ire of enthusiastic applicants whose e-mails have gone unanswered. Nevertheless, the trek continues and in the process we've found two beautiful people to take on the roles of Managing Editor and Social Marketer. For photos and other sexy content, please read more about them in the contributors section.
Please welcome Jesse Locke and Jenni Roberts with open arms. They've poured hours and hours into Weird Canada and have (and will continue to) grow Weird Canada into the publishing behemoth it is sure to become.
Introducing…
Managing Editor Jesse Locke
Jesse has been a long-time contributor to Weird Canada and co-founder of the magnificent Texture Magazine. With prior experience in the discipline of managing energetic writers at Beatroute, Fast Forward Magazine, and other printed matter, Jesse comes into the position of Managing Editor with a tremendous amount of real-world experience. Since taking the reigns Weird Canada has seen some fresh faces (an introduction to come soon!) and welcomed the addition of new content and features. That sounds like an overly professional way of saying Jesse is rad.
(The Managing Editor is responsible for organizing and managing the contributors, ensuring the timely delivery of content, and generating ideas for new content)
Social Marketer Jenni Roberts
If you follow us on twitter or join our Facebook page than you've probably seen the timely postings of Jenni Roberts. Jenni has been an Edmonton staple in the music scene for years and we were really, really excited when we saw her name pop in our mailbox. She's got a knack for metrics, way too much experience with excel spreads and an endless supply of enthusiasm.
(The Social Marketer is responsible for promoting Weird Canada through every social channel possible.)
Hearts!
---