Tag: jarrett samson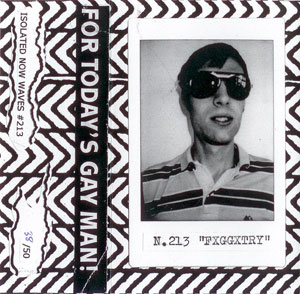 From the spastic anguish barrage of Jarrett Samson:
Nic Hughes is as close as Vancouver's underground scene has to royalty, something even a cursory glance at the staggering number of releases on his Isolated Now Waves label lends undeniable credence to. Never content to rest on such laurels, Hughes continues to produce great art at a pace few could muster (let alone match), and his solo project N.213's latest, FXGGXTRY, proves his merit yet again. While undeniable tapped from a similar vein as his work with Shearing Pinx, this cassette manages to deviate and define itself as a more personal and introspective work without all of that singer-songwriter bullshit that usually follows such descriptors. Soaked in anger (or anguish?), barrages of spastic, massive guitars slide sinew-tight over each other before slamming up against noisy rumbles of sound collage hum and restrained, unworldly instrumentals. To top it off, Hughes' inimitable vocals continue to put reverb-fetishists everywhere to shame. There's an ominous feeling to the whole record as if some strange current runs through its every connection, a basement tape concept album in denial. To put it simply? FXGGXTRY is the best N.213 release to date.
Du déluge nerveux d'angoisse de Jarrett Samson: (Traduit par Maya Keshav)
Nic Hughes est plus ou moins le roi de l'avant-garde de Vancouver, quelque chose dont la quantité stupéfiante d'enregistrements avec son étiquette Isolated Now Waves est témoin. Jamais content de se reposer sur ses lauriers, Hughes continue de produire les chefs-d'œuvres à un rythme peu de gens pourraient suivre (encore moins égaler), et son projet solo le dernier de N.213, FXGGXTRY, démontre son mérite une fois encore. Même si elle est indéniablement créée dans la même veine que son travail avec Shearing Pinx, cette cassette arrive à dévier et à se définir en tant que travail plus personnel et plus introspectif sans toute la merde d'auteur-compositeur-interprète qui suit normalement les tels adjectifs. Trempées de colère (ou d'angoisse?), les pluies d'énormes guitares tremblantes glissent sur l'un et l'autre aussi raides que le tendon avant qu'elles heurtent les grondements bruyants de bourdonnements de montages du son, et les morceaux instrumentaux contenus et détachés de ce monde. En plus de tout ça, le chant inimitable de Hughes continue de faire honte à tous les fétichistes de réverbération partout. L'album complet a l'air menaçant comme si un courant bizarre coule dans chacun de ses connexions, un album conception sous-sol cassette qui est dans le déni. Pour le dire simplement? FXGGXTRY est le meilleur N.213 enregistrement jusqu'à maintenant.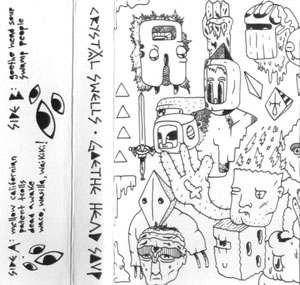 Crystal Swells
Goethe Head Soup
(Self Released)
Vancouver, BC
From the fiendish beach party of Jarrett Samson:
What do you do when you live in the 'burbs and don't want to waste your life smoking outside the local Mac's? Toss on your baseball cap, turn on the Salvation Army microphones and start "Wakin' up the Neighbours". Crystal Swells' 'Ridge rock stands as a testament to the power of suburban detachment, throwing Blink 182 and Spacemen 3 through a coffee grinder and coming up with just the right mix of snotty attitude kept on track by massive backbeats and gut-searing guitar leads. Exuding a youthful Teenage Shutdown LP energy, Goethe Head Soup is stacked with syrupy vocal lines hiding under feedback peaks and red-lined valleys, with occasional Lally-isms and the almost obligatory no-chord garage-jam of a title track. "Waco, Wasilla, Waikiki" takes all of this, compresses it, and proceeds to grind and spatter teen lust all over the fiendish beach party it emanates from. Essential Vancouver.
De la fête diabolique à la plage de Jarrett Samson:
(Traduit par le banlieusard intérieur de Maya Keshav)
Quoi faire quand tu habites en banlieue et t'as pas envie de gâcher ta vie en fumant à l'extérieur du MacDo du coin? Mets ta casquette, mets en marche les micros de Salvation Army, et passe "Wakin' up the Neighbours". Le 'Ridge rock de Crystal Swells est témoin de la puissance du détachement banlieusard, en lançant Blink 182 et Spacement 3 dans un moulin à café et trouvant le mélange parfait de l'attitude snob guidée par l'énorme contretemps et des mélodies déchirantes de guitare. En suintant une énergie juvénile à la Teenage Shutdown LP, Goethe Head Soup est trempé de mélodies vocales sirupeuses qui cachent sous les pics de larsen et les vallées lignées en rouge, avec les Lally-ismes occasionnels et le garage-boeuf presque obligatoire d'une chanson-titre. "Waco, Wasilla, Waikiki" prend tout ça, le condense, et continue de moudre et d'éclabousser avec le désir adolescent la fête diabolique à la plage d'où il vient. C'est le Vancouver essentiel.

Crystal Swells – Mellow Californian

Crystal Swells – Waco, Wasilla, Waikiki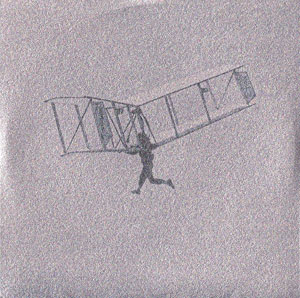 Markus Floats
Untitled
Montreal, QC
From the train of thought of Jarrett Samson
For the first release on Planet of the Tapes' 3″ CD offshoot, Dream Sequence, Silver Dapple bassist Markus Lake delivers a two-song chiller seemingly designed to accompany riding public transit alone at 3 a.m. "GrownDown" begins with the sound of undistinguishable voice and movement before receding into a single shimmering drone, in turn melting into minimalist electronic radar, mirroring the opening. "One Take 3, take 33" comes on as a lullaby guitar orchestra, layering leads one over the other in a harmonic yet chaotic arrangement. One couldn't find a more appropriate start to a project known as Dream Sequence. Good night…
Du fil des pensées de Jarrett Samson:
(Traduit par Odile Leclerc)
Pour la première sortie du rejeton du CD de 3'' sur Planet of the Tapes, Dream Sequence, le bassiste de Silver Dapple, Marcus Lake nous offre un relaxant deux-chansons apparemment conçu pour accompagner le public qui se promène seul sur le transport en commun à 3 a.m. ''GrownDown'' commence avec le son d'une voix et d'un mouvement indiscernable avant de battre en retraite dans un solo de bourdonnements scintillants, qui se fond à son tour dans un radar d'électronique minimaliste, miroitant l'ouverture. ''One Take 3, Take 33'' apparaît comme une orchestre de berceuse de guitare, couchant des solos les uns par-dessus les autres dans un arrangement harmonieux quoique chaotique. Quelqu'un ne pourrait pas trouver un début plus approprié pour un projet connu sous le nom de Dream Sequence. Bonne nuit…
Markus Floats – One Take 3, Take 33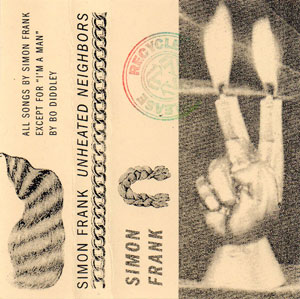 Simon Frank
Unheated Neighbors
Calgary, AB
From the cult mantra of Jarrett Samson
The new generation of bedroom recording is here. Unheated Neighbors moves at a lurch, vocals and instrumentation shambling out of the mid-fidelitySimon-Frank range of its tape hiss with a psychedelic Suicide-indebted aura, tailor-made for hard living in the big city. The real strength of the album lies in the fact that it never repeats its tricks, creating a collection of songs that manages to feel completely cohesive while varying greatly in style and approach; chase music for an LSD trip, cultic New Age Simon-Frank mantras, and drones of triple-eye halogens. The album standout "Coughing Blood" seethes with intensity, disrupted drum spurts echoing behind spitting keyboard distortions as the vocals preach some hidden sermon we may never comprehend. This album is a revolution; get in on it.
Du mantra culte de Jarrett Samson:
(Traduit par Odile Leclerk)
La nouvelle génération d'enregistrement de chambre à coucher est là. Unheated Neighbors bouge en embardée, des chants et des instrumentations se traînant hors de l'étendu de mi-fidélité du sifflement de la cassette avec une aura psychédélique redevable au suicide, fait sur mesure pour la vie difficile dans la grande ville. La vraie force de l'album repose sur le fait qu'il ne répète jamais ses trucs, créant une collection de chansons qui réussissent à sembler complètement unies tout en variant grandement en style et en approche; poursuivez de la musique pour en trip de LSD, pour des mantras de cultes Nouvelle Age et des bourdonnements d'halogènes à trois yeux. La chanson notable de l'album ''Coughing Blood'' bouille d'intensité, des giclés de batteries interrompus faisant écho derrière les distorsions crépitantes de clavier alors que les chants prêchent un quelconque sermon caché que nous allons peut-être jamais comprendre. Cet album est une révolution; embarquez dessus.
---