Tag: jared majeski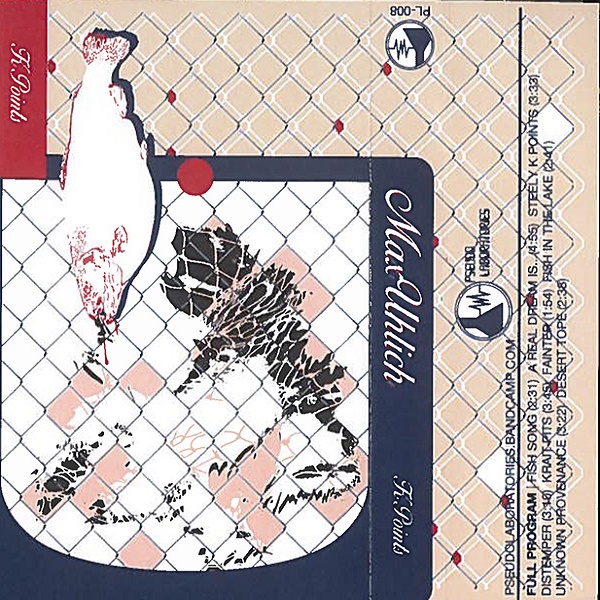 Max Uhlich
K Points
Edmonton, AB
From the negative geography of Jared Majeski:
The trappers' cabin, the anglers' wharf, the axiomatic loneliness of the barren and the beautiful. Here in the fertile twilight of K Points, the epicedium wafts light and airy. Like wet spiderwebs in the wind, smokey poems billow and twist and make us question the penetralia we don't yet know exists. Through comforting creaks, falsetto layers and upside-down counties, we begin to thirst for answers to our toponymous queries. As Max declares, "Why did we grow up so?/What gave us a heart and a soul?"
De la géographie en négatif de Jared Majeski:
(Traduit par Aliké Harel)
La cabane du trappeur, le quai du pêcheur, la solitude axiomatique du dénué et du beau. Ici, dans le crépuscule foisonnant de K Points, l'homélie insuffle lumière et légèreté. Comme des toiles d'araignée humides au vent, les volutes de vers tourbillonnent et se tortillent pour remettre en question le noyau dont nous ignorons encore l'existence. Grâce aux grincements réconfortants, aux voix de fausset en trame et aux comtés sens dessus dessous, nous devenons assoiffés de réponses pour assouvir nos quêtes toponymiques.Dans les mots de Max : « Why did we grow up so?/What gave us a heart and a soul? ».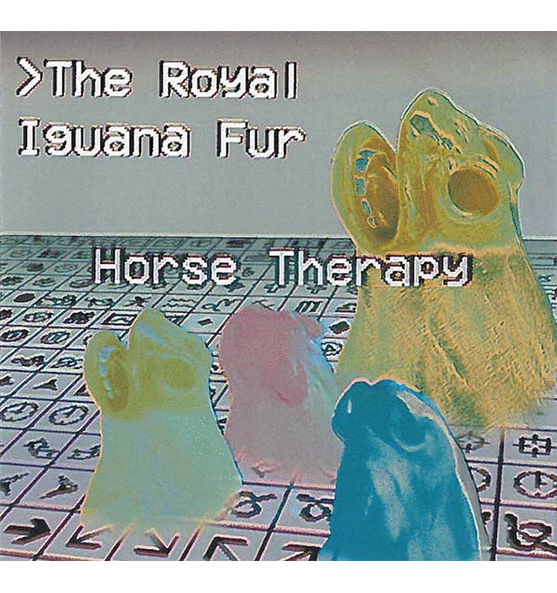 Royal Iguana Fur
Horse Therapy
Edmonton, AB
From the fascist groove of Jared MajeskI:
Physically resembling a Hackers vision of frozen horse surreality, Peace Country wayfarer Alex Linfield's latest vaporized totem delves through playful post-punk hypnosis, bedroom polyrhythms and fretless wormholes. There's a computerized sodality here, futuristically swirling with the punks and weirdos too cool for disco, but who still want to twinge and tweak on the dance floor. It's an interpretation geographically removed that maybe we start to wonder what "back in the day" actually means to people now. Do we appreciate and replicate, or do we make it our own?
Du groove fasciste de Jared MajeskI:
(Traduit par Jessica Grenier)
Ressemblant physiquement à une vision irréelle piratée de chevaux gelés, le dernier totem vaporeux du voyageur de Peace Country, Alex Linfield, réside quelque part entre une ludique hypnose post-punk, une polyrythmie de chambre et des trous de vers sans frette. On y retrouve une confrérie informatisée, en plein tourbillonnement futuriste avec des punks et des bizarroïdes, trop cools pour le disco, mais voulant quand même syncoper sur le plancher de danse. C'est une interprétation géographiquement éloignée invitant à se questionner : que signifie « dans mon temps », dit aujourd'hui? Est-ce qu'on apprécie/reproduit ou est-ce qu'on se l'approprie?

Royal Iguana Fur – Life at Sea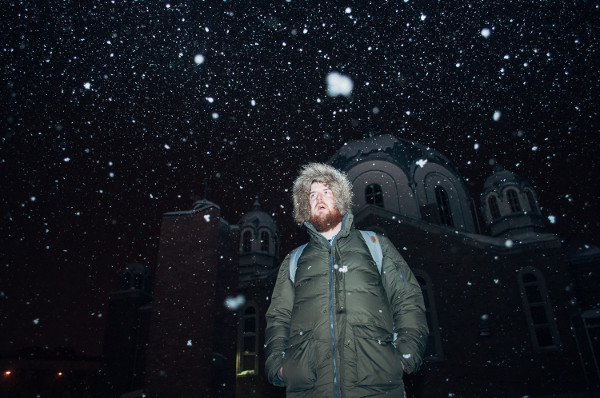 From the purple city of Jared Majeski:
Edmonton feels alone up north. Our geography, our isolation and our resources help shape us; there is an enduring adventurousness in the things created here. The pockets where society and expression percolate do so out of passion, fun and above all: survival.
So what is this place that's a bit too far north for many touring bands to come to? Edmonton is a small town. Edmonton is part work camp, a subtly aware and modern haven burgeoning; a youthful city eager to grow. The imminent changes (good or bad) from an ever-fracturing future help incubate energy and inspiration.
Before the arrival of explorers and immigration, the Edmonton area was home to tribes of Cree, Dene, Nakota Sioux, Saulteaux, Blackfoot and Metis people. In the early 1900s Alberta's economy, and inevitably its future, changed from respecting the land to resource extraction and influence-peddling from all corners of the globe. Our role as a confused world player in the oil game has thickened people's skin, for good and bad.
Along with the intended structures and tangible places that facilitate creative endeavour, inspiration penetrates through the intangible: seasons, geography and rural sensibilities. Our summers are fleeting and busy; our winters long and eerily comfortable, and more than you know were raised in small towns off secondary highways. Our public art and our distinctive architecture sheen metallic and utilitarian.
Thanks in part to the irreplaceable CJSR, and our remaining arts weekly, people soon find out there's an impressive genre-span in Edmonton. Delightfully opposite to the deep suburban "contributors", bands in town get 'er done at home, while the performance and pageantry bears out within intimate dwellings and in the Great Whyte Schlubbery.
Because Edmonton is geographically sheltered from many (most) major centres, there's an incubatorial element to this city. Artists and bands try anything they want, and if and when it catches on beyond Lloydminster, those that make their name beyond Alberta tend to relocate to larger places. There is money and opportunity for many; and dim prospects for the same. What manifests itself is creativity that's honest, supportive and grounded: working class. The winds of change are beginning to blow all around the province, and people here take what they know and what they love and just do their thing.

Rhythm of Cruelty – Nothing's Left
<<< read more >>>
Summer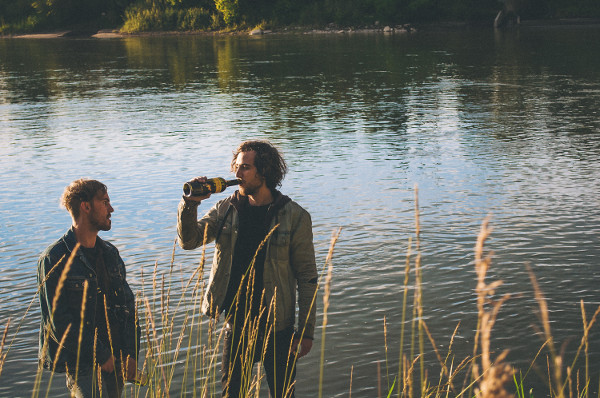 Summer is the comforting riposte to the (usually) soul-sucking, snail's-pace winter. Will summer be two months long this year, or three? Edmonton summers are green, invigorating and the best excuse to do as much as possible. Lots of time spent in our precious river valley, one of the largest urban green spaces around. It's part local lore, campsite, performance space and existential blanket.
Festivals
Hot Plains: http://hotplainsmusic.com/
Endless Bummer: https://www.facebook.com/endlessbummeredmonton
Bermuda Fest: http://bermudafest.com/
Interstellar Rodeo: http://interstellarrodeo.com/
Up + Downtown Festival: http://updt.ca/
Fringe Festival: https://www.fringetheatre.ca/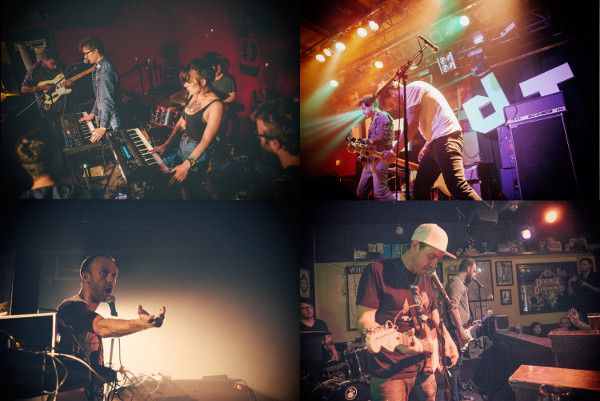 There's a
need
to be festive here, born from the geography and fleeting warm seasons. Bursts of creativity, loosening the blue and white collars (mostly blue) to celebrate all genres in groovy compartmentalization. These days, there's more thirst and more support for regularly large hoe-downs. Newer festivals continue to grow right along with the modern weirdness alive here today.
Wunderbar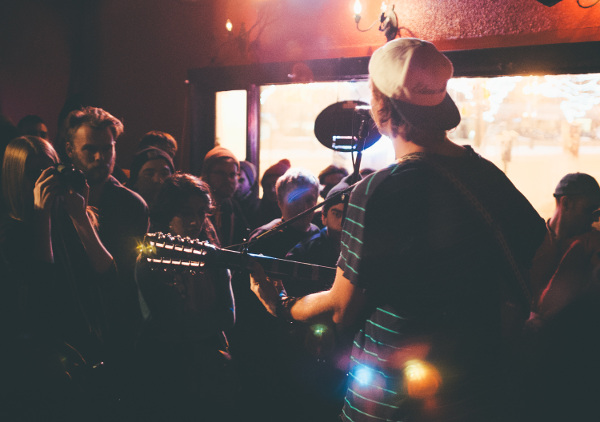 Address: 8120 101 Street
Contact: http://wunderbar-edmonton.com/
(LGBTQ friendly)
It's hard to put into words the personal and financial sacrifice that has gone into turning an old German soccer pub with
extremely
questionable clientele into a venue bands from around the country know about
(and love)
. But here goes: for almost half a decade, Martell and the fellas have been the doorway darkening facilitators for all kinds of music all across this damn northern epic, and around the world. In over four years, Wunderbar has become the epicentre of the weird, beautiful and unkempt musicians, artists, comedians and people who dig what they do. For bands who've had the task and pleasure of touring the country, Wundi is a very necessary stop. And for the uninitiated, show some passion, sensibility (and a with-it sound) and you may get a spot on a bill.
Update: As of this writing, Craig and his partners have officially put the Wunderbar up for sale.
Ramshackle Day Parade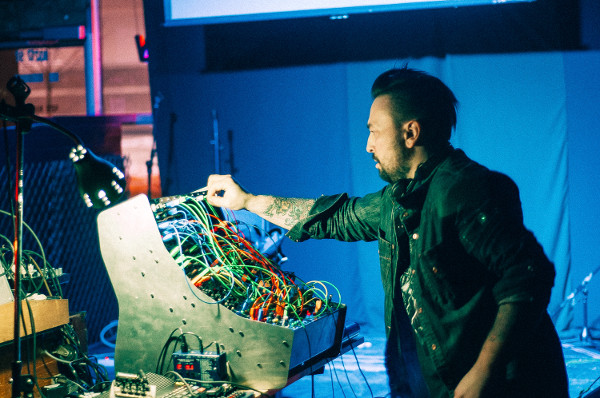 Contact: http://ramshackledayparade.wordpress.com/
(LGBTQ friendly)
Started around 2008, Ramshackle Day Parade (RDP) is the creation of
Parker James Thiessen
: a means to host performance,
release records
and expose the city to the outsiders and their experiments. Damn-near seven years later, RDP continues to be thee showcase of weirdness, mind expansion and destitute expression of those trapped in this icy fortress; sinistral cigarettes burn and the future looks unknowingly bright.
Whyte Avenue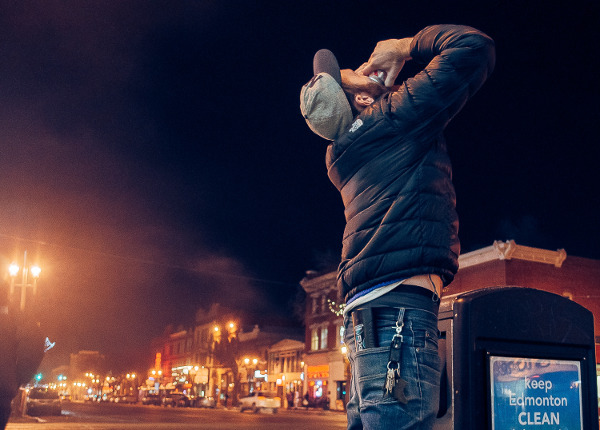 One of the more salient examples of our urbanity – Whyte Avenue – starts the day as a hub of shops, food, drink,
one-armed pushups
and buskers. At night, the historic strip turns into a haunted vestige of money, booze and disconcerting moments of stabby avoidance. Artists and musicians happily pass through the weekend; the drudgery and money is but a blip on the righteous path to good times.
The Log Cabin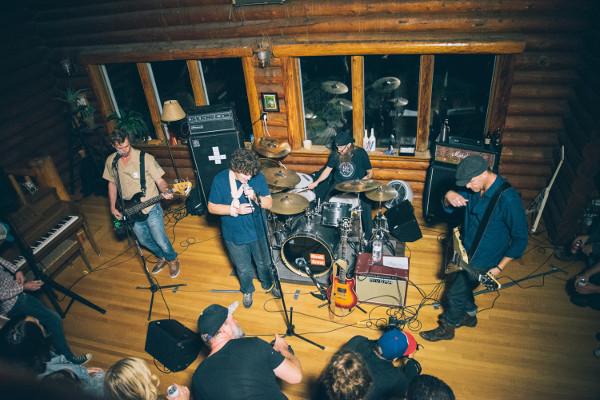 (LGBTQ friendly)
A fortunate situation has manifested itself in a safe, beautiful space to do the familiar things we enjoy – eat, drink, experience. Belonging to a local social worker, she along with family and friends have used this unique space, at one point to another, as a
vegan breakfast joint
, wedding venue, film set,
stand-in studio
and performance space. Edmonton has a tendency to put aside forethought and bulldoze irreplaceable structures. But here we are…a log cabin in the city, standing the test of time.
Listen/Freecloud/Blackbyrd

Blackbyrd: http://www.blackbyrd.ca/
Listen: http://listenrecords.net/
Freecloud: http://www.freecloud.ca/
Listen: Part of the underpinning of a renewed 124 Street west of downtown, Listen ain't large but there's a good chunk of everything there. Always good finds in the world music and international reissure section. Freecloud: Located across the street from the city's major arts high school (coincidence?!), Freecloud seems to have a classic, old punk record shop kind of vibe. Large curated used section and lots of local gems. Blackbyrd: Maintained by the consumers and creators, Blackbyrd's the magnet for neighbourhood dwellers and curios determined Northsiders. Located smack-dab in the midst of Whyte, stop by for a chat, and a dig through reissues and local sounds.
De la ville violette de Jared Majeski:
(Traduit par les curieuses mains d'AnneMarie Papillon)
Edmonton semble toute seule là-bas, au nord. Son emplacement géographique, son isolement et ses ressources nous façonnent : il y a une audace persistante dans toutes les choses créées ici. Société et expression s'animent dans ces creusets par passion, par plaisir mais surtout, pour survivre.
Alors, c'est quoi cet endroit, juste un peu trop au nord pour que les groupes viennent y jouer? Edmonton, c'est une petite ville c'est un havre moderne subtilement conscient, toujours en chantier : c'est une ville jeune qui ne demande qu'à grandir. Les changements imminents (bons ou mauvais) de son futur de plus en plus fragmenté aident à y faire éclore énergie et inspiration.
Avant l'arrivée des explorateurs et les vagues d'immigration, Edmonton était la terre des Cris, des Dénés, des Nakota Sioux, des Saulteaux, des Blackfoots et des Métis. Au début des années 1900, l'économie de l'Alberta – et inévitablement son futur – a changé. Elle est passée du respect de la terre) à l'extraction des ressources et au trafic d'influence venant de partout autour du globe. Son rôle en tant que joueur incertain dans le grand jeu du pétrole a endurci les gens, pour le meilleur et pour le pire.
En plus des structures et des lieux tangibles encourageant l'esprit créatif, l'inspiration provient de l'immatériel : les saisons, la géographie et la sensibilité rurale. Nos étés sont fugaces et sans repos, nos hivers sont longs et étrangement confortables. Plus de gens qu'on ne le pense ont grandi dans des villages sur le bord d'une route secondaire. Notre art public et notre architecture distincte ont le reflet métallique et utilitaire.
Les gens sont de plus en plus conscients de la panoplie de genres artistiques d'Edmonton, en partie grâce à l'irremplaçable CJSR et à notre dernier hebdomadaire artistique. S'opposant délicieusement à leurs collaborateurs des banlieues profondes, les groupes locaux remportent la coupe à la maison, comme dans le bon vieux temps.
Puisqu'Edmonton est éloigné géographiquement de nombreuses (presque toutes) grandes villes, on s'y retrouve comme dans un incubateur. Les artistes et les groupes essaient ce qu'ils veulent et si ça se rend jusqu'à Lloydminster; ceux qui ont réussi à se faire un nom au-delà des frontières de l'Alberta ont tendance à déménager vers de plus grandes villes.
Il y a de l'argent et des occasions pour plusieurs, mais le contraire est aussi vrai. Ce qui ressort est honnête, encourageant et solide : une créativité ouvrière. Les vents de changement commencent à souffler sur la province et ses habitants utilisent ce qu'ils connaissent et ce qu'ils aiment pour faire leurs trucs.

Rhythm of Cruelty – Nothing's Left
<<< la suite >>>
L'été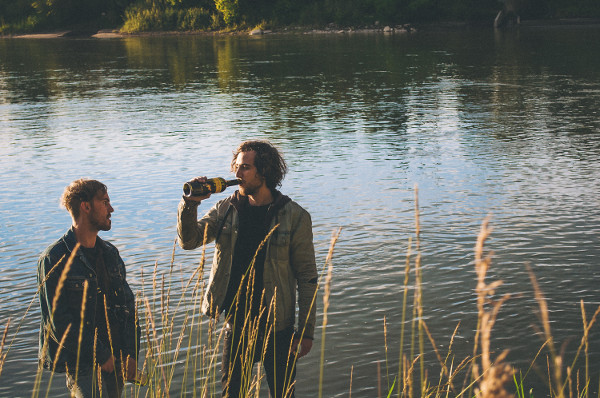 L'été est la riposte réconfortante à un hiver (trop) souvent éreintant et interminable. Est-ce qu'il durera deux mois cette année, ou trois? Les étés d'Edmonton sont verts et revigorants : la meilleure des excuses pour en profiter au max. On passe beaucoup de temps dans notre chère vallée fluviale, un des plus grands espaces verts urbains aux alentours. C'est tant une tradition locale, un terrain de camping et un lieu de performance qu'une doudou existentielle.
Festivals
Hot Plains : http://hotplainsmusic.com/
Endless Bummer : https://www.facebook.com/endlessbummeredmonton
Bermuda Fest : http://bermudafest.com/
Interstellar Rodeo : http://interstellarrodeo.com/
Up + Downtown Festival : http://updt.ca/
Fringe Festival : https://www.fringetheatre.ca/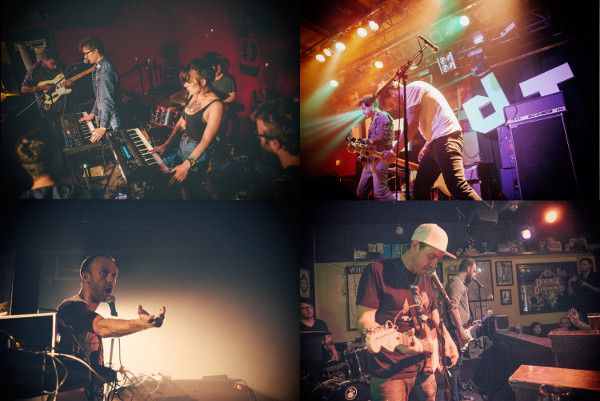 Ici, il y a un profond besoin d'être festifs causé par la géographie et la saison chaude fugace. Ces festivals sont des explosions créatives desserrant les cols bleus et blancs (surtout les bleus), pour célébrer tous les genres en morcellement groovy. Il y a aujourd'hui une plus grande soif et un meilleur soutien pour les festivals à grande échelle. Les festivals plus récents continuent de grandir au même rythme que la bizarrerie contemporaine caractéristique d'Edmonton.
Wunderbar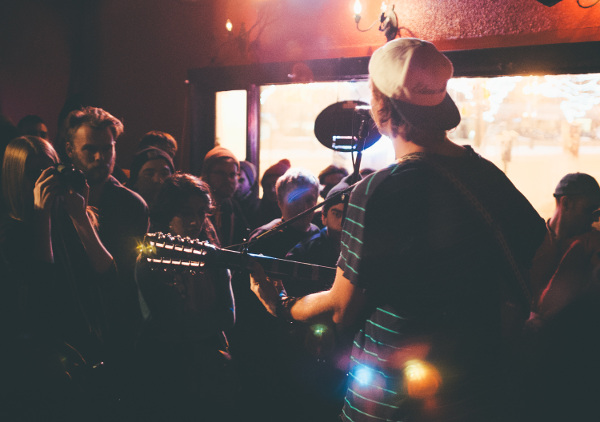 Adresse : 8120 101 Street
Contact : http://wunderbar-edmonton.com/
(Bienvenue aux LGBTQ)
Il est difficile de décrire tous les sacrifices personnels et financiers qui ont été faits pour ce projet : transformer un vieux pub sportif allemand, où on présentait des matchs de soccer à une clientèle
extrêmement
douteuse, en un lieu de spectacle connu (et
adoré
) par des groupes de partout au Canada. Mais je me lance : pendant près d'une demi-décennie, Martell et ses chums ont soutenu ce foutu bled nordique pour présenter de la musique de tout genre en provenance des quatre coins du globe. Sur plus de quatre ans, Wunderbar est devenu l'épicentre des musiciens, comédiens et artistes bizarres, superbes et débraillés; et des gens qui aiment ce qu'ils font. Pour les groupes qui avaient la mission (et le plaisir) de partir en tournée au Canada, Wundi est un arrêt incontournable. Et pour les non-initiés, si vous montrez de la passion, de la sensibilité et un son qui va avec, vous obtiendrez peut-être votre place pour une soirée.
Mise à jour : Au moment d'écrire ces lignes, Craig et ses associés avaient officiellement mis en vente le Wunderbar.
Ramshackle Day Parade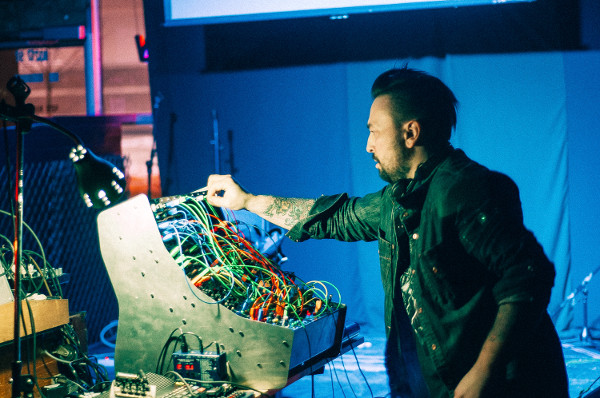 Contact : http://ramshackledayparade.wordpress.com/
(Bienvenue aux LGBTQ)
Ramshackle Day Parade (RDP) a été créé en 2008 par
Parker James Thiessen
. C'est un moyen de présenter des performances, de
sortir des disques
et d'exposer la ville à toutes ces expériences marginales. À peu près sept ans plus tard, RDP continue d'être la référence en matière de bizarre, d'ouverture d'esprit et de l'expression démunie de ceux prisonniers de cette forteresse de glace; une sinistre brûlure de cigarette et un futur semblant plus clair, à notre insu.
Avenue Whyte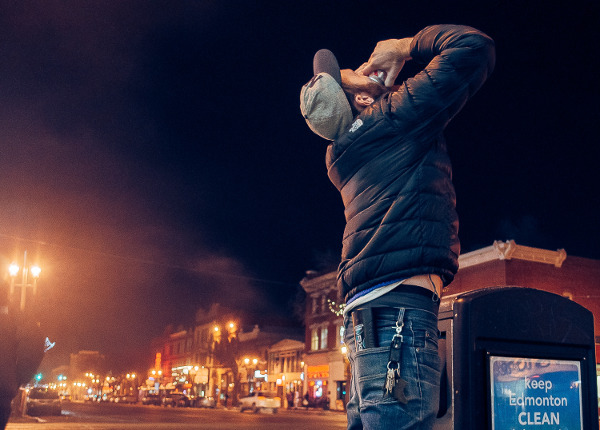 L'avenue Whyte est un des meilleurs exemples de notre urbanité : de jour, c'est un bourdonnement de boutiques, de nourriture, de boissons et de
pushups à un bras
; de nuit, ce coin historique devient un endroit hanté par les fantômes de l'argent, l'alcool et d'instants tranchants qu'on aimerait éviter. Les artistes et les musiciens passent des fins de semaine heureuses, la corvée et l'argent ne sont qu'un courant d'air sur le chemin menant au plaisir.
The Log Cabin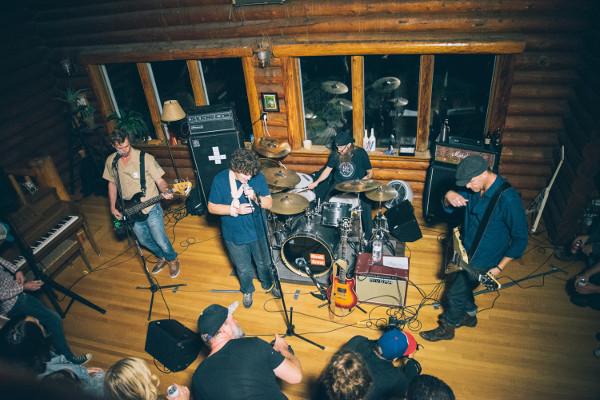 (Bienvenue aux LGBTQ)
Un évènement heureux s'est réalisé dans un bel endroit sécuritaire pour nous permettre de faire les choses que nous aimons : manger, boire, expérimenter. L'endroit appartient à une travailleuse sociale de coin, et à un moment ou un autre, elle et ses amis ont utilisé l'endroit comme
resto de déjeuners végétaliens
, salle de réception de mariage,
plateau de tournage
, et lieu de performance. Edmonton a cette tendance d'ignorer les prévisions et de détruire les structures indispensables. Mais nous voilà, une cabane en rondin au milieu de la ville, à l'épreuve du temps.
Listen/Freecloud/Blackbyrd

Blackbyrd : http://www.blackbyrd.ca/
Listen : http://listenrecords.net/
Freecloud : http://www.freecloud.ca/
Listen
: Faisant partie de la revitalisation de la 124e Ouest du centre-ville, Listen n'est pas très grand, mais on y trouve une bonne pelletée de tout. Il y a toujours des trouvailles dans les sections musique du monde et rééditions internationales.
Freecloud
: Situé en face d'une école secondaire spécialisée en art (coïncidence?!), Freecloud a une atmosphère classique, style vieux magasin de disques punks. On y trouve une superbe section de trucs usagés.
Blackbird
: Entretenu par ses fondateurs et ses clients, Blackbyrd est un aimant pour les citadins curieux. Fais-y un arrêt pour discuter et pour fouiller dans la section rééditions et découvertes locales.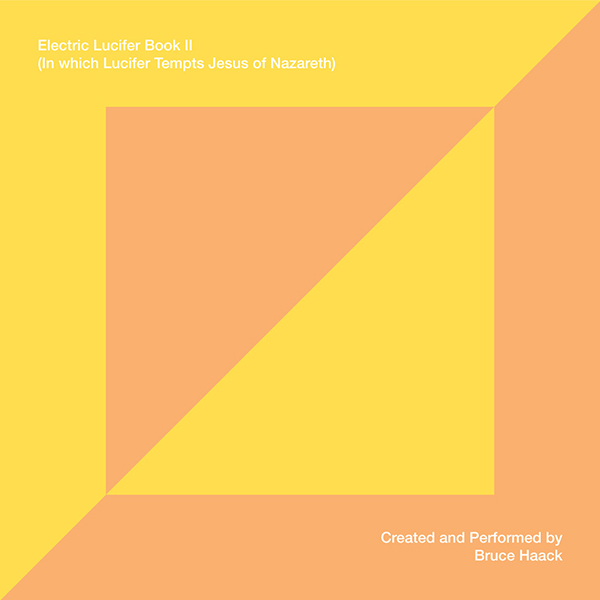 Bruce Haack
Electric Lucifer Book II
Calgary, AB
From the prairie talismans of Jared Majeski:
From the gruff hinterlands of Rocky Mountain House, Bruce Haack is a perpetual anomaly. A prodigious and delightfully confusing lone wolf way, way ahead of his time, he has become revered for personal, technological advances — both in the physical machinery he created and the resulting audio output. Book II, his follow-up to the legendary Electric Lucifer, is lyrically heavy; nursery rhythms and vocoded ruminations layered upon Haack's electronic landscapes. Perhaps it's the premonitory bullseye on the dizzying, beautiful and intensely distracting influence technology has on our lives, but the Haackified vision of the man-machine humanoid has become a perilously real possibility. At this point, one is asked not to just hear and listen, but to try and understand our (d)evolved techno existence.
Des talismans des prairies de Jared Majeski:
(Traduit par Jessica Grenier)
Bruce Haack est une anomalie perpétuelle venant de l'arrière-pays rude de Rocky Mountain House. C'est un prodige de loup solitaire délicieusement confondant et très, très en avance sur son temps, que l'on révère pour ses avancées personnelles et technologiques – tant les machines qu'il a créées que le son qui en sort. Book II, la suite du légendaire Electric Lucifer, est lyriquement lourd : rimes de comptines et ressassages vocodés s'empilent sur les paysages électroniques de Haack. Peut-être qu'il a misé juste en prédisant l'influence intense, belle et étourdissante de la technologie sur nos vies, mais la vision Haackienne de l'humanoïde homme-machine est une possibilité réelle et périlleuse. Rendu là, il ne faut pas se contenter d'écouter, il faut essayer de comprendre la (d)évolution de notre existence techno.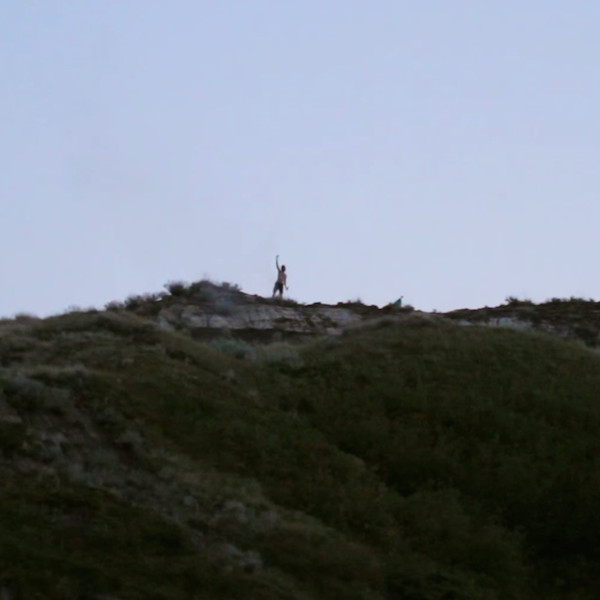 Brazilian Money
Give Up That Dog
(Director: Catlin W. Kuzyk)
Montréal, QC
From the psychedelic hoodoos of Jared Majeski:
Brazilian Money's new dry island mushroom trip burns and cross-dissolves through the ghost towns, petroglyphic buffalo jumps and last chances of southern Alberta lore. "Give Up That Dog" sees the transient central urbanites journey through frantic cuts and premonitions to the dusty steps of an infamous, kitschy museum. Imagine a gopher museum getting even weirder, yeah, it just happened.
De la poisse psychédélique de Jared Majeski:
(Traduit par la machine de Rube Goldberg alimentée par des rongeurs de Louis-Félix Pellerin)
Le nouveau trip de champignons magiques au coeur du parc Dry Island de Brazilian Money brûle à travers les villes fantômes, les précipices à bisons couverts de pétroglyphes et les dernières chances de folklore sud-albertain, tel un fondu enchaîné. « Give Up That Dog » voit des citadins de centre-ville plutôt voyageurs entreprendre un périple à travers coupes et prémonitions frénétiques jusqu'aux marches poussiéreuses d'un musée kitsch tristement célèbre. Si vous pensiez qu'il ne pouvait pas y avoir plus bizarre qu'un musée dédié aux gaufres, bah détrompez-vous, on en est rendu là.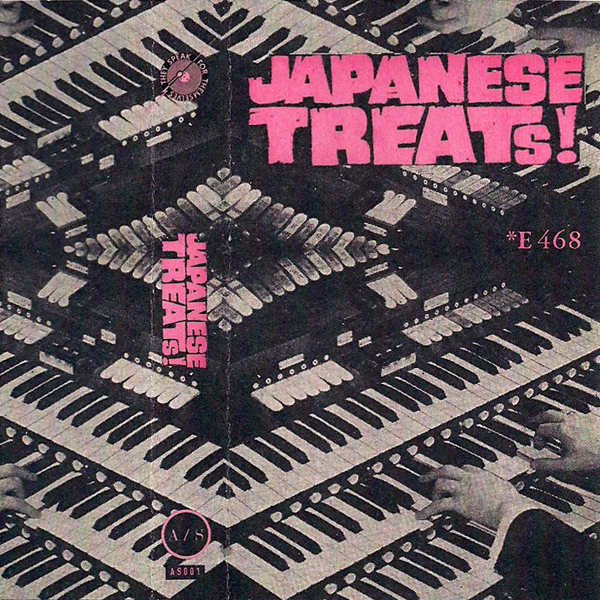 For several years now, Ben Disaster has kept Edmonton dancing, partying, smiling and as of late sweatin' and two-steppin'. Now presenting the verbicidal Japanese Treats, his new gurgled pan-and-warble organ conquest, the crackles and the layers that envelope and confuse make it tangible and eerie: xylographic etchings rather than lazer-burned temporarity. "They will never understand you/even if they ever wanted to" he croons on "In the Television Hours", and y'know what? That's just comforting and beautiful.
Japanese Treats
*E 468
Edmonton, AB
From the evolved expressions of Jared Majeski:
For several years now, Ben Disaster has kept Edmonton dancing, partying, smiling and as of late sweatin' and two-steppin'. Now presenting the verbicidal Japanese Treats, his new gurgled pan-and-warble organ conquest, the crackles and the layers that envelope and confuse make it tangible and eerie: xylographic etchings rather than lazer-burned temporarity. "They will never understand you/even if they ever wanted to" he croons on "In the Television Hours", and y'know what? That's just comforting and beautiful.
De la parole évoluée de Jared Majeski:
(Traduit par Jessica Grenier)
Ben Disaster entretient une ambiance de sourires, de fête et de danse depuis plusieurs années déjà à Edmonton, mais ces derniers temps, la sueur se mêle à la cadence. Je vous présente le verbe incendiaire de Japanese Treats : un triomphe de borborygmes gueulés, les crépitements et les couches qui enveloppent et qui confondent, donnant un tout tangible, mais irréel; une xylographie à l'eau-forte plutôt qu'une temporalité brûlée au laser. Dans « In the Television Hours », il chante : « Ils ne te comprendront jamais/même si, un jour, ils le voulaient ». Et vous savez quoi? C'est tout simplement beau et réconfortant.

Japanese Treats – In the Television Hours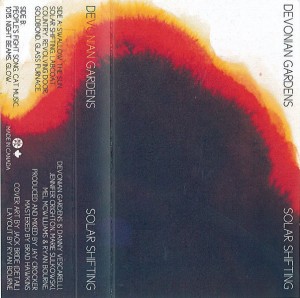 Devonian Gardens
Solar Shifting
(Self Released)
Calgary, AB
From the badland fog of Jared Majeski:
When we embrace our psychotic freedom, our world ceases to be pedestrian. Calgary's Devonian Gardens (ex-Deadhorse) are five of the sublimely experienced, and with Solar Shifting they exhibit the laid back devotion of a group that has done its own for years. The tools and accents are many, swarming the waves and sines with harp fuzz, gnarly 12-string twang, joyous reverb coil vibrations and divine five-part vocal harmonies (just to name a few). Deceivingly loose in its technicality, the pastel psychedelia preached here may very well iterate the decades of past, present and (!?) future. Devonian Gardens have found their sea legs.
Du brouillard des badlands de Jared Majeski:
(Traduit par le rythme de croisière de Virginie Langlois)
Lorsqu'on épouse notre liberté psychotique, notre monde cesse d'être prosaïque. Les cinq membres de Devonian Gardens de Calgary (ex-Deadhorse) sont sublimement expérimentés et avec Solar Shifting, ils affichent la dévotion décontractée d'un groupe qui fait cavalier seul depuis des années. Les effets y sont nombreux : l'harmonica qui envahit les ondes et les sinusoïdes, le son nasillard de la guitare à 12 cordes, les vibrations joyeuses de la reverb à ressort et les divines harmonies vocales à cinq voix (pour n'en citer que quelques-uns). Avec ses détails techniques faussement approximatifs, l'univers psychédélique aux tons pastel prôné ici pourrait fort bien être la bande son des décennies passées, du présent et du futur. Devonian Gardens a trouvé son rythme de croisière.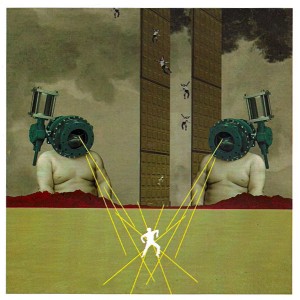 Zebra Pulse
Heh, Vay Bae-Bays
Edmonton, AB
From the bald ego of Jared Majeski:
Now comfortably ensconced in four-piecedom, Peace Country picaros Zebra Pulse have a new full length of electronic boundary-making: phonetic digital trills, cracked vinyl fuzz and percussive gangles steering the ship (close) to oblivion. Possibly less harsh but more layered and clear, Heh, Vay Bae-Bays is somewhat surprisingly their first studio recording, and if the song titles are any indication, proves to be a weird, funny and uncomfortably profound experience. This latest noise confessional was released to the world the only way possible: enlisting a droid-inspired street artist and hiding said droids along with cassettes of b-side studio recordings around the city for people to find.
Have you ever taken a trip and not known at all where you were heading? That's the kind of steeze oozing from the Zebra Pulse gaskets. Just another day in The City of Champs.
De l'ego flagrant de Jared Majeski:
(Traduit par Natalie Binda)
Maintenant confortablement constitué en quatuor, Zebra Pulse, les picaros de la Rivière de la Paix, repousse les frontières de l'électronique avec leur nouvel album : trilles vocales numériques, crépitements de vinyle fuzzé et rythmes dégingandés guidant le navire jusqu'à l'oubli (ou tout près). Sans doute moins cru mais plus limpide et texturé, Heh, Vay Bae-Bays, étonnamment leur premier enregistrement studio, se révèle, si on se fie aux titres de chansons, une expérience bizarre, drôle et inconfortablement profonde. Ce plus récent cri du coeur noise a été livré au monde de la seule façon possible : avec l'aide d'un artiste de rue passionné de droïdes, des cassettes de b-sides accompagnées des dits droïdes ont été dissimulées en ville afin d'être retrouvées. Avez-vous déjà fait un voyage en ignorant votre destination? Voilà exactement le genre d'attitude pénarde qui émane de la mécanique de Zebra Pulse. Un autre jour dans la Ville des Champions.
Zebra Pulse – The Rusted Bones of Home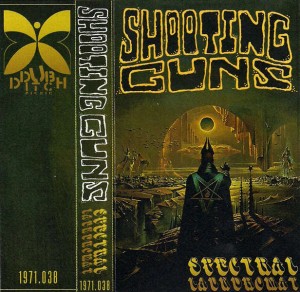 Shooting Guns
Spectral Laundromat
Saskatoon, SK
From the nuclear water of Jared Majeski:
A rare eyetooth of cutting room mayhem, Spectral Laundromat is another sludge-trudge journey from the Biggest Smoke in the prairies. Noticeably more shredding, delicate (enough) cymbal tins and straight-toed twangs blanketed by all sorts of atmosphere you likely won't hear again. What is this mystical cosmicity and where will it take us? Shred your skin, ryde the dragon and find out. It doesn't seem like the doom will end any time soon.
De l'eau nucléaire de Jared Majeski:
(Traduit par les déchirements d'Andréanne Dion)
Une collection de perles rares jamais parue sur un album auparavant, Spectral Laundromat est une autre traversée dans la boue venue de la plus grande ville des Prairies. Sensiblement plus de « shred », des cymbales (assez) délicates et des vibrations simples recouvertes de toutes sortes d'ambiances que vous n'entendrez probablement jamais plus. Qu'est-ce que ce cosmos mystique et où nous mènera-t-il? Déchiquetez votre peau, montez sur le dragon et découvrez-le. Il semble que le malheur ne se terminera pas de sitôt.
Shooting Guns – Deepest Purple (for Krang)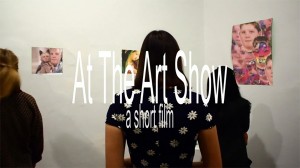 From the goshdarn gallery of Jared Majeski:
As a landlocked Albertan since birth, oceanic inspirations remain an elusive distance. What's it like growing up near the sea? Halifax director Heather Rappard departs from her grainier, art house experiments for a spin-the-bottle-awkward trip to gallery with fellow Haligonian creative types, Old and Weird. Mildly Lewisian in its goshdarn playfulness, "All of My Friends" sums up everything wrong with our generation in the only way possible: booze, art and internet memes. But hey, what do all the squares in the world know anyway? Like the gals tell us: "As long as I'm happy I'll be happy…er, whatever."
De la folie extatique d'Jared Majeski:
(Traduit maladroitement par Andréanne Dion)
Pour un Albertain enfermé dans les terres depuis sa naissance, les sources d'inspirations océaniques demeurent à une insaisissable distance. Comment est-ce que de grandir près de la mer? Heather Rappard, la réalisatrice d'Halifax, s'éloigne de son style granuleux et expérimental en faveur d'un voyage à la galerie d'art (qui s'avère être aussi embarrassant qu'une partie de jeu de la bouteille) avec des créatrices elles aussi Haligoniennes, Old and Weird. Passablement Lewisien dans son sacré enjouement, "All of My Friends" résume tout ce qui ne va pas avec notre génération de la seule façon possible : à force d'alcool, d'art et de mèmes internets. Mais hé, qu'est-ce que tous les gens assommants du monde savent de toute façon? Comme les filles nous le disent : "As long as I'm happy I'll be happy… er, whatever."
---