Tag: jangly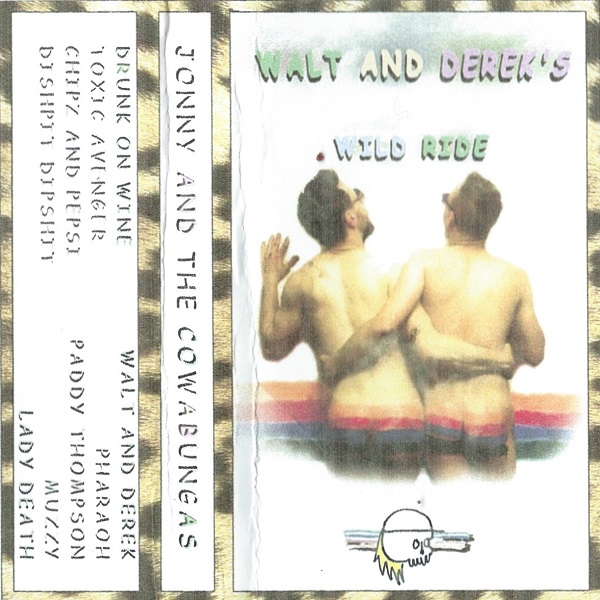 Jonny and the Cowabungas
Walt and Derek's Wild Ride
(Lawnchair Records)
St. John's, NWLD
From the endless summer of Mike Roy:
Born in a vat of b-movie superheroes, jangly guitar chords and surf age nostalgia, Jonny and the Cowabungas are St. John's latest export for a good time. Under the recording guidance of Micah Brown (MAANS), Walt and Derek's Wild Ride effortlessly drift over a wave of mostly instrumental garage rock, with swells of influences like Spaghetti Western soundtracks ("Paddy Thompson") to '60s heartbreak pop ("Muzzy"). The result is both energetic and electrifying, and surely leaves you sun-kissed long into those cold winter months.
De l'été sans fin de Mike Roy:
(Traduit par la coupure à l'annulaire droit de Julie Mayer)
Nés dans une cuve de super-héros de série B, d'accords de guitare cliquetants et de nostalgie du temps où le surf avait la cote, Jonny and the Cowabungas sont la toute dernière exportation de St. John depuis un bon moment. Sous la direction de Micah Brown (MAANS) à l'enregistrement, Walt and Derek's Wild Ride dérive sans effort sur une vague de garage rock surtout instrumental, accompagnée d'une foule d'influences allant du western spaghetti (« Paddy Thompson ») à la heartbreak pop des années 60 (« Muzzy »). Le résultat est à la fois énergique et électrisant, et ensoleillera sans aucun doute nos froids mois d'hiver.
Jonny and the Cowabungas – Drunk On Wine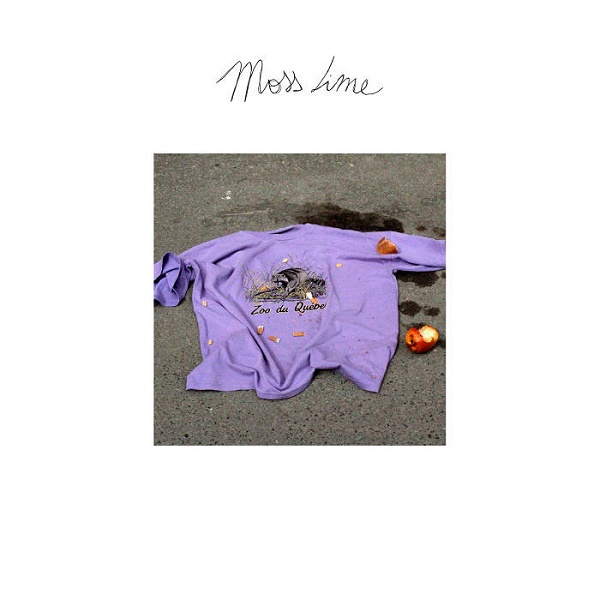 Moss Lime
Zoo du Québec
Montreal, QC
From the memoire footnotes of Rolf Klausener:
The canon of popular music is a thick and robust map of nascent islands and ancient territories. Among them is a land inhabited by the unconscious bass grooves of E.S.G. and the twisted innocence of Beat Happening and the Raincoats; Moss Lime run an eclectic thrift store on its outermost borders. Zoo du Quebec is a furtive tidal wave of immediacy and joy. We're living through a time when vocals are auto-tuned to Adele-ish heights, or stripped of any intimacy by the fog of reverb; singer Hélène Barbier offers glorious contrast. Her dry and dadaist storytelling, sounds like a new friend quietly letting you know, over the din of a packed and sweaty bar, that there's a quiet, late-night cafe around the corner, and it has the best veggie poutine in town; Moss Lime takes your hand, walks you out of the bar, and guides you far from the fray.
Des notes en bas de page de mémoire de Rolf Klausener:
(Traduit par la carte géographique fluorescente de Mackenzie Smedmor)
Le critère de la musique populaire est une carte géographique épaisse et robuste d'îles naissante et d'anciens territoires. Parmi eux se trouve une terre habitée par les grooves de basse inconsciente d'E.S.G. ainsi que l'innocence tordue de Beat Happening et de Raincoats; Moss Lime entretient un magasin d'occasion éclectique sur ses frontières les plus éloignées. Zoo du Québec est un tsunami furtif d'immédiateté et de joie. On vit dans une ère où les chants sont autoaccordés aux apogées à la Adele, ou bien dépourvus d'intimité par le brouillard de réverbération; la chanteuse Hélène Barbier offre un contraste glorieux. Sa narration sèche et dadaïste résonne comme un nouvel ami qui te prévient doucement, au-delà du vacarme du bar bondé et moite, qu'il y a un café nocturne tranquille au coin de la rue qui a la meilleure poutine végétarienne de la ville; Moss Lime te prend la main, t'accompagne hors du bar et te guide loin de la mêlée.
Moss Lime – I Always Get What I Want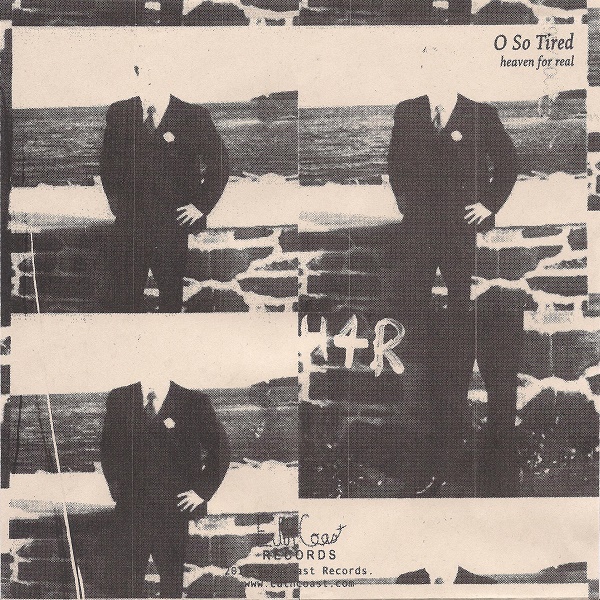 Heaven For Real // Homebody
Split
Halifax, NS
From the gnawed appendages of Piper Curtis:
Tired and roadworn, Heaven For Real trudge along an open roadway, dusty and without an end in sight. Directionless and meandering. Sunrises melt into sunsets, the passing of each day constant and unrelenting. They shed their skins, feet dragging, trying to find something, or some place, destination unknown. Their loss is palpable, yet there is no yearning, only an exhausted search.
Something comes into view and the pace quickens. They break into a run, only to be faced again with loss as it fades: a mirage.
The road continues.
Des appendices rongés de Piper Curtis:
(Traduit par les entrailles ravagées de Marie-Pier Chevrier)
Fatigués de toujours rouler, Heaven For Real se traînent le long des kilomètres de route, poussiéreux et à perte de vue, en errance dans les méandres. Aurores qui se fondent en crépuscules, le cours des jours et sa constance impitoyable. Ils changent de peau, traînant des pieds en quête d'un quelque chose, d'un quelque part inconnu. Leur perte est palpable, mais aucun désir en vue, rien d'autre que cette quête épuisée.
Quelque chose à l'horizon, le pas s'accélère. Ils commencent à peine à courir que la vision se perd déjà. Mirage…
Et la route continue.
---