Tag: jammer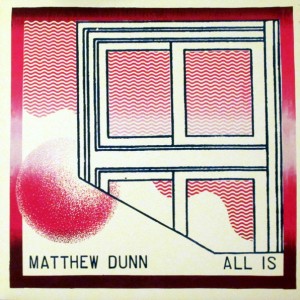 Matthew Dunn
All Is
(Cosmic Range)
Toronto, ON
From the moon gardens of Jesse Locke:
Doc Dunn flings open the shutters of perception on this vinyl-only expedition into the inner cosmos. Switched on to heliocentric frequencies, these home-recorded heatwaves were laid down Portastudio style as the blueprint for future flights in a group incarnation, yet stand alone as a soothing and spellbinding trip. Side A starts off with a series of soft-focus sketches varying in degrees of abstraction, but the pair of longer pieces on the flip is where it really lifts off. The 11-minute "All Is And Ever Will Be" hovers on a hazy organ drone with muted splatter-clatter skimming below the surface like a one-man Flower-Corsano Duo. Closer "Earth House" is the coolest pool of equanimity, layering echoed keys with electronic squelch and a headbobbing rhythm to bring the journey back to Satchidananda.
Des jardins lunaires de Jesse Locke:
(Traduit par la fréquence héliocentrique de Vincent Rondeau)
Doc Dunn ouvre grand les volets de la perception avec ce parcours du cosmos intérieur, disponible exclusivement sur vinyle. Ces vagues de chaleur sonores, réglées sur des fréquences héliocentriques et enregistrées maison à la Portastudio, constituent autant un modèle pour des explorations de groupe futures qu'un voyage en soi, à la fois envoûtant et apaisant. La face A présente une série de vignettes floues à degré d'abstraction variable, mais les deux longues pièces du verso décollent pour de bon. Sur « All Is and Ever Will Be », qui dure 11 minutes, la vibration d'un orgue vaporeux est troublée par le fracas d'une batterie sauvage, évoquant une fusion en un seul être du duo Flower-Corsano. La finale, « Earth House » est un lac frais d'équanimité aux sédiments de claviers réverbérés, de giclements électroniques et de rythmes entraînants qui vous ramènent vers le Satchidananda.
Thom Huhtala Band
Mixtape III
(Self Released)
Toronto, ON
From the time-be coherence of V. Rachel Weldon:
Wavering in devotionally, the organ mumbles an introduction for our speaker. Smoke fills the air as he joins the congregation in the First Church of Jam. The sermon is hypnotizing. It wanders around wraith-like, losing us. Drifting, we are drawn to and fro in currents of improvised guitar riffing and chaotic dream-like noises, into pools of time-be coherence. They too dissolve into others. Passing through doors of perception in the hall that grows and shrinks, and stepping out onto the infinite shore.
Ed's Note: This mixtape is intended to flow as a single track, but Thom gave us permission to break it down into excerpts for the purpose of this post. Seek out the CD-R for the uninterrupted experience.
De la cohérence momentanée de V. Rachel Weldon:
(Traduit de la perception permanente de Catherine Gaucher)
Oscillant avec dévotion, l'orgue marmonne une introduction pour notre orateur. La fumée remplit l'espace alors que ce dernier se joint à la congrégation de la Première Église du Jam. Le sermon est hypnotisant. Il erre autour de nous tel un spectre, jusqu'à en perdre nos repères. En dérive dans l'océan de la cohérence occasionnelle, nous sommes entraînés çà et là parmi les courants d'accords de guitares improvisés et l'onirisme des bruits chaotiques. Aussi, se dissolvent-ils les uns dans les autres. Passant par les portes de la perception, traversant un couloir qui s'allonge puis rétrécissit pour déboucher sur un rivage infini.
Note de l'éditeur : Ce mixtape est destiné à être écouté d'un seul morceau, toutefois, dans le but de cet article, Thom nous a permis de le décomposer en extraits. Pour une expérience ininterrompue, partez à la recherche du CD-R.
Thom Huhtala Band – Mixtape III [excerpt 1]
---