Tag: james goddard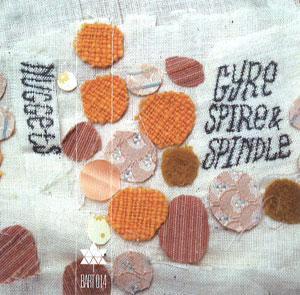 Gyre Spire & Spindle
Nuggets
Edmonton, AB
From the spindly gyrations of James Goddard:
While we're on the topic of Bart Records, can I mention the tragically short-lived Gyre, Spire & Spindle? Technically savvy and hyper-literate, they're a fitting realization of the fables their name conjures. The recipe was simple: one folkie turned post-hardcore screamstress, several journey–men Edmonton musicians, and a penchant for pairing words. Simmer in a large, black, cauldron. Serves up one brain-melting five-song cassette. Nuggets is proof that once upon a time there was Gyre, Spire & Spindle. Grip it while it lasts.
Des girations grêles de James Goddard: (Traduit par les contes de Maya Keshav)
Pendant qu'on parle de Bart Records, je peux mentionner Gyre, Spire & Spindle qui était malheureusement éphémère? Calés en informatique et hyper-lettrés, ils sont une réalisation appropriée des contes que leur nom rappelle. La recette était simple: une musicienne trad devenue hurleuse post-hardcore, quelques vaga–bondes musiciens d'Edomonton, et un penchant pour jumeler les mots. Mijotez dans un grand chaudron noir. Et voilà une cassette bouleversante de cinq chansons. Nuggets est la preuve qu'il y avait une fois Gyre, Spir & Spindle. Achetez-la avant qu'elles sont tous vendues.

Gyre, Spyre & Spindle – Wishy Washy

Gyre Spyre & Spindle – Splishy Splashy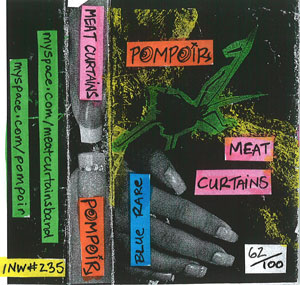 Meat Curtains // Pompoir
Blue Rare
(Isolated Now Waves (INW 235))
Halifax, NS // Vancouver, BC
From the blue-label rarity of James Goddard:
There is the music – loud, thrashed out, punk descended, riff heavy tunes held together by cacophonous percussion and throat tearing vocals. Then there is the politics – re-appropriating pejorative terms for female anatomy and sex acts, a jaded DIY nihilism, and the revolutionary potential of punk itself. There is the A Side – Halifax's critic-baiting, charcuterie-themed, absurdist fem-core four piece Meat Curtains. Then there is the B Side – Vancouver's sex-positive, weird punk, all-stars. There is…you're still reading this crap? You should probably listen to the fuckin' traxxx. Now. It's imperative.
De la rareté étiquette-bleue de James Goddard: (Traduit par les rideaux végétariens de Maya Keshav)
Il y a la musique— les tounes fortes, trashy, punk-descendues, et remplies de riffs qui sont unies par les percussions cacaphoniques et les chants gorge-déchirants. Puis il y a la politique— en s'appropriant les termes péjoratifs pour l'anatomie femelle et pour les rapports sexuels, avec un nihilisme DIY assez blasé, et le potentiel révolutionnaire de punk lui-même. Pis il y a la face A— le quartette absurdiste fem-core et critique-taquinant à thème de charcuterie, Meat Curtains de Halifax. Pis il y a la face B— les stars de weird punk avec une approche sexuelle positive, de Vancouver. Il y a … tu lis encore cette merde? Tu devrais probablement juste écouter les maudits morceauxxx. Maintenant. Il est impératif.

Meat Curtains – Dead Dog

Pompoir – Side B [excerpt]

Meat Curtains – Get Rebel

Meat Curtains – Pepperoni Ghost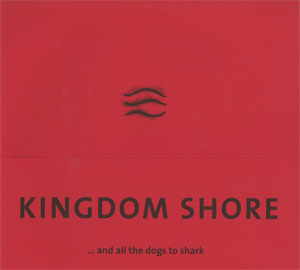 Kingdom Shore
… and all the dogs to shark
Ottawa, ON
From the shark-dog feathers of James Goddard:
Kingdom Shore eviscerates with tense, calculated string slashes. Ultra-violent. Tightly wound. Subtly disorienting. …and all the dogs to shark is a visceral listening experience; unrelenting sharp edges, protruding corners and just enough quiet. There is undoubtedly a sophisticated theoretical framework to analyze here, but that isn't the point, this album hits you on altogether different level. This is violent music. This is the soundtrack to Saw 18. This is the soundtrack for your next UFC viewing party.
Des plumes du chien-requin de James Goddard:
(Traduit par Odile Leclerc)
Kingdom Shore éviscère avec une série de coupures tendues et calculées. Ultra-violent. Étroitement enroulé. Subtilement désorientant. …and all the dogs to shark est une expérience d'écoute viscérale; d'impitoyables bords tranchants, des coins saillants et juste assez de silence. Il y a sans aucun doute un cadre théorique sophistiqué pour analyser ici, mais ce n'est pas le but, cet album vous frappe complètement à un tout autre niveau. Ces de la musique violent. C'est la piste sonore de Décadence 18 (Saw 18). C'est la piste sonore de votre prochaine fête de visionnement d'UFC.

Kingdom Shore – Stray Bullets Singing "It's now what you say, but who you give it to"

Kingdom Shore – Fire knows no one house; fire knows no one woman or man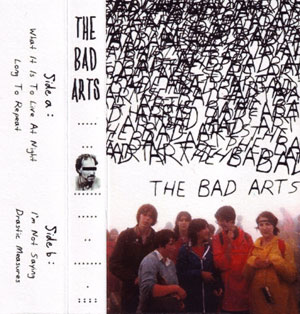 The Bad Arts
The Bad Arts
(Self Released)
Halifax, NS
From the not-so-bad artistry of James Goddard:
Some philosophers believe in a unified totality. For them everything is one thing. That one thing might be something vague or something specific. The Bad Arts seem to believe that every individual song should contain as many musical ideas as possible. Moving through rock and roll tropes like an undergraduate survey course, The Bad Arts cassette is a terse treatise on abrasion tempered by that inescapable haligonian penchant for mathy pop.
Des talents artistiques pas si mal de James Goddard:
(Traduit par Odile Leclerc)
Il y a des philosophes qui croient en une totalité unifiée. Pour eux, tout est une chose. Cette chose unique pourrait être quelque chose de vague ou quelque chose de spécifique. Les Bad Arts semblent croire que chaque chanson individuelle devrait contenir autant d'idée musicale que possible. Se déplaçant à travers les variations de rock and roll tel une étude de cours de premier cycle, la cassette de Bad Arts est un sobre traité par abrasion tempéré par cet inévitable penchant haligonien pour le pop mathy.

The Bad Arts – Drastic Measures

The Bad Arts – Long To Repeat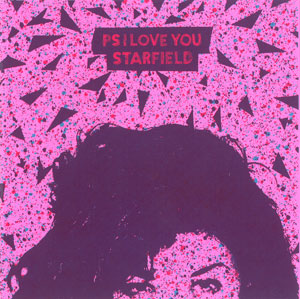 PS I Love You
Starfield
(Thing Itself)
Kingston, ON
From the starfield eyes of James Goddard:
There are two Kingstons: One sanitized and sold – yours to discover. The home of Sir John A. Macdonald. The first capital of the Province of Canada. Regal, limestone buildings, and staid institutional stuff. Then there is the Kingston inhabited by PS I Love You. A heavy, hook-laden, irresistibly catchy, summer-ripened forbidden fruit of a place. The two tracks on this 7″ are uncompromising displays of pop prowess beginning with "Starfield", which maps the trajectory of a maybe romance, anchored in the middle by a censor-baiting string of "fucks". This is followed by a b-side that dives head-first into a world where mundane obligations are subsumed by good times, distortion and unstoppable guitar tone.
Des yeuxs scintillants de James Goddard: (Traduit par les édifices calcaires de Maya Keshav)
Il y a deux Kingstons: L'un est aseptique et vendu— Tant à découvrir. La ville de Sir John A. Macdonald. La première capitale de la province du Canada. Les choses imposantes, les édifices calcaires, les institutions guindées. Pis il y a le Kingston de PS I Love You. Un fruit défendu lourd, chargé d'accroches, irrésistiblement entraînant, mûri par l'été. Les deux voies sur ce 7" sont des démonstrations intransigeantes de prouesse pop en commençant avec "Starfield", qui élabore une carte d'une idylle possible, ancré au milieu par un flot censeur-taquinant de "fucks". Ceci est suivi d'une face B qui saute tête baissée dans un monde où les obligations banales sont englobées par les bons moments, la distorsion, et un ton imparable de guitare.

PS I Love You – Starfield

PS I Love You – Butterflies & Boners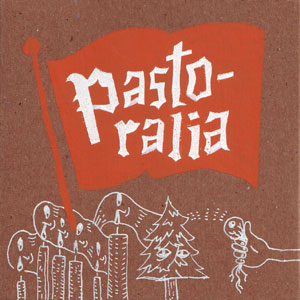 Pastoralia
Across Living Room Floors
Halifax, NS
From the tuesday-night pasta of James Goddard:
I once had the good fortune to go drinking with underwater welders. I was left with the distinct impression that were I fonder of Whitesnake submarine metal-working might have been the life for me. Pastoralia, like underwater welding, is a strange combination of things; clown makeup, throw-back samples, and choreographed dance sequences all blended seamlessly with a power-pop trio. Mitchell Wiebe's vocals float disaffectedly over thalassic bass lines and discarded C&C Music Factory beats. What Pastoralia do may be more akin to making collages out of US Weekly in a wading pool than actual under-water welding, but isn't that just a matter of scale? .
De la soirée- pâte du mardi de James Goddard:
(Traduit par Odile Leclerc)
Une fois j'ai eu la chance d'aller prendre un verre avec des soudeurs sous-marins. Je fus laissé avec la distincte impression que si j'étais le fondateur de Whitesnake, la métallurgie sous-marine aurait pu être la vie pour moi. Pastoralia, comme la soudure sous-marine, est une étrange combinaison de choses; de maquillage de clown, des échantillons rejetés et des séquences de danse chorégraphiée toutes mélangées harmonieusement avec un trio de pop choc. Les chants de Mitchell Wiebe flottent de façon désabusés sur les lignes de basse de thalasso et les battements mis de côté de C&C Music Factory. Ce que Pastoralia fait ressemble peut-être plus à du bricolage sorti de US Weekly dans une barboteuse qu'à de la soudure sous-marine, mais n'est pas simplement un affaire d'échelle?
Pastoralia – Daddy Daughter Dance
Frederick Squire
Friday March 12
(Self-Released)
Sackville, NB
From the tantramaratic marshes of James Goddard:
There is a special bite to the wind that blows off the Tantramar. Fred Squire's songs are modeled after that marsh wind. They wake you up. Expertly positioned, every layer arranged like a plate in a drying rack. The voice, guitar, drums, piano; one after another. Fred wants you to watch him build these songs. He draws your attention to the process, to the pedals and the microphones, the tape and the instruments; it's an attention to recording. He's showing you how to make something sound ecclesiastical, reverential, like the wind. While at the same time never allowing one to losing sight of the fact that underneath all that is a man with a guitar and a voice like a paragon.
Des marais tantramariens de James Goddard:
(Traduit par Odile Leclerc)
Il y a un mordant spécial au vent qui souffle sur le Tantramar. Les chansons de Fred Squires sont modelées de ce vent de marais. Ils vous réveillent. Positionné expertement, chaque couche arrangée comme une assiette sur un support de séchage. La voix, la guitare, les batteries, le piano; un après l'autre. Fred veut que vous le regardiez bâtir ces chansons. Il attire votre attention dans le procédé, vers les pédales et les microphones, la cassette et les instruments; c'est une attention d'enregistrer. Il vous montre comment faire sonner quelque chose ecclésiastique, révérenciel, comme le vent. Pendant qu'au même moment il ne permettrait jamais de perdre de vue le fait qu'en dessous de tout ça il y a un homme avec une guitare et une voix de parangon.
Frederick Squire – You Sing High We Will Sing Low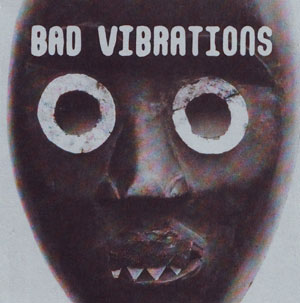 Bad Vibrations
Bad Vibrations
(Brotherhood Cassettes)
Halifax, NS
From the not-so-bad vibrations of James Goddard:
Sometimes I imagine a future where everyone has forgotten what a guitar actually sounds like; Children brought up on a steady diet of French pop and Swedish 8-bit. Eventually, current trends like lo-fi would become ailments listed in the DSM VII with prescriptions like: 2 hours of Kumbaya orchestrated by battery-operated MicroKorgs (twice daily, with food). Things would be bad. Luckily former Dog Day drummer KC Spidle has strapped on a six string and stepped to the foreground to ensure such a future will never happen. Bad Vibrations play guitar music. They play the kind of three piece power-pop that begs for adjectives like dark or gloomy; and they play it well. Eschewing any kind of overt studio trickery, the members of Bad Vibrations (KC, Evan and Meg) have put together a crisp sounding record that subtly recalls that classic 90s Halifax sound. Nothing could be further from an all-electro dystopia.
[Levin's Note: James forgot the positive side of an all-electro dystopia: Gino Soccio all day 'ere day.]
Des vibrations pas si males de James Goddard: (Traduit par Odile Leclerc)
Des fois j'imagine un futur où tout le monde a oublié comment une guitare sonne actuellement; Children a apporté une diète stable de pop Français et de 8-bit Suédois. Éventuellement, les tendances présentes comme le lo-fi deviendront des maux listés dans le DSM VII avec des prescriptions comme : 2 heures de Kumbaya orchestré par MicroKorgs dirigés par batteries (deux fois par jour avec de la nourriture). Les choses iraient males. Par chance, l'ancien batteur de Dog Day KC Spidle a attaché sur lui un six-cordes et avancé en premier plan pour assurer qu'un tel futur n'arrivera jamais. Bad Vibrations jouent de la musique de guitare. Ils jouent le genre de pop puissant de trois pièces qui supplie pour des adjectifs comme sombre et lugubre; et ils le jouent bien. Évitant toute tromperie de studio ouvert, les membres de Bad Vibrations (KC, Evan et Meg) ont assemblé un enregistrement croustillant qui nous rappelle subtilement ce son classique d'Halifax des années 90. Rien ne pourrait être plus éloigné d'une dystopie toute électro.
[Note de Levin : James a oublié le côté positif d'une dystopie toute électro; Gino Soccio toute la journée.]
Adam Mowery
Port City Burning
(Self Released)
Saint John, NB
From the singed mind of James Goddard:
Adam Mowery began the decade singing songs about being a cat and wearing striped socks in a well-loved acoustic indie-pop trio. Here as we enter a new decade he has re-invented himself as a sort of bizarro world Harry Belafonte. His live shows are swoon inducing rock and roll revivalism at its best. On this CD-R he treats us to 13 bad luck pop songs. The old pop-sensibility that used to dominate Port City Allstars records is now tempered by lo-fi experimentalism. His falsetto voice cuts through all the tape hiss and off-beat percussion making you believe that the rain-soaked, wind-ravaged port city of Saint John, New Brunswick really is a tropical paradise. What could be better than that?
[Levin's Note: Saint John is the new Halifax.]
De l'esprit chanté de James Goddard:
(Traduit par la boîte à rythmes de Odile Leclerc)
Adam Mowery a commencé la décennie en chantant des chansons à propos d'être un chat et de porter des bas rayés dans un trio acoustique bien aimé de pop-indie. Ici alors que nous entrons dans une nouvelle décennie, il se réinventait comme un genre de bizarre Harry Belafonte mondial. Ses spectacles en direct sont un rock and roll induiseur d'évanouissements revivalisme à son meilleur. Sur ce CD-R, il nous régale avec 13 chansons pop de malchance. La vieille sensibilité pop qui dominait autrefois les enregistrements de Port City Allstars est maintenant tempérée de lo-fi expérimentalisme. Sa voix de falsetto a ravagé par le vent la ville-port de Saint John, le Nouveau-Brunswick est vraiment un paradis tropical. Qu'est qui pourrait être mieux que ça?
[Note de Levin : Saint-John est la nouvelle Halifax.]
Adam Mowery – Turn Another Page
Adam Mowery – The Dragon Boat Festival (Let's All Go To)
---