Tag: james goddard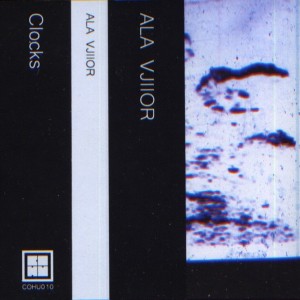 Ala Vjiior
Clocks
(La Cohu)
Montréal, QC
From the profound sound of James Goddard:
Ala Vjiior is Hobo Cultist Francesco de Gallo's un-hinged exploration of appropriation music. Warped vinyl is processed, tapes are flipped and reversed. Sound is profoundly altered in a way no concrete poetry can express. Clocks is appropriately abstract as it explores beginnings and ends, shifting and skittering through a variety of moods. At times the tense tones seem to be vying to score Cronenberg's next body-horror before slowly easing into what might be an eco-acoustic study of the far future. A perfect recording for losing yourself.
Du son profond de James Goddard:
(Traduit par le baladeur défraîchi de Julie Mayer)
Ala Vjiior est l'exploration sans bornes d'emprunts musicaux à laquelle s'est livré Francesco de Gallo, de Hobo Cult Records. Le traitement du vinyle voilé ainsi que les bandes magnétiques renversées et inversées altèrent le son d'une manière si profonde qu'aucune poésie concrète ne peut l'exprimer. Clocks est abstrait à souhait, car il glisse sur la palette d'humeurs qu'il explore d'un bout à l'autre. Parfois, les tons lourds semblent se disputer la trame sonore du prochain musée des horreurs de Cronenberg avant de s'amenuiser peu à peu vers ce qui pourrait être l'écologie sonore d'un avenir lointain. Bref, c'est l'enregistrement rêvé pour s'oublier.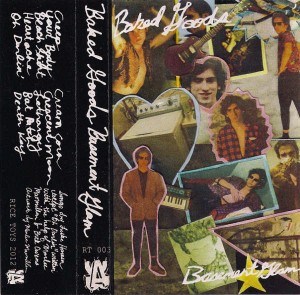 Baked Goods
Basement Glam
(Rice Toys)
Montreal, QC
From the slurpee caliber of James Goddard:
Luke Harun is one of the hardest-working musicians in a city of hard-working musicians. Most weekends you'll catch him holding it down with Nubians or Dream Girls or occasionally The Brabazons. Somehow alongside all of those commitments this past year he has found the time to drop a relentless string of residential-dwelling lo-fi pop gems as Baked Goods. Basement Glam sees him moving through the house from the bedroom to the titular basement. The songs taken together give him the room to bust out a fully articulated aesthetic vision. This cassette is ten tracks of the crunchy, ear-tickling, slurpee-calibre goodness that constitutes a suburban summer dream.
De la slush de qualité de James Goddard:
Luke Harun est l'un des plus infatigables musiciens d'une ville de musiciens infatigables. Presque toutes les fins de semaine, on peut le voir se lâcher lousse avec Nubians, Dream Girls ou même à l'occasion The Brabazons. Malgré tous ces engagements, il a quand même trouvé le temps durant la dernière année de confectionner une série de petits bijoux pop lo-fi taillés maison sous le nom de Baked Goods. Avec Basement Glam, Harun passe de la chambre à coucher au sous-sol. Les dix chansons rassemblées sur cette cassette dévoilent au grand jour une vision esthétique parfaitement articulée, la trame sonore croquante, titillante et aussi délicieuse qu'une slush d'un songe d'été de banlieue.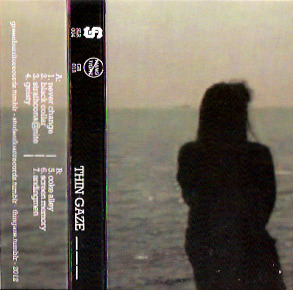 Thin Gaze
___
Vancouver, BC
From the zeitgeist of James Goddard:
Thin Gaze is a vulture turned loft-party crooner. He's got a voice that will haunt you like a hangover. His debut cassette is a collection of crooked lullabies for sleepless nights. Dark songs built on electronic soundbeds and unstable samples that move like smoke. While Gilles Vigneault's country was winter, Thin Gaze's domain is a back alley in the rain-slicked downtown east-side. It's time to get acquainted with the first member of a whole new rat pack.
Du Zeitgeist de James Goddard:
Thin Gaze est l'alias d'un ex-vautour devenu crooner de loft qui possède une voix obsédante comme une gueule de bois. Sur sa première cassette, il construit des berceuses sombres et tordues pour insomniaques à partir de bruits de fond électroniques et d'échantillons instables comme des volutes de fumée. Si le pays de Gilles Vigneault c'est l'hiver, celui de Thin Gaze, c'est une ruelle pluvieuse du Downtown East Side. Il est grand temps de découvrir ce premier membre d'un nouveau Rat Pack.
[audio:http://weirdcanada.com/wp-content/uploads/2012/11/Never_Change.mp3|titles=Thin Gaze – Never Change] Thin Gaze – Never Change
[audio:http://weirdcanada.com/wp-content/uploads/2012/11/Screen_Memory.mp3|titles=Thin Gaze – Screen Memory] Thin Gaze – Screen Memory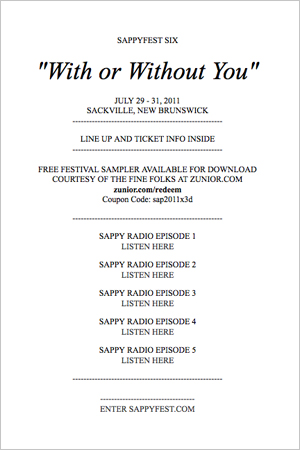 Various Artists
SappyFest 6
Sackville, NB
From the cult-like gathering of James Goddard:
The small college town of Sackville, New Brunswick harbours a secret. Every summer while students shop for discount books in major cities, a cult-like gathering of outsiders convenes to celebrate strange sounds in large tents, vaudeville theatres, small town cinemas and railside taverns. Turning the concept of a multi-venue festival on its head each year, SappyFest finds not the alterna-side spaces where loud noises are welcome but puts all the plaid shirts, fuzz peddles and puddles of beer right on the main street. First hosting the reunited Eric's Trip in 2006, Sappy has grown and grown. This year's lineup promises not to disappoint, showcasing the luminaries of independent Canadian culture both new and old, familiar and not. Alongside as yet un-tauted gems such as Cannon Bros, Hash Jesus, SILKEN LAUMANN and Wooden Wives, this year's lineup boasts sets by current Weird Canada favourites Jennifer Castle, Chad VanGaalen, Rich Aucoin, Gobble Gobble, Grimes and Quaker Parents. And that's just the pop music. See you there?
Du rassemblement de culte de James Goddard: (Traduit par Odile Leclerc)
De la petite ville de collégiale de Sackville, New Brunswick abrite un secret. Chaque été pendant que des étudiants magasinent pour des livres à rabais dans les plus grosses citées, un rassemblement culte d'étrangers à lieu pour célébrer des sons dans de larges tentes, des théâtres de variété, des cinémas de petites villes et des tavernes ferroviaires. Tournant les concepts d'un festival multi-sites sur sa tête chaque année, SappyFest ne trouve pas les espaces de côté alterna où de bruits forts sont bienvenues mais tous mis sur des chemises à carreaux, du colportage flou et des flaques de bière directement sur la rue principale. Accueillant en premier le Trip d'Éric réunis en 2006, Sappy a grandit et grandit. Les lignes d'attente de cette année promettre de ne pas décevoir, mettant en valeur les lumières de la culture indépendante Canadienne autant nouvelle que vieille, familière et non. Au côté des gemmes pas encore vantés telles que Cannon Bros, Hash Jesus, SILKEN LAUMANN et Wooden Wives, la file d'attente de cette année vante l'ensemble du présentement favoris de Weird Canada Jennifer Castle, Chad VanGaalen, Rich Aucoin, Gobble Gobble, Grimes and Quaker Parents. Et c'est juste pour la musique pop. Je vous vois là?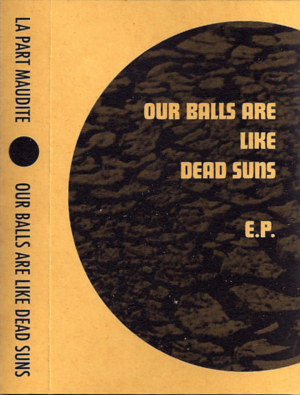 La Part Maudite // Dios Mio!
Our Balls Are Like Dead Suns EP //
Leçon practique d'hypnotisme
Montréal, QC

POTT
004 est au-delà de toute description. Chaque face révèle les travaux d'un groupe qui repousse les limites du genre, de la musique, et même du son. Dios Mio, en utilisant une guitare, un clavicorde, un theremin et un magnétophone à bobines crée la bande sonore pour un film qui n'existe pas. C'est le 115ième cauchemar de
Franz Anton Mesmer
. Sur la seconde face, La Part Maudite crée cet espèce assez rare —
une fusion agéable
à écouter. Il se produit une synthèse qui emprunte également au thrash-punk et au jazz. Imprimé en édition limitée, ceci est une cassette qu'il faut gripper immédiatement.
From the 115th nightmare of James Goddard:
POTT 004 is beyond description. Each side reveals the work of a group who is pushing the boundaries of genre, music, and even sound. Dios Mio, using guitar, clavier, theremin and a reel-to-reel, creates the soundtrack for a film that doesn't exist. It's the 115th nightmare of Franz Anton Mesmer. On the flip side, La Part Maudite finds that rare breed — a palatable fusion, synthesizing equally from thrash-punk and jazz. With only a limited edition reissued, this tape must be gripped immediately.
[audio:http://weirdcanada.com/binary/Weird_Canada-Dios_Mio-Leçon_practique_d_hypnotisme_(excerpt).mp3|titles=Dios Mio! – Leçon Practique D'Hypnotisme (excerpt)] Dios Mio! – Leçon Practique D'Hypnotisme (excerpt)
[audio:http://weirdcanada.com/wp-content/uploads/2011/05/Weird_Canada-La_Part_Maudite-Boxerblood.mp3|titles=La Part Maudite – Boxerblood] La Part Maudite – Boxerblood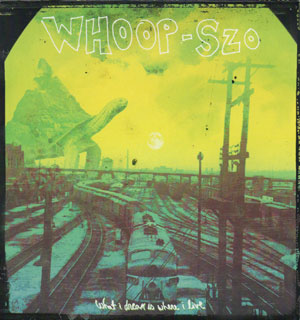 WHOOP-Szo
What I Dream is Where I Live
(https://outofsoundrecords.bandcamp.com/)
Guelph, ON
From the feedback hand gestures of James Goddard:
What I Dream is Where I Live will toss you into accidental chatter. It's warm, hazy strumming inviting conversation. Yet, this is no shrinking violet. It makes radical declarations with pummeling rock; the feedback hand gestures and swirling synth washes robbing your attention. Look away and it'll smite you with strange pop projectiles, swaying you back into its bewildering dialogue. This royal city wonder features members from ESBC.
Des gestes feedback de James Goddard: (Traduit par la conversation entre Maya Keshav et elle-même)
What I Dream is Where I Live va te lancer dans le bavardage accidentel. C'est une conversation chaleureuse, floue, grattant et attirante. Mais, ce n'est pas du tout timide. Il fait des déclarations radicales avec le rock cognant; les gestes feedback et les vagues de synthé tourbillonant volent ton attention. Regarde quelque pars d'autre et il va te frapper avec les projectiles bizarres de pop, te fait foncer encore dans son dialogue déconcertant. Cette merveille de la ville royale met en vedette quelques membres d'ESBC.
WHOOP-Szo – Where I Live Is What I Dream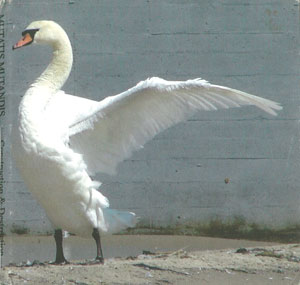 Construction & Destruction
Mutatis Mutandis
(Mutatis Mutandis)
From the mutant mutandis of James Goddard
Rural art-rockers radiating traces from a secluded homestead hanging over the Atlantic Ocean. Fresh like the crunch of first steps in burnt snow. Mutatis Mutandis is Construction & Destruction's fourth bass-led caravan of hyper-text lyrics, dense guitar riffs, detached drumming and Kohakian meditations. It takes a moment to reach the place they're coming from. Venture forth and see for yourself.
Des mutandis mutants de James Goddard:
(Traduit par Maya Keshav)
Les art-rockers ruraux qui répandent les traces d'une propriété retirée qui flotte au-dessus de l'océan atlantique. C'est frais comme le craquement des premiers pas dans la neige brûlée. Mutatis Mutandis est la quatrième caravane dirigée par la basse de Construction & Destruction, avec les paroles hypertextes, les riffs intenses de guitare, la batterie détachée, et les méditations Kohakiennes. Il faut du temps pour atteindre le lieu d'où ils viennent. Aventurez-vous dehors et voyez pour vous-même.
Construction & Destruction – The Oracle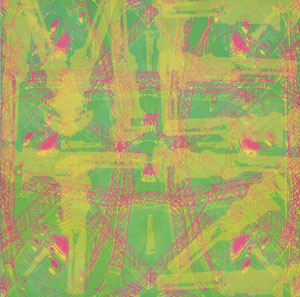 From the megative zpace of James Goddard
Negative Space's blistering, all-offense Punk'n'Grunge proudly pushes Metz's noise crusade forward. Opening with a series of carefully timed guitar shrieks – like a call to the ramparts of the pre-medieval French city with which they share their name – and continuing with relentless drumming, six-stringed wizardry, Constantinian vocals, and what might be the auditory equivalent of burning oil, the cuts on this gorgeously coloured vinyl are taking no names as they storm your aural countryside. This is the last of their three 7″ opening salvo, get in on the ground floor.
De l'ezpace mégatif de James Goddard
(Traduit par Maya Keshav)
Le punk-et-grunge torride et tout-à-l'attaque de Negative Space continue fièrement la croisade sonore de Metz. En ouvrant avec un flot d'hurlements guitare soigneusement mésurés— comme un appel aux remparts de la ville française pre-médiévale avec qui ils partagent leur nom— et en continuant avec la batterie incessante, la magie à six cordes, le chant constantinien, et quelque chose qui pourrait être l'équivalent auditif de l'huile brûlante, les coups de ce vinyle superbement colorié ne prennent pas de noms quand ils attaquent ton paysage auditif. C'est le dernier de leur salve ouverture de trois 7", entre au rez-de-chaussée.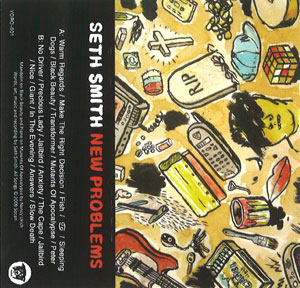 Seth Smith
New Problems
(Yo Rodeo)
Halifax, NS
From the reducible logic of James Goddard:
Gottlob Frege committed his life to one problem: demonstrating that mathematics is reducible to logic. With New Problems Seth Smith, takes a break from dealing with his regular problem to tackle some amazing new ones. The album creates its own geometric space, a slowly unfolding shape built of tape-hiss, song fragments, actual songs and found sound. The warm strum of the guitar, the unfaithful percussive notes, and the other near constant noises consume the listener like Notes From The Underground or Dreamies. In one particularly evocative moment Smith presents us with a crescendoing series of voice-mail messages. Ultimately, Frege died without finding the solution to his problem. Smith, on the other hand, appears to have discovered a fruitful new direction for exploration.
De la logique réductible de James Goddard: (Traduit par l'espace géométrique de Maya Keshav)
Gottlob Frege a consacré sa vie à un problème: démontrer que la mathématique est réductible à la logique. Avec New Problems, Seth Smith fait une pause de s'occuper de son problème habituel pour s'attaquer aux quelques nouveaux problèmes qui sont merveilleux. L'album crée son propre espace géométrique, une forme lentement déployant construite de sifflements de cassette, de fragments de chansons, de vraies chansons et de son trouvé. Le grattage chaleureux de la guitare, les notes infidèles de percussion, et les autres sons presque incessants dévorent l'auditeur comme Notes From The Underground ou Dreamies. Pour un moment particulièrement émouvant, Smith nous présente un flot crescendo de messagerie vocale. Au bout du compte, Frege est mort sans avoir trouvé la solution à son problème. Smith, par contre, a découvert clairement une nouvelle direction féconde pour l'exploration.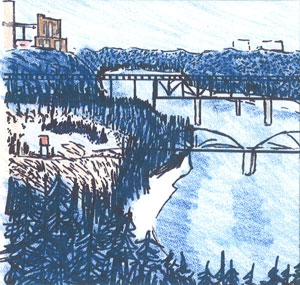 Jom Comyn
Balcony
Edmonton, AB
From the comyn-spiced balconies of James Goddard:
This EP from Edmonton's Jom Comyn (sometimes Jim Cumming) speaks to the concerns of young adults in the 21st Century – I mean actual young adults, not the browsers of Gordon Korman – unemployment, cigarettes, sloppy romances, late-nights, and (of course) almost condemned balconies. The guitars carry the tunes lethargically; apathetic tones, sketchy feedback, and non-committal fuzz over dusty, stilted drumming. Jom's vocals shine through the nest like a retired lounge singer; an odd, weathered voice spouting the words of a quarter-life savant. "You don't know what you are doing until years after it's through." On Sunday morning, in a hungover haze, it all sounds like it might be the truth.
Des balcons au cumin de James Goddard: (Traduit par les idylles sentimentales de Maya Keshav)
Cet EP de Jom Comyn (parfois Jim Cumming) d'Edmonton exprime les soucis des jeunes adultes du au vingt et unième siècle — je veux dire les vrais jeunes adultes, pas les personnages de Bryan Perro— le chômage, les cigarettes, les idylles sentimentales, les longues nuits, et (évidemment) les balcons presque condamnés. Les guitares chantent léthargiquement les mélodies; les tons apathiques, le larsen louche, et le duvet réservé au-dessus de la batterie poussiéreuse et guindée. La voix de Jom transperce le nid comme un ancien chanteur du lounge; une voix bizarre et burinée qui parle les mots d'un savant ayant une vigntaine d'ans. "You don't know what you are doing until years after it's through." [Tu connais pas ce que tu fais jusqu'à ce qu'il soit quelques années trop tard.] Dimanche matin, dans le brouillard d'une gueule de bois, tout cela a l'air de vérité.

Jom Comyn – New Raincoat

Jom Comyn – Roomie
---