Tag: jake bornheimer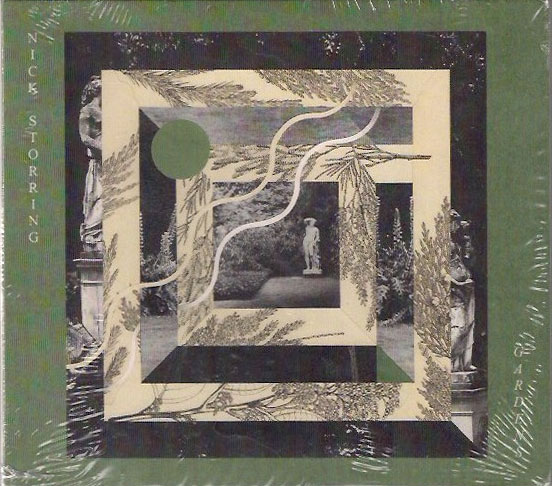 Nick Storring
Gardens
Toronto , ON
From the aberrant psychology of Jake Bornheimer:
Gardens is a matrix of acoustic sound, constantly fluxing and slowly transmuting to alternate forms. Cacophony to symphony. There's an incredible sense of flow here, some sections surge forward, others float blissfully on. Storring employs dissonance expertly throughout the pieces. Elements of the music come from all over the place: post-rock melodic structure, classical influences, gamelan, drone, what sounds like tibetan singing bowls, and a host of instruments spanning India, Thailand, China, Indonesia, Turkey, Africa, and more. As one listens they find themselves sinking backwards into a trance. The experience is dark, enchanting, repellent, and resplendent.
Gracieuseté de la psychologie aberrante de Jake Bornheimer:
(En direct de l'hémisphère gauche de Diane Beaupré)
Gardens est une matrice de sons acoustiques, toujours en mouvement, mutant lentement en formes alternatives. De la cacophonie à la symphonie. Il se dégage une sensation de flux surprenante. Certaines portions déferlent comme une vague, d'autres nous donnent envie de s'y abandonner. Dans tous les morceaux, Storring utilise la dissonance de façon experte. Des éléments musicaux jaillissent de toute part : structure mélodique post-rock, influences classiques, gamelan, drone, un son qui ressemble à celui des bols chantants tibétains et une panoplie d'instruments provenant de Thaïlande, Chine, Indonésie, Turquie, Afrique et d'ailleurs. Pendant l'écoute, on entre en transe. L'expérience est sombre, enchantée, repoussante et resplendissante.
Nick Storring – Nothing Seems to Rhyme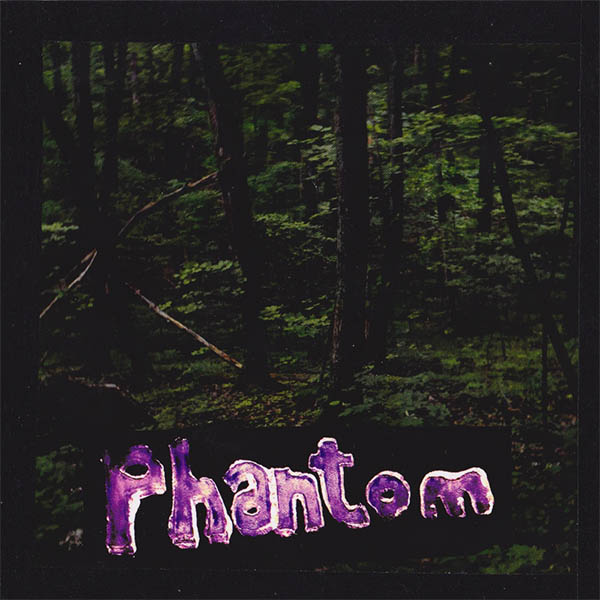 Herons Wake
Phantom
(Self Released)
Ottawa, ON
From the naturally magnetic mind of Matthew Blenkarn:
From the naturally magnetic mind of Matthew Blenkarn: Strap a magnet to a man and see what he draws in. Will his currents strike the earth's natural fields, ringing out like a climactic shot from a Spaghetti western? Or will the attraction be more subtle and fleeting, like wafting mist over a lake? If he interacts with electromagnets, will the alternating currents shimmer like a mirage? What's certain is that the sound will pull you through landscapes and waterways, seeking out its source.
De l'esprit naturellement magnétique de Matthew Blenkarn:
(Traduit par Jessica Grenier)
Attache un aimant après un homme pour voir ce qu'il va rapporter. Est-ce que son courant va heurter les champs naturels de la Terre, résonnant comme le moment culminant d'un western spaghetti? Ou l'attraction sera-t-elle plus subtile et fugace, comme la brume flottant sur un lac? S'il entre en contact avec des électroaimants, est-ce que les courants alternatifs vont chatoyer comme un mirage? Ce qui est sûr, c'est que le son va te guider, à travers paysages et cours d'eau, en quête de sa source.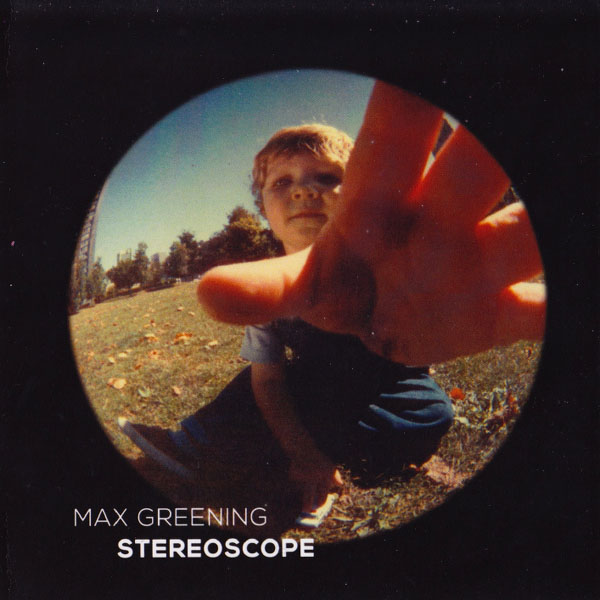 Max Greening
Stereoscope
Vancouver, BC
From the reverberating metallurgy of Jake Bornheimer:
A stone submarine sinking to the depths of the ocean. A pitch black dome with all the sky's constellations laid out upon it. A still pool of water with a single shining coin at the centre. At times it seems like Stereoscope is a film in auditory form. It's a collection of moments, captured in thick rippling sound. Speaking voices arise from the surface of the music, wreathed in crackles and pops. It is at once richly organic & precisely synthetic, with Heckish clouds of static noise revolving stereoscopically around the observer.
Des réverbérations métallurgiques de Jake Bornheimer:
(Traduit par l'insularité frileuse de Marie-Pier Chevrier)
Un paquebot de pierre coulant vers les profondeurs de l'océan. Un dôme noir de jais où s'étend chaque constellation. Une pièce d'or scintillante au coeur d'une flaque d'eau immobile. Stereoscope a des allures de film se prenant pour une chanson. Comme une collection de moments encastrés dans un son épais et houleux. Des dialogues en émergent, couronnés de crépitements et cliquetis. Le tout est à la fois d'un vivant palpable et d'une précision mécanique, avec des nuages de bruit statique à la Hecker en révolution stéréoscopique autour de l'observateur.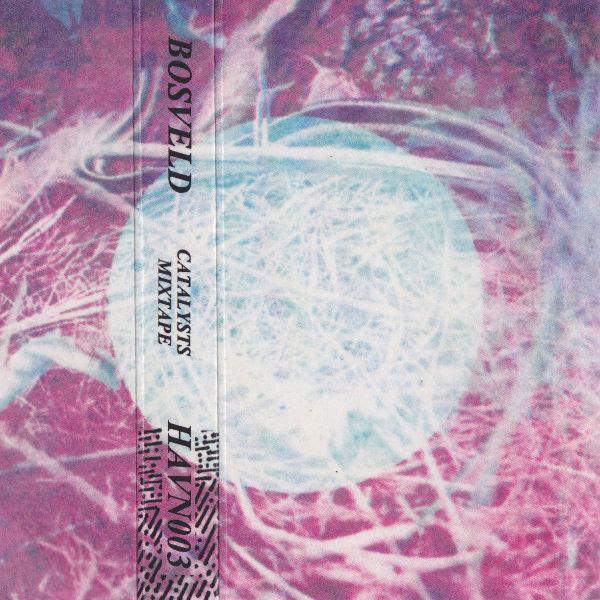 Bosveld
Catalysts Mixtape
(HAVN)
Ottawa, ON
From the large-sized coffee cup dregs of Jake Bornheimer:
I drag myself out of my basement apartment at 10 o'clock AM on Sunday. Making my way to Sun Café, I count my change and buy a large coffee. While I wait for the coffee to cool down, I gently push in my earphones and press play on my new-to-me walkman. Bosveld's Catalysts Mixtape whirs to life, filling my head with tape hiss. I crack open 'Norwegian Wood' by Murakami and began to read.
The gentle ambience of the tape overtakes me and I fall into the book. I am transported to pastoral landscapes, mixed with thick dark forests. The songs blend together, each slowly overtaking the other. Guitars twinkle on the edges of the mix, and all around swirl warm tape-distorted horns and saxophones. Before I know it, the first side is running out. I hit stop, then pry the walkman open and flip the tape. Snapping it shut and pressing play, I hear sound slide back into existence. I put down my book, close my eyes, and let my mind wander to the hushed voices over picked guitar and swelling brass. The music is lush and emotional. I finish my coffee in a stunned silence.
Des dépôts au fond du grand café de Jake Bornheimer:
(Traduit par le chaï brulant de Jessica Grenier)
Je sors de mon demi-sous-sol en trainant des pieds vers 10 heures un dimanche matin. Je compte mon change en marchant vers le Sun Café pour en acheter une grande tasse. En attendant que le café refroidisse, j'enfile doucement mes écouteurs et j'appuie sur le play de mon nouveau walkman (usagé). Catalysts Mixtape de Bosveld prend vie, la cassette remplissant ma tête de vrombissements. J'ouvre Norwegian Wood de Murakami et entame ma lecture.
La douce ambiance de l'enregistrement me submerge comme je plonge dans le livre. Je me retrouve entouré d'un mélange de paysages pastoraux et de forêts humides, épaisses et sombres. Les chansons se mélangent, les unes fondant lentement dans les autres. Les cors et les saxophones chaleureux et distendus tourbillonnent, les guitares scintillant aux limites du mix. Sans que je m'en rende compte, le premier côté se termine. J'appuie sur stop, j'ouvre le walkman et retourne la cassette, puis je le referme et j'appuie sur play. J'entends le son retourner vers l'existence. Je dépose mon livre, ferme les yeux, et je laisse mon esprit errer au son des murmures, des guitares titillées et des cuivres ronflants. La musique est luxuriante et émotionnelle. Je termine mon café dans un silence abasourdi.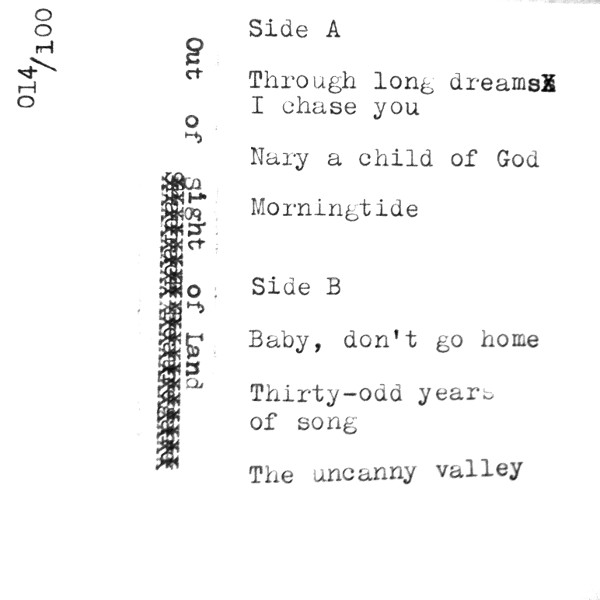 Out of Sight of Land
Out of Sight of Land
(Self Released)
Montréal, QC
From the cyclopean landform of Jake Bornheimer:
Out of Sight of Land trundles along like a weary traveler in a boreal forest. Accordion textures grind and shift against each other in slow and odd-time. Flat-sounding but very beautiful double-tracked vocals sing disjointed melodic lines and blend into the hypnotic music with ease. The lyrics slide by. On songs like "Morningtide" a sense of darkness creeps in with an interplay of dissonance, conjuring Wyrd Visions. These songs dually encapsulate great landscapes and private-evening-cups-of-tea. When an unprecedented shift or a peppering of percussion appears, it is a revelation.
Du paysage cyclopéen de Jake Bornheimer:
(Traduit par la prunelle aérienne de Jessica Grenier)
Out of Sight of Land est comme un voyageur fatigué cheminant lentement dans une forêt boréale. Les textures en accordéons bougent et se broient lentement les unes contre les autres, par à-coup. Une musique hypnotique où se fondent deux voix faussant joliment et chantant des lignes mélodiques décousues. Les paroles suivent leurs cours. Dans les chansons comme « Morningtide », une sensation envahissante d'obscurité dissonante s'installe, conjurant des Visions Étranges. Ces chansons encapsulent la dualité de gigantesques paysages et de soirées-intimes-à-boire-du-thé. Chaque changement impromptu ou percussion spontanée est une révélation.

Out of Sight of Land – Through Long Dreams I Chase You
---