Tag: isla craig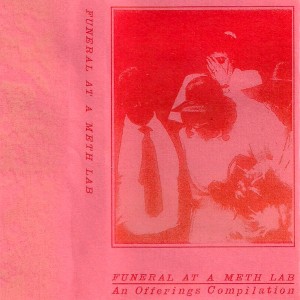 Various Artists
Funeral at a Meth Lab
asterisk, Canada
From the anomalous dreams of Javier Fuentes:
As someone who came up discovering Toronto's music scene from a distance, Offerings has been one of the most crucial publications I've encountered in recent years. This 18-song compilation is a glimpse into the amazing community that has been supported and celebrated in their hallowed pages. Coming off as a dream lineup for the next Wyrd Fest, this tape could also double as the Solaris Top 40. The comp sees some familiar faces rise out from the woodwork armed with potent new jams that fit in perfectly with the already golden hits that are on here. Mutant punk meets mutant concrète, while soul meditations groove alongside kosmische explorations. Rumour has it you can even hear a bonus cut from the Ford Noise Tape if you listen closely. Is this what they play after hours at the Eaton Centre?
Des rêves anormaux de Javier Fuentes:
(Traduit par l'impatience de Virginie Langlois)
J'ai découvert la scène musicale de Toronto à distance et je dois dire qu'Offerings a été l'une des publications les plus cruciales que j'ai découvertes ces dernières années. Cette compilation de 18 chansons donne un aperçu de la formidable communauté qui a été soutenue et célébrée dans les pages bénies de cette publication. Cela ressemble à une programmation de rêve pour la prochaine édition du Wyrd Fest, mais cela pourrait tout aussi bien servir de Solaris Top 40. On trouve sur cette compilation aussi bien des têtes connues qui surgissent d'un peu partout que des nouveaux venus très convaincants qui cadrent parfaitement avec les titres à succès présents ici. À la croisée du punk mutant et de Mutant Concrète, les méditations soul côtoient les explorations cosmiques. Il paraît qu'en tendant l'oreille on peut même entendre un extrait de la fameuse cassette de Ford. C'est ça qu'ils passent au Centre Eaton après la fermeture?
Tenderness – Orphans Howling in the Wild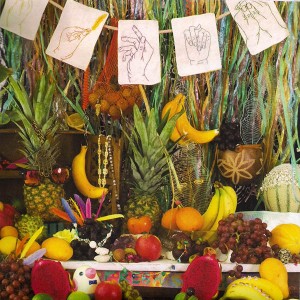 Various Artists
F R U I T S
Toronto, ON
From the Carmen Miranda rights of Jesse Locke:
This platter flows over with a prismatic array of bodacious sounds and mixed mood-inducers from Toronto's female class of fall 2013. The nine exclusive tunes include Isla Craig's soft shimmer, Bile Sister wave-dancing in her rave cave, and a freshly bucked 'n' blended devotional banger from Tenderness. The righteous Lido Pimienta leads the charge with martial snares and multi-tracked vocals that could summon the revolution, while the all-powerful Petra Glynt booms through a blacklit underground opera hall. Grip this disc quick and get a bonus baggie of bath salts from the krautrock-inspired scents of Spa Kosmische.
D'après les droits Carmen Miranda de Jesse Locke:
(Traduit dans un rythme tordant de Dominic MPILÉ)
Ce disque résonne de façon remarquable au moyen d'une gamme prismatique et d'une sensibilité inductrice jouées par des Torontoises de la cuvée printemps 2013. Les neuf chansons exclusives incluent le doux chatoiement d'Isla Craig, l'onde dansante à caractère rave de sous-sol de Bile Sister, et le tout nouveau lancement de ruade tordant, plein de dévotion de Tenderness. La vertueuse Lido Pimienta mène la cadence avec des pièges martiaux et de multiples pistes vocales qui pourraient appeler à la révolution, pendant que l'omnipotente Petra Glynt retentit dans une salle d'opéra souterraine éclairée à contre-jour. Procurez-vous rapidement ce disque et obtenez en bonus un sac de bain de sel au parfum d'inspiration krautrock de Spa Kosmische.
Tenderness – Orphans Howling in the Wild (Bucked & Blended Mix)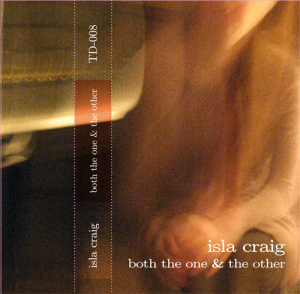 Isla Craig
Both The One & The Other
Toronto, ON
From the croaking heavens of Kevin Hainey:
Isla's crystal pipes have flexed far and wide o'er the years with such diverse local groups as dub-wise slow-grinders The Deeep, indie gospel urbanites Bruce Peninsula, psychedelic living theatre Transcendental Rodeo, smooth soul slingers O.G. Melody, or her own tantric folk meditation ensemble The Continental Drift. Still not convinced Craig is a humble underground sensation around these parts? This latest tape is a testament to her strongest asset. Recorded largely a cappella, accompanied by an intimate choir of pitch-point friends and only the faintest musical accents, Craig spins an intimate yarn with brooding groove. The flipside of this fabulous tape graciously includes Craig's 4-track demos for the album, providing an even warmer glance into her meditative creative process.
De la voix rauque de Kevin Hainey:
(Traduit par la sensation underground de Vincent Rondeau)
Isla est une diva de la région au coeur plein d'âme. Sa voix de cristal a beaucoup voyagé durant plusieurs années, s'intégrant à des formations locales allant du dub lent et intense de The Deep au soul satiné de O. G. Melody en passant par le gospel indie urbain de Bruce Peninsula, le théâtre psychédélique vivant de Transcendental Rodeo et même son propre ensemble de méditation tantrique folk, The Continental Drift. Si cela ne vous convainc pas encore de l'ampleur de la sensation underground qu'est Craig, cette nouvelle cassette met en valeur son plus grand atout : sa voix. Largement a cappella, avec l'accompagnement d'une chorale intime d'amis et quelques nuances musicales, la chanteuse déroule le fil d'un récit complexe sans pour autant paraître [prétentieuse](http://timheinthinks.files.wordpress.com/2012/05/pretentious.jpg). Sur la face B, on a la chance de pouvoir entendre les démos 4 pistes de l'album, question de jeter un coup d'oeil au processus créatif minutieux de Craig.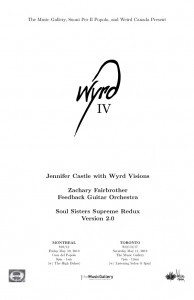 Wyrd IV
Jennifer Castle + Wyrd Visions, Zachary Fairbrother Feedback Guitar Orchestra
Soul Sisters Supreme Redux 2.0 (Featuring Isla Craig) + more!
Montreal, QC // Toronto, ON
May 10, 2013 // May 11, 2013
(video by Randee K)
The fourth installment of Wyrd, Weird Canada's traveling series of exploration and collaboration, features an incredible lineup of otherworldly sound and vision traveling between Toronto and Montreal. We're proudly collaborating with two of Canada's most forward-thinking musical ventures: Montreal's Suoni Per Il Popolo and Toronto's The Music Gallery (as part of their Pop-Avant series).
We're proud to host a unique collaboration between Toronto's folk goddess Jennifer Castle and bog-lord Wyrd Visions. Harkening to their early, experimental roots the two are recreating their magyk for the first time in years. Joining the ethereal duo is Zachary Fairbrother, taking a departure from the proto-punk shreddery of Lantern to disarm audiences with his multi-amp, multi-guitar feedback-drone orchestra, sure to fill the sacred halls of The Music Gallery (Toronto) and Casa del Popolo (Montreal) with glorious standing waves of dense vibration. Each evening will be ceremoniously opened by Isla Craig's sublime choral grooves, amplified through collaboration with her Soul Sisters Supreme Redux 2.0, completing Wyrd's sonic triumvirate.
In addition to the festive sounds, both Montreal and Toronto have unique additions of their own.
Toronto: A special "Listening Salon" will be hosted Saturday afternoon featuring Weird Canada's Aaron Levin and Jesse Locke dissecting the many unique releases from Music Gallery Editions (1976 – 1983).
Montreal: opening the Montreal show are The High Dukes, a special collaborative group comprised of members from Kinnta Records.
Event Info
Montreal
Date: Friday May 10, 2013
Location: Casa del Popolo (4873 Boul. St-Laurent, Montreal, QC)
Ticket Price: $10 advanced / $12 at the door
Ticket Url: http://wyrdiv.eventbrite.ca/
Doors: 9pm
Toronto:
Date: Saturday May 11, 2013
Location: The Music Gallery (197 John Street, Toronto, ON)
Ticket Price: $10 members / $13 advanced at SoundScapes / $17 regular
Ticket Url: https://www.musicgallery.org/ticketing/raots_start.php/
Doors: 7pm
All ages welcome
!!! Weird Canada Listening Salon !!!
Date: Saturday May 11, 2013 @ 3pm
Location: The Music Gallery, Fellowship Room (197 John Street, Toronto, ON)
Ticket Price: free!!
Doors: 3pm
All ages welcome!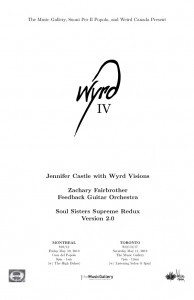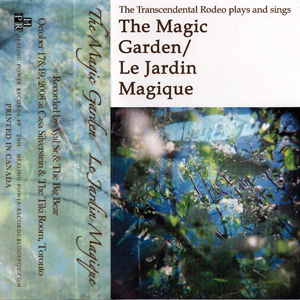 The Transcendental Rodeo
Plays and Sings: The Magic Garden / Le Jardin Magique
Toronto, ON
From the heavenly gates of Kevin Hainey:
Sounds of chimes, gongs, angelic voices male and female. An unseen hand pulls back a curtain, exposing a room filled with beaded sights and melting lights, incense stenches and the smells of foods fit for gods. The sound's engaging the movement of all in attendance, who are involved in the humanitarian orchestra of peaceful sound happening right now, for the sacrifice of the burdens put on us. Heightened by the senses, organized folk freedom makes you feel aware of emotions you seemed to have forgotten. Someone hands you some reefer, another points out an acoustic guitar sitting alone with no one to strum it, and before you know it you're part of a living landscape of tantric Babylonian psychedelic meditation. A warm beating heart of an ensemble led by the skilled Doc Dunn in a cold cage of a city. Feel these babies breathe, Side A from a living room, Side B including an audience. Put down that plastic fork you're holding, its comfort food will never satisfy you again. Come heal your soul in these pure vibrations.
Des portes célestes de Kevin Hainey: (Traduit par le marché babylonien de Maya Keshav)
Le carillon, le gong, les voix angéliques masculines et féminines. Une main invisible tire un rideau, en dévoilant une salle pleine de merveilles ornées et de lumières fondues, de puanteurs d'encens et d'odeurs des nourritures dignes des divinités. Le son cause le mouvement de tout le monde de présent, qui s'impliquent dans l'orchestre humanitaire de son tranquille qui se passe maintenant, pour le sacrifice des charges qui pèsent lourd sur nous. Intensifiée par les sens, la liberté organisée de folk te donne un sentiment de connaissance des emotions que tu avais l'air d'avoir oubliées. Quelqu'un te donne un pétard, quelqu'un d'autre te montre une guitare acoustique qui reste seule sans personne pour le gratter, et avant que tu le saches tu t'impliques dans un paysage vivant de méditation tantrique psychédélique babylonienne. Un cœur pulsant et chaleureux d'un ensemble guidé par le doué Doc Dunn dans une cage froide d'une ville. Regarde respirer ces bébés, la face A d'un salon, la face B inclut u public. Laisse tomber cette fourchette plastique que tu tiens, son bon petit plat va jamais te satisfaire encore. Viens guérir ton âme avec ces vibrations pures.
The Transcendental Rodeo – Magic (Excerpt 01)
---