Tag: instrumental
The Winter Coats
Why So Monumental?
(Self-Released)
Fredericton, NB
From the chemical-crusted claws of Brian Cleveland:
The cryptically unknowable Frederictonian duo of Garcia and Le Noir have produced a sophomore record you'd be proud to learn was created in your neck of the woods. Updating fans infrequently, rarely releasing tunes, and playing shows even more interstitially, it's fair to assume they no longer exist at any juncture, but they've somehow surpassed the lifespan of many of their cohorts: Yellowteeth, Lee Harvey Oswalds, etc. Let Luis and Joel become your personal Boris or Glenn Branca.
Des griffes chimiquement tartreuses de Brian Cleveland:
(Traduit par Aliké Harel)
Cryptique et insondable, le duo frédérictonnais Garcia-Le Noir a produit un deuxième album qui, vous serez heureux d'apprendre, a été conçu dans la forêt près de chez vous. Le groupe mettant irrégulièrement leurs admirateurs au fait, lançant rarement de nouvelles chansons et étant en spectacle à intervalle encore plus irrégulier, il aurait été acceptable de croire que le duo s'était éteint à tout moment. Il a pourtant dépassé en longévité ses compères : Yellowteeth, Lee Harvey Oswalds, etc. Laissez Luis et Joel devenir votre Boris ou votre Glenn Branca bien à vous.
The Winter Coats – The Chymical Wedding of Christian Rosenkreutz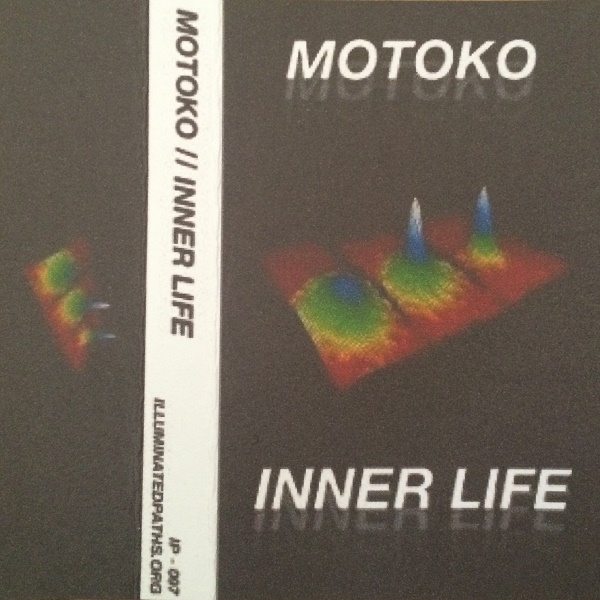 Motoko
Inner Life
(Self-Released)
London, ON
From the drip dry eyes of Julia Dickens:
This instrumental output from the keyboard of Jordan Pearson is the soundtrack to a synthesized contemplative dream state. If your computer screen saver was a shifting stream of consciousness, this current is drifting into a tropical journey, driving top-down down a coastal highway, lounging poolside while a gentle breeze rustles pixilated palms. Wipe your drip dry eyes as you watch phosphorescent waves swell and recede underneath the shimmering cosmos. The scene dissolves into a hazy landscape whizzing by on your sunset drive into the technicolour abyss and reflected on all sides by the shapes and sounds of your own softly aching heart.
Des yeux à séchage spontané de Julia Dickens:
(Traduit au cycle délicat par Julie Mayer)
Cette production instrumentale sortie du clavier de Jordan Pearson est la piste sonore parfaite pour atteindre un état de rêve contemplatif synthétisé. Si l'écran de veille de ton ordinateur était un flux de conscience changeant, ce courant virerait en voyage tropical au cours duquel tu roules avec la capote abaissée sur une autoroute côtière et où tu te détends au bord de la piscine pendant qu'une douce brise bruisse dans des palmiers pixellisés. Essuie tes yeux à séchage spontané pendant que tu regardes des vagues phosphorescentes enfler et refluer sous le scintillement du cosmos. Le tableau, qui se dissout dans un paysage brumeux filant à toute allure lors de ta virée au soleil couchant vers l'abysse technicolor, se reflète de tous côtés par les formes et les sons de ton propre cœur légèrement endolori.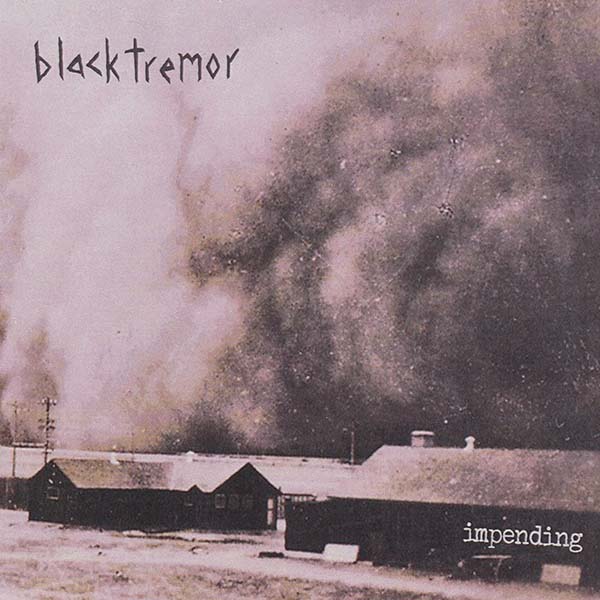 Black Tremor
Impending
(Self Released)
Saskatoon, SK
From the heavy, heavy light of Joshua Robinson:
Like older siblings, they are flame. Dancing at the mouth of the end of it all. Cracks in the welkin overhead; impending kismet. Noumena in mirrors. Siimilar yet singular, gaining reverence for a rapture forced rather than happened upon; conjured rather than readily given; spliced, destroyed and put back together again, all while calamity whispers unto itself that the break in the storm is the end of the beginning of the end. The blackening tremors below allude to the baser animism in us all; rattled, reckoned; the chasm is all that matters. We are all heavy in the light.
Par la lourde, lourde lumière de Joshua Robinson:
(Traduit par la tête animale d' Émily Traichel)
Comme les aînés de la famille, ils pètent le feu. Dansant là où la fin de tout débouche. Des fentes dans la voûte céleste; le destin imminent. Noumènes dans les miroirs. Semblables, mais singuliers, gagnant une révérence pour une extase forcée plutôt que tombée dessus; conjurée plutôt que donnée; épissée, détruite et à nouveau reconstruite, tandis que la calamité se chuchote que l'éclaircie après l'orage est la fin du début de la fin. Les tremblements noircissant d'en bas font allusion à l'animisme infâme à l'intérieur de nous tous; secoué, calculé; le gouffre est tout ce qui compte. Nous sommes tous lourd dans la lumière.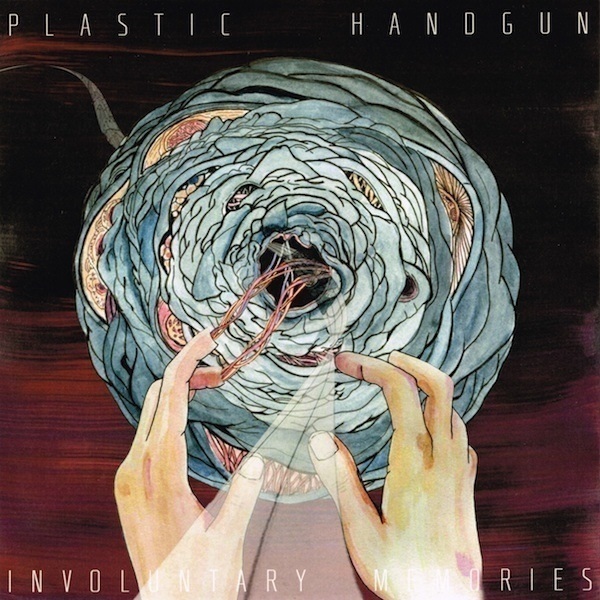 Plastic Handgun
Involuntary Memories
(Self-Released)
Toronto, ON
From the REM sleep of Sara Bortolon-Vettor:
Dreams collide with reality in united pleasure as momentous occasions of the past tickle present thought. Paths cross and fresh roads are carved. Curious minds crave discovery of the unknown! But is this real? Recollections transform into experimental orchestrations of electronic-surreality. Recorded and produced by Mark Di Giovanni over a four-month period, Involuntary Memories is the first release from Toronto's experimental, dreamy post-rock project, Plastic Handgun.
Du sommeil paradoxal de Sara Bortolon-Vettor:
(Traduit par les paupières lourdes de Jessica Grenier)
Le rêve rencontre la réalité dans un élan de plaisir réciproque occasionné par l'union de pensées actuelles et d'occasions mémorables passées. Des chemins se croisent; de nouvelles routes se creusent : mais est-ce bien réel? Des souvenirs deviennent une orchestration expérimentale électronique irréelle. Involuntary Memories, le premier album de Plastic Handgun, ce projet de rêverie expérimentale post-rock de Toronto, a été enregistré et produit par Mark Di Giovanni sur une période de quatre mois.
Union Suit
Held Onto
(Self Released)
Fredericton, NB
From the retrospective youth of Mike Roy:
Cool water cascades over rocks in a running stream. Tranquil, but the realization overwhelms you. These rocks are moving. These rocks are being disturbed. These rocks are being pushed from what they know. Fear envelops you, but the entire process is striking. Beautiful change is happening, but there is nothing left for you to grip.
De la jeunesse rétrospective de Mike Roy:
(Traduit par Jessica Grenier)
Une eau fraîche cascade sur des rochers en formant un ruisseau. C'est paisible, mais la réalisation t'assaille : ces roches sont en train de bouger. On les déplace en les poussant hors de leur terrain connu. La peur t'enveloppe malgré tout ce processus étonnant. Un changement superbe se produit, sauf qu'il n'y a plus rien à quoi s'agripper.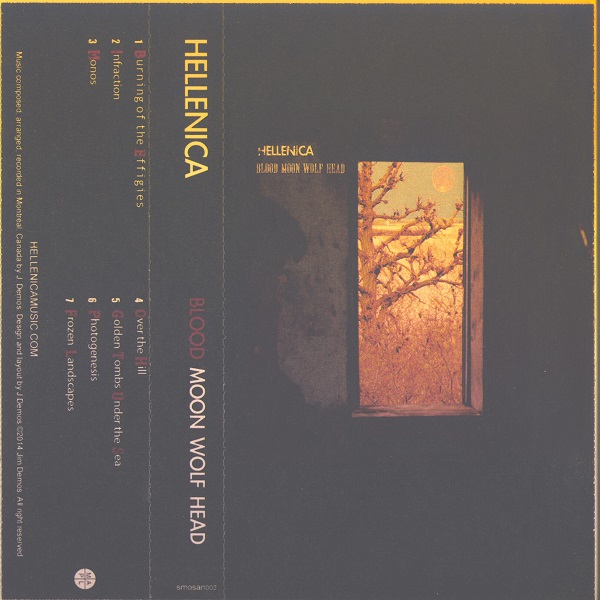 Hellencia
Blood Moon Wolf Head
(Self-Released)
Montreal, QC
From the banks of Eva Jane:
A soundtrack for the dreams of space and time. The tracks off Blood Moon Wolf Head take you from overlooking our water based planet to the very beginning, where there would be no better way to listen to these translucent, reverie inducing sounds than in the cave you call your home. Hellenica stitch together a soundscape through an unremitting spell of time, saying Howdy! to the 21st century.
Des rives d'Eva Jane:
(Traduit par Jessica Grenier)
Une trame sonore pour des rêves d'espace et de temps : les pistes de Blood Moon Wolf Head t'emmènent en survolant notre planète à base d'eau jusqu'au tout début; et il n'y aurait pas de meilleur endroit pour écouter ces sons translucides invitant à la rêverie que la grotte où tu habites. Hellenica raccommode un paysage sonore par un envoûtement temporel incessant; un salut au 21e siècle.

Hellenica – Burning of the Effigies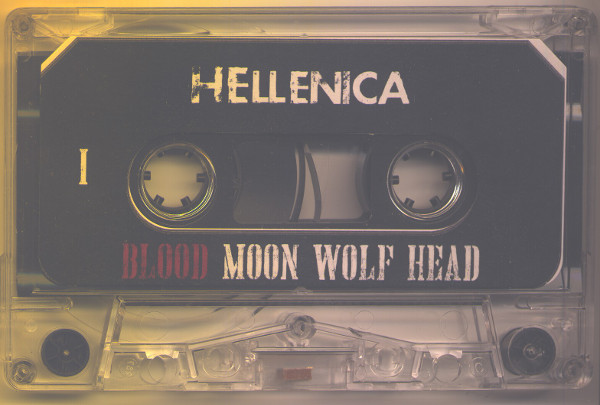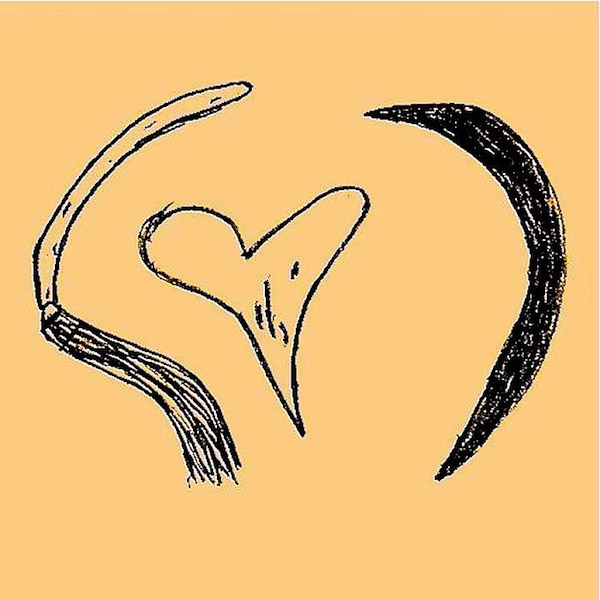 Shaun Weadick
Broom Heart Moon
(Self-Released)
Montreal, QC
From the pine wainscoting of Carrie Deleskie:
Montréal's shaun weadick walks it on down with these partially-composed and partially-improvised songs with an impressionistic yet melodic bent. It is the music that follows a year in the life of creating, of poiesis. Openers like "spring" and "solstice" bring warm wells of silence between each sounding of a note. Later tracks on the album such as "harvest" and "the new fallen snow that covers everything" swell with the pale hours spent as the darkening weather rolls in. By way of steel string, nylon, and ukelele, the songs of broom heart moon keep a-strummin' and a-pickin' out the days, months, and seasons to see you from one April to the next.
Des boiseries en pin de Carrie Deleskie:
(Traduit par Jessica Grenier)
Le montréalais shaun weadick poursuit son chemin avec des chansons mi-composées mi-improvisées à la tournure impressionniste mais mélodieuse. Cette musique documente une année de vie créative, de poïétique. Les premières pistes, comme « spring » et « solstice », ponctuent la sonorité de chaque note par de chaudes sources de silence. D'autre encore, comme « harvest » et « the new fallen snow that covers everything », gonflent au rythme des pâles heures passées à regarder le temps qui s'assombrit. Avec leurs cordes d'acier, de nylon et leur ukulele, les chansons de broom heart moon continuent de gratter et d'égrener les jours, les mois et les saisons pour vous amener d'un avril à l'autre.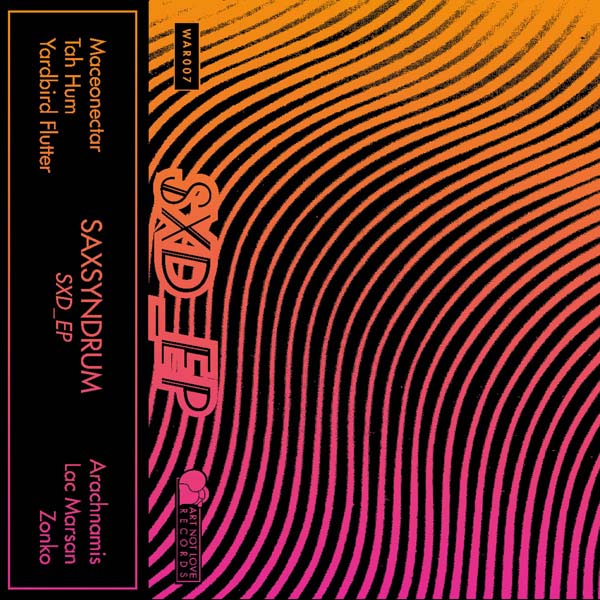 Saxsyndrum
SXD_EP
Montréal, QC
From the instant transmission of つづく:
Such sound created by so few. Just two, actually. Together, "Crazy" Dave Switch and Nick "Tetsuo" Schofield create instrumental atmospheres that conjure modern anime and video games. It is written with very learned hands – the execution wildly colourful. SXD_EP is Baroquetheque. It's the musical genre that was not born but refined in Saxsyndrum's base, Montréal. It combines the flourish and touch of human instrumentation and orchestration (baroque) with the honest precision of synthetically built dance music (discotheque). GO NOW!!! DANCE BATTLE THE FINAL BOSS WITH SAXSYNDRUM!!!
De la transmission immédiate de つづく:
(Traduit par Diane Beaupré)
Tout un son créé par si peu de gens. En fait, par seulement deux personnes. Ensemble, « Crazy » Dave Switch et Nick « Tetsuo » Schofield créent des atmosphères musicaux qui rappellent les dessins animés modernes et les jeux vidéos. Ils sont composés par des mains talentueuses et l'exécution est une explosion de couleurs. SXD_EP est Baroquetheque. C'est un genre musical qui n'est pas né à Montréal, le port d'attache de Saxsyndrum, mais qui s'y est raffiné. Il marie la fioriture et la touche de l'instrumentation et de l'orchestration humaine (baroque) avec la précision de la musique dance synthétique (discothèque). ALLEZ-Y MAINTENANT, DUEL DE DANSE AVEC SAXSUNDRUM!!!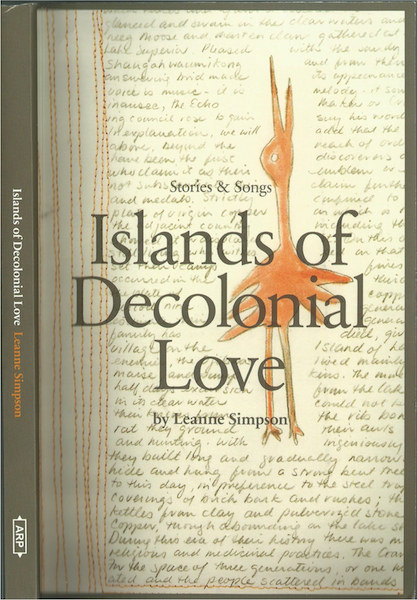 Islands of Decolonial Love
Leanne Simpson
143 pages, soft cover
Mississauga Nishnaabeg Territory
From the floating mind of Laura Stanley:
Islands of Decolonial Love, to use a phrase by its author Leanne Simpson, penetrates the aural perimeter. The narrative voice occupying her songs and stories sounds like a constant drum beat in your head, burrowing deep into your chest and stomach. Twisting and turning, the organs transform into a pulpy mass of knots where her words begin to move, slowly and surely rising up towards your mouth. You are afraid of what will come out and when it does, it offers only the slightest relief but it is one you need.
You laugh. A lot. In way that eases the pain by the knots that have formed. You laugh because Simpson discards tired ethnographic entrapments with ease. You laugh because her inclusion of the Nishnaabemowin language makes history jump from the page. You laugh because everything in these storied landscapes is clear and you understand. You laugh until the last of the slowly dissolving knots have moved to your throat and your eyes burn with tears.
You cry because colonial norms have ensnared western society for far too long and it's frustrating and exhausting. You cry because every one of Simpson's pieces are a unique celebration of Indigenous nationhoods and not enough people in this country will read them and change. You cry because Simpson shows that the same blood runs through everybody's veins, we all want to be loved, and we all ultimately share a desire to walk instead of float.
De l'esprit flottant de Laura Stanley:
(Traduit par Kevin Godbout)
Islands of Decolonial Love, pour se servir d'une phrase de l'auteur Leanne Simpson pénètre le périmètre auditif. La voix narrative qui habite ses chansons et ses histoires retentit dans le crâne comme le rythme constant d'un tambour qui s'enterre profondément dans votre poitrine et l'estomac. Tournant et retournant sur eux-mêmes, quand ses mots commencent à se déplacer, les organes se transforment en une masse de noeuds pulpeux qui montent lentement et sûrement vers votre bouche. Tu as peur de ce qui va sortir, et quand ça se passe, le moment offre un petit répit, mais c'est celui qui était nécessaire.
Tu ris. Beaucoup. Tu ris d'une façon qui soulage la douleur de ces noeuds qui se sont formés. Tu ris, car Simpson se débarrasse des pièges ethnographiques facilement. Tu ris, car elle inclut la langue Nishnaabemowin, car elle fait bondir l'histoire de la page. Tu ris, car tous les paysages historiques sont clairs et compréhensibles. Tu ris jusqu'à ce que le dernier des noeuds se dissolvant lentement passe par la gorge et que tes yeux brûlent de larmes.
Tu pleures parce que les normes coloniales ont enferré la société occidentale depuis trop longtemps, et c'est frustrant et épuisant . Tu pleures parce que chacune des oeuvres de Simpson est une célébration unique des Premières Nations et il n'y a pas assez de gens dans ce pays qui va les lire et changer. Tu pleures parce que Simpson démontre que le même sang coule dans nos veines à tous, nous voulons tous être aimés, et nous désirons tous marcher au lieu de flotter.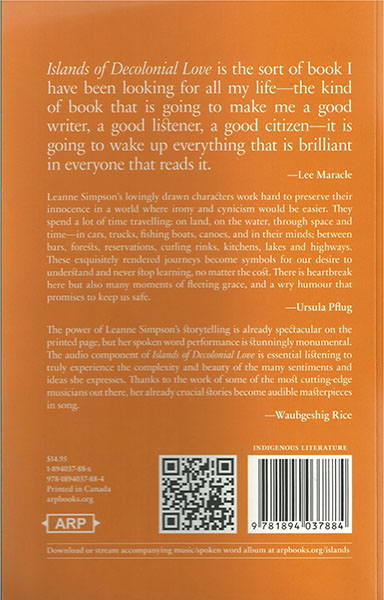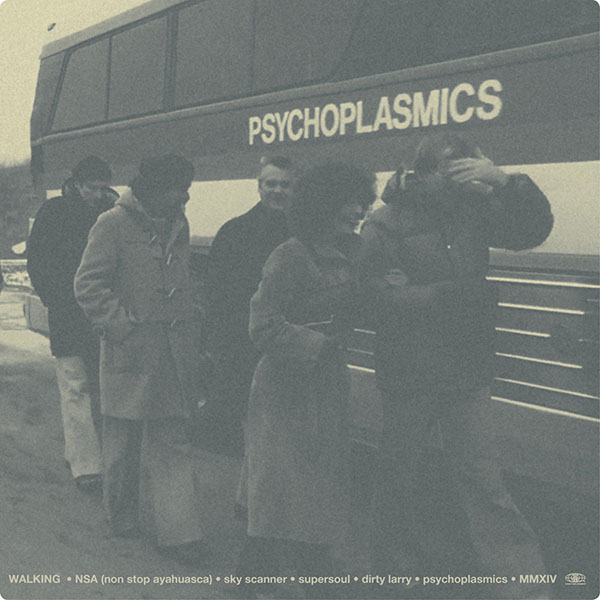 Walking
Psychoplasmics
(Self Released)
Montréal, QC
From the built up mystery of Christina Bell:
Psychoplasmics is a psychological technique wherein patients undergo treatment in the hopes that they will be freed from "troubling emotions." Obviously tuned into the deep healing power of their aural creations, Montréal duo Walking adopted the name as the title of their prolonged psyche-jam of an album. Aside from a bit of distant background chatter, the tracks are instrumental, leaving the extra smooth drum lines and guitar riffs to keep up the coolly sedated narrative of the album. Title track "Psychoplasmics" plays like it could be the soundtrack to a hazy quasi-western movie with an ultimately nonchalant feel. This album gives off the kind of kaleidoscopic positive vibes that you almost forget to notice because you're feeling so damn good.
Du mystère édifié de Christina Bell:
(Traduit par la paupière lourde de Jessica Grenier)
Psychoplasmics est le nom d'une technique utilisée lors du traitement psychologique des patients dans l'espoir de les libérer de leurs « émotions pénibles ». C'est aussi celui choisi par le duo montréalais Walking – manifestement concentré sur le pouvoir guérisseur de ses créations auditives – pour cet album de psyché-jam prolongé. Si ce n'est des murmures que l'on entend, les pistes sont instrumentales, laissant les riffs de guitare et la batterie très douce veiller à la narration sédative de l'album. La piste éponyme aurait pu être la trame sonore d'un quasi-western brumeux penchant vers la nonchalance. Cet album émet un genre d'ondes positives kaléidoscopiques qu'on ne remarque presque pas parce qu'on se sent juste trop bien.

Walking – NSA (non stop ayahuasca)
---