Tag: inferred views
From the organic feeling of Willow Cioppa:
Released in early 2016, Armour by Rae Spoon is a magnificent album composed of ten highly anticipated tracks, following up their six previous albums. Considered one of Canada's best singer-songwriters, Rae Spoon's Armour is an astoundingly intimate and beautiful compilation of works. Sitting down with Rae, we discussed queerness in music, influences, and more. As a fellow queer musician, talking to Rae and experiencing firsthand the upfront way in which they discuss themself and their music was a true pleasure.
What is your creation process?
Mostly I just hang out around my house doing other stuff until I suddenly start writing songs. I'm not really sure how it happens, but I try not to mess with it.
When creating music, do you strive for a particular theme, or do you aim for a more go-with-the-flow, organic type of feeling?
It depends on where I am in the process of making an album. Sometimes early songs come out of certain situations, but then later on I do end up going for a unified feeling so that the album is cohesive.
How did you begin making music?
I started playing guitar when I was 12, and pretty soon I was writing my own songs. It just happened pretty naturally, I guess.
Are there pieces of the Montreal arts and culture scene that penetrate and/or influence your music?
When I lived in Montreal, I think that being in a city that had such a strong arts scene definitely influenced my music and gave me a lot of space to create.
What emotions would you say you try to evoke?
I'm not sure that I do try to evoke any emotions, to be honest. My music is how I emote, so if people end up connecting to those feelings then I'm doing my job.
How do you feel being queer influences your art and your connection to it?
I'm not sure that it informs my music more than anyone's sexuality informs their music.
How would you say your music has changed over the years?
I definitely use a lot more electronic beats and programming than I did ten years ago, and in the last few years I've been moving to using more organic sounds as electronic beats, so I'm always kind of changing it up.
Are there any works you are particularly proud of?
Whatever I've done most recently tends to be what I'm most invested in, so I guess right now it's Armour. That being said, I do move on to my next project pretty quickly, so maybe it's the stuff I'm working on now. I also don't usually feel proud about what I make, I just have to make it and then if people like it and listen to it I'm happy.
Who is your favourite local artist?
I spend a lot of time all over Canada, so it's hard to say what's local and what's not for me. I think LAL is an amazing band.
What is the most recent thing you've been listening to? Is there something you're planning on bumping all summer long?
The most recent band I listened to is a British group called Jesus and His Judgmental Father.
What is your dream show bill?
Dolly Parton and Beyoncé.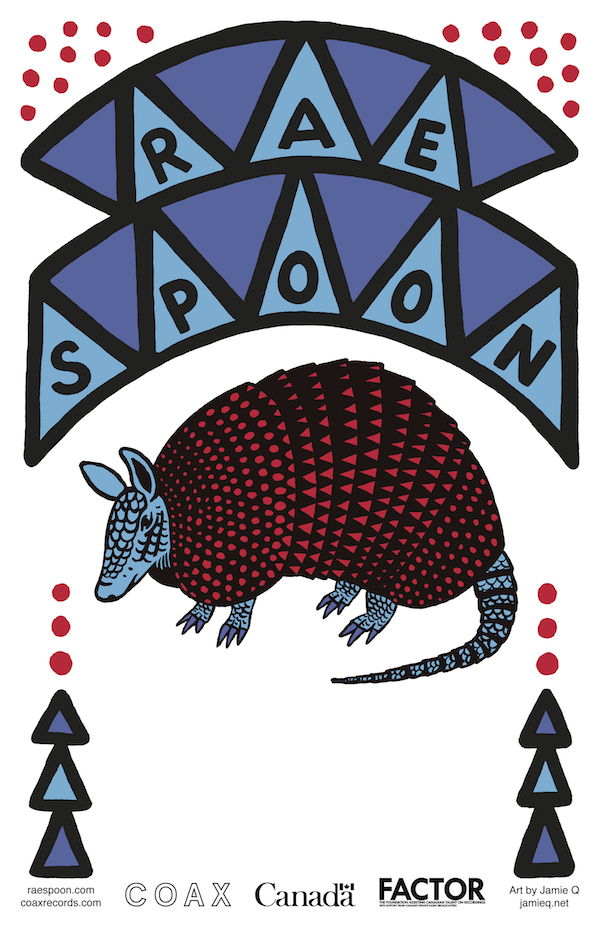 Du sentiment organique de Willow Cioppa:
(Traduit par Julie Mayer)
Sorti au début de l'année 2016 et suite d'une série de six albums, *Armour* de Ray Spoon est formé de dix magnifiques chansons très attendues. Comptant parmi les meilleurs auteurs-compositeurs-interprètes du Canada, Rae Spoon a créé une belle compilation d'œuvres étonnamment intime. En entrevue avec Rae, nous avons discuté de la représentation allosexuelle dans la musique, de ses influences et bien plus. Étant moi-même un artiste allosexuel, j'ai eu un réel plaisir à converser avec Rae et d'avoir été témoin de son franc-parler sur sa personne et sa musique.
**Quel est ton processus de création?**
La plupart du temps, je flâne à la maison, à faire autre chose, jusqu'à ce que je mette soudain à écrire des chansons. Je ne sais pas trop comment ça arrive/se produit/se fait, mais je ne cherche pas à comprendre. [à le provoquer/bousculer/précipiter/hâter]
**Quand tu crées de la musique, cherches-tu à aborder un thème de prédilection ou à te laisser porter par le courant?**
Ça dépend où j'en suis dans la conception de l'album. Il arrive parfois que les chansons hâtives proviennent de certaines situations données. Puis, par après/ensuite, je choisis finalement d'unifier les sentiments que suscitent celles-ci pour que l'album soit cohérent.
**Comment as-tu commencé à faire de la musique?**
J'ai commencé à jouer de la guitare quand j'avais 12 ans. Et bien assez tôt, je composais mes propres chansons. Ça m'est venu tout naturellement, j'imagine.
**Y a-t-il des aspects appartenant à la scène artistique et culturelle de Montréal qui marquent ou influencent ta musique?**
Je pense que le fait d'avoir vécu dans une ville comme Montréal, ayant une scène artistique si forte a influencé sans l'ombre d'un doute ma musique et m'a donné beaucoup de liberté de création.
**Quelles émotions tentes-tu d'évoquer dans ta musique?**
Je doute que j'essaie/je ne cherche pas à d'évoquer quelque émotion que ce soit, honnêtement. Ma musique est la façon dont j'exprime mes émotions. Donc, si le public finit par s'identifier/se reconnaître/connecter à ces sentiments, alors mission accomplie.
**Comment/De quelle façon l'allosexualité influence-elle ton art et ta relation à l'égard de ce dernier?**
Je ne crois pas que l'orientation sexuelle façonne plus ma musique que celle d'une autre personne.
**Comment ta musique a-t-elle changé/évolué au fil des ans?**
J'utilise beaucoup plus de rythmes électroniques et de programmation comparativement à ce que je faisais il y a dix ans. Au cours des dernières années, j'ai commencé à utiliser plus de sons organiques comme les rythmes électroniques, de sorte que je change constamment.
**Éprouves-tu de la fierté pour des œuvres en particulier?**
Tout ce que j'ai fait récemment à tendance à être ce dans quoi je m'investis le plus. Donc, je suppose que, présentement, c'est *Armour*. Cela dit, je change de projet pas mal vite, donc peut-être est-ce ce sur quoi là-dessus que je travaille maintenant. Aussi, je ne tire pas particulièrement de fierté de ce que je fais, il me suffit de le faire/je n'ai qu'à le faire et si les gens aiment ce qu'ils écoutent/entendent, ça fait mon bonheur.
**Qui est ton artiste local préféré?**
Je passe beaucoup de temps d'un bout à l'autre du Canada. Par conséquent, il m'est difficile de déterminer ce qui est local de ce qui ne l'est pas. Je trouve que LAL est un groupe exceptionnel.
**Quelle est la toute dernière chose que tu as écoutée? Y a-t-il une chose sur laquelle tu comptes te déhancher tout l'été?**
Le dernier groupe que j'ai écouté est un quatuor britannique du nom de Jesus and His Judgmental Father.
**Quel serait ton spectacle de rêve?**
Dolly Parton et Beyoncé.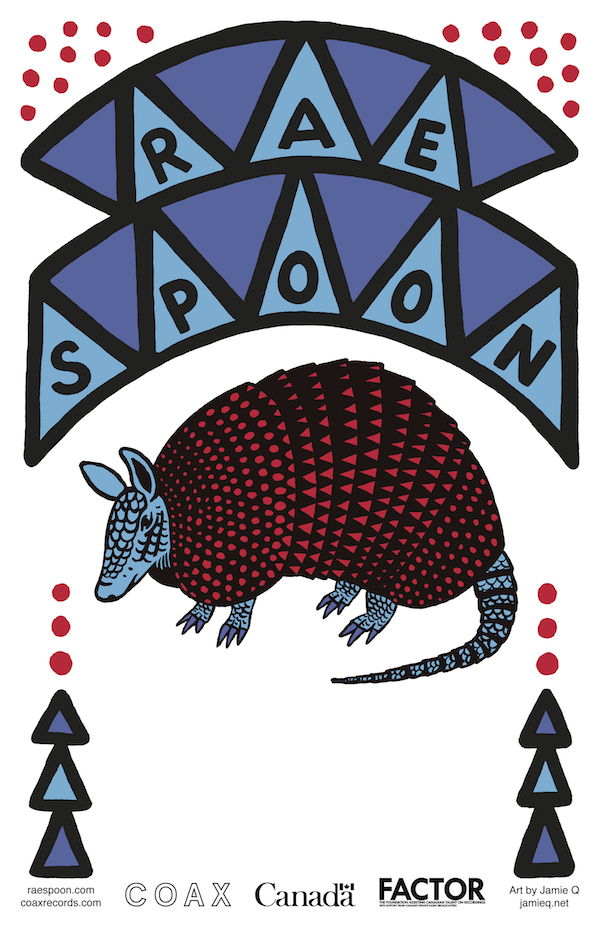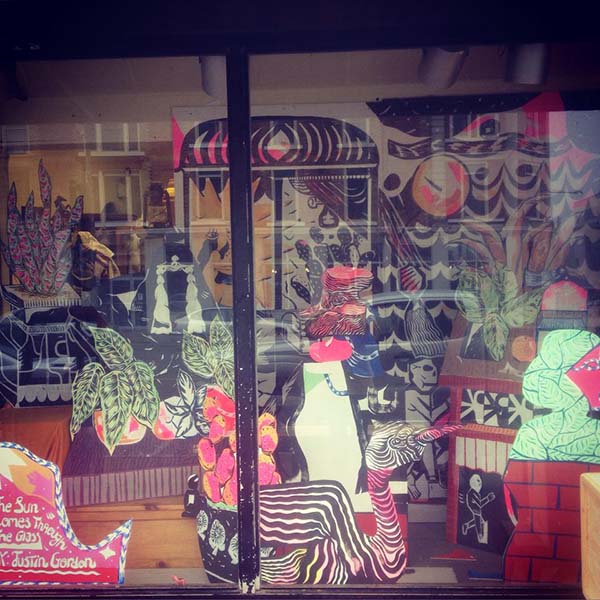 Justin Gordon

Montreal QB via Guelph ON
From the plush heart of Megan Arnold: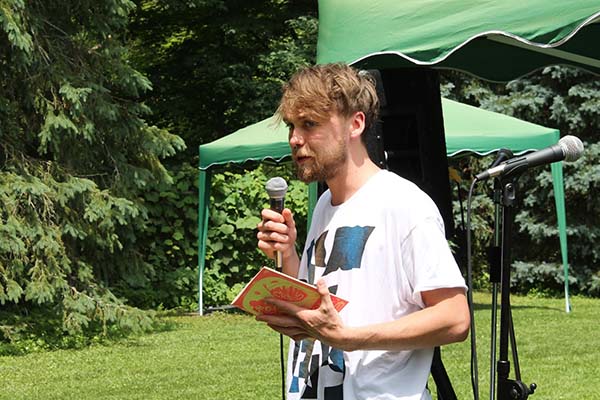 Justin Gordon at the "Hot Mess" comic launch at INCLINE/DECLINE fest in Guelph.
Cartoonists Justin Gordon and Megan Arnold met up at Incline/Decline Fest last summer, where Justin launched their most recent comic project, "Hot Mess." Together they found a nice tree on a hill during some downtime to talk about Justin's work—new and old—their tattoos, and their hometown of Guelph, Ontario.
————
You had something up for Kazoo! Fest 2015, and I noticed there's still a little bit left of it in Dis-A-Ray.
Yeah, the owner of Dis-A-Ray, Ray Mitchell, lends his window space to Kazoo! each year. I had a series of freestanding four-foot wood panels, and I cut the shapes out around them and painted the background so it was three-dimensional but still very flat and illustrative. It's called "The Sun Comes Through the Glass" and it was sort of a play on still lives, like recreating still lives and the idea of stillness coming into windows. I was kinda feeling like Kazoo! and festivals like Incline/Decline are so fast-moving that it's nice to have those breathing points.
In comparison to other places that you've lived, how do you feel about the Guelph art scene?
There are some great illustrators here. It's very small and very friendly. I feel very connected to other people who draw things and make animations. Marc Bell and Amy Lockhart were also living here for the last six or seven, maybe eight years. Having them living down the street from me really shaped the way that I think about art.
I can definitely see their influence in your style.
Yeah, there was a lot from Marc and Amy. But there's also younger illustrators, and a few people who do silkscreening. I've had some good collaborations with people and everyone is very receptive. Because it is a smaller city, things can have a big impact, and it keeps people working. I find it very laid-back here, in a way, where I think that maybe I'm craving an inner-city, confrontational thing, or like making art in response to other people. Whereas here it's sort of like "everything is cool and nothing sucks," and I wouldn't want to be the person that makes a response piece to someone. But I think that really helps generate an idea flow and some kind of lineage between people. But maybe I'm just romanticizing being a painter in an era that I couldn't fathom.


1. Sun Comes Through The Glass (window installation, Kazoo! Festival, Guelph 2015)
2. Sketch for upcoming project. 3. En Masse painting for NXNE (toronto, 2015) collaborators include: Jason Botkin, Waxhead, Bonar, Snail, Jerry Rugg.
What was your process like while working on "Hot Mess," which was launched at Incline/Decline?
It was very much in this way of re-enacting a 9-to-5 job but over a comic book. I was diligent with it. I was also considering a lot of feminist theory and queer theory and identity politics – like the way people express feeling about their bodies in change and transition. I felt like I was listening to a lot of people talk about how they fit into social spaces and how they fit into their bodies, so I was just trying to re-enact that through a lighthearted, accessible comic book, and trying to relate that with softer shapes and identifiable figures. It took me a month to make. I kind of wanted to make it as a classic comic book, where it's 6"x8" and 24 pages, and has nice opening credits.
Are themes of bodies and queer/feminist theory something that you work with a lot, or was it just a focus for "Hot Mess"?
I think they are. I'm trying to abstract a lot of things. It was a really big instigation for "Hot Mess." I feel like it's important for me to solidify my identity within that before I even start making things. There's really few reminders to breathe and drink enough water and rest and take time for yourself before you jump the gun and start to produce something.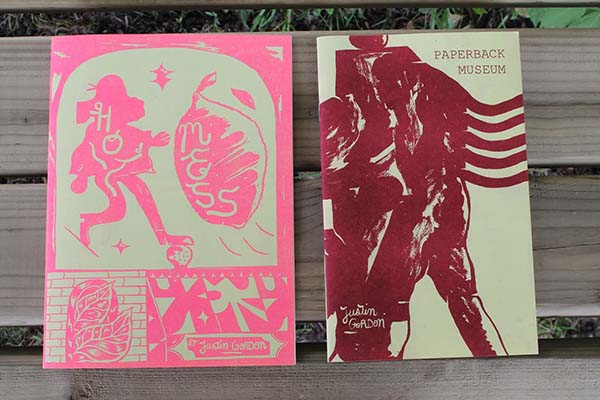 Hot Mess and Paperback Museum.
Do you have any more books planned?
My next book is gonna come out with Swimmers Group in Toronto and I'm gonna build things out of clay and paint more panels and take photos of them. I'd really like to have it be more like a gut instinct, or more about feeling than trying to maintain a certain format for it. 'Cause I think it's fun to play and good for your health to just experiment.
Is this one gonna have a narrative to it?
I think it's gonna be a lot of short pieces, allowing the narratives to come up with different mediums, like having painting be contained in its own colour schematic and placement, and then switching it for pencil drawings. Just allowing things to collect themselves. I'm going to school in Montreal next year to study art theory. It's sort of fun watching things change, and everything that you do recreates, reconstructs and informs what you would do after. And I think that's why it's funny to do an interview because I don't have any answers.
That's okay! Do you know when your next book will be done?
No. I might take some time with it. I might really feel it out. I feel like it's easy for me to get into production mode and lose the content a bit. Living in a cabin in the woods over the summer has given me enough space to look at what I've been doing and what things are about. So I'm gonna try to keep this small part of me that's like, "You're still in your cabin in the woods. Don't rush it."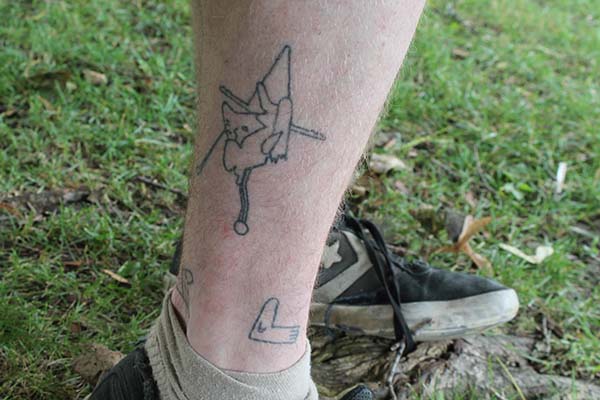 Justin's tattoo of a Patrick Kyle drawing.
Are there any of your contemporaries that you think people should know about?
Yeah! What Alicia Nauta is doing with the Klassic Kool Shoppe is the best. Folks should all know about Colour Code Printing – they do the best work. I like what Boogerbrie is doing. They seem really rad, and are really working with femininity in panel comics. Jesi the Elder is forever the best. I'm always a really big fan of what Patrick Kyle does. There's a lot of amazing and totally inspiring people. There is a subcultural community that has such amazing characters in it. It's really why I wanna make things ever, is just to be able to engage with those people.
Du coeur séduisant de Megan Arnold:
(Traduit par Sergio Calla)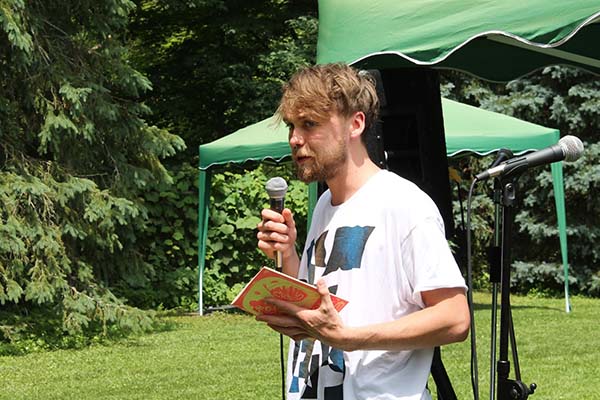 *Justin Gordon au festival Incline/Decline à Guelph pour le lancement de la bande dessinée « Hot Mess » *
Les caricaturistes Justin Gordon et Megan Arnold se sont retrouvés au festival Incline/Decline l'été dernier, où Justin a lancé son plus récent projet de bandes dessinées s'intitulant « Hot Mess ». Ils se sont installés sous un arbre sur une colline lors d'une pause afin d'échanger sur les projets récents et précédents de Justin, ses tatouages, et sa ville natale de Guelph en Ontario.
————
Vous avez fait quelque chose pour le festival « Kazoo » en 2015, et j'ai remarqué qu'il en reste encore un peu chez « Dis-A-Ray ». 
Oui, chaque année, le propriétaire de « Dis-A-Ray », Ray Mitchell, prête la vitrine de son commerce comme espace publicitaire à Kazoo!. J'avais une série de panneaux en bois mesurant quatre pieds de hauteur et j'ai coupé des formes autour et peint l'arrière-plan afin de donner une certaine illusion tridimensionnelle en gardant le tout plat et explicatif. Il est appelé « The Sun Comes Through the Glass » pour donner une apparence en quelque sorte d'inactivité et de bien recréer l'idée de l'immobilité qui entre par les fenêtres. Je me sentais un peu comme « Kazoo » et ce genre de festival comme Incline/Decline est en constant mouvement, il est agréable d'avoir ces moments de pause.
Quelle est votre opinion de la scène artistique à Guelph comparé aux endroits où vous avez déjà habité?
Il y a d'excellents illustrateurs ici. C'est très intime et très sympathique. Je me sens très lié avec d'autres dessinateurs et ceux qui font de l'animation. Marc Bell et Amy Lockhart ont également demeurés ici depuis six ou sept ans, peut-être même huit ans, et j'ai eu le plaisir de les côtoyer pendant plusieurs années. Ils ont influencé la façon dont je vois les arts par leur proximité.
Leur influence se démontre définitivement dans votre style.
Effectivement Marc et Amy ont donné beaucoup. Il y a aussi de jeunes illustrateurs et quelques personnes qui font de la sérigraphie. Il y a un bel esprit de collaboration et les gens sont très ouverts. Puisqu'il s'agit d'une petite ville, beaucoup de choses peuvent avoir un gros impact, ce qui peut encourage les gens à continuer leur travail. Je trouve ça très décontracté ici, au point d'avoir le gout d'un affrontement dans la ville en quelque sorte ou bien de réaliser des créations en réaction aux autres. Ici par contre, tout semble être cool, il n'y a rien de déplaisant et je ne voudrais pas semer de la controverse en réagissant à quelqu'un, mais je crois que ceci sert à générer des idées et un certain historique entre nous. Peut-être que j'idéalise être peintre dans une époque mystérieuse.

1. Sun Comes Through The Glass (installation de vitrine, Festival Kazoo, Guelph 2015)
2. Dessin pour un projet futur 3. La peinture « En Masse » pour le NXNE (Toronto 2015) les collaborateurs inclus : Jason Botkin, Waxhead, Bonar, Snail, Jerry Rugg
Expliquez-nous le cheminement du projet « Hot Mess » lancé au festival Incline/Decline?
C'était pas mal un travail de recréer une journée de travail de 9h à 17h, mais dans la création d'une bande dessinée avec des idées de théories féministes et queer et aussi de politique identitaire. Un peu comme la façon dont les gens s'y prennent pour s'exprimer sur l'évolution de leur physique lors de transition et de changement. J'avais le sentiment d'écouter tout le monde parler de la façon dont ils se situent dans les espaces sociaux et comment ils s'adaptent à leur image corporelle. C'est d'essayer de tout reconstituer par le biais d'une bande dessinée accessible et plaisante tout en tentant de relier l'ensemble avec des formes plus souples et des silhouettes reconnaissables. Ça m'a pris un mois pour la réaliser. J'ai voulu créer une bande dessinée classique de 6''x 8" de 24 pages, avec un générique d'ouverture agréable.
Travaillez-vous beaucoup avec les idées de théories féministes et queer et avec les corps ou bien était-ce un projet unique pour « Hot Mess » ?
Je crois que oui et j'essaie de rendre abstraites beaucoup de choses. Ce fut un facteur motivateur pour « Hot Mess ». J'ai l'impression que c'est important pour moi de solidifier mon identité même avant que je me mette à créer quelque chose. Il faut prendre le temps de respirer, s'hydrater et se reposer avant de faire le saut vers une création.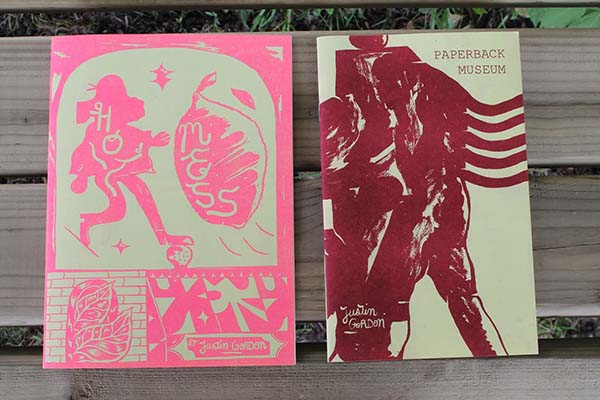 Hot Mess et Paperback Museum.
Avez-vous d'autres livres de planifiés ?
Mon prochain livre verra le jour avec la collaboration de Swimmers group à Toronto dont le but est de fabriquer des objets avec de l'argile et de peinturer plus de panneaux et de les prendre en photo. J'aimerais être plus spontané et faire confiance à mon intuition au lieu de garder la même tendance. Je crois que l'expérimentation est très plaisante et bonne pour la santé.
Est-ce qu'il y aura une narration?
Je pense que ce sera de courts extraits avec des récits qui diffèrent selon la plateforme. C'est comme une peinture ayant ses propres couleurs et son propre lieu pour ensuite faire le virage vers des dessins au crayon et voir comment ça se passe. L'année prochaine, je serai à Montréal pour suivre des cours sur la théorie des arts. Je m'amuse à voir les choses changer, car tout ce que l'on fait aujourd'hui nous amène aux créations de demain et à nos aspirations futures. Pour moi, c'est drôle de faire des entrevues, car je n'ai pas les réponses.
C'est correct ! Savez-vous quand votre prochain livre sera terminé ?
Non. Je prendrai le temps qu'il faut. Je vais y aller intuitivement. C'est trop facile pour moi de me mettre en « mode production » et de perdre du contenu. Avoir passé du temps dans un chalet dans le bois pendant l'été m'a donné la chance de me retrouver et de découvrir la vérité. Alors sans trop me ruer, je vais tenter de rester fidèle à moi-même.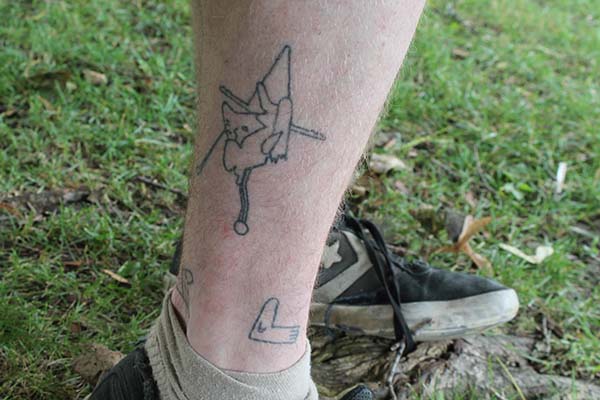 Le tatouage de Justin basé sur un dessin de Patrick Kyle.
Voulez-vous reconnaitre certains de vos camarades ?
Oui! J'aime beaucoup ce que Alicia Nauta fait avec Klassic Kool Shoppe. Tout le monde devrait connaitre le travail d'impression par code de couleur. C'est un travail impeccable. J'aime aussi les créations de Boogerbrie. Ils se démarquent par leurs vignettes avec un point de vue féministe. Jesi the Elder est l'une des meilleurs. J'ai une grande admiration pour le travail de Patrick Kyle. Il y a plein d'artistes qui sont une source d'inspiration incroyable. Il y a une communauté subculture qui a des superbes personnages. C'est pourquoi je fais des créations, afin de pouvoir côtoyer ce genre de personnes.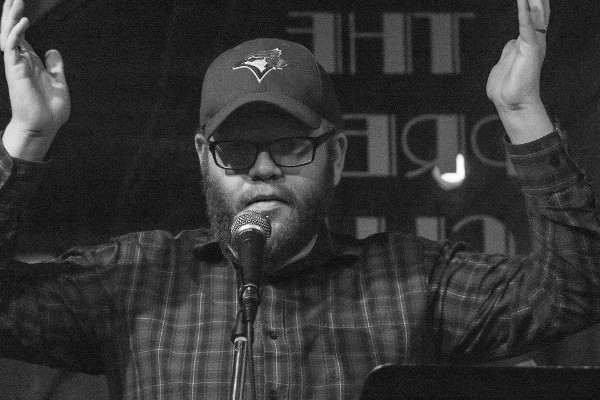 Pivot Poetry Readings
Jacob McArthur Mooney
Toronto, ON
From the repetitive smashing of Jenya Doudareva:
Jacob McArthur Mooney is a poet, blogger, literary critic, and host of Toronto's excellent series of poetry readings, Pivot.
How did Pivot start?
Pivot was started six years ago by the poets Carey Toane and Angela Hibbs, and before ending up in my lap was passed through Elisabeth de Mariaffi and Sachiko Murakami. Before that, even, it was known as the I.V. Lounge Reading Series and hosted at the I.V. Lounge by first Paul Vermeersch and later Alex Boyd.
I had been asked to take over a few times during those previous handoffs but wasn't feeling up for it for various reasons around lifestyle and bad decision making. I took it over in 2012 and have been running the show with my wife, novelist Alexis von Konigslow, ever since.
What makes your poetry series different from other existing ones in Toronto?
A lot of those series don't include windows and we have a rather large window.
Beyond the window, I would say Pivot is a rather blissfully unadorned series. Pivot contains no hyphens. It doesn't do any reach out beyond the world of poetry and fiction and the occasional non-fict. It doesn't try to be anything more than what it is. This is a big fucking city, you know? There is something out there for you no matter how weird and eccentric your tastes are, and so Pivot is there for that group of people: statistically insignificant until stretched across the landscape of a metropolis, who like to drink beer and be read to in the dark. So I would say that Pivot is very proudly niche in a way that might be unique, and that's the only way I could ever have it. Some nights it's just me, my hangdog Andy Kaufmann schtick, and the only room full of people in this whole city I can stand. It's a small target and we want to nail it.
Do you use different approach when you work with emerging artists vs established ones?
There are no such things as "established artists" in poetry. The only two kind of poets are emerging and deceased.
But if you're talking about age or publication record, then no. The new poets are generally better readers than the older poets, is all I can think of.
Is working with emerging poets more challenging than working with established ones? Could you elaborate on what makes working with emerging poets unique?
Okay, so let's throw out my quick "No" above, and assume meaning for the term "emerging poets," and that it means, roughly: young poets who haven't published books. I will say that they should know that they are the best moment Canadian poetry has ever had. The generation of poets born, I'll say, between 1984 and 1993 (let us be shits and call them "The Mulroney Poets") are the most consistently interesting and deepest and most outrageously ambitious group we've ever seen. I've tried to articulate why this may be and have at best, two theories.
One, they have the opportunity, if they wish to take it, to be completely over the idea of "Canada." We spent a long time in the literary culture of this country trying to figure out how to be simultaneously liberal and nationalist, and it didn't work out because that's an inherently bullshit position. The first big generation of Canadian writers, the boomers and their slightly older siblings, fought on and on about that. Dennis Lee is a hero of mine and a good friend but the battle he supposed in geopolitical terms in, say, Civil Elegies, or the one rendered in ecological terms by Farley Mowat, those have all been lost. These Mulroney kids are coming into adulthood at a time where the moral and environmental apocalypse being furthered by Canada is greater than the one being furthered by every other Western country. They are coming up in the only period in any living person's memory where the Canadian Prime Minister sits to the right of the American President, and so much of that disco nationalism stuff demanded a Good Canada/Bad America dialectic. Which is no way to build a national culture, as it depends on the cultures of other nations to exist. So I would say that, though they are inexorably fucked in all the meaningful economic and moral ways, the end of a cultural Canada does them a lot of good as poets. There's a bigger world out there.
And secondly, there's a bigger world out there. I think that this group is so used to the repetitive smashing together of cultural products: near and far, high and low, old and new, that the reach of their metaphors can be so much more ambitious and natural than for poets born even a few years earlier. A lot of this is the internet but it's also the Internet of Thoughts, you know. It's how those technological gadgets reconfigure the brain if you're young enough to be born into them. Juxtaposition is finished, I think, it doesn't exist anymore. So you get crazy shit happening out there with people like Kayla Czaga and Michael Prior and Vincent Colistro (or Jessica Bebenek or Liz Howard or all those people in Vancouver) where an amount of figurative reach that might seem showy or performative for even our more culturally-literate older poets (McGimpsey, Rogers, Babstock) just flow off the tongue and there's no ta-dah attached, it's just culture speaking.
Your website mentions that you receive no funding other than PWYC – how do you make that work and how can others who might be interested in starting out in that environment manage that?
I pass a bucket at the break and people are encouraged to put money in the bucket. At the end of the break I take the money out of the bucket and divide it equally between all the readers. Simple. Anyone can do it. But we're entertaining the idea of going out for public funding, in the interest of paying those readers more money.
In your opinion, what are the gaps/opportunities in Toronto's poetry scene? What kind of work doesn't get as much celebration as it should?
We are very lucky in Toronto. It's a good scene and a generally welcoming world. If you were so inclined, you could go out and see something decent every night of the week. I would say that we lack people willing to do the less-glamourous work of scene buttressing, but that's not unique to the city or to poetry. Nobody likes to fill out forms or cold-call venues or comparison shop for paper.
My big worry is probably, with the growth of unfunded internships and the like, is that much of that work becomes the speciality of rich people's kids and grandkids. And we already have such a demographic problem in poetry (I'll let spoken word off the hook on this generalization), it's so Caucasian and upper-middle class and socioeconomically riskless already that I'm concerned that another thirty years of filtering out Grown Up White Trash like myself will render it static.
What are Pivot's plans in the near future as a poetry series, e.g. whether or not you are envisioning any changes to Pivot's scope or focus?
More younger poets this year. Also, I think we'll bring in fewer readers with brand-new books. I'd like to have people do Pivot like 6 months after their book is out, otherwise it just gets lost in the rush of readings and releases and you end up with, like, four opportunities to go hear a given poet read in a week. We're going to drift out of that game.
Des agglomérations répétitives de Jenya Doudareva:
(Traduit par la déchirure fédéro-nationaliste de Jessica Grenier)
Jacob McArthur Mooney, le poète, blogueur et critique littéraire, est également animateur de Pivot, une excellente série de soirées dédiées à la lecture de poésie à Toronto.
Comment a commencé Pivot?
La série a commencé il y a six ans, avec les poètes Carey Toane et Angela Hibbs, puis elle est passée par les mains d'Elisabeth de Mariaffi et de Sachiko Murakami avant de tomber dans les miennes. En fait même avant ça, c'était la I.V. Lounge Serie, elle avait lieu au I.V. Lounge et elle a été animée par Paul Vermeersch d'abord et par Alex Boyd ensuite.
Quand il y a eu ces changements, on m'a demandé de m'en charger à quelques reprises, mais je ne me sentais pas prêt à m'en occuper pour diverses raisons (relatives à mon style de vie et à de mauvaises décisions que j'ai prises). En 2012 j'ai pris la série en main, et je m'en occupe depuis avec ma femme, la romancière Alexis von Konigslow.
Qu'est-ce qui différencie Pivot des autres soirées de poésie à Toronto?
La plupart d'entre elles n'offrent pas de vitrine : nous, nous en offrons une bonne.
Au-delà de ça, je dirais que Pivot est merveilleusement sans prétention. La série ne contient aucun trait d'union, elle ne cherche pas à sortir du domaine de la poésie, de la fiction et (occasionnellement) de la non-fiction. Elle n'essaie pas d'être plus que ce qu'elle est. Toronto, c'est une maudite grosse ville : c'est sûr qu'il va y avoir quelque chose pour t'intéresser, même si tes goûts sont vraiment bizarres et excentriques. Et Pivot est là pour ce groupe de gens – statistiquement insignifiant jusqu'à ce qu'on l'étende sur tout le territoire d'une métropole – qui aime boire de la bière et assister à une lecture dans le noir. Alors, je dirais que Pivot se positionne dans un créneau d'une façon plutôt unique, et je ne voudrais pas que ce soit autrement. Il y a des soirs où il n'y a que moi, mon chien de poche Andy Kaufmann qui fait ses trucs, et cette salle remplie de gens – la seule que j'arrive à supporter dans toute la ville. C'est un objectif très précis et on veut l'atteindre.
Est-ce que ton approche de travail est différente avec les artistes émergents et ceux établis?
En poésie, les « artistes établis », ça n'existe pas. Il n'y a que deux types de poètes : les émergents et les morts.
Mais si tu fais référence à l'âge ou à la publication, alors non. La seule chose qui me vient en tête est que les jeunes poètes sont généralement de meilleurs orateurs que les plus vieux.
Est-ce qu'il est plus difficile de travailler avec des poètes émergents qu'avec ceux établis? Pourrais-tu décrire ce qui rend cette expérience unique de travail?
OK, oublions mon « Non » rapide de tout à l'heure et disons que « poètes émergents » veut dire grosso modo : jeunes poètes qui n'a pas encore publié un livre. Je dirais qu'ils devraient savoir qu'ils sont dans le meilleur moment de l'Histoire de la poésie canadienne. Les poètes nés, disons, entre 1984 et 1993 (on va être chien et les appeler les « poètes Mulroney ») sont ceux dont la création est la plus globalement intéressante et profonde : ils sont les plus scandaleusement ambitieux qu'on n'a jamais vus. J'ai essayé de déterminer pourquoi et, au mieux, j'ai deux théories.
La première : ils ont la chance, s'ils veulent la saisir, de complètement dépasser l'idée du « Canada ». Dans la culture littéraire canadienne, nous avons passé beaucoup de temps à essayer de comprendre comment être à la fois libéral et nationaliste, et ça n'a pas fonctionné parce que c'est carrément n'importe quoi comme position. La première grande génération d'écrivains canadiens (les baby-boomers et leurs frères et sœur aînés) n'arrêtait pas de débattre sur le sujet. Que ce soit le combat proposé par Dennis Lee – un de mes héros et un bon ami – en termes géopolitiques dans Civil Elegies ou encore celui décrit en termes écologiques par Farley Mowat, ils ont tous été perdus. Ces enfants de Mulroney arrivent à l'âge adulte à un moment où le cataclysme moral et environnemental aggravé par le Canada est encore pire que celuiprovoqué par les autres pays occidentaux. Ils arrivent durant la seule période de mémoire d'homme où le premier ministre canadien siège à la droite du président américain, et une partie importante de tout ce discours nationaliste reposait sur une dialectique gentil Canada/méchants États-Unis; ce qui n'est pas une façon de construire une culture nationale puisque son existence est dépendante de celle des autres pays. Alors, je dirais que même s'ils sont inexorablement foutus de toutes les façons économiques et morales possibles, la fin d'un Canada culturel les aide beaucoup en tant que poètes. Il y a tout un monde à découvrir.
La deuxième : il y a tout un monde à découvrir. Je pense que ce groupe est tellement habitué à ce que les produits culturels soient agglomérés ensemble qu'ils soient d'ici ou d'ailleurs, bons ou mauvais, nouveaux ou vieux, que leurs métaphores peuvent avoir une portée beaucoup plus naturellement ambitieuse par rapport à des poètes nés quelques années avant eux. C'est sûr que c'est principalement causé par l'Internet, mais l'Internet est aussi un réseau de pensées. C'est la façon dont ces gadgets technologiques reconfigurent le cerveau quand on est assez jeune pour avoir baigné dedans dès la naissance. Il n'y a plus de juxtaposition, je pense que c'est mort. Alors, il y a des gens qui font plein de trucs fous un peu partout, comme Kayla Czaga, Michael Prior et Vincent Colistro (ou encore Jessica Bebenek, Liz Howard ou tous ces personnes de Vancouver), avec un rayonnement figuratif impressionnant qui pourrait sembler tape-à-l'œil ou performatif par rapport aux valeurs culturelles de nos vieux poètes (McGimpsey, Rogers, Babstock); et ça glisse sur la langue et il n'y a pas de ta-dah, c'est juste la culture qui parle.
Le site internet mentionne que Pivot se finance uniquement par le principe « payez ce que vous voulez ». Comment est-ce que ça fonctionne? Quels trucs donnerais-tu à des gens intéressés par ce mode de financement?
Durant la pause, je me promène avec un seau en encourageant les gens à y mettre de l'argent; et après, je sors ce qui a été ramassé et je le divise également entre les lecteurs. C'est simple, n'importe qui peut le faire. Mais nous pensons commencer à chercher du financement public dans l'objectif de donner plus à nos lecteurs.
Selon toi, quelles sont les lacunes et les possibilités de la scène poétique de Toronto? Quel genre d'œuvre ne reçoit pas toute l'attention qu'il mérite?
À Toronto, nous sommes très chanceux. La scène est bonne, généralement accueillante. Si telle était ton envie, tu pourrais sortir et aller voir quelque chose de décent tous les soirs de la semaine. Je dirais que ce qu'il manque, c'est des gens voulant faire le travail moins prestigieux de soutien scénique, mais ce n'est pas propre à la ville ni à la poésie. Personne n'aime remplir des formulaires, faire des appels à froid pour trouver des lieux d'événements ou pour comparer les prix pour acheter du papier.
Ce qui m'inquiète le plus c'est que, avec l'augmentation du nombre de stages non rémunérés et de postes du genre, ça finisse par devenir la spécialité des enfants et petits-enfants de riches. On a déjà un gros problème démographique en poésie (mais je n'inclue pas les créations orales dans cette généralisation) : c'est déjà tellement blanc, classe moyenne supérieure et sans risques socioéconomiques… j'ai peur qu'une autre trentaine d'années à éliminer les vieux white trash comme moi finisse par rendre le domaine statique.
Dans un avenir rapproché, quel est le plan pour Pivot, par exemple en termes de séries poétiques, pensez-vous faire des changements?
Cette année : augmenter le nombre de poètes plus jeunes. Aussi, je pense qu'on va inviter moins de lecteurs qui viennent juste de publier un livre. J'aimerais que les gens viennent à peu près 6 mois après avoir sorti leur livre, sinon ça se perd parmitoutes les autres lectures du lancement, et tu te ramasses avec quelque chose comme quatre occasions d'aller entendre tel poète dans une même semaine. On veut s'éloigner de cette dynamique.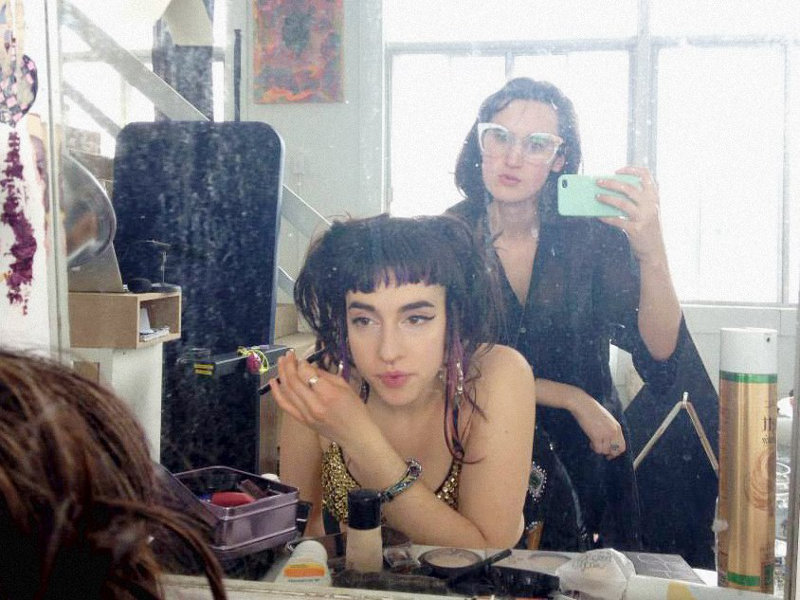 Frankie Teardrop and Samantha Garritano
Founders of Slut Island
Various Venues // June 5-13
Montréal, QC
From the slut heart of Catherine Debard:
About a month ago, I saw there was a call for women / queer / non-conforming artists for a festival called Slut Island in Montreal. I applied quickly because it represents a really important cause for me, as a woman, as a musician, and as a person. I was stoked to learn that I was accepted to play the festival. Here is a little chat with Frankie Teardrop and Samantha Garritano, the founders of Slut Island.
How did you come up with the idea of a FEMME FEST? Did you feel there was a gap to fill in Montreal's music scene?
We feel there is a gap to fill that extends way out of Montreal or any music scene. Sometimes women are made to feel like their access to 'the music scene' in general lies within their ability to 'act like one of the guys'. I (Sam) can attest to this when considering my own female experience. To feel empowered by my femininity rather than shameful about it took a lot of resistance and rejection of the ridicule and shame that society places on it.
Presenting in feminine ways, such as wearing heels and a lot of makeup, puts women in a position of objectification and we are preprogrammed to take away their agency when observing these markers of femininity. Being a femme* and feeling empowered by it and doing it for yourself and not for the purpose of being an object of the male gaze feels like a whole other ball game. It takes a lot of personal deconstruction to reach this point– for example: when we are all conditioned from a young age to call someone a 'pussy' when they don't want to do something, that is literally using female genitalia to shame or embarrass someone for having personal boundaries, which is totally fucked up. How can this make someone feel proud of their femininity? Femmes deal with a lot of bullshit on the day to day– I feel like this is an entire other interview in itself and it's actually really hard to sum up the complexities of this word in a paragraph.
The notion of a FEMME FEST is basically creating a space where there is no place for stigmatization of femininity– a reminder to confront our internalized misogyny, celebrate all the fabulous femmes for continuing to present in a way that feels comfortable to them, and not allowing it to make them feel less worthy of respect.
*For those less familiar with the term, femme in this context means someone who acts and presents in a feminine manner; this person does not have to identify as 'female' to identify as a 'femme.'
Slut Island is described as a queer event. Could you explain what it implies?
Again this is a huge topic so we will do our best to keep it short and sweet. A queer event means there is absolutely no tolerance for any disrespect towards anyone based on their race/class/gender/sexuality/body; any way you chose to act or present yourself so long as it causes no form of harm to anyone in any way is totally fair game. In a mainstream context the word 'queer' tends to just mean 'gay', but it has become an umbrella term which encompasses a lot more than that in modern feminist discourse. We just want our performers and attendees to be people who reject all the prejudice society has instilled in us and rather think critically about the way we think about ourselves and others, deconstruct our harmful patterns, and work constantly on resisting patriarchy and its negative effects on our self image and world views.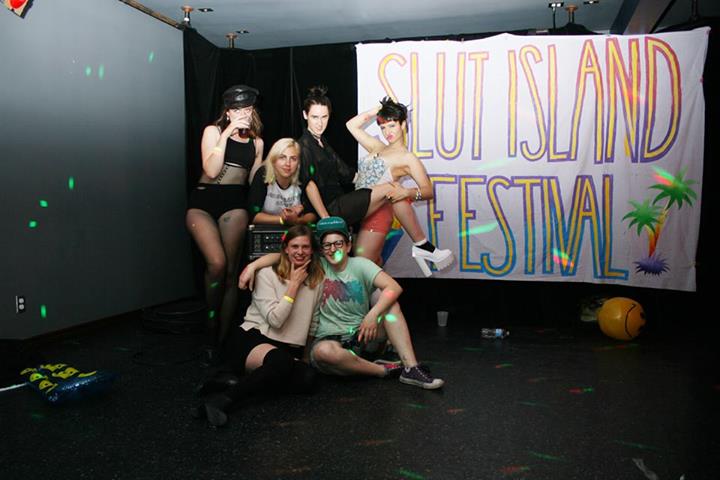 You talk about femme celebration, anti slut shaming, and body positivity. How do you want this positive vibe to manifest itself during the events?
In the imagined magical utopia that is Slut Island, people who represent a wide range of body types will feel free to dress and act as sexy as they feel and not be plagued by the notion that feeling good about your body is reserved for the tiny percent of the population who possess the mainstream perception of what a 'good body' is. This utterly unrealistic standard hinders everyone, although specifically female presenting people from feeling good about themselves on the daily. Not only does our society shame promiscuous women (sluts), but it also dictates what 'type' of body is the kind we're supposed to flaunt, so like, fat sluts are EXTRA not okay? The absurdity of this social norm is utterly infuriating and we, like many women, are so sick of the effects these standards have on our brains and self image. Fat-phobia is such a casual part of our everyday lives– it's horrible, it's oppressive and it needs to stop. No one should feel like their body isn't the right one to feel sexy in… FUCK THAT SHIT. We aren't expecting to put an end to patriarchy by having a festival–ideally, people will see it as a reminder that these things exist and to continue working on changing them. Again, this show is being put on for an by people who reject all that garbage, so hopefully it will manifest in everyone encouraging one another to feel good in whatever they show up in–be it a potato sack or a bikini, whatever.
Tell us a little bit about the line-up. How did you curate the events?
This was the hardest part! We did a submissions call out and received so many incredible responses. The resulting line-ups were our attempts at grouping such dramatically different acts into ways that make sense. To heavily oversimplify each night, this is sort of what you can expect:
June 5th at Playhouse, featuring Ghost Taco, Pretty Boys, Sigh Down One, Brother Moon, Sister Sun and FAKES and DJs Sass War and K7K8. This is more of a punk/performance art night. Expect vaginal soundscapes, blood curdling vocals, etc.
June 6th at La Vitrola has a more electronic, post-punk, no wave kind of vibe with Douce Angoisse, Dekoder, Food Stamps and Cheap Wig. Visuals throughout the night by the amazing J'VLYN, MCd by Peaches Lepage (who will become your queero). Jams brought to you by DJBOYZCLUB and Babi Audi.
The special edition matinee at Il Motore on Sunday, June 8th is a rad progression of five acts starting with more raw/vocal centric acts and progressing to a darker kind of electronic drone set with Charlotte Day Wilson, Empty Disco, Xania, Phoebe & Tanya and Gambletron. To sweeten the deal on this day, we have Domina Kalika and friends recruiting for the League of Lady Wrestling Montreal, with a mini battle and safe play workshop. This day is PAY WHAT YOU CAN at a wheelchair accessible venue.
June 12th at Piccolo Rialto is more of a glamourous dance pop kind of vibe with Lydia Ainsworth, TOPS, The Wayo, Light Fires and Jef Barbara. DJ/MC Mikiki Mikiki and DJ Like the Wolf are legendary queer babes who will blow your mind.
Closing the festival on June 13th at Playhouse is White Poppy, Big Sissy, YlangYlang and Syngja who will seriously activate all of your senses. Expect to hypnotized by all of these performances– analog projections by Zuzu Knew, theremin!!!!, wild vocals: serious trip. Also, in case you can't tell by their amazing DJ names, Miley Highrus and Compton Chic will get you wavvy.
Du coeur de slut de Catherine Debard:
(Traduit par Catherine Debard)
Il y a de cela à peu près un mois, j'ai vu un appel de soumissions pour un nouveau festival à Montréal, Slut Island, demandant à des artistes femmes/queer/non-conformistes en tout genres d'appliquer . J'ai rapidement soumis ma musique, le festival rejoignant totalement mes valeurs en tant que femme, musicienne et tout simplement en tant que personne. J'ai été franchement contente d'apprendre que j'allais jouer! Voici une courte discussion avec les deux fondatrices de l'évènement Frankie Teardrop et Samantha Garritano.
Comment êtes-vous arrivé avec cette idée de FEMME FEST? Est-ce que vous sentiez qu'il y avait un trou à combler dans la scène musicale Montréalaise?
Nous croyons qu'il y a des lacunes bien au-delà de Montréal, ou de n'importe quelle scène musicale. Parfois, les femmes sont amenées à se sentir comme si leur accès à "la scène musicale" en général dépendait de leur habileté à "agir comme les garçons". Je (Sam) peux en attester en considérant ma propre expérience. Ressentir un certain pouvoir par ma propre féminité au-lieu d'en être embarrassée m'a pris beaucoup de résistance et de rejet contre tout le ridicule et l'humiliation que la société y infuse. Se présenter d'une façon féminine, comme par exemple porter des talons hauts et beaucoup de maquillage, place la femme dans une position d'objectivation et nous sommes préprogrammés à enlever à une personne son agentivité dès que nous observons chez elle ces signes de féminité. Être une femme et y prendre du pouvoir et le faire seulement pour soi et non dans le but d'être un objet pour le regard masculin, c'est tout un autre combat. Ça prend beaucoup de déconstruction personnelle pour atteindre ce point. Voici un exemple: Nous sommes tous conditionnés depuis notre jeune âge à traiter quelqu'un de "pussy" quand il ne veut pas faire quelque chose. C'est littéralement utiliser les organes génitaux féminins pour humilier ou embarrasser quelqu'un pour avoir des limites personnelles et c'est franchement n'importe quoi. En quoi ça peut rendre une personne fière de sa féminité? Les femmes doivent composer avec un tas de conneries sur une base quotidienne, je sens que c'est une tout autre entrevue en soi et qu'en fait, c'est assez difficile d'énumérer toutes les complexités de ce mot en un paragraphe. La notion de "FEMME FEST" est à la base de créer un espace où il n'y a pas de place pour la stigmatisation de la féminité et c'est un rappel de confronter notre mysoginie internalisée et célébrer toutes les fabuleuses *femmes qui continuent à se présenter d'une façon qui leur est confortable et ne pas se laisser traiter avec moins de respect qu'elles méritent.
*Pour les gens moins familiers avec le terme, "femme" dans ce contexte, signifie quelqu'un qui agit et se présente de façon féminine. Cette personne n'a pas à s'identifier comme du "sexe féminin" pour être une "femme".
Slut Island est décrit comme un évènement queer. Pourriez-vous expliquer ce que ça implique?
Encore une fois le sujet est chaud, nous allons faire de notre mieux pour garder ça "short and sweet". Un évènement queer signifie qu'il n'y a absolument aucune tolérance pour le manque de respect vis-à-vis n'importe qui, basé sur sa nationalité/classe/genre/sexualité/corps; c'est peu importe la façon que vous voulez agir ou vous vêtir, du moment que ça ne blesse personne d'aucune façon. Dans un contexte plus populaire, le mot "queer" signifie "gai" mais c'est devenu un terme général qui englobe beaucoup plus que ça dans les discours féministes modernes. Nous voulons que nos performeurs et que notre public soient des personnes qui rejettent les préjugés que la société a instillé et qui réfléchissent plutôt de façon plutôt critique sur la manière que nous nous percevons ou percevons les autres, qu'ils déconstruisent les habitudes nuisibles et travaillent constamment à rejeter le patriarcat et son effet négatif sur l'image que nous avons de nous-mêmes et sur notre vision du monde.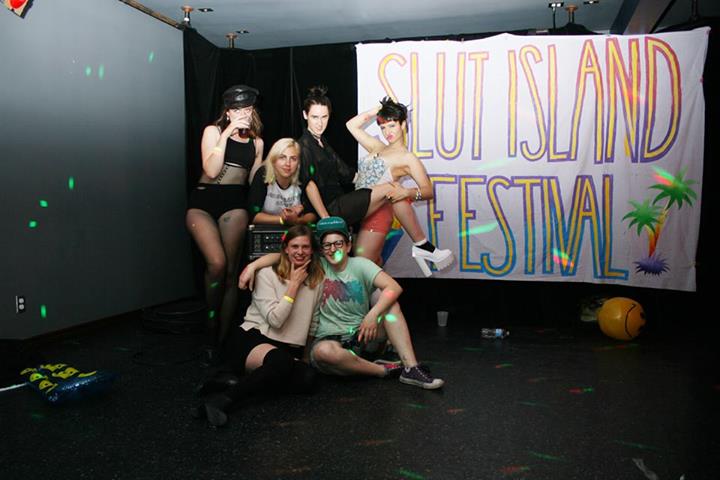 Vous parlez de "célébration de la femme", d'anti-humiliation de la slut et de positivisme du corps, comment voulez-vous que cette énergie positive se manifeste durant les évènements?
Dans le monde utopique magique qu'est Slut Island, des gens qui représentent un vaste éventail de types de corps se sentent libres de s'habiller et d'agir de façon aussi sexy qu'ils le veulent sans être assaillis par la notion que ce sentir bien envers son propre corps est réservé à l'infime pourcentage de la population qui possède les caractéristiques populaires de ce qu'est "un beau corps". Ce standard complètement irréaliste entrave tout le monde, quoique spécifiquement les gens qui se présentent de façon féminine, les empêchant de se sentir bien envers eux-mêmes sur une base quotidienne. Non seulement notre société humilie les femmes "aux moeurs légères" (sluts), mais elle dicte également le "type" de corps de nous devrions exhiber: ça veut dire que les grosses sluts c'est VRAIMENT pas correct? L'absurdité de cette norme sociale est tellement frustrante et nous, comme tant d'autres femmes, sommes exaspérées des effets que ces normes ont sur nos cerveaux et sur notre image de soi. La phobie du gras prend une place tellement banale dans notre vie au quotidien, c'est horrible, c'est oppressant et ça doit cesser. Personne ne devrait se sentir comme si son propre corps n'est pas le bon pour se sentir sexy… FUCK THAT SHIT. Nous ne nous attendons pas à cesser le patriarcat en organisant un festival, idéalement, les gens le verront comme un rappel que ces choses existent et qu'ils continueront à travailler à les changer. En fait, ces spectacles sont mis sur pieds par des gens qui rejettent toute cette merde alors, avec chance, cette attitude va se manifester en ayant tout le monde encourageant autrui à se sentir bien peu importe la façon qu'ils se présentent, que ce soit dans un sac de patates ou dans un bikini.
Parlez-nous un peu de la programmation. Comment avez-vous pensé les évènements?
Ça a été le plus compliqué! Nous avons fait un appel aux soumission et avons reçu tant d'incroyables réponses. La programmation qui en découle représente notre tentative de regrouper des artistes dramatiquement différents en des évènements qui se tiennent. Pour simplifier à outrance chacune des soirées, voici ce à quoi à s'attendre :
Le 5 juin au Playhouse, avec Ghost Taco, Pretty Boys, Sigh Down One, Brother Moon, Sister Sun, FAKES et les DJs Sass War et K7K8, ce sera une soirée plus punk/performance. Il faut s'attendre à des ambiances sonores vaginales, des voix à retourner le sang, etc.
Le 6 juin à la Vitrola aura une atmosphère plutôt électronique, post-punk, no wave avec Douce Angoisse, Dekoder, Food Stamps et Cheap Wig. Les visuels tout au long de la soirée seront faits par l'incroyable J'VLYN et l'animation par Peaches Lepage (qui deviendra votre queero). Il y aura également du good vibe par DJBOYZCLUB et Babi Audi.
La matinée au Il Motore, le dimanche 8 juin, est une progression géniale de cinq artistes, débutant avec des actes plus crus et centrés sur la voix et progressant peu à peu dans vers une ambiance de drone électronique obscure avec Charlotte Day Wilson, Empty Disco, Xania, Phoebe & Tanya et Gambletron. Pour adoucir le tout, nous avons Domina Kalika et ses amies qui recrutent pour la Ligue de Lutte Féminine de Montréal avec un court match et un atelier pour jouer prudemment. Cette journée est PAY WHAT YOU CAN (Donnez-ce-que-vous-voulez) et est dans une salle de spectacle accessible pour les chaises roulantes.
Le 12 juin au Piccolo Rialto, ce sera une soirée plus chic dance pop avec Lydia Ainsworth, TOPS, The Wayo, Light Fires et Jef Barbara. DJ/MC Mikiki Mikiki et DJ Like the Wolf sont des queer babes légendaires qui vont vous éblouir.
Pour conclure le festival, le 13 juin au Playhouse, White Poppy, Big Sissy, Ylang Ylang et Syngja vont sérieusement activer tous vos sens. Attendez-vous à être hypnotisés par ces performances, projections analogues de Zuzu Knew, thérémine!!!!!, vocaux sauvages: méchant trip. Aussi, au cas où vous n'auriez pas vu leurs noms de DJs trop chouettes : Miley Highrus et Compton Chic vont vous faire bouncer.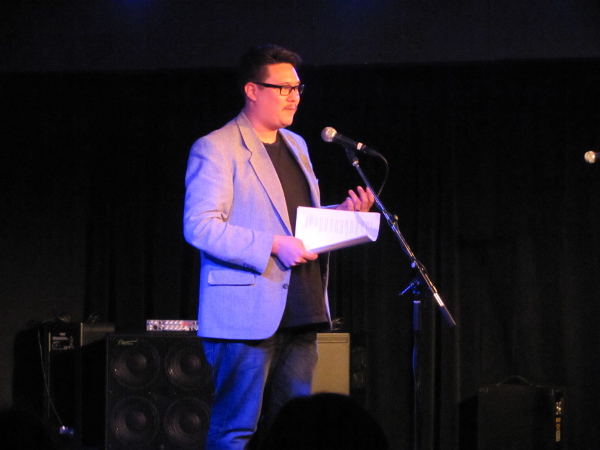 Jordan Abel
Poet, Writer, Eraser
Vancouver, BC
From the poignant foray of Joshua Robinson:
The craft of erasure poetry – the process of reconstituting pre-existing public domain works – is one of the insertion of oneself into the work of another, meticulously absorbing this content and inferring personalized meaning that directs one in their engagement of implicit poetics. Vancouver's Jordan Abel, in his recently published works The Place of Scraps and the chapbook Injun, applies his quiet art of erasure, yielding a poetic voice empowered by cultural heritage, the engagement of one's familial past, and the reformation of self-identity.
Could you give us an idea of how The Place of Scraps and Injun were conceived? What sort of role did the written works of Marius Barbeau and the authors of 20th Century Western novels play in the development of your recent publications?
Jordan: The Place of Scraps originated from a moment of pure frustration. I had been reading Marius Barbeau's book Totem Poles and was trying (unsuccessfully) to find a creative way to interpret that text. I was interested in the core content of Totem Poles, because Barbeau was writing about the First Nations in the Pacific Northwest in way that was unlike any other author I had read. I was particularly interested in Barbeau's representations of the Nisga'a Nation, as I had been disconnected from my Aboriginal roots at a very early age. So after trying many different methods of writing, I finally stumbled upon erasure. The Place of Scraps started to take shape immediately after I began erasing Barbeau's words.
After I had written The Place of Scraps, I became acutely aware of how I had repositioned another author's words and constructed a book almost entirely out of found text. I had found Barbeau's work because I was searching for glimpses of my ancestral heritage, and I began to wonder about the other representations of Indigenous peoples that might exist. Which lead me directly to Project Gutenberg: an archive of public domain texts.
One of the "Bookshelves" on Project Gutenberg was the Western. I've always had a fascination with the Western as a genre and was interested in how the 91 novels on the Western "Bookshelf" represented Indigenous peoples. So I copied and pasted all of those novels into a single Word document (totalling over 10,000 pages of source text) in order to search all of the novels simultaneously. One of the terms that I searched for was the word "injun." I was curious about the context surrounding this word, and I found that there were 512 instances of the word "injun" appearing across the 10,000 pages of source text. I copied and pasted those 512 sentences into a separate document and printed it out in 26 pages. Then I cut-up each page into an individual piece of a poem. Once I was finished, I had a 26 part poem called Injun.
Both the Western "Bookshelf" and Barbeau's Totem Poles were essential to my writing process. My writing is literally a reconstruction of the textual formations of both of those sources.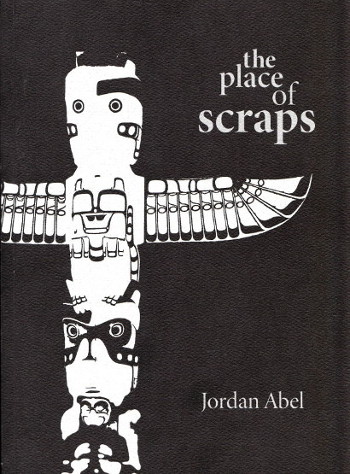 The Place of Scraps is a poignant foray into the semantics and dissemination of interpretations of oral histories through an anthropological lens. What sort of significance does ontology play in an understanding of one's own cultural history?
One of the original reasons why I was compelled by Barbeau's writing was because he was representing pieces of Aboriginal culture that were no longer actively circulating. In his words, I could see glimpses of my past and my heritage. I wanted to hold on to that for as long as I could.
But, after a while, I realized that I needed more. I realized that his perspective was skewed and that his curation of First Nations stories and traditions was painfully transparent. I began to think that somewhere in Barbeau's words there may be some hidden truths about my ancestral history, but that those truths would always be obscured by his Anthropological methodologies and intentions.
Every now and then, though, a genuine sliver of truth seemed to emerge. In those moments I felt as though I could finally see through everything: myself, my ancestral community, and Barbeau.
The thing is … I didn't remember seeing this pole. I still don't remember seeing it. But I must have seen it. The pole is impossible to miss. If you're ever in the ROM, it's the pole that towers through the centre of a staircase that is connected to all four floors. I was in this museum countless times a kid. I remember so many other parts of the museum. But I don't remember this pole. It's not there in my memory. It's not there in my community.
Barbeau's work seems to be very much rooted in the paradox of acculturation cast in the vestiges of 'cultural preservation'. How did the process of cultural reconstruction strengthen your connection with your Nisga'a Nation ancestry?
When I began piecing together the scraps of narrative and traditions that Barbeau left for me in Totem Poles, I legitimately felt as though I may at some point get closer to understanding the Nisga'a Nation. And, in a way, I did. Except that the Nisga'a Nation that Barbeau was writing about is not the same nation that exists today. A lot has changed since then.
After writing the book, it was very clear to me that I was just as disconnected from the Nisga'a as ever. But I understand myself better now. I am still on a journey that is leading towards a greater understanding of my connection to the Nisga'a Nation. I was talking with an elder recently about this. I was telling him that my experience as an intergenerational survivor of the Residential School System is one built exclusively on dislocation. I didn't grow up with the Aboriginal side of my family. I didn't know anyone from the Nisga'a Nation. My entire cultural experience was spent wondering who I was supposed to be, what I was supposed to do. I was blind to my ancestry and it seemed to be impossible to access. I am told that this experience is it not uncommon. But that kind of dislocation made me feel like I was completely alone.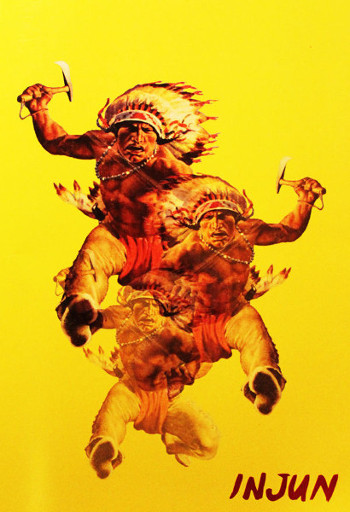 The Place of Scraps is a series of erasure poems. Can you elaborate on how this form of poetics contributed to the context, content, and meaning embedded inside the book?
Before The Place of Scraps was a book of erasure poems, it was a collection of essays, a book of historical fiction, and a collection of lyrical poetry. However, in all of those other incarnations of the book, there were problems. None of those forms accurately represented the complexity of the project. I wanted to write a book about: 1) the First Nations narratives I had uncovered in Totem Poles, 2) Marius Barbeau and his understanding and cataloguing of the First Nations peoples in the Pacific Northwest, and 3) my personal understanding of all of that. Each genre was capable of addressing certain aspects of those topics, but none of them felt complete.
After I finally stumbled on erasure, I realized that the missing aspect of the book was the textual reproduction of Barbeau's writing. In all of the preceding forms, Barbeau's writing itself was inaccessible. By using his writing as a canvas, I was finally able to start tying together all of these elements that I originally wanted to write about.
Erasure also has political implications. I was erasing Barbeau's words. I was readjusting Barbeau's phrasing to fit in with my intentions. By selectively representing parts of Barbeau's writing, I was removing his writing from his intended context. In many ways, the process of erasure became a process that mirrored Barbeau's own Anthropological process.
What do you feel is the role of culture in present-day society? Ethnographically speaking, what are the implications of the erosion of socio-cultural customs and traditions, such as oral storytelling?
My understanding of culture is that it is constantly evolving and shifting. It's true that the oral tradition doesn't exist in the same way that is used to. Part of that is the result of acculturation and the colonization of First Nations social spaces. But culture is meant to evolve. If colonization hadn't happened (or if it hadn't happened in the same way) the oral tradition could have evolved or devolved in a completely different way.
My thinking is that active, healthy cultures will grow and change. I'm hopeful that the erosion of oral traditions may lead to growth in other areas.
Regarding culture, our pasts, and our respective formations of cultural self-identity, do you have any words of wisdom?
The best words of wisdom that I've ever received were "keep asking questions." All of my understandings of culture, history and identity have started with a question. That question usually leads to another and another. But eventually, somewhere down the line, there is an answer.
De l''essai éprouvant de Joshua Robinson:
(Traduit par Jacinthe Laplante)
L'art de la poésie de l'effacement – ce procédé qui vise à reconstruire une œuvre appartenant au domaine public – consiste à s'immiscer dans l'œuvre d'un autre, de s'imprégner méticuleusement de son contenu et d'en suggérer une interprétation personnalisée qui oriente notre représentation de la poésie implicite. Le Vancouvérois Jordan Abel, grâce à ses dernières œuvres publiées The Place of Scraps et son livre « de colportage » Injun, met en pratique l'art silencieux de l'effacement, ce qui permet de laisser la place à une voix poétique renforcée par un héritage culturel, par la représentation d'un passé familial et par l'amélioration de sa propre identité.
Peux-tu nous expliquer rapidement comment tu as conçu The Place of Scraps et Injun? Quel a été le rôle des écrits de Marius Barbeau et des auteurs de romans occidentaux du XXe siècle dans la création de tes dernières publications?
Jordan : The Place of Scraps est né d'un moment de pure frustration. J'étais en train de lire Totem Poles de Marius Barbeau et j'essayais, sans grand succès, de trouver un moyen créatif d'interpréter ce texte. Je m'intéressais à son élément central parce que Barbeau écrivait à propos des Premières Nations du nord-ouest du Pacifique d'une façon que je n'avais jamais vue en lisant d'autres auteurs. Je m'intéressais particulièrement à ses représentations de la Nation Nisga'a étant donné que j'avais perdu contact avec mes racines autochtones à un très jeune âge. Après avoir essayé différentes façons d'écrire, j'ai finalement trouvé l'effacement. The Place of Scraps a commencé à prendre forme dès que je me suis mis à effacer les mots de Barbeau.
Après avoir terminé l'écriture de The Place of Scraps, je suis devenu très sensible à la façon dont j'avais repositionné les mots d'un autre auteur et dont j'avais construit un livre presque entièrement à partir d'un texte trouvé. Je suis tombé sur le livre de Barbeau en cherchant des informations sur mon héritage ancestral , et je me suis mis à me questionner sur les autres représentations possiblement existantes des peuples autochtones. Ça m'a mené directement au Projet Gutenberg qui regroupe des archives du domaine public.
Un des « rayons » du Projet Gutenberg s'intitulait Western. J'ai toujours eu une fascination pour le western comme genre littéraire et je me demandais comment les 91 livres de ce rayon représentaient les peuples autochtones. J'ai donc copié et collé tous les romans dans un seul document Word (un total de 10 000 pages de texte source) pour me permettre de faire des recherches dans tous les romans en même temps. J'ai cherché entre autres le mot « injun ». J'étais curieux de connaître le contexte qui entourait ce mot et je l'ai trouvé à 512 reprises dans les 10 000 pages du texte source. J'ai copié et collé ces 512 phrases dans un autre document et j'ai imprimé ces 26 pages. J'ai ensuite découpé chaque page pour en faire des parties distinctes d'un poème. À la fin, j'avais un poème de 26 parties intitulé Injun.
Le « rayon » Western et le texte Totem Poles de Barbeau ont tous deux été essentiels à mon processus d'écriture. Mes écrits sont littéralement une reconstruction des formes textuelles de ces deux sources.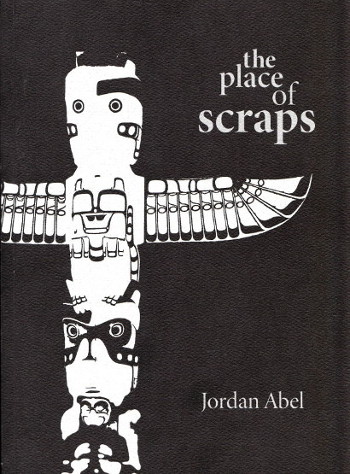 The Place of Scraps est une incursion éprouvante dans la sémantique et la dissémination des interprétations de l'histoire orale à travers une lunette anthropologique. Quelle importance peut avoir l'ontologie dans la compréhension de notre histoire culturelle ?
Une des premières raisons pour lesquelles j'ai été attiré par l'écriture de Barbeau est qu'il représentait des morceaux de la culture autochtone qui ne circulaient plus activement. Dans ses mots, je pouvais voir des éléments de mon passé et de mon héritage. Je voulais m'y accrocher aussi longtemps que possible.
Mais, après un moment, j'ai réalisé que j'avais besoin de plus. J'ai réalisé que sa perspective était faussée et que sa conservation des histoires et des traditions des Premières Nations était terriblement transparente. Je me suis mis à penser qu'il pourrait y avoir des vérités cachées quelque part dans les mots de Barbeau à propos de mon histoire ancestrale, mais que ces vérités seraient toujours embrouillées par ses méthodologies et ses intentions anthropologiques.
Or, de temps en temps, un réel morceau de vérité semblait émerger. Dans ces moments, je me sentais comme si je pouvais voir à travers tout : moi-même, ma communauté ancestrale, Barbeau.
Le problème c'est que… je ne me rappelais pas avoir vu ce poteau. Et je ne m'en souviens toujours pas. Mais j'ai dû le voir. Ce poteau est impossible à manquer. Si jamais vous allez au Musée royal de l'Ontario, c'est le poteau qui traverse le centre de l'escalier qui est rattaché aux quatre planchers. Je suis allé à ce musée de nombreuses fois quand j'étais jeune. Je me souviens de plusieurs autres parties du musée. Mais je ne me souviens pas de ce poteau. Il n'est pas dans ma mémoire. Il n'est pas dans ma collectivité.
Le travail de Barbeau semble bien enraciné dans le paradoxe de l'acculturation jetée dans les vestiges de la « préservation culturelle ». Comment le processus de reconstruction culturelle a-t-il renforcé ton rapport avec tes ancêtres de la Nation Nisga'a ?
Quand j'ai commencé à mettre ensemble les morceaux des récits et des traditions que Barbeau m'a laissés dans Totem Poles, je pensais vraiment (et avec raison) qu'un jour, je pourrais être près de comprendre la Nation Nisga'a. Et d'une certaine façon, j'y suis arrivé. Le problème c'est que la Nation Nisga'a que Barbeau décrivait n'est pas celle qui existe aujourd'hui. Les choses ont beaucoup changé depuis.
Après avoir écrit le livre, il était très clair pour moi que j'étais plus éloigné que jamais des Nisga'a. Mais je me connais mieux maintenant. Je continue ma quête vers une meilleure compréhension de mon lien avec la Nation Nisga'a. J'en parlais avec un ancien récemment. Je lui racontais que mon expérience en tant que survivant intergénérationnel du système des pensionnats est construite exclusivement sur la mise à l'écart. Je n'ai pas grandi avec les membres autochtones de ma famille. Je ne connaissais personne de la Nation Nisga'a. Toute mon expérience culturelle est basée sur mon questionnement à savoir qui je devais être, ce que je devais faire. Je ne voyais pas mes ancêtres et ils semblaient impossibles à atteindre. On me dit que cette expérience n'est pas unique. Mais cette mise à l'écart m'a fait sentir complètement seul.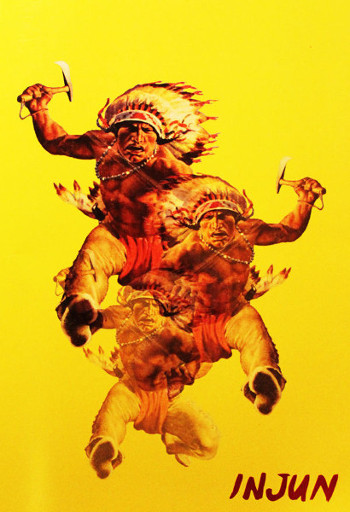 The Place of Scraps est une série de poèmes de l'effacement. Peux-tu expliquer comment cette forme de poésie a contribué au contexte, au contenu et à la signification qui y sont ancrés ?
Avant que The Place of Scraps soit un livre de poèmes de l'effacement, c'était une collection d'essais, un livre de fiction historique et une collection de poèmes lyriques. Toutefois, il y avait des problèmes dans toutes ces autres formes littéraires. Aucune ne représentait de façon juste la complexité du projet. Je voulais écrire un livre sur : 1) les récits des Premières Nations que j'avais découverts dans Totem Poles, 2) Marius Barbeau et sa compréhension et son inventaire des peuples des Premières Nations du nord-ouest du Pacifique, et 3) ma compréhension personnelle de tout ça. Chaque genre littéraire pouvait traiter de certains aspects de ces sujets, mais aucun ne semblait pouvoir le faire complètement.
Après être finalement tombé sur l'effacement, j'ai réalisé que ce qui manquait au livre c'était la reproduction textuelle de l'écriture de Barbeau. Elle était inaccessible dans toutes les formes précédentes. En utilisant son écriture comme canevas, je pouvais enfin commencer à relier tous les éléments sur lesquels je voulais écrire depuis le début.
Il y a aussi des implications politiques à l'effacement. J'effaçais les mots de Barbeau. Je réajustais la formulation de Barbeau pour qu'elle corresponde à mes intentions. En utilisant des extraits sélectionnés de son œuvre, je les retirais de leur contexte visé. À bien des égards, le mécanisme de l'effacement est devenu un miroir du processus anthropologique de Barbeau.
Selon toi, quel est le rôle de la culture dans la société d'aujourd'hui ? D'un point de vue ethnologique, quelles sont les implications de l'érosion des habitudes socioculturelles et des traditions, par exemple la tradition orale ?
Ce que je comprends de la culture c'est qu'elle évolue et qu'elle change constamment. C'est vrai que la tradition orale n'existe plus de la même façon. C'est en partie à cause de l'acculturation et de la colonisation des espaces sociaux des Premières Nations. Mais la culture est faite pour évoluer. S'il n'y avait pas eu de colonisation (ou si elle avait été faite différemment), la tradition orale aurait pu évoluer ou se transmettre d'une tout autre façon.
Ma réflexion est dynamique, les cultures saines évolueront et changeront. J'ai espoir que l'érosion des traditions orales mènera à un épanouissement sur d'autres questions.
As-tu quelques mots de sagesse par rapport à la culture, au passé et aux formations respectives de notre identité culturelle ?
Les meilleurs mots de sagesse que j'ai reçus sont « continue de poser des questions ». Tout ce que je comprends de la culture, de l'histoire et de l'identité provient d'une question. Cette question mène habituellement à une autre question, puis à une autre. Puis, éventuellement, il y a une réponse.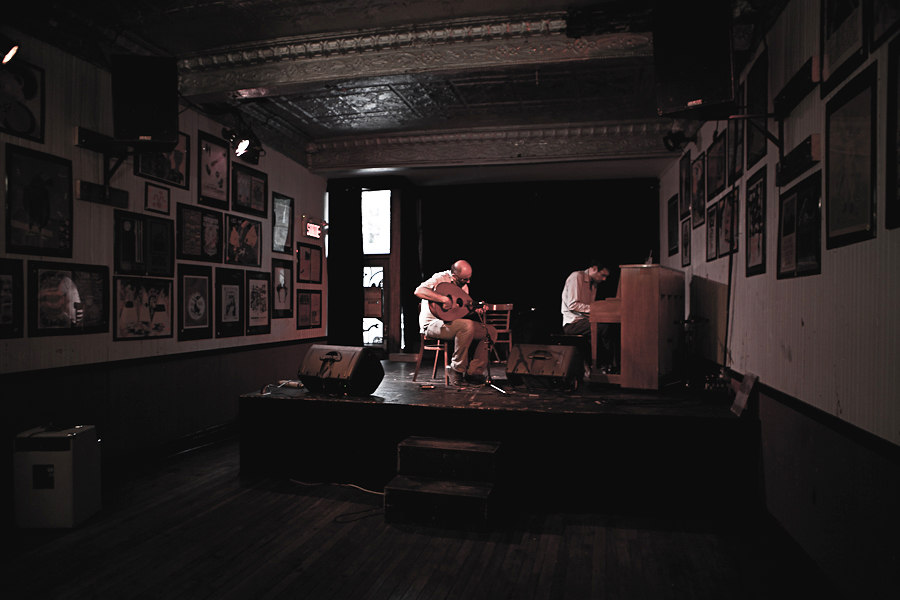 Sam Shalabi + Stefan Christoff
Cairo, Egypt // Montréal, QC
From the endless search of Peter Bradley:
Sam Shalabi and Stefan Christoff have created an incredibly evocative album with родина (Rodina). The pieces move quickly between moods but maintain a heavy tension throughout. That tension, along with the pairing of the instruments, free jazz strategies and makam musical systems invite you to imagine the two as opposing geo-social entities. Once that thought enters your head, it becomes hard to not hear it whenever listening to these recordings. Peter Bradley spoke to the pair of musical travellers.

Sam Shalabi and Stefan Christoff – To Sophia

Sam Shalabi and Stefan Christoff – Vardar River Song
Peter Bradley: At times, this album is like hearing a conversation in which two people are speaking different languages, but both understanding the other. Can you respond to that idea, or about the nature of conversation between the two different musical systems that you brought together on this album?
Sam Shalabi: I think part of what we are after is another more personal kind of communication between these two instruments that have a certain stature and significance within their own cultures and musical traditions. There are plenty of ready-made templates or styles and paths of how to bridge these systems, but our approach is more to go somewhere more intuitive than formal. We aren't so much interested in 'fusions' of 'East Meets West', or doing something that is even a bridge between those traditions of music making – much of our practice comes from using improvisation, which is the common thread musically, and a kind of 'conceptual ' trust in each other and what it is we are trying to convey.
In a way, it seems abstract that political or sociological elements could be components in purely instrumental music, but that's exactly the idea: that those things are motors or generating themes in how this music gets shaped and played, and so, for us, it's a way to make music 'between' cultures that gets shaped by more political or abstract (at least within the context of music) concerns rather than reconciling two musical systems.
Stefan Christoff: In many ways the collaboration is rooted in conversation, in a sharing of ideas (both musical and political) between artists. Certainly different musical traditions – jazz improvisation and makam – influence the music, although beyond specific musical arrangements or choices, the music is rooted in open conversation and a sharing of ideas on the world.
In ways родина reflects on experiences in different places around the world, but is also a very personal exchange. Really the album reflects deeply (emotionally also) on difficult questions about cultural identity in North America, colonial territories shaped by profound violence against indigenous peoples, and now home to increasingly precarious societies that have cultural roots across the globe.
<<< read more >>>
Your album notes say that the music is "inspired by the endless search for home in North America, a place of lands and people continuing to struggle against the legacy and current reality of colonialism. родина is about reflecting on ancestors, dreams of another place, and a future of liberation." In the context of those notes, can you talk about the inclusion of two solo pieces alongside to two duo pieces?
Shalabi: I think the solo pieces are inversions of the duo pieces: neither of them could be cast as traditional within their own cultures, and part of that idea was to be more transparent in that theme of 'home', in that this search for place can't be strictly geographical anymore – as much as one would like it to be. The idea of purity in that sense is problematic and a goal whose definition has to be redefined across 'borders' anyways. 'Home' in that sense becomes an active place of struggle and liberation in a collective sense, but also 'incarnated' in an individual sense, hence, those solo pieces.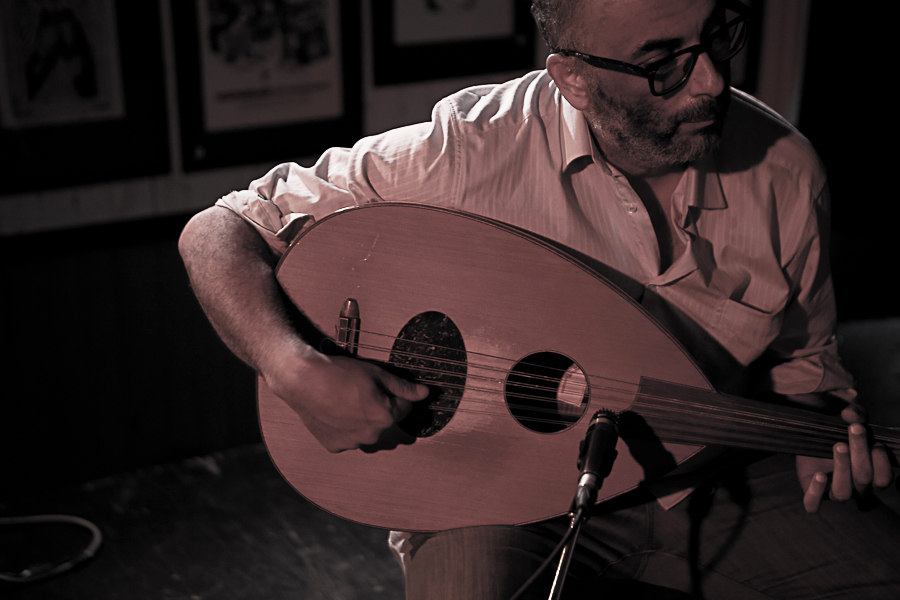 Christoff: It was important to include both conversational pieces alongside our individual voices. In a sense the questions and conversations that inspired the recording are collective, but also impact us deeply as individuals. Both voices on the record are critical and the solo pieces illustrate that although we are collaborating on the record, we certainly aren't a band that are stuck together; we are off on our individual journeys: Sam in Cairo, myself in Montreal.
In regards to the ideas behind the album, the endless search for home, I think that we are both always on that search, finding elements of 'home' in different places, while sustaining a certain restlessness that is common today, but I think also very particular to the transient identity of people who have spent large amounts of time within the borderlines that define Canada. That melancholy, that restlessness, the focus on the horizon, open spaces, all impacts of psyche and I believe it's critical to understand that all those aspects that are key to Canadian cultural identity are rooted in largely unresolved questions and current realities of colonization that shapes these territories called Canada, or the Northern part of Turtle Island.
I'm not sure if you played together beforehand, but recently this has been working as a long distance musical relationship. Is the result of that a more deliberate sort of collaboration, or a more impromptu and casual one?
Shalabi: Our friendship and our interest in how music in general and our own music relate to and reflect our lives in a political and personal sense (which are inseparable anyways) is the continuity in what we do. For us, that's a very 'deliberate' and evolving thing. The impromptu element is mainly logistical because of where we live, but certainly isn't how we treat what we do. In a way, the distance and time feed into what we do and give us more to put into our music when we meet again.
Christoff: Over the past decade we have gotten to know each other in Montreal and our conversations and a personal connection is really at the root of the music. Certainly the distance creates a specific dynamic, where we come together when we are both in Montreal and work in a relatively intense way on the projects. Actually, we recently recorded a follow-up duets album to родина, that we hope to release soon.
I think that there is a common appreciation of what we are both experiencing in our lives, taking place in different places, given our life experiences and backgrounds, while also a common interest in making thoughtful and engaged music that is rooted in more internationalist ideals. Although obviously this project is still developing, and although I feel proud of the recordings until now, I do feel that there is still a massive space for exploration and development.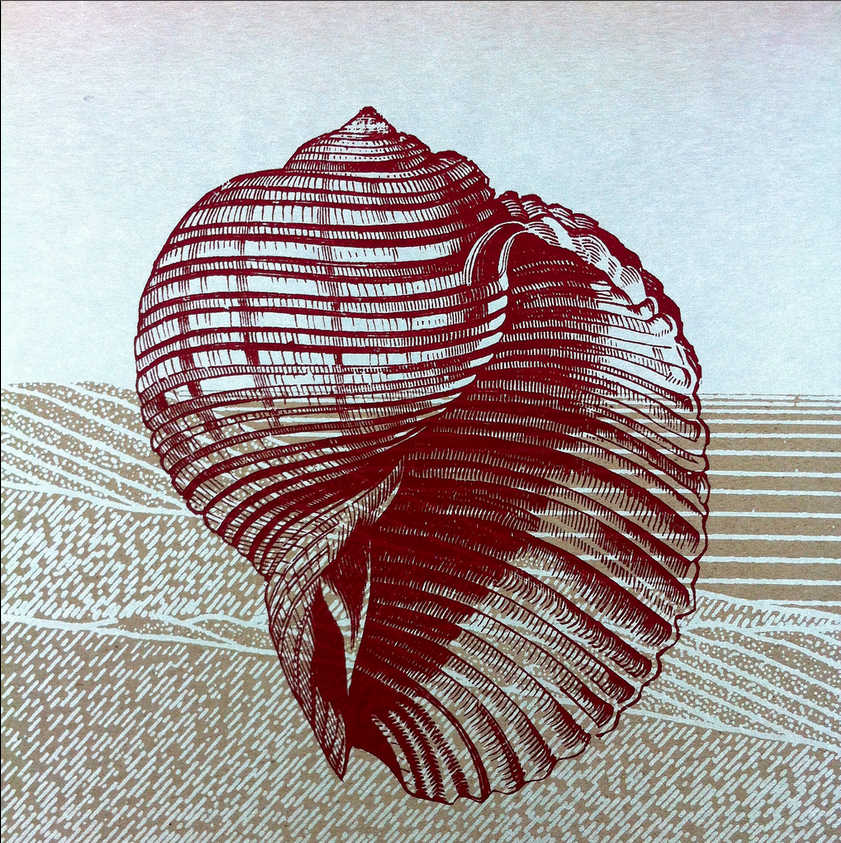 The artwork is beautiful. I'm wondering why you included the elements that you did.
Christoff: The album design was done by my partner Nazik Dakkach, who explains that "the art is a reflection on exile, because homeland is associated for a lot of people with the overseas trip, with the concrete crossing of the ocean. Also the design tries to respond to the music, creating a landscape that follows the expansion of the sound and evokes a sense of loss and displacement, inherent to the immigration experience, especially when taking place within a colonial context."
Also, silk screen artist/printer Jesse Purcell (from the Justseeds Artists' Cooperative) was an important part of the process, putting forward skilled craftsmanship into materializing the design.
I'm wondering about the references to Macedonia on the titles of two of the pieces?
Christoff : родина translates to motherland, or homeland, in multiple Slavic languages, a title that members of my family, who have roots in the former Yugoslavia, helped me come up with. My piano tones are also shaped by this heritage; those geographical references to Macedonia also occur within this framework.
In a way the title is an attempt to challenge to all the political talk these days about homeland in North America (including that repugnant and racist TV show). I think that we understand and acknowledge that this (North America) is the 'homeland' of no one, except indigenous people, really, until our societies, in a mass and collective way, truly address the colonial heritage of this place.
That feeling of restlessness and the different cultures heard in the music illustrates our individual connections to different places and cultures around the world. Our restlessness and search, which I feel is also heard in the music, I feel directly relates to the fact we are not really at 'home' in North America. Our next album, recent collaborations (also recorded at La Sala Rossa in Montreal), develop on these ideas and themes, both politically and musically.
In a sense I feel that the album expresses a deep discomfort and non compliance with the political order in North America that we both share, shaped by the colonization of indigenous lands. Obviously the recordings won't overturn that injustice; there are many protest movements working in that direction that we both support and are involved in as human beings, (recently the album was chosen as a gift for donors to the Idle No More grassroots fundraising campaign), however the recording is an airing of grievances and also expresses an aware melancholy that is felt given all these points.
De la quête sans fin de Peter Bradley:
(Traduit par le dialogue intérieur de Virginie Langlois)
Sam Shalabi et Stefan Christoff sont à l'origine d'un album incroyablement évocateur avec родина (Rodina). Les morceaux passent rapidement d'une humeur à l'autre mais la même tension lourde persiste tout au long de l'album. Cette tension, de même que l'association des instruments, les stratégies de free jazz et les systèmes mélodiques du maqâm vous invitent à imaginer les deux musiciens comme des entités géo-sociales opposées. Une fois que cette pensée a fait irruption dans notre cerveau, il devient difficile de ne pas l'entendre lorsqu'on écoute ces enregistrements. Peter Bradley s'est entretenu avec le duo de voyageurs musicaux.

Sam Shalabi et Stefan Christoff – To Sophia

Sam Shalabi et Stefan Christoff – Vardar River Song
Peter Bradley : Par moments, lorsqu'on écoute cet album, on a l'impression d'entendre une conversation où deux personnes parlent des langues différentes tout en se comprenant mutuellement. Pouvez-vous nous parler de ce concept et de la nature de la conversation entre les deux systèmes musicaux qui est présente sur cet album?
Sam Shalabi : Je crois que ce qu'on cherche notamment à obtenir, c'est un autre type de communication plus personnel entre ces deux instruments qui ont une stature et une signification particulières au sein de leurs propres cultures et de leurs traditions musicales. Il existe une foule de modèles tout prêts, de styles ou de façons de faire le pont entre ces systèmes, mais notre approche consiste à faire quelque chose de plus intuitif que formel. Les styles « fusion » ou « l'Orient rencontre l'Occident » ne nous intéressent pas vraiment. En fait on n'essaie même pas de construire un pont entre ces façons traditionnelles de faire de la musique : on a beaucoup recours à l'improvisation, c'est un point commun entre nos deux traditions musicales et nous avons une sorte de confiance « conceptuelle » l'un envers l'autre par rapport au message que nous essayons de faire passer.
D'une certaine façon, cela paraît abstrait d'affirmer que des éléments politiques ou sociologiques peuvent être les composantes d'une musique purement instrumentale, mais c'est exactement l'idée : ces éléments sont des moteurs et influent sur la façon de créer et de jouer la musique. Alors pour nous, c'est un moyen de faire de la musique « entre » les cultures, une musique façonnée par des questions plus politiques ou plus abstraites (en tout cas, dans le contexte musical) plutôt que de réconcilier deux systèmes musicaux.
Stefan Christoff : À plusieurs égards, notre collaboration s'enracine dans une sorte de conversation, dans un partage d'idées (tant musicales que politiques) entre des artistes. De toute évidence, différentes traditions musicales – l'improvisation jazz et le maqâm – influencent la musique, au-delà des simples arrangements ou des choix musicaux spécifiques : notre musique est une conversation ouverte et un partage d'idées sur le monde.
D'une certaine manière, родина est une réflexion sur les expériences de différents endroits à travers le monde, mais c'est aussi un échange très personnel. En fait, l'album illustre profondément (et émotionnellement) des questions difficiles à propos de l'identité culturelle en Amérique du Nord, des territoires coloniaux façonnés par une violence profonde contre les peuples autochtones, des territoires où vivent aujourd'hui des sociétés de plus en plus précaires qui ont des racines culturelles dans le monde entier.
<<< la suite >>>
D'après les notes qui accompagnent l'album, votre musique « s'inspire de la quête sans fin d'un port d'attache en Amérique du Nord, des lieux et des gens qui continuent de se battre contre le colonialisme : aussi bien l'héritage qu'il a laissé que sa réalité actuelle. родина parle des ancêtres, des rêves d'ailleurs et d'un avenir de libération ». Dans ce contexte, pouvez-vous expliquer l'inclusion de deux morceaux en solo parallèlement à deux morceaux en duo?
Shalabi : Je pense que les morceaux en solo sont l'envers des morceaux en duo : aucun morceau ne pourrait passer pour traditionnel dans sa propre culture, et l'idée était d'être plus transparent dans ce thème du « port d'attache » : cette quête d'un « chez soi » ne peut plus être strictement géographique désormais, contrairement à ce que pensent certains. L'idée de pureté dans ce sens est problématique et un objectif dont la définition doit en tout cas être étendue au-delà des « frontières ». Dans ce contexte, le « chez soi » devient un lieu actif de lutte et de libération au sens collectif mais il incarne aussi un sens individuel, d'où ces morceaux en solo.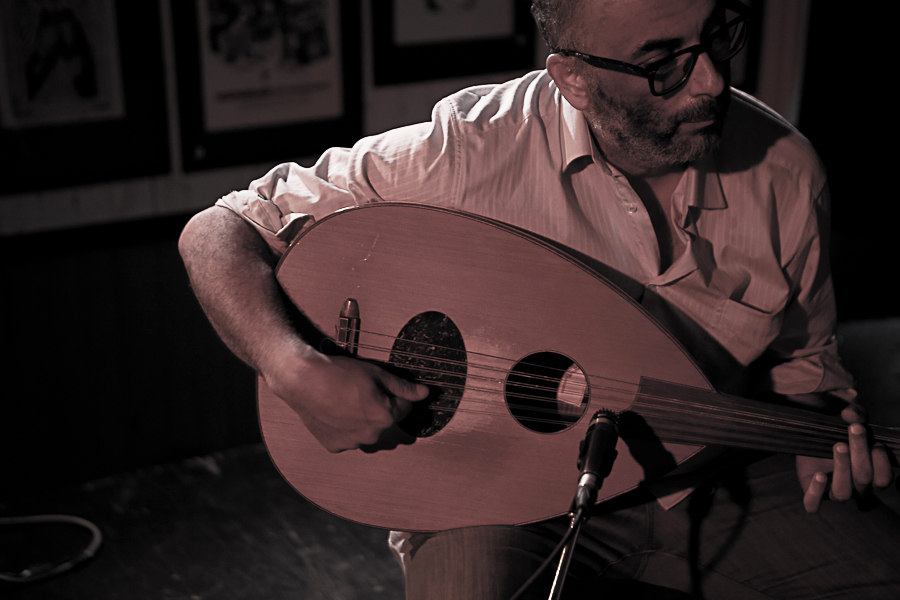 Christoff : Il était important d'inclure des morceaux joués sur le mode de la conversation couplés à nos voix individuelles. En un sens, les questions et les conversations qui ont inspiré l'enregistrement sont collectives mais elles ont aussi une influence profonde sur nous en tant qu'individus. Les deux voix sur le disque sont essentielles et les morceaux en solo illustrent le fait que même si nous collaborons sur le disque, nous ne sommes pas du tout un groupe dont les membres seraient toujours ensemble; nous suivons notre propre cheminement individuel, Sam au Caire et moi à Montréal.
En ce qui concerne les idées qui sous-tendent l'album, la quête sans fin d'un chez soi, je pense qu'on est tous les deux dans cette recherche constante; on trouve des éléments de « chez soi » à différents endroits tout en ressentant un certain malaise. Ce malaise est courant à notre époque mais aussi très spécifique à l'identité éphémère des gens qui ont passé beaucoup de temps à l'intérieur des lignes de démarcation qui définissent le Canada. Cette mélancolie, ce malaise, la focalisation sur l'horizon, les grands espaces, tout cela a une influence sur le psyché et il est essentiel de comprendre que tous ces aspects qui sont cruciaux pour l'identité culturelle canadienne trouvent leurs racines dans des questions en grande partie non résolues et dans des réalités actuelles liées à la colonisation qui façonnent ces territoires que l'on appelle Canada, ou la partie septentrionale de l'île de la Tortue.
Je ne sais pas si vous avez joué ensemble avant, mais ces derniers temps vous semblez entretenir une relation musicale à distance. Du coup, est-ce que votre relation est plus réfléchie, ou plus impromptue et informelle?
Shalabi : Notre amitié et notre intérêt pour la façon dont la musique en général et notre musique en particulier illustrent et évoquent nos vies au plan politique et personnel (deux dimensions indissociables) permettent d'assurer une certaine continuité dans ce que nous faisons. Pour nous, c'est une chose très « réfléchie » et évolutive. L'élément impromptu est principalement logistique à cause des lieux où nous vivons, mais certainement pas dans notre façon d'aborder notre travail. D'une certaine manière, la distance et le temps alimentent ce que nous faisons et nous donnent de la matière à mettre dans notre musique lorsque nous nous retrouvons.
Christoff : Au cours de la décennie qui vient de s'écouler, nous avons appris à nous connaître à Montréal et notre conversation et la connexion qui nous unit sont vraiment au cœur de la musique. Il est évident que la distance crée une dynamique particulière. Lorsque nous sommes tous les deux à Montréal, nous travaillons de façon relativement intense sur les projets. À ce propos, nous avons récemment enregistré un album de duos qui prolonge l'album родина; on espère le sortir prochainement.
Je pense qu'il existe une appréciation réciproque des expériences que nous faisons chacun de notre côté, à des endroits différents, compte tenu de nos expériences de vie et de nos antécédents. Il y a aussi une volonté commune de faire une musique réfléchie et engagée qui s'enracine dans des idéaux plus internationalistes. Même si ce projet est encore en phase de développement, et même si je suis fier des disques que nous avons faits jusqu'à maintenant, j'ai le sentiment qu'il y a encore beaucoup de place pour l'exploration et le perfectionnement.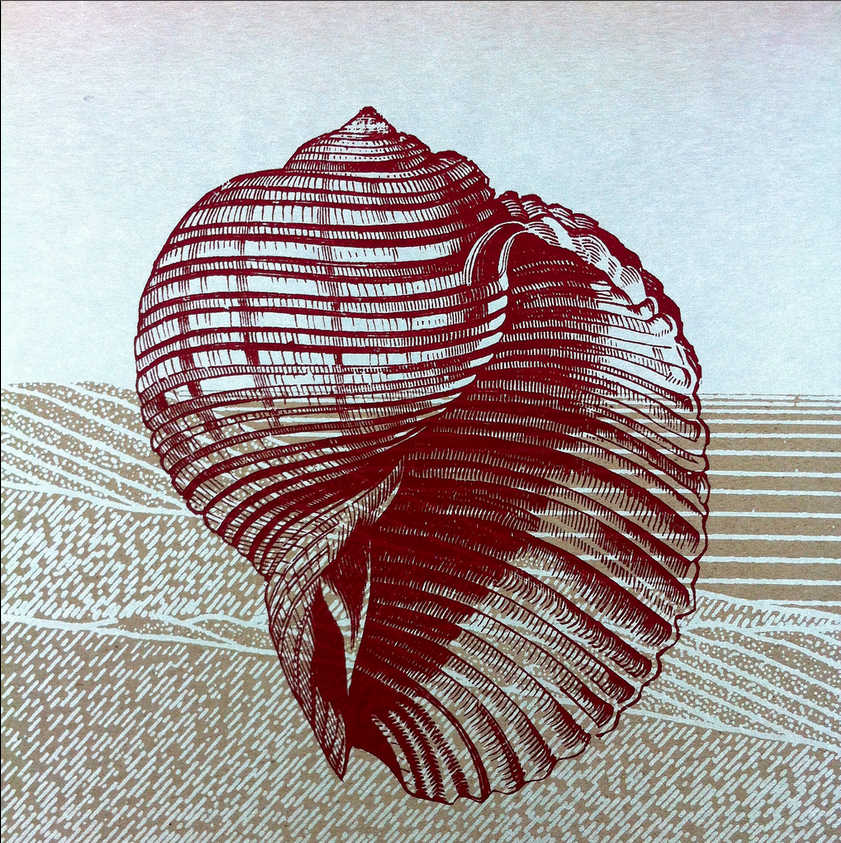 Le visuel est magnifique. Pourquoi avoir intégré de tels éléments?
Christoff : Le design de l'album a été fait par mon partenaire Nazik Dakkach, qui explique que « l'art est une réflexion sur l'exil, parce que pour beaucoup de gens, la notion de patrie est associée à un voyage outremer, concrètement, il faut traverser un océan. Par ailleurs, le design essaie de répondre à la musique, de créer un paysage qui suit la propagation des notes et évoque un sentiment de perte et de déplacement, inhérent à l'expérience d'immigration, surtout lorsque le déplacement s'effectue dans un contexte colonial. »
Par ailleurs, l'artiste/sérigraphiste Jesse Purcell (de la Justseeds Artists' Cooperative) a joué un rôle important dans le processus. Son savoir-faire artisanal se matérialise dans le design.
Pourquoi ces références à la Macédoine dans les titres de deux morceaux?
Christoff : родина signifie mère patrie ou patrie, dans plusieurs langues slaves. C'est un titre que les membres de ma famille, qui ont des racines dans l'ancienne Yougoslavie, m'ont aidé à trouver. Mes tonalités de piano sont aussi influencées par cet héritage; ces références géographiques à la Macédoine s'expliquent aussi dans ce contexte.
D'une certaine façon, le titre est une tentative de remise en question des débats politiques actuels à propos de la patrie en Amérique du Nord (et notamment de la série TV Homeland, une série ignoble et raciste). Selon nous, l'Amérique du Nord n'est la patrie de personne, si ce n'est des Autochtones, tant que nos sociétés n'auront pas réglé, pour de bon et de façon collective, l'héritage colonial de cet endroit.
Ce sentiment de malaise et les différentes cultures entendues dans la musique illustrent nos connexions individuelles avec différents endroits et différentes cultures à travers le monde. Notre malaise et notre quête, qui s'entendent à mon avis dans la musique, rappellent le fait que nous ne sommes pas vraiment « chez nous » en Amérique du Nord. Sur notre prochain album (également enregistré à La Sala Rossa à Montréal avec de récentes collaborations), nous avons développé ces idées et ces thèmes, à la fois politiquement et musicalement.
Dans un sens, j'ai l'impression que l'album exprime un malaise et un désaccord profonds – que nous partageons tous les deux – avec l'ordre politique en Amérique du Nord, façonné par la colonisation des terres appartenant aux peuples autochtones. De toute évidence, les disques ne vont pas remédier à cette injustice… Il existe de nombreux mouvements de protestation qui œuvrent en ce sens que nous soutenons et auxquels nous participons en tant qu'êtres humains (récemment l'album a été choisi comme cadeau de remerciement pour les personnes ayant fait un don dans le cadre de la campagne de financement populaire Idle No More). Mais le disque est un moyen de faire entendre des doléances et il exprime aussi la mélancolie consciente qui est ressentie compte tenu de ces questions.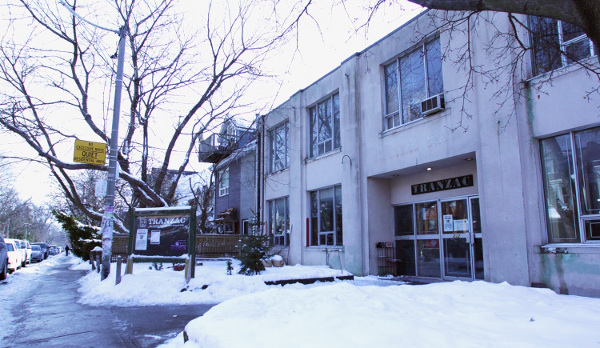 Robbie Luster
Manager / Booker of the Tranzac
(Photo: Jackson Fishauf)
Toronto, ON
From the southern cross of Gabe Girard:
Toronto has long been a home away from home for expats from Australia and New Zealand. In 1931, a community space for these nationalities was founded, preserving their culture while functioning as a co-op and general club. The Tranzac (an abbreviation of "Toronto Australia New Zealand Club") has gone through many incarnations and locales over the years, gradually broadening its horizons and becoming more inclusive of other nationalities and practises. Today, the Tranzac is one of the city's most versatile live music and arts venues. It caters to just about all styles of music, while being slightly partial to the avant-garde and experimental scenes. The Tranzac is known as a non-profit community center, zine library, theatre, music venue, and artistic hotbed of creativity. What holds all the disparate aspects of this space together? A DIY approach and spirit of independence are characteristic of the club. Combine that with positive community relations and an open-minded approach to the arts, and the picture starts to become clear. We caught up with manager/booker Robbie Luster to set us straight.
Gabe Girard: The Tranzac began as a community space for immigrants from New Zealand and Australia. Is this rich history still present today?
Robbie Luster: The Tranzac was founded in 1931 by Aussies and Kiwis, and its association with them is still going on. For decades it was devoted solely to them. There were rugby teams, Maori dances and other things that preserved their culture. The Tranzac was also associated with a big festival called Caravan, representing different cultures in pavilions all across the city. The biggest pavillion was the Aussie one at the Tranzac where they held sheep shearing competitions. The Tranzac's participation in Caravan was the start of the transition where it became more inclusive of other nationalities… and other people in general.
When did the Tranzac start featuring live music? When did it start branching off into avant-garde jazz?
There has always been live music here. Slowly, in the past 20 years, it started catering to more avant-garde music. The managers, Sandra and Cassandra, changed the focus of the musical acts. It was an organic transition. It always catered to DIY, independent sort of acts. Music that might not be found elsewhere. It took off when Saint Dirt Elementary School started playing. That's when the balance tipped and started getting associated more with that scene.
What kinds of music do you cater to the most?
We cater to all kinds of music. Programming in our Southern Cross room has a big focus on avant-garde jazz, quirky indie pop, and alt folk. We really do have everything, all kinds of music, the whole gamut. From classical to opera to hip hop. Anything with a spirit of independence, and a DIY ethos. Since we're a non-profit organization on a shoestring budget, it's only natural that we would gravitate towards the DIY indie scene.
The Tranzac is a community hub for a lot of groups and organizations. You have partnerships with the Toronto Zine Library, Blocks Recording Club and other labels such as Barnyard and Rat-Drifting. How does this help the organization and the community itself?
We're trying to build a community, and all trying to help each other. It's important to have relationships with the labels, zine library, as well as traditional folk music groups. The Morris Ale dancers are a big part of the club. Our chief goal as a non-profit is to foster and contribute to the arts community, particularly on the more avant-garde/independent/DIY side of things, whenever we see a vital and important niche that might be overlooked by more corporate interests. As Toronto's downtown core becomes increasingly expensive and caught up in the rat race, the need to fill such a niche is more vital now than ever, for the health of the arts and our neighbourhoods.
What do you think sets the Tranzac apart from more profit-driven music venues?
I think what sets us apart is the fact that our primary objective is fostering the arts community — we even have a mandate in our "constitution" to do so — as opposed to a drive for profit. Although, of course, we are always working to keep revenue up!
Does being a non-profit organization give you any advantages or disadvantages?
The fact that we're non-profit is the most important thing about the Tranzac, I'd say. You can sense it in the attitude and spirit of the volunteers; it really shows that we're a non-profit. It means we have no budget or a very limited budget, and get the benefit of volunteers who are eager to help out. Overall there is a good vibe.
If someone were looking to book an event at The Tranzac – in any of the spaces you offer – what would you recommend they do?
If one were looking to book an event at the Tranzac — any size! any kind of event! — they can contact me (Robbie) at booking (at) tranzac (dot) org.
De l'enceinte avant-gardiste de Gabe Girard:
(Traduit par la plume et l'encre d' Aliké Harel)
Toronto est depuis longtemps la terre d'accueil des expatriés d'Australie et de la Nouvelle-Zélande. Un centre communautaire a été fondé dès 1931 pour les nouveaux arrivants de ces pays afin de préserver leurs cultures. Le centre a également rempli les fonctions de coopérative et de club. Le Tranzac, acronyme de « Toronto Australia New Zealand Club », s'est réincarné sous plusieurs formes et a été le théâtre de nombreux types de scène. Au fil du temps, le Tranzac a élargi ses horizons et a ouvert la porte à d'autres nationalités et à d'autres traditions culturelles. Le Tranzac est maintenant une salle de spectacle des plus hétéroclites de la scène musicale et artistique. Le club présente pour ainsi dire tous les styles de musique, quoique particulièrement enclin à mettre sur scène de la musique expérimentale ou avant-garde. Le Tranzac est connu comme un centre communautaire, un organisme à but non-lucratif (OBNL), un centre d'archivage de zines, un théâtre, une salle de spectacle et espace de création bouillonnant. Comment parvient-on à former un tout de ces ingrédients éclectiques? L'approche DIY et l'esprit d'indépendance font déjà l'apanage du club. S'ajoutent à la toile une relation harmonieuse avec le milieu et une vision de l'art à large déploiement… alors, le portrait commence à se raffiner. Nous avons rencontré le gérant et planificateur, Robbie Luster, pour avoir l'heure juste.
Gabe Girard: Le Tranzac a d'abord été un lieu communautaire pour les immigrants d'Australie et de la Nouvelle-Zélande. Ce riche passé a-t-il laissé une trace jusqu'à nos jours?
Robbie Luster: Le Tranzac a été fondé en 1931 par des Oz et des Kiwis, et l'association originale existe toujours. Pendant plusieurs décennies, le club s'occupait uniquement de ce groupe culturel. Il y avait des parties de rugby, de la danse maorie et d'autres activités pour préserver leur culture. Le Tranzac collaborait aussi à Caravan, un festival de grande envergure, au cours duquel on érigeait des scènes à l'effigie des différentes cultures dans toute la ville. La plus grande scène était celle des Australiens au Tranzac, où des concours de tonte de mouton avaient lieu. La participation du Tranzac au festival Caravan constitue le début de l'inclusion d'autres nationalités… et l'ouverture à l'ensemble du milieu.
Quand le Tranzac a-t-il commencé à présenter des performances musicales? À quel moment s'est-il tourné vers l'avant-garde jazz?
Les performances musicales ont toujours eu une place ici. Depuis les 20 dernières années, le Tranzac a tranquillement commencé à mettre de l'avant plus de musique d'avant-garde. Les gérantes, Sandra et Cassandra, ont changé le style des performances au menu. La transition s'est faite de façon naturelle. Le Tranzac avait toujours accueilli des performances de type DIY, du milieu indépendant. De la musique qu'on n'entend pas ailleurs, quoi! L'étincelle a jailli lorsque Saint Dirt Elementary School a commencé à jouer ici. C'est alors que le Tranzac a pris un virage vers la scène émergente.
Quels types de musique présentez-vous le plus?
Nous présentons de la musique de tout genre. La programmation de la salle Southern Cross comprend beaucoup de jazz avant-gardiste, du indie pop émergeant et du folk alternatif. Toutefois, on en a vraiment pour tous les goûts, de tous les genres de musique! Notre gamme musicale est vaste : classique, l'opéra, hip-hop… Tout groupe avec un esprit d'indépendance ou une philosophie DIY est le bienvenu. Puisque nous sommes un OBNL, avec budget serré, il est tout naturel que nous gravitions autour de la scène de la musicale indépendante.
Le Tranzac est un phare pour de nombreux groupes et organismes. Vous collaborez avec la Toronto Zine Library (une fanzinethèque torontoise), le Block Recording Club et d'autres producteurs, dont Barnyard et Rat Drifting. Quels rôles jouent ces collaborations pour votre organisme et pour le milieu?
Nous contribuons tous ensemble à bâtir une communauté et nous nous entraidons les uns les autres. Il est important d'entretenir des relations avec les producteurs, le milieu du zine ainsi qu'avec les groupes de folk traditionnel. La troupe de danse Morris Ale est un partenaire majeur du club. Notre mission est de promouvoir et de soutenir le milieu artistique. Nous sommes interpellés à chaque fois que nous dénichons un créneau incontournable qui pourrait passer sous le nez des grandes corporations, tout particulièrement lorsqu'il s'agit des représentants de l'avant-garde, du DIY et des artistes indépendants. Aux prises avec une opération de nivelage vers le haut, il devient de plus en plus cher de vivre au cœur du centre-ville de Toronto, de sorte qu'explorer ce créneau devient une nécessité plus que jamais, afin de maintenir un milieu artistique et humain équilibré.
Qu'est-ce qui distingue, selon vous, le Tranzac des autres salles à vocation lucrative?
Je crois que c'est notre mission de promouvoir le milieu artistique, qui nous distingue de ceux qui, pour leur part, s'intéressent aux profits. Cette mission est même inscrite dans le mandat que nous nous sommes donné dans notre « constitution ». Évidemment, nous cherchons, tout de même, à constamment générer des revenus!
Être un OBNL comporte-t-il certains avantages ou désavantages?
Le fait d'être un OBNL est, je pense, déterminant pour le Tranzac. C'est palpable dans l'attitude et l'énergie des bénévoles, notre travail respire le dévouement. Une constitution en OBNL signifie avoir peu ou pas de budget et bénéficier de l'aide de bénévoles motivés. En somme, notre environnement est rempli de bonnes ondes.
Que recommandez-vous à quiconque souhaiterait organiser un spectacle au Tranzac, dans n'importe quelle de vos salles?
Vous souhaitez jouer sur une scène du Tranzac? Quelque soit l'envergure ou le style de votre projet, communiquez avec moi (Robbie) au booking (at) tranzac (dot) org.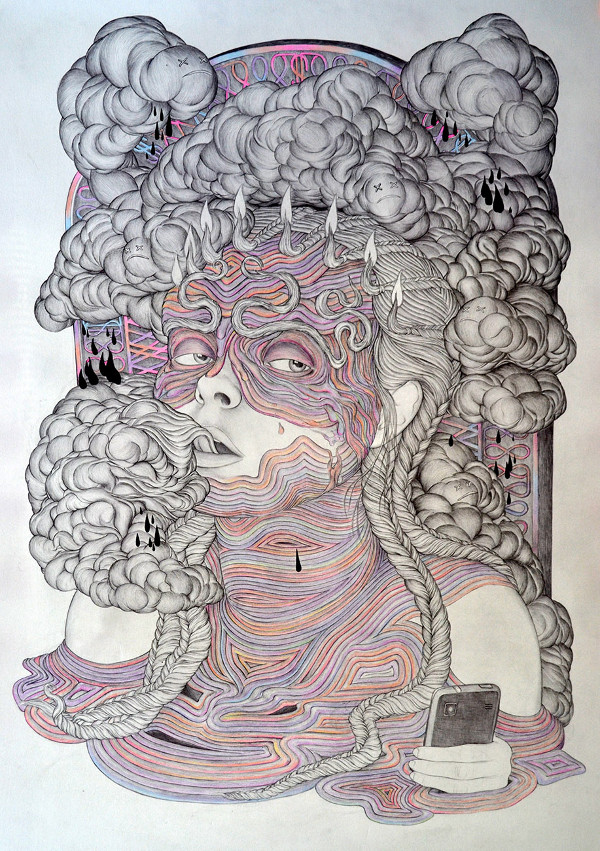 Alexandra Mackenzie
Artist, Musician, Psychedelic Voyeur
Toronto, ON
From the transcendental interconnectedness of V. Rachel Weldon:
Alexandra Mackenzie is an artist centered loosely in this cosmic realm. She creates through multiple mediums, including drawing, screenprinting, and installation. She also emits sounds from a frequency known as Petra Glynt. To help launch our latest section, Far Shores, focusing on the intersections between music and visual art, we sent her a series of questions through the ether.
V. Rachel Weldon : How do you feel about autonomous art, or art for art's sake? Do you think art should address a cause or imbalance in our world?
Alexandra Mackenzie: It's not my place to say how others should focus their art — to each their own — but seeing as we already live in such a society of self and of spectacle I have a hard time putting my support in art purely for art's sake. I understand why art-making can often be a release for some, [a kind of art] that is therapeutic or healing. I also understand and encourage art-making for the sake of finding one's voice, but I feel that if a person choses art as their "life-calling" there are some social responsibilities that come with that. Existential post-modern angst never helped anybody. I suppose that's where the artist's role comes in.
In your opinion, what is the role of an artist: to change, to interpret, or to transcend reality?
For myself I feel the need to respond to problems within our society, the things that make me angry, the things I feel are unjust. It's that rage that writes songs and generates the momentum to make visual work.
Maybe the artist's role is to represent their stance or perspective of the world, and share it from a neutral platform. Images reign in our society. The artist have the ability to offer a compelling representation of their thoughts and feelings and I think that's a powerful voice. If the artist can combat apathy or provide insight and/or draw attention to the issues that plague our society (and world) than I feel that is a voice that should be used and explored.
What is the value of psychedelic experience (generally, and specifically to you)?
I'm sure there are unlimited answers to this question… :)
Psychedelic experience (mine has been with Psilocybin, a.k.a. magic mushrooms) puts things into perspective… makes me aware of my part in an interdependent, infinite network that connects all life… For real! Plus for me, it is humbling. I appreciate being reminded that I am part of something much bigger than what our brains can perceive, though that tiny role is still important for the health and balance of the whole.
I feel the greatest benefit of psychedelic experience is the ego loss. When humans act with entitlement we are not moving forward as a species… we can't install old tar sands pipelines for the sake of maintaining jobs and profits, it's careless and doesn't consider the benefit of the whole: the water supply, the air we breathe, the indigenous communities, and the state of present and future life on this planet that are/going to be affected. In this case humans are taking more than what is sustainable within unsavoury practices, and I feel this is a matter of entitlement, thinking that it is ours to take… There is a balance that must be maintained in all aspects of life and I think the psychedelic experience is one of many valuable lessons and windows into understanding that balance.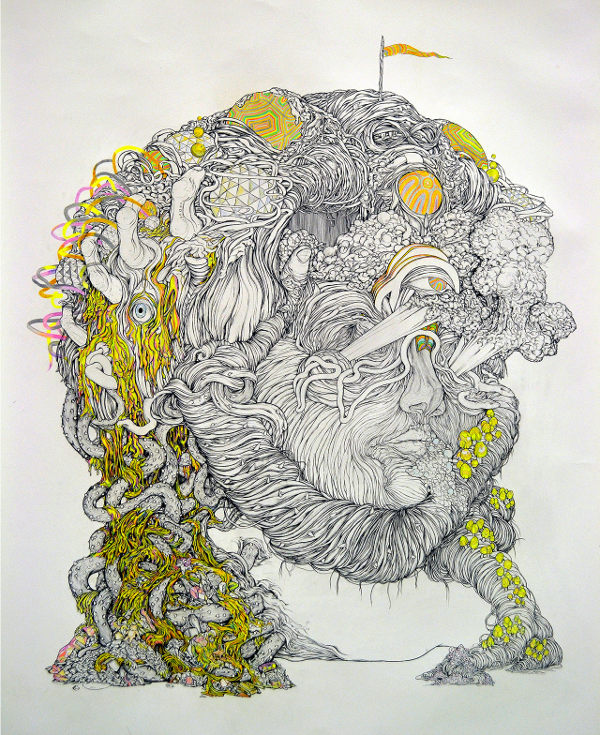 Your intricate drawings are a feast for the eyes, so heavily saturated with symbols and meaning. I'm interested to know how you conceptualize that? Sometimes I interpret it as transcendence and interconnectedness with everything, as in one of my favourites, FTW. Other times, I see it as dirty and suffocating, like pollution or overpopulation, or as symptom of our age of technology and commodification, distracting and uncanny. What are some of the issues you are drawn to address or reflect most in your work?
I really love how you interpret my art! You're totally on the right roll… :) !!!
I am sympathetic to all the human struggles… the ongoing racism, the ongoing oppression of women, the world of identity and gender politics, the ongoing genocide of First Nations… I easily become engrossed with rage which dissolves into apathy when I remind myself that I am a privileged hetero white female. I worry that any action I take may not appear sincere. As a result, and by no means as a "default" choice, I tend to lean toward defending the Earth and direct my focus on environmental issues because they affect us all.
I struggle with what I want to say versus what I am able to represent… My work tries to suggest an urgency for resistance against our current capitalist system — because of what it's doing to the planet and its people. This is so massive and daunting… so my work reflects those feelings too.
I am overwhelmed with the amount of work that has to be done in rethinking how we function as a global whole and I am no expert in devising plans for new localized systems of doing things. But more than ever, I want to see an end to capitalism's "endless growth" and the scars it leaves behind on the planet, and the people who experience the inequity of the capitalist economy everyday.
I also can't help but want to show the beauty and the phenomenological nature of the planet: it is the epitome of meta/psychedelic/supernatural. So it's a balance of these things that I'm working with.
Do you have anything coming up in the near future?
I have been invited to put together a solo multi-media art exhibition at Ed Video in Guelph for the month of April that will coincide with Kazoo! Fest. I'm putting together my first comic for Michael Comeau's comic anthology for April around the theme Human Drama. I'm currently writing a full-length album for my solo music project Petra Glynt, to be released in the summer, and I'm planning a couple tours to follow it, hopefully reaching the EU, the US, and as much of Canada as possible. I am also putting together a new series of drawings for a solo show at Magic Pony/Narwhal sometime within the last quarter of the year… life is beautiful!
Petra Glynt performs at Toronto's Wavelength Music Festival at the Polish Combatants Hall (206 Beverly St.) on Saturday, February 15. This event, co-presented by Weird Canada, also features Colin Stetson, US Girls, Biblical and Gambletron. More info can be found here.
De l'interconnectivité transcendantale de V. Rachel Weldon:
(Traduit par Virginie Langlois)
Alexandra Mackenzie est une artiste qui gravite en toute liberté dans notre royaume cosmique. Elle exprime sa créativité dans de multiples domaines, notamment le dessin, la sérigraphie et les installations. Elle émet aussi des sons à une fréquence connue sous le nom de Petra Glynt. Dans le cadre du lancement de notre nouvelle rubrique axée sur les intersections entre la musique et les arts visuels, nous lui avons envoyé une série de questions par ondes électromagnétiques.
V. Rachel Weldon : Que penses-tu de l'art autonome, ou de ceux qui font de l'art pour faire de l'art? Crois-tu que l'art doit toujours traiter d'une cause ou d'un déséquilibre dans notre monde?
Alexandra Mackenzie : Ce n'est pas à moi de dire aux autres sur quoi ils doivent centrer leur art – à chacun le sien – mais la société dans laquelle nous vivons est déjà tellement axée sur le soi et le spectacle que j'ai du mal à soutenir l'art pour le seul plaisir de faire de l'art. Je comprends en quoi la création artistique peut être une forme de libération pour certaines personnes, j'ai conscience que [certains types d'art] ont des vertus thérapeutiques ou apaisantes. Je comprends aussi et j'encourage la création artistique comme moyen de trouver sa voie, mais j'estime que si une personne choisit l'art comme « voie », c'est un choix qui s'accompagne de certaines responsabilités sociales. La colère existentielle post-moderne n'a jamais aidé personne. J'imagine que c'est en cela que l'artiste a un rôle à jouer.
À ton avis, quel est le rôle d'un artiste : changer, interpréter ou transcender la réalité?
En ce qui me concerne, je ressens le besoin de traiter des problèmes qui se posent dans notre société, des choses qui me mettent en colère, des choses qui me semblent injustes. C'est cette rage qui permet d'écrire des chansons et qui génère l'impulsion nécessaire à l'art visuel.
Peut-être que le rôle de l'artiste est d'exprimer son point de vue ou sa perspective sur le monde et de partager cela au moyen d'une plateforme neutre. Les images sont reines dans notre société. Les artistes ont la possibilité d'offrir une représentation convaincante de leurs pensées et de leurs sentiments; je trouve que c'est un pouvoir fort. Si l'artiste est capable de combattre l'apathie, de mieux faire comprendre certains des enjeux qui gangrènent notre société (et notre monde) ou simplement d'attirer l'attention sur ces problèmes, alors c'est une voie à utiliser et à explorer.
Quelle est l'utilité des expériences psychédéliques (en général et pour toi en particulier)?
Je suis sûre qu'il y a un nombre infini de réponses possibles à cette question… :)
Les expériences psychédéliques (en ce qui me concerne, j'ai testé la psilocybine, c'est-à-dire les champignons hallucinogènes) mettent les choses en perspective… elles me permettent de prendre conscience de mon rôle au sein d'un réseau interdépendant et infini qui relie toutes les formes de vie… Sans rire! En plus pour moi, c'est un exercice d'humilité. J'aime qu'on me rappelle que je fais partie de quelque chose de bien plus vaste que ce que nos cerveaux peuvent percevoir, même si ce rôle infime est malgré tout important pour la santé et l'équilibre du système tout entier.
Je pense que le principal intérêt des expériences psychédéliques, c'est qu'elles permettent de mettre l'ego de côté. Lorsque les êtres humains agissent avec arrogance, cela ne nous fait pas avancer en tant qu'espèce… On ne peut pas construire des pipelines pour transporter le pétrole issu des sables bitumeux simplement pour préserver les emplois et les profits; c'est un acte inconsidéré qui fait fi de l'intérêt général : l'approvisionnement en eau, la qualité de l'air que nous respirons, les collectivités autochtones, et les conditions de vie actuelles et futures sur cette planète, toutes ces choses qui sont affectées ou qui le seront un jour. Dans ce domaine, l'être humain prend bien plus que ce qui est viable en utilisant des méthodes peu recommandables; j'ai l'impression que l'être humain pense être dans son bon droit, qu'il peut se servir librement… Dans tous les aspects de la vie, il y a un équilibre à atteindre et je pense que les expériences psychédéliques sont très utiles pour appréhender cet équilibre.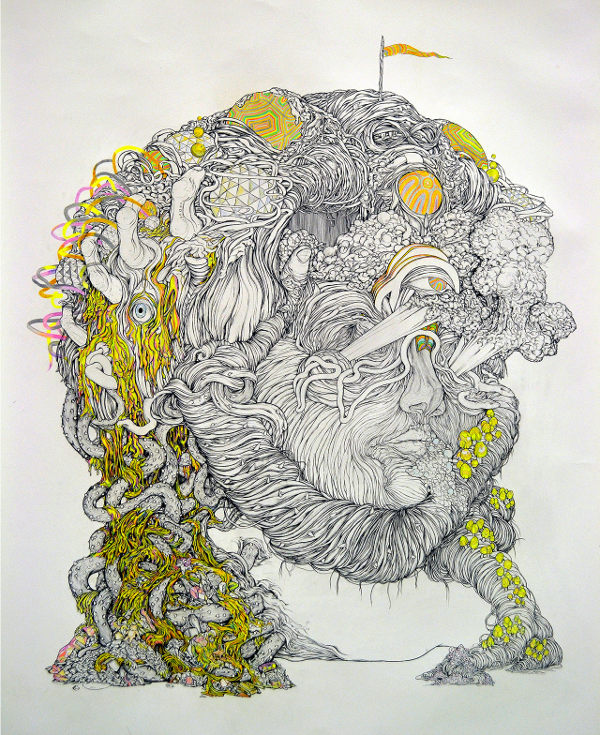 Tes dessins complexes, saturés de symboles et de significations, sont un régal pour les yeux. Comment est-ce que tu conceptualises cela? Parfois, je les interprète comme une transcendance et une interconnectivité avec tout ce qui nous entoure, comme dans un de mes dessins préférés, FTW. À d'autres moments, j'y vois un monde sale et étouffant, du fait de la pollution et de la surpopulation, ou un symptôme de notre ère technologique où la marchandisation à outrance est reine. Quels sont les enjeux que tu as envie de traiter ou d'aborder dans ton travail?
J'adore la façon dont tu interprètes mon art! C'est exactement ça… :) !!!
Je suis sensible à tous les combats menés… le racisme et l'oppression des femmes, des fléaux toujours très présents, les considérations liées à l'identité ou au sexe, le génocide des Premières Nations qui se poursuit… Je me mets facilement en colère puis ma colère se transforme en apathie lorsque je me rappelle que je suis une femme blanche hétéro privilégiée. J'ai peur que mes actes dans ce domaine n'aient pas l'air sincères. Alors je me tourne plutôt – mais pas du tout par défaut – vers la défense de la planète et j'axe mon travail sur les questions environnementales parce qu'elles nous concernent tous et toutes.
Je me débats avec ce que je veux dire par rapport à ce que je suis capable de représenter… J'essaie de suggérer grâce à mon travail l'impérieuse nécessité de faire acte de résistance face à notre système capitaliste actuel, en raison de ses effets sur la planète et sur les peuples. C'est tellement énorme et déconcertant… alors mon travail reflète ces sentiments aussi.
Je suis accablée par la quantité de travail à accomplir pour repenser la façon dont nous fonctionnons comme entité globale et je ne m'y connais pas suffisamment pour concevoir de nouveaux systèmes localisés de faire les choses. Mais plus que jamais, il faudrait qu'on en finisse avec la « croissance sans fin » engendrée par le capitalisme, les séquelles pour la planète et les personnes qui vivent l'injustice de l'économie capitaliste au quotidien.
Je ne peux pas m'empêcher de vous montrer la beauté et la nature phénoménologique de la planète : c'est la quintessence du méta/psychédélique/surnaturel. C'est sur l'équilibre de toutes ces choses que je travaille.
Quels sont tes projets pour les prochains mois?
J'ai été invitée à mettre sur pied une exposition multimédia en solo à Ed Video à Guelph au mois d'avril; l'expo coïncidera avec Kazoo! Fest. Je travaille sur ma première bande dessinée pour l'anthologie de Michael Comeau qui sortira en avril sur le thème du drame humain. J'écris actuellement un album pour mon projet musical solo Petra Glynt, qui sortira cet été, et je prévois de donner quelques concerts après ça, en Europe, aux États-Unis et partout où je pourrai au Canada. Je prépare aussi une nouvelle série de dessins pour une représentation solo à Magic Pony/Narwhal à la fin de l'année… la vie est belle!
Petra Glynt performs at Toronto's Wavelength Music Festival at the Polish Combatants Hall (206 Beverly St.) on Saturday, February 15. This event, co-presented by Weird Canada, also features Colin Stetson, US Girls, Biblical and Gambletron. More info can be found here.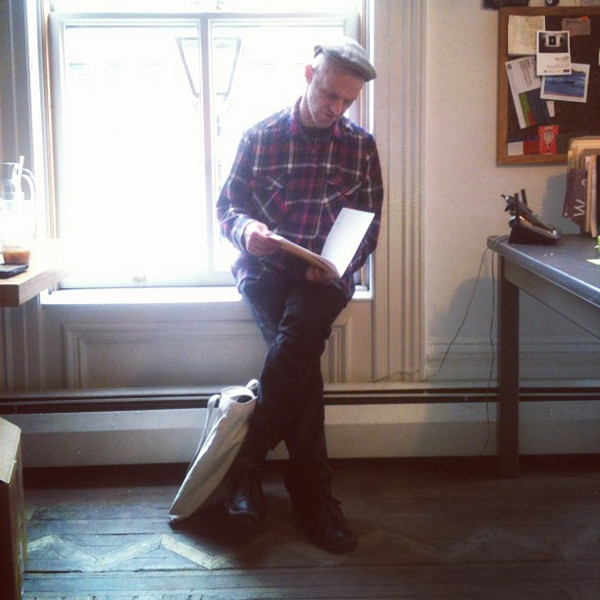 Darcy Spidle
[Founder of OBEY Convention, Divorce Records, and Heavy Fog]
Halifax, NS
From the dense mist of Joel Thibert:
The other day, a friend told me something along the lines of "I have my ear to the ground, and I keep hearing strings." Do you think that elements of classical music are currently growing to play a bigger role in the future of nationwide experimentation?
Admittedly, my use and even understanding of the term "classical" is probably debatable, but I am interested in this burgeoning community of young, underground artists from Canada who self-identify with that genre label in some way. They are the folks who have trained in classical music but also found their ways into other genres, both popular and experimental. An artist like Alice Hansen comes to mind. She is a university trained composer but also a member of ambient pop duo You'll Never Get to Heaven. Zachary Fairbrother of Lantern is another example. When the politics and aesthetics of those two worlds collide, it can make for very intriguing music and discussion. In ways, that's what I'm trying to explore with Heavy Fog.
Your main label, Divorce, already has a pretty good following. What do you feel are the benefits of a cassette sub-label for experimental/classical releases?
I had been hearing a lot of recordings by young composers that seemed to straddle the line between "classical" and genres I'm more used to like noise, drone, ambient, punk, indie, etc. And like noise and other outsider genres, this underground classical material was exploratory and, at times, absolutely mind blowing. These were really fresh sounds for me, so I felt compelled to get involved. Running a label is truly a musical journey of discovery, and I guess this has been a journey that I have been wanting to take for awhile.
As for a cassette sub-label, I think tape (and CD-R) culture has been essential to the development of fringe music. For a number of reasons, tape labels can take the most risks and push the boundaries of what is considered a proper release or even listenable music. It just hit me that the new music I was discovering could fit and even benefit from this culture.
<<< read more >>>
I've also increasingly been returning to the cassette format in my personal listening habits. Of course, analog is great, but the long format is also a nice element. With a record, you have 30 to maybe 40 minutes. All of our Heavy Fog releases will be 70 minutes or more, which is a minimum time for most of this music to properly unfold.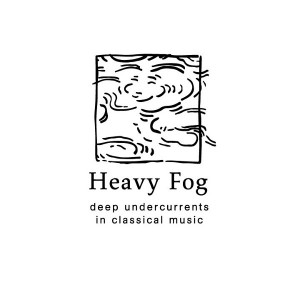 What makes Bespoken plays Nick Storring and Daniel Brandes a good choice as a first release?
Heavy Fog was just a vague idea until I started chatting with Toronto's Nick Storring. Somehow, our online conversations eventually led to this label emerging fully formed. He had a number of recordings in the works, all of which I immediately wanted to release! And his suggestions for artists to check out have been an amazing resource. Like Alice and Zach, Nick is an example of a composer who has broken away from many of the constricting elements of traditional classical music. His current work (check out Gardens) is some of the most exciting music I have heard all year.
Experimentation is always important to me as a curator both at my festival and with the label, but for Heavy Fog I also want to focus on music that is uplifting and, dare I say it, beautiful. The Bespoken album really fit that bill. Nick and I also felt that the folk qualities of Bespoken would really suit the analog format quite well.
Who are some artists you're excited to work with in the future?
Well, I'm taking it slow and trying hard not to get too far ahead of myself. I could spend every hour on this new label, but I have about a half a dozen other projects on the go as well. Finding balance in life is tough. That being said, the next release is in the works and should be available in January. We will be doing a retrospective on Toronto new-age classical pianist John S. Gray. Again, this is an artist who was introduced to me by Nick. John's music has this flowing, meditative quality that, although less dense, reminds me in ways of Lubomyr Melnyk, who I believe was one of John's contemporaries. John has a massive collection of recordings. I can't wait to wade in over the holidays.
Can we expect to see an increase Heavy Fog-friendly artists at OBEY Convention in the future?
A goal of the OBEY Convention is to bring together artists of all kinds, so yes, I would love to see that happen. We try to touch on that world each year, but it would be nice to see even more.
Is there anything else you'd like to say? Something to promote, someone to praise, something to be excited about?
Bespoken will be officially releasing their Heavy Fog cassette (and essentially launching the label) in Toronto on Tuesday, December 10th at the Tranzac Club. They will be joined by Allison Cameron and Christopher Willes. The talented Haligonian Robert Drisdelle will be providing visuals. For those not in the Toronto, order the cassette or download the album over here. Thanks!
For more info on Darcy and his wonderful work with OBEY in particular, check out our previous interview with him.
De la brume épaisse de Joel Thibert:
(Traduit en tag-team par Hugo Hyart et Nicolas Coutlée)
L'autre jour, un ami m'a dit quelque chose du style« J'arrête pas d'entendre des violons partout. » Penses-tu qu'en ce moment certains éléments de la musique classique sont appelés à jouer un rôle de plus en plus important dans l'expérimentation musicale au pays?
J'avoue que mon utilisation et même ma compréhension du terme « classique » sont probablement sujettes à débat, mais je m'intéresse à cette communauté canadienne bourgeonnante de jeunes artistes marginaux qui s'identifient d'une façon ou d'une autre à cette étiquette. Ce sont des personnes qui ont étudié la musique classique tout en explorant d'autres genres, populaires ou expérimentaux. Je pense à une artiste comme Alice Hansen. C'est une compositrice formée à l'université, mais elle est aussi membre du duo de pop ambiante You'll Never Get to Heaven. Zachary Fairbrother de Lantern est un autre exemple. Quand les politiques et les esthétiques de ces deux mondes entrent en collision, il peut en résulter des musiques et des discussions très intrigantes. D'une certaine façon, c'est ce que j'essaie d'explorer avec Heavy Fog.
Divorce, ton label principal, compte déjà un bon nombre d'adeptes. Quels avantages crois-tu que ce sous-label cassette peut comporter pour des parutions expérimentales/classiques?
J'ai entendu beaucoup d'enregistrements de jeunes compositeurs à cheval entre le « classique » et d'autres genres qui me sont plus familiers comme le noise, le drone, l'ambiant, le punk, l'indie, etc. Et comme le noise et d'autres genres marginaux, ces compositions de classique underground étaient exploratoires et, parfois, complètement époustouflantes. C'était très rafraîchissant à mes oreilles, alors j'ai eu envie de m'impliquer. Gérer un label est réellement un voyage de découvertes musicales, et je suppose que ça faisait longtemps que je voulais m'engager dans cette aventure.
Pour ce qui est du sous-label, je pense que la culture de la cassette (et du CD-R) a été essentielle au développement de la musique marginale. Pour de nombreuses raisons, ces étiquettes peuvent prendre plus de risques et repousser les frontières de ce qui est considéré comme une parution légitime ou même de ce qui est écoutable. Je me suis simplement rendu compte que cette nouvelle musique que je découvrais pouvait cadrer au sein de cette culture et même en bénéficier.
<<< read more >>>
Je me suis aussi tourné de plus en plus vers le format cassette dans mes habitudes d'écoute personnelle. Bien sûr, l'analogique c'est génial, mais la longue durée est aussi un élément intéressant. Avec un disque, vous avez 30 à peut-être 40 minutes. Toutes nos parutions sur Heavy Fog seront d'au moins 70 minutes, durée minimale pour que cette musique se déploie proprement.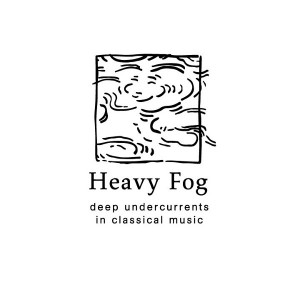 Qu'est-ce qui fait de Bespoken plays Nick Storring and Daniel Brandes un bon choix à titre de première parution?
Heavy Fog n'était qu'une idée vague avant que je discute avec Nick Storring de Toronto. D'une façon ou d'une autre, l'étiquette a pris forme au fil de nos conversations en ligne. Il avait déjà bon nombre d'enregistrements en chantier que je voulais déjà faire paraître sur-le-champ! Et ces suggestions d'artistes constituaient une mine d'or incroyable. Comme Alice et Zach, Nick est un exemple de compositeur s'étant libéré de plusieurs éléments contraignants propres à la musique classique traditionnelle. Son projet actuel (qui se nomme Gardens) figure parmi les musiques les plus excitantes que j'ai entendues cette année.
Quels sont quelques-uns des artistes avec qui tu as hâte de collaborer?
Pour le moment, je prends mon temps et j'essaie de ne pas trop me projeter dans l'avenir. Je pourrais passer toutes mes journées sur cette nouvelle étiquette, mais j'ai également environ une demi-douzaine d'autres projets en cours. Dans la vie, trouver l'équilibre est difficile. Cela dit, je travaille en ce moment sur une prochaine parution qui devrait sortir en janvier. Nous ferons une rétrospective de John S. Gray, pianiste classique nouvel-âge de Toronto. Encore une fois, il s'agit d'un artiste que Nick m'a suggéré. La musique de John a ce côté fluide et méditatif qui, bien que moins dense, me rappelle d'une certaine façon Lubomyr Melnyk, un contemporain de John si je me souviens bien. John possède une immense collection d'enregistrements. Je suis impatient de m'y plonger durant le temps des fêtes.
Peut-on s'attendre dans l'avenir à une présence plus forte d'artistes proches de Heavy Fog à OBEY Convention?
L'un des objectifs de OBEY Convention est de rassembler des artistes de toutes sortes, donc oui, j'aimerais que ça se produise. On essaie de toucher un peu à cet univers chaque année, mais ce serait bien d'en avoir encore plus.
As-tu quelque chose à ajouter? Quelque chose à promouvoir, à encenser, quelque chose qui t'allume?
Le lancement officiel de la cassette de Bespoken (et par le fait même de l'étiquette Heavy Fog) aura lieu à Toronto le mardi 10 décembre au Tranzac Club. Le groupe sera accompagné par Allison Cameron et Christopher Willes. Le talentueux Haligonien Robert Drisdelle se chargera des projections. Pour ceux et celles à l'extérieur de Toronto, vous pouvez acheter la cassette ou télécharger l'album ici. Merci!
Pour plus d'information sur Darcy et le merveilleux travail qu'il effectue pour OBEY, lisez notre dernière entrevue avec lui.
Jason Wydra
Founder of Soybomb HQ
Toronto, ON
[photo: Amanda Fotes]
From the cyclemotives of Alison Lang:
In October of 2003, a group of enterprising skateboarders, hardcore music enthusiasts and carpenters built a half-pipe in their apartment above a bike shop near Queen Street West in Toronto. Founder Jason Wydra had originally intended the space to be a place where he and his friends could skate and sleep. Soon enough, bands were setting up on the half-pipe to play shows to increasingly large crowds of friends and fans in the community. Ten years later, Soybomb HQ has become one of the city's most beloved DIY venues, with some events bringing in over 1,000 people throughout the evening. The space has maintained its inclusive ethos in the midst of a rapidly changing neighbourhood. As their 10th anniversary approaches, Wydra shared some insights as to how Soybomb has managed to survive and flourish for all these years.
Alison Lang: What was the first show like at Soybomb?
Jason Wydra: It was a Halloween party/show — because Halloween rules. It wasn't too different from what goes on now. The sound system was crappier, and the general layout of the space was a bit different, but it was punk/hardcore music with drunk people having fun. It was probably also the last or second last time we had the ramp open for skating while the bands were playing. The bands actually played over by the kitchen then, not in the ramp. There was probably about 100-200 peoples that passed through, I think. Most people were in costume of course!
In cities all over Canada, there are places where people open up their living/creative spaces to bands and the public. Unlike Soybomb, though, a lot of these places don't last a year, much less 10. What is the secret to Soybomb's longevity, do you think?
I think one of the main things to realize is that if you have neighbours, whether it be a business or a resident, they have their own concerns as well, so you have to be an ambassador to the space and make friends. Do favours for them, and make stuff positive. If there's a problem, fix it! That way when you have a gig happening that has a bunch of (probably drunk) people and kids showing up, they won't mind so much. Also, don't turn your space into a concert venue where you're throwing events constantly. That will piss off your neighbours no matter what you do!
We make sure that the neighbours' properties are kept clean and we invite them to ALL the gigs too! So even if they don't feel like going, at least they don't feel excluded. We've had to mop the downstairs store when it had beer dripping down on it, and we even spent over $1,000 and a full week resurfacing the floor.
We have also never tried to book shows as a source of real revenue in order to pay rent and bills. That puts you in the inevitable position of booking too often, pissing off your neighbours, and also potentially booking gigs that are not fun.
I imagine you have seen a lot of changes in 10 years in the area surrounding Soybomb. How do you guys maintain your space and ethos in the midst of these changes?
We've been lucky. We've never actually had our rent increased in the entire decade we've been there. I think part of that is attributed to the fact that we are mostly decent tenants. I really love what we have at Soybomb and I don't ever want to put that in jeopardy by being an annoying tenant and constantly bugging the landlord. So again, ambassadorship.
But the neighbourhood has changed a LOT. Condo and townhouse development in the area has brought a different kind of resident to the community, and with them different kinds of businesses. Then the fire at Duke's Cycle happened in 2008 and a lot of older mainstays of the neighbourhood were gone. One by one the older, less flashy businesses disappeared, rents went up, and a multitude of boutiques for shoes, clothes, furniture, spas, fancy restaurants and bars moved in. I can't say if it's bad or good. But it's driven the rent up, so that most of the boot-strap DIY-minded people who used to populate this area are gone.
As for maintaining a general ethos towards what we do, how we participate in the music community, and the ways we encourage others to participate, I don't think the changes in the area effect that. With the rise of DIY mentality in general in our culture, I think there is a certain amount of respect for people who seem to be giving it a go.
What does 10 years really mean to you? Are you nostalgic about all the stuff that's happened since you started the place, or do you avoid that type of sentimentality?
Ten years went by too fast. It's hard! When you're busy and have your eyes focused on your little goals (and I have a thousand of them) you don't really notice it go by.
There are little moments from Soybomb's past that I treasure. Just recently one of my all-time biggest musical influences, Nick Sakes — a principal member of the band Dazzling Killmen, and later Colossamite, and then Sicbay — actually came and played my birthday gig this year with his new project Xaddax, which is a noisy weird two-piece consisting of him and his partner Chrissie. Still trying to wrap my head around that one. Pretty major bucket list stuff right there.
I am proud of all the work I've done in the place, but in the end, I don't dwell on it. I'm always focused on the next project. I only want past successes to help facilitate new and exciting projects in the end, and sentimentality is rare.
What do you have planned for the 10th anniversary?
We've enlisted bands like Alaskan from Ottawa, Expectorated Sequence from Montreal, a Black Faxes revival (including a buttload of Misfits songs), local sweethearts Pretty Mouth, and many more will be making appearances.
The celebration will take place over two nights: Friday, Oct. 25 and Saturday, Oct 26, and both nights will be Halloween costume balls of course! We'll have printed posters for the event and maybe even revisit a Soybomb t-shirt again. In typical Soybomb fashion, more details will likely get figured out the night before the shows. Heh!
Des cyclo-moteurs d'Alison Lang:
(Traduit par la fileuse de d'Aliké Harel)
En octobre 2003, une bande de planchistes, d'amateurs de musique hardcore et de charpentiers pleins d'initiative ont construit un half pipe dans leur appartement situé au-dessus d'une boutique de vélos près de la rue Queen Ouest à Toronto. Le fondateur, Jason Wydra, voulait à l'origine que l'endroit serve, pour ses amis et lui, à faire du skate et à dormir. Rapidement, des groupes ont commencé à donner des spectacles sur la rampe devant une foule croissante d'amis et de fans des environs. Dix ans plus tard, Soybomb HQ est l'une des salles indépendantes les plus aimées en ville; certains spectacles attirent même plus de 1000 personnes en une soirée. L'endroit a conservé son approche inclusive au coeur d'un quartier en pleine mouvance. Pour le 10e anniversaire qui approche, Wydra jette un peu de lumière sur un Soybomb qui est parvenu à survivre et à s'épanouir pendant tant d'années.
Alison Lang : À quoi ressemblait le premier spectacle à Soybomb?
Jason Wydra : C'était un party/show d'Halloween, parce que, l'Halloween, c'est cool. Ce n'était pas très différent d'aujourd'hui. Le système de son était plus merdique et la salle était aménagée un peu différemment, mais c'était de la musique punk/hardcore avec des gens soûls qui s'amusaient. C'était probablement aussi la dernière ou avant-dernière fois que la rampe était ouverte pour rouler pendant que le groupe jouait. En fait, les groupes se produisaient près de la cuisine dans le temps, pas sur la rampe. Il y a eu autour de 100 à 200 personnes ce soir-là. La plupart étaient déguisées, évidemment!
Partout au Canada, les gens ouvrent les portes de leur lieu de création/de vie à des groupes de musique et au public. Pourtant, contrairement à Soybomb, nombre de ces endroits ne résistent pas un an, encore moins dix. Selon toi, quel est le secret de la longévité de Soybomb?
Je pense qu'une des principales choses qu'on doit comprendre, c'est que si vous avez des voisins, que ce soit un commerce ou un domicile, ils ont leurs propres soucis aussi. Donc, il faut être un ambassadeur de l'emplacement et se faire des amis. Rendez-leur des services, faites en sorte que tout se passe bien. S'il y a un problème, réglez-le! De cette façon, quand vous organisez un concert et qu'une gang de jeunes (probablement soûls) se pointe, ça ne les dérangera pas autant. Il ne faut pas non plus qu'il y ait constamment des concerts. Ça fera chier vos voisins peu importe ce que vous faites!
On s'assure que la propriété des voisins reste propre et nous les invitons à TOUS les concerts! Même s'ils n'ont pas le goût de venir, au moins ils ne se sentent pas exclus. On a dû nettoyer le plancher du commerce d'en dessous, car de la bière avait coulé jusqu'en bas. On a même dépensé 1000 $ et passé une semaine entière à refaire le plancher.
Nous n'avons jamais tenté d'organiser des concerts pour en tirer un vrai revenu, qui aurait servi à payer le loyer et les comptes. Le côté lucratif nous aurait inévitablement forcés à organiser trop de concerts, à faire chier les voisins, et aussi possiblement à accueillir des concerts plates.
J'imagine que tu as été témoin de beaucoup de changement en dix ans dans le quartier de Soybomb. Comment avez-vous fait pour conserver votre emplacement et votre éthique au travers tous ces changements?
On a été chanceux. Notre loyer n'a jamais vraiment été augmenté durant les dix années que nous avons passées ici. Je crois que c'est surtout parce que nous sommes de bons locataires. J'aime vraiment ce que nous avons à Soybomb et je ne voudrais jamais risquer de le perdre en étant un locataire fatiguant et en cassant les pieds du propriétaire. Donc encore, rester ambassadeur.
Mais le quartier a changé, vraiment. Le développement de condos et de maisons aux alentours a amené une nouvelle sorte de résidents et, avec eux, d'autres sortes de commerces. Puis, il y a eu le feu à Duke's Cycle en 2008 et plusieurs icônes du quartier ont disparu. Un à un, les commerces moins branchés ont disparu, les loyers ont monté et une multitude de boutiques de souliers, de vêtements, de meubles, des spas, des restaurants et des bars chics ont pris leur place. Je ne peux pas dire si c'est bon ou mauvais, mais le prix des loyers a grimpé en flèche, ce qui a en retour éloigné la plupart des gens du coin plus enclins au DIY et à l'autogestion.
Pour ce qui est du maintien de notre éthique dans notre façon de participer à la communauté musicale et d'encourager les autres à y participer, je ne crois pas que les changements dans le quartier affectent cet aspect. Avec l'essor de la mentalité DIY dans notre culture, je pense qu'il y a une part de respect envers les gens qui se lancent dans cette voie.
Qu'est-ce que ces dix années représentent vraiment pour toi? Es-tu nostalgique au sujet des choses qui sont arrivées depuis le début ou est-ce que tu évites ce genre de sentimentalité?
Ces dix années ont passé trop vite. C'est dur! Quand tu es occupé et que tu a les yeux rivés sur de petits objectifs (et j'en ai des milliers), tu ne te rends pas vraiment compte que ça passe.
Je chéris certains moments du passé de Soybomb. Tout récemment, une de mes plus grandes influences musicales de tous les temps, Nick Sakes — un des membres principaux du groupe Dazzling Killmen, et plus tard Colossamite, puis Sicbay — a joué lors d'un concert pour mon anniversaire avec son nouveau projet Xaddax, un duo bizarro-noise constitué de sa partenaire Chrissie et lui-même. J'essaie encore de la comprendre, celle-là. C'est pas mal en haut de ma liste des choses à voir.
Je suis fier de tout ce que j'ai accompli ici, mais je ne m'assis pas là-dessus. Je me concentre toujours sur le prochain projet. Au bout du compte, je veux seulement que les succès du passé facilitent de nouveaux projets stimulants. Je me laisse rarement aller à la sentimentalité.
Qu'est-ce que vous prévoyez pour le 10e anniversaire? On aura des groupes comme Alaskan d'Ottawa, Expectorated Sequence de Montréal, le retour deBlack Faxes (qui interprétera une tralée de chansons des Misfits), des coqueluches d'ici, Pretty Mouth, et bien d'autres feront leur apparition.
La célébration aura lieu sur deux jours : vendredi 25 octobre et samedi 26 octobre, et les deux soirées seront des bals costumés d'Halloween, bien sûr! On fera imprimer des affiches de l'événement et peut-être même qu'on pensera à des t-shirts Soybomb à nouveau. À l'habitude de Soybomb, les détails seront démêlés à la dernière minute avant les concerts. Hé!
---