Tag: indie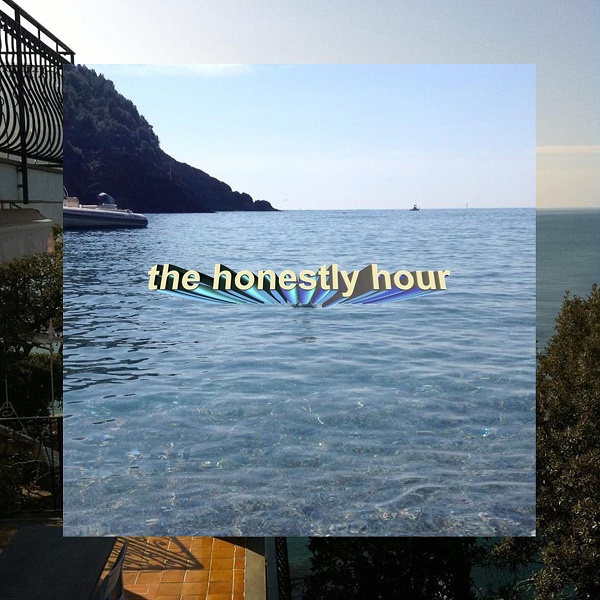 No Problem
The Honesty Hour
(Self-Released)
Halifax, NS
From the flu saturated state of Caleb John Schriver:
No Problem's college rock leanings and post-teenage yearnings equate to a back-to-school fever dream in the honestly hour. From purchasing shoes to inviting Kurt Inder to after parties, these young Truro boys conjure up a delirium where things like "cheapcruise.dad.com" can only make sense. No Problem couples songwriting prowess and their own "popsicle rock" to create a serenity, likened to waking up from a mid-day nap, dehydrated with one sock on and barely still on the bed. This nap is satisfying, like unrolling the cuffs of your pants and only finding a little bit of lint.
De l'état saturé de la grippe de Caleb John Schriver:
(Traduit par l'angoisse adolescente de Maya Keshav)
Les tendances de rock à l'université et les désirs postadolescence de No Problem équivalent à un rêve fiévreux de la rentrée scolaire dans the honestly hour. De l'achat de chaussures jusqu'à l'invitation de Kurt Inder aux afters, ces jeunes garçons de Truro font apparaître un délire où les choses comme "cheapcruise.dad.com" ont du sens. No Problem couple la prouesse parolière à son propre "popsickle rock" pour créer une sérénité, qui nous fait penser à quand on se réveille d'une sieste de iournéei, déshydraté avec seulement une chausette et tout juste sur le lit. Cette sieste est satisfaisante, comme quand on déroule ses revers de pantalons et on trouve juste un petit peu de peluche.
No Problem – She Can't Help Herself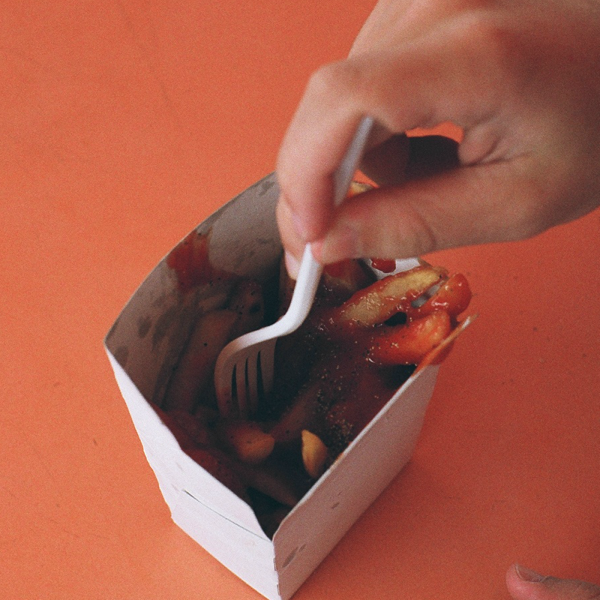 LA ROSE
lean period
(Self-Released)
Toronto, ON
From the scraped knees of Joshua Robinson:
Bedroom sophistry unfurls late-night curlicues, its lo-fi heartache screaming synthesized apologies that bounce off walls to rest, at long last, in the deepening emptiness of the space between weary ears. A catalogue of downtrodden pop-plunderphonics that bleed soft-spoken requiem; these entries are retreating voices and cigarette smoke, turning bright and polished daydreamed lovery into pale, ghostly, mournful parables. Intoned sepia dreams; clouded glasses and knees scraped against sharp pavement. The answer to the echoes that dance upon an upside down stage eyes hooked to the shadows that move across quiet ceilings.
Des genoux râpés de Joshua Robinson:
(Traduit par les roucoulades douces de Maya Keshav)
Le sophisme d'alcôve déroule des enjolivures nocturnes, pendant que son chagrin lo-fi hurle des excuses synthétisées qui rebondissent sur les murs jusqu'à ce qu'elles se reposent, enfin, dans le vide de plus en plus grand entre des oreilles fatiguées. Un catalogue des pop-plunderphonics opprimés qui dispersent le requiem doux; ces entrées sont des voix en retraite et de la fumée de cigarette qui transforment les roucoulades rêvées brillantes et bien polies en paraboles pâles, spectrales, et funèbres. Les rêves sépia entonnés; la buée sur les lunettes et les genoux égratinés par la chaussée rugueuse. La réponse aux échos qui dansent sur une scène à l'envers, les yeux rivés aux ombres qui se déplacent sur les plafonds silencieux.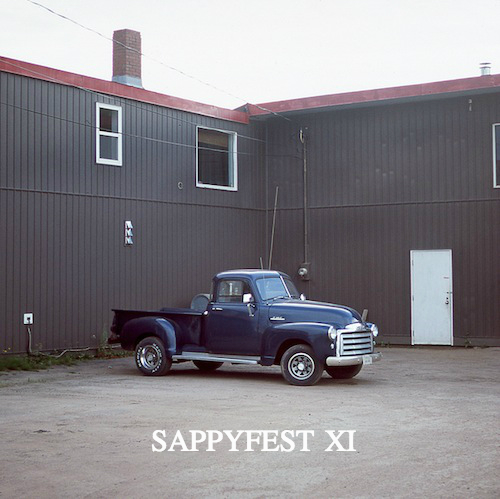 Photo by: Corey J. Isenor
Sappyfest XI

July 29th – 31st, 2016

Various Artists
Sackville NB
Des vagabondages nébuleux de Teddie Brock:
(Traduit par le désastre au chocolat de Maya Keshav)
Tu passes un autre été léthargique mis de côté dans les Maritimes? Secoue cette stupeur confortable en se promenant au cœur sentimental de Sackville au N.-B. cette fin de semaine, et savoure la lueur fluorescente d'un food truck fish-and-chips. Après, suscite ta propre recette du désastre avec Cupcake Ductape, Chocolat, Nancy Pants, et encore plus de petits plaisir saigres-doux faits-maison. Il n'y a nulle part ailleurs que nulle part.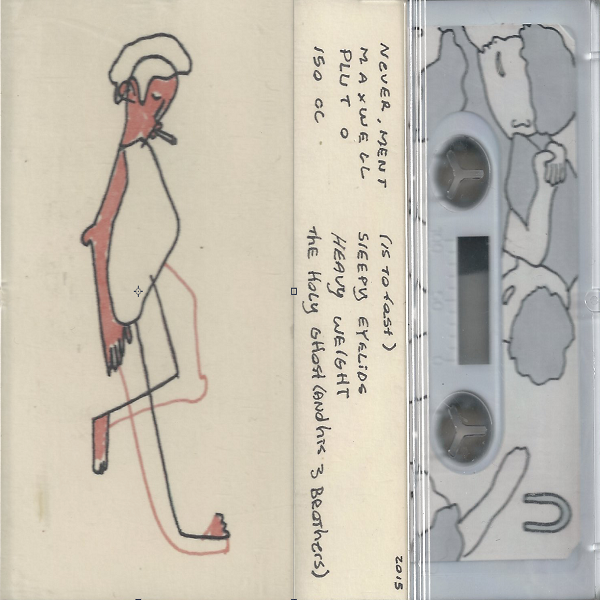 Fish Food
For Mortimer
(Self-Released)
London, ON
From the slack jaw of Rachel Bellone:
Small town Southwestern Ontario is a place with time to kill between house shows. Fish Food fills up the time by mashing hands against instruments and writing lyrics for a brother, a partner, a friend, and even the mean drunk guy, while having big big plans in a small small pond. For Mortimer is homespun and hard hitting, like the smell of cookies in your childhood home which you gobbled for granted. When creativity in this age hits fast and slick, Fish Food reminds us there's still time for new friends, handmade cassettes, and songs with throwback indie vibes and topical beats.
De la mâchoire détendue de Rachel Bellone:
(Traduit par Julie Mayer)
Le sud-ouest de l'Ontario est une petite ville où il y a du temps à tuer entre les spectacles faits main. Fish Food remplit ces temps morts en frappant ses mains contre des instruments de musique et en écrivant des paroles de chansons pour un frère, un partenaire, un ami et même le méchant type saoul, tout en ayant de grands, grands plans dans un petit, petit étang. For Mortimer est fait maison et percutant tout comme l'odeur des biscuits que vous engloutissiez pour acquis quand vous étiez petits. Malgré cette ère dans laquelle la créativité ne fait que passer, Fish Food nous rappelle qu'il est encore temps de se consacrer aux nouvelles amitiés, aux cassettes artisanales, aux rythmes tropicaux ainsi qu'aux chansons composées d'ondes indie qui retournent aux sources.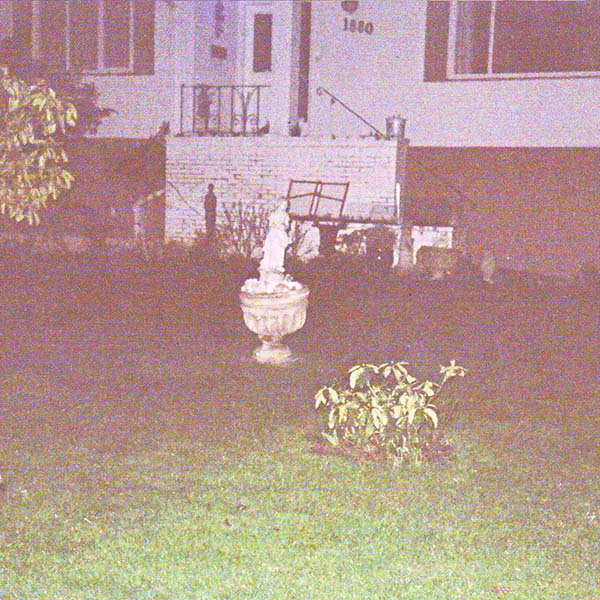 ACAB Rocky // Molly Drag
Split
Victoria, BC // London, ON
From the hoop and holler of Kyle Mytruk:
Sitting alone, staring out a window while it rained. Walking down a rain soaked street thinking of loves lost. Victoria's ACAB Rocky and London's Molly Drag pull out songs with a quality that's beyond beautiful. Echoing, atmospheric music that will envelope you. Listen over and over again.
Du Hoop and Holler de Kyle Mytruk:
(Traduit par Jessica Grenier)
Regarder la pluie qui tombe, solitaire. Marcher sur une route détrempée en pensant à nos amours perdus. ACAB Rocky de Victoria (C.-B.) et Molly Drag de London (Ont.) nous offrent des chansons surpassant toute beauté, l'écho enveloppant d'une musique atmosphérique. À écouter encore et encore.
Molly Drag – Devils Night 1998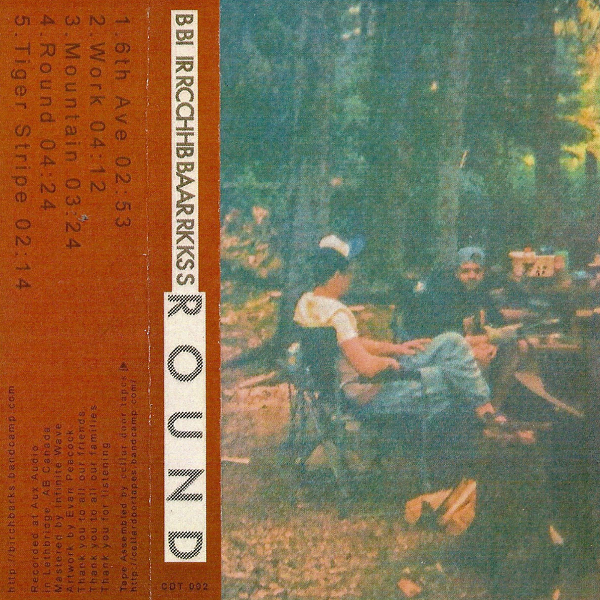 Birch Barks
Round
(Self-Released)
Lethbridge, AB
From the soft underbelly of Katie Jensen:
Two descants plead gently above a dense spring rain. Field recordings captured with reverent hooks are stirred together by wet fingers plucking resonant foundations.
A lonely, hermetic voice solicits observation. Amity is offered in the palm of a hard-edged hand.
Des tendres flancs de Katie Jensen:
(Par la bruine de mots d' Aliké Harel)
La douce complainte en déchant s'élève au-dessus d'une pluie battante printanière; l'amalgame d'enregistrements hameçonnés respectueusement puis unis par les doigts détrempés qui pincent les cordes de la fondation mélodieuse.
Une voix solitaire et hermétique invite à l'observation. L'amitié est offerte dans la paume d'une main calleuse.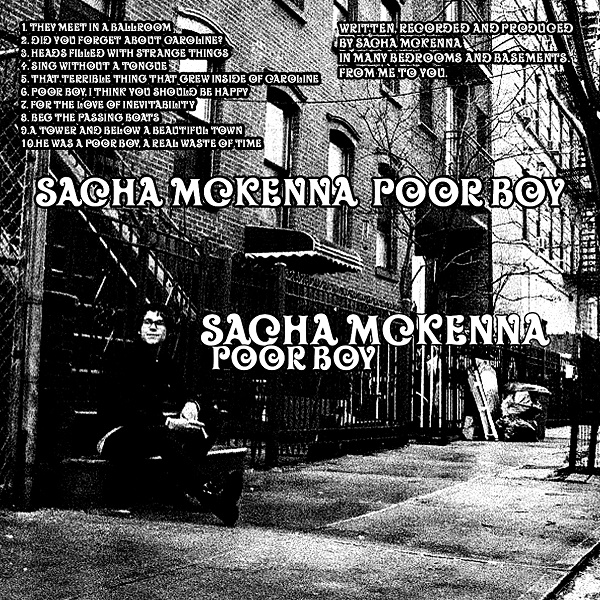 Sacha McKenna
Poor Boy
(Self-Released)
Vancouver, BC
From the melancholy morass of Mark Anthony Brennan:
Caroline. His love for her was his love for life. Her death was the end of light. Remnants, fragments of her being, drift down gently around him like snow. Endlessly. Poor Boy speaks without rhyme, sings without tune. If Caroline could not survive this place, what chance do his words have?
Du bourbier mélancolique de Mark Anthony Brennan:
(Traduit par la brise funeste de Julie Forget)
Caroline. Son amour pour elle a été son amour pour la vie. Sa mort a été la fin de la lumière. Les restes, les fragments de son être, tombent doucement autour de lui comme de la neige. Sans fin. Poor Boy parle sans rimes et chante sans mélodie. Ses mots survivront-ils là où cela a été impossible pour Caroline?
Sacha McKenna – That Terrible Thing That Grew Inside of Caroline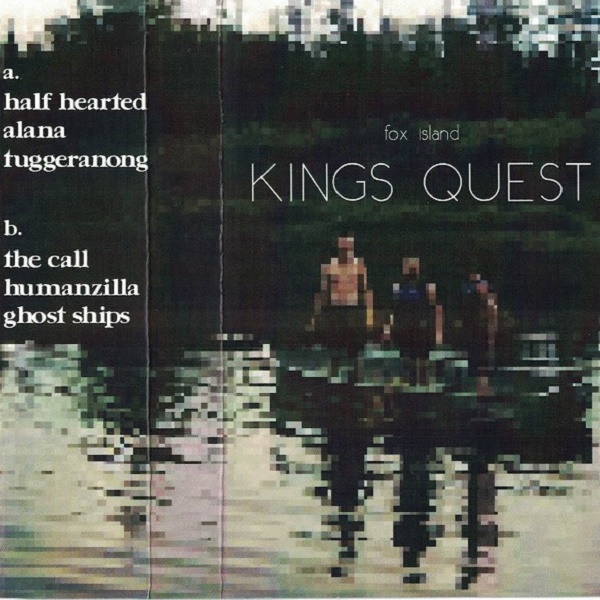 Kings Quest
Fox Island
(Self-Released)
Ottawa, ON
From the reverberated thoughts of Alec Lovely:
A date with friends turns into alone time on a heavy, grey afternoon. Wet concrete, streaky windows, hustle and bustle, flashing lights. No need or want to be with anyone on a day like this – just the right sounds to take you back to yesteryear, sharpened by a lo-fi nostalgia. Wondering how long the people around you will be there, the dream of youth feels like something finite. Spurred by the sounds that feel new and familiar, you wonder when the band in your headphones will be in your city, right in front of you.
De l'écho des pensées d' Alec Lovely:
(Traduit par Jessica Grenier)
Un après-midi lourd et gris. Un rendez-vous avec des amis qui devient un moment de solitude. Le béton mouillé, les vitres zébrées de pluie et de lumière, l'agitation des passants. Une journée où on n'a ni le besoin ni l'envie de côtoyer des gens – il faut juste le bon son pour un retour en arrière, accentué par un lo-fi nostalgique. Les rêves de jeunesse semblent restreints quand on se demande combien de temps les gens vont rester dans notre entourage. Les sons nouveaux mais familiers dans tes écouteurs te font t'interroger sur le moment où le groupe sera devant toi, dans ta ville.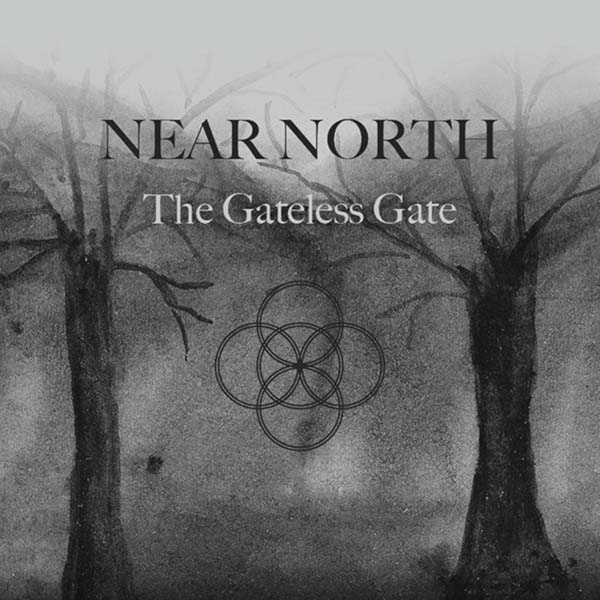 The Gateless Gate
Near North
(Self Released)
North Bay, ON
From the evidenced sounds of Joshua Robinson:
"Quiet". Woolgathering as soft steps struggle to stomach the circuitous decay underfoot. A quiet that doubles as both hum and rattle; tectonic yet remote. Reticence that builds upon itself as so many hours upon the day. This is time lapse caught in situ; the stillness has found mood-form in the vibrance of a tamed chaos. Where the halcyon subsides, we are trapped at the point of denoument and the twirling precipice of soundless collapse. In these faults we find effulgent absence; in absentia we find pieces abridged.
Des sons justifiés de Joshua Robinson:
(Traduit par Jessica Grenier)
« Silence ». Rêvasser en marchant doucement, chaque pas s'efforçant d'assimiler le déclin tortueux du sol. Un silence qui est tant cliquetis que fredonnement, tectonique mais éloigné. Une réticence qui se construit sur elle-même, comme les heures sur le jour. C'est un laps de temps figé in situ, la fixité ayant trouvé sa forme-émotion dans la vibrance d'un chaos dompté. Là où le beau se retire, nous sommes prisonniers du point de dénouement, du précipice tourbillonnant d'un effondrement silencieux. Dans ces erreurs nous trouvons une absence éclatante; in absentia, des pièces abrégées.

The Gateless Gate – Our Forest Walk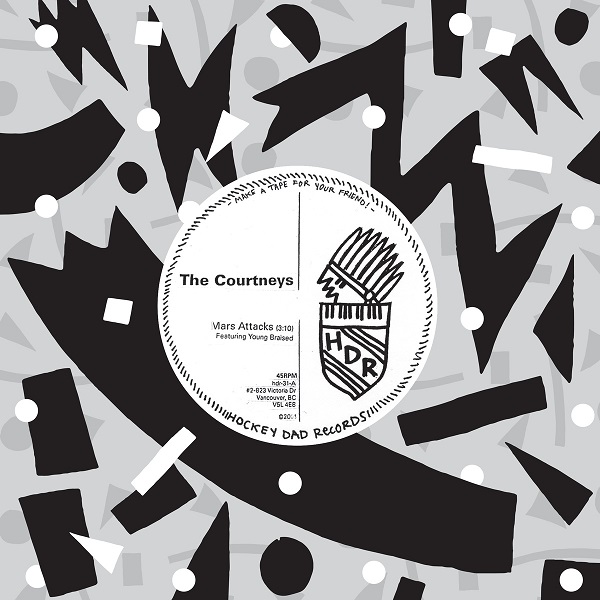 The Courtneys
Mars Attacks 7″
Vancouver, BC
From the dreaded mini tart of Jibril Yassin:
Dragging feel good down into the suburban darkness from whence it came, The Courtneys have shown restraint for not following up a lauded collection of summer goodness with something similar. The summer vacation is winding down and as one can expect, it's starting to get dark – dreams of aliens, under-lit streetlights and Mel Gibson trying to light a joint are what's keeping you awake. But the magic of The Courtneys is you'll likely forget most of this by the time that final chorus comes in. The literature has changed and the cold beer is gone, let's keep up with the times.
Des mini-tartelettes craintives de Jibril Yassin:
(Traduit par Marie-Pier Chevrier)
Traînant les beaux jours jusqu'au fond des ténèbres banlieusardes d'où ils sont venus, The Courtneys se garde bien de donner suite à leur recueil adulé de joies estivales avec quelque chose dans le même ton. Les vacances d'été s'achèvent inévitablement, il se fait tard et des rêves d'étrangers, de lampadaires vacillants et de Mel Gibson tentant d'allumer un joint sont là pour vous garder éveillés. Mais la magie de The Courtneys est telle que vous aurez tout oublié d'ici l'arrivée du dernier refrain. La littérature a changé et la bière froide n'est plus, essayons de garder la cadence.
---