Tag: indie-rock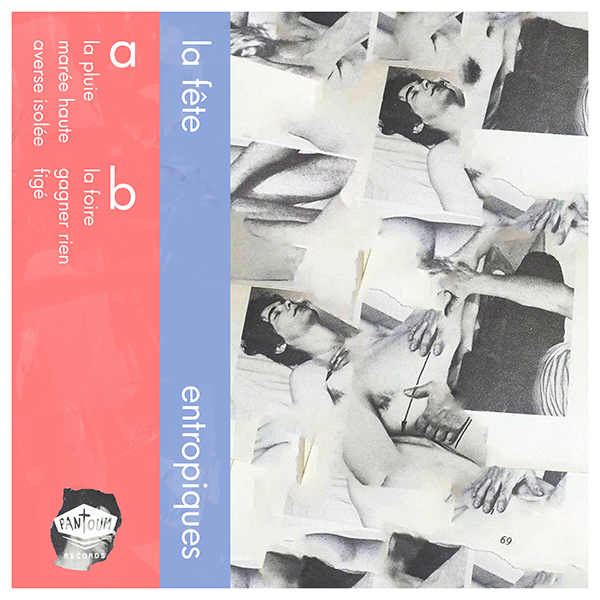 La Fête
Entropiques
Québec, QC
Du ressac lyrique de Mathieu Bédard:
*Entropiques* est un système qui se construit et se défait en permanence, alternant entre des rythmes bondissants et fragmentés et des explorations sonores planantes. Les instruments jouent parallèlement les uns aux autres, sans relâche mais sans se presser, pareils à des gouttes de pluie qui se répondent en tambourinant. L'élément liquide est partout, dans le flux et le reflux de la voix aussi, dont les trémolos agissent comme la marée, qui emporte ou dépose le ruissellement dissonant des guitares. Idéal pour méditer en regardant la pluie, ou pour courir en dessous les yeux fermés.
From the lyrical riptide of Mathieu Bédard:
(Traduit par Sergio Calla)
Alternating between the leaping and fragmented rhythms and soothing sound explorations
*Entropiques* is a system that is constantly created and destroyed. Tirelessly, the instruments calmly play in unison, similar to raindrops which sound like a beating drum. The liquid element is everywhere, in the ebb and flow of the voice too, whose tremolos carry or deposit the guitars' sour runoff like the tide. Ideal to meditate by rainfall, or to blindly run under it.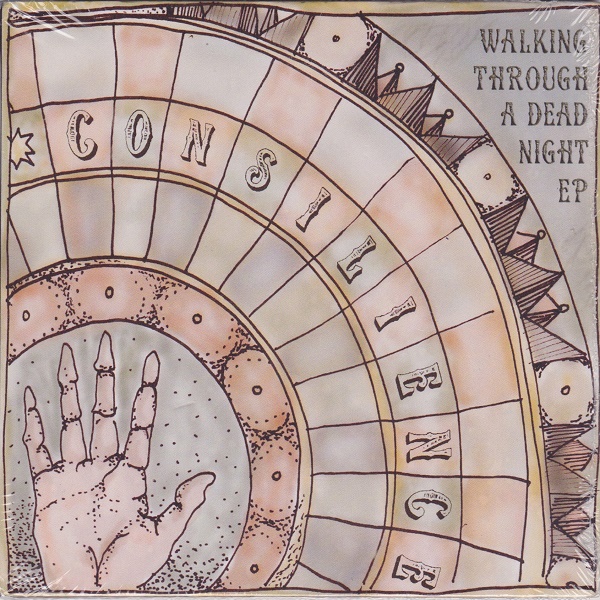 Consilience
Walking Through A Dead Night
(Self-Released)
Edmonton, AB
From the day-old cabinet of Jibril Yassin:
On Walking Through A Dead Night, Consilience are a band of gifted tricksters. What unfolds as gentle dream pop theatrics unfolds into something a lot more vital and energetic. Yet you can't shake off the hazy atmospherics sonic architect Tasy Hudson has grown so fond of incorporating into the songwriting. On "Proud Soul," the band cycle through its coda again and again, Hudson's vocals reaching for the sky as the band begins to erupt all around her. It's a conclusion that delivers.
Du cabinet d'un jour de Jibril Yassin:
(Traduit par Julie Mayer)
Sur l'album Walking Through A Dead Night, les membres de Consilience sont une bande d'arnaqueurs doués. Ce qui se dévoile comme étant une douce théâtralité pop onirique se révèle être une chose bien plus vive et énergique. Toutefois, tu ne peux pas te débarrasser de l'atmosphère brumeuse que l'architecte acoustique Tasy Hudson s'est peu à peu attachée à intégrer à la composition de ses chansons. Dans « Proud Soul », le groupe tourne autour de sa coda encore et encore. La voix de Hudson atteint les étoiles tandis que le groupe entre en éruption tout autour d'elle. Une conclusion libératrice.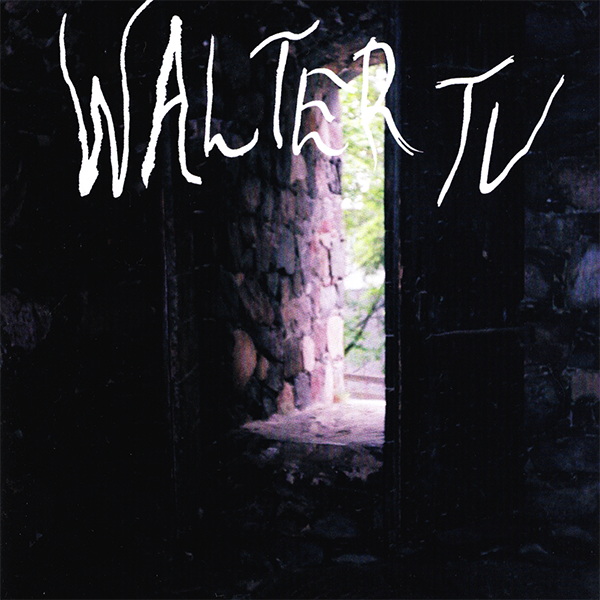 Walter TV
Blessed
Vancouver, BC
From the outrageous orations of Jake Bornheimer:
Blessed seems to be the work of a kaleidoscopic collective of swamp–punks crafting deranged melodies and raucous riffs for psychotic garage pop anthems — yelping & screaming, in warmly warbling stereo, shades of Machiavellian chorus — serving out deluxe dishes of sizzling psychedelic surf. And what a fine work it is! I find myself reveling in a rippling rainbow of resonance: drums thumping, guitars chiming, and distended vocals oscillating in my sensory periphery, as my brain locks into Walter TV's otherworldly slacker groove, propelled into the ionosphere by "Tall Mountains," where I rest with the soft Aurora Borealis.
Des discours extravagants de Jake Bornheimer:
(Traduit par la roue des couleurs de Julie Mayer)
Blessed s'apparente au travail d'un collectif kaléidoscopique de voyous marécageux qui réalisent des hymnes de pop garage psychotiques avec une mélodie dérangée et des riffs rauques déchaînés (glapissements et cris dans une chaîne stéréo chaleureuse et babillarde, nuances de chœurs Machiavélique) et qui servent de délicats mets d'ondulations psychédéliques et grésillantes. Mais quel beau boulot! Je me retrouve en pleine félicité dans un arc-en-ciel ondoyant de résonance : le battement des tambours, le tintement des guitares et les chants distendus oscillent dans ma périphérie sensorielle tandis que mon cerveau entre dans le groove oisif surnaturel de Walter TV, propulsé par « Tall Mountains » dans l'ionosphère, où je m'étends auprès de la douce Aurore Boréale.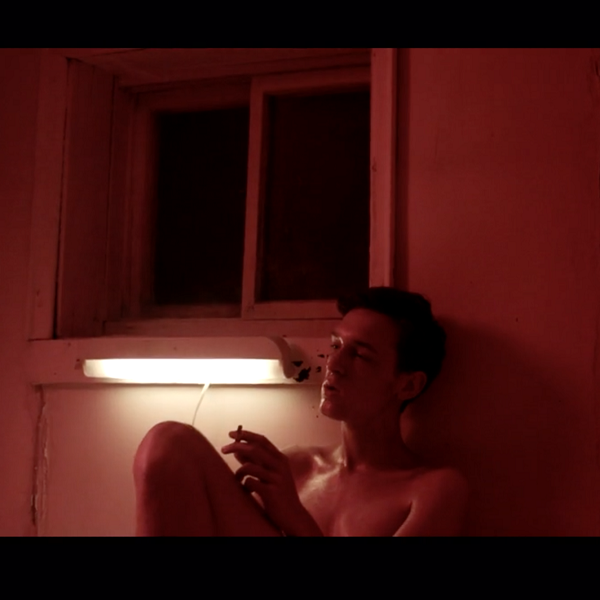 Fish Food
Untitled
Dawson City, YK
From the sweaty, humid atmosphere of Kimberly Edgar:
The rose-tinted reality of this video is all wanting and waiting. The song is a 'wish-you-were-here' postcard sealed with a french kiss. The sweaty, humid atmosphere is caused by the sexual tension leaking out of your pores. You are waiting for your lover to come home, with nothing to do but lounge about in your underwear. Waiting, waiting, waiting.
De l'atmosphère humide, en sueur de Kimberly Edgar:
(Traduit par les accalmies rafraîchissantes Marie-Pier Chevrier)
La réalité teintée de rose de cette vidéo n'est que désir et attente. La chanson est une carte postale à la j'aurais-aimé-que-tu-y-sois, scellée d'un baiser. L'atmosphère humide de sueur est due à la tension sexuelle s'échappant de tous vos pores. Vous attendez le retour à la maison de votre amant, avec rien d'autre à faire que de vous prélasser en sous-vêtements. Et attendre, et attendre, et attendre.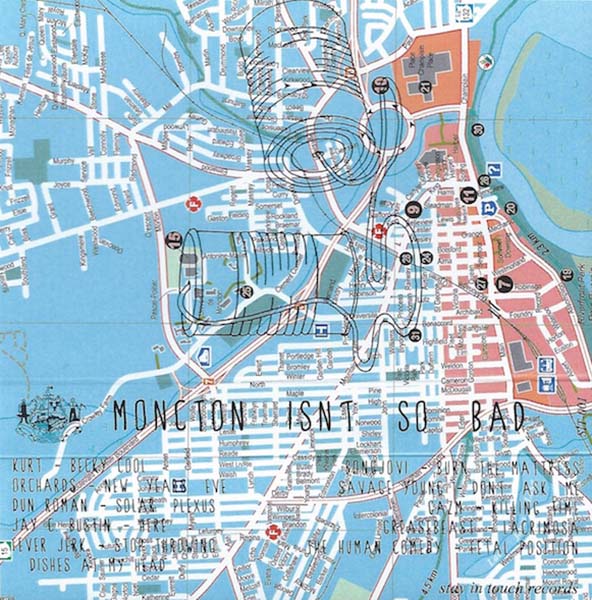 Stay In Touch Records
"Moncton Isn't So Bad" Compilation
Moncton, NB / Halifax, NS / Montreal, QC
From the poutine pizza of Mike Roy:
From the shadows of the East Coast rises Stay in Touch Records and their tribute compilation to the city that raised them, Moncton, NB. Moncton Isn't So Bad serves up a hot-and-ready, sonic pizza, its 10 slices topped with the tastes and flavours of a diverse community. The sweet and steamy bedroom pop from Kurt Inder will immediately entice you, while the piping hot garage riffs of Bong Jovi scorch at your tastebuds. Stay in Touch delivers the beautiful underbelly of a talented Moncton community simply bubbling with potential (and possibly mozzarella cheese).
De la pizza-poutine de Mike Roy:
(Traduit par le capharnaüm infernal de Julie Mayer)
Stay in Touch Records émerge des ombres de la côte Est et leur compilation rend hommage à la ville qui les a élevés : Moncton au Nouveau-Brunswick. Moncton Isn't So Bad sert de la pizza acoustique toute-chaude-toute-prête dont les 10 pointes sont garnies de goûts et de saveurs issus d'une communauté diverse. La pop de chambre douce et humide de Kurt Inder va vous allécher sur-le-champ alors que les riffs de garage fumants de Bong Jovi brûlent vos papilles gustatives. Stay in Touch livre la belle face cachée d'une talentueuse communauté monctonienne bouillante de potentiel (et sans doute de fromage mozzarella).
Fever Jerk – Stop Throwing Dishes at My Head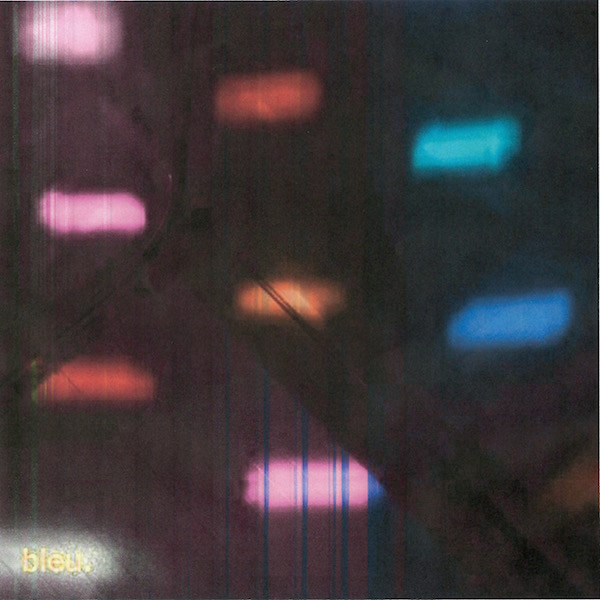 Bleu
Colours II
(Self-Released)
St. John's, NFLD
From the sand between the toes of Mike Roy:
Bleu's Colours II operates like a childhood memory of the beach – sitting in the hot and sticky leather seats of your parents' stationwagon as your father turns on the radio dial. A familiar soundtrack greets your ears as the bubblegum ice cream drips from your cone and gently stains your shirt. Suddenly, a melody washes over you. It's a sonic maelstrom of dreamy, new wave rock that submerges you soothingly. The moment exists peripherally as another drip from cone slowly falls to your skin, but the smile that lingers becomes timeless.
Du sable entre les orteils de Mike Roy:
(Traduit à grands coups de massue solaire par Julie Mayer)
Colours II de Bleu agit comme un souvenir d'enfance à la plage. Pendant que tu es assis sur les sièges de cuir chaud et collant de la familiale de tes parents, ton père allume le poste de radio. Une chanson familière se présente à tes oreilles alors que la crème glacée à la gomme balloune dégouline de ton cornet et tache légèrement ton chandail. Tout à coup, une mélodie t'inonde. C'est un maelström acoustique de rock new wave onirique qui te submerge d'une manière apaisante. L'instant existe en périphérie tandis qu'une autre goutte se détache du cornet pour tomber lentement sur ta peau, mais le sourire persistant devientintemporel.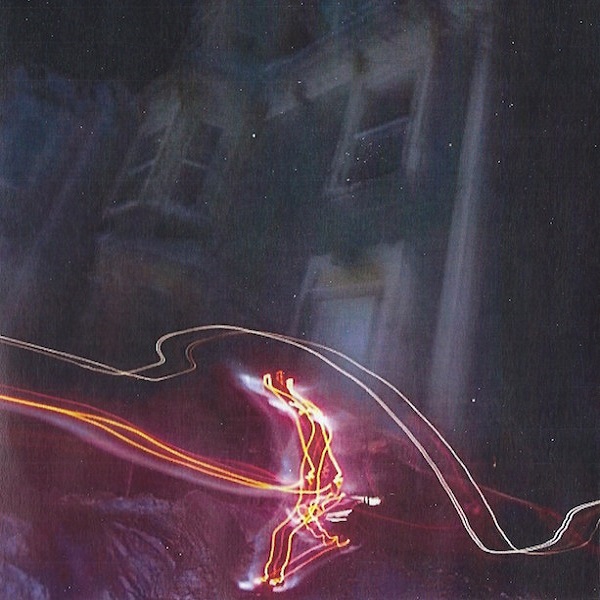 Sleepy
Asleep at the Switch
St. John's, NL
From the bottomless pint of Mike Roy:
Under the moniker Sleepy, Newfoundland's Dan Greene has created a beautiful composite of East Coast sounds for his project entitled Asleep at the Switch. The undeniable influences of power pop ingenues effortlessly combine with the fuzz of 90s garage rock crusaders, but Greene makes the sound all his own by contributing well-crafted lyrics and haunting melodies. You may try to resist the symphonic spell Asleep at the Switch casts upon you, you will soon find yourself caught under its hypnotic sway.
De la pinte sans fond de Mike Roy:
(Traduit sous influence par Virginie Langlois)
Sous le sobriquet Sleepy, Dan Greene, originaire de Terre-Neuve, a élaboré un magnifique composite du son de la côte Est pour son projet intitulé Asleep at the Switch. Les influences indéniables des ingénues power pop côtoient allègrement le fuzz des croisés du garage rock des années 90, mais Greene a su se créer un son bien à lui grâce à des paroles soignées et des mélodies obsédantes. Vous pouvez tenter de résister au charme symphonique de Asleep at the Switch mais vous n'aurez d'autre choix que de succomber à son emprise hypnotique.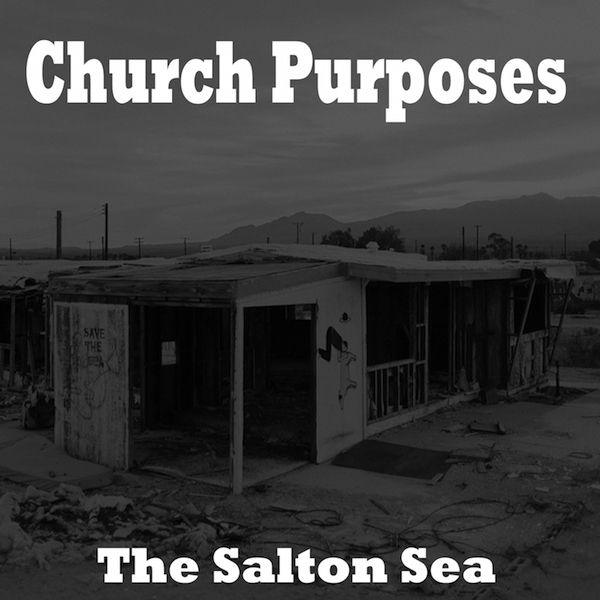 Church Purposes
The Salton Sea
Saint John, NB
From the sinking lifeboat of Mike Roy:
After glancing at a Salton microwave, Church Purposes' Sean Boyer was struck with inspiration to build a record alluding to the tragic history of the Salton Sea. In his conception, the broken, the abandoned and the forgotten are pulled apart, but become painstakingly rebuilt by the pounding of the saline waves. The result is brisk and heavy – a moment of confounding refreshment amidst an ocean of cynicism and anxiety.
Du canot de sauvetage en perdition de Mike Roy:
(Traduit par Mylène Salton Quevillon)
Après avoir jeté un coup d'oeil sur un four à micro-ondes Salton, Sean Boyer de Church Purposes a été illuminé par l'inspiration de produire un un disque faisant référence à la tragique histoire de la mer de Salton. Dans sa conception à lui,tout ce qui est brisé, abandonné et oublié sont écartés, mais ils sont minutieusement reconstruits par le déferlement des vagues salines. Le résultat est vif et profond : un moment de perplexité rafraîchissante au milieu d'un océan de cynisme et d'anxiété.
Church Purposes – All I Want Is To Be Dead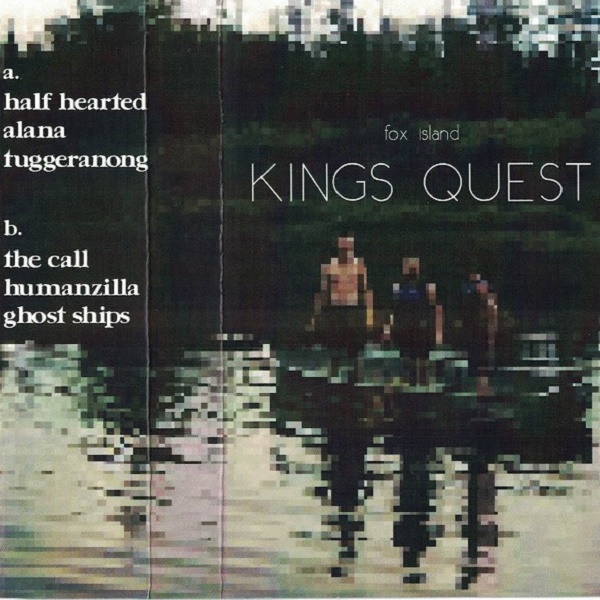 Kings Quest
Fox Island
(Self-Released)
Ottawa, ON
From the reverberated thoughts of Alec Lovely:
A date with friends turns into alone time on a heavy, grey afternoon. Wet concrete, streaky windows, hustle and bustle, flashing lights. No need or want to be with anyone on a day like this – just the right sounds to take you back to yesteryear, sharpened by a lo-fi nostalgia. Wondering how long the people around you will be there, the dream of youth feels like something finite. Spurred by the sounds that feel new and familiar, you wonder when the band in your headphones will be in your city, right in front of you.
De l'écho des pensées d' Alec Lovely:
(Traduit par Jessica Grenier)
Un après-midi lourd et gris. Un rendez-vous avec des amis qui devient un moment de solitude. Le béton mouillé, les vitres zébrées de pluie et de lumière, l'agitation des passants. Une journée où on n'a ni le besoin ni l'envie de côtoyer des gens – il faut juste le bon son pour un retour en arrière, accentué par un lo-fi nostalgique. Les rêves de jeunesse semblent restreints quand on se demande combien de temps les gens vont rester dans notre entourage. Les sons nouveaux mais familiers dans tes écouteurs te font t'interroger sur le moment où le groupe sera devant toi, dans ta ville.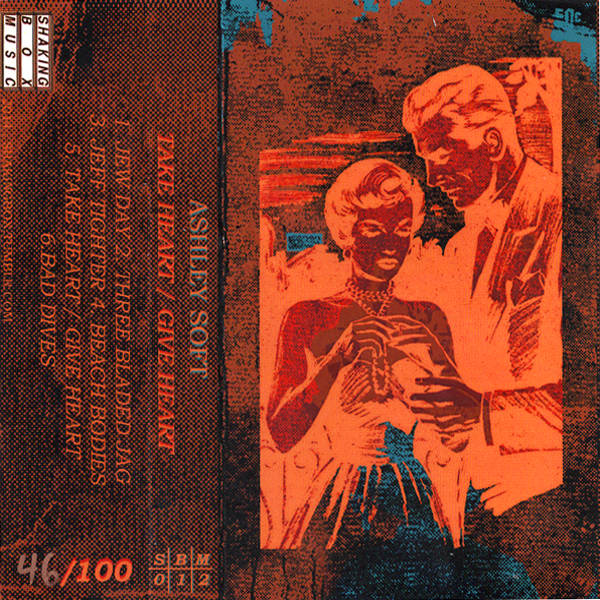 Ashley Soft
Take Heart / Give Heart
Calgary, AB
From the frenzied mania of Matthew Swan:
Sometime in early 2013, Calgary eccentric and ex-Bikeland experimenteur Clarke Mcleod vanished from rodeo town. While details of his absence stay mysterious (evidence of a highly creative Montreal pilgrimage emerged), the results are manifest. Not only has a new project (Ashley Soft) surfaced, but also a completed EP, written and recorded in a month-long frenzy of manic, musical construction. Showcasing his finest work to date, Take Heart/Give Heart trades in Bikeland's buzzsaw guitar shrieks (don't worry they still make cameos) for infectious Malkmus-like jangle-hooks, Silkworm-esque charm, and bucket loads of contemporary quirk. Released via Devin 'Bitter Fictions' Friesen's label Shaking Box Music, Take Heart/Give Heart once again proves that natural gas ain't the only thing coming outta the Alberta underground.
De la manie frénétique de Matthew Swan:
(Traduit par Jessica Grenier)
À un moment donné au début de l'année 2013, l'excentrique calgarien et ex-expérimentateur de Bikeland, Clarke Mcleod, a disparu de la ville du rodéo. Bien que cette absence demeure mystérieuse (des détails prouvant une espèce de pèlerinage hautement créatif vers Montréal ont fait surface), les résultats sont manifestes. Non seulement un nouveau projet (Ashley Soft) est apparu, mais un nouveau EP complet également, écrit et enregistré en un mois frénétique de folle construction musicale. Constituant son meilleur travail jusqu'à maintenant, Take Heart/Give Heart remplace les cris de scie mécanique des guitares (n'ayez crainte, elles font tout de même des caméos) par des accroches contagieuses à la Malkmus, un charme rappelant Silkworm et une tonne d'excentricité contemporaine. Lancé par le label Shaking Box Music de Devin « Bitter Fictions » Friesen, Take Heart/Give Heart prouve une fois de plus que le gaz naturel n'est pas la seule chose pouvant être puisée dans le sous-sol albertain.
---