Tag: indie music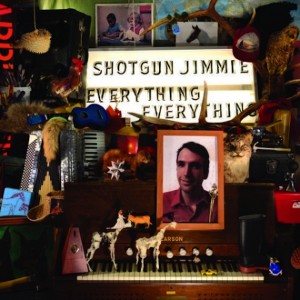 Shotgun Jimmie
Everything, Everything
Brandon, MB
From the slight smirk of Dylan T. Green:
Shotgun Jimmie is a national treasure. Ever since the break up of the criminally underrated Shotgun and Jaybird, he's been honing his effortless, lo-fi rock songs over the course of several albums. The latest, Everything Everything, is perhaps his most focused work. Clocking in at a lean 39 minutes, these 16 tracks are perfect, to-the-point songwriting. The subtle wit of "Sum of my Parts" and "Skype Date" are classic examples of how Jimmie has managed to incorporate a slight smirk into his music as elegantly as Nick Lowe or Jonathan Richman. "Adventure in the Heart" and "Carry On" are fuzzed out 4-track gems. These are endless summer vibes cut into acetate grooves.
Du petit sourire moqueur de Dylan T. Green:
(Traduit par Joannie Pharand)
Shotgun Jimmie est un trésor national. Depuis la séparation de Shotgun & Jaybird, qui sont sérieusement sous-estimés, il perfectionne au fil de plusieurs albums ses chansons rocks Lo-fi facilement. Sa plus récente, Everything Everything est peut-être l'œuvre où il est le plus concentré. Il se met au travail à la 39e minute et fait des 16 pièces des compositions parfaites qui vont droit au but. La subtilité de son intelligence sur « Sum of my Parts » et « Skype Date » sont des exemples typiques de la façon dont Jimmie réussit à incorporer un petit sourire satisfait dans sa musique avec la classe de Nick Lowe et Jonathan Richman. Les pièces « Adventures in the Heart » et « Carry on » sont des bijoux embrouillés de format 4-pistes. Elles représentent les ambiances d'un éternel été coupées en rainures sur un disque vinyle.
Shotgun Jimmie – Standing in a Line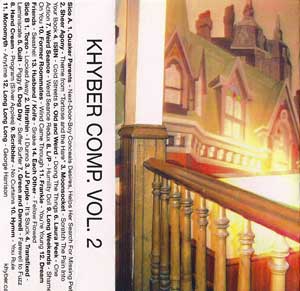 Various Artists
Khyber Compilation II
(Self Released)
Halifax, NS
From the monomythic archways of Alison Lang:
Halifax's most endearing/enduring art space, the Khyber, has once again been feted with a compilation of tape tunes from local artists and musicians, most of whom have played/jammed/come of age under the archways, the ballroom, the turret. As with last year's comp, this is a love letter to something fragile and beautiful and important – moreover, it's massive (27 songs!), thoughtfully curated and brilliant. There are so many meaty, gorgeous gems here – Monomyth's "Anytime" is soaring sweetgaze, while scene vets Scribbler reach achingly fuzzed-out heights with "No Curtains." The winsome youngsters of ISBN donate a slice of grainy, brainy twang-pop and there are similarly tasty outings from the now-defunct Long Long Long and its ashes, Each Other, risen in Montreal to smile and destroy. There's a ripper Dog Day track too, and a song from local supergroup Green and Darnelle that nods at the city's 90's ghosts and then gnashes them to shreds. Look, I could go on for fucking pages about this tape, I really could, but in the end, I'll leave with some words from a particular standout, the haunting lament "Wind Came Through" by Former Roommates (who, I think, actually are former roommates): The Khyber needs your love, always, and these songs do too. Listen and linger: this is a sound of a scene piled with riches.
Des porches voûtés monomythiques d'Alison Lang: (Traduit par les tourelles imaginaires de Maya Keshav)
L'espace d'art le plus attachant et le plus tenance de Halifax, le Khyber, est encore honoré avec une compilation de tounes cassette des artistes et des musiciens du coin, dont la plupart a joué, fait la bœuf, et est devenu majeur sous les porches voûtés, la salle de bal, la tourelle. Comme pour la compilation de l'année passée, celle-ci est un lettre d'amour à quelque chose de fragile et beau et important — en plus, c'est énorme (27 chansons!), brillant et choisi pensivement. Il y a tant de bijoux consistants et superbes ici— "Anytime" de Monomyth est le sweetgaze planeur, alors que les vétérans de la scène Scribbler atteignent les hauteurs fuzzées à pleurer avec "No Curtains." Les jeunes attachants d'ISBN fournissent une pointe de twang-pop granuleuse et futée, et il y a les balades savoureuses de même du maintenant-défunt Long Long Long et ses cendres, Each Other, qui ont apparu à Montréal pour sourire et détruire. Il y a un morceau balançant de Dog Day aussi, et une chanson du supergroupe du coin Green and Darnelle qui fait allusion aux fantômes de la ville des années 90, et puis les déchirent en éclats. Tu vois, je pourrais continuer pour les feuilles et les feuilles à propos de cette cassette, vraiment je pourrais, mais à la fin, je vais te laisser quelques mots d'une chanson remarquable, la lamentation obsédante "Wind Came Through" par Former Roommates (qui, je crois, sont vraiment les anciens colocs): Le Kyhber a besoin de ton amour, toujours, et ces chansons en ont besoin, aussi. Écoute et reste ici plus longtemps: voici un son d'une scène qui déborde de riches.
Green and Darnelle – Farewell to Fuzz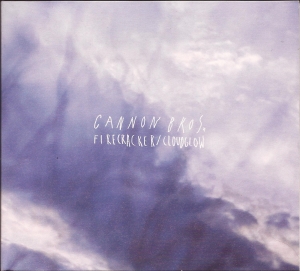 Cannon Bros
Firecracker/Cloudglow
Winnipeg, MB
From the cloudbursting cannon of Taylor Burgess:
This album's ambiguous and visceral title pops like some insta-nostalgic mixture of The Zit Remedy, a nearly forgotten Eric's Trip video and your overwrought LiveJournal entries from high school (which, upon second glance, are much more heartfelt and less embarrassing than you remember). Alannah W. and Cole W. have been making these one-, two-, and three-chorders for a few years now, apparently writing songs tallying into the hundreds, but have pared the laundry list down to 12 for this release. Switching between cymbals, skins and strings, they take turns singing about soft-shoeing through their lives and dealing with, y'know, the shitty stuff, but glossing it over. It all sounds peachy keen, albeit sometimes frantic.
Du canon qui explose les nuages de Taylor Burgess: (Traduit par Maya Keshav)
Le titre ambigu et viscéral de cet album explose comme une sorte de mélange insta-nostalgique de v, un vidéoclip presque oublié d'Eric's Trip, et tes entrées LiveJournal de l'école sécondaire (qui, quand tu les lis encore, sont plus sincères et moins gênantes que ce dont tu souviens). Alannah W. et Cole W. créent ces morceaux d'un, deux et trois cordes depuis quelques ans maintenant; apparemment ils ont crée une centaine de chansons, mais ils ont choisi 12 pour cet album. En alternant entre les cymbales, les tambours et les cordes, ils chantent à tour de rôle à propos de marcher à travers leurs vies et s'occuper des choses, euh, tu sais, merdiques, mais ils passent rapidement sur tout ça. Partout il y a l'air super assidu, même si parfois c'est un peu frénétique.
---