Tag: independent publishing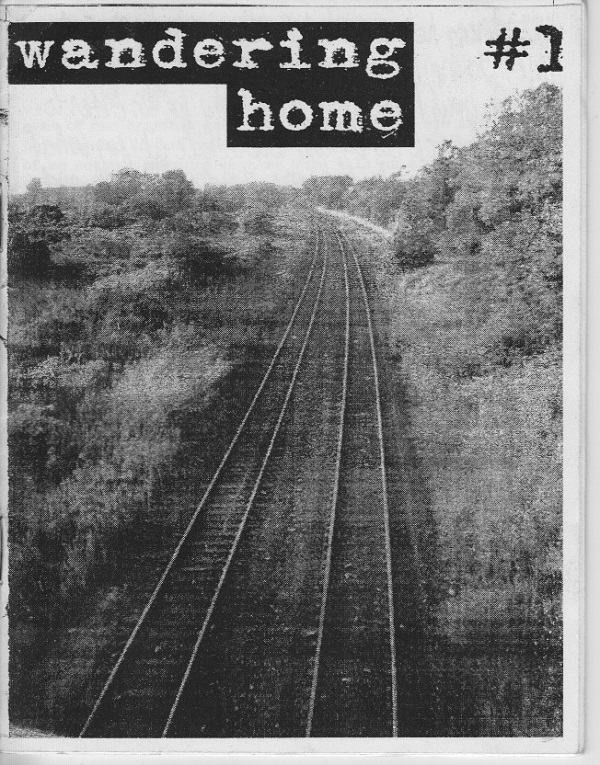 Michelle Pentland
Wandering Home #1
(Self-Published)
Niagara Falls, ON
18 pages saddle stitch stapled
From the zine-filled bedroom of Erin War:
Have you wandered before? Taken your time to get home? Stopped to pet the cats along the way? Lingered to read bits of paper tacked to telephone poles? It's not the destination that is important, but how you get there; the trip and what happens during it.
Wandering Home is based on a collection of journal entries Michelle Pentland wrote at the age of sixteen. Pentland matter of factly recounts the beauty and challenges discovered during the firsts of life – first trip across Canada, first apartment, first memories – reaching back into memory and pulling out the tiny details that make up our tiny lives – the smells, the sounds, and the good the bad feelings.
This quarter-sized zine's gritty, grainy, and cut and paste aesthetic works journal entries and internal, reflective thought into an homage of the perzine form. Wandering Home is about being present during these wanders, taking those moments (heartwarming and heartbreaking) and experiencing them in earnest because these are the bits that make up the bigger bits of our lives.
This is just the first issue of many to come.
De la chambre remplie de zines d' Erin War:
(Traduit par Kevin Godbout)
As-tu déjà erré? Pris ton temps en rentrant à la maison? Ralenti pour flatter les chats le long du trajet ou pour lire des feuilles agrafées sur les poteaux de téléphone? Ce n'est pas la destination qui compte, mais la façon de s'y rendre; le voyage et ce qui s'y passe.
Wandering Home est une collection d'entrées de journal que Michelle Pentland a écrites quand elle avait seize ans. Sur un ton neutre, elle raconte les défis et la beauté des premières — les premiers souvenirs, le premier appartement, le premier voyage à travers le Canada —, fouillant dans sa mémoire pour y puiser tous les petits détails qui composent nos petites vies — les sons, les odeurs, les bonnes émotions et les mauvaises.
Cette toute petite publication au fini granuleux et à l'apparence rapiécée transforme les textes et les pensées qui l'habitent en un hommage du style perzine. Lire Wandering Home, c'est être présent durant ces promenades, c'est prendre ces moments (qui réchauffent le cœur ou qui le brisent) et les vivre sincèrement, car ce sont tous ces petits morceaux qui composent en grande partie nos vies.
Ce n'est que le premier volume de plusieurs à venir.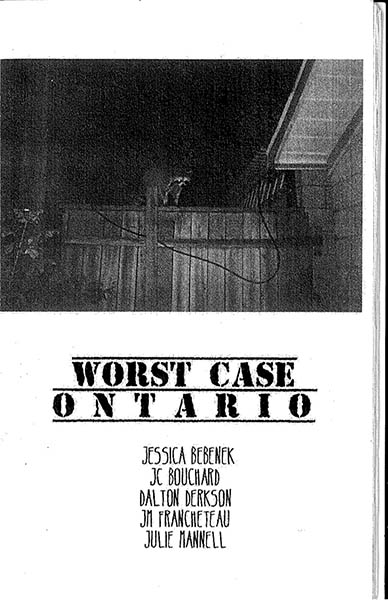 Jessica Berbenok, JC Bouchard, Dalton Derksom, JM Francheteau, and Julie Mannell
Worst Case Ontario
(Self Published)
Toronto, Ontario; Ottawa, Ontario; Montreal, Quebec
47 pages, saddle stitch
From the integrating brainmeats of Eileen Wennekers:
All right. If the kingdom of the symbolic is where we must stage our fight to the death, then there should be a poetry gang. Showing stripes in trajectory, highway lines corralling imploding selves along compass points. No grief here. Look head on into the violent gale of flourescent aisles automobiles x-rays and return the favour and then laugh to hold hands with the limping and soused elemental which is however present as fuck. Qui fait quoi à qui?
"Okay so now I have zero gongs and zero writing implements. Okay so now what am I supposed to do. Write:"
Du *brainmeat* en intégration d'Eileen Wennekers:
(Traduit par Kevin Godbout)
Eh bien. Si le royaume du symbolique est où nous devons présenter notre combat à mort, il devrait y avoir une gang de poètes. Démontrant des bandes en trajet, des voies d'autoroute implosent de l'intérieur au long de points cardinaux. Aucun deuil ici. Regarde droit devant dans le grand vent violent d'allées fluorescentes des rayons x d'automobiles et renvoie l'ascenseur et ensuite rit pour tenir les mains avec l'élément boiteux, imbibé, qui demeure mauditement présent. Who does what to whom?
"D'accord, alors maintenant je n'ai aucun gong ni outil d'écriture. D'accord, alors maintenant ,je suis censé faire quoi? Écrire:"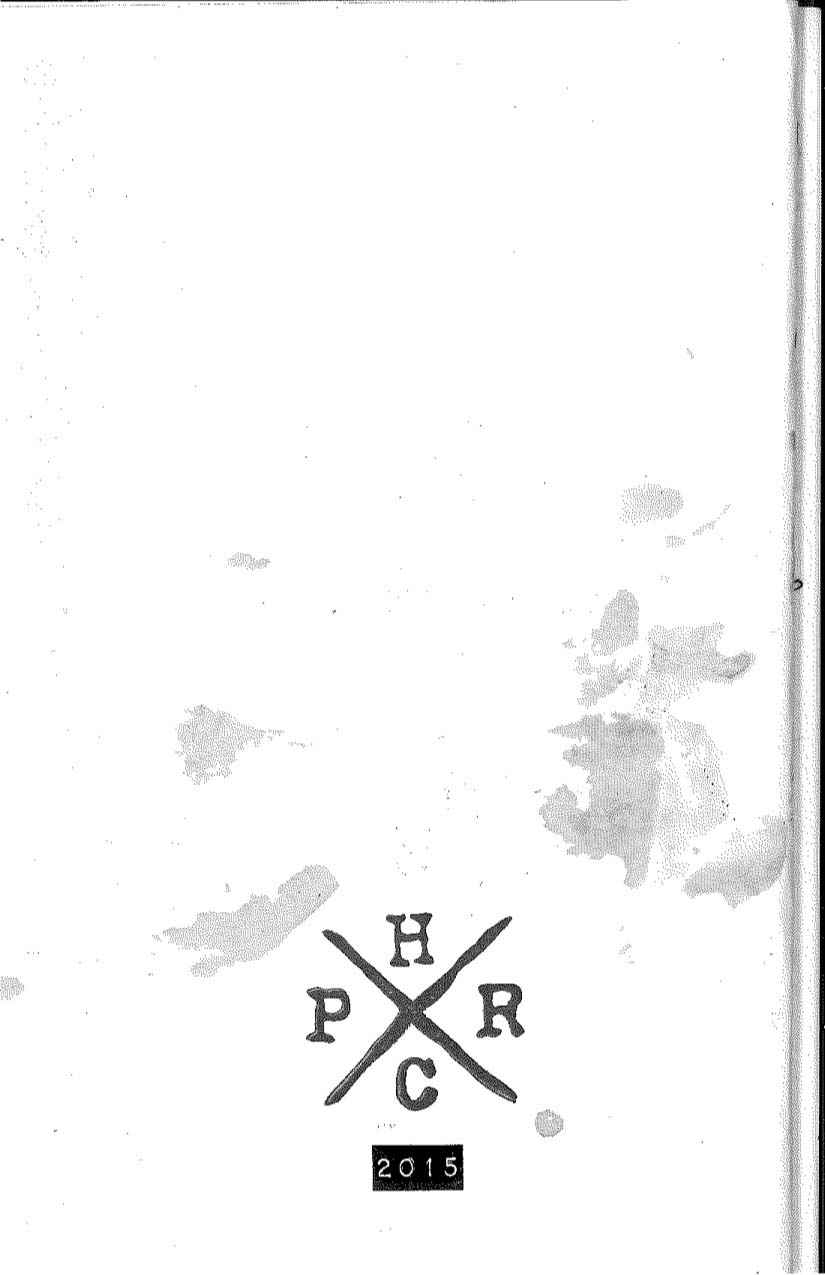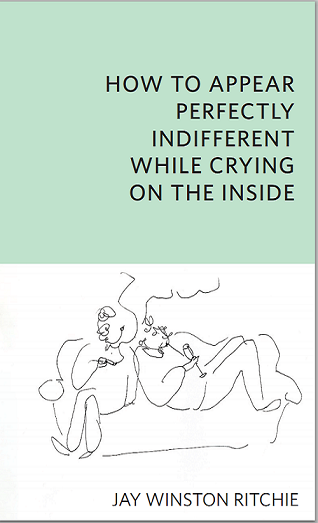 Jay Winston Ritchie
How To Appear Perfectly Indifferent While Crying On The Inside
Montreal, QC
47 pages, saddle stitch
From the fuzzy event horizon of Sara Frank:
Wounds left by the loss of our previous inconvenient and squishy human life, combined with the paradoxical loneliness of our new interconnected cyborgian condition, cause a certain ache which persists constantly – thrumming beneath everyday tedium and triumph. It could be nostalgia or grief for things which have since become hard to find: unserveilled thoughts and whims, a genuine sense of community that extends beyond our feeds, or the wherewithal to visit an actual lake rather than listen to loon calls on Youtube at home.
In a familiar Montreal permeated throughout by the surreal, Richie takes a funny and unsentimental approach to the anhedonic crawl through early adulthood in the digital age, as his characters download computer viruses to their brains, search fruitlessly for the Kim Kardashian sex tape, and question the legitimacy of their entire existence inside of a recognizably indifferent universe.
De l'horizon noir flou de Sara Frank:
(Traduit par l'horizon surréel de Kevin Godbout)
Des blessures laissées par la disparition de notre vie humaine, incommode et gargouillante, se combinant à la solitude paradoxale de notre nouvelle condition cyborg interconnectée; tout cela cause une certaine douleur qui persiste constamment, comme un vrombissement d'ennui et de triomphe du quotidien. Ce pourrait être la nostalgie ou le chagrin des choses qui sont maintenant difficiles à trouver; des pensées et des caprices sans surveillance, un véritable sentiment de communauté qui s'étend au-delà de nos flux, ou le moyen de visiter un vrai lac au lieu d'écouter des appels de huards sur YouTube à la maison.
Au sein d'un Montréal imprégné partout par le surréel, Richie adopte une approche comique et impersonnelle au rampement anhédonique à travers l'âge jeune-adulte dans l'ère numérique: ses personnages téléchargent des virus informatiques à leurs cerveaux, ils cherchent en vain pour le sex tape de Kim Kardashian et ils questionnent la légitimité de leur entière existence à l'intérieur d'un univers visiblement indifférent.
Jay Winston Ritchie
Something You Were, Might Have Been, Or Have Come to Represent
Montreal, QC
From the caricature of Dianne Lalonde:
"The idea of encountering another human being seemed paradoxical to being human." A person-shaped hole is formed for each individual by others – expectations coalescing to fit perfectly the physical body. Jay Winston Ritchie details how the productions of Something You Were, Might Have Been, Or Have Come to Represent pummel the body like hundreds of fish rocketing out of a tube to reinforce their stock. Blows mold you in accordance to what the other's desire projects onto you. You're nothing but signifiers: your neighborhood, the music you play, the hummus you brought to the party Immersion into your hole lessens the brain noise, but not the frustration when confronted with something that cannot be rehearsed or pre-empted. By those words that cannot be easily translated into the symbolic order—stuck in your throat—I meant to say…
De la caricature de Dianne Lalonde: (De la fren-caricature de Kevin Godbout) « The idea of encountering another human being seemed paradoxical to being human. » Chaque individu crée un trou de la taille d'une personne pour y enfouir les autres – les attentes s'unissant jusqu'à former parfaitement l'enveloppe physique. Jay Winston Richie détaille comment les productions de Something You Were, Might Have Been, Or Have Come to Represent labourent le corps comme des centaines de poissons projetés dans un lac pour le réensemencer; les coups te modelant en fonction des désirs que l'autre projette sur toi. Tout ton être n'est que signifiants : ton quartier, la musique écoutée, l'hummus apporté à la soirée. L'immersion dans ton trou réduit les bruits dans ta tête, mais pas la frustration éprouvée quand tu fais face à une chose ne pouvant être répétée ou anticipée. Par ces mots pris dans ta gorge que l'ordre symbolique n'arrive pas à traduire facilement… Ce que je voulais dire c'est…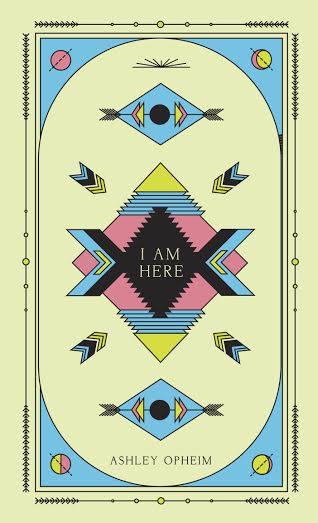 Ashley Opheim
I Am Here
(Metatron)
Montréal, QC
From the programmed dignity of Cassilou Landra:
Ashley's I Am Here
Like a Macbook battery
Charge desktop and chest
Searching for a face
In the avatars floating
Twinkling banner ads
f.lux the screen and swell
Maybe find yourself inside
Your heart in The Cloud
But don't bleach your eyes
Keep faith and fleshy fingers
Programmed dignity
A bible for domestic bliss; this saddle-stitch.
De la rapide machine-de-traduction qu'on nomme Cassilou Landra:
(Traduit par Kevin Godbout)
Le I am here – je suis ici d'Ashley
Une batterie Macbook qu'on
Recharge: ordi et poitrine
Cherche un visage
Parmis les avatars qui flottent
Des annonces en-têtes brillantes
f.lux l'écran et l'enflure
Tu es à l'intérieur, peut-être
Ton coeur dans Le Nuage
Ne verse pas de javel dans tes yeux
Garde espoir et doigts charnus
Dignité programmée
Une bible de la joie domestique; cette reliure d'agraffes.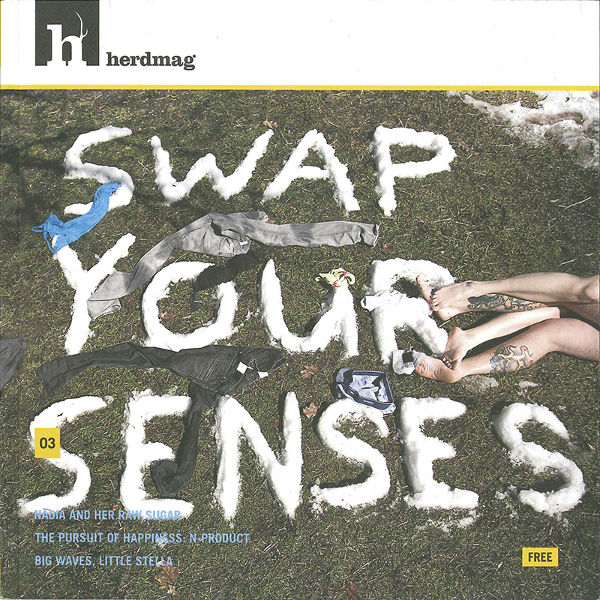 Herd Magazine
Issues 01-03
01: pp. 74 // 02: pp. 82 // 03: pp. 78
glue/adhesive bound
Ottawa, ON
Editor: Stephanie Vicente
From the grassroots of Brian Fauteux:
Communities are built and sustained through documentation, collaboration, participation.
Herdmag, free and published independently on a quarterly basis, begins its inaugural issue with a personal letter that offers itself to the city of Ottawa, its home. Herd is a platform for local cultural institutions, musicians, artists, chefs, and writers to make their presence known. With the turn of each page, the idea that one's creative trajectory must include moving to a larger metropolis (nearby Montreal or Toronto, for instance) is challenged.
"You're not looking hard enough." Here is a vibrant roster of groups and individuals who are making things happen. Locally.
In a gripping story about the closure of a historic downtown nightclub, an onlooker imagines what a typical night during the club's heyday might have been like. Ghosts and figments of the past are recalled alongside the old, discarded carpet that once caught the broken glass of flashbulbs. Herdmag is a collection of these glass shards. Only it is alive and active right now, reflecting, sharing, and documenting cultural activity so that one will never have to wonder about how the city might have looked, sounded, and moved.
Du mouvement Grassroots de Brian Fauteux:
(Traduit par la soif du passé de Louis-Félix Pellerin)
Pour faire rouler une communauté, il faut combiner ces trois choses : documentation, collaboration et participation. Herdmag, un trimestriel indépendant gratuit, ouvre son premier numéro avec une lettre personnelle adressée à sa ville d'origine, Ottawa. Herd est une plateforme sur laquelle des musiciens, des artistes, des chefs cuisiniers, des écrivains et des organismes culturels peuvent se faire connaître. La notion que tout cheminement créatif doit passer par les plus grandes agglomérations (comme Montréal ou Toronto, par exemple) est remise en question à chaque page.
« Tu ne cherches pas assez loin. » Voici un vibrant catalogue d'artistes et de groupes qui font brasser la scène locale. Dans une histoire poignante à propos de la fermeture d'un club du centre-ville, un observateur imagine ce qui devait être une soirée typique lorsque l'établissement était à son apogée. Spectres et bribes du passé sont retrouvés aux côtés du vieux tapis qui a naguère attrapé les fragments d'ampoules cassées. Herdmag est une collection de ces mêmes morceaux de vitre. Contrairement à la vieille bâtisse, le magazine est toujours actif en ce moment, remémorant, partageant et documentant l'activité culturelle pour que personne n'ait plus jamais à se demander de quoi la ville avait l'air dans le temps.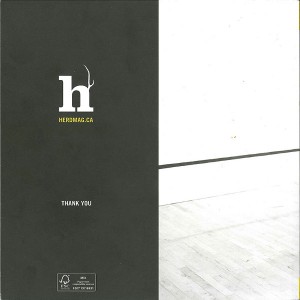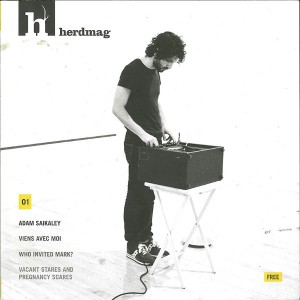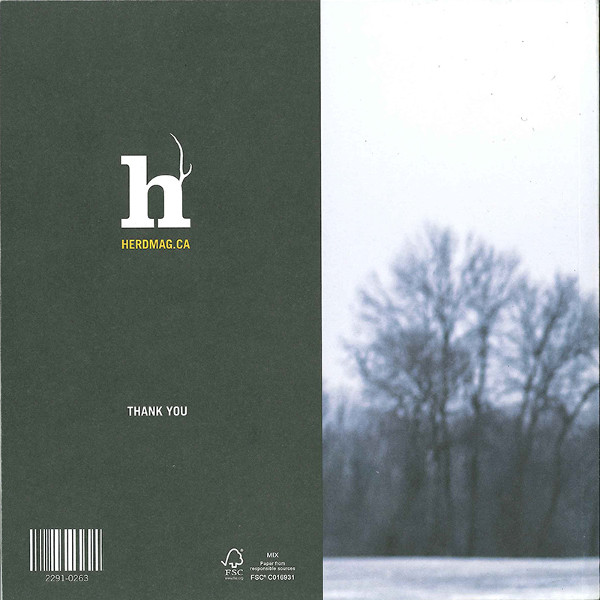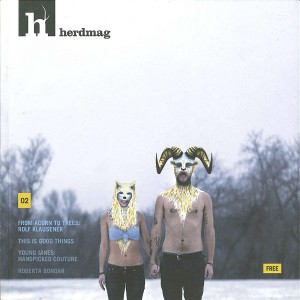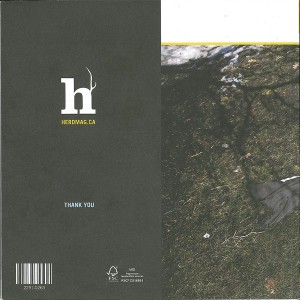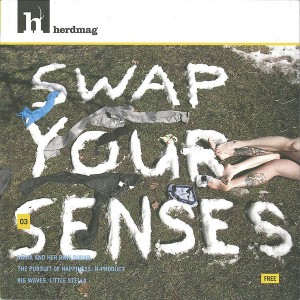 ---