Tag: incredible
Chris Reimer
The Chad Tape
(No Label)
Calgary, AB
From the first cut of Jesse Locke:
The crater-sized hole left by Chris Reimer's passing continues to be felt by everyone who knew, loved or listened. As the not-so-secret weapon behind Women's spidery guitarmonies, he inspired a new generation of golden Calgarians and sprinkled magic dust throughout the subterrain. However, Chris was also an accomplished experimentalist, as heard on cuts like "Woodbine" from Women's self-titled debut and an iridescent solo set captured live at Weeds Café.
A similar soundworld can be found within this cassette, originally commissioned by Chad VanGaalen and now lovingly bundled with Chris's words and art. From the six-string melancholia of "Trees Die In Switzerland" and "Small Piece For Guitar" to the white noise fuzz-bath of "Stuck/Rvrs/Talentless Hack" and ominous orchestrations of "Overweight Motorcycle Cops" there's a sonic cornucopia here. Yet it's the extended pieces that truly linger, whether explored via La Monte Youngian sundaze in "Truck Middle (digital 1)", sighing strings and sparse pianos peppered throughout the 10 minutes of "Truck Part One", or "Finnish Song (2)" trembling like wind chimes in a snowglobe full of hiss. All proceeds benefit the Chris Reimer Legacy Fund, but the real gift of The Chad Tape is its guided tour through another side of a boundless imagination. Purchase here.
Du premier jet de Jesse Locke: (Traduit par le larsen de Maya Keshav)
L'énorme trou créé par le décès de Chris Reimer continue d'être perçu par tout le monde qui l'a connu, aimé, ou écouté. En tant que l'arme pas-si-secrète derrière les guitarmonies minces de Women, il a inspiré une nouvelle génération des Calgariens dorés, et il a saupoudré la totalité de l'avant-garde de son magie. En plus, Chris était un expérimentateur doué, comme on voit avec les tels morceaux que "Woodbine" sur le premier album éponyme de Women, et un concert solo irisé enregistré en live au Weeds Café.
Un paysage sonore semblable se trouve dans cette cassette, la création de laquelle était commandée initialement Chad VanGaalen, et qui est maintenant empaqueter soigneusement avec les mots et l'art de Chris. Depuis la mélancolie guitare de "Trees Die In Switzerland" et "Small Piece For Guitar" jusqu'au larsen flamme-flou de "Stuck/Rvrs/Talentless Hack" et les orchestrations sinistres de "Overweight Motorcycle Cops" il y a une cornd d'abondance ici. Mais ce sont les morceaux prolongés qui restent vraiment dans la tête, soit qu'ils sont explorés via l'ensoleillement de La Monte Youngian dans "Truck Middle (digital 1)", les cordes grognantes et les pianos rares qui tachettent les dix minutes de "Truck Part One", ou "Finnish Song (2)" qui tremble comme un carillon dans une boule à neige rempli de larsen. Tous les profits seront remis au Chris Reimer Legacy Fund, mais le vrai don de The Chad Tape est son voyage guidé à l'autre côté d'une imagination sans limites. Achetez-le ici.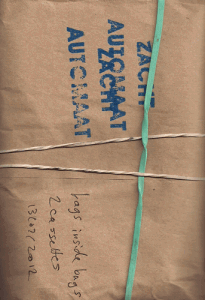 Zacht Automaat
Bags Inside Bags
(Self Released)
Toronto, ON
From the Wümme transplant of Jesse Locke:
The depth of Zacht Automaat's bag of tricks seemingly knows no bounds, as evidenced by this lysergic whirligig of a double cassette. The Toronto-via-Hamilton-via-The Spaceways duo bent minds with their inaugural 2010-11 onslaught (seven original albums and a Beatles cover record) and have now drifted back into the cosmic consciousness with another hour-plus of mood-altering bubblegum. For Bags Inside Bags, the O.G. pairing of Ganesha-armed multi-instrumentalists Carl Didur and Michael McLean have enlisted Louis Percival (a.k.a. Broken Tree Fort a.k.a. Onakabazien) to man the traps, and Colin Fisher (one half of NTW,NTF) to lay down some skin-peeling sax. This monster release travels from kraut stomp to interstellar bliss-out with stops at the circus and of course a day-trip to Canterbury. For a deeper dip into the Automaat ouevre, check this in-depth and in-the-know article from the desk of Slim Twig.
Du transplant Wümme de Jesse Locke: (Traduit par Maya Keshav)
La profondeur du sac à malice de Zacht Automaat connaît aucune limite, avec ce manège lysergique d'une double cassette comme témoin. Le duo de Toronto-via-Hamilton-via-The Spaceways a courbé les cerveaux avec leur première attaque de 2010-11 (sept albums originaux ainsi qu'un enregistrement reprise de Beatles) et ils sont maintenant retournés dans la conscience cosmique avec plus d'une heure de bubblegum pop qui font changer les humeurs. Avec Bags Inside Bags, le jumelage gangster original de multi-instrumentalistes avec les bras de Ganesha Carl Didur et Michael McLean a fait appel à Louis Percival (alias Broken Tree Fort alias Onakabazien) pour garder les pièges, et Colin Fisher (une moitié de NTW,NTF) pour jouer un saxo qui épluche la peau. Cet énorme morceau voyage depuis le kraut stomp jusqu'à la détente intersidérale avec les arrêts au cirque et bien sûr une excursion à Canterbury. Pour une baignade plus profonde dans l'œuvre d'Automaat, checkez cet article détaillé et au courant de la table de Slim Twig.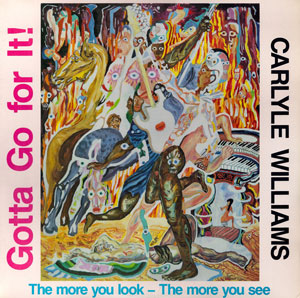 Carlyle Williams
Gotta Go For It!
(Eternal Art & Music)
Montréal, QC
Originally Released: 1988
From the eternal art of Alexander Moskos:
Here it is: the Patron Saint of weird Canadian records. Alongside Corpusse's Delusions and Bernard Bonnier's Casse-Tête, Carlyle Williams' Gotta Go For It! forms the Holy Trinity of '80s Montreal private press beauty; each of them summing their parts and transcending with a one-man-one-wholly-formed vision possessed of unbridled id and utter disdain for the prevailing rules and praxis.
Forgotten in the usual fetishizing of the "filles du roi" cypher (1), beyond bloodlines French-royal and First Nation, is that Montreal's women posses the ultimate sexy quality: good taste. And so it went that Leila Majeri (2) and Marie-Douce St. Jacques (3) played me Gotta Go For It! and on each separate occasion, my mind split open, the air charged, everything changed, and the damn crew hasn't been the same since.
Released in 1988 and recorded at the Unidisc studios (4) in Montreal's St. Henri neighbourhood, Gotta Go For It!'s qualities are many: blocky Chung King Studios drum programming, a careening non-chops guitar style that sounds like The Birthday Party minus the fireworks-display fay hairdos, and streams of vocal overdubs that make whomever Tim Buckley thought he was on Starsailor seem like a sane and well adjusted man. Some tracks have a synthetic tropical vibe that predicates the various fi's (5) of the last half-decade like a boss, raising bloody hell in the listener's mind, forcing one to reconsider every aesthetic category.
For all its sonic density and deistic power, Carlyle's message, via truly inspiring vocal work, is positive: obsessive self-awareness and accompanying self-criticism can be reality forming, that the more you look INSIDE the more you will see. That, as he says on "No Reason", "There is no reason for your next depression. And that's the truth." Which as an underlying vibe makes Gotta Go For It! unique amongst the great works of 20th century Canadian art.
Gotta Go For It!'s sleeve states: "The more you look – The more you see", and like all amazing ass records, the more you listen, the more you hear.
Carlyle Williams – Self-Criticize Daily …
Carlyle Williams – The Price …
Carlyle Williams – Gotta Go For It …
(1) These women, who were poor and undereducated, often orphaned, and in their teens or early twenties, were sent over from France for the men of Canada. The rumour-that-won't-die is that they were prostitutes.
(2) Screen printer extraordinaire, often using the nick Alphonze Raymond, and also the drummer in the amazing Yomul Yuk.
(3) Editor-in-chief of the awesome aMAZEzine, which lasted a few issues, came with a GYBE! 7" and generally covered a zone, Marie-Douce was also the Farfisa player and vocalist in Pas Chic Chic! I sat down with her to discuss this piece.
(4) Obviously, as the '80s wore on and disco, particularly the French-Canadian kind, receded in popularity, Unidisc fell on hard times and started renting out their facilities cheap. They were based in the RCA building, who obviously were slowing down themselves.
(5) Lo, no, slow, glow, hi and high fidelities, be it Ariel Pink, Spencer Clark, James Ferraro and the rest, you can hear Carlyle in the faux madness. The incredible Afternoon Penis tape on Heavy Tapes is the most obvious student of Gotta Go For It!, however. Worth looking into for fans of Carlyle.
De l'art éternel d'Alexander Moskos:
(Traduit par Odile Leclerc)
C'est ici : le Saint Patron des étranges records Canadiens. Avec Delusions de Corpusse et Casse-Tête de Bernard Bonnier, Gotta Go For It! De Carlyle Williams forme La Trinité Sainte de la beauté de la presse privée des années 80 de Montréal; chacun d'eux additionnant leurs parties et transcendant avec un-homme une vision complètement formée possédée d' ID incontrôlées et de total dédain pour les règles actuelles et les pratiques.
Oublié dans le fétichisme habituel du code ''filles du roi'' (1), au-delà des lignées royales Françaises et des Premières Nations, c'est que les femmes de Montréal possèdent l'ultime qualité sexy : de bon goût. Et alors c'est venu que Leila Majeri (2) et Marie-Douce St. Jacques (3) m'ont joué Gotta Go For It! Et à chaque occasion séparée, mon esprit c'est fendu, l'air s'est chargé, tout a changé et la putain d'équipe n'a jamais été la même depuis.
Sortie en 1988 et enregistré aux studios Unidisc (4) dans le quartier de St. Henri à Montréal, les qualités de Gotta Go For It! sont multiples : la programmation de batterie des Studios Chung King en bloc, un style carénant de guitares sans techniques qui sonne comme The Birthday Party moins les coiffures fay de démonstration de feu-d'artifice et de flots des sur-enregistrements vocales qui fait à quiconque Tim Buckley pensait qu'il était sur Starsailor sembler comme une personne saine d'esprit et un homme bien arrangé. Quelques pistes ont une sensation synthétique tropicale qui attribuent les fis(5) de la dernière moitié de décennie comme un champion, faisant un boucan monstre dans l'esprit des auditeurs, forçant l'un à reconsidérer chaque catégorie esthétique.
Pour toute sa densité sonique et son pouvoir déiste, le message de Carlyle, via un travail vocal réellement inspirant, est positif : de la conscience de soi obsessive et accompagner l'autocritique peut former la réalité, dont le plus vous regardez à l'INTÉRIEUR le plus vous verrez. Ceci, comme il dit dans ''No Reason'', '' Il n'y a pas de raison pour ta prochaine dépression. Et c'est la vérité.'' Ce qui en tant qu'une ambiance sous-adjacente rend Gotta Go For It! unique parmi les grands travaux de l'Art Canadien du 20e siècle.
La pochette de Gotta Go For It! dit: ''Plus tu regardes—plus tu vois'', et comme tout les super géniales enregistrements, plus tu écoutes, plus tu entends.
Carlyle Williams – Self-Criticize Daily …
Carlyle Williams – The Price …
Carlyle Williams – Gotta Go For It …
(1) Ces femmes, qui étaient pauvres, sous-éduquées et souvent orphelines, dans leurs adolescence ou début vingtaine, étaient envoyées pour les hommes du Canada. La rumeurs qui ne veut pas mourir c'est qu'elles étaient des prostituées.
(2) L'extraordinaire de la sérigraphie, utilisant souvent le surnom Alphonze Raymond, et aussi le batteur dans le formidable Yomul Yuk.
(3) Éditeur en chef du super aMAZEsine, qui a duré quelques publications, est venu avec un GYBE! 7'' et couvre générallement une zone, Marie-Douce était aussi la joueuse et chanteur de Farfisa dans Pas Chic Chic! Je me suis assis avec elle pour discuter de cette pièce.
(4) Évidemment, alors que les années 80 s'usaient et le disco, particulièrement le genre Français-Canadien, diminuait en popularité, Unidisc est tombé sur des temps durs et a commencé à louer leurs installations à bon prix. Ils étaient basés dans l'édifice RCA, qui eux aussi évidemment ralentissaient.
(5) Basse, sans, lente, brillante, hi et haute fidélité, que ce soit Ariel Pink, Spencer Clark, James Ferraro et le reste, vous pouvez entendre Carlyle dans la fausse folie. L'incroyable cassette Afternoon Penis sur Heavy Tapes est l'étudiant le plus apparent de Gotta Go For It!, cependant. Ça vaut la peine d'y jeter un coup d'œil pour les fans de Carlyle.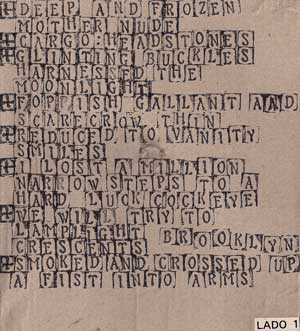 Expwy
Bag of Waters
(Self released)
Montreal, QC
From the howling lungs of Aaron Levin:
With insatiable pop addiction, Expwy forge wondrous anomalies between classic riffery and a future primitive brimming with mutant fuzz and choralic melancholy. Bag of Waters enslaves with every sonic ritual, finding wikked balance between jangled nuance and blasted harmonies; without warning, it'll radiate cultic catchiness to every stalwart remover within the spectral radius of your dual blaster. Its ambitious existence remains a beacon to the brilliant creative energies exploding within our tundradic paradise. Totally and unabashedly awesome.
Des poumons hurlants d'Aaron Levin: (Traduit par Maya Keshav)
Avec l'addiction insatiable de la pop, Expwy façonne les anomalies merveilleuses entre la rifferie classique et un avenir primitif qui déborde de fuzz mutant et de mélancolie chorale. Bag of Waters vous rendent esclave avec chaque rituel sonique, en trouvant un équilibre méchant entre la nuance cliquetante et les harmonies bruyantes; sans alerte, il va émaner l'entraînement cultuel à chaque déménageur loyal dans le rayon spectral de votre double pistolet. Son existence ambitieuse reste un phare pour les énergies brillantes et créatives qui explosent dans notre paradis toundratique. C'est complètement génial sans éprouver la moindre honte.
Expwy – Glinting Buckles Harnessed the Moonlight
Expwy – I Lost a Million Narrow Steps to a Hard Luck Cockeye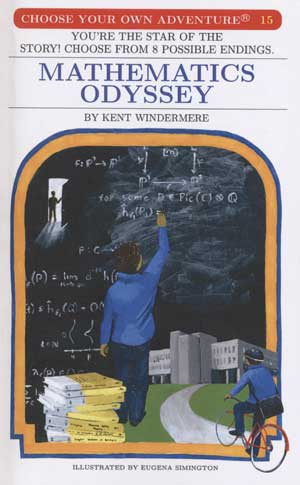 Mathematics Odyssey
Written by / Écrit par: Kent Windermere
(Self Published)
[93pp. Perfect Bound]
Vancouver, BC // Toronto, ON
Published: 2010
From the well-chosen adventuring of David Steinberg:
Clean, austere, marmoreal: the penetrating realism of the DIY choose-your-own-adventure Mathematics Oddyssey by Kent Windermere, illustrated by Eugena Simington, is the perfect fictionification of everyone's first real analysis professor. The author's outlook for the future treads a careful path between bleak and hopeful. Were he constrained to the typical linear narrative, he would have been forced to come to terms with the ultimate conclusions to which all stories refer: the continuity of life, the inevitability of death. From his own uncertainties Kent crafts something much more elusive: an expression of the stress that is caused by the knowledge that your life depends solely on your choices. Though focused tightly on mathematics throughout (and let me stress this point: contemporary research-level mathematics, and the style of life such research provides), the message applicable to you and I rings loud and clear: choose wisely.
Des aventures bien choisies de David Steinberg: (Traduit par le prof de maths de Maya Keshav)
Épuré, austère, marmoréen: le réalisme perçant de l'aventure DIY livre-jeu Mathematics Oddyssey par Kent Windermere, illustré par Eugena Simington, est la fictionification parfaite du premier prof réel d'analyse de tout le monde. La vision de l'avenir de l'auteur conserve un équilibre entre la désolation et l'espoir. S'il était limité au récit typique linéaire, il serait certainement forcé à accepter les conclusions ultimes auxquelles toutes les histoires font allusion: la continuité de la vie, le caractère inévitable de la mort. De ses propres incertitudes Kent crée quelque chose de beaucoup plus compliqué: une expression du stress qui vient de la connaissance que ta vie dépend complètement de tes choix. Même si c'est étroitement concentré sur les mathématiques partout (et laisse moi souligner ça: les mathématiques contemporaines et professionnelles, et le style de vie que la telle recherche fournit), le message s'applique à toi et il s'annonce haut et fort: choisis sagement.
---