Tag: improv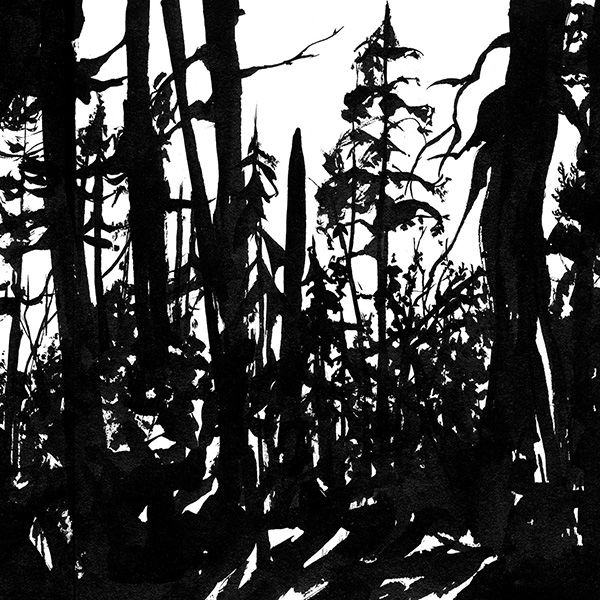 Totenbaum Träger
Ouverture du cadavre de Sade
Montréal, QC
De la kabbale morbide de Mathieu Bédard:
Replaçant Sade dans le contexte néolibéral, Ouverture du cadavre de Sade est un livre-disque qui se soustrait au ton gourmand des chercheurs de scandale et souligne plutôt le caractère sinistre du banquet. Dans son requiem pour trompette au « souffle malade » et pulsations de guitare lancinantes, Totenbaum Träger nous offre la trame sonore d'un saccage planétaire du point de vue de ses échos. Les collages des éditrices juxtaposant bribes d'actualités économiques et images dérangeantes forment quant à eux une kabbale morbide qui révèle, entre des pages que le lecteur doit déchirer, la réalité abjecte de nos pulsions collectives : des coulées d'or se substituent au sang, au sperme et aux larmes des illustrations de tortures. Le tout nous propose une alchimie renversée qui nous pousse jusque dans les derniers retranchements de la chair, là où de toute part ça crie « non ».
From the morbid Kabbalah of Mathieu Bédard:
(Translated by L. Langille)
Replacing Sade in a neoliberal context, Ouverture du cadavre de Sade is a book-album which focuses less on the gourmet elements of those looking for scandal and underlines instead the sinister character of the banquet. With its requiem for sick trumpet and darting guitar pulsations, Totenbaum Träger signs this sonic fabric with a planetary plunder from the point of view of its echos. The collages of the books juxtapose snippets of business news and deranged images to form a morbid Kabbalah which has, within the pages that the reader must tear apart, the abject reality of what we collectively draw on; streams of gold replace streams of blood, sperm and tears in these illustrations of torture. It is a reversed alchemy which pushes us until the edge of flesh, where we scream no from all sides.
Totenbaum Träger – Offertorium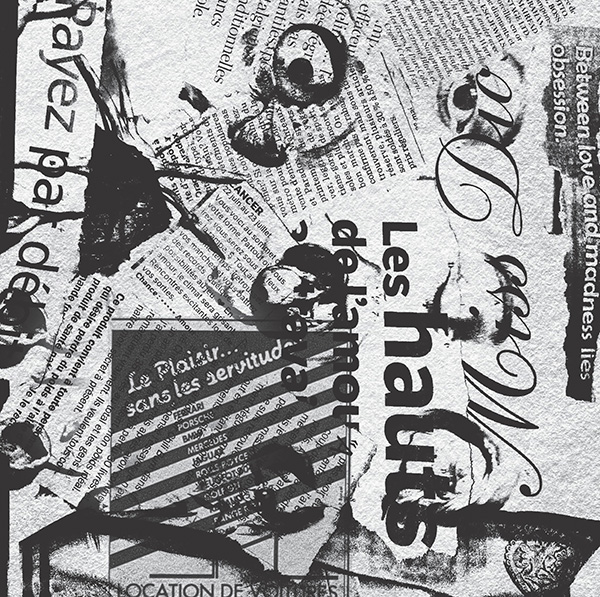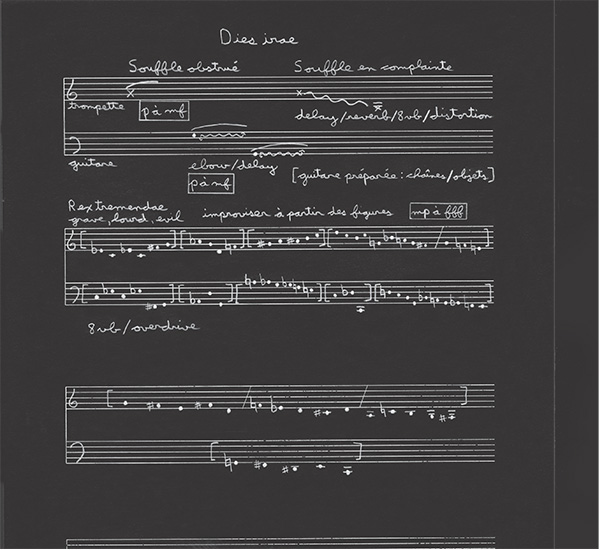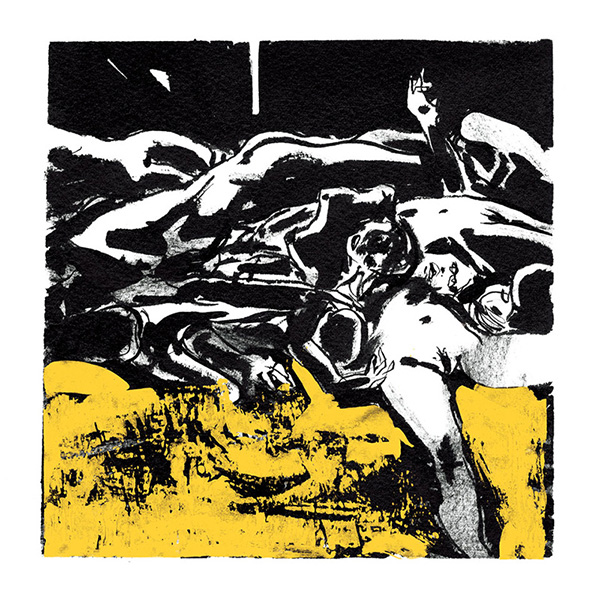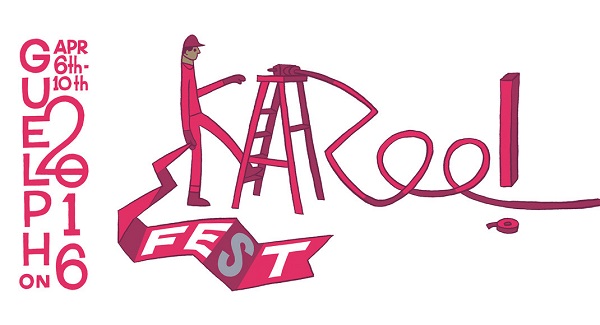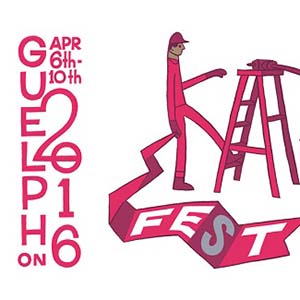 Kazoo! Fest 2016
Guelph, ON
From the ruling fingers of Sara Bortolon-Vettor:
Kazoo! Fest oozes out over 5 days in the intimate downtown core of Guelph. The 8th Kazoo! runs from April 6-10 2016, and soars to hit every weird sweet spot imaginable. An experiential annual delight, lifting our sneakers above the clouds.
What can you expect this year in the Royal City, where everything rules? A tightly curated lineup of everyone's favourite darlings, dreamers, stoners, visionaries, originators, best bad dads, experimenters, soul lifters, and heart tuggers are charming your ears over 5 blissed-out days.
Check out the Guelph Night Market (buy handmade stuff at night); Golden Bus Film Screenings (featuring Life of a Craphead's Bugs); contemporary dance; improv with The Making Box; the Kazoo! Print Expo; experiential art installations like the TrinkeTron 6750; plus live visuals and art gushing all over town.
Meet us at Vienna's for breakfast?
Par les doigts gouvernants de Sara Bortolon-Vettor:
(Traduit par les orifices fleurissants d'Émily Traichel):
Kazoo! Fest s'écoule le long de 5 jours dans l'intimité du coeur du centre-ville de Guelph. Le 8e Kazoo! a lieu du 6 au 10 avril 2016, et s'enligne pour toucher à tous les points forts du weird. Un délice annuel expérientiel, qui élève nos baskets par dessus les nuages.
À quoi pouvez-vous vous attendre cette année dans la cité royale, où régnent toutes sortes d'expression créative? Une programmation soigneusement sélectionnée des bien-aimés, rêveurs, stoners, visionnaires, initiateurs, méchants pères, expérimenteurs, leveurs d'esprit, et vibreurs de cordes sensibles préférés de tout le monde vous enchante les oreilles pendant 5 jours de félicité.
Découvrez le marché de nuit, le Guelph Night Market (achetez des items faits à la mains la nuit); les Golden Bus Film Screenings (en vedette, Bugs de Life of a Craphead); de la danse contemporaine; de l'impro chez The Making Box; l'exposition d'imprimerie de Kazoo!; des installations d'art expérientielles telle que le TrinkeTron 6750; et encore bien plus de montages visuels en direct et d'art qui jaillissent partout dans la ville. 
Rendez-vous chez Vienna pour le déjeuner?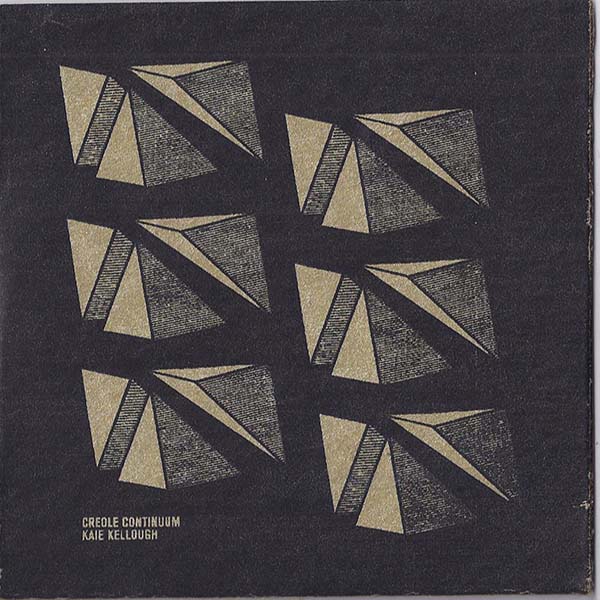 Kaie Kellough
Creole Continuum
Montréal, QC
From the alphabet erasure of Javier Fuentes:
Fluencies and poetries, where to begin? Should the judges come in? To recognize sound, to recognize speech, the voice might speak. Can we get an opinion on the rules of its dominion? The silence speaks volumes, reciting alphabets in record speed. The sharpest voices keep up, giving up at the point of clear confusion. Slow turns towards debris, now there are traces to hear. Pick up the feel. Memories of treasure are fresh, hiding out in the dust around here. The musicians are ready. Some think they are lost, but the conversation is steady.
De tout effacement de l'alphabet de Javier Fuentes:
(übersetzt para l'anglophone Влади́мирович Bабо́ков)
La fluidité et la poésie: par où commencer? Est-ce qu'on doit appeler les juges? Afin de reconnaître le son et afin de reconnaître la parole, c'est avisé que la voix s'exprime. Qui peut fournir une opinion des règles de son dominion? Le silence parle fort et énonce l'alphabet dans une vitesse record. Les voix les plus aiguës maintiennent la vitesse et s'abandonnent seulement au moment d'une confusion certaine. La lenteur se tourne vers les décombres. Maintenant, il y a des traces à entendre. Cherchez le sentiment. Les mémoires du trésor sont fraîches, se cachant dans la poussière autour de nous. Les musiciens sont prêts. Certaines croient qu'ils sont perdus, mais la conversation se poursuit.
Kaie Kellough – International Monetary Funk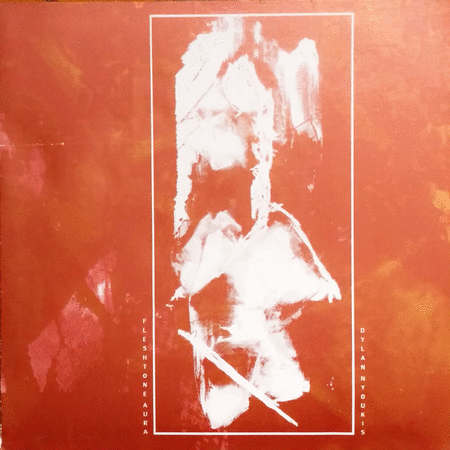 Fleshtone Aura // Dylan Nyoukis
Split
Toronto, ON // Brighton, UK
Fleshtone Aura
AREA
Toronto, ON
From the freed mind and followed ass of Kevin Hainey:
Two oceans-apart aural collage masters team up to flambe their best dashes of spice across this pair of tenderized and marinated beef steaks. Toronto's resident evil Fleshtone Aura (a.k.a. Andrew "No C" Zukerman) has been summoning strange sensations for over a decade now with duo du jour Gastric Female Reflex. He's undergone a plethora of personality crises with memorable recording identities like Various Artists, Untitled (to which his previous Chocolate Monk CDR was accredited), DJ Longhorn Grille and Charles Balls, but since Fleshtone was coloured in 2011, this has been Zukerman's most ambitious project.
The Beniffer LP is marbled clear, black and green and comes in an ornately silkscreened cover. It is a split with Brighton, UK scene survivor Dylan Nyoukis (Blood Stereo, Prick Decay), whose influence has been tantamount in experimental areas of modern composition since the early '90s. The two have been supporters of each other for many years now so a split LP makes perfect sense given their similar visions. Nyoukis also runs the envelope-pushing (albeit one full of psychedelic drugs) Chocolate Monk label which released the amazing AREA. This is music arranged to be chaotic, heavily inspired by ideas commissioned during 20th century composition's heyday rather than pop and rock's obsessions with keeping time and marching to repetition. If anything, this is music that aims to break down those conditioning influences.
De l'esprit libéré et du cul captivant de Kevin Hainey:
(Traduit par l'âme vagabonde de Louis-Félix Pellerin qui est inexplicablement attirée vers les arrière-trains)
Ces deux maîtres de la ratatouille musicale s'associent pour flamber cette paire de steaks marinés à l'aide de leurs meilleures épices, malgré les océans qui les séparent. Depuis plus d'une décennie, le démon local de Toronto, Fleshtone Aura (alias Andrew « No C » Zukerman), invoque d'étranges sensations avec le duo du jour Gastric Female Reflex. Il a traversé de nombreuses crises d'identité et est passé d'une personnalité mémorable à l'autre, notamment Various Artists, Untitled (c'est sous ce nom qu'il a sorti son dernier CD, Chocolate Monk, DJ Longhorn Grille et Charles Balls, mais Zukerman entreprend son projet le plus ambitieux depuis la mise en couleur de Fleshtone en 2011.
Son LP Bennifer, d'un marbré clair, noir et vert, vient dans une pochette dont la couverture est richement sérigraphiée. C'est un split avec Dylan Nyoukis (Blood Stereo, Prick Decay), un vétéran de la scène brightonienne dont l'influence est omniprésente dans le secteur expérimental de la composition moderne depuis le début des années 1990. Puisqu'ils s'encouragent mutuellement depuis des années et qu'ils partagent une vision similaire, un album split est la suite logique des choses. De plus, Nyoukis est à la tête du label discographique innovateur (innovations sans aucun doute influencées par la drogue psychédélique) Chocolate Monk qui était derrière l'incroyable AREA. C'est de la musique arrangée dans le but d'être chaotique, en plus d'être grandement influencée par la composition musicale du début du XXe siècle plutôt que par l'obsession à maintenir le rythme et marcher au pas des répétitions amenée par le pop et le rock. En fait, si on y pense, ce qu'on retrouve sur ce split, c'est le genre de musique qui vise à démolir les conventions modernes.
Fleshtone Aura – Level 2 [Split]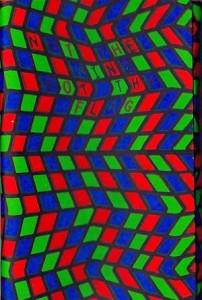 Not The Wind, Not The Flag
Esoteric Cycle
(Medusa)
Toronto, ON
From the fringewroth sequence of Aaron Levin:
As categorical explorations within our unified consciousness, Not The Wind, Not The Flag encompass the simple liquidity languishing within cultural disharmony. Mellow meditations arise with the conjuring of their euphoric harmonies, and the entangled clamor of strings and kalimba oscillate with sublime frequency between free jazz and private issue new age. A glorious grip of the next age.
De la série fringewrothe d'Aaron Levin: (Traduit par les envies de Maya Keshav)
En tant qu'explorations catégoriques dans notre conscience unifiée, Not The Wind, Not The Flag comprennent la liquidité simple qui traîne dans le désaccord culturel. Les méditations détendues apparaissent avec l'arrivée de leurs harmonies euphoriques, et le boucan pris de cordes et de kalimba oscille avec une fréquence sublime entre le free jazz et le private issue new age. Un achat magnifique de la prochaine ère.
Not The Wind, Not The Flag – 8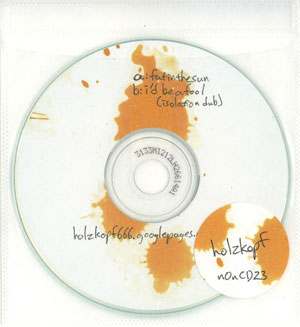 Holzkpf
Fat in the Sun b/w I'd be a Fool (Isolation Dub)
(nOnCapable)
Vancouver, BC
From the nostalgic words of Aaron Levin:
The heaviest dance music on earth is composed live with pedals and samplers by this dual-pony-tailed Vancouverite performing under the elusive Holzkopf moniker. Originally from Saskatoon, Holzkopf's ghetto-techno took years to craft into its current state (spending some time in Edmonton in the process); a blend of harsh noise, lo-fi, and improvised tech. It's really something you need to see and hear live, but this two-track CDR contains the best recordings I've heard of his work to date (for his dancey stuff). Layers of distorted tape-squeal hover above truncations of drum loops programmed on the fly by Holzkopf as he takes the mic and screams into DIY-fischerprice-dom. The reggie-fused I'd Be A Fool (Isolation Dub) is a definite favorite. Does it get any better than a no-bit quantized dancehall riff?
The MP3s I've posted are super low-quality (96kbs) as the files were too big. You should support Holzkopf on his Canadian tour and pick up a CD when he comes to your town! He is definitely one of the best live performances I've ever seen!
Holzkopf – I'd Be A Fool (Isolation Dub)
Des mots nostalgiques d'Aaron Levin:
(Traduit par l'esprit rétro de Maya Keshav)
Le dance le plus heavy du monde est composé en live avec les pédales et les échantillonneurs par cet vancouverois avec deux queues de cheval qui joue sous l'appellation insaisissable de Holzkopf. Originaire de Saskatoon, le ghetto-techno de Holzkopf a demandé des années pour se réaliser son état actuel (en passant du temps à Edmonton pendant ce temps-là); un mélange de noise discordant, lo-fi, et la technologie improvisée. C'est vraiment quelque chose qu'il faut voir et entendre en live, mais ce CD-rom à deux voies comprend les meilleurs enregistrements de son travail que j'ai jamais entendus jusqu'à maintenant (pour ses choses ayant l'air de dance). Les couches de crissement-cassette déformées planent au-dessus des coupures des boucles de percussions programmées sur le pouce par Holzkopf pendant qu'il prend le micro et crie à DIY-fischerprice-essence. Peut-on demander mieux qu'un riff aucun-bit quantifié d'une boîte de nuit? Tu devrais soutenir Holzkopf sur sa tournée canadienne et acheter un CD quand il visite ton coin! Il est sûrement un des meilleurs spectacles que j'ai jamais vu!
Holzkopf – I'd Be A Fool (Isolation Dub)
---