Tag: II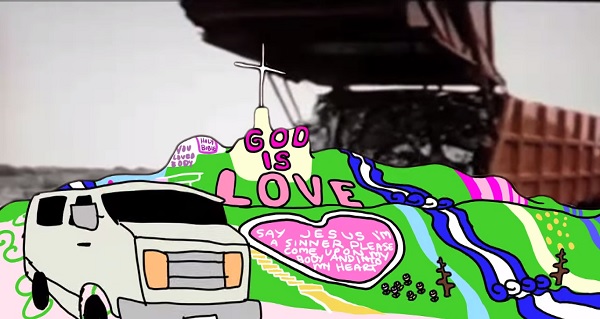 From the glazed-over eyes of Chris Yee:
The closest thing we have today to flash-baking a year of transcontinental touring into your cerebral cortex. Empty your mind, and find yourself in the middle of America in a smoke-filled van, summer wildfires and roadside landmarks of salvation flitting past the windows as it hurtles back to the West Coast . Inexplicably, JLK and Babysitter's collaboration II is in the tape deck. How… wyrd?
Des yeux vitreux de Chris Yee:
(Traduit par le bioport infecté de Jessica Grenier)
Aujourd'hui, c'est ce qui est le plus près de nous sauvegarder un an de tournée transcontinentale dans le cortex cérébral. Faites le vide dans votre esprit – vous êtes dans une van remplie de fumée quelque part en Amérique, des feux de forêts estivaux et des indications routières pour Salvation Mountain papillonnent de chaque côté de la voiture qui roule à toute vitesse vers la côte ouest. Inexplicablement, la deuxième collaboration entre JLK et Babysitter est dans le lecteur cassette. Vraiment… wyrd?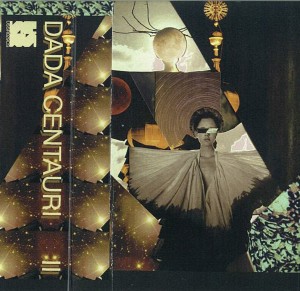 Dada Centauri
II
Calgary, AB
From the space jamb of Bryce Warnes:
When Max Ernst's clone is recruited to design the next ISS module, you can expect that he'll require the on-board sound-system to blast this tape at full volume. Andrew Hume and Whitney Ota of Burro fame reunite under the Dada Centauri banner to pump out a C60's worth of nebulous space jams. II careens from cosmic tideline ambience to foreboding quasar pulse, computer bleep-bloop to the drone of singing spheres. Occasionally, a loop or phrase straight from the library raises its hauntological head. A stellar grip courtesy of the astro-avant-garde.
Du montant spatial de Bryce Warnes:
(Traduit du balcon d'Andréanne Dion)
Quand le clone de Max Ernst est recruté pour créer le prochain module de la Station spatiale internationale, on peut s'attendre à ce qu'il ait besoin de la chaîne audio à bord pour faire jouer cette cassette à plein volume. Andrew Hume et Whitney Ota, connus pour leur rôle dans Burro, sont réunis à nouveau sous la bannière de Dada Centauri pour produire l'équivalent d'une C60 de sessions spatiales nébuleuses. II oscille entre une ambiance de démarcation cosmique et les battements prémonitoires des quasars, entre les bruits d'ordinateurs et le ronronnement de l'Harmonie des sphères. De temps à autre, un son en boucle ou une expression directement tirée de la bibliothèque pointe le bout de son nez fantomatique. Une emprise stellaire, offerte par l'avant-garde astrale.
---