Tag: ideas
Composing Sabbath Spaces:
Thoughts and Reflections on Making Quiet Music
Daniel Brandes
Victoria, BC
illustration by Tobin Louise Reimer
From Daniel Brandes:
Abstract:
In "Composing Sabbath Spaces: Thoughts and Reflections on Making Quiet Music" I meditate upon my experiences (as a composer, performer, listener, and concert presenter) working within and around the Wandelweiser experimental music community.
This article deals with a very particular kind of experimental music making known as Wandelweiser. Put most basically, Wandelweiser is an international community of experimental musicians, as well as visual and conceptual artists and poets, who are all (in similar and different ways) interested in very quiet music making. We are all, in our own ways, exploring what it means to create music and sound-art that offers the experience of quiet and immersed listening.
This kind of music is a deeply experiential kind of art. Even more than the sounds produced, it has so much to do with how it feels to sit quietly—silently—in a room with other people; to watch a musician sit in silence, and then conjure a single soft tone, sustain it, and then return to silence; to experience the way a single tone can radically—poetically—change your sonic environment.
Because this is such an experiential kind of music, prose feels (to me) like an unsatisfactory way of introducing someone to this little world of music making. This is because we are dealing with ideas about the thing, but not the thing itself. And, as with all things in life, the thing itself is always far more wonderous.
For that reason, I encourage you to spend some time here, and here, and here—some time listening, and watching, and pondering. You may even choose to play some of these pieces softly in the background as you read. As you read through this series of brief stories and reflections—and spend time listening and watching—I hope you find an engaging and welcoming place within.

* * *
On July 10th 2012, I spent several hours wandering around Düsseldorf's K21 art gallery. This extraordinary gallery is dedicated to living artists—specifically artists whose work would be classified as conceptual or experimental.
I arrived early in the morning, as the doors were being opened, and had the place entirely to myself for nearly two hours. On the third floor, I found myself in a spacious room surrounded by approximately 25 sculptures. Made of fabric and resin, and brownish-grey in colour, these sculptures were of diminutive people (perhaps four-feet tall). All were ambiguous in gender, age, and race. Each one wore the same non-descript outfit and none had feet. All were entirely bald. They were standing around, exactly in the manner that one would imagine a group of people to stand if given no outside control. Signs explained that these sculptures were extremely fragile: under no circumstances could they be touched.
The longer I stood in the room, towering over this curious group (I stood with this strange congregation for 30 minutes or so), the more attuned I became to my own size…my physicality…my capacity to harm — our capacity, as humans, to cause harm.
This experience (which is so reminiscent of my experiences performing and listening to quiet music) taught me a great deal about the importance of gentleness.

* * *
To softly touch a piano key, and coax out a sound that is only audible to those within close proximity to the instrument, moves me in a way that I cannot fully explain. The best I can say is this: when I allow myself to be exposed and vulnerable in this way—and when, through my compositions, I invite other musicians to join me in this experience—I feel deeply human. Even more, through these experiences I have discovered, and continue to discover previously unknown ideas of what it means to be human together.
Performing the music of my wandelweiser collaborators has taught me a great deal about vulnerability.

* * *
Much (though not all) wandelweiser music exists in the boundary between sounding and non-sounding. This boundary is a tenuous space that invites the performer(s) to live vulnerably—to be open and exposed with an audience.
To linger in this space is an act of trust and courage.
The listener(s) are also invited into this exposed and vulnerable space, for the quietness and silence of the music reveals our own physical presence. (The slow, deep rhythm of our breathing, the shifting of our weight, the soft, distant beating if our hearts…all of this becomes part of the musical landscape….)
This radical quietness allows the music to traverse the barriers between creator, performer, and listener, and through a shared experience of deep listening, create a "we".
Composing and performing quiet music has taught me a great deal about community.

* * *
Much of the music by composers working in and around the wandelweiser community invites the performer(s) and listener(s) into an altogether new experience of musical time, which immerses the listener in a deep sense of "now"[1].
Because the temporality of this music presents something that is otherwise to the relentless pace fostered by our digitally mediated lives, I have come to think of this music as a "sabbath space".
A welcome dwelling of deep calm.
After all, what is "the Sabbath"? It is, I think, a time set apart from time. A time that allows for a radical slowing down. A time for returning to oneself.
And that is what this musical practice is about.
I have had several experiences since Laura Brandes and I launched A Place to Listen in 2012, where following a concert I have no conception of how long a piece of music lasted for. There was one concert in particular, where Laura performed after the middle a silence follows, an elegy (dwelling quietly at the edge) [2] by Antoine Beuger. Following this powerful performance, which lasted just over one-hour, numerous people in the audience could not believe that 60 minutes had passed. There were some who said it felt as though the piece was maybe 10 minutes long.
This music has taught me great deal about how we use and experience time.

* * *
To compose/perform/listen to a piece of (very) quiet music, is to make a space for letting the outside world into the musical space.
When this happens, a beautiful and spontaneous counter-point occurs between exterior and interior—each (re)-contextualizing the other.
Each time I am involved with quiet music making—either as composer, performer, or listener—I experience anew the soundscape of my environment.
Quiet music making has taught me a great deal about how I engage with my soundscape—as well as the beauty of non-intention.

* * *
In our current culture of hyper-stimulation and saturation—which attempts to colonize our imaginations and demands that we not look too closely, or feel too deeply—this kind of musical practice is, for me, essential. It feeds a part of us that, more and more, we are learning to neglect.
The part that needs quiet.
Making quiet music has taught me that every human activity is political. (How beautifully subversive (and life affirming) to cultivate a practice of quietness and deep listening…perhaps we may begin again to hear gentle whispers, and small still voices, asking urgent and important questions…)

* * *
There is a beautiful story in Hebrew scripture, from the book 2nd Samuel, that tells of a great famine that was the result of blood feud between the Gibeonites and Israel. A feud dating back to the reign of Saul. In an attempt to appease the Gibeonites, David has seven boys from the house of David brutally killed—impaled on the side of a mountain.
Rizpah, mother of two of the boys, brings a blanket to the side of the mountain and sits with the bodies of the boys for an entire season. Guarding the bones from vultures and scavengers.
Imagine this for a moment. Rizpah with her blanket. Sitting with the bones.
When David hears what Rizpah has done, he is so deeply moved that he gathers the bones of the seven boys and gives them proper burial.
Rizpah does not ask for revenge. For more children to be killed. For more blood to be spilled.
One woman, who chose to not ask for revenge, who chose instead to sit and bare witness to a deep and terrible wounding, ended a vicious cycle of violence.
For me, this music—this experience of sitting with and tending to these quiet and fragile sounds—is like Rizpah sitting with the bones. That is the gift of this music: allowing for the opportunity to bare witness to our humanness: both broken and beautiful.
---
[1] It is not unusual for a piece of Wandelweiser music to last over 30 min, during which time, only a handful of soft, delicate sounds occur. For example:
http://www.youtube.com/watch?v=yJj0wdQCPaw
[2] An extraordinary 66 min piece of music by Antoine Beuger for singing, speaking, writing, playing soloist, two musicians, and cd playback. The score for after the middle… consists entirely of text fragments from a variety of sources—poets and prophets, theologians and secular philosophers—including Judith Butler, Ulrike Bail, the Bible (prophet Micah), Nelly Sachs, Ingeborg Bachmann, Anne Michaels, Primo Levi, Jacques Derrida, and Edmond Jabès. These text fragments constitute a kind of abstract treatise on human vulnerability, on our interconnectedness and relationship to others, on our humanity (both beautiful and broken). The soloist for nach der mitte… is invited to navigate this deeply existential landscape by softly speaking the texts while writing them down, by very softly singing them one tone/syllable at a time, or by playing them on a decaying instrument.
Daniel Brandes is an experimental musician, teacher, and concert presenter who lives in Equimalt, BC. Daniel's music explores human vulnerability and new ways of imagining community. Daniel's music has been recorded/released by Montreal's Quatuor Bozzini, Toronto's Bespoken, and LA-based voice/electronics artist Andrea Young. His scores are published by Edition Wandelweiser.
De Daniel Brandes:
(Traduit par Jessica Grenier)
Résumé :
Dans « Composer des espaces de Sabbat : réflexions sur la création de Quiet Music », je médite sur mes expériences de travail et de collaboration (en tant que compositeur, interprète, auditeur ou paneliste de concert) avec le collectif de musique expérimentale Walderweiser.
Cet article traite d'une façon très particulière de faire de la musique expérimentale – connue sous le nom Wandelweiser. Il s'agit essentiellement d'un collectif international de musiciens expérimentaux, auquel se joignent poètes et artistes visuels et conceptuels, qui s'intéressent tous (d'une façon ou d'une autre) à faire de la musique très calme. Chacun à notre façon, nous explorons ce que cela veut dire que de créer une musique et un son-art qui peuvent offrir une expérience de calme et d'écoute immersive.
Ce type de musique est un art profondément expérimental. Au-delà des sons produits, il a beaucoup à voir, avec la sensation d'être assis calmement, silencieusement, dans une pièce avec d'autres personnes; de regarder un musicien qui reste assis en silence, puis qui conjure une seule douce note pour la maintenir, puis retomber silencieux; de faire l'expérience du changement (poétiquement) radical qu'une simple note peut amener à notre environnement sonore.
Puisque c'est un genre très expérimental, (j'ai l'impression que) la prose est un moyen insatisfaisant pour présenter à quelqu'un ce petit monde de création musicale. Cela tient au fait que nous parlons de l'idée d'une chose, mais pas de cette dernière. Et comme toutes choses dans la vie, elle est toujours beaucoup plus merveilleuse en elle-même.
Pour cette raison, je vous encourage à passer quelque temps ici, ici ou ici – à écouter, regarder et réfléchir. Vous pourriez même choisir d'écouter quelques-unes de ces pièces comme musique d'ambiance pendant votre lecture.
J'espère qu'en parcourant cette série d'histoires et de réflexions brèves (et en écoutant et regardant les liens), vous trouverez un endroit intérieur chaleureux et engageant.

* * *
Le 10 juillet 2012, j'ai erré quelques heures dans la galerie K21 de Düsseldorf. Cet endroit extraordinaire est réservé aux artistes vivants, principalement ceux dont le travail peut être catégorisé comme conceptuel ou expérimental.
J'étais arrivé tôt le matin – on était en train d'ouvrir les portes –, alors pendant près de deux heures, j'ai eu la galerie entière juste pour moi. Au troisième étage, je me suis retrouvé dans une vaste pièce, entouré d'environ 25 sculptures d'un gris brunâtre faites de tissus et de résine. Elles représentaient des personnes toutes petites (environ quatre pieds). Elles étaient toutes chauves, et leur genre, leur âge et leur race étaient ambigus. Elles se tenaient en cercle; exactement comme l'aurait fait un groupe imaginaire à qui on n'aurait donné aucune indication spécifique. Des affiches expliquaient que les sculptures étaient extrêmement fragiles : on ne pouvait les toucher en aucun cas.
Plus je passais de temps dans la pièce à surplomber ce curieux groupe (je suis resté avec cette congrégation étrange durant environ 30 minutes), plus je devenais conscient de ma propre taille… de ma corporalité… de ma capacité à causer du tort : de notre capacité, en tant qu'humains, de blesser.
Cette expérience (qui me rappelle tellement ce que je ressens en jouant et en écoutant de la Quiet Music) m'a appris beaucoup sur l'importance de la douceur.
Effleurer doucement la touche d'un piano pour en soutirer un son audible uniquement pour ceux qui sont tout près de l'instrument m'émeut d'une façon que je n'arrive pas totalement à expliquer. Le mieux que je peux en dire est que : quand je me permets d'être exposé et vulnérable de cette façon (et quand j'invite par mes compositions d'autres musiciens à me rejoindre dans cette expérience), je me sens profondément humain. Plus encore, à travers ces expériences, j'ai découvert et je continue de découvrir des idées inédites sur ce que signifie le fait d'être humains ensemble.
Interpréter la musique de mes collaborateurs wandelweiser m'a appris beaucoup à propos de la vulnérabilité.

* * *
Une grande partie de la musique wandelweiser – mais pas toute – existe dans la limite entre le sonore et le silencieux. Cette limite ténue invite le ou les interprètes à vivre vulnérablement : à s'ouvrir et à s'exposer au public.
S'attarder dans cet endroit est un acte de confiance et de courage.
Le ou les auditeurs sont aussi invités dans cet espace exposé et vulnérable, puisque le calme et le silence de la musique révèlent notre propre présence physique. (Le rythme lent et profond de notre respiration, le repositionnement du corps sur la chaise, le battement doux et distant de notre cœur… tout cela devient partie intégrante du paysage musical…)
Ce calme radical permet à la musique de traverser les barrières entre créateur, interprète et auditeur pour créer, à travers l'expérience partagée de l'écoute profonde, un « nous ».
Composer et interpréter de la Quiet Music m'a appris beaucoup sur la communauté.

* * *
Une grande partie de la musique faite par les compositeurs travaillant ou collaborant avec le collectif Wandelweiser invite interprète(s) et auditeur(s) à une toute nouvelle expérience du temps musical, qui submerge l'auditeur d'un profond sens de « maintenant » [1].
Puisque la temporalité de cette musique présente quelque chose de tout autre que la cadence incessante entretenue par le média numérique de nos vies, j'en suis venu à percevoir cette musique comme un « espace de Sabbat ».
Une demeure accueillante de calme profond.
Après tout, qu'est-ce que le Sabbat, si ce n'est, selon moi, un temps séparé du temps; un temps permettant un ralentissement radical, un retour vers soi.
Et c'est l'objet de cette pratique musicale.
Depuis que Laura Brandes et moi avons lancé A Place to Listen en 2012, il m'est arrivé à plusieurs reprises de sortir d'un concert en ne sachant pas la durée d'une pièce de musique. Il y a eu un en particulier où Laura a interprété after the middle a silence follows, an elegy (dwelling quietly at the edge) [2] d'Antoine Beuger. Après cette performance épatante qui a duré un peu plus d'une heure, de nombreuses personnes dans le public n'arrivaient pas à croire que 60 minutes étaient passées : quelques-unes ont dit avoir eu l'impression que seulement une dizaine de minutes s'étaient écoulées.
Cette musique m'a appris beaucoup sur notre façon d'utiliser le temps et de le vivre.

* * *
Composer/interpréter/écouter une pièce de musique (très) calme, c'est aménager un espace pour laisser le monde extérieur entrer dans l'espace musical.
Cela produit un beau contrepoint spontané entre l'intérieur et l'extérieur; chacun (re)contextualisant l'autre.
Chaque fois que je participe à la création de Quiet Music – en tant que compositeur, interprète ou auditeur – je refais l'expérience du paysage sonore qui m'entoure. La création de Quiet Music m'a appris beaucoup sur la façon dont j'aborde mon environnement, ainsi que sur la beauté de la non-intention.
* * *
Dans notre culture actuelle d'hyperstimulation et de saturation – qui essaye de coloniser nos imaginaires et nous demande d'éviter de regarder de trop près ou de ressentir trop profondément –, ce genre de pratique musicale est, à mon avis, essentielle. Elle nourrit une partie de nous-mêmes que nous négligeons de plus en plus : celle qui a besoin de calme. Faire de la Quiet Music m'a appris que chaque activité humaine est politique.
(Comme c'est joliment subversif (et vivifiant) d'entretenir une pratique de calme et d'écoute profonde… peut-être pourrons-nous recommencer à entendre les faibles murmures et les petites voix tranquilles qui nous posent urgemment des questions importantes…)
* * *
Une belle histoire tirée des Écritures hébraïques, dans le Deuxième livre de Samuel, raconte une grande famine résultant des luttes fratricides entre les Gabaonites et Israël; un conflit remontant au règne de Saül. Pour tenter d'apaiser les Gabaonites, David ordonne le meurtre de sept garçons de sa Maison. Ils sont empalés à côté d'une montagne. La mère de deux d'entre eux, Ritspa, apporte une couverture puis s'assoit auprès des corps durant une saison entière pour protéger les os des vautours et des charognards.
Imaginez cette image un instant : Ritspa sur sa couverture, assise avec les os.
Quand David entend parler de ce qu'elle a fait, il est si ému qu'il recueille les os des sept garçons pour leur donner une sépulture convenable.
Ritspa ne demande pas de revanche, d'autres enfants à tuer, davantage de sang à renverser. Une femme ayant choisi de ne pas exiger vengeance, mais plutôt de s'asseoir pour témoigner d'une blessure profonde et terrible, a mis fin au cycle vicieux de la violence. Pour moi, cette musique – cette expérience de s'asseoir parmi ces sons calmes et fragiles et de les soigner – évoque Ritspa parmi les os. C'est le cadeau de cette musique : offrir l'opportunité de témoigner de notre humanité, belle et brisée.
---
[1] Il n'est pas rare qu'une pièce de musique Wandelweiser dure plus de 30 minutes; temps durant lequel seulement une poignée de sons doux et délicats ont lieu. Par exemple :
http://www.youtube.com/watch?v=yJj0wdQCPaw
[2] Il s'agit d'une pièce de musique extraordinaire écrite par Antoine Beuger, touchant au chant, à la parole, à l'écriture ainsi qu'à l'interprétation en solo/duo/lecture de cd. Elle est entièrement composée de fragments de textes de sources variées – poètes et prophètes, théologiens et philosophes profanes – dont Judith Butler, Ulrike Bail, la Bible (prophète Michée), Nelly Sachs, Ingeborg Bachmann, Anne Michaels, Primo Levi, Jacques Derrida et Edmond Jabès. Ces fragments constituent une sorte de traité abstrait sur la vulnérabilité humaine, sur nos relations avec les autres et ce qui nous relie entre nous : sur notre humanité, aussi belle que brisée. Le soliste pour nach der mitte… est invité à naviguer ce paysage éminemment existentiel en lisant doucement les textes à mesure qu'il les écrit, en les chantant très doucement – une syllabe/sonorité à la fois – ou en les jouant sur un instrument déclinant.
Daniel Brandes est musicien expérimental, professeur et paneliste de concert. Il vit à Equimalt (C.-B.).
Sa musique explore la vulnérabilité humaine et de nouvelles façons d'imaginer la communauté.
Elle a été enregistrée puis mise en marché par Quatuor Bozzini (Montréal), Bespoken (Toronto) ainsi que l'artiste de voix et d'électroniques Andrea Young (Los Angeles).
Ses partitions sont publiées aux éditions Wandelweiser.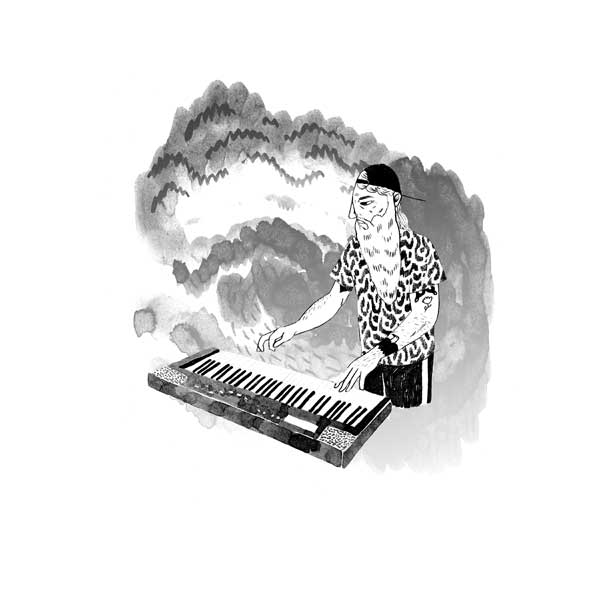 From the arthritic hand of David Dacks:
Making anomalous music is a privilege. This becomes clear if you stick with it long enough. But it's a hell of a long journey and the reasons you started making music will change over time. Respect is due to those who stick to their vision, but respect is earned by keeping open ears and an open mind.
Don't fight getting older; just stay enthusiastic. Enthusiasm is key to relating to inquisitive souls of all ages, cultural backgrounds and even language preferences. Your sense of enthusiasm helps to determine how people respond to you.
If you fancy yourself being devoted to music for life, this goes double. Triple for those who seek to express themselves at the fringes of mass cultural approval. As the cliché goes: 'music has the power to inspire'–but more often than not, it has the power to disappoint, and this feeling of disappointment lasts a lot longer. Don't get disillusioned. Enthusiasm isn't an end in itself, but without it, you won't seek out new ideas. Chasing coolness brings diminishing returns; being enthusiastic keeps your fire burning.
You don't want to relate to these people because you fear it's like seeing a much older and more pathetic version of yourself.
Two situations cemented my outlook. The first was a crossroads in life. The second was a crossroads in outlook.
My music career started to fall apart after I hit thirty. After years of hauling around my entire home studio to smoke infested clubs in the years prior to laptop-based electronics, my gear was breaking down and I had less desire to replace it. I had started to work full time and couldn't hack those Thursday night gigs anymore. What was most dispiriting was that my friends had stopped coming out to gigs, not that they ever had a huge appetite for "electro-jazz in dub".
Who was left?
Older guys in the corner or right up front. Folks who would call into my campus radio show and blow me away with their musical knowledge, but faded into the woodwork at live events. Or maybe they would had anyone else been there. You don't want to relate to these people because you fear it's like seeing a much older and more pathetic version of yourself.
I asked myself: who were "my people" anyways? My fast-disappearing peer group of a few years prior? The subset of that group who came along for the first few stops of my musical ride? New faces on the scene, now maybe 10 years younger? Or these folks in the front or at the side who I didn't know but actually paid cover? There's a point (usually more than one) in which everyone makes a transition; where those things that made you fall in love with music start to compete with other priorities. Either you adjust or move on. There's a point where you have to decide that you're doing what you're doing for the sake of a lifelong commitment to communicating through sound, or just playing a game that's less fun all the time.
So, who were "my people"? All of the above.
Starting to ask those questions affected my outlook on what might come next, and changed my perspective on the past. I realized that I was prey to the consciousness of generational divide which is essentially rockist. The youthful affiliation among artistic non-conformists most resembles the audience dynamics of rock music: a genre where the age of the audience drops off sharply after the age of 30, where close friendships are said to take the place of family, and all of it is aided and abetted by mass marketing messages that want to reinforce ageism as an aspect of branding youth culture. The universalist messages of "us" "kids" "next gen" and so forth are repeated constantly by and for this audience – Dad Rock is evil, even if you both love Fleetwood Mac, 'cause he doesn't love it the same way as you. You can't construct a market segment unless you define it against something, or someone, else.
I realized that I was prey to the consciousness of generational divide which is essentially rockist.
But things don't have to play out this way. If you think genre dynamics no longer exist, then you'd be surprised to see the age strata at reggae gigs (lots of old dreads who positively make the party), or jazz shows or hip hop shows (which, when I was coming up, contained toddlers to uncles in whose crates DJs would dig). At the same time, I've witnessed the sharp ageism of rock subculture within other forms of aggressive music from metal to noise, and it's partly a consequence of the rebellious (or at least antagonistic spirit) that says on the one hand "fuck you, I'm not like you", and on the other seeks unity in this condition. Clearly, the tension of exclusion and unity has been profitable for advertising.
Over time, those who are truly passionate about music reveal themselves. Music ferments in weird and wonderful ways. When considering one's own trajectory to outsider or outward bound sounds, know that it's a long journey. Youthful pretensions to tortured genius give way to painful choices, but if you are able (and if life circumstances permit you) to seek more knowledge, greater understanding of music as an ever expanding universe becomes more obvious. To truly explore anomalous music, to really develop an individual language, you've got to open up instead of maintaining the barriers that made sense to your post-teenage self. I've been involved with more music since the age of 30 than ever before. If that makes me sound like an old hippie, so be it. Life's too short to dwell on appearances.
David Dacks has done music in public for 27 years. He's been a performer, DJ, label owner, remixer, journalist, and a radio programmer. Currently, David is the Artistic Director of The Music Gallery in Toronto.
De la main arthritique de David Dacks:
(Traduit par Aliké Harel)
Composer de la musique atypique est un privilège. Le sentiment d'être privilégié devient flagrant si l'on persévère assez longtemps. Toutefois… c'est toute une épopée et les motivations qui vous ont d'abord poussé à faire de la musique évolueront. Si les artistes fidèles à leur vision sont respectés, il n'en demeure pas moins que le respect s'acquiert en gardant une oreille attentive et un esprit d'ouverture.
N'essayez pas de défier votre âge, cultivez simplement votre enthousiasme. Cette qualité est essentielle pour se lier à des esprits inquisiteurs de tout âge, de toute ascendance et, même, de tout groupe linguistique. Votre élan d'enthousiasme permet de définir la réaction que vous générez chez vos interlocuteurs.
Si vous considérez la musique comme une vocation pour la vie, on double la mise. On la triple pour ceux qui convoitent de s'exprimer en périphérie du consensus de la culture de masse. Comme le dicte le cliché « la musique a le pouvoir d'inspirer ». Pourtant, la plupart du temps, elle a le pouvoir de décevoir, sentiment qui perdure bien plus longtemps. Il ne faut pas se laisser gagner par le désillusionnement. L'enthousiasme n'est pas un but en soi, mais sans lui, personne ne cherche de nouvelles idées. Affecter le détachement a une incidence néfaste; laisser l'enthousiasme nous habiter anime la flamme.
On évite ce genre de personne, par peur de voir un reflet pathétique de soi-même à un âge plus avancé.
Deux circonstances ont renforcé ma perspective au cours de ma vie. La première a été la croisée des chemins de vie. La deuxième a été la croisée des perspectives.
Ma carrière musicale a commencé à se désintégrer quand j'ai passé le cap des trente ans. Avant l'arrivée de l'électronique et des portables, j'ai passé des années à trimbaler mon studio maison dans les clubs où flottaient des volutes de cigarette. Mon équipement tombait alors en pièces, mais j'étais moins enclin à le renouveler. J'avais commencé à travailler à temps plein et je n'arrivais plus à encaisser les numéros du jeudi soir. Le plus démoralisant, c'était de voir que mes amis ne venaient plus aux spectacles, sans vouloir prétendre qu'ils se régalaient d'« électro-jazz dub » non plus.
Qui restait-il?
Les anciens dans le coin ou à l'avant. Les gens qui appelaient à mon émission de radio étudiante et m'époustouflaient d'abord avec leur culture musicale, mais qui se fondaient ensuite au décor pendant les spectacles. Du moins, ils l'auraient fait si la salle eût été bondée. On évite ce genre de personne, par peur de voir un reflet pathétique de soi-même à un âge plus avancé.
Je me posais la question : qui est « mon public », finalement? Ma clique de connaissances d'autrefois qui s'amenuisait à vue d'œil? L'extension de cette clique qui suivait pour les premières percées de mon parcours musical? Les nouveaux visages du milieu, de peut-être dix ans mes benjamins? Ou les autres, ici et là, que je ne connaissais pas, mais qui payaient leur place? À un moment (souvent à plusieurs reprises), une transition s'opère en chacun de nous, le moment où ce qui nous a fait tomber amoureux de la musique doit rivaliser avec de nouvelles priorités. Il faut s'adapter ou passer à autre chose. Éventuellement, vous devez décider si ce que vous faites, vous le faites au nom d'un engagement pour la vie à communiquer par le son… ou s'il s'agit d'un simple jeu de moins en moins amusant.
Au bout du compte, qui était « mon public »? Toutes ces réponses.
Ces questions qui germaient en moi ont marqué ma vision de l'avenir et ont changé ma perspective du passé. J'ai compris que j'étais en proie à une prise de conscience, celle de la différence intergénérationnelle qui s'apparente sommairement à la dynamique propre au rock. L'affiliation à la jeunesse au sein des artistes non conformistes ressemble tout à fait au jeu de forces de la musique rock : un genre dont le public de plus de trente ans s'effrite de façon radicale, un milieu où les bonnes amitiés substituent la famille, et la dynamique du monde du rock est nourrie par le marketing de masse qui renforce l'âgisme, maintenant partie intégrante de la culture de la jeunesse. Les messages universalistes tels « nous, les jeunes », « la prochaine génération » et ainsi de suite sont repris constamment par la jeunesse… pour la cibler (du rock de boomer, c'est honteux, si votre paternel et vous aimez tous les deux Fleetwood Mac, lui a une façon bien personnelle de le faire). On ne peut pas bâtir un segment de marché sans le définir par contraste à un autre segment, ou une autre personne.
J'ai compris que j'étais en proie à une prise de conscience, celle de la différence intergénérationnelle qui s'apparente sommairement à la dynamique propre au rock.
Pourtant, les choses n'ont pas forcément à suivre ce cours. Si vous croyez que la dynamique interne des genres ne font plus effet, vous seriez étonné de voir la tranche d'âge dans l'assistance des spectacles reggae (beaucoup de dreads poivre et sel qui s'avèrent « l'âme » de la fête), ou de spectacles jazz ou hip-hop (où, lorsque j'assistais, se trouvaient des bambins et des oncles vers qui les DJ se tournaient pour faire des trouvailles). En même temps, j'ai aussi été témoin d'âgisme accrue dans la sous-culture rock, dans ses variantes agressives du métal au bruitiste, et cet âgisme est en partie une conséquence du sens de la rébellion (ou du moins d'antagonisme) qui veut à la fois clamer « va chier, j'sus pas comme toi » et trouver le lien qui unit le milieu. Il est clair que cette tension entre le sentiment d'exclusion et le besoin de rassemblement a profité au monde de la publicité.
Le temps finit par dévoiler le visage des vrais mordus de la musique. Ferments de la musique, dans toute leur splendeur et leur excentricité. Lorsqu'on pose un regard sur le parcours propre à la musique marginale ou exploratoire, on doit savoir que le chemin est long. Ambitions de jeunesse et génie en mal font place aux choix pénibles. Pourtant, si vous pouvez (et si les aléas de la vie vous le permettent) approfondir vos connaissances, votre compréhension de la musique, en tant qu'univers en croissance constante, deviendra limpide. Afin d'entièrement explorer la musique atypique, pour vraiment développer votre propre langage, il faut vous ouvrir et, donc, ne pas vous fier aux barrières qui semblaient logiques lors de la postadolescence. J'ai touché à plus de musique que jamais après mes 30 ans. Si cela fait de moi un vieux hippy, tant pis. La vie est trop courte pour s'attarder aux apparences.
David Dacks fait de la musique sur la scène publique depuis 27 ans. Il a été musicien, DJ, propriétaire d'une maison de disques, remixeur, journaliste et programmateur de radio. En ce moment, David est directeur artistique de la Music Gallery à Toronto.
From the allegorical allusion of Ely Rosenblum:
Canadian punk, noise and electroacoustics exist in closer proximity than we might expect. Is it time for them to come together in a union of aesthetics and sensibilities?
I took the title of this article from an online message board hosted by Concordia University. A user going by the name Tandora wrote the following:
The hiss and the snarl of a stranger sound
That gets in your willies and makes you growl
A snog for your pot to bandy your wares
These lips are crazy and ready to sneer;
Acousmatic and totally wild
A vulture to peck at their innards and to make you smile
Trippy and ekstatic a drug for you
To rip through the wisdoms that are no longer true.
How many here are old punks then?
Let me focus on the last line. It seems to encapsulate the beauty of the Canadian punk scene: desolate, yet endlessly far-reaching across the plains and rivers. This is how punk scenes developed in Canada, with a day's worth of driving between venues and fellow performers (for more on the isolation between music scenes in Canada, see Perfect Youth: The Birth of Canadian Punk by Sam Sutherland). And here on this message board a self-proclaimed 'old punk' searches for others, asking for recommendations of electroacoustic music that captures the ferocity of punk bands. This strikes me as a surprisingly progressive questions for an old punk, but maybe I don't know much about how old punks operate. So I'll ask my own version of the question: how many here are in search of a new Canadian punk?
As Canadian composer R. Murray Schafer referred to urban noise, 'sonic vulgarities' are pervasive throughout our big cities. Why do we as musicians continue to separate practices of music and environment (a musical-ecological movement that by and large manipulates nature sounds using electroacoustic techniques), and punk movements?
Are punk and punk scenes the urban incarnate? Why is punk that comes from rural environments so appealing? It is an element of shock value, surprise, a confluence of listener's delight?
How can Canadian punk shift towards some sort of techno-mindedness? Is punk too abrasive, or too fast for electroacousticians, or does electroacoustic music not afford the immediacy punks love?
I ask many questions because I am not keen on being prescriptive, just genuinely curious. Considering Canada's monumental connections to punk, noise and electroacoustics, it only makes sense for the three to meet somewhere amongst the provinces.
Two Scha(ef)fers: Electroacoustic Music and The Soundscape
What follows is a very brief and rough history of electroacoustic music.
Acousmatic, the term used in Tandora's poem, refers to sounds that have no perceptible source. Accordingly, acousmatic sound is found in electroacoustic music, pioneered by French composer Pierre Schaeffer's musique concrète. Using techniques such as tape manipulation, punch card computer programming, Schaeffer's legacy is in the use of any and all sounds as music. This infuriated other composers, and delighted artists at the vanguard of sound design. Musique concrète would heavily influence Canadian composers, and lead to an entirely new form of music-making of which recording was at its heart.
Pierre Schaeffer – "Études de bruits" (1948)
Canada is the proud home of some serious advancements in understanding the relationship between music, recording and environment. Simon Fraser University's emeritus and one of Canada's most eclectic educators, the aforementioned R. Murray Schafer, brought together composers in the communications department to raise awareness of noise pollution and our sonic environment. His team, known formally as members of the World Soundscape Project, developed compositional techniques and recorded environmental sounds all over the country. These led to the CBC broadcast of the aptly titled Canadian Soundscapes. Former WSP member Barry Truax continues this legacy as an active composer, and with his book Acoustic Communication (1994), his own manifesto on sound in the electronic age. Truax's students make their own soundscapes and contribute to the massive electronic archive of Canadian electroacoustic work. They even walk the same.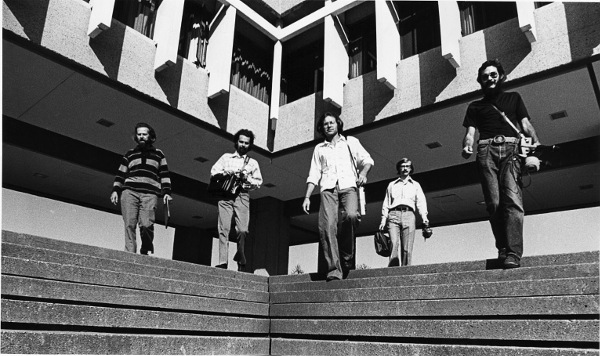 World Soundscape Project members R. Murray Schafer, Bruce Davis, Peter Huse, Barry Truax and Howard Broomfield strut across SFU campus, 1973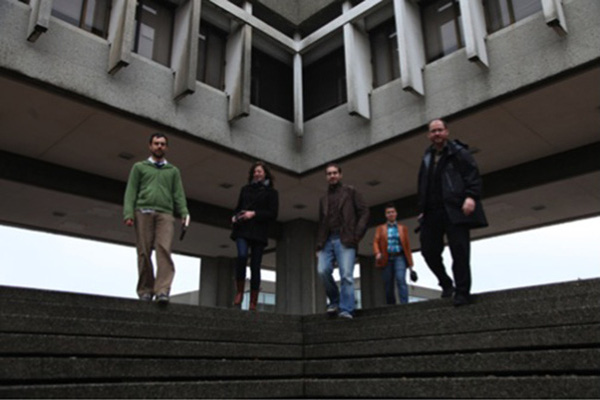 Students of the SFU Communications Department mimic their mentors, 2011
No Record: Canadian Noise
Canada is also home to noise music (or noise art, depending on your aesthetic/philosophical allegiances). London, Ontario's Nihilist Spasm Band is said to have sparked the development of a global Japanese noise scene, the godfathers of noise – though they do not consider their own work to be music. Founded as the official band of the Nihilist Party of Canada, they built their own instruments, wrote the soundtrack to a film titled "No Movie", and followed it up with their own album No Record.
Nihilist Spasm Band – "Dog Face Man"
For 25 years they were a bar band, a group of noisemakers, performers and entertainers for their friends and family. Each year they hosted No Picnic, a festival of the absurd. When they were informed that their bootlegged recording had made it around the world by Hiroshige Jojo (founder of the Osaka based Noise label Alchemy Records), they started touring. These performances influenced Japanoise, which has now become a genre of international interest (for more, read David Novak's Japanoise, 2012).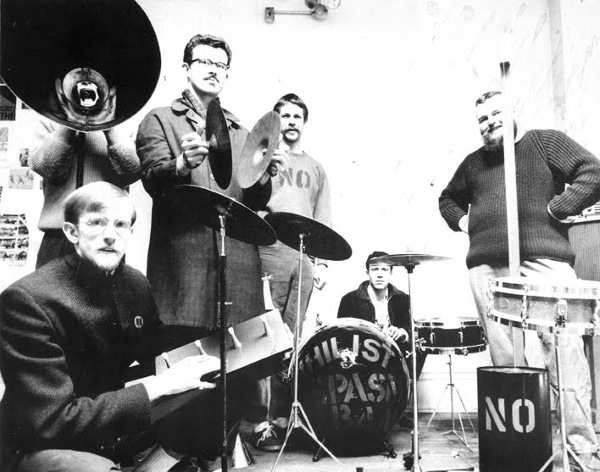 The Nihilist Spasm Band (then, 1966)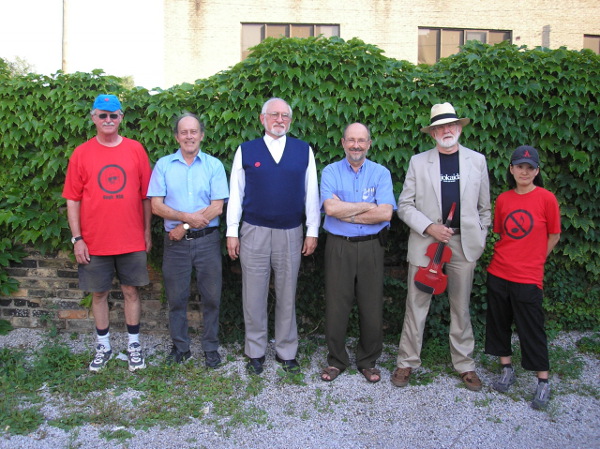 NSB members John Boyle, Murray Favro, Bill Exley, John Clement and Art Pratten, with Aya Onishi (now-ish, 2011)
Photos copyright 1966 Estate of Don Vincent. Reproduced by permission.
This past year I attended Queen's University Belfast Sonorities Festival. Throughout the three-day event, I heard some of the best electroacoustic composers perform at what is possibly the most technologically advanced music venue, the Sonic Lab (8.1 surround on the ceiling, the walls, the ground and in the basement). From their website: The ground level is a metal grid that allows sound to come from the basement level. It is therefore advised not to wear heels).
I also took part in a conference, the theme of which was Beyond Soundscape. I wondered then if moving beyond the soundscape wasn't leaving it behind, but reinterpreting it: making sonic vulgarities even more abrasive, and the quiet moments more palpable and tactile for all to experience. It seems serendipitous that punk and noise music would return to the acousmatic, and even embrace the soundscape be it through lo-fi recordings, howling distorted instruments, or manipulated environmental recordings. Digital distribution makes it easier to spread the word, about gigs, recordings and new ideas for music making (take this site as a prime example). I would love to hear what music could be synthesized from collaborations across genres and art forms in Canada, a land of quiet innovation.
Ely Rosenblum is a Canadian researcher of art, music and performance, as well as a filmmaker and sound recordist with experience combining anthropology and critical media practice. Ely trained in ethnographic filmmaking at the Centre for Visual Anthropology at Goldsmiths, University of London, where he co-founded ART/E/FACT, a publication and event series of art and anthropology. He is currently a Ph.D candidate in Music at the University of Cambridge under the supervision of Nicholas Cook, a doctoral fellow of Cape Breton University, and a 2014 visiting researcher at Smithsonian Folkways Recordings. Ely has directed documentary films and produced recordings for the Smithsonian Institution, the MIT Media Lab, the University of Cambridge, and CBC Radio 1.
De l'allusion allégorique d'Ely Rosenblum:
(Traduit par le silence trompeur de Geneviève Faubert)
Le punk, le bruit et l'électroacoustique canadiens ont plus de points communs qu'on ne pourrait le penser. Est-il temps qu'ils se rejoignent en une union d'esthétique et de susceptibilité?
Le titre du présent article est tiré d'un forum mis en ligne par l'Université Concordia. Un utilisateur nommé Tandora y a publié le passage suivant :
Le sifflement et le grondement d'un son étranger
Qui vous donne la chair de poule et vous fait grogner
Un baiser monnaie d'échange pour vos marchandises
Ces lèvres folles et prêtes à ricaner
Acousmatiques et complètement sauvages
Un vautour qui picore leurs entrailles et vous fait sourire
Psychédélique et en délire, une drogue pour toi
Afin de déchirer la sagesse qui n'existe plus
Alors, combien y a-t-il de vieux punks parmi nous?

Permettez-moi de me concentrer sur cette dernière phrase. Elle me semble incarner l'essence même de la beauté de la scène punk canadienne : une scène isolée, qui s'étend pourtant à l'infini au-delà des plaines et des rivières. C'est ainsi que les scènes punk du pays se sont développées, avec l'équivalent d'une journée de route entre les salles de spectacle et les artistes (pour plus de renseignements sur l'isolement des scènes musicales au Canada, consultez l'article de Sam Sutherland « Perfect Youth: The Birth of Canadian Punk ». Et voilà que, sur un forum, un homme s'autoproclame « vieux punk », et cherche des semblables et des suggestions en matière de musique électroacoustique qui arrive à capturer toute la férocité des groupes punks. Cette requête me surprend et me semble bien progressive de la part d'un vieux punk, mais peut-être que je ne connais pas grand-chose à leur façon de procéder. Laissez-moi reformuler ma propre version de la question : combien d'entre nous sommes à la recherche d'une nouvelle scène punk canadienne?
Les « vulgarités sonores », appellation donnée au bruit urbain par le Canadien R. Murray Schafer, envahissent nos grandes villes. En tant que musiciens, pourquoi séparons-nous toujours les pratiques musicales et environnementales (un mouvement musico-écologique qui, en gros, manipule les sons de la nature à l'aide de techniques électroacoustiques) des mouvements punks?
Les punks et leurs scènes éponymes sont-ils l'incarnation de la ville? Pourquoi le punk issu d'environnements ruraux nous attire-t-il autant? Est-ce un élément de choc ou de surprise, au confluent de nos plaisirs auditifs?
Comment le punk canadien peut-il s'orienter vers un genre de pensée techno? Le punk est-il trop abrasif ou trop rapide pour les amateurs d'électroacoustique, ou au contraire, celle-ci ne rejoint-elle pas l'immédiateté que les punks affectionnent tant?
Si je pose autant de questions, c'est par réelle curiosité : loin de moi l'envie d'être normatif. Vu les liens titanesques que le Canada entretient avec le punk, le bruit et l'électroacoustique, une rencontre de ces trois éléments, quelque part au hasard des provinces, me paraît toute naturelle.
Les deux Scha(ef)fer : la musique électroacoustique et le paysage sonore
Le passage suivant présente un historique bref et rudimentaire de la musique électroacoustique :
L'acousmatique, terme utilisé dans le poème de Tandora, fait allusion aux sons dénués de sources perceptibles. Ainsi, on retrouve le son acousmatique dans la musique électroacoustique, qui tire ses origines de la musique concrète du compositeur français Pierre Schaeffer. Fort de techniques telles que la manipulation de bandes magnétiques et la programmation par ordinateur de cartes perforées, l'héritage de Schaeffer réside dans l'utilisation de tous les sons en tant que musique. À l'époque, ce genre artistique rendait furieux les autres compositeurs, mais enchantait les artistes à l'avant-garde du design sonore. La musique concrète a exercé une grande influence sur les compositeurs canadiens, en plus de mener à une toute nouvelle forme de création musicale, dont la pierre angulaire était l'enregistrement.
Pierre Schaeffer, « Études de bruits » (1948)
Le Canada a été le fier témoin de certaines grandes avancées en matière de compréhension de la relation entre la musique, l'enregistrement et l'environnement. R. Murray Schafer, professeur émérite de l'Université Simon-Fraser et l'un des formateurs les plus éclectiques au pays, a rassemblé divers compositeurs du Département de communication afin de sensibiliser les gens à la pollution auditive et à l'environnement sonore. Les membres de l'équipe, officiellement connue sous le nom de Projet mondial d'environnement sonore (World Soundscape Project), ont élaboré des techniques de composition et enregistré des sons environnementaux partout au pays. Ces réalisations les ont menés à la diffusion d'une émission judicieusement intitulée Canadian Soundscapes (« Paysages Sonores Canadiens ») sur les ondes de CBC. Barry Truax, un ancien membre de WSP, propage toujours l'héritage grâce à ses activités de compositeur et à son livre « Acoustic Communication » (1994), manifeste sur le son à l'ère électronique. Les étudiants de Truax produisent leur propre paysage sonore et contribuent aux volumineuses archives électroniques des œuvres électroacoustiques canadiennes. Même leur façon de marcher est semblable à celle du prof.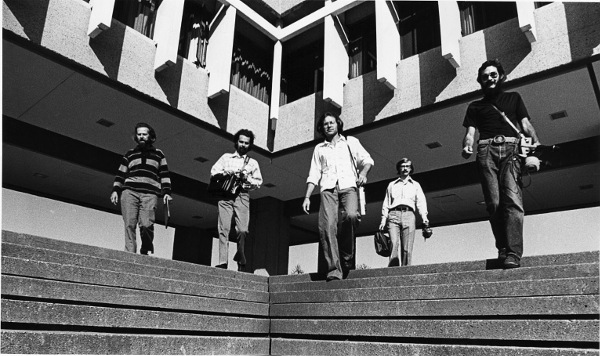 Les membres du World Soundscape Project R. Murray Schafer, Bruce Davis, Peter Huse, Barry Truax et Howard Broomfield se pavanent sur le campus de l'Université Simon-Fraser en 1973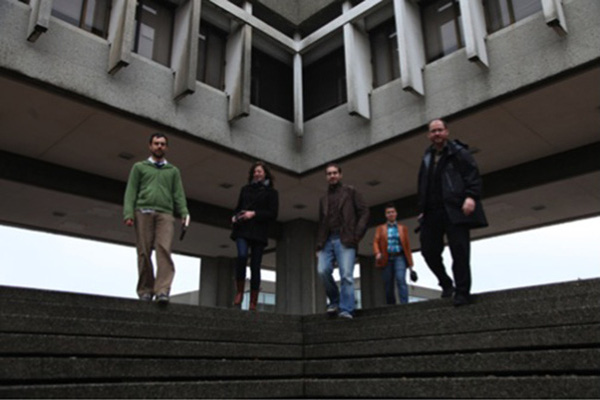 Des étudiants du Département de communication de l'Université Simon-Fraser imitent leur mentor en 2011
No Record : bruit canadien
La musique bruitiste (ou art bruitiste, selon vos allégeances esthétiques et philosophiques) est également présente au Canada. Le groupe Nihilist Spam Band de London, en Ontario, serait à l'origine du développement d'une scène globale de bruit japonais, les parrains du bruit, même s'ils ne considèrent pas leurs œuvres comme de la musique. Les membres du groupe, fondé en tant que groupe officiel du partie nihiliste du Canada, ont fabriqué eux-mêmes leurs instruments, composé la trame sonore du film « No Movie » puis lancé leur propre album intitulé No Record.
Nihilist Spam Band, « Dog Face Man »
Pendant 25 ans, ils ont fait la tournée des bars : un groupe de faiseurs de bruits et d'artistes qui se produisaient devant leurs amis et familles. Chaque année, ils organisaient l'événement No Picnic, un festival de l'absurde. Lorsque Hiroshige Jojo (fondateur de l'étiquette bruitiste Alchemy Records) leur a appris que leur enregistrement pirate avait fait le tour du monde, ils sont partis en tournée. Leur performance a alors influencé Japanoise, qui a depuis muté en un genre d'intérêt mondial (pour en savoir plus, consultez l'article « Japanoise » de David Novak paru en 2012).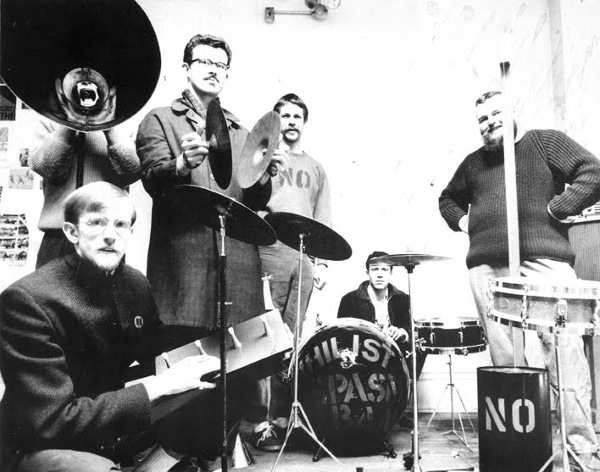 Le Nihilist Spasm Band (jadis, 1966)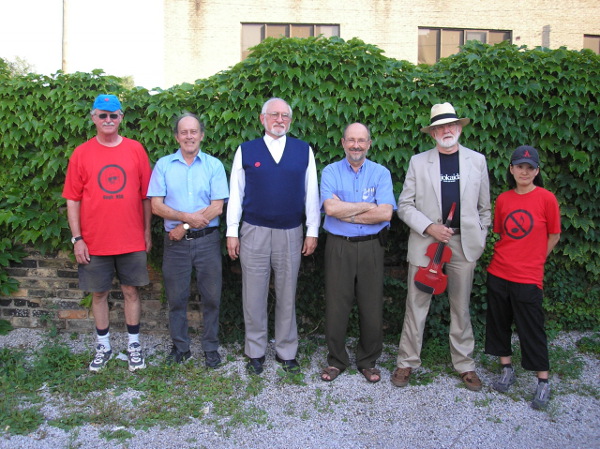 Les membres du NSB John Boyle, Murray Favro, Bill Exley, John Clement et Art Pratten, avec Aya Onishi (plus récemment, 2011)
Tous droits réservés, 1966 Estate of Don Vincent. Photos reproduites avec autorisation.
Au cours de la dernière année, j'ai assisté au Sonorities Festival de l'Université Queen's de Belfast. Pendant les trois jours qu'ont duré l'événement, j'ai pu entendre certains des meilleurs compositeurs électroacoustiques au Sonic Lab, peut-être bien la salle de concert la plus avancée en matière de technologie (une ambiophonie de 8.1 au plafond, sur les murs, le plancher et au sous-sol). Extrait tiré de leur site web : « Au niveau du sol se trouve une grille de métal qui laisse filtrer le son en provenance du sous-sol. Le port de chaussures à talons hauts n'est donc pas recommandé. »
J'ai également participé à une conférence qui avait pour thème « Au-delà du paysage sonore ». Je me suis alors demandé si le fait d'aller au-delà du paysage sonore consistait non pas à renoncer à celui-ci, mais plutôt à le réinterpréter d'une autre façon : émettre des vulgarités sonores encore plus abrasives et produire des moments tranquilles plus palpables et tactiles que tous pourraient ressentir. Je suis bien content que le punk et la musique bruitiste effectuent un retour à l'acousmatique, et qu'ils s'étendent aussi au paysage sonore par l'entremise d'enregistrements lo-fi, de hurlements d'instruments désaccordés ou d'enregistrements manipulés de sons environnementaux. Grâce à la distribution numérique, il est plus facile de tenir les gens au courant des prestations, des enregistrements et des idées nouvelles sur la production de musique (Weird Canada en est l'exemple parfait). Je serais curieux d'entendre la synthèse musicale engendrée par diverses collaborations entre les genres et les formes artistiques au Canada, terre d'innovation tranquille.
Chercheur canadien dans le domaine des arts, de la musique et de la scène, Ely Rosenblum est également cinéaste et preneur de son. Ses domaines d'expertise vont de l'anthropologie à la critique des pratiques médiatiques. Il possède une formation en cinéma ethnographique du Centre d'anthropologie visuel de Goldsmiths, à l'Université de London, où il a cofondé ART/E/FACT, une publication et une série d'événements sur les arts et l'anthropologie. Il est présentement candidat au doctorat en musique à l'Université de Cambridge sous la supervision de Nicholas Cook, un doctorant de l'Université du Cap Breton et chercheur invité en 2014 chez l'étiquette de disques Smithsonian Folkways Recordings. Ely a réalisé des documentaires et produit des enregistrements pour la Smithsonian Institution, le MIT Media Lab, l'Université de Cambridge et la chaîne de radio CBC 1.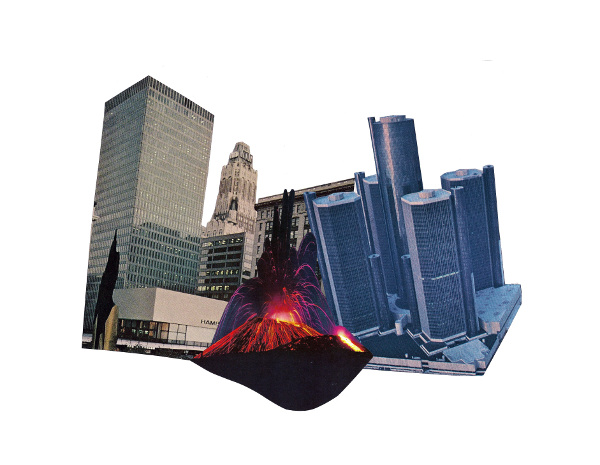 Everyone Knows This is Somewhere
Informal Creative Music, Space, and Community
Joe Strutt
Toronto, ON
[cover art: Tobin Louise Reimer]
From the pragmatic utopianism of Joe Strutt:
It is a January night in Toronto. The cold snap has passed, and even though the sidewalks are still treacherously icy, a handful of people have shuffled through a loading dock filled with trucks and snow-covered ice machines into a handsomely refurbished space for a gig organized by music collective Somewhere There.
On his fiftieth birthday, tenor saxophonist Paul Newman is celebrating by inviting some friends to play with him. Alto player Karen Ng joins him on a piece whose title comes from a fortune cookie ("You May Attend a Party Where Strange Customs Prevail"), and percussionist Joe Sorbara contributes to a special duo version of his "Large Solo Piece No. 1".
In the break between sets, the small crowd — most of whom have played with Newman at one point or another — gather together to chat. Drummer Germaine Liu isn't playing tonight, but she has brought a birthday cake. A wish is made, candles are blown out, and everyone has a piece of the vegan chocolate cake. After the break, trombonist Heather Segger joins Newman, and then she and Ng return to the stage to play the newest, still-in-progress piece to wrap up the night. Newman beams, and declares this to be an excellent birthday gathering.
That last piece's title? "Everyone Knows This is Somewhere".
*****
Somewhere There is nowhere*. Somewhere There was established as a venue in 2007, and has existed in three distinct phases. The original Somewhere There, at the back of an old furniture warehouse near Queen and Dufferin, was founded by Scott Thomson in 2007. When it moved, the second incarnation on Sterling Road was run by a collective of musicians. But Somewhere There hasn't had a physical space for over a year now. "Noise complaints and other unpleasantness" were the putative reasons its loft spot on Sterling was shut down in early 2013, on the eve of a weekend-long festival designed to bring some new faces into the space.
What does it mean to be a venue without a venue?
While the search for a suitable space continues, the collective has been putting on shows when it can, and is planning to host its second festival at the end of February.
But what does it mean to be a venue without a venue? Does the resolutely uncommercial, mostly-improvised music that Somewhere There plays host to need a physical space to thrive? How can a space sustain itself when its shows play to crowds that can often be counted on the fingers of one hand?
*****
A note on nomenclature: The music played at Somewhere There doesn't adhere to constraints of genre so much as a nexus of performative methodologies. A lot of it is improvised music (both of the "free" and "structured" varieties), and as such, sometimes follows in the jazz tradition. But on any given night, you'd be just as likely to hear the influence of electroacoustic, noise, musique concrète, postpunk, electronic or debased forms of folk music.
For the purposes of this piece, I'll broadly describe the sort of music that predominates at Somewhere There as "informal creative music", (and often simply use the phrase "creative music") a term proposed by Scott Thomson, who defined those words thusly:
"creative" is not meant in opposition to "uncreative" music but rather as distinct from "recreative" music — which, like European classical music, reproduces an idea that been prepared in advance, where the details are sorted out and perfected as much as possible before presentation to an audience. In creative music, musicians solve some of the problems in realtime, responding to each other.

"informal" music breaks down the distinction between "composer" and "collaborator". The boundary between musician and audience is porous and soft, and there is a chance for audience and performers to get to know each other. Everyone experiences the music together and there's a greater sense that it "belongs" to a community — it just so happens that some are creating the sounds and others are listening.
*****
February 2013. Thanks to The Tranzac Club, in the immediate aftermath of the loss of the Sterling venue, the first Somewhere There festival went ahead. To lead things off, the organizers invited trombonist Scott Thomson, who founded the original Somewhere There, to give a talk. He discussed the reasons he started the venue, looked back at the history of the local scene that preceded it, and outlined what he had hoped to achieve. (Direct quotations in this section are from that talk, entitled "Somewhere There and its Public", delivered February 22, 2013.)
<<< read more >>>
Thomson felt that a space like Somewhere There was "something that was really needed" in the wake of a cycle of instability for creative music spaces. In the mid-2000s there was a small but fertile creative music circuit, a triangle of sorts for musicians and audiences that included the old Array Space (home to Leftover Daylight and the AIMToronto Interface series), the Tranzac, and a Sunday afternoon series at the Now Lounge. One by one, each of these became less reliable — through rumblings of condo development, trouble with the neighbours, and a loss of sympathetic personnel at the venue, respectively.
The value of these spaces was that individual gigs could be complemented with longer-term series or residencies, where an artist or group could hold down a regular timeslot over an extended time, giving a chance to build a repertoire or develop chemistry. Some shows would also take place in bars, but those would often be one-off gigs, which required more work to set up and promote and would often play to an unsympathetic crowd that was there for other reasons.
There had been efforts to set up series at a few bars (including Oasis and Victory Café), but Thomson felt there was "fundamentally no sympathy" for music that was considered too weird. In the end, "commercial forces impinged on [the] ability for shows to take place week in, week out and inevitably the bottom line would creep into the equation and the bar owner would, based on that, shut something down prematurely".
Thomson felt he was catering to a "public" for the work rather than a "market", opening up a conversational space and using each small audience as a chance to engage, talk about other shows, and foster connections.
Unsatisfied with the bars and fearful that the alternative spaces might disappear altogether, Somewhere There was founded as a small-scale entity with a different sort of agenda. By design, it was closer to a living room than a bar, right down to the couches up front. It had a private feel, but was open to the public. "Creative music suffers in a wholly public context. It also suffers in a wholly private context because nobody gets to hear it."
Thomson gave a lot of thought to who the audiences were at Somewhere There's shows, noting, "it's hard not to when the audience might be two people." But, inspired by Portland's Publication Studio (which prints small runs of books customized to a title's demand, whether that's one copy or one hundred), Thomson felt he was catering to a "public" for the work rather than a "market", opening up a conversational space and using each small audience as a chance to engage, talk about other shows, and foster connections. "I don't think the public grew that much, but that wasn't really the point. It would have been nice — it would have helped cover the rent." But "it felt like I was attending to the social life of the music."
Thomson estimated that in a run of about eight hundred shows, the average audience was about six people. There would be occasional "events" that would bring in larger crowds, and nights with just the musicians. But no matter how many showed up, the programming went ahead seven nights a week. It was often driven by the residency program where musicians could play regularly and curate sets by other artists, creating new opportunities for collaboration and inspiration.
Over time, the labour required to organize so many shows and maintain the space took its toll, and a rent increase put the venue's continued viability in jeopardy, Thomson stepped back, and would subsequently move to Montréal. Somewhere There would continue, but in a different location and with a group of musicians taking over the reins.
At the festival, in the aftermath of the second location's closing, Thomson closed his talk with a provocative question from what was now an outsider's perspective: should Somewhere There still be a venue? If that was simply assumed, he warned, choices might be made for the wrong reasons.
*****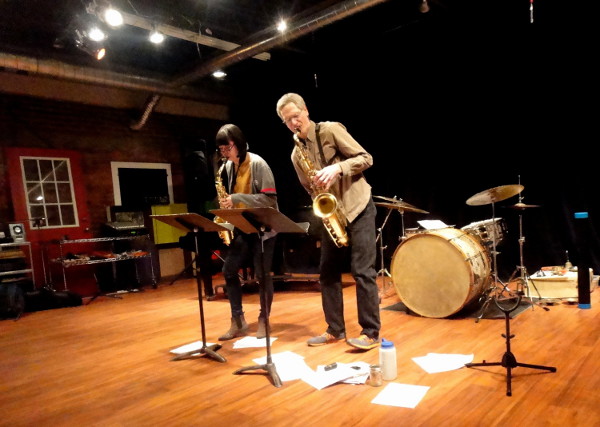 To the collective that took over Somewhere There after Thomson, it seemed obvious that a permanent space was needed, and that there'd be a hole in the fabric of the local creative music scene without it.
To their credit, when the original location closed up, the group that came together managed to find the new space on Sterling Road quickly enough that previously scheduled programming wasn't lost. But every affordable space (especially in Toronto's red-hot real estate market) demands compromises, and the second Somewhere There was less loved and less practical — a smaller space that was less amenable to large-scale rehearsals, less separated from neighbours and generally a little less comfortable. Although good music was still being made, after a while the motivating spirit wasn't quite the same.
Attendance at shows decreased — the venue was dismissively known in some quarters as "No One's There". As the members of collective admit: "the energy was actually starting to wane a bit. Things tended to be a little more ad hoc and less focused than they had been… it was starting to fray at the edges a bit by the end." (I presented the organizers behind Somewhere There with some questions for this piece, which they chose to respond to collectively by email. The answers were provided by Paul Newman, Pete Johnston and Joe Sorbara with additional feedback from Michael Lynn, Heather Segger, Arnd Jurgensen, and David Sait. Direct quotations in this section are from these responses.)
On losing the Sterling venue, the initial reaction was, once again, to try and find a new space as quickly as possible and go on as before. But the past year has lead to reflection and retrenchment: "the problem is that that space was being supported by a very small group of volunteers who, let's be honest, were burning out. The model wasn't sustainable." Homelessness might have a hidden upside.
"There is absolutely something liberating about not worrying about paying the rent for the venue every month," the collective agreed. Plus, one can only imagine that fewer administrative headaches left everyone more time to focus on playing. "We're all just a little bit healthier one year on."
In the meantime, the collective has continued to present a few shows per month. Both the main Somewhere There shows and a spin-off series named Audiopollination have found a temporary home at the new Array Space, a venue that is comfortable and acoustically superior, even if it is a bit out of the way and tough to find for first-time visitors.
By design, [Somewhere There] was closer to a living room than a bar, right down to the couches up front. It had a private feel, but was open to the public.
Having fewer shows makes for a different sort of experience. Thirty-two shows over a year versus seven a week has led to a palpable sense that the shows have less of that super-casual living-room vibe and are more like a traditional "concert", seeing a finished product instead of dropping in to see something still gestating. "These recent presentations feel 'more like shows'," the collective confirms. "They're less informal than the events at the venue set out to be. The idea that fewer events offer less of a chance to treat performances as part of the process… is also true."
(As an aside, I asked the Somewhere There collective if their kind of music and social model depended on small crowds, essentially in having more performers in the room than audience members. They responded, "would something about Somewhere There be ruined if there were large crowds consistently? Let's find out!")
*****
Space is important. "Most venues do come and go, and exist in time and a place for a limited period of time," notes Jeremy Strachan (a local musician and PhD candidate in musicology who is writing on Udo Kasemets and 1960s experimentalism in Toronto). He provided some historical perspective to my questions about venues and creative music, and it's worthwhile to quote him at length. "Physical spaces provide a crucial element of tangibility that have historically fostered not only growth and sustainability for those scenes, but instantiate their own pasts. The many chapters in Toronto's history of experimental music can arguably be said to be written around performance spaces: Double Double Land, Somewhere There, The Music Gallery, The Tranzac, The Art Culture Resource Centre (a space at 789 Queen West from the early 80s). It goes back to the 60s and even 50s — Avrom Isaacs' Gallery on Yonge Street was an important location for mixed media concerts and free improvisation, as well as Fluxus-style 'environments' and happenings. Because the nature of music scenes is so fleeting, with people coming and going, the venues themselves become important archival documents, allowing people to locate memory and presence to real places at real times."
Although venues come and go, their survival not only provides continuity to performers and audiences, it also allows for venues to mutate and develop in unforeseen directions. The history of Toronto's Music Gallery is instructive in this regard: founded by CCMC as a sort of open jam space it adapted over time into something else entirely and is now an important creative music institution, working as an interface between the "informal" milieux of places like Somewhere There and the more formal world of high culture.
*****
Pragmatic utopianism. I asked the Somewhere There collective if trying to find a space for resolutely non-commercial music is an act of defiance in the current socio-political environment. Are they challenging the dominant model of capitalism and looking for new forms of organization/community, or is it just a practical matter of trying to find some place (er, somewhere) to play music? My sense is that the response came with a bit of a hesitation, and I'm guessing I would get a wide range of answers if I spoke to the individual members.
But they did agree on these sentiments: "first of all, defying capitalism is a practical matter at this point. It's not a sustainable system. Period. Really, though, by any and all understandings of a society centred around the building of capital, what we do wouldn't and shouldn't exist. If we were interested only in money, we wouldn't be making the music we make and we wouldn't be presenting the music we present. Nobody is getting rich off of creative music."
Furthermore, "the music that we listen to, make, present, nurture, celebrate, works in direct opposition to any musics designed to be accessible to as many consumers as possible. We're interested in listening ears and open minds. We're interested in challenging music, critical music, impossible music. We are music-ists, not capitalists."
Financial and existential marginality is nothing new, and sustainability has long been incompatible with musical boundary pushing. Informal spaces simply don't make sense in a market-driven system. But that is, of course, the system we're in.
"We do live and work in a capitalist society," the collective agrees. "It wouldn't be helpful to anyone to pretend that that's not true… The only way we're going to have space for informal creative music-making in Toronto is to get some funding in place, either from an arts council or two or from a private benefactor or through some combination of these things. At this point, that's our long-term goal."
"'Fringe' music scenes… operate within frameworks that rely mostly on volunteer efforts, sporadic public funding, personal donations, and (very) lastly, box office revenue to pay rent," notes Strachan. The role of government funding for creative music — and the notion that such investments are actually fairly savvy over the long run — is worthy of a whole other essay. But for the time being, let's ignore the how — and assume that groups like Somewhere There are going to continue to present as many shows as they can, through whatever means — and think about why these shows are valuable.
*****
Communities create art. Does art create communities? Many of the overlapping communities we situate ourselves in are defined by passivity, craven profiteering, and subtle hierarchies of dominance. That makes communities based on other principles — small-scale, engaged, locally-based — something worth cherishing and nurturing.
Let me propose two ideas. One: making music and making spaces to make music are fundamentally social processes, even more than artistic processes. Two: for better or for worse, the particular social relations we engage in become embodied in the communities we inhabit.
If those things hold true, then it follows that membership in a creative music community is a wilful act of projecting a better sort of society.
This is as true for informal creative music in Toronto as it is for hip-hop in Halifax, string quartets in Saskatoon or noise bands in North Vancouver — attending to our scenes, however small and "marginal" they are, is an investment in the kind of world we want to live in.
*****
If that's the case, one tentative conclusion is that making the effort is valuable, even if it's for small-scale and temporary results. That gives a bit of a mooring against the constant flux of contingencies and compromises.
Some venues will thrive, some will disappear. A few will become victims of their own success. Some experiments will work out and others won't. There will be endless new ways to succeed and fail and to learn and move on from either. Just like in improvised music, failure is a viable option — sometimes it's not really failure at all. Failure is a pause, not a full stop, and a chance to come at a problem from a new angle. Somewhere There is dead; long live Somewhere There.
*****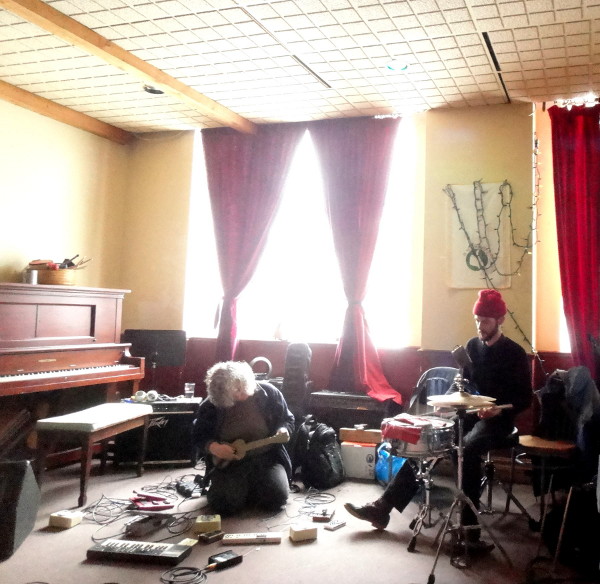 It is a February afternoon in Toronto. The latest cold snap has passed, and I make my way into The Tranzac, where Allison Cameron, equally talented as a composer and improviser, is beginning a new monthly series, much like the residencies she once had at Somewhere There.
Playing as a duo with D. Alex Meeks — the mysterious Holiday Rambler — Allison sits at the piano and begins to play, doubling her lines with a ribbon synthesizer while incomprehensible bursts from a radio babble in the background. I look around the room and see we are a crowd of three; I recognize the other faces.
In the break between sets, we are five people gathered together at the front of the room. Composer/songwriter Stephen Parkinson wanders over to the piano an idly picks out a few notes. I introduce myself to William Davison, who I had seen doing some improvised electroacoustic pieces at an Audiopollination show a couple weeks before. D. Alex explains how Pierre Bastien's mechanical constructions are his third biggest influence on his drumming. We get an update on Allison's cat.
For the second set, Allison sits on the floor, surrounded by her small amplified instruments, plucking a ukulele and generating squeals of feedback while rolling a metal ball over the keys of a thumb piano. The building is unusually quiet. There's the occasional glass clink as the bartender sets up; it complements the music. Over in the Tiki Room, a few people gather around a table for some sort of meeting. It was all very Tranzac-y.
The sun is bright over Brunswick Avenue, and through the window I watch a man trying to clear the ice off the sidewalk with a series of plunging, harpoon-like stabs, unaware that his actions are being scored by a pair of musicians across the street. The musicians don't know they're providing a soundtrack, either, but it seems to be in perfect sync as the music slows and weary homeowner slumps forward out of frustration or exhaustion.
In fact, the whole scenario seems perfect, close to my idea of a secular heaven. Good people and good music around me, the sunlight glowing through the windows, just as these odd bits of culture can find their way through the cracks and illuminate the folks who need it and nurture it.
Everyone knows this is somewhere.
*****
Resources
If you are curious, you are welcome to explore Toronto's creative music community. Some of the music being played is probably similar to music you already know, but has just been put into a different box. (Some of the music is utterly unlike anything you already know.) Going to small-scale shows can be a bit awkward for the introverted or shy (I can attest to this from personal experience), but if you show up and nod politely and find a spot off to the side, you'll be given some space to yourself. If you step over and say hello to the musicians and others milling around, you'll be greeted warmly. There are shows going on quite frequently if you know where to look. Here are some places to look:
De l'utopisme pragmatique de Joe Strutt :
(Traduit par Joannie Pharand et Jacinthe Laplante)
C'est une nuit de janvier à Toronto. La vague de froid est passée. Même si les trottoirs sont encore traîtreusement glacés, une poignée de gens ont marché d'un pas traînant à travers une plate-forme de chargement remplie de camions et de machines à glace enneigées jusqu'à un espace joliment réaménagé pour un spectacle organisé par la coopérative Somewhere There.
Le jour de ses cinquante ans, le saxophoniste ténor Paul Newman fête en invitant des amis à jouer avec lui. La saxophoniste alto Karen Ng se joint à lui pour jouer un morceau dont le titre vient d'un biscuit chinois (« You May Attend a Party Where Strange Customs Prevail »), et le percussionniste Joe Sorbara contribue à une version duo spéciale de « Large Solo Piece No. 1 ».
Pendant les pauses entre les prestations, la petite foule se rassemble pour jaser, la plupart d'entre eux ayant déjà joué avec Newman à un moment ou un autre. La batteuse Germaine Liu ne joue pas ce soir, mais elle a apporté un gâteau d'anniversaire. On fait un souhait, on souffle les bougies et tout le monde a un morceau du gâteau au chocolat végétalien. Après la pause, la tromboniste Heather Segger se joint à Newman et elle retourne sur la scène avec Ng pour jouer le nouveau morceau, encore en cours d'élaboration, afin de clôturer la soirée. Newman sourit et déclare que c'est une fête d'anniversaire réussie.
Le titre du dernier morceau? « Everyone Knows This is Somewhere ».
*****
Somewhere There n'est nulle part. Somewhere There fut établi en tant que salle de spectacles en 2007 et a évolué en trois phases distinctes. L'espace original de Somewhere There, en arrière d'un entrepôt de meubles près des rues Queen et Dufferin, fut fondé par Scott Thomson en 2007. Lorsque l'établissement changea de lieu, cette deuxième instauration fut gérée par une coopérative de musiciens sur le chemin Sterling. Mais Somewhere There n'a pas eu d'espace réel depuis plus d'un an : « des plaintes relatives au bruit et autres désagréments » étaient les présumées raisons de la fermeture du loft sur Sterling au début de l'année 2013, à la veille d'un week-end ou un festival devait amener de nouveaux visages dans l'espace. L'embourgeoisement rapide du quartier a fait en sorte que plusieurs espaces musicaux DIY ont été supplantés par des centres d'entraînement physique et d'autres signes de mobilité sociale ascendante et de progrès urbain.
Mais qu'est-ce que ça veut dire d'avoir un espace sans avoir un espace?
Alors que la chasse à l'espace approprié continue, la coop organise des spectacles où elle le peut et sera l'hôte de leur deuxième festival à la fin du mois de février.
Mais qu'est-ce que ça veut dire d'avoir un espace sans avoir un espace? Est-ce que la musique résolument non commerciale et quasiment improvisée présentée à Somewhere There nécessite un espace réel pour grandir? Comment un espace peut-il se soutenir lorsqu'il présente des spectacles où le public ne représente qu'une poignée de gens?
*****
Une note sur la nomenclature : La musique qu'on joue à Somewhere There n'adhère pas aux contraintes de genre autant qu'aux méthodologies liées à la performance. L'improvisation prend beaucoup de place (à la fois celle « libre » et celle « structurée ») et suit quelquefois les traditions jazz. Mais, chaque soir, vous pourriez aussi bien entendre les influences de l'électroacoustique, du noise, de la musique concrète, du postpunk, de la musique électronique ou de la musique folk dégradée.
Aux fins de cet article, je décrirais généralement le genre de musique présenté à Somewhere There comme étant une « musique créative décontractée » (et en utilisant souvent simplement « musique créative »), un terme que Scott Thomas a proposé, lui qui définit ces mots ainsi :
« Créative » non pas pour l'opposer à la musique dépourvue de création, mais plutôt pour la distinguer de la musique « récréative » — qui, comme la musique classique d'Europe, reproduit une idée préconçue, où les détails sont arrangés et perfectionnés autant que possible avant de les présenter au public. Dans la musique créative, les musiciens règlent quelques-uns des problèmes en temps réel, en se renvoyant la balle.
« Décontractée », car cela explique la différence entre le « compositeur » et le « collaborateur ». La barrière entre le musicien et le public est ouverte et douce et il y a un moment où le public et les artistes peuvent apprendre à se connaître. Les gens sont témoins de musique ensemble et il y a cette conscience qu'elle « appartient » à la communauté – il se trouve juste que certains créent les sons et que les autres les écoutent.
*****
Février 2013. Grâce au Tranzac Club, le contrecoup de la perte de la salle sur Sterling a tout de même permis au premier festival Somewhere There d'avoir lieu. Pour commencer, les organisateurs ont invité le tromboniste Scott Thomson, fondateur du Somewhere There initial, à en parler. Il a discuté des raisons de l'ouverture de la salle, en se remémorant l'histoire de la scène locale avant que le lieu existe, et a dressé les grandes lignes de ses buts. (Les citations de cette partie du texte proviennent de cette rencontre, intitulée « Somewhere There and its Public », en date du 22 février 2013)
Thomson trouvait qu'un espace comme Somewhere There était « quelque chose de vraiment nécessaire » à la suite de l'instabilité des salles dédiées à la musique créative. Au milieu des années 2000, il y avait un circuit de musique créative, exigu mais fertile, comme un genre de triangle pour les musiciens et les spectateurs, formé par l'espace Old Array (d'où provient Leftover Daylight et la série AIMToronto Interface), le Tranzac et la série hebdomadaire du dimanche après-midi au Now Lounge. Un à un, chaque espace est devenu inconstant, respectivement dû aux constants développements de condominiums, aux problèmes avec les voisins et à la perte d'employés compatissants.
<<< read more >>>
Ces espaces et les artistes qui y présentaient pouvaient bénéficier de séries de spectacles à long terme et de résidences, un attrait important. Un groupe ou un artiste pouvait donc obtenir un temps régulier et le maintenir, leur permettant de bâtir leur répertoire et de développer une chimie. Certains spectacles se tenaient dans des bars, mais ceux-ci étaient éphémères et demandaient davantage de travail pour l'installation et la promotion, pour finalement devoir se produire devant un public indifférent et qui était là pour d'autres raisons.
On avait essayé d'instaurer des séries de spectacles dans certains bars (dont Oasis et Victory Café), mais Thomson trouvait qu'il n'y avait « au fond, aucune sympathie » pour de la musique considérée trop bizarre. Bref, « les forces commerciales empiétaient sur les spectacles qu'on tentait de présenter de semaine en semaine et inévitablement, en raison des impératifs monétaires, le propriétaire du bar devait stopper la chose prématurément. »
Insatisfait des bars et craintif que d'autres espaces ne disparaissent littéralement, Somewhere There fut fondé en tant que petite entité avec un but différent. Il ressemblait davantage à un salon qu'à un bar, grâce aux sofas dans l'entrée. On ressentait cette ambiance privée, même si c'était ouvert au public. « La musique créative souffre dans un milieu entièrement public. Elle souffre aussi dans un contexte entièrement privé parce que personne n'a la chance de l'écouter. »
Thomson a réfléchi beaucoup à qui était dans le public aux spectacles à Somewhere There. Il remarqua que « c'est difficile de ne pas s'en préoccuper lorsqu'il ne peut y avoir que deux personnes dans l'assistance. » Mais, inspiré par Publication Studio de Portland (qui imprime de petites quantités de livres sur mesure selon les demandes du titre, que ce soit pour une copie ou pour cent) Thomson trouvait qu'il travaillait pour un « public » plutôt qu'un « marché » en ouvrant un espace ou l'on pouvait converser et utiliser la petite taille de la foule comme une chance de communiquer, de parler d'autres spectacles et de favoriser les connections. « Je ne crois pas qu'il y a eu bien plus de spectateurs, mais ce n'était pas vraiment le but. Ça aurait été bien, ça aurait aidé à payer le loyer ». Mais, « j'avais l'impression de m'occuper de la vie sociale de la musique. » Thomson estimait que pour une séquence de 800 spectacles, chacun attirait en moyenne six spectateurs. Il y avait certains « évenements » qui amenaient plus de gens et certains autres soirs où seuls les musiciens étaient présents. Mais peu importe le nombre, la programmation suivait son cours 7 soirs par semaine. La motivation venait du programme de résidence où les musiciens pouvaient jouer régulièrement et organiser des sets pour d'autres artistes. Ceci permettait de créer de nouvelles opportunités de collaboration et d'aide à l'inspiration. Au fil du temps, le travail que demandait l'organisation d'autant de spectacles et le maintien de l'espace ont fait des ravages. En plus, l'augmentation du loyer mettait constamment les chances de réussite en péril. Thomson a pris du recul et est par la suite déménagé à Montréal. Somewhere There allait continuer, mais dans un espace différent, avec un groupe de musiciens reprenant les rênes.
Au festival, l'après-coup de la fermeture du deuxième espace a forcé Thomson à poser une question provocante, maintenant du point de vue d'un étranger et terminant ainsi la discussion : est-ce que Somewhere There devait encore être un espace? Si l'on tenait cela pour acquis, Thomson nous prévenait que des choix seraient faits pour de mauvaises raisons.
*****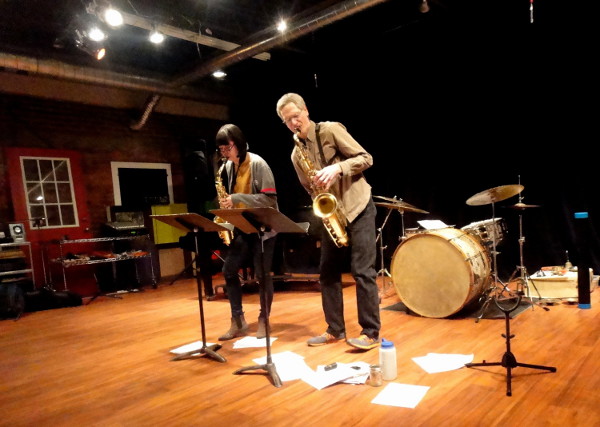 Pour le collectif qui a repris Somewhere There après Thomson, il semblait évident qu'un local permanent devenait nécessaire, que sans ce local, il manquerait quelque chose à la scène musicale locale.
Tout à leur honneur, après la fermeture de l'endroit original, le groupe formé a réussi à trouver le nouveau local sur le chemin Sterling assez rapidement pour ne pas perdre la programmation prévue. Mais tous les espaces abordables (surtout sur le marché immobilier convoité de Toronto) exigeaient de faire des compromis, et le deuxième Somewhere There était moins apprécié et moins pratique — un espace plus petit, moins bien aménagé pour les répétitions de grande envergure, moins éloigné des voisins, et en général, un peu moins confortable. Même si on y faisait de la bonne musique, après un moment, la motivation n'était plus la même.
L'affluence aux spectacles diminue et dans certains cercles, on renomme avec mépris la salle No One's There (N.D.T. : « Il n'y a personne »). Les membres du collectif avouent : « l'énergie commençait à décliner un peu. Les choses commençaient à être plus ad hoc et moins canalisées qu'avant… ça commençait à s'effriter un peu vers la fin ». (Pour écrire cet article, j'ai envoyé des questions aux organisateurs de Somewhere There auxquelles ils ont choisi de répondre collectivement par courriel. Les réponses ont été fournies par Paul Newman, Pete Johnson et Joe Sorbara avec les commentaires de Michael Lynn, Heather Segger, Arnd Jurgensen et David Sait. Les citations dans cette section proviennent de ces réponses.)
La première réaction à la perte de la salle du chemin Sterling fut, encore une fois, de tenter de trouver un nouvel espace aussi rapidement que possible et de continuer comme avant. Mais l'année qui venait de s'écouler avait provoqué réflexion et repli : « le problème c'est qu'un très petit groupe de bénévoles soutenait ce local, et ils étaient, soyons honnêtes, au bout du rouleau. Le modèle d'affaires ne pouvait pas réussir ». L'itinérance a peut-être un bon côté caché.
Le collectif s'accorde : « c'est incroyablement libérateur de ne pas se demander comment payer le loyer de la salle chaque mois ». De plus, on peut imaginer que sans les maux de tête administratifs, tout le monde pouvait consacrer plus de temps à jouer. « On est tous un peu plus en santé un an plus tard. »
Entre temps, le collectif présente toujours quelques spectacles chaque mois. Somewhere There et sa série dérivée Audiopollination ont trouvé un toit temporaire au nouveau Array Space, une salle confortable et acoustiquement supérieure, même si c'est un peu plus loin et plus difficile à trouver pour les nouveaux visiteurs.
Présenter moins de spectacles était une expérience différente. Trente-deux représentations par année plutôt que sept par semaine donnaient l'impression qu'elles avaient moins de cette ambiance super décontractée de salon et ressemblaient plus à des spectacles traditionnels, qu'on voyait un produit fini plutôt que de jeter un coup d'œil à un projet en gestation. « Les dernières représentations ont plus l'air de spectacles », confirme le collectif. « Elles sont moins informelles que ce que nous avions planifié pour les événements à la salle. L'idée qu'un nombre restreint d'événements donne moins la chance de voir les spectacles comme un processus… est tout à fait vraie. »
(En aparté, j'ai demandé au collectif Somewhere There si leur genre musical et leur modèle social dépendaient des petites foules, essentiellement en ayant plus de musiciens que de membres du public dans la salle. Ils ont répondu : « est-ce que l'essence de Somewhere There serait ruinée s'il y avait toujours de grandes foules? Essayons! »)
*****
L'importance du lieu : « La plupart des salles vont et viennent, et existent à un moment et dans un lieu donnés pour une courte période » affirme Jeremy Strachan (un [musicien]9https://soundcloud.com/kominorecords/sets/k0m1n0-002/) local et doctorant en musicologie, sa thèse porte sur Udo Kasemets et l'expérimentation des années 1960 à Toronto). Il offre une perspective historique à mes questions sur les salles et la musique créative, et il vaut la peine de le citer en entier. « Les lieux physiques offrent un élément crucial de la tangibilité qui a historiquement favorisé non seulement la croissance et la longévité de ces scènes, mais qui fait en sorte que celles-ci créent leur propre passé. On peut faire la démonstration que les nombreux chapitres de l'histoire de la musique expérimentale torontoise ont eu lieu autour de ces lieux de spectacle : Double Double Land, Somewhere There, The Music Gallery, The Tranzac, The Art Culture Resource Centre (une salle située au 789, rue Queen Ouest au début des années 1980). On peut remonter jusqu'aux années 1960 et même 1950 – Avrom Isaacs' Gallery sur la rue Yonge était un lieu important pour les concerts de médias combinés et d'improvisation, autant que les "environnements" de style Fluxus et les happenings. Parce que l'essence des scènes musicales est si fluide, les gens vont et viennent, les salles deviennent en elles-mêmes d'importants documents d'archives, permettant aux gens de placer leurs souvenirs et leur présence à des endroits précis, à des moments précis. »
Même si les salles apparaissent et disparaissent, leur survie ne procure pas seulement une continuité pour les musiciens et leur public, elle permet aux salles de se transformer et de se développer dans des directions inattendues. L'histoire de la Music Gallery de Toronto est intéressante à ce sujet : la salle, fondée par CCMC pour servir d'espace ouvert dédié à l'improvisation, s'est adaptée avec le temps à quelque chose de complètement différent et tient maintenant lieu d'institution importante de musique créative et sert de liaison entre les milieux « informels » comme Somewhere There et le monde plus formel de la haute culture. D'ailleurs, la Music Gallery fut originalement conçue comme « galerie de musique » au même titre qu'une galerie d'art visuel. Ce sens littéral du nom, bien qu'évident, m'a tout de même surpris lorsque j'ai appris que ses fondateurs aspiraient réellement à créer une galerie musicale.
*****
Utopisme pragmatique. J'ai demandé au collectif Somewhere There si la tentative de trouver un espace pour faire de la musique résolument non commerciale est un geste de provocation envers l'actuel environnement sociopolitique. Est-ce qu'ils mettent au défi le modèle dominant du capitalisme et cherchent de nouvelles formes d'organisation/de communauté, ou est-ce seulement une question pratique de trouver un endroit pour jouer de la musique? J'ai senti une hésitation à répondre et j'imagine que j'aurais obtenu une variété de réponses si j'avais parlé à chaque membre individuellement.
Mais ils se sont entendus sur ces points : « d'abord, mettre au défi le capitalisme est une question pratique en soi actuellement. Ce n'est pas un système durable. Point. Par contre, dans toute conception d'une société axée sur l'accumulation de richesses, ce qu'on fait ne devrait pas et ne pourrait pas exister. Si on s'intéressait seulement à l'argent, on ne produirait pas la musique que nous faisons et on n'offrirait pas la musique que nous présentons. On ne devient pas riche avec la musique créative.»
De plus, « la musique que nous écoutons, créons, présentons, encourageons, célébrons diffère complètement de la musique créée pour être accessible au plus grand nombre de consommateurs possible. Nous nous intéressons aux oreilles attentives et aux esprits ouverts. Nous voulons de la musique déstabilisante, de la musique critique, de la musique impossible. Nous sommes des musiquistes, pas des capitalistes. »
L'individualité financière et existentielle n'est pas un fait nouveau, et la longévité a longtemps été incompatible avec l'exploration au-delà des frontières musicales. Les lieux informels semblent insensés dans un système axé sur le marché. Mais c'est le système dans lequel nous vivons.
« Nous vivons et travaillons dans une société capitaliste », admet le collectif. « Le nier ne rend service à personne… La seule façon d'avoir un espace pour faire de la musique créative informelle à Toronto est d'obtenir du financement, provenant d'un ou deux conseils des arts ou d'un bienfaiteur privé ou combinant les deux. En ce moment, c'est notre objectif à long terme. »
« Pour payer le loyer, les milieux de musique marginale dépendent surtout de l'implication des bénévoles, d'un financement public sporadique, de dons privés et, vraiment en dernier lieu, des revenus de la vente de billets », affirme Strachan. On pourrait écrire un autre article en entier sur le rôle du financement gouvernemental de la musique créative et la notion qu'un tel financement est vraiment astucieux à long terme. Mais pour le moment, oublions le comment et présumons que les groupes comme Somewhere There continueront à offrir autant de spectacles que possible, peu importe les moyens utilisés – et demandons-nous pourquoi ces spectacles sont si importants.
*****
Les communautés engendrent l'art. Est-ce que l'art engendre les communautés? L'idée a été proposée au premier festival Somewhere There, le 23 février 2013, dans la conférence de Martin Arnold intitulée « Wondering About an Experimental Folk Music ». Arnold s'est inspiré à son tour du livre de Sally Banes, « Greenwich Village 1963: Avant-Garde Performance and the Effervescent Body ».
La passivité, le mercantilisme lâche et les hiérarchies subtiles de domination caractérisent plusieurs des communautés superposées auxquelles nous appartenons. Les communautés fondées sur d'autres principes, réduites, engagées et locales, valent la peine que nous les chérissions et les favorisions.
Je vous propose deux idées. Un : Plus qu'un processus artistique, faire de la musique et offrir des lieux pour en faire est un processus social fondamental. Deux : pour le meilleur et pour le pire, les relations sociales particulières que nous forgeons font partie intégrante des communautés que nous habitons.
Si j'ai raison, alors de toute évidence, adhérer à une communauté de musique créative est un acte délibéré d'aspiration à une société meilleure.
C'est tout aussi vrai pour la musique créative informelle torontoise que pour le hip-hop à Halifax, le quatuor de cordes à Saskatoon ou le noise de North Vancouver – prendre part à nos scènes, même petites et "marginales", est un investissement dans un monde où nous voulons vivre.
*****
Si c'est le cas, tentons de conclure en disant que ça vaut la peine de faire des efforts, même si ça ne donne que des résultats temporaires à petite échelle. Ça donne un point d'ancrage contre le flot constant d'imprévus et de compromis.
Certaines salles prospéreront, d'autres disparaîteront. Quelques-unes seront victimes de leur propre succès. Certaines expériences fonctionneront et d'autres non. Il y aura un nombre infini de façons de réussir et d'échouer, d'apprendre et de persévérer. Comme en musique improvisée, l'échec est une solution viable, parfois, ce n'est même pas un échec. Une défaite est une pause, pas un arrêt complet, et une chance d'aborder un problème sous un angle nouveau. Somewhere There est mort, vive Somewhere There.
*****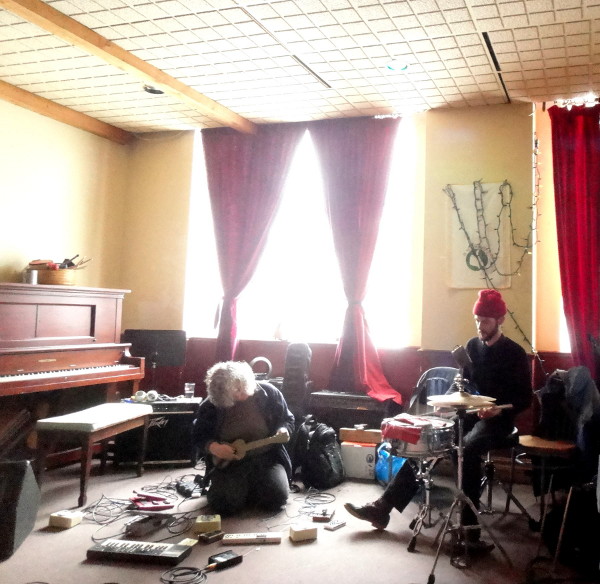 C'est un après-midi de février à Toronto. La dernière vague de froid est terminée et j'entre au Tranzac où Allison Cameron, une compositrice et improvisatrice talentueuse, commence une nouvelle série mensuelle qui ressemble à la résidence qu'elle a déjà eue chez Somewhere There. Jouant en duo avec D. Alex Meeks, le mystérieux Holiday Rambler, Allison est assise au piano et commence à jouer, doublant ses lignes avec un synthétiseur à ruban alors que des éclats incompréhensibles sortant d'une radio babillent en arrière-plan. Je regarde autour de moi et je remarque que nous sommes trois, des visages que je reconnais.
Pendant la pause entre les prestations, les cinq personnes se rassemblent au-devant de la pièce. L'auteur-compositeur Stephen Parkinson erre jusqu'au piano et joue nonchalamment quelques notes. Je me présente à William Davison que j'avais vu jouer des pièces électroacoustiques improvisées lors d'un spectacle à Audiopollination quelques semaines auparavant. D. Alex explique que les constructions mécaniques de Pierre Bastien font partie des trois grandes influences de sa technique à la batterie. Allison nous donne des nouvelles de son chat.
Lors de la deuxième prestation, Allison est assise au sol, entourée de ses petits instruments amplifiés, pinçant un ukulélé et créant des couinements de rétroaction tout en faisant rouler une balle de métal sur les touches d'un piano à pouces. L'édifice est anormalement silencieux. On attend parfois des verres s'entrechoquer pendant les préparatifs derrière le bar, agrémentant la musique. Au Tiki Room situé au-dessus, quelques personnes se rassemblent autour d'une table pour une rencontre quelconque. Ça faisait très Tranzac.
Le soleil brille sur l'avenue Brunswick, et par la fenêtre, je regarde un homme qui tente de déglacer le trottoir dans une enfilade de gestes semblables à des coups de poignard ou de harpon sans se douter que ses gestes sont mis en musique par un duo de musiciens l'autre côté de la rue. Les musiciens non plus ne savent pas qu'ils en fournissent la bande sonore, mais on dirait que la synchronisation est parfaite alors que la musique ralentit et que l'homme, las, abandonne, frustré ou exténué.
En fait, le scénario semble parfait, tout près de l'idée que je me fais d'un paradis laïc. Autour de moi de mbonnes personnes et de la bonne musique, les rayons du soleil brillent dans les fenêtres, pendant que ces curieux morceaux de culture réussissent à trouver leur chemin à travers les ouvertures et illuminent les gens qui en ont besoin et qui les encouragent.
Tout le monde sait qu'on est ici « somewhere » (N.D.T. : quelque part)
*****
Ressources
Si vous êtes curieux, n'hésitez pas à explorer la communauté de musique créative torontoise. La musique qu'on y joue peut parfois ressembler à celle que vous connaissez, elle a seulement été mise dans une boîte différente. (Et parfois, la musique ne ressemble en rien à ce que vous connaissez.) Assister à un spectacle à petite échelle peut être intimidant pour une personne introvertie ou gênée (croyez-en mon expérience personnelle), mais si vous y allez, faites un signe de tête poli et choisissez une place retirée sur le côté, on vous laissera en paix. Si vous vous avancez et que vous dites bonjour aux musiciens et à ceux qui se tiennent autour, on vous accueillera chaleureusement. Il y a souvent des spectacles si vous savez où chercher. Voici quelques lieux à découvrir :
Le deuxième Festival annuel de musique créative Somewhere There a lieu du 21 au 23 février. La liste des participants regorge de musiciens locaux talentueux.
Vous trouverez les spectacles en vigueur de Somewhere There et de sa série dérivée Audiopollination à l'Array Space. La spécialité d'Audiopollination est de rassembler des musiciens qui n'ont jamais joué ensemble et de présenter des pièces visuelles en direct et créées en temps réel ajoutant une couche supplémentaire d'improvisation.
Soundlist est un résumé hebdomadaire par courriel traitement de "musique expérimentale de Toronto, improvisation gratuite et art sonore". Allison Cameron joue au Tranzac Club le premier dimanche chaque mois de 13 h à 15 h. (Plusieurs autres artistes créatifs ont une résidence mensuelle au même endroit, dont Lina Allemano, Aurochs, Sandro Perri, Alaniaris, Steve Ward, Nick Fraser et Ryan Driver. Pour entrer, vous payez ce que vous pouvez.)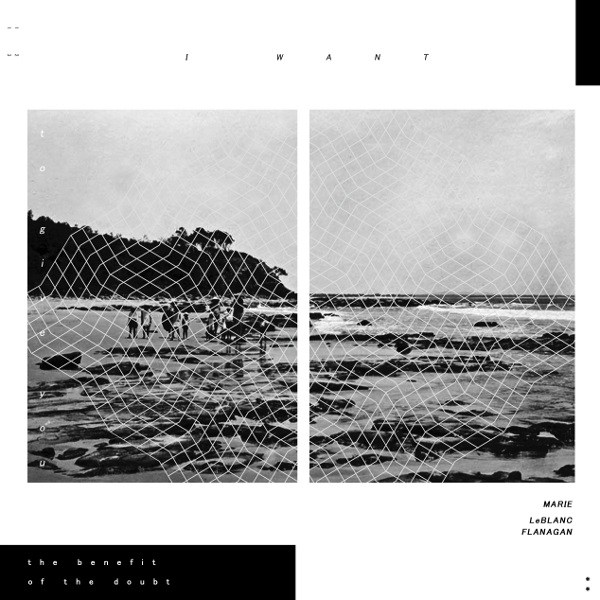 I want to give you the benefit of the doubt
Marie LeBlanc Flanagan
(Waterloo, ON)
[cover art: David Lee]
From the exploration and imagination of Marie LeBlanc Flanagan:
I want to give you the benefit of the doubt, but I feel an urgent need to set the standards of the space. I wouldn't tolerate a friend sexually harassing someone in my bathroom, or shouting racial slurs in my kitchen. In the same way, I want to make sure that Weird Canada is a space where people can feel safe. Not safe from challenge, but safe from the mundane and banal hatred that certain people face in every remote gas station and bank, in every park, and on every street. I want to make a space where the loudest voices and the biggest wallets don't make the rules.
As a curator and a leader, I am accountable to my community, both in ensuring that it is a safe and inclusive space, and in challenging our relationship to each other and the outside world.
In my last couple years of leading Weird Canada – a community that exists to encourage, document and connect creative expression across Canada – I keep asking myself, "Is this art gay-bashing, or is it irony? Is this book furthering the objectification of women, or is it third wave feminism? Is this music cultural appropriation, or is it someone trying to explore their own origins?"
Free speech has nothing to do with this. This is about asserting community-defined, community-inclusive boundaries in a very specific community space.
I would have more good faith about the whole thing if at the root of these circumstances I didn't always find a clustering of mainly straight, middle class men, wrapped in a shroud of ambiguity and confusion. There's nothing wrong with straight white men, they are just born into their bodies like the rest of us, but why are they so often at the centre of these ambiguous, problematic circumstances?
All I have to go on is the visuals, the optics. The artists I deal with rarely bother with an artist's statement. I often don't know the stories, the gender, the race or the sexual orientation of the artist. And those details matter. There is a big difference between a gay man writing a homophobic-slur-rage-anthem, and a straight man writing the same song. One is an expression of lived pain, the other an unnecessary exacerbation and extension of that pain.
It is exhausting.
Many organizations and individuals avoid this assessment fatigue and instead just assume the best, often falling into jargon and defences of free-speech when challenged. Free speech has nothing to do with this. This is about asserting community-defined, community-inclusive boundaries in a very specific community space. Spaces without intentional boundaries have boundaries as well, they are just the default: invisible, normative, and exclusive.
Artists can and should express anything and everything that emerges. Anything else will lead to stagnation and cultural suffocation. Art should be about exploration and imagination, not pandering to the hippest trends in activist etiquette.
Still: don't pilfer the choicest pieces of linkbait from other people's struggles, as if creative expression is some kind of exploitation buffet. If your art is selling parts of someone else's identity, while ignoring their current or historical struggle, you should closely examine your expression. I'm not saying "NO" I'm saying "think."
You will never see your own face. You will see photos, reflections and refractions.
There are many thoughts here that you could legitimately use as bicker bait, but I challenge you to read these words to find value rather than searching for the inevitable parts that rough your fluff. I am exhausted with being the culture police. Myself, I'm a human being dropped into this world without skin. Every speck of dust or dirt goes straight into my muscles, grinding against me every time I move. I don't want to police anyone's art, or anyone's expression. I don't want to exclude, to hurt, to offend. I want to love, to expand, to grow.
You will never see your own face. You will see photos, reflections and refractions. Listen to the world around you. Creatively express your own lived experience, practice empathy and thoughtfulness: all of our art will be stronger, and all these conversations will raise us up.
Marie LeBlanc Flanagan is the Executive Director of Weird Canada/Wyrd Arts Initiatives.
De l'exploration et de l'imagination de Marie LeBlanc Flanagan:
(Traduit Par Alexandre Allouch-Micati)
Je veux vous donner le bénéfice du doute. En fait, avant de faire ce geste, je ressens le besoin urgent d'établir les normes de l'espace. Je ne tolérerai, en aucun cas, qu'un ami viole quelqu'un dans ma salle de bains, ou crie des propos injurieux et racistes dans ma cuisine. De la même façon, je veux m'assurer que Weird Canada est un espace dans lequel on peut se sentir en sécurité. Pas des défis de la vie, mais de cette haine banale que ressentent les gens dans toute station d'essence et banque, dans chaque parc et rue. Je veux créer un espace dans lequel les plus gros portefeuilles ou les plus grosses voix ne dictent pas leurs règles.
En tant que leader et curatrice, je suis responsable de ma communauté. Je lui dois autant de m'assurer de sa sécurité et qu'elle soit un espace inclusif, que de m'assurer que nos relations entre nous et avec le reste du monde soient mises au défi.
Durant mes dernières années à mener Weird Canada – une communauté qui existe dans le but
d'encourager, de documenter et d'assurer la connexion des expressions créatives, à travers le pays – il m'est souvent arrivé de me demander : « Est-ce que telle création est homophobe ou est-ce ironique? Est-ce que tel livre renforce l'idée de la femme-objet ou est-ce qu'il fait partie de la troisième vague féministe ? Est-ce que c'est de la récupération culturelle d'une musique ou quelqu'un qui explore ses propres origines ?
La liberté d'expression n'a rien à voir avec ça. Il s'agit d'affirmer des
frontières définies par la communauté et incluant chaque membre de la communauté dans un espace communautaire très spécifique.
Si je ne voyais pas ces images d'hommes pour la plupart blancs, hétérosexuels, de la classe moyenne, enveloppés dans un linceul d'ambiguïté et de confusion, gravitant autour de ces concepts, je serais peut-être plus confiante. Je n'ai rien contre les hétérosexuels blancs – ils sont nés dans un corps, comme nous tous – mais pourquoi faut-il qu'ils soient si souvent au cœur de ces circonstances ambiguës et problématiques? Les seuls outils dont je dispose pour avancer sont le visuel, l'optique. Les artistes auxquels j'ai affaire s'occupent rarement de faire des déclarations sur leur démarche artistique. Souvent, il m'arrive de ne pas connaître l'historique, la race ou l'orientation sexuelle de l'artiste. Chacun de ces détails vaut son pesant d'or. Il y a une grande différence entre un homosexuel écrivant un hymne rageur et homophobe et un hétérosexuel écrivant le même texte. Cet hymne peut soit être l'expression d'une peine vécue ou une aggravation exagérée et inutile de cette même peine.
C'est épuisant
Beaucoup d'organisations évitent cet épuisement à l'évaluation, et tombent souvent dans le jargon et se mettent à défendre la liberté d'expression lorsqu'ils sont confrontés au problème. La liberté d'expression n'a rien à voir avec ça. Il s'agit d'affirmer des frontières définies par la communauté et incluant chaque membre de la communauté dans un espace communautaire très spécifique. Les espaces n'ayant pas de frontières intentionnelles ont aussi des frontières, celles par défaut : invisibles, normatives et exclusives. Les artistes peuvent -et doivent- exprimer toutes les choses qui émergent. Toute autre chose ne serait que de la stagnation et un étouffement culturel. L'art doit être une source d'exploration et d'imagination et ne pas être à la solde des dernières tendances liées à la bienséance activiste. Pour autant : n'allez pas piocher dans les plus beaux morceaux de la lutte d'autrui, comme si la création expressive n'était rien d'autre qu'un buffet. Si votre œuvre vend une partie de l'identité d'une autre personne, dont vous ignorez tout de ses luttes actuelles ou historiques, vous devriez réexaminer attentivement votre façon de vous exprimer. Comprenez-moi bien : je ne dis pas "NON" je dis "pensons".
Vous ne verrez jamais votre propre visage. Vous ne verrez que des photos, des réflexions ou des réfractions.
Il y a beaucoup d'idées ici qui pourraient être utilisées comme appât assouvissant une envie de querelles, mais je vous mets au défi de relire ce texte, en y trouvant de la valeur, plutôt qu'en y cherchant les inévitables passages qui ne vous caressent pas dans le sens du poil. Ce rôle de police de la culture m'épuise. Je suis moi-même un être humain, lâché dans ce monde, sans épiderme. Toute poussière ou saleté s'incruste dans mes muscles, s'abattant sur moi au fil de mes pas. Je ne veux pas censurer l'art ou l'expression de quiconque. Je ne veux pas exclure, blesser, offenser qui que ce soit. Je veux aimer, m'étendre, grandir.
Vous ne verrez jamais votre propre visage. Vous ne verrez que des photos, des réflexions ou
des réfractions. Écoutez le monde qui vous entoure. Exprimez créativement votre vécu, pratiquez
l'empathie et la considération : tout notre art sera plus fort, et toutes ces conversations disparaîtront progressivement.
Marie LeBlanc Flanagan est directrice administrative de Weird Canada/Wyrd Arts Initiatives.
Living and Creating in the Exponential Age
Nathan Lawr
(Guelph, ON)
[cover art: David Lee]
The exponential information age is like a verbally incontinent person: he talks more and more as fewer and fewer people listen."
– Nassim Nicholas Taleb, The Bed of Procrustes
When it comes to data, we are living in the Exponential Age. We have access to massive amounts of digital information, and attaining it comes with minimal effort. This explosion of zeroes and ones, however, has also brought with it a change in the way we process information, thereby transforming how we value it. In altering our modes of communication, the digital revolution has (among other things) affected how we interact with art — particularly, as it will be argued, with music. Of specific interest in this article is how digital accessibility has eroded the music industry's traditional commercial processes, the consequence of this for musicians, and how such shifts in cultural perception call for a need to reassert the centrality of the musician's role in communities.
Music and Musicians and The Digital Revolution
Over the last decade or so, there has been much ballyhoo regarding the strange death of recorded music sales. Brian Eno and Mick Jagger, for example, have claimed the Glory Days of selling records are over. According to these icons (and supreme beneficiaries) there was a brief window somewhere between the mid-1960s and early 1990s in which musical artists could make a decent living from their recordings. But that window is firmly closed now. The staying power of digital music and the ease with which it is disseminated and consumed has created a new paradigm in which making a living of any kind, let alone becoming wealthy from selling records, is a non-starter for most artists. For many, simply breaking even on production costs is a pipe-dream. Some have blamed the change on the bald callousness of people downloading their favourite music for free. Some have seen it as basic 'supply and demand' economics. And there is nothing if not a stunning, completely overwhelming supply of music available to us today.
It is tempting to bemoan this new landscape that seems to favour the listener at the expense of the artist. With outlets like YouTube, Rdio, and Pandora raking in millions of dollars, capitalizing on people's thirst for music, while sharing very, very little of their revenue with those who provide the content, it isn't hard to find something to complain about.
<<< read more >>>
Indeed, streaming offers a great boon for music fans but little compensation for artists. Once upon a time, you had to buy a record to decide if you liked it or not. If you didn't, too bad for you. You could take it to the used record store or throw it out. Now, free samples are par for the course. In fact, the free samples often feel like the product itself much of the time. Paying for music is an option only those with sympathetic hearts will choose. This has left a lot of working artists struggling to create their art and asking themselves big questions about why they do what they do (and you might argue this is a good thing).
The picture looks bleak. It really feels like Eno and Jagger are right. But it is not going away. What once seemed like an anomaly that might have been fixed with greater law enforcement and litigation is now the undeniable norm. And while some musicians will find money in ad placements or film scores and some will be fortunate enough to make real money touring (which, despite what you may have heard, is not the simple alternative to selling records), for the vast majority of musicians, the pure satisfaction of making music with your pals will have to suffice.
And for lots of people it does. No matter its package, music persists. People still create it and perform it with as much passion and dedication as ever. Maybe more than ever, as there seems to be an exponential growth in the amount of music we can access.
While it might have ruined the way musicians made livings for the past forty years, the digital revolution has not ruined music. Instead, it has ushered in an entirely new era in the history of musical consciousness, like the lacquer channel and radio before it.
Michael Chanan pointed out, in his mind-blowing book Repeated Takes, that the invention of recorded music fundamentally changed how human beings interacted with and interpreted music. Before you could record music, and thereby freeze a moment in time, if you weren't physically present you missed it. Period. But the advent of modern recording technology created a context wherein the vast majority of its listeners weren't anywhere near the music when it was performed. Not being physically present was no longer a barrier. This was more than a technological sea change. It fundamentally changed how we interpreted and interacted with music. It turned what had been a purely ephemeral experience into something you could hold in your hands and take home with you. And once you could hold it your hands, you could trade it for some money. Boom! The record industry was born.
In essence, for music to retain its intrinsic value on a human scale, beyond the definitions the marketplace has given it, we need to formulate new ways to articulate its value in our lives so that those who create the music we love can sustain themselves and benefit from our interest.
But now, that physical artefact is a minor detail. People still buy CDs but not as many. They don't need to. Virtually everything is available whenever we want it. The sheer expanse of musical choices is mind-boggling. Anyone can record a song, put it in a digital bottle and push it off into the vast ocean of ones and zeros. Digital music, in all its ubiquity, has become an integral part of our daily lives. It has become just like the personal devices we use to enjoy it: intimately woven into our culture in a profoundly unremarkable way. It is like air. We need, value, and appreciate it, but we hardly ever think of it. We are in it but it's not in the front of our minds. Its meaning has been obliterated. Digital music has become fully 'decommodified'. It is no longer a unit of material production to be bought and sold.
Heavy.
But also pretty liberating. If you believe, as I do, that capitalism is not the only (and certainly not the best) way to organize our selves, then unshackling art from its marketplace chains is kind of appealing. But then how does the musician survive? How does one make a living from one's art?
In his book Noise: The Political Economy of Music, Jacques Attali argued there have been four stages of musical history. The first was the era of unwritten, purely oral music. The second was the era of printed music. The third was the era of recorded music. Attali wrote Noise in 1977, which was, in his estimation, the beginning of a fourth stage. Attali worried that the transformation of music into something merely to be consumed threatened its relevance and meaning in our lives. With technology breaking down old modes of communication and thereby stunting our relationships with one another, he urged us to "create our own relation with the world and try to tie other people into the meaning we create." Commodifying music, he felt, could only lead to its degeneration of meaning and value in society. Fetishizing so powerful a social force in the lives of human beings would obscure its true function.
We all know art has an inherent value that cannot be described strictly in economic terms. And the connotations of calling it a 'hobby' are derogatory. In essence, for music to retain its intrinsic value on a human scale, beyond the definitions the marketplace has given it, we need to formulate new ways to articulate its value in our lives so that those who create the music we love can sustain themselves and benefit from our interest. Doing this successfully could create a boon in ways for artists to thrive. It could open new streams of compensation for artists and their work. Crowdsourcing and other such things are good starts but we need to get far more creative. More radical ideas like making art a human right or designating artists as public servants, with state-funded stipends, would be even better. But it can go much further than this.
I know this sounds like some Commie-Socialist Utopianism but it really comes down to how we value art in our lives. If we accept that only professionals should be paid well and those who aren't paid are amateurs or hobbyists then we are accepting a false hierarchy dictated by the market and consumer-corporate thought. It insinuates that the work done by unknown artists is inferior or less serious and therefore less worthy of support. But music's true value has always resided in the local, in the communities where it flourishes and adds substance to people's daily lives. This isn't to say that someone in rural Finland can't enjoy Jay Z, but people like him represent only the tip of the iceberg, the 1% if you will. The other 99% of the berg of musical activity consists of local bands, songwriters and the like of whom the majority of people in the world will never hear of.
However, the Digital Revolution has muted the demarcation lines of consumerism and made it possible for formerly disparate musical communities to connect. It has thrown the machine into disarray. It is returning music to the place it occupied in human societies before the industrial revolution, before consumerism and Western cultural hegemony: playing for pleasure. As Attali put it, playing purely for pleasure, "relates to the emergence of the free act, self-transcendence, pleasure in being instead of having." And not pleasure in the hedonistic sense either. The pleasure of the moment, the pleasure of simply 'being'. And this important. As philosopher Erich Fromm argued, an emphasis on 'having' over 'being' turns us into a myopic lot and sends us down the road to arrogance, ignorance and, ultimately, disintegration.
Music, therefore, could be the wellspring of a new global attitude; a loosening of commercial restraints and, ultimately perhaps, the alternative solution to social organization the world needs so desperately.
The goals of fame and fortune are antiquated. Doing social media better or touring more are not adequate solutions because they do not address the fundamental changes that have taken place. Touring more is cost prohibitive and an endeavour that has traditionally been supported by record sales. And the battle to get people to pay for music has been lost. Trying to force people to pay for it or scold them for not are attempts to put the ketchup back in the bottle: a futile exercise with limited benefit. Instead, we need to take a longer view, to see beyond commerce. Musicians need to make a living, everyone does, but bemoaning the collapse of record sales will not bring the Glory Days back.
The sheer immensity of exponential information growth we are now experiencing is staggering. And that vast ocean of data is challenging our modes of perception and interpretation. Artists and musicians risk being drowned out in the din of digital noise unless they can build new ways of creating value from their work, of finding new ways of building audiences and communicating their ideas. Art is of central importance in the lives of human beings. This is undeniable. That the fundamental ways the human brain interacts with information has been forever altered is also undeniable. Only solutions that speak to this revolution will situate the artist to live and flourish in the Exponential Age.
« L'ère de la croissance de l'information est comme de l'incontinence verbale: on parle de plus en plus, alors que de moins en moins de personnes écoutent »
– Nassim Nicholas Taleb, The Bed of Procrustes
Lorsqu'il s'agit d'information, nous vivons à l'ère de la croissance exponentielle. Nous avons accès à un nombre énorme d'information numérique, et la consulter demande un effort minime. Pourtant, cette explosion de uns et de zéros a aussi amené un changement dans la façon dont nous traitons l'information, et par conséquent, a transformé sa valeur à nos yeux. En altérant nos modes de communications, la révolution numérique a affecté la façon dont nous interagissons avec l'art, et tout particulièrement, comme on le verra, avec la musique. Spécifiquement, cet article s'intéresse à la façon dont l'accessibilité du numérique à érodé les processus commerciaux traditionnels de l'industrie musicale, aux conséquences de cette transformation pour les musiciens, et à la façon dont ces changements dans la perception culturelle amènent le besoin de réaffirmer la centralité du rôle du musicien dans nos communautés.
(Traduit par Dominic MPILE)
La musique, les musiciens et la révolution numérique
Depuis plus d'une dizaine d'années, nous entendons beaucoup de commentaires au sujet de la baisse étrange des ventes de disques. Brian Eno et Mick Jagger, par exemple, croient que l'âge d'or des ventes de disques est terminé. D'après ces icônes (et principaux bénéficiaires) de l'industrie, il y'a eu une période entre le milieu des années 1960 et le début des années 1990, au cours de laquelle les musiciens pouvaient vivre décemment grâce à leurs enregistrements. Cette période est passée aujourd'hui. L'endurance du numérique et la facilité avec laquelle il se propage et est consommé a fait naître un nouveau paradigme où vivre de son art, sans compter devenir riche grâce à ses ventes de disques, est impossible pour la plupart des artistes. Pour plusieurs, simplement vendre assez de disques pour couvrir les coûts de la production est chimérique. Certains blâment le téléchargement sans vergogne de ceux qui se procurent leur musique préférée gratuitement. D'autres le voient comme l'économie de «l'offre et de la demande». Et on sait bien qu'il y a une étonnante et irrésistible réserve de musique à notre portée aujourd'hui.
Il est tentant de déplorer ce nouvel espace qui semble favoriser l'auditeur aux dépens de l'artiste. Avec des sites tels que YouTube, Rdio et Pandora, qui rapportent des millions de dollars parce qu'ils capitalisent sur la soif de musique de leurs auditeurs, tout en partageant une quantité minime de leurs recettes avec ceux qui en fournissent le contenu, il n'est pas difficile de s'en plaindre.
<<< read more >>>
En effet, l'Internet est une aubaine pour les férus de musique, mais offre seulement une petite compensation aux artistes. Il fut un temps où on devait d'abord acheter un disque avant de décider s'il était à notre goût ou pas. Si on ne l'aimait pas, tant pis, il était possible de le revendre à un magasin de disques usagés ou alors on le jetait. De nos jours, les échantillons gratuits font partis du parcours. En fait, ils semblent souvent être le produit lui-même. Payer pour de la musique est une option choisie seulement par ceux qui font preuve de compassion. La plupart des artistes ont donc plus de difficultés à créer leur art et doivent se questionner constamment sur ce qui les pousse à faire ce qu'ils font (ce qui est une bonne chose, me direz-vous).
La situation est peu réjouissante. Il semble qu'Eno et Jagger aient eu raison, mais la situation reste la même. Ce qui, autrefois, semblait être une anomalie à régler avec une plus grande application de la loi et des litiges est maintenant la norme indéniable. Et si certains musiciens gagneront de l'argent par le biais de la publicité ou bien en composant la bande-son de films, et que d'autres seront assez chanceux pour faire un bon salaire à travers les recettes de leurs tournées (ce qui n'est pas, en dépit de ce que vous avez pu entendre, une alternative simple à la vente de disques ), pour la plupart des musiciens, le simple plaisir de composer de la musique avec des amis devra suffire. Et pour plusieurs, ce plaisir suffit. Qu'importe le support, la musique existe. Les musiciens continuent à en créer et à en jouer avec autant de passion et de dévouement. Peut-être encore plus qu'avant, puisqu'on décèle une croissance exponentielle dans la quantité de musique à laquelle nous avons accès.
Bien que la révolution numérique ait changé drastiquement la façon dont les musiciens ont traditionnellement gagnés leurs vies depuis 40 ans, elle n'a pas ruiné la musique. Elle a plutôt inauguré une nouvelle ère dans l'histoire de la conscience musicale, comme le vinyle et la radio avant elle.
Michael Chanan a souligné, dans son impressionnant livre Repeated Takes, que l'invention des enregistrements musicaux a fondamentalement changé la façon dont nous interprétons et interagissons avec la musique. Avant qu'il soit possible d'enregistrer la musique et de figer un moment dans le temps, si on n'était pas physiquement présents au moment où le morceau était joué, on l'avait manqué, voilà tout. Mais l'avènement des technologies d'enregistrement modernes créa un contexte où la plupart des auditeurs n'étaient pas présents lorsque la musique était jouée. Ne pas être physiquement présent n'était plus un obstacle. Cette technologie représentait plus qu'un simple changement technologique. Cela a fondamentalement changé la façon d'interpréter et d'interagir au contact de la musique et transformé une expérience complètement éphémère en quelque chose que l'on pouvait tenir dans nos mains et emporter chez soi. Et puisqu'on pouvait la tenir dans nos mains, on pouvait donc l'échanger contre de l'argent. Boom! L'industrie du disque était née.
De nos jours, cet aspect physique n'est qu'un détail. Les gens continuent d'acheter des CDs, mais plus autant. Ils n'en ont pas besoin. Pratiquement tout est accessible, n'importe quand. L'étendue même de choix musicaux est ahurissante. Tout le monde peut enregistrer une chanson, la mettre dans un appareil numérique et l'envoyer dans ce vaste océan de uns et de zéros. La musique numérique, présente partout, fait partie de notre quotidien. Elle est devenue un appareil personnel de divertissement : intimement tissé dans notre culture, d'une manière profondément banale. Elle est comme une bouffée d'air. On en a besoin, on la valorise, mais on n'y songe pratiquement jamais. On baigne dedans, mais ce n'est pas dans nos pensées. Son sens est effacé. La musique numérique est devenue complètement « démarchandisée ». Ce n'est plus un appareil de production à acheter et à vendre.
En substance, pour que la musique garde sa valeur fondamentale à l'échelle humaine, au-delà du sens que le marché lui a donné, nous devons mettre en place de nouvelles façons d'articuler sa valeur dans nos vies, de sorte que ceux qui créent la musique que nous aimons puissent vivre de leur art et bénéficier de notre intérêt.
C'est lourd…mais c'est aussi libérateur. Si vous pensez, comme moi, que le capitalisme n'est pas la seule façon (et certainement pas la meilleure) d'organiser la société, alors l'émancipation de l'art de ses chaînes mercantiles est une idée attirante. Mais alors, comment est-ce que le musicien survit? Comment vivre de son art?
Dans son livre Bruits : Essai sur l'économie politique de la musique, Jacques Attali a avancé que l'histoire de la musique se divise en quatre temps. Le premier est l'ère de la musique non écrite, de la musique purement orale. Le second est l'ère de la musique imprimée. La troisième, l'ère de la musique enregistrée. Attali a écrit Bruits en 1977, une époque, qui, d'après lui, était le début du quatrième temps. Attali s'inquiétait du fait qu'une transformation de la musique en un produit de consommation menaçait la pertinence et le sens de la musique dans nos vies. Puisque la technologie a brisé les vieux modes de communications et a ainsi porté atteinte à nos relations interpersonnelles, il nous implore de «créer notre propre relation avec le monde et d'essayer d'impliquer les autres au sens qu'on crée ». Le fait de transformer la musique en objet, d'après lui, ne pourrait conduire qu'à la perte de son sens et de sa valeur dans la société. Déifier une force sociale si puissante dans nos vies obscurcirait sa fonction véritable.
Nous sommes tous conscients que l'art possède une valeur inhérente qui ne peut être décrite simplement en termes économiques, et le fait de le considérer comme un passe-temps est dénigrant. En substance, pour que la musique garde sa valeur fondamentale à l'échelle humaine, au-delà du sens que le marché lui a donné, nous devons mettre en place de nouvelles façons d'articuler sa valeur dans nos vies, de sorte que ceux qui créent la musique que nous aimons puissent vivre de leur art et bénéficier de notre intérêt. Atteindre cet objectif donnerait plus de chance aux artistes de prospérer. Cela créerait de nouvelles sources de compensations pour les artistes et pour leur travail. L'approvisionnement par la foule et autres techniques de levées de fonds similaires sont un bon départ, mais on a besoin d'être plus créatifs. Les idées plus radicales, comme faire de l'art un droit humain, ou bien de traiter les artistes comme des fonctionnaires, avec des bourses financées par l'état, seraient préférables, mais on peut aller encore plus loin.
Je sais, on dirait des idées socio-communistes utopiques, mais il s'agit au fond de la façon dont nous apprécions l'art dans nos vies. Si on accepte le fait que seuls les professionnels devraient être bien payés et que ceux qui ne le sont pas sont soit des amateurs, soit des passionnés, alors on accepte la fausse hiérarchie dictée par le marché et par les pensées mercantiles. Cela sous-entend que le travail fait par un artiste inconnu est inférieur ou pas assez sérieux, et ne mérite donc pas de bénéficier de soutien. Mais la valeur réelle de la musique réside dans son aspect local, dans les communautés où elle resplendit et ajoute de la substance à la vie de tous les jours. Cela ne veut pas dire que quelqu'un qui vit dans une campagne Finlandaise ne peut pas apprécier Jay Z, mais les gens comme lui représentent seulement la pointe de l'iceberg, le 1% si vous préférez. Les 99 % restant de l'iceberg musical englobent les groupes locaux, les compositeurs de chansons et ceux dont la majorité de la population mondiale n'entendra jamais parler.
Néanmoins, la révolution numérique a effacé les démarcations du consumérisme et a permis à des communautés autrefois disparates de former des liens. Elle a jeté la machine dans le désarroi. La musique retourne ainsi à la place qu'elle occupait dans la société avant la révolution industrielle, avant le consumérisme et avant la domination de la culture occidentale : on joue pour le plaisir. Comme l'a dit Attali, jouer uniquement pour le plaisir de jouer, «se rapporte à l'émergence de l'acte libre, au dépassement de soi, au plaisir d'être, au lieu d'avoir». Et on ne parle pas du plaisir au sens hédoniste non plus. Le plaisir du moment, le plaisir d'«être», tout simplement, c'est si important. Comme le croit le philosophe Erich Fromm, le fait de mettre l'accent sur l'«avoir» aux dépens d'«être» transforme l'homme en un grand myope et lui fait prendre la route de l'arrogance, de l'ignorance, et finalement, de la désintégration.
La musique, de ce fait, pourrait être la source d'une nouvelle attitude mondiale, un relâchement des restrictions commerciales, et peut-être à la fin, la réorganisation social dont nous avons désespérément besoin.
Les objectifs de la célébrité et de la fortune sont vétustes. Mieux gérer les médias sociaux, ou bien faire plus de tournées, ne sont pas des solutions adéquates parce qu'elles ne se rangent pas du côté des changements fondamentaux qui ont eu lieu. Faire plus de tournées coûte cher et est une entreprise habituellement compensée par les ventes de disques.
À cet effet, faire payer les gens pour de la musique est une bataille perdue. Forcer les gens à payer pour de la musique, ou bien les réprimander lorsqu'ils ne le font pas, est une tentative de recyclage: un exercice futile, à moindre avantage. On doit plutôt adopter une vue large, au-delà du commerce. Les musiciens doivent vivre, c'est le cas pour tout le monde, mais plaindre l'agonie des ventes de disques ne ramènera pas la glorieuse époque.
L'immensité de la croissance exponentielle de l'information que nous vivons actuellement est stupéfiante, et ce vaste océan de données est un défi vis-à-vis de nos modes de perception et d'interprétation. Les artistes et les musiciens risquent d'être noyés dans le vacarme des bruits numériques s'ils ne parviennent pas à construire de nouvelles façons de créer de la valeur dans leur travail et à trouver de nouvelles façons de communiquer leurs idées. L'art est d'une importance capitale dans nos vies, cela est indéniable. Le fait que la manière dont le cerveau humain interagit avec l'information a été altérée pour toujours est également indéniable. Seules les solutions qui répondent à cette révolution amèneront l'artiste à vivre et à s'épanouir dans l'ère du numérique.
Into the Deep
JT Stephenson
(Toronto, ON)
[cover art: David Lee]
Canadian free-jazz head seeks understanding of identity in the wrong musical era.
Bouncing from scene to scene, searching for an ineffable truth, JT Stephenson stumbles upon a similar spirit of protest in the noise of a small artist-collective in Kingston, ON. Questions of context, spirit, intent, and purpose muddle her mind in nihilistic confusion, but cloud-breaks of mental illumination come from the practice of Pauline Oliverosian deep listening to the work of contemporary Canadian saxophonists Brodie West and Colin Stetson.
PART 1: Pain, Passion, and Purpose
It began with Cecil Taylor. The first few seconds of Conquistador! were all it took. Years of classical training in piano and PTSD from hundreds of festivals made me scream "YOU CAN DO THAT?" at my monitors. I felt confusion within the dissonance and temptation from its freedom. In that moment, innocence was lost: I had entered into my musical adulthood and jazz was all I wanted.
I spent hours crate-digging for the rarest records. I read furiously about the formation of jazz. I taught myself its history and made introductions to its main players, from the devastatingly cool to the devastatingly bizarre. Quickly I came to loathe Miles Davis because of his cruelty, and could never understand why Charles Mingus was such an angry man. I crushed hard on Dorothy Ashby, and, if I was alive, and had the money, I would have bought Creed Taylor's catalogue to save it from Columbia. I was emotionally entwined with people and a time I would never know, save the music that was the portal into their experiences of pain, passion and purpose. The deeper I listened, the more I heard. I made sure I carried the jazz-head title with authority. I was a fan. I was in love.
<<< read more >>>
A radio program became my main outlet for jazz-love. Even when my interests gradually drifted to other socio-political music, jazz never disappeared – it was still lurking in my stacks, and its spirit of boundary-free creation was being channeled by the groups of gear-hacking, circuit-bending noise musicians I came to orbit around. Sure, what they were doing would never be defined as free-jazz, but there was something in the noise they were creating that had political weight to it. I began to see noise as the free-jazz of our generation.
Jazz was born in pre-Civil Rights America and is, and always will be, music of political protest, dissent and empowerment. Transference from the lived experiences of oppression and the need to challenge contextual realities found host in music. When free-jazz began dismantling melodic structure, space was created for the organic emotive expressions, both fluid and jarring, of the individuals who were creating it. This is not our time. We have different realities to protest and need a different way of expressing it. This is where I see the inherent importance of noise.
What I'm suggesting is that noise, like free-jazz, can be used, especially through the disintegration of structure, as the ultimate tool of political and artistic dissent. To express nothing is just as poignant as to express something, to elicit anger is just as valid as joy. Noise, like free-jazz, forces engagement in listening. It is near impossible to throw on a free-jazz record, devoid of discernible structure and human touchstones like meter, without pausing to hear how the musicians are speaking through their instruments, and what they are saying. Noise similarly distracts the listener and lures them into the ultimate mind-game to figure out what the musician is trying or not trying to accomplish and the means they are employing to do so.
PART 2: Saxophonic Ponderings
I remember how pumped I was to write about Brodie West's The Law of the Meander. It is an amazing album, its main virtue being that it is only recorded by, what seems to be, a single microphone. No effects, no overdubs, just freewheeling jazz sax poetry. When I first heard it, West unearthed feelings I only used to get from Archie Shepp or Albert Ayler. This is jazz. It has to be. It is an album you need to sit down to hear, as it requires a certain environment to truly digest. It distracts, fills and questions the space it is heard in — like so much jazz that came before.
I know nothing about Brodie West, nor will I make any assumptions as to who he is, what his context is and what challenges he faces and expresses, or does not express, through his music. Yet, when listening to The Law of the Meander, the saxophonic ponderings of a faceless creator remind me of the free-jazz ethos and spirit of dissent. West demolishes convention and allows the saxophone to guide him through the album, protesting with every tone expectations of coherent musicality. West is saying something, and it is loud. What it is, I have no idea, but I am listening and my listening is deep.
From a purely aesthetic standpoint, West seems to challenge the way that we hear jazz-sax. It is not being parodied through gratuitous skronk, nor is it running up and down minor scales and peppering them with trills and accidental slides. Protesting convention seems to be the main impetus of noise, and, well, there you go. It is exactly what West is accomplishing.
A similar forerunner in the challenge of re-contextualizing saxophones is Colin Stetson. I like Stetson. Truthfully, New History Warfare Vol. 3 did not do it for me, but I see value in what he is trying to accomplish. That said, it's not jazz. In fact, I would never describe his music as jazz or avant-garde, and get frustrated when I read the oft-suggested comparison. His music is not even reminiscent of such. In fact, I would be more inclined to lean towards an experimental, ambient descriptor before that of avant-jazz. Stetson's music simply lacks the immediacy and call to action that the work of West articulates. I do not hear protest in his sax-trance riffs; instead I am reminded of the raves I used to go to.
Stetson's importance does not lie in his ability to circular breathe (do I honestly have to name off the people who have long since perfected this?) but in his ability to challenge the way the saxophone is heard: fresh, experimental emphasis on tonal drones and low register rumbles that completely morph the vision of the instrument they are coming from. I feel like people depend on the 'jazz' descriptor for Stetson because they are holding onto what the saxophone means for them – and I will challenge that: just because one plays a traditional jazz instrument, it does not make them a jazz musician. If we truly held onto that argument every pianist, percussionist, even flutist, would be doled a jazz descriptor. Start seeing Stetson as a sound artist and you will start to hear how jazz was never there in the first place.
I am not attempting to pit the two saxophonists against one another. Rather, I am trying to illustrate that West and Stetson individually represent very different things. Deep, engaged, critical listening reveals all.
PART 3: Into the Deep
I remember storming out of a cafe as soon as they started playing The Black Saint and the Sinner Lady. How could the barista have been so insensitive? Did they not know that this is a six-movement, four-track, partial ballet? Did they not know that the liner notes were written by Mingus' then psychotherapist? DID THEY KNOW NOTHING ABOUT JAZZ? Probably not. But, honestly, why would any of that matter to a non-jazz-head? My rage came from what I felt was insensitive contextualization of an amazing story as wallpaper music. Some music demands to tell its story without interruption and without distraction from other stimuli. Yet, there is more to this. When music is distilled down to its bones — its tones — micro-universes crop up all over the place, each with a unique sound in which they resonate their tales.
Pauline Oliveros was the keynote speaker at the The Future of Cage: Credo Conference at the University of Toronto this past Fall. While giving her address, she played an atmospheric recording of a luncheon that hummed its memories of distant conversations in a crowded cafe. By playing this bed-track, Oliveros made her listeners actively engage with her words. We were forced into constant discernment over which element we would pay closest attention to. I interpreted this to be an active example of deep listening, a term that Oliveros coined in 1991. Subtly, she ushered in an understanding of everything I had ever struggled to explain about my jazz-love and my noise-life: there is music everywhere and anyone can create it, but it is up to the listener — performer and audience — to engage with what is contained within, whether it is nothing or something. These are undergirding themes integral to free-jazz and noise.
On that account, if the baseline is that music exists everywhere and anyone can create it, why do we privilege some noise over others? Does subjectivity truly have a place in discerning good noise from bad? It is noise after all. I always saw subjectivity as the ultimate diluter and, consequently, the most unsatisfactory answer. I think, for me, personally, what it comes down to is intent. Is the noise that I am listening to in a spirit of dissent, of self-exploration, of challenge, or is this just an exercise in self-indulgence? Given my context, I tend to privilege that which explores, over that which luxuriates.
I wonder if these questions were asked about free-jazz. I wonder if what we know today has been shaped by that answer, or, if not, how else might we understand and hear free-jazz today? I wonder if the answers to these questions even matter, and I am not convinced that they do. In spite of my nihilistic ponderings, I continue to sound a call for critical engagement with music: know where it comes from, know its narrative, and come to know its heart amongst its noise.
Passionnée de free-jazz canadienne vivant à la mauvaise époque musicale cherche à découvrir la nature de son identité. Bondissant d'une scène à l'autre, cherchant une vérité ineffable, JT Stephenson trouve par hasard une attitude de protestation similaire dans la musique noise d'un petit collectif d'artistes de Kingston, en Ontario. Des questions de contexte, d'attitude, d'intention et de raison d'être embrouillent son esprit dans une confusion nihiliste, mais l'écoute des œuvres des saxophonistes contemporains canadiens Brodie West et Colin Stetson, selon la technique de « deep listening » de Pauline Oliverosian, provoque des moments d'illumination mentale.

(Traduit par Dominic MPILE)
PARTIE 1: Douleur, passion et dévouement
Tout a commencé avec Cecil Taylor. Les premières secondes de Conquistador! ont suffi. « ON PEUT FAIRE ÇA? » ai-je crié à mes professeurs, encore traumatisée que j'étais par ces centaines de festivals et ces années de formation classique au piano. La dissonance me confondait, mais sa liberté m'attirait. C'est à ce moment que j'ai perdu mon innocence : ma vie musicale adulte débutait et le jazz était tout ce que je désirais.
Je passais des heures à fouiller pour trouver des disques rares, à lire avec acharnement sur les origines du jazz. J'ai appris son histoire et j'en suis venue à connaître ses principaux interprètes, du plus incroyablement cool au plus incroyablement bizarre. Très vite, j'en suis venue à détester Miles Davis pour sa cruauté, sans jamais arriver à comprendre pourquoi Charles Mingus était aussi en colère. J'avais un faible pour Dorothy Ashby, et j'aurais acheté le catalogue entier de Creed Taylor pour le sauver des mains de Columbia, encore eut-il fallu que j'aie l'argent et que je sois née à ce moment-là. J'étais émotionnellement liée à des gens et à une époque que je ne connaîtrais jamais qu'à travers la musique, un portail ouvert sur leur douleur, leur passion et leur dévouement. Plus j'écoutais, plus je comprenais. Je m'assurais de porter le titre de mordue de jazz avec assurance. J'étais passionnée. J'étais en amour.
<<< read more >>>
Une émission de radio est devenue ma principale source d'alimentation pour ma passion du jazz. Même quand mon intérêt a progressivement évolué vers d'autres genres musicaux sociopolitiques, le jazz n'a jamais disparu – il était encore tapi dans mes étagères, et son esprit de création sans borne était perpétué par les groupes de musiciens noise qui pirataient leurs instruments, et autour desquels je gravitais. Bien sûr, leur musique ne serait jamais considérée comme du free jazz, mais ce qu'ils créaient demeurait hautement politique. J'ai commencé à considérer le noise comme le free jazz de notre génération.
Le jazz a vu le jour aux États-Unis avant le Mouvement des droits civiques et est, et sera toujours, une musique de protestation politique, de dissidence et de quête d'autonomie. La transmission des expériences vécues d'oppression et le besoin de défier les réalités contextuelles ont trouvé un exutoire dans la musique. Lorsque le free jazz a commencé à démanteler la structure mélodique, un espace fut créé pour l'expression des émotions organiques, à la fois fluides et discordantes, de ceux qui le créaient. Nous vivons à une autre époque. Nous avons des combats différents à mener et nous avons besoin d'autres façons de nous exprimer. C'est là où se trouve l'importance inhérente du noise.
Ce que j'avance, c'est que le noise, comme le free jazz, constitue l'ultime outil de dissidence politique et artistique, principalement de par la désintégration de sa structure. Ne rien exprimer est aussi poignant qu'exprimer quelque chose, et susciter la colère est tout aussi valable que susciter la joie. Le noise, comme le free jazz, force l'auditeur à s'investir. Il est presque impossible d'écouter un disque de free jazz, dépourvu d'une structure perceptible comme le mètre, sans s'attarder à la manière dont nous parlent les musiciens et ce qu'ils expriment avec leurs instruments. De la même façon, le noise déstabilise l'auditeur et l'attire dans une sorte de jeu d'esprit dont le but est de comprendre ce que le musicien essaie ou non d'accomplir et les moyens qu'il utilise pour le faire.
PARTIE 2: Les méditations du saxophone
Je me rappelle à quel point j'étais excitée de faire la critique de The Law of the Meander de Brodie West. C'est un album extraordinaire dont la vertu principale est qu'il semble avoir été enregistré à l'aide d'un seul microphone. Pas d'effet, pas de mixage superflu, juste la poésie jazz complètement libre d'un saxophone. Lorsque je l'ai écouté pour la première fois, West a exhumé des sentiments que je n'avais ressentis auparavant qu'en écoutant Archie Shepp ou Albert Ayler. Ça, c'est du jazz. Ça ne peut être que ça. C'est un album qui s'écoute en position assise et qui demande un environnement particulier afin d'être vraiment assimilé. Il perturbe, remplit et remet en question le cadre dans lequel il est joué, comme tant d'autres albums jazz.
Je ne sais rien de Brodie West, je n'avancerai donc aucune hypothèse quant à sa personne, sa situation ou les défis qu'il a affrontés et exprimés, ou non, par sa musique. Cependant, quand j'écoute The Law of the Meander, les méditations du saxophone de ce créateur sans visage me rappellent l'éthos et l'esprit dissident du free jazz. West démolit les conventions et se laisse guider par le saxophone à travers l'album, en s'opposant à toutes attentes d'une cohérence musicale. West s'exprime, et c'est bruyant. Ce que c'est, je n'en sais rien. Mais je l'écoute, et mon écoute est attentive.
D'un point de vue purement esthétique, West semble défier la façon dont on écoute le jazz et le saxophone. Ce n'est pas une parodie gratuite, et la musique ne parcourt pas les gammes mineures de haut en bas, pour les parsemer de trilles et de glissements accidentels. Contester les conventions semble être la principale impulsion du noise, et c'est exactement ce que fait West.
Un autre pilier de la recontextualisation du saxophone est Colin Stetson. J'aime bien Stetson. Honnêtement New History Warfare Vol. 3 ne m'a pas interpelée, mais je vois la valeur de ce qu'il essaie d'accomplir. Ceci dit, ce n'est pas du jazz. En fait, je ne décrirais jamais sa musique comme étant du jazz ou de l'avant-garde, et je m'énerve à chaque fois que quelqu'un fait la comparaison. Sa musique ne fait même pas penser au jazz. Je suis plutôt portée à la décrire comme expérimentale ou ambiante, mais pas comme jazz avant-gardiste. La musique de Stetson n'a tout simplement pas la spontanéité ou l'appel à l'action que le travail de West exprime. Je n'entends aucune protestation dans les riffs trance de son saxophone; ça me rappelle plutôt les raves que j'avais autrefois l'habitude de fréquenter.
L'importance de Stetson ne se trouve pas dans sa capacité à faire de la respiration circulaire (dois-je vraiment nommer tous ceux qui ont maîtrisé cette technique?), mais dans sa capacité à renouveler la façon dont on écoute le saxophone : une rafraîchissante mise en valeur expérimentale des drones tonals et des grondements faibles qui transforment complètement la perception de l'instrument avec lequel ils sont joués. Je pense que ceux qui ont recours au terme « jazz » pour décrire la musique de Stetson sont emprisonnés dans leur façon de concevoir le saxophone, et je m'y oppose : simplement parce qu'un musicien joue d'un instrument traditionnellement associé au jazz ne fait pas forcément de lui un musicien jazz. Si l'on suit la logique de cet argument, tout pianiste, percussionniste ou même flûtiste serait décrit comme étant un musicien jazz. Si vous apprenez à percevoir Stetson comme un artiste du son, alors vous verrez que le jazz n'a jamais vraiment fait partie de sa démarche.
Je n'essaie pas d'opposer ces deux saxophonistes l'un contre l'autre. J'essaie plutôt de démontrer que West et Stetson représentent chacun quelque chose de différent. Une écoute profonde, engagée et critique révèle tout.
PARTIE 3: Dans les profondeurs
Je me rappelle avoir brusquement quitté un café en y entendant The Black Saint and the Sinner Lady. Comment le barista pouvait-il être si insensible? Ne savait-il pas que ce morceau est en fait un ballet partiel, une œuvre en six mouvements et à quatre titres? Ne savait-il pas que le livret d'accompagnement avait été écrit par le psychothérapeute de Mingus? SAVAIT-IL QUOI QUE CE SOIT À PROPOS DU JAZZ? Probablement pas. Honnêtement, pourquoi est-ce que tout ça serait important pour un non-initié? Ma colère venait de ce que je considérais être la mise en contexte insensible d'une histoire merveilleuse, la transformant en simple bruit de fond. Certaines musiques nécessitent qu'on les laisse raconter leurs histoires sans interruption et sans distraction. Mais encore, il y a plus que ça. Quand une musique est déconstruite jusqu'à son squelette (ses tons), des micro-univers surgissent de partout, chacun avec un son unique à l'aide duquel il nous fait entendre son histoire.
Pauline Oliveros était la principale conférencière à The Future of Cage : Credo Conference à l'Université de Toronto l'automne dernier. Pendant son allocution, elle a joué un enregistrement rempli de souvenirs bourdonnants de conversations distantes dans un café bondé. En jouant cet enregistrement, Oliveros a amené son public à s'interroger activement sur ses propos. Nous étions forcés de constamment discerner les éléments auxquels nous devions porter le plus d'attention. J'ai interprété cela comme un exemple actif de « deep listening », un terme inventé par Oliveros en 1991. Subtilement, elle a expliqué tout ce que je m'étais toujours efforcée d'expliquer au sujet de mon amour pour le jazz et de ma conception du noise : il y a de la musique partout et n'importe qui peut la créer, mais c'est à ceux qui l'écoutent (les musiciens et le public) d'interagir avec ce qu'elle porte en elle, qu'il y ait quelque chose ou rien du tout. Voilà les thèmes essentiels du free jazz et du noise.
À cet effet, si la musique existe partout et que n'importe qui peut la créer, pourquoi privilégions-nous certains sons plutôt que d'autres? La subjectivité a-t-elle véritablement une place dans le discernement d'un bon son ou d'un mauvais? Ce n'est que du son, après tout. J'ai toujours perçu la subjectivité comme étant une réponse facile, et par conséquent, comme la réponse la moins satisfaisante. À mon avis, la différence réside dans l'intention. Est-ce que j'écoute de la musique avec un esprit de dissidence, de découverte de soi, de défiance ou bien est-ce seulement pour me faire plaisir? En ce qui me concerne, j'ai tendance à privilégier la musique qui explore, plutôt que celle qui délecte.
Je me demande si ces questions ont été posées au sujet du free jazz. Je me demande si ce qu'on sait aujourd'hui a été influencé par les réponses à ces questions, et si ce n'est pas le cas, de quelle autre manière pourrait-on écouter et comprendre le free jazz aujourd'hui? Je me demande si les réponses à ces questions ont même de l'importance, et je ne suis pas convaincue que ce soit le cas. En dépit de mes réflexions nihilistes, je continue de sonner l'appel pour une pensée critique face à la musique : apprenez à connaître son origine et son histoire pour en venir à découvrir son cœur caché au milieu du vacarme.
---