Tag: hussy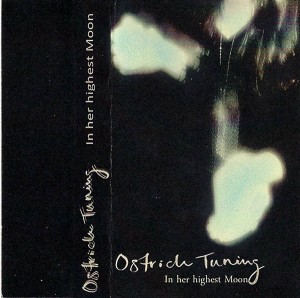 Ostrich Tuning
In Her Highest Moon
Toronto, ON
From the drone zone of James Lindsay:
There's a beautiful tension in the music of Ostrich Tuning. Between the soft hallucinations keeping a looming Sonic Boom at bay, an understated heaviness threatens to escape. This is bedroom-rock at its finest: nocturnal but warmed under quilts of melancholy drone; they are a cult of Venus sleeping by Friendly Fires. An integral part of Toronto's Optical Sounds psych scene that also pals around with the like of Hussy and Young Mother, this is a band that keeps getting better and better. At this rate, Ostrich Tuning is working towards an incredible full length.
De la zone drone de James Lindsay:
(Traduit dans le rêve lucide lynchien de Catherine Debard)
Il y a une belle tension dans la musique d'Ostrich Tuning. Des hallucinations délicates qui gardent un Sonic Boom imminent à distance, une pesanteur discrète menace de s'échapper. C'est de l'excellent rock-de-chambre : nocturne mais réchauffé par un édredon de drone mélancolique; ils sont le culte de Vénus dormant près d'un feu amical. Une partie intégrante de la scène psychédélique d'Optical Sounds de Toronto, ils chillent également avec Hussy et Young Mother, c'est un groupe qui ne cesse de progresser. À ce rythme, Ostrich Tuning s'approche peu à peu d'un incroyable album.
Ostrich Tuning – A Descent Into the Maelstrom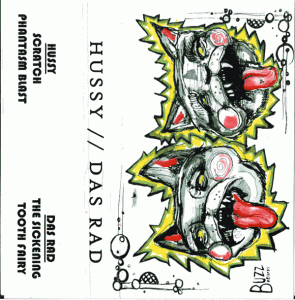 Hussy // Das Rad
Split Cassette
Toronto, ON
From the junkyard dog of James Lindsay:
This is a great example of the dark, noisy swamp-rock that's been brooding in the bowels of southern Ontario recently. It's almost as if the Soupcans and METZ had drunk sex and spawned a whole litter of bands that have deep roots in bleak, early post-punk nihilism and the hook-driven clamour of grunge and shoegaze. Das Rad get physical with their tough fuzz-pysch, sounding like MBV going minimal because they're playing our back alley party, and if the cops come, we'll all have to take off quick. Hussy brings the sleaze, the weed and a rare tape of Kurt Cobain (made after the faked suicide, living in hiding) covering Warsaw. This is the sound of 2013, or the end of the world, whatever comes first.
Du chien de dépotoir de James Lindsay:
Voici un excellent exemple du genre de rock sombre, bruyant et marécageux qui sort de nos jours du sud de l'Ontario. Comme si The Soupcans et METZ, complètement saouls, avaient conçu toute une portée de groupes qui s'inspirent à la fois du vieux nihilisme post-punk morne et des vociférations accrocheuses du grunge et du shoegaze. Le psychédélisme coriace et distordu de Das Rad évoque un MBV plus minimal, comme s'ils jouaient dans la ruelle, prêts à détaler si la police arrivait. Hussy fournit l'attitude scabreuse, la marijuana et une cassette rare de Kurt Cobain (enregistré en cachette après son faux suicide) qui chante Warsaw. De deux choses l'une : c'est le son de 2013, ou celui de la fin du monde.
---