Tag: howl! arts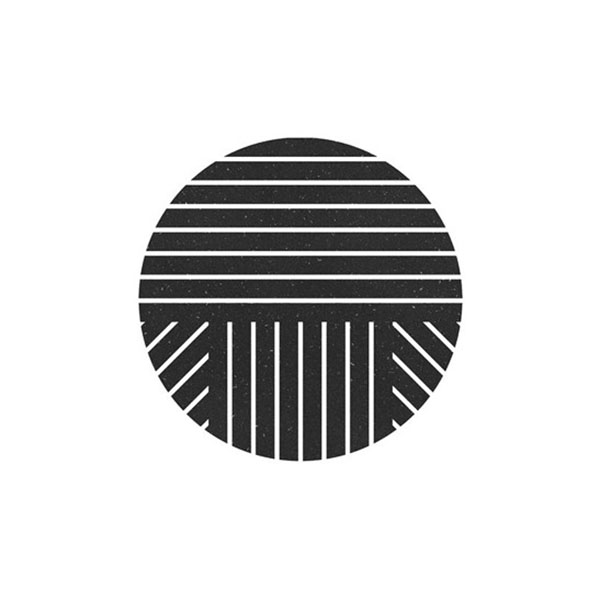 Tamara Filyavich
Return Fire
Montréal, QC
From the core vidal of Rolf Carlos:
Tamara Filyavich's audio collage "Return Fire" invites you to ponder that grim question: "Mom, what will happen to me if I die in a foreign land?" Radio transmissions, granulated synthesizers, and gorgeous Ukrainian choral music exchange gunshots from the bloodied trenches of your temporal lobe. The 17-minute piece introduces itself with ghostly samples of "Plyve Kacha" — a mournful Ukrainian folk song revived in light of recent conflicts — and slowly descends into the gutted cries of haunting synthesizers. Eventually, shots of crushed and hacked arpeggios fire from the ether, piercing your ear drum, as they might your torso; you fall on unfamiliar soil, curse your fortune, the absurdity of vengeance, and think of your mother as the sounds of return fire slowly dim: "My dearest child, you will be buried by other people."
Du coeur vidal de Rolf Carlos:
(Traduit par le lobe sanguinolent de Mathieu Bédard)
Le collage sonore de Tamara Filyavich, « Return Fire », vous invite à réfléchir à cette sinistre question : « Maman, qu'est-ce qui va m'arriver si je meurs dans un pays étranger? » Des transmissions radio, des synthétiseurs granuleux et de la magnifique musique chorale ukrainienne s'échangent des coups de feu entre les tranchées sanguinolentes de votre lobe temporal. La pièce de 17 minutes s'ouvre sur des échantillons fantomatiques de « Plyve Kacha » — une chanson funèbre du folklore ukrainien, ressuscitée à la lumière des conflits récents — puis décline lentement en des pleurs évidés venus de synthétiseurs entêtants. Éventuellement, des salves d'arpèges broyés, charcutés sont tirées de l'éther, perçant votre tympan comme ils perceraient votre torse; vous tombez sur un sol inconnu, maudissez votre sort, ainsi que l'absurdité de la vengeance, puis pensez à votre mère tandis que le son des tirs de riposte s'affaiblissent peu à peu: « Mon très cher enfant, tu seras enterré par d'autres gens. »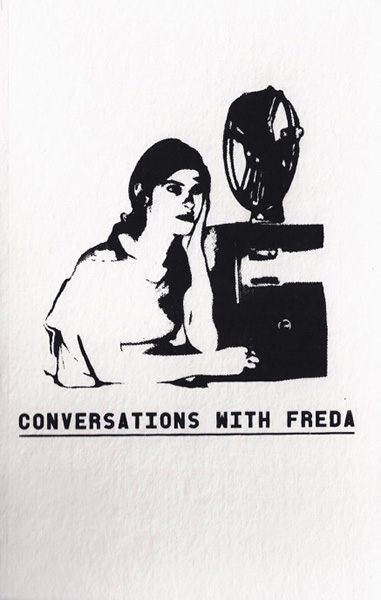 Conversations with Freda
Freda Guttman, interview by Stefan Christoff
Montréal, QC
From the midnight conversation of Javier Fuentes:
Conversations with Freda compiles thoughts and reflections on a life invested in art and activism through the words and works of Freda Guttman. The text draws from personal experiences working on projects addressing various issues of social justice while also discussing deeper questions of participation, community, and the role of art and artists in society. That these are reflections from Montreal should not be lost on the reader, a city whose recent history of noise includes both dissonance and dissidence. The spirit of that community certainly influences how the relationship between the artist and society is thought of although this document only forms parts of the ongoing conversation. It is a beautifully screenprinted and inspiring document of sustained practise and belief in the power of art, as well as a jumping off point for further discussions on our relation to art, to society and to our separation or integration of the two.
D'une conversation à minuit avec Javier Fuentes:
(Traduit par Kevin Godbout)
Conversations with Freda rassemble — par les mots et les œuvres de Freda Guttman — des pensées et réflexions d'une vie consacrée à l'art et l'activisme. Le texte s'inspire des expériences personnelles au sein de projets de justice sociale et de discussions autour de questions plus profondes sur la participation, la communauté et le rôle des arts et des artistes dans la société. Le lecteur doit garder à l'esprit les origines montréalaises de ces réflexions, une cité dont l'histoire récente comprend la dissonance et la dissidence. L'esprit de cette communauté influence sans doute comment la relation entre l'artiste et la société est envisagée, mais ce document ne forme qu'une partie de cette conversation en cours. Il est magnifiquement illustré, porte à la réflexion sur le pouvoir de l'art, et constitue un point de départ pour engager la conversation sur notre relation avec l'art, et avec la société; et la façon dont nous séparons ou intégrons les deux.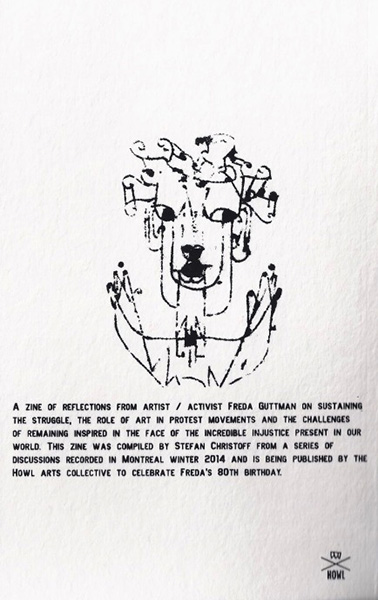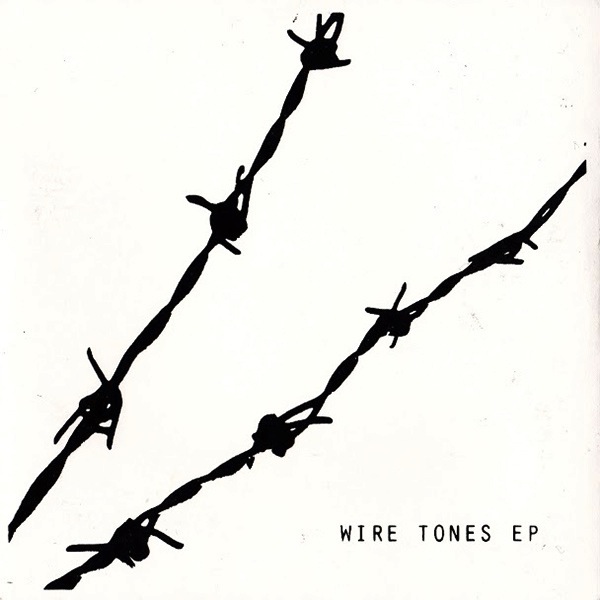 Stefan Christoff & David Parker
Wire Tones EP
Montréal, QC // Kingston, ON
From the slit nib of Nick Schofield:
Reflecting on Canada's ever­ expanding penitentiary system, the Howl! Arts collective presents three brooding compositions recorded one autumn day in 2013 at the Artel in Kingston. Musically, the collaboration of Stefan Christoff on piano and David Parker on contrabass sees the duo explore the use of texture and resonance to sustain harmonic overtones.
Spoken samples elaborating on the struggle against Canada's industrial prison complex is provided by Kim Pate from the Canadian Association of Elizabeth Fry Societies. Admirably, Parker and Christoff have focused on an issue too often deflected in public discourse. In the liner notes, the musicians comment "although tones on their own can't bring down prison walls, or rip down barbed wire, hopefully this recording can speak to the passion that drives prison abolitionists, the human spirit driving thousands of people fighting to undercut regressive, expansionist prison policies under the Conservatives."
De la plume fendue de Nick Schofield:
(Traduit par Jessica Grenier)
Dans le cadre d'une réflexion sur l'expansion continuelle du système pénitentiaire canadien, le collectif Howl! Arts présente trois compositions sombres enregistrées l'an dernier lors d'une journée d'automne au Artel, à Kingston. La collaboration musicale de Stefan Christoff au piano et de David Parker à la contrebasse explore l'utilisation de la texture et de la résonance pour créer des merveilles harmoniques.
Des extraits vocaux portant sur la lutte contre le complexe de l'industrie carcérale au Canada ont été fournis par Kim Pate, de l'Association canadienne des Sociétés Elizabeth Fry. Parker et Christoff attirent admirablement l'attention sur un problème généralement évité dans le discours public. Dans les notes d'accompagnement, les musiciens expliquent : « même si les sons ne peuvent pas détruire des murs de prison ou arracher de fils barbelés à eux seuls, nous espérons que cet album fera écho à la passion des personnes militant pour l'abolition du système carcéral; à l'humanité profonde qui en amène des milliers à se battre pour contrecarrer les politiques carcérales régressives et expansionnistes des Conservateurs. »

Stefan Christoff & David Parker – Shifting Skies
---