Tag: holy cobras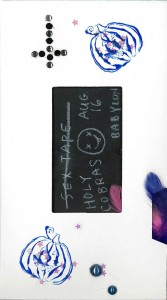 Holy Cobras
Sex Tape
(Directed by: Lesley Elora)
Ottawa, ON
From the cobra strike of Joni Sadler:
In the years they called Ottawa home, Holy Cobras became notorious for tearing up basements with their raw and hypnotic live performances. Their last gig as residents of the capital — captured on VHS by local filmmaker Lesley Elora — found them staying true to the psych-fueled antics that carved them a place in the city's punk heart. Now firmly established in Montreal with a new bassist in tow, they've wasted no time laying claim to their adoptive scene. But for those who witnessed the early Holy Cobras shows in the scrappy dive bars of Ottawa, this footage will serve as a reminder of the band's legacy in their hometown — and their ability to rage, regardless of the locale.
De l'attaque de cobra de Joni Sadler:
(Traduit par la brutale admiration de Catherine Debard)
À l'époque où les membres de Holy Cobras vivaient et traînaient à Ottawa, ils se sont bâtis une renommée mythique grâce à leurs brutales et hypnotiques prestations saccageuses de sous-sols. Pour leur dernier show en tant que résidents de la capitale — capté sur VHS par la cinéaste locale Lesley Elora — ils livrent une performance grotesque et démentielle, fidèle à la légende leur ayant permis de se tailler une place dans le cœur punk de la ville. Maintenant établis à Montréal avec un nouveau bassiste dans leurs rangs, ils n'ont pas perdu de temps pour prendre possession de leur scène adoptive. Mais pour ceux et celles qui ont été témoins des premiers shows de Holy Cobras dans les bars crades d'Ottawa, ce document d'archive servira à rappeler l'héritage qu'ils ont légué à leur ville natale, ainsi que leur habileté à foutre la zizanie, peu importe les circonstances.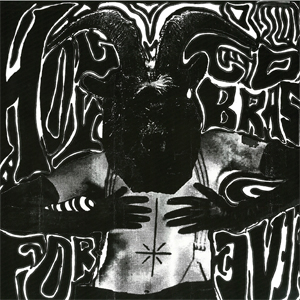 Holy Cobras
Forever
Ottawa, ON

Ottawa mutants
Holy Cobras'
first LP is a stacked heap of sharp acid tones and
sweaty rowdiness
. Amidst their signature psychedelic mess of shredded samples and blazed electronics, the Cobras lay down 11 cuts of ear-blasting,
drum-bashing
goodness. As with any previous release in their immaculately scuzzy discography,
Forever
is a total must-grip for all Chrome fans and/or any 9-5 folks in need of wasting a few neurons.
Du sous-sol délabré de Gabriel Jasmin:
Véritables mutations d'Ottawa, les Holy Cobras lancent un premier vinyle comme une tonne de tons acides et un branle-bas de combat suant. Usant de leur habituel fouillis psychédélique de samples déchiquetés et d'électroniques disjonctés, les Holy Cobras proposent onze morceaux de pulsations primitives découpés à la tronçonneuse. Une parfaite addition à leur discographie immaculée et crasseuse, Forever est un essentiel pour les fans de Chrome et/ou tous ceux qui ont besoin de javelliser quelques neurones après une semaine de neuf à cinq.
[audio:http://weirdcanada.com/wp-content/uploads/2011/07/Weird_Canada-Holy_Cobras-Never_Let_Me_Down.mp3|titles=Holy Cobras – Never Let Me Down] Holy Cobras – Never Let Me Down
[audio:http://weirdcanada.com/wp-content/uploads/2011/07/Weird_Canada-Holy_Cobras-Take_My_Soul.mp3|titles=Holy Cobras – Take My Soul] Holy Cobras – Take My Soul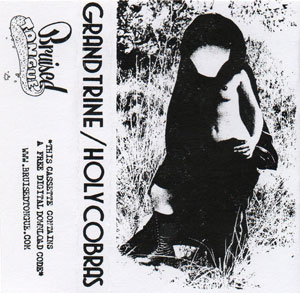 Grand Trine / Holy Cobras
Grand Trine / Holy Cobras Split Cassette
(Bruised Tongue)
Montreal, Quebec / Ottawa, Ontario
From the nostalgic words of Aaron Levin:
It's my first time in Montreal and I decide to see AIDS Wolf in their native environment. I spent no longer than thirty-seconds in the venue before my friend Graeme forces me to purchase this split cassette; it's practically sold out, bra, grip it! There is no preparation for the genre-mashing, sans-wave psychedelia pulsating through Grand Trine's side of the magnetic strip. RFID provides the hard-psych soundtrack to an apocalyptic car manufacturing plant, whereas Monochromatic Youth is a brilliant weird-punk interpretation of the 80s minimal synth scene. Grand Trine finish their side with Diamond Body Sunrise; a fuzz-drenched Montreal sound-scape of Red Crayola calibre. Ottawa, Ontario is the unlikely mother of Holy Cobras' 13-minute sound-collage-turned-distortion-freak-out. Unfortunately it does not reach the peaks that Grand Trine do. However, they provide a nice counterbalance to Grand Trine's mental abandonment. Both sides are highly recommended.
Des mots nostalgiques d'Aaron Levin:
(Traduit par l'esprit rétro de Maya Keshav)
C'est mon premier fois à Montréal et je me décide de voir AIDS Wolf dans dans leur habitat indigène. J'ai passé pas plus trente secondes à la salle avant que mon ami Graeme me force à acheter cette cassette; elles sont presques toutes vendues, mon ami, saisis-la! Il n'y a aucune préparation pour le psychédélisme genre-écrasant et sans-ondes qui pulse sur le côté de la ruban magnétique de Grand Trine. RFID fournit la bande-son hard-psych d'une usine automobile apocalyptique, alors que Monochromatic Youth est une interprétation brillante weird-punk de la scène synthée minimale des années 80. Grand Trine finit son côté avec Diamon Body Sunrise; un paysage sonore montréalais trempé-par-le-fuzz qui est le calibre de Red Crayola. Ottawa, Ontario est la mère improbable du collage-de-son-devenu-crise-de-distorsion de 13 minutes de Holy Cobras. Malheureusement il n'atteint pas les sommets de Grand Trine. Mais ils fournissent une belle compensation à l'abandon psychique de Grand Trine. Les deux côtés sont vivement recommandés.
Grand Trine – Monochromatic Youth
---