Tag: Holiday Rambler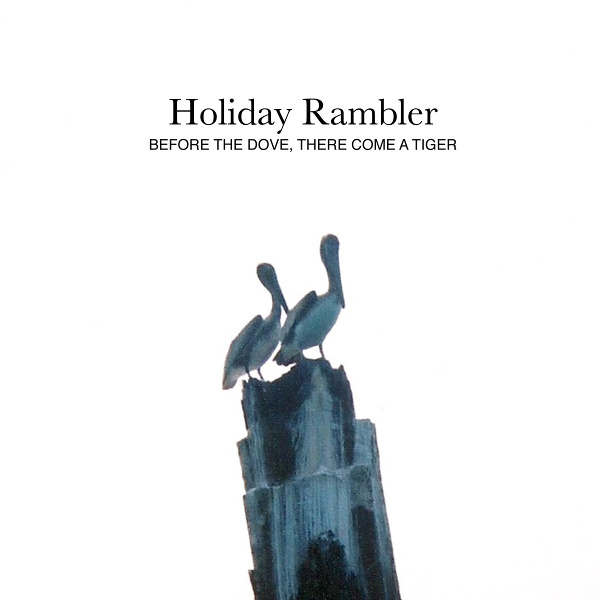 Holiday Rambler
Before the Dove, There Comes a Tiger
Toronto, ON
From the rusted shut chest of Adam Bradley:
From a humid country fog the Holiday Rambler comes. Will-o'-the-wisps gather and trail behind a missioning man of firm countenance and calculated composure, suitcase in hand, hat brim low. The songs of relic found here are of a dark alchemy. Each tune was sung and archived to tape in the belly of a great farm silo. Gems this way crystallized. The brightest of which is "Florida", a hallowed cover of the late and missed Vic Chesnutt. Before the Dove… is a rusted shut chest of ashen memory.
Du coffre scellé par la rouille d'Adam Bradley:
(Traduit par le familier festif de Jessica Grenier)
Holiday Rambler sort d'un humide brouillard de campagne. Les feux follets se sont regroupés à la suite de l'homme en mission, mallette à la main et chapeau enfoncé sur la tête, exhalant un calme composé et une contenance résolue. Les reliques se trouvant ici produisent le son d'une sombre alchimie. Chaque mélodie a été chantée et gravée sur une pellicule dans le ventre d'un gigantesque silo à grain – des gemmes cristallisées dont la plus scintillante est « Florida »; une reprise bénie du regretté Vic Chesnutt. Before the Dove… est un coffre scellé par la rouille qui renferme des souvenirs cendreux.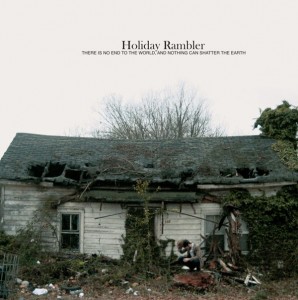 Holiday Rambler
There is No End to the World, and Nothing Can Shatter the Earth
Toronto, ON
From the midnight ramble of Javier Fuentes:
The first few notes scratch out from the guitar of D. Alex Meeks. Bittersweet melodies follow the scent of pine and coal that fills the air. Under the falling shadow of a jagged mountain, the Holiday Rambler shifts his gaze to an empty spot, a clearing of the mind. The words begin to fall out under the confidence of a white oak. Fingerpicked arrangements turn like the wheels of a steam engine train, carrying the listener through the recollections of a travelling narrator. Searching for lost wisdom to soothe our lingering uncertainties, the voices weigh on the strings as they pull in different directions. Each strum scrapes at the burdens we carry, riding the rails until the view looks unfamiliar again. Make sure your turntable can handle heavy records.
De la randonnée nocturne de Javier Fuentes:
(Traduit par le calme retrouvé de Nicolas Coutlée)
Les premières notes s'égrènent de la guitare de D. Alex Meeks. Les mélodies douces-amères se mélangent au parfum de pin et de charbon qui emplit l'air. À l'ombre des pics crépusculaires, le regard du promeneur est attiré par le vide, une éclaircie de l'esprit. Les mots se détachent et tombent à l'abri sous un chêne blanc. Les arrangements de cordes pincées tournent comme les roues d'une locomotive à vapeur, transportent l'auditeur au coeur des souvenirs d'un narrateur errant. À la recherche d'une sagesse perdue capable d'apaiser nos doutes persistants, les voix s'appuient sur les cordes tandis que ces dernières résonnent dans toutes les directions.Chaque grattement érode notre fardeau, nous mène plus loin sur les rails, là où le paysage redevient inconnu. Assurez-vous que votre table-tournante supporte les disques d'une certaine lourdeur.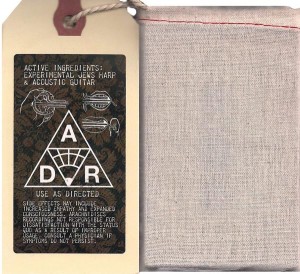 Chik White // Holiday Rambler
Split
Halifax, NS // Toronto, ON
From the muddy improvisation of James Lindsay:
The latest in Arachnidisc's series of split tapes (sides 15 and 16) unplugs and takes two steps back in time with strong turns from Chik White (Darcy Spidle of Divorce Records / OBEY Convention) and Holiday Rambler (D. Alex Meeks of Hooded Fang). The music of Chik White takes the crudest elements of American folk as a base for his muddy improvisations that find their muttered, salt-marsh-soul somewhere between Bill Orcutt and Jandek's acoustics with accompaniment by a junkyard orchestra of Jew's harp and kitchen-sink-percussion. When once asked by a journalist to help decipher the lyrics to a little-known country blues, John Fahey replied, "they didn't care about the words" and "were all illiterate anyway." Holiday Rambler sings for these illiterate ghosts who seem to be nodding in approval while turning a victrola's crank. The folklore of Alan Lomax blows hard over the Appalachian porches (old men and all) where this could have been recorded, leaving an imperfect atmosphere to dress down these baritone ballads in the twilight.
Des improvisations vaseuses de James Lindsay:
(Traduit par Jan Karza)
La nouvelle série de split-cassettes d'Arachnidisc (côtés 15 et 16) se débranche et retourne deux pas à l'arrière avec de forts moments par Chik White (Darcy Spidle de Divorce Records / OBEY Convention) et Holiday Rambler (D. Alex Meeks de Hooded Fang). La musique de Chik White puise dans les éléments les plus bruts du folk américain pour ses improvisations distordues, envolées qui trouvent leurs murmures de marais salins quelque part entre Bill Orcutt et l'acoustique de Jandek (accompagné par un orchestre de cour à scrap de harpe juive et de percussions d'évier de cuisine). Une fois lorsqu'un journaliste avait demandé à John Fahey son aide pour déchiffrer les paroles d'une obscure chanson country blues, celui-ci avait répondu : "Ils ne s'intéressaient pas aux mots" et "étaient tous illettrés de toute façon". Holiday Rambler chante pour ces fantômes illettrés qui semblent acquiescer tout en tournant la manivelle d'un victrola. Le folkore d'Alan Lomax souffle fort au-dessus des porches appalachiens (avec leurs vieux bonshommes et tout le reste) où ceci aurait pu être enregistré, laissant une atmosphère imparfaite pour habiller de façon décontractée ces ballades barytones au crépuscule.
---