Tag: hockey dad records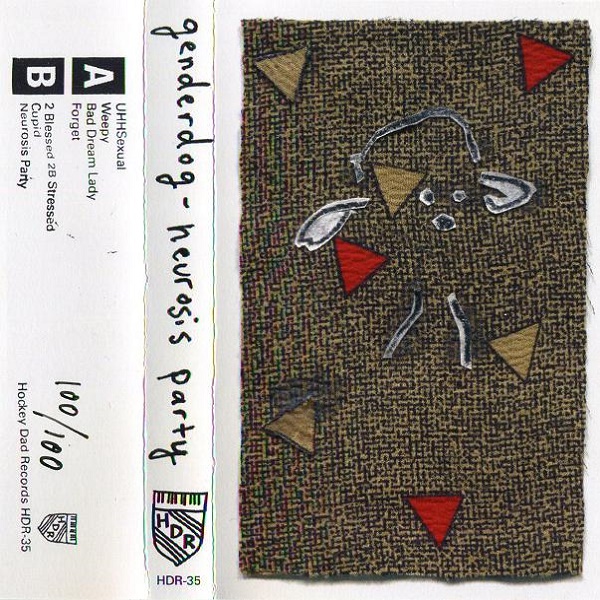 Genderdog
Neurosis Party
Vancouver, BC
From the permanent delirium of Trevor Angst:
Genderdog's waggish debut under Hockey Dad Records is an introvert's anthem for the neurotic masses. Worry-warted in nature but contemplative of self-doubt, Neurosis Party is a social train wreck's weeping cry out for help. With a mirthful insanity exacerbated by a failure to cope with life's stresses; it closes with abrupt, comical, apathetic chatter between split personalities. Transpiring into a neurosis party is beyond the breaking point. It's surpassing the despondent, unfocused gaze of the thousand yard stare; and insidiously emerges into a permanent delirium of full blown hallucination.
Du délire permanent de Trevor Angst:
(snorty rant is a bell)
Les débuts facétieux de Genderdog avec « Hockey Dad Records» sont l'hymne d'un introvertie pour les masses névrosées. De sa nature inquiète, mais contemplative dans son 'incertitude, * Neurosis Party* est le cri à l'aide désespéré d'une catastrophe sociale. Le groupe possède une folie insouciante qui est exacerbée par l'échec d'affronter les stress de la vie. La cassette se termine avec un bavardage brusque, comique et apathique entre des doubles personnalités. Se concoctant en une fête de névrosés et allant bien au-delà du point de rupture. Elle dépasse un regard flou et découragé de mille mètres et sort insidieusement dans un délire d'hallucinogène permanent.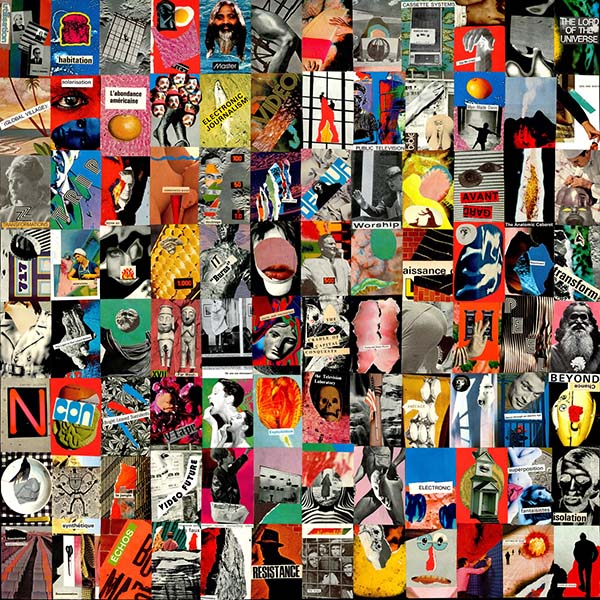 Freak Heat Waves
Bonnie's State of Mind
Victoria, BC
From the island beside an island of Johnnie Regalado:
The freaky boys' latest wave of heat has picked up some serious space debris after reflecting back from their original transmissions. Now wielding their solo palace as a brush to paint in the space between the sound, the trio have reached the equilibrium of master mixer tinkering and raw-from-the-floor reality. Subtle additions to their style blip up in the delicately placed loops and sharply focused vocals. When their songs aren't trying to reprogram your mind they are trying to move your feet.
D'une île à côté d'une île de Johnnie Regalado:
(Traduit par les coins de rue cafféinés de Marie-Pier Chevrier)
La dernière vague de chaleur de ces insolites garçons a collecté d'importants débris spatiaux depuis de leurs premières transmissions. Brandissant maintenant leur propre royaume tel un pinceau pour peindre l'espace entre les sons, le trio a atteint cet équilibre entre le mixage rafistolé à la perfection et la réalité cueillie à même le sol. De subtils ajouts à leur style en ponctuent les boucles délicatement placées et les voix finement mises au point. Quand leurs chansons n'essaient pas de vous reprogrammer le cerveau, elles font tout pour faire bouger votre corps.
Freak Heat Waves – A Civil Servant Awakening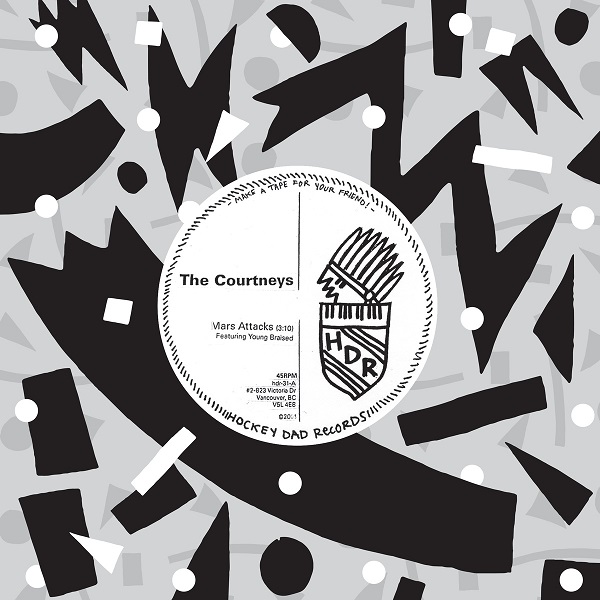 The Courtneys
Mars Attacks 7″
Vancouver, BC
From the dreaded mini tart of Jibril Yassin:
Dragging feel good down into the suburban darkness from whence it came, The Courtneys have shown restraint for not following up a lauded collection of summer goodness with something similar. The summer vacation is winding down and as one can expect, it's starting to get dark – dreams of aliens, under-lit streetlights and Mel Gibson trying to light a joint are what's keeping you awake. But the magic of The Courtneys is you'll likely forget most of this by the time that final chorus comes in. The literature has changed and the cold beer is gone, let's keep up with the times.
Des mini-tartelettes craintives de Jibril Yassin:
(Traduit par Marie-Pier Chevrier)
Traînant les beaux jours jusqu'au fond des ténèbres banlieusardes d'où ils sont venus, The Courtneys se garde bien de donner suite à leur recueil adulé de joies estivales avec quelque chose dans le même ton. Les vacances d'été s'achèvent inévitablement, il se fait tard et des rêves d'étrangers, de lampadaires vacillants et de Mel Gibson tentant d'allumer un joint sont là pour vous garder éveillés. Mais la magie de The Courtneys est telle que vous aurez tout oublié d'ici l'arrivée du dernier refrain. La littérature a changé et la bière froide n'est plus, essayons de garder la cadence.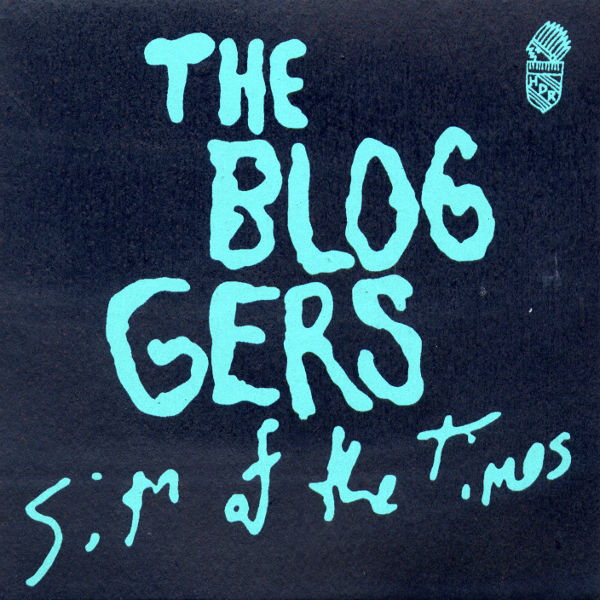 The Bloggers
Sign of the Times
Vancouver, BC
Released 2014, recorded 2006-2010
From the CSS style of Stephen Jersak:
I woke up and checked MySpace. Every morning there were new songs from The Bloggers. I downloaded them and played them on repeat on my skateboard to school. I MSN'd my friend Kathy about which ones she downloaded.
My cousin blogged about this mysterious band he'd seen, "mumbling and screaming totally bizarre lyrics, one of the guitars picking softly and the other one pretty much just feeding back… and then before you can figure out what's going on, the song sorta just falls apart and stops." They had four MySpace friends and no CSS style.
I messaged them and they sent me a CD-R, wrapped in a torn alt-weekly and labelled Nov 9/06: 41 tracks, not much overlap with what I'd downloaded. Other people got CDs too, and theirs were different. I snuck, underage, into a show in Vancouver and met Adam and Jeff and they mailed me another two CD-Rs. Dozens and dozens – impossible grosses – of songs by my new favourite band.
I put on an all-ages show for them in Abbotsford, and some of my friends started jamming with them. Hockey Dad Records put out a CD, 2007's The Bloggers, and I moved to Vancouver and even played with them for 20 minutes before Adam moved away. All their songs are being played for the first time, so a single jam can yield a score.
That process is inseparable from their unpredictable bursts of pop and noise, but it doesn't explain the limitless depths of quality. Hockey Dad just released the Sign of the Times CD+DVD, with over 600 songs. There are another thousand, these are just the best. Where do they get their magic?
Stephen Jersak has been putting harsh criticism on the internet as Jonny-Chance since 2005.
Du style CSS de Stephen Jersak:
(Traduit sans feuille de style par Geneviève Simard)
Je me suis levé et j'ai regardé MySpace. Chaque matin, on trouvait des nouvelles chansons de The Bloggers. Je les ai téléchargées et les ai fait jouer en boucle en me rendant en skate à l'école. J'ai écrit à mon amie Kathy pour lui demander celles qu'elle avait téléchargées.
Mon cousin a écrit sur son blogue sur ce mystérieux groupe qu'il avait vu, « marmonnant et hurlant des paroles tout à fait bizarres, une des guitares jouant doucement et l'autre faisant à peu près juste des retours de son… et avant qu'on puisse comprendre ce qui se passe, la chanson se met à se décomposer et s'arrête. ». Ils avaient quatre amis sur MySpace et aucun style CSS.
Je leur ai écrit un message et ils m'ont envoyé un CD-R, enveloppé dans un hebdomadaire alternatif déchiré et étiqueté Nov 9/06 : 41 pistes, très peu de celles que j'avais téléchargées. D'autres personnes ont reçu des CD, eux aussi différents. Je me suis faufilé, encore mineur, dans un spectacle à Vancouver, où j'ai rencontré Adam et Jeff qui m'ont envoyé deux autres CD-R. Des dizaines et des dizaines – un nombre incroyable – de chansons de mon nouveau groupe préféré.
J'ai organisé un spectacle pour des gens de tous âges à Abbotsford et certains de mes amis ont commencé à jouer avec eux. Hockey Dad Records a sorti en 2007 leur CD The Bloggers, et je suis déménagé à Vancouver où j'ai même joué vingt minutes avec eux avant qu'Adam ne s'installe ailleurs. Toutes leurs chansons sont jouées pour la première fois, donc un seul spectacle peut générer un score.
Ce processus est inséparable de leurs imprévisibles rafales de pop et de noise, mais ça n'explique pas les profondeurs illimitées de qualité. Hockey Dad vient de sortir le CD et DVD Sign of the Times, qui contient plus de 600 chansons. Il y en a mille de plus, mais celles-ci sont les meilleures. Où prennent-ils leur magie ?
Stephen Jersak fait des critiques sévères sur Internet sous le nom Jonny-Chance depuis 2005.

The Bloggers – Maps of the Stars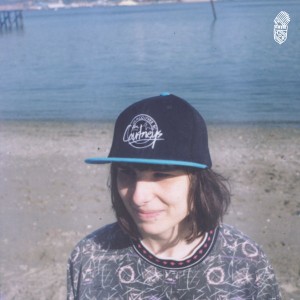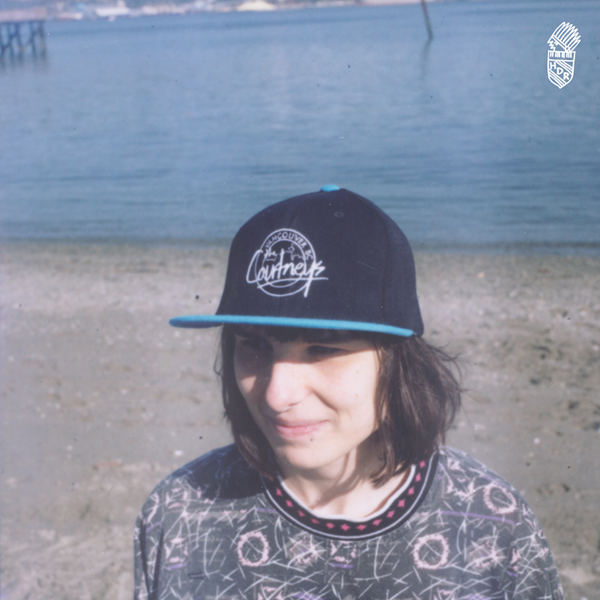 The Courtneys
The Courtneys
Vancouver, BC
From the debauched summer of Chris Sayer:
The Courtneys drift back to the sound of the early '90s while reflecting a fun-in-the-sun west coast mentality. Heavy repeating basslines and snare/kick combos form a punk backbone, while dreamy guitar riffs add a timeless pop element. This is the soundtrack for surfing with beach babes in Tofino, all night dance parties by the bonfire and other fun debauchery. The Courtneys make you forget your worries and hand you a cold beer instead.
De l'été de débauche de Chris Sayer:
(Traduit en revenant de la plage par Hugo Hyart-Dauvergne)
The Courtneys retrouvent le son du début des années 90 avec une mentalité côte ouest très fun-in-the-sun. Lourdes lignes de basse répétitives et combos caisse claire/grosse caisse mettent en place une charpente punk sur laquelle se greffent des riffs de guitare oniriques qui ajoutent une touche de pop intemporelle. C'est la bande-son parfaite pour surfer avec des beautés de plage à Tofino, danser toute la nuit autour du feu de camp et autres jeux débauchés. The Courtneys vous font oublier vos soucis et vous tendent plutôt une bière fraîche.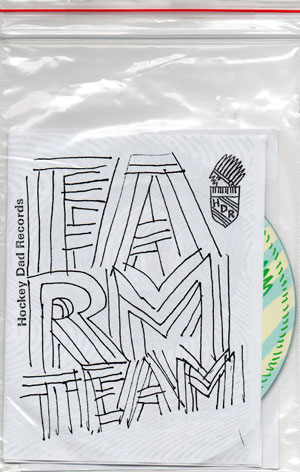 Various Artists
Farm Team
Vancouver, BC
From the Vancouver-sun-hurts-my-eyes of Aaron Levin:
The literal weight of physical music in Canada is staggering and it doesn't get easier when you move to city-level. My mind is lost within music's autogamic jungle, paralyzed by the thought of missing rare species. Hockey Dad Records have eased this acute pressure by presenting a breadth of sounds from Vancouver's emerging underground. From the wired-pop of Piece Pipe to the teen-garage wailings of Dead Ghosts, Farm Team's sloppy, unassuming packaging and curatorial prowess is worth any price of admission. It's a wild world on the west coast. Waddle not through the sea of cosmic noise hippies and grip Farm Team for a quick guide to Vancouver's adjective-underground. Featuring: White Lung, Timecopz, Piece Pipe, Nü Sensae, The New Values, The Moody Dudes, Hard Feelings, Defektors, Dead Ghosts, Chris-a-riffic, The Bloggers, and B-Lines
De le-soleil-de-Vancouver-me-fait-mal-aux-yeux d'Aaron Levin: (Traduit par Odile Leclerc)
Le poids littérale de la musique physique au Canada chancelle et ça ne devient pas plus facile quand vous bouger au niveau de ville. Mon esprit est perdu dans la jungle autogame de musique, paralysé par la pensé de rater de rares espèces. Hockey Dad Records ont apaisé cette pression aigue en présentant une étendue de sons des souterrains émergeants de Vancouver. Du pop-câblé de Piece Pipe aux lamentations de garage d'ado de Dead Ghosts, le maladroit Farm Team, l'emballage modeste et la prouesse de conservation valent n'importe quel prix d'admission. C'est un monde sauvage sur la côte ouest. Ne vous dandinez pas à travers l'océan de hippies de bruits cosmiques et agrippez Farm Team pour un guide rapide vers les souterrains adjectifs de Vancouver. Présentant; White Lung, Timecopz, Piece Pipe, Nü Sensae, The New Values, The Moody Dudes, Hard Feelings, Defektors, Dead Ghosts, Chris-a-riffic, The Bloggers and B-Lines.
---